Afton Arms – "The Boys Next Door" Apartment Building
May 25th, 2012 | By
Lindsay
| Category:
Movie Locations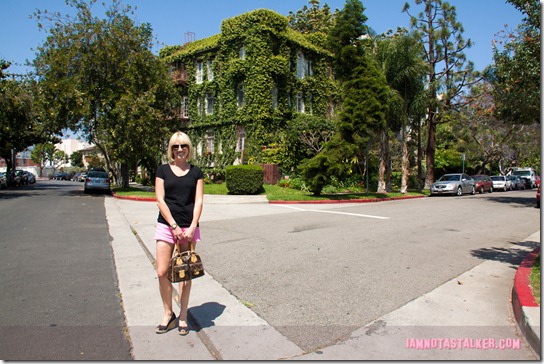 A couple of months ago, Mike, from MovieShotsLA, informed me of a location that he thought was right up my alley due to its vast and storied Hollywood history – the Afton Arms apartment building from the movie The Boys Next Door.  After Mike mentioned it, I attempted to watch the 1985 flick – which centers around a Los Angeles killing spree – on more than one occasion, but it was, sadly, far too dark for this stalker's liking and I never ended up finishing it.  But I decided to do some research on the Afton Arms anyway and, let me tell you, the information I dug up had me practically salivating at the mouth!   So I immediately added the building to my To-Stalk list and finally dragged the Grim Cheaper out to Hollywood to see the place in person this past Saturday afternoon.
The 42-unit Afton Arms apartment building was originally built in in 1924 and was designed by Leland Bryant, the prolific architect who also designed the Sunset Tower Hotel (one of my favorite spots in L.A.), Granville Towers (Portia de Rossi's former home), the Harper House [where Cotton Weary (Liev Schreiber) was murdered in Scream 3], and the Romanesque Villa Apartments (where my girl  Miss Marilyn Monroe once lived).  Afton Arms has had countless claims to fame over the years, the most notorious of which is the legend that one of its apartments was the site of regular trysts between Joseph Kenney and actress Gloria Swanson during the 1920s.  Whether or not the two ever set foot on the property, though, is anyone's guess, but what is known is that Afton Arms has been home to several Hollywood luminaries (my buddy E.J.'s Movieland Directory's page on the place is one of the most extensive on his entire website) and the location of several murders (one in 1987) and deaths (on June 27, 1988, the Red Hot Chili Peppers' Hillel Slovak was found dead of a drug overdose in apartment #114).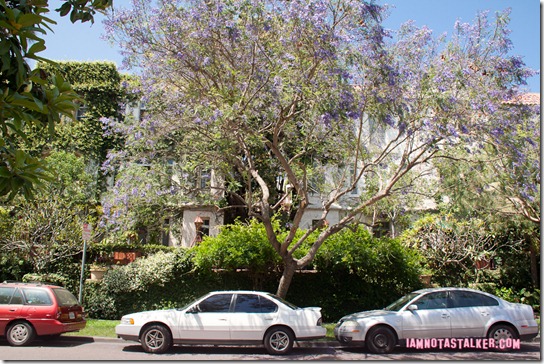 In 1972, a man named General Hershey Bar (I'm not making this up!) took over the management of the Afton Arms and renamed the place "The Happy Malaga Castle" (again, not making this up!).  After Mr. Bar's short tenure as manager, the building went through a succession of different caretakers, fell into serious disrepair and became home to more than a few seedy characters.   Journalist Rob A. Campbell states in a fabulous September 20th, 1995 Los Angeles Times article on the property, "Though the Castle was listed as 'Best Hollywood Apartment Building' in the L.A. Weekly, its major assets were 'a plausible little garden' and 'easiest place to buy cocaine.'"  LOL  He also says, "the Castle was so notorious with local police that officers would show up two or three times a day, whether called or not."  Thankfully, long-time resident Ynot Navillus finally took over management of the building and saw to it that the Arms was restored to its original grandeur – and name.  Of the process, Ynot said, "When you bring light and air into a situation in the form of service and cleanliness, those who need a dank environment depart.  Then there are those who respond to the change of the environment and they themselves change and end up staying.  Those are the success stories."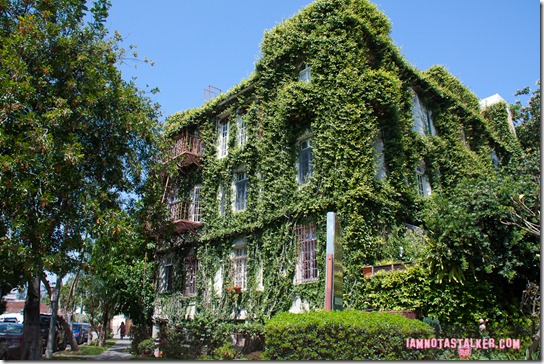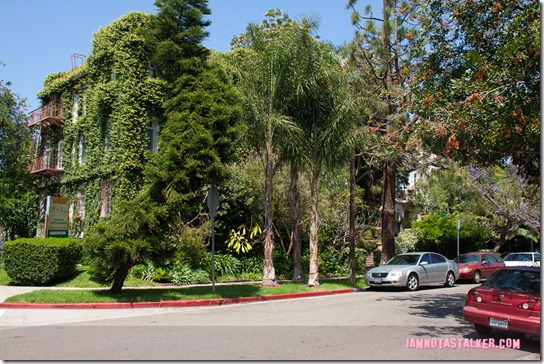 Today, Afton Arms is a gorgeous (albeit slightly overgrown) vine-covered property, one which I doubt the local police ever have much reason to visit.  The place was named Los Angeles Historic-Cultural Monument Number 463 on November 3, 1989.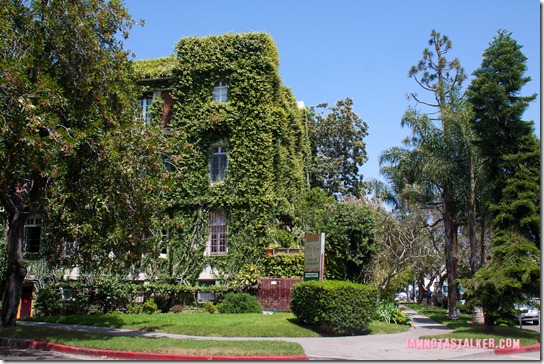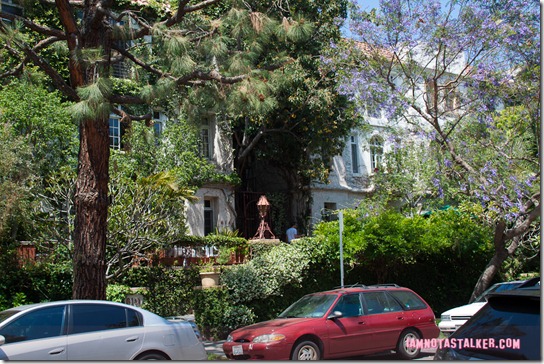 In The Boys Next Door, best friends Roy Alston (Maxwell Caulfield) and Bo Richards (Charlie Sheen) take a road trip to Los Angeles shortly following their high school graduation.  During their trip, they meet a man at a bar and wind up going back to his apartment at the Afton Arms, where they randomly murder him.  Like I said, it's a dark movie.  As you can see below, thanks to the abundant foliage that now covers the structure, it looks quite a bit different today than it did in 1985 when The Boys Next Door was filmed.  In fact, it is, sadly, almost unrecognizable.  Major kudos to Mike for finding it!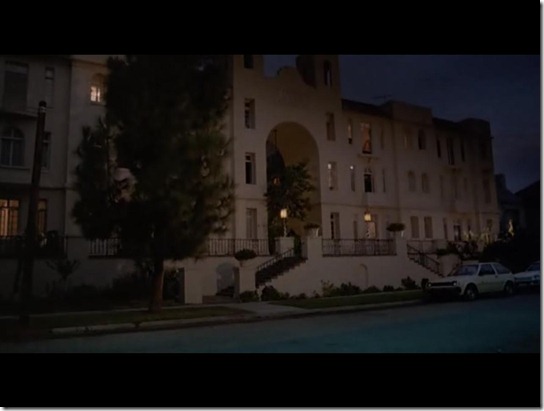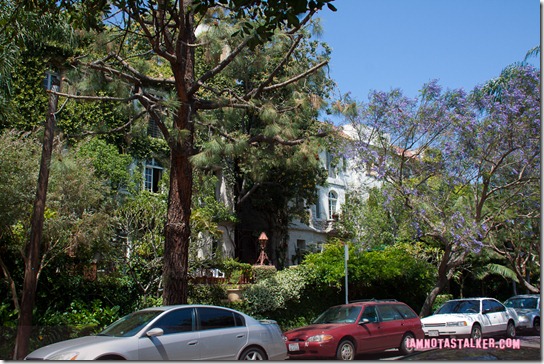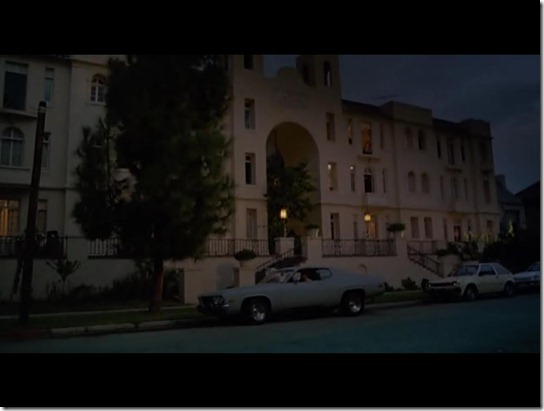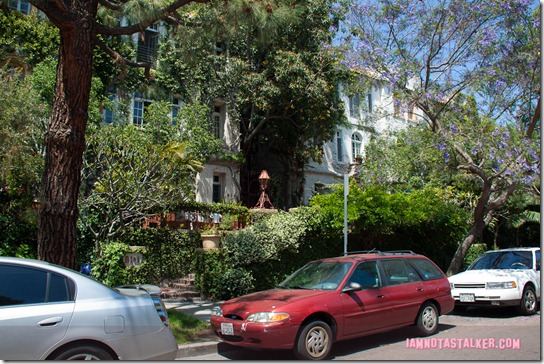 And while I cannot say for sure, I am fairly certain that the real life interior of one of the Afton Arms apartments was used in the filming.  You can check out some pics of a unit that is currently for lease in the building here.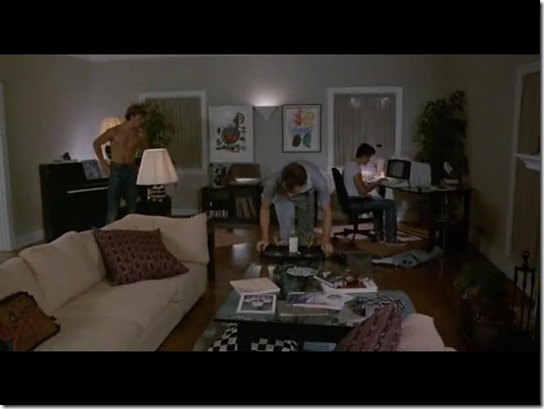 Big THANK YOU to Mike, from MovieShotsLA, for finding this location and convincing me to stalk it!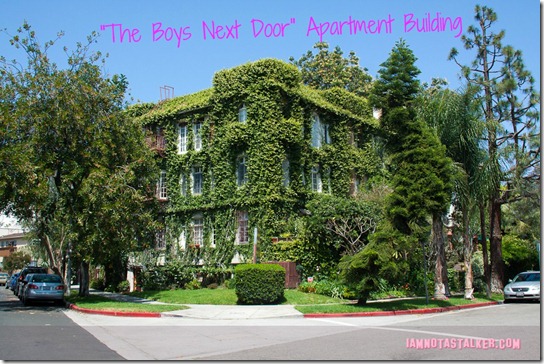 Be sure to "Like" IAMNOTASTALKER on Facebook here and "Friend" me on my personal page here.  You can also check out the IAMNOTASTALKER About Me page here.  And you can follow me on Twitter at @IAMNOTASTALKER.
Until next time, Happy Stalking! 

Stalk It: Afton Arms, aka The Happy Malaga Castle, aka The Boys Next Door apartment building, is located at 6141 Afton Place in Hollywood.
53311