The Levitt Pavilion MacArthur Park Bandshell from "New Girl"
Jun 18th, 2012 | By
Lindsay
| Category:
TV Locations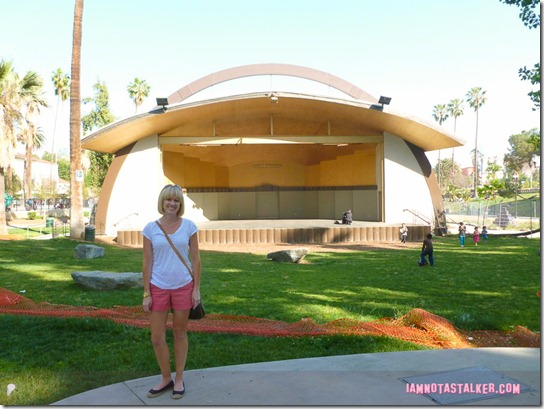 Brace yourselves, my fellow stalkers, because today's post is going to be a long one!  Another New Girl location that my good friend/fellow stalker Lavonna asked me to track down recently was the park where Jess (Zooey Deschanel) held a recital for her "Ensembell" bell choir in the Season 1 episode titled "Bells".  This actually turned out to be a rather fun hunt for me because, in an unprecedented turn of events, the Grim Cheaper became a bit fixated with helping in the search.  When the two of us first watched the "Bells" episode a few weeks after Lavonna's challenge, he thought the park and its unique bandshell looked familiar, but he could not place where he had seen them.  So he immediately started doing research on local parks, yet, sadly, came up empty-handed.  Then, a few days later while we were out and about stalking, anytime we would happen to drive by a park, he would pull over to see if the New Girl bandshell was there.  As luck would have it, he ended up spotting it that same afternoon at MacArthur Park in the Wilshire District of Los Angeles.  Whoo-hoo!  Thank you, GC!  So we pulled right on over to snap some pics.
[ad]
The land where MacArthur Park now sits was first developed by the City of Los Angeles as a drinking water reservoir in the 1880s.  When the area's piping systems were later changed around 1890, the reservoir was no longer needed and the site was transformed into a public park known as Westlake Park.  The locale, which featured a picturesque lake, a boathouse, and manicured gardens, quickly became a popular recreational destination for the wealthy citizens who lived nearby and the wealthy tourists who vacationed at the many luxury hotels in the neighborhood.  During that era, the 32-acre property was known as the "Champs-Elysees of Los Angeles".  Oh, how times have changed!  In 1934, it was decided that Wilshire Boulevard, which formerly dead-ended at Westlake's western border, would be extended and connected to Orange Street in order to run through to downtown Los Angeles.  A berm was built which bisected Westlake, and its large lake, into two halves, with the northern portion of the lake eventually being drained, leaving a smaller, 8-acre, 23-million-gallon, 15-foot deep pond on the property's southern side.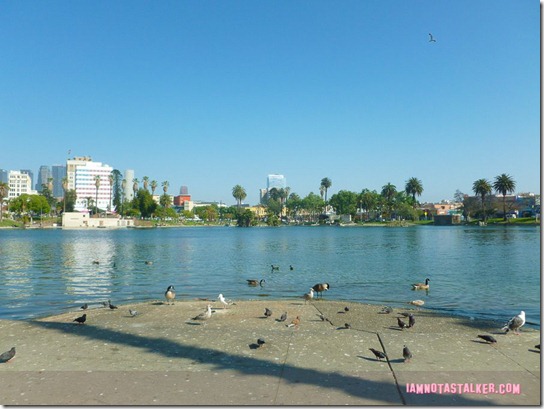 Sadly, during the '80s, the site, which in 1942 was renamed General Douglas MacArthur Park in honor of the famed WWII general, became a haven of drug, gang and criminal activity.  Despite an attempted revitalization in 2002, the property is still pretty dangerous.  Even though we stalked the park during daylight hours, I was still extremely uncomfortable being there.  While we were snapping pictures of the Levitt Pavilion bandshell, which was completely renovated in 2007 and now offers over 50 free concerts each summer, some loon jumped onto the stage armed with a huge generator, microphone and boom box and proceeded to put on his very own rap concert.  I cannot even imagine what the place is like at night!  It sure is picturesque, though!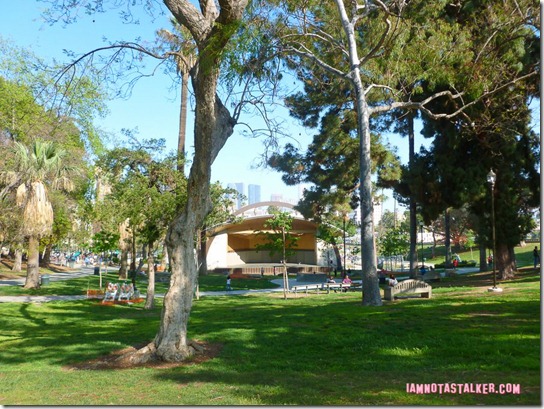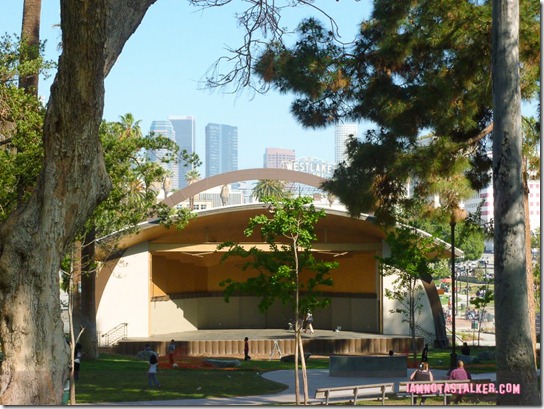 MacArthur Park is full of shady characters and we also witnessed a few drug sales in the short ten minutes we were there.  To quote the Wikipedia page on the location, "Public urination in the park is illegal but commonplace."  Yep, that pretty much sums it up!  As you can see below, though, the site does boast some pretty incredible views of the downtown L.A. skyline.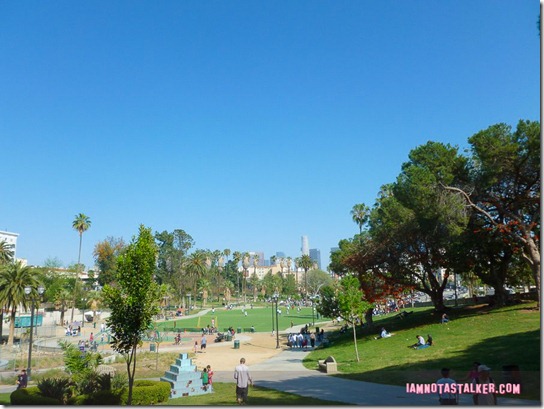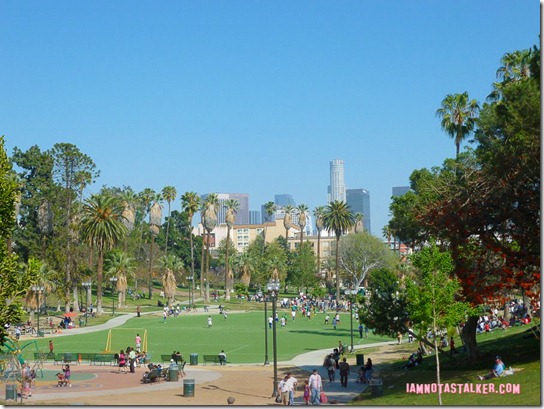 Because the park, which in 1972 was designated Los Angeles Historic-Cultural Monument #100, is so picturesque, it is not hard to understand why it has been the site of countless filmings over the years.  The place also inspired the Richard Harris-penned 1968 song for Jimmy Webb titled "MacArthur Park" and Donna Summer's 1970 remake of it, and it also quite possibly might have been the location of the eponymous bridge in the Red Hot Chili Peppers' 1992 hit "Under the Bridge".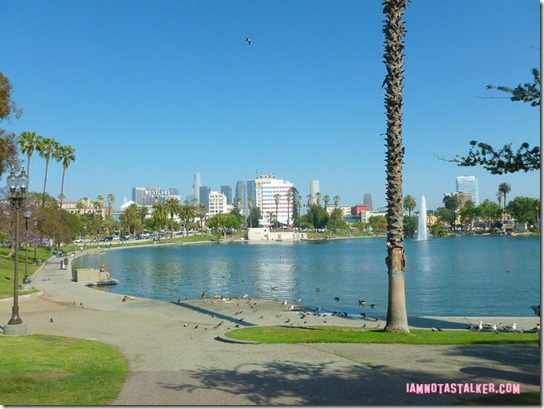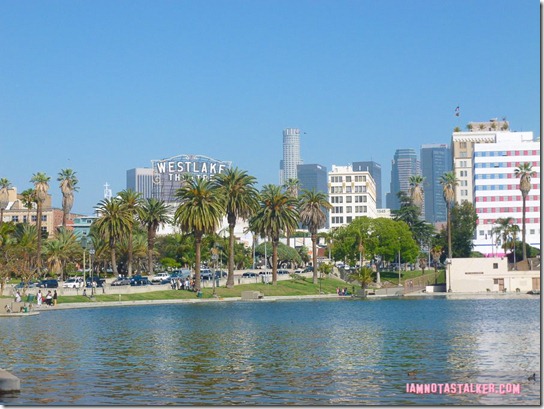 In the "Bells" episode of New Girl, MacArthur Park stood in for the fictional "Pershing Park" where Ensembell held their first recital.  (The homeless guy fist-fighting the air in the first screen capture pictured below is pretty much a true-to-life description of the types of people one will encounter at the park.)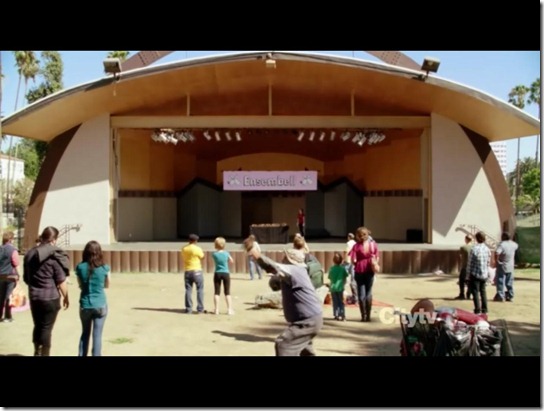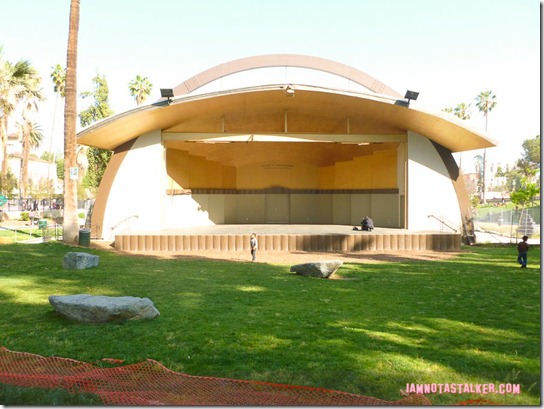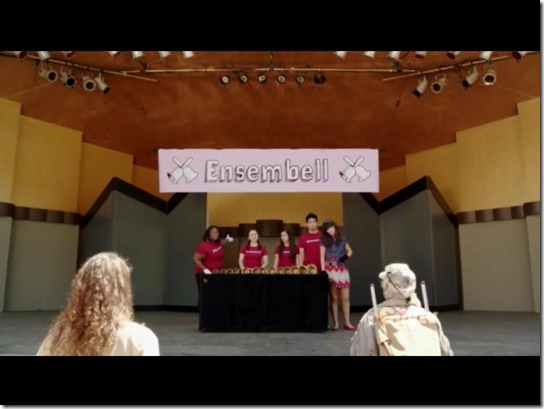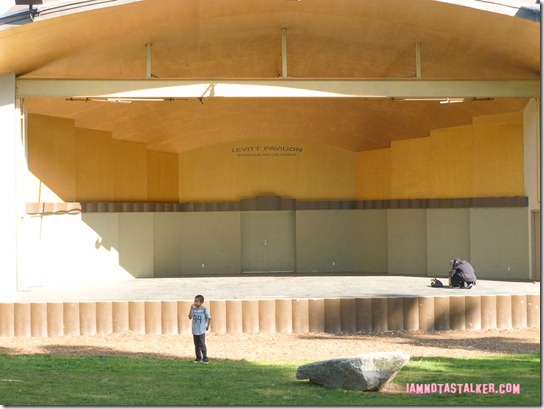 In the Season 1 episode of Dragnet 1967 titled "The Bank Examiner Swindle", MacArthur Park was where Sgt. Joe Friday (Jack Webb) and Officer Bill Gannon (Harry Morgan) interviewed Fred Gregory (Burt Mustin), one of the victims of a financial scam against the elderly.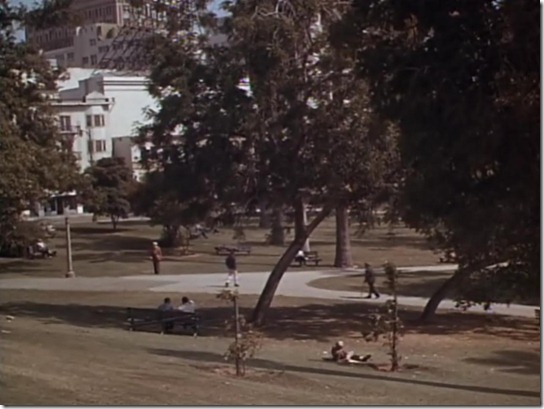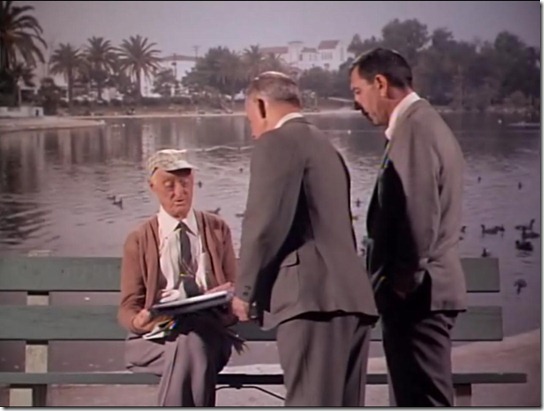 In the Season 1 episode of Starsky and Hutch titled "Lady Blue", MacArthur Park stood in for the fictional "Lincoln Gardens" where Detective Ken 'Hutch' Hutchinson (David Soul) and Detective Dave Starsky (Paul Michael Glaser) investigated the murder of Starsky's ex-girlfriend Helen.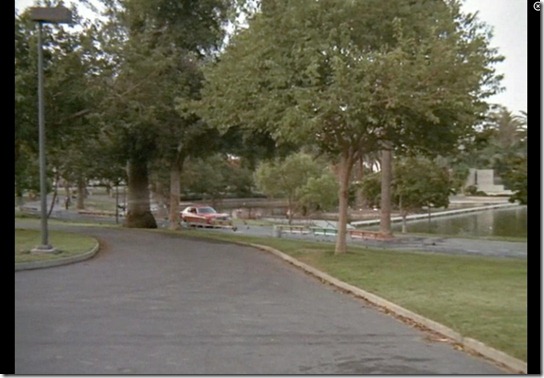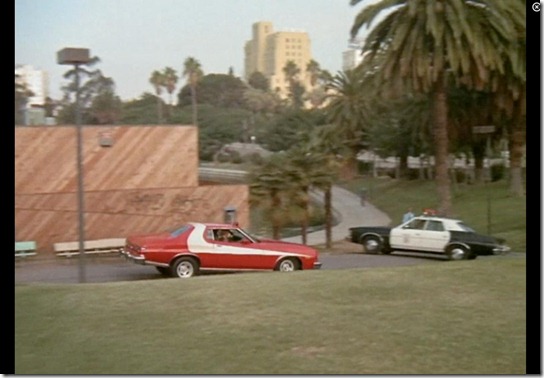 And in the Season 2 episode of Starsky and Hutch titled "Vendetta", the park was where the duo picnicked with their girlfriends before getting interrupted by a "1040" call.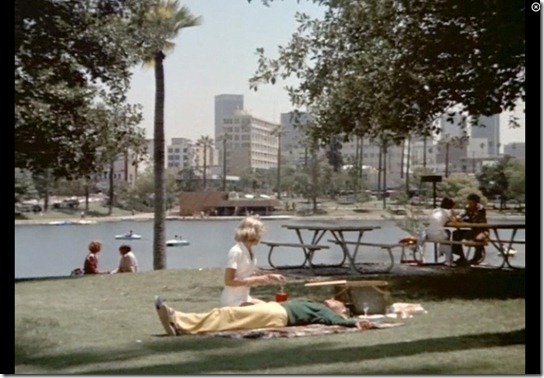 In the Season 5 episode of The A-Team titled "The Grey Team", MacArthur Park was where Templeton 'Faceman' Peck (Dirk Benedict) and John 'Hannibal' Smith (George Peppard) spied on a Soviet agent named Saroff (Tony Steedman).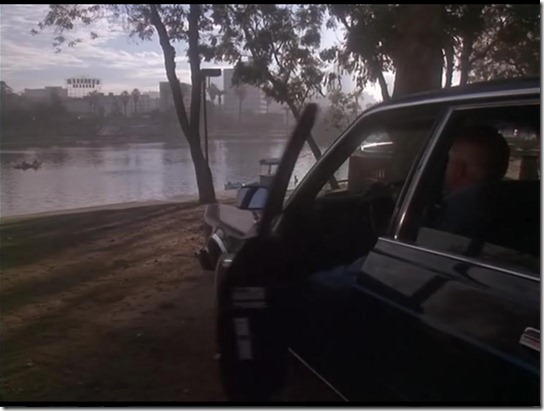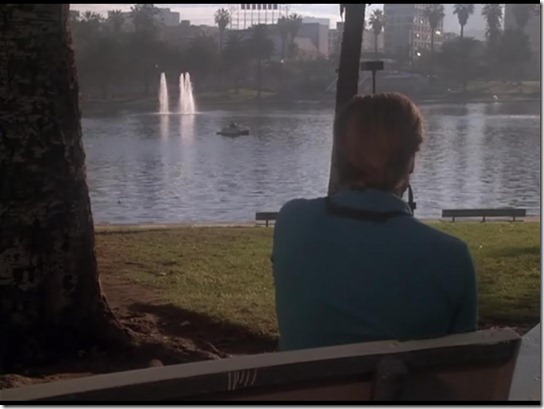 In 1993's Falling Down, MacArthur Park was the spot where William 'D-Fens' Foster (Michael Douglas) got into an altercation with a homeless man.  At the time of the filming, the lake had been drained and the park was undergoing major construction for the Metro Rail Rail Line addition, so it looked considerably different than it does today.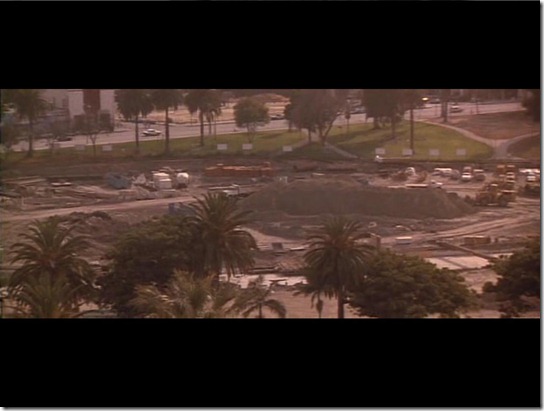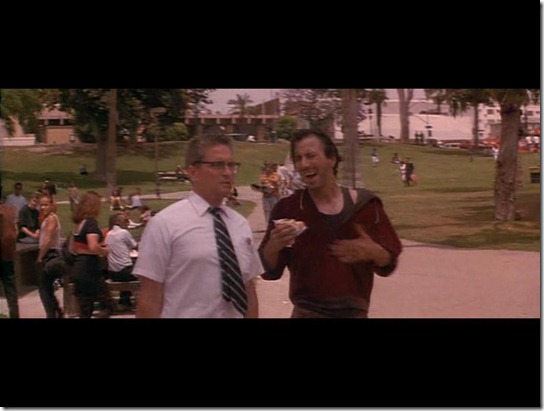 In 1997's Volcano, MacArthur Park was the site where seven public works employees were steamed to death while working on a storm drain.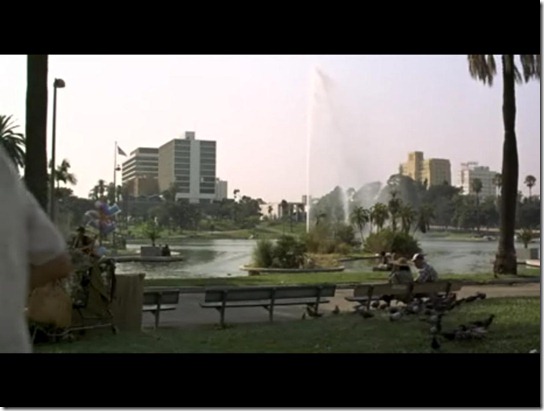 The location was used extensively in 2001's aptly-titled MacArthur Park.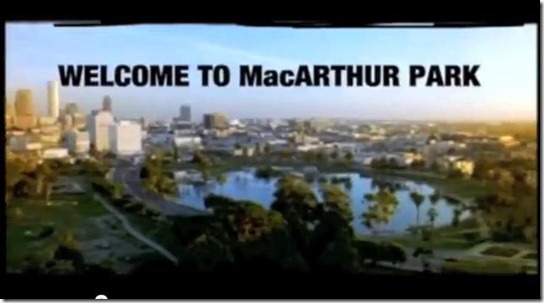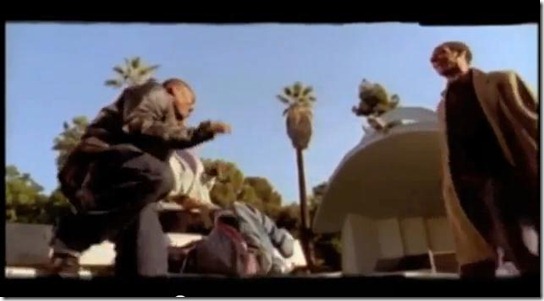 In 2005's Kiss Kiss Bang Bang, Harmony Faith Lane (Michelle Monaghan) saves her friend Gay Perry (Val Kilmer) from being killed at MacArthur Park.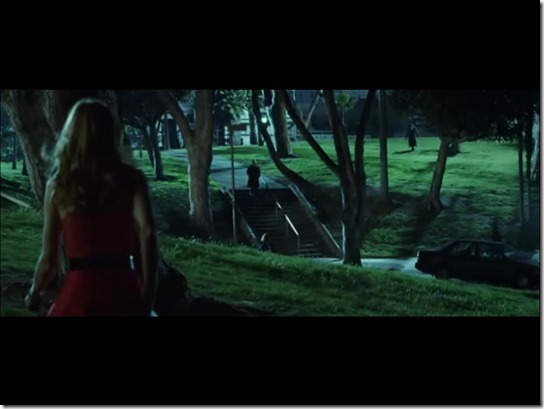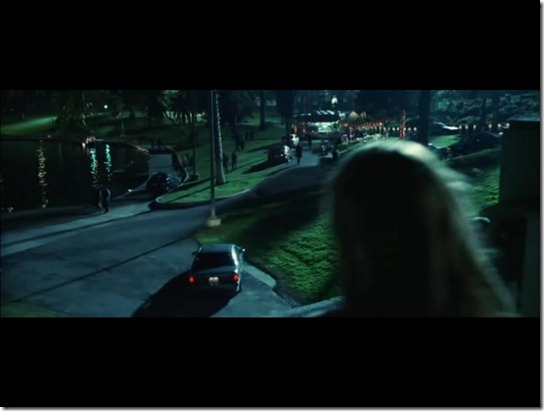 The music video for Gym Class Heroes' 2005 song "Cupid's Chokehold/Breakfast in America", which starred Katy Perry, was shot extensively at MacArthur Park.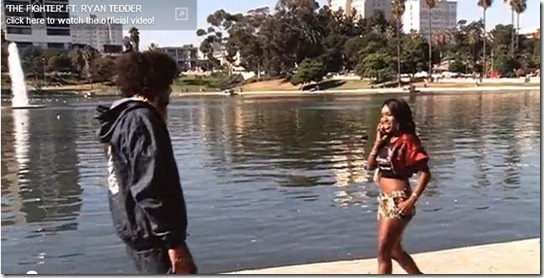 You can watch that video by clicking below.
Gym Class Heroes: "Cupid's Chokehold/Breakfast in America" Filmed at MacArthur Park
In the Season 6 episode of Numb3rs titled "Hangman", Don Eppes (Rob Morrow) and his FBI team were shot at while setting up security for a political rally at MacArthur Park.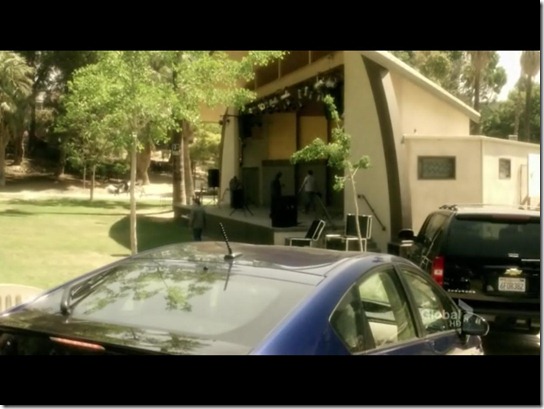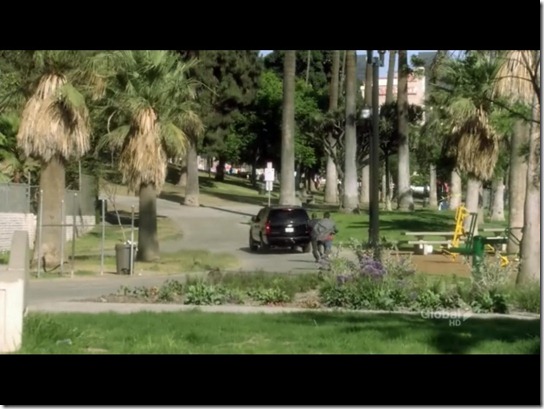 In the Season 1 episode of fave show FlashForward (I am still not over the fact that it was cancelled!) titled "Black Swan", there is a flashback scene of the blackout experience of a man named Ned Ned (Keir O'Donnell) in which a city bus crashes into the MacArthur Park lake.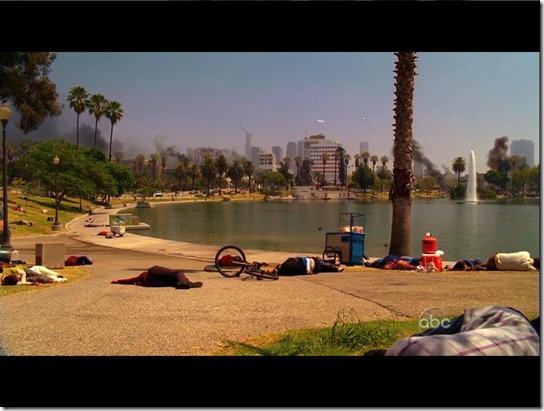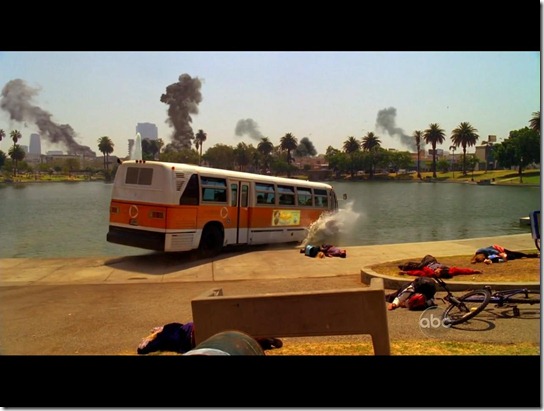 In the Season 1 episode of American Horror Story titled "Murder House", MacArthur Park was where the ultra-creepy Larry Harvey (Denis O'Hare) approached Ben Harmon (Dylan McDermott) to ask for $1,000 to get headshots taken.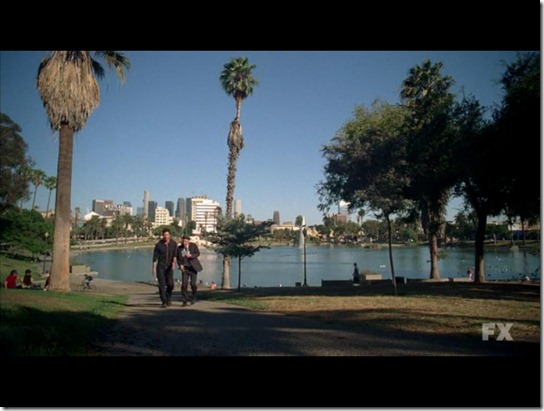 MacArthur Park has popped up on the television series Southland no less than 3 times.  In the Season 2 episode titled "Butch & Sundance", the park was where Detective Sammy Bryant (Shawn Hatosy) chased a gang member named Orlando (Eddie Maldonado).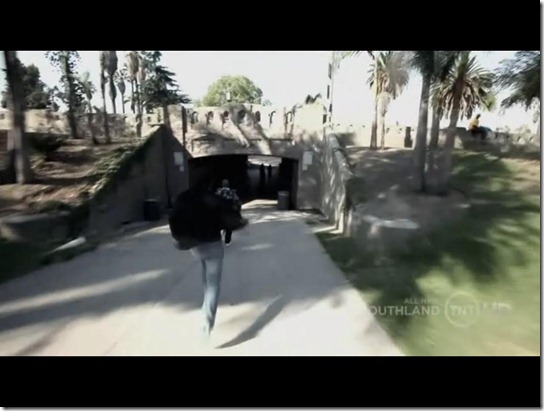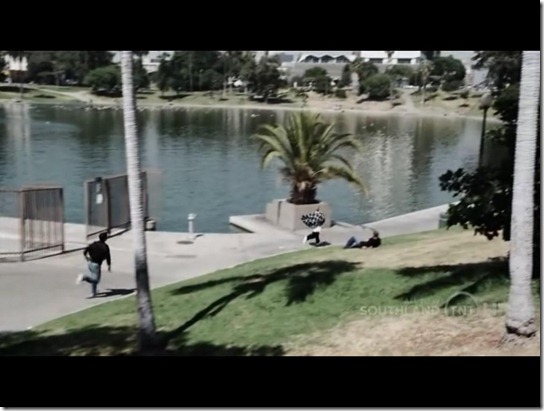 In the Season 4 episode titled "Identity", Detective Bryant and Officer Ben Sherman (cutie Ben McKenzie – sigh!) arrested a teenager for drug possession at MacArthur Park.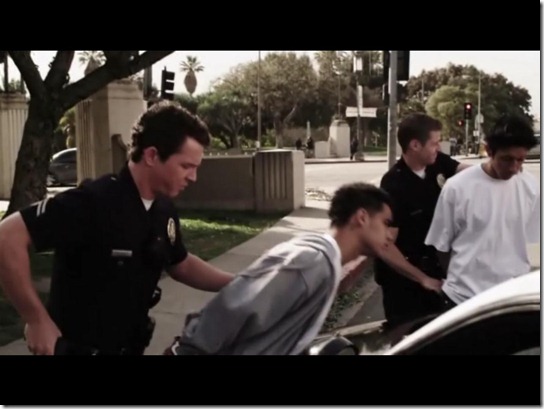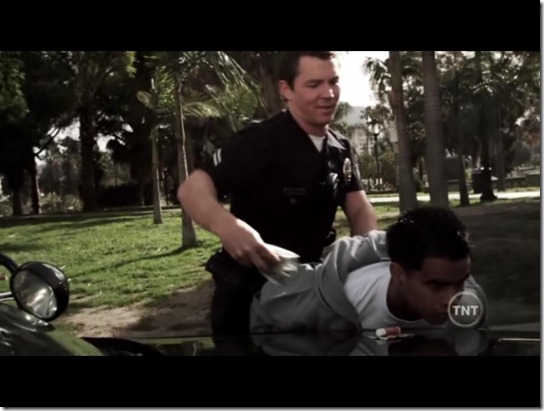 In that same episode, MacArthur Park also appeared as the spot where Detectives Lydia Adams (Regina King) and Ruben Robinson (Dorian Missick) tracked down a suspect named Nicole (Chrissy Stokes).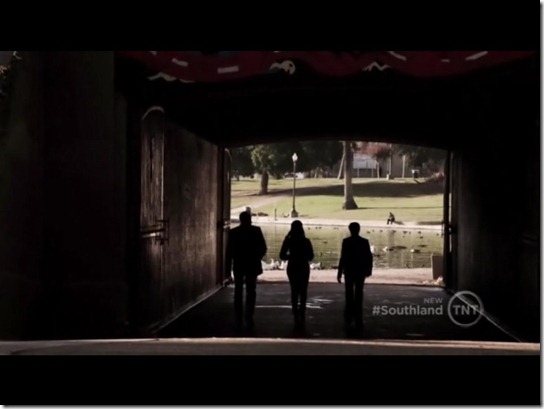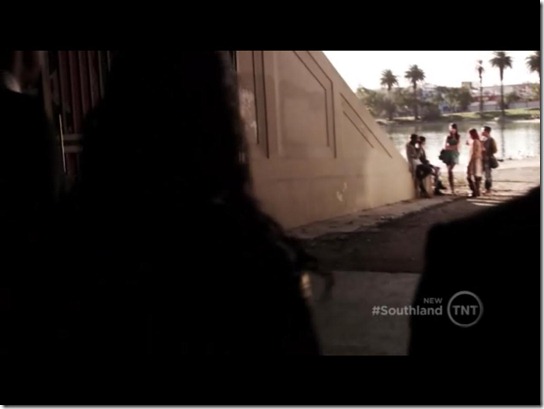 And in the Season 4 episode titled "God's Work", Officer John Cooper (Michael Cudlitz – aka Beverly Hills, 90210's Tony Miller
) talked to his unnamed sponsor, who was played by Lawrence Gilliard Jr., about his partner, Officer Jessica Tang (Lucy Liu), while walking around MacArthur Park's lake.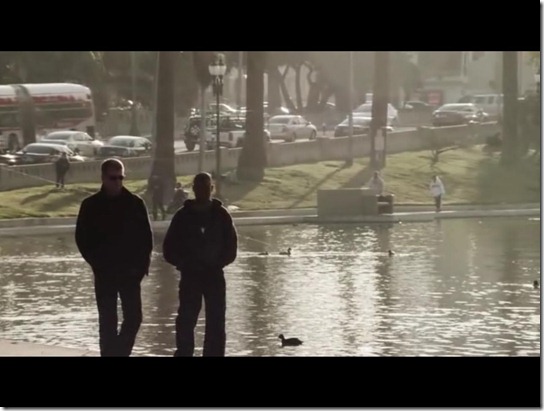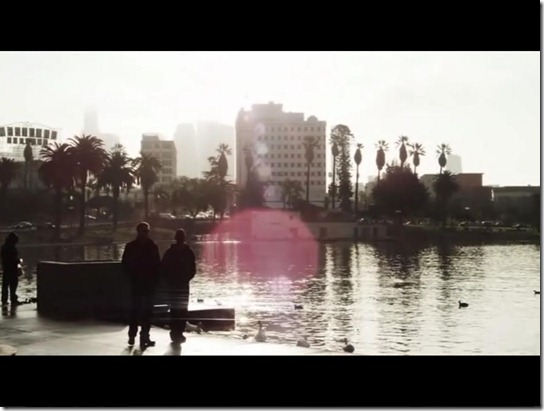 In 2011's Drive, "Driver" (Ryan Gosling) made a deal with Cook (James Biberi) while at MacArthur Park.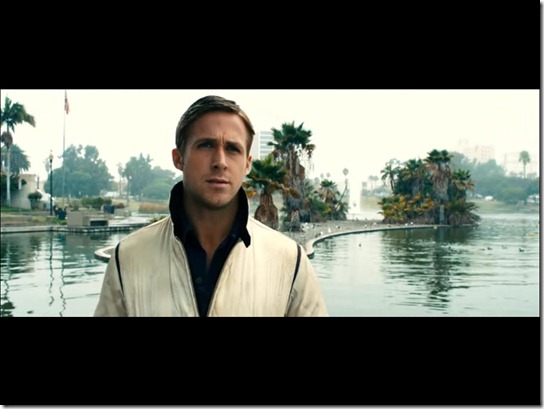 And while IMDB claims that the Season 2 episode of the original Melrose Place titled "Till Death Do Us Part" was shot at MacArthur Park, filming actually took place at the similar-looking Echo Park.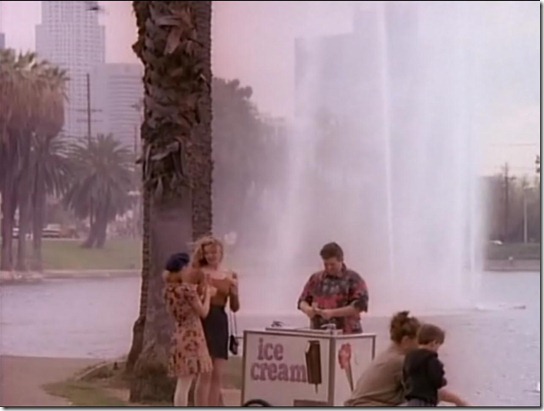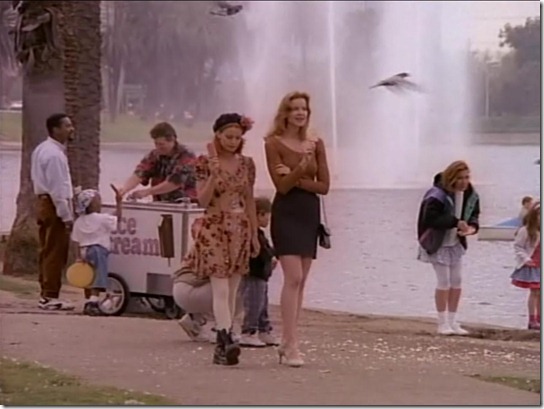 MacArthur Park was also featured in the movie Brave New World, but unfortunately I was unable to find a copy of that production with which to make screen captures for this post.  And while the location supposedly appeared in 1992's Buffy the Vampire Slayer, I scanned through the flick earlier today and did not spot it anywhere.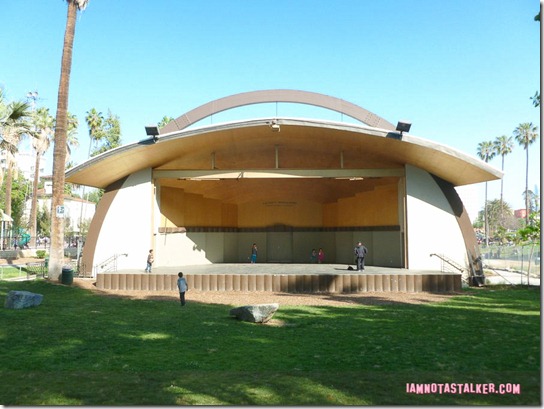 Be sure to "Like" IAMNOTASTALKER on Facebook here and "Friend" me on my personal page here.  You can also check out the IAMNOTASTALKER About Me page here.  And you can follow me on Twitter at @IAMNOTASTALKER.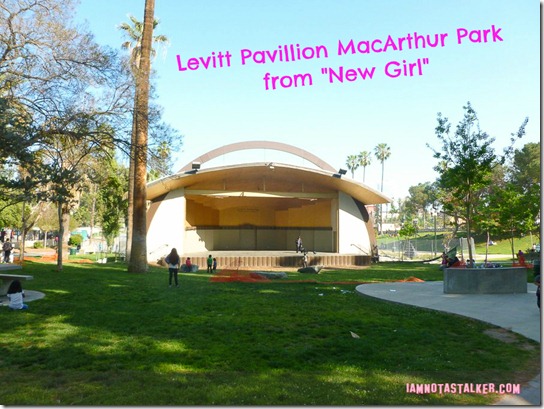 Until next time, Happy Stalking! 
Stalk It: The Levitt Pavilion MacArthur Park bandshell, from the "Bells" episode of New Girl, is located at 2230 West 6th Street, on the northern side of MacArthur Park, in Los Angeles.  You can visit the Pavilion's official website here.  Be forewarned, MacArthur Park is not the safest place, especially at night, so please exercise caution.
54100