Four 'N 20 – aka JJ's Diner from "Parks and Recreation"
Jun 21st, 2012 | By
Lindsay
| Category:
TV Locations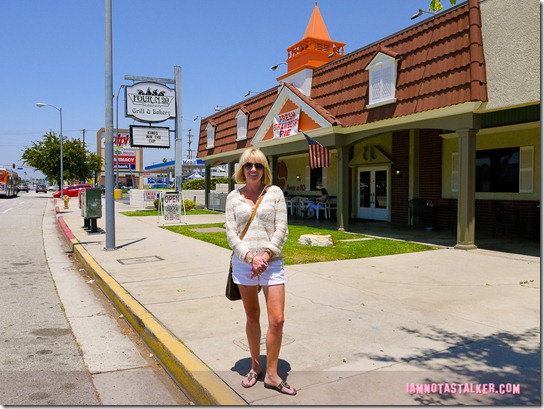 A couple of weeks ago, fellow stalker Brandon (the very same stalker who told me about the Skyline Residence from fave movie Crazy, Stupid, Love., which I blogged about here) emailed me a list of over twenty Parks and Recreation locations that he had managed to track down.  The one locale on the list that intrigued me the most was the exterior of JJ's Diner – the local Pawnee-area hangout, known for its superior waffles, that is featured regularly on the show.
Ironically enough, the exterior of JJ's Diner is not located in Los Angeles at all, but in Atlanta, Georgia of all places!  The restaurant used for the establishing shots of Pawnee's most-famous breakfast joint is actually the Landmark Diner located at 2277 Cheshire Bridge Road NE.  I have no idea how producers came to use an out-of-state eatery on the series, but as you can see below, the (craptastic) Google Street View image of the restaurant matches perfectly to what appears onscreen.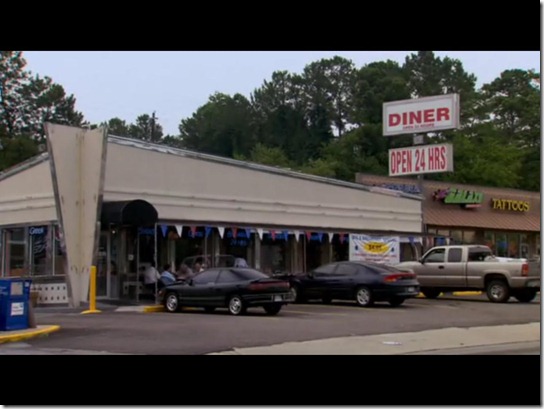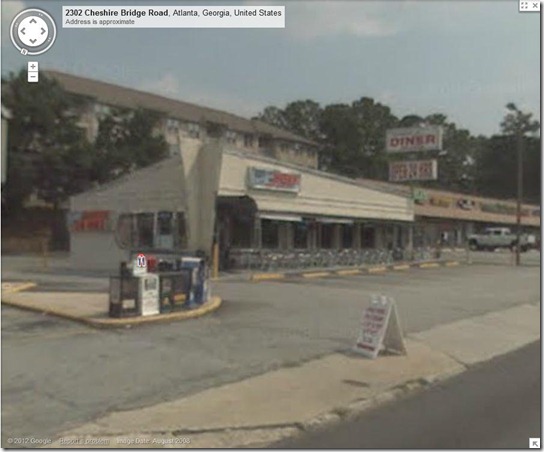 Once I found out that the exterior of JJ's was located in Georgia, I became just a wee-bit obsessed with tracking down the restaurant used for the interior.  I ended up finding it thanks to the unique botanical pattern visible on the booths in the background of the many JJ's scenes.  I had a hunch that the eatery was located in or around Van Nuys, where the series seems to do most of its filming, so I began searching through images of cafes in that area on Yelp (which is such a fabulous stalking tool, by the way!) looking for booths with that pattern.  Sure enough, it was not long before I came across one on the Yelp page for Four 'N 20 restaurant in Sherman Oaks.  Yay!  So I dragged the Grim Cheaper right on out to stalk the place a few days later.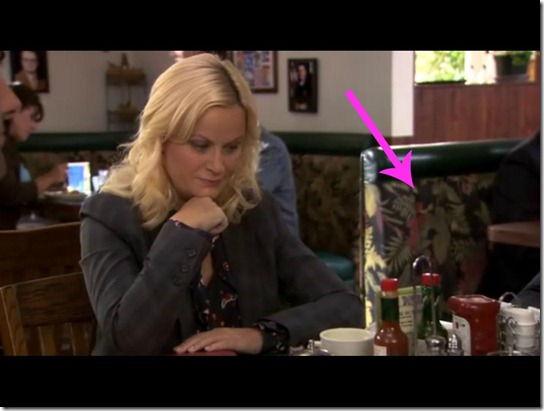 Once I saw the outside of Four 'N 20 in person, I found it even more odd that producers had opted to use the Landmark Diner for JJ's exterior because, as you can see below, Four 'N 20 definitely has a Midwestern feel to it.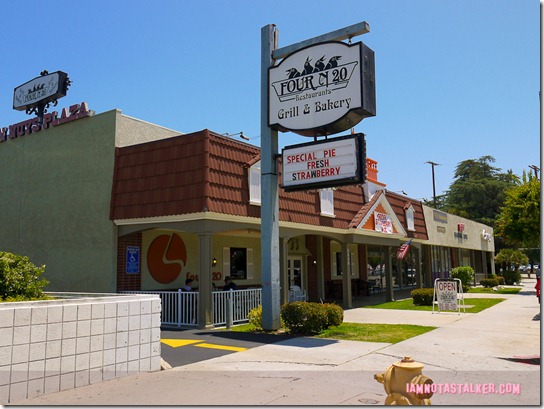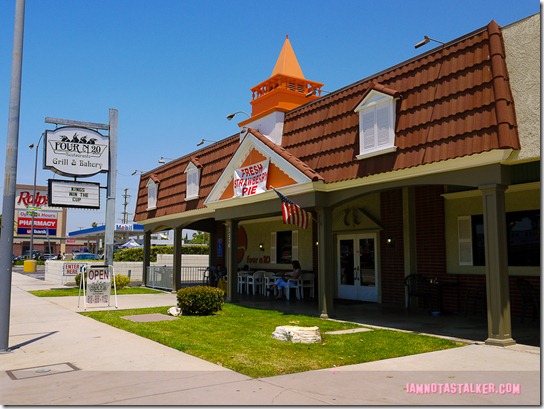 The interior also has a Midwestern feel and it is not too hard to see how it came to be used on Parks and Recreation.  According to a commenter named Kiwi on the Chowhound website, when Four 'N 20 first opened in 1969, it was located a few blocks north of where it is now.  When that spot was demolished to make way for a car dealership sometime during the '90s, Four 'N 20 moved to its current location, which had formerly been the site of "Chicken, Steak and Chocolate Cake" – a buffet-style restaurant where guests were charged based on their weight!  Not kidding!  Apparently there was a large scale that diners would have to step on before being rung up!  Now if that doesn't scream "Pawnee" – a city's whose slogan is "First in Friendship, Fourth in Obesity" – than I don't know what does!  A CS&CC-style restaurant so needs to be added to a future storyline!  P&R writers, are you listening?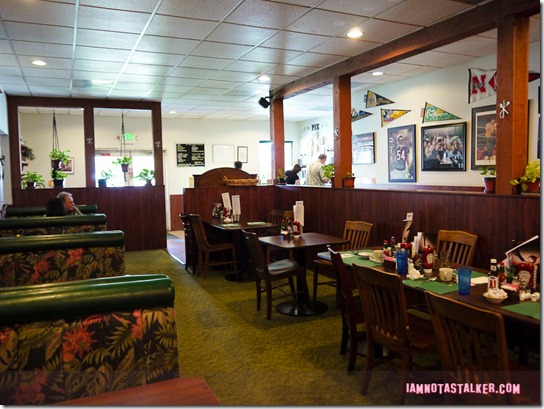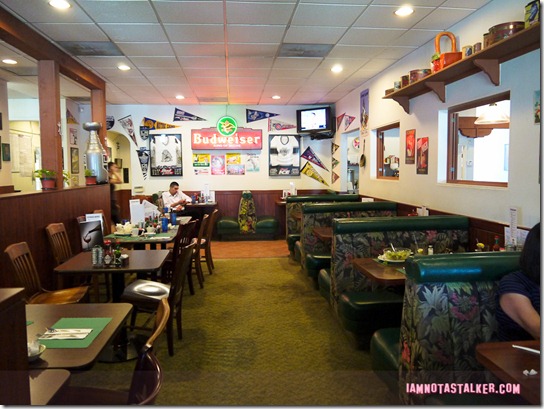 At the time that Four 'N 20 first opened, it mainly served pies – hence the name, which the GC did not understand.  I am not sure who his nursery school teacher was, but he/she obviously did not do a very good job!  For those not in the know, the Four 'N 20 name comes from the "Sing a Song of Sixpence" nursery rhyme, which goes like this: "Sing a song of sixpence, A pocket full of rye; Four and twenty blackbirds, baked in a pie.  When the pie was opened, the birds began to sing; Was that not a dainty dish, To set before the king?"  Over the years, Four 'N 20 expanded its menu choices and also opened up a sister restaurant in nearby Valley Village, but the place is still best-known for its pies.  CBSLosAngeles even named the diner's pumpkin pie one of the "Best of L.A."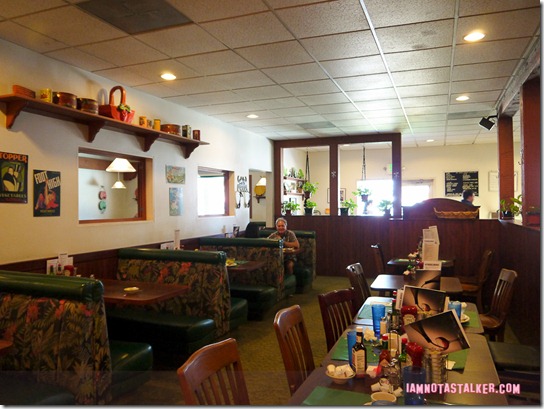 The Four 'N 20 menu is wide and diverse with many comfort food offerings, as well as vegetarian and vegan options – and there's even a "Fitness Menu" for the Chris Traegers in your life. 
Glaringly missing from the Four 'N 20 menu, though, were waffles!  I almost fell out of the booth when I realized that the restaurant did not serve them and just had to make a suggestion to the manager that he add them to the menu – stat!  Heck, he could even create a whole "Pawnee Specials" section!  Man, why do I always have to be the one to think of everything?!?
For my lunch, I opted for the Crispy Chicken salad which, as you can see below, was amazeballs!  I literally do not think there was one scrap left on my plate by the time I was done with that thing!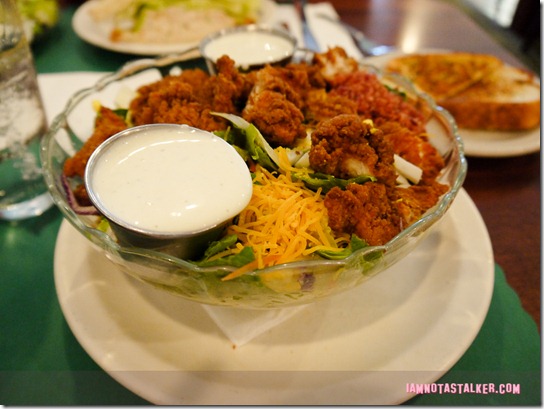 The GC and I had a fabulous time at Four 'N 20 and the staff could not have been more friendly, although I think a few of them found it odd that we were only dining there because of the place's many Parks and Recreation appearances. (Check out the super-nice cop we met during our lunch who couldn't stop photo-bombing me! LOL)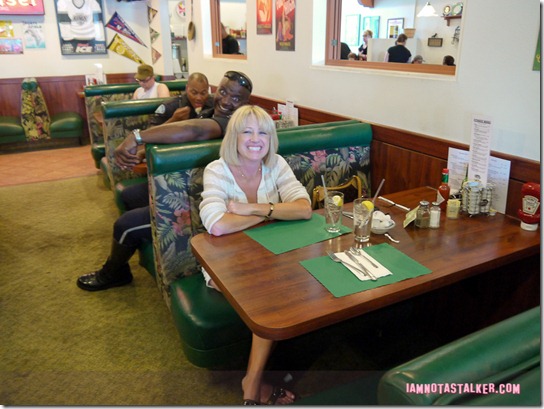 Four 'N 20 has appeared in numerous episodes of Parks and Recreation, including Season 2's "The Master Plan" and Season 3's "Flu Season" and "Ron and Tammy: Part Two", just to name a few.  On the show, Leslie Knope (Amy Poehler) describes JJ's, which is owned by JJ Lipscomb (Brent Briscoe), as "the unofficial meeting place of Pawnee's political elite".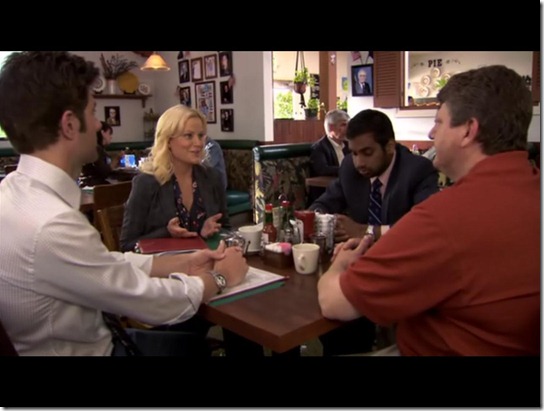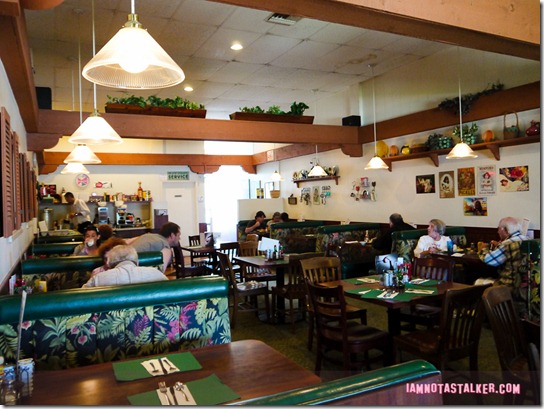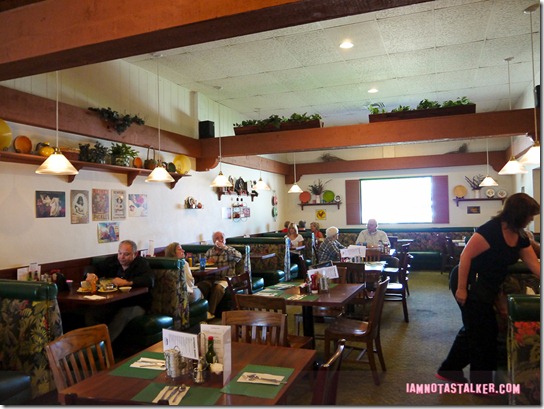 JJ's Diner and its waffles are also mentioned regularly on the series.  In the Season 3 episode titled "Time Capsule", Ron Swanson (Nick Offerman) puts one of JJ's menus in the Pawnee time capsule because, as he says, the restaurant is a "Pawnee institution" and "home of the world's best breakfast dish, 'the Four Horsemeals of the Eggsporkalypse.'" Just another item that Four 'N 20 could add to its "Pawnee Specials" menu section!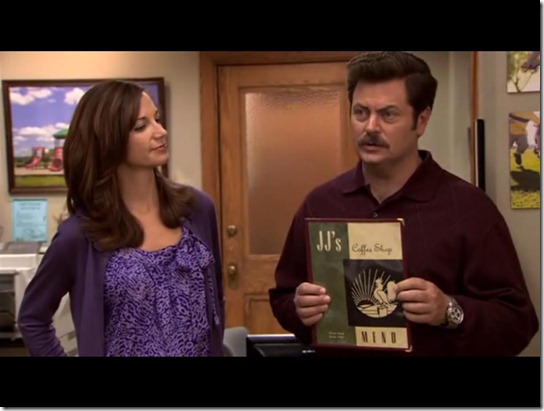 Oddly enough, though, a different restaurant – Kountry Folks at 8501 Sepulveda Boulevard in North Hills, which I have yet to stalk – was used as JJ's during the show's first season.  As you can see below, it looks nothing like Four 'N 20.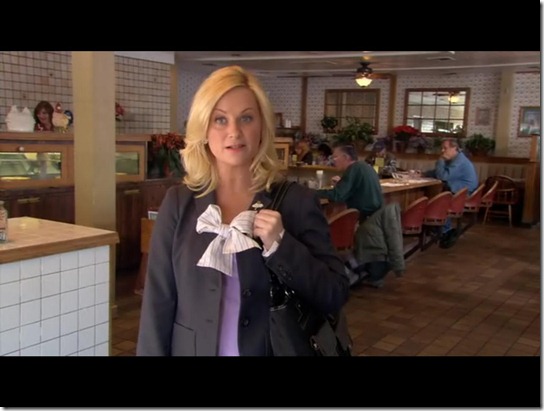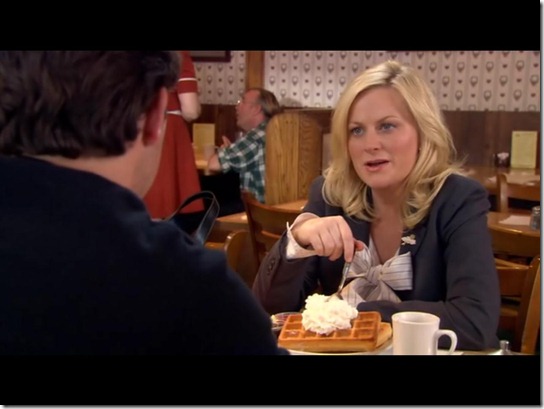 Be sure to "Like" IAMNOTASTALKER on Facebook here and "Friend" me on my personal page here.  You can also check out the IAMNOTASTALKER About Me page here.  And you can follow me on Twitter at @IAMNOTASTALKER.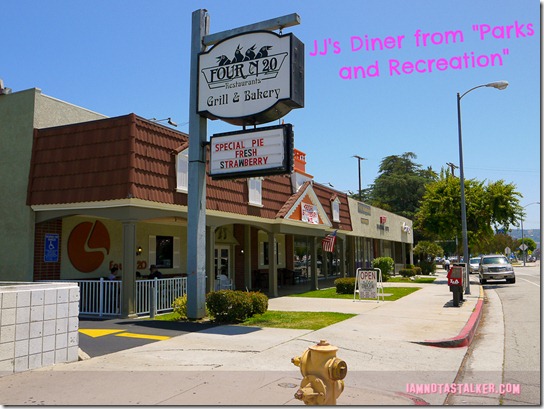 Big THANK YOU to fellow stalker Brandon for finding the location of JJ's exterior.

Until next time, Happy Stalking! 

Stalk It: The interior of JJ's Diner on Parks and Recreation is actually Four 'N 20 located at 5530 Van Nuys Boulevard in Sherman Oaks.  You can visit the restaurant's official website here.  The exterior of JJ's is the Landmark Diner, which is located at 2277 Cheshire Bridge Road NE in Atlanta, Georgia.  You can check out the Landmark's official website here.
54391