The Parking Lot Where Jack McKay was Killed on "Beverly Hills, 90210"
Jul 17th, 2012 | By
Lindsay
| Category:
90210 & Beverly Hills, 90210 Filming Locations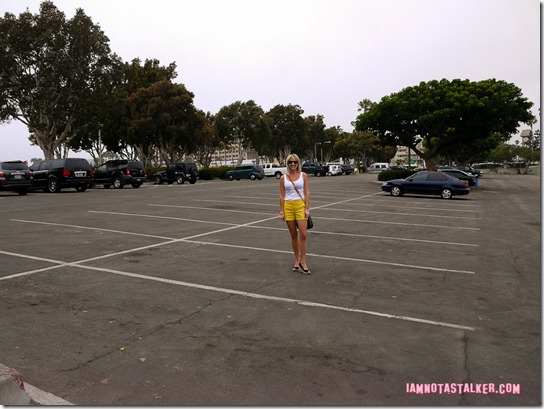 This past Saturday (which, as you can see above, was extremely overcast and cloudy – boo!), Mike, from MovieShotsLa, and I spent all day stalking in the Venice Beach/Marina Del Rey-area.  After stopping by the Killer Café (aka the former Edie's Diner from Enough and Dexter), which I will be blogging about soon, Mike pointed to the parking lot across the way and mentioned that it was where Jack McKay (Josh Taylor), father of Dylan McKay (Luke Perry – my high school love, sigh!), was killed by a car bomb in the Season 3 episode of fave show Beverly Hills, 90210 titled "Dead End".  Well, as you can imagine, I was completely bowled over at hearing this bit of information and asked Mike to take me right on over there to stalk the place.
It's funny, but even though I had only seen the "Dead End" episode once, way back in 1993 when it first aired, the parking lot where Jack McKay was killed was seared into my memory and, as soon as Mike pointed it out, I recognized the place at once and was immediately transported back to my high school days.  It is amazing how some television shows and movies have that capability!  I mean, I could literally almost feel the braces on my teeth!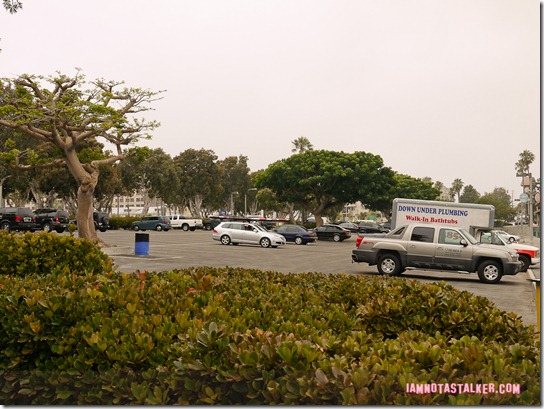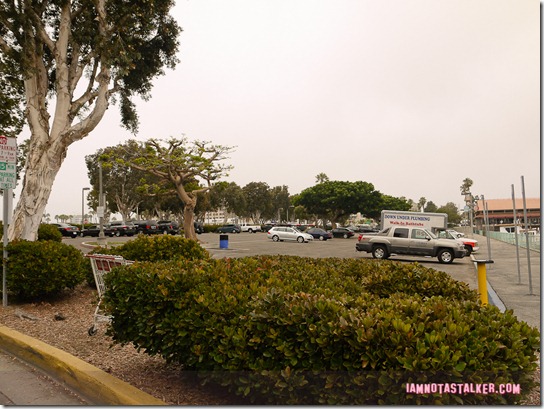 In "Dead End", Jack, who has just been released from federal prison, moves into a humongous, borrowed yacht with his girlfriend, Christine Pettit (Valerie Wildman), and Dylan.  In the episode, the vessel was docked at the very end of Berth E2500 in Marina Del Rey.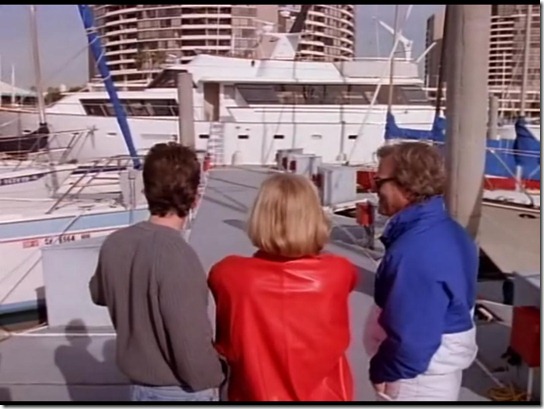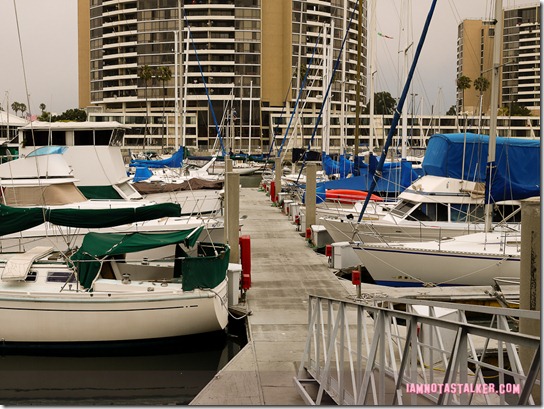 One rainy morning, shortly after moving in together and mending their relationship, Dylan goes to move his father's car from the marina parking lot.  In the scene, he walks out of the gate marked "E2500, 2700, 2900".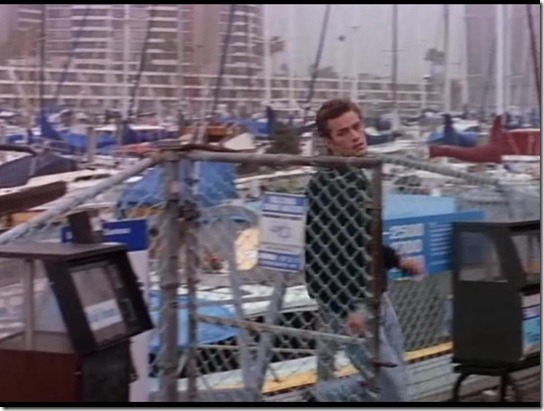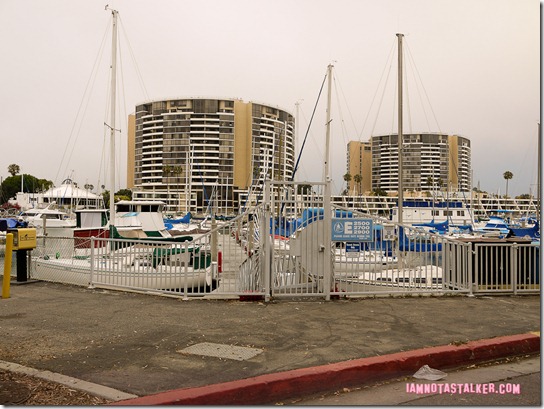 As fate would have it, just as Dylan is about to unlock the car door, Jack calls out to him to inform him that Kelly Taylor (Jennie Garth) is on the phone.  (And I just have to say here that while scanning through "Dead End" to make screen captures for today's post, I got seriously fed up with Kelly's incessant baby-talk!  Blech!  I realize that this goes without saying, but Team Brenda all the way! 

)  Jack then runs up the dock to give Dylan the phone and tells him that he will move the car because, "Well, hey, what are dads for, huh?"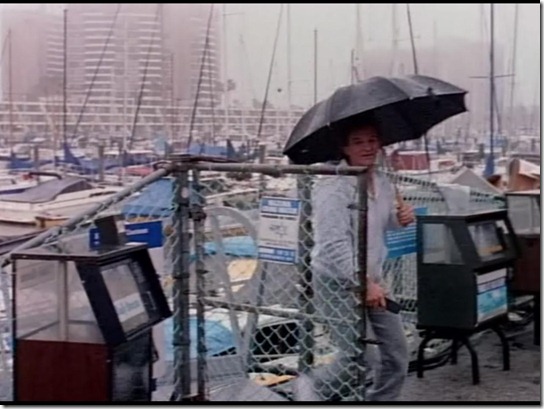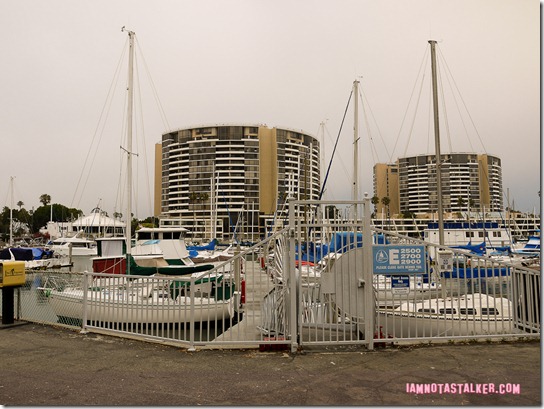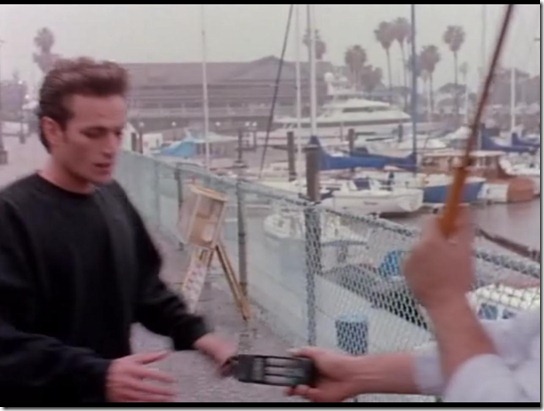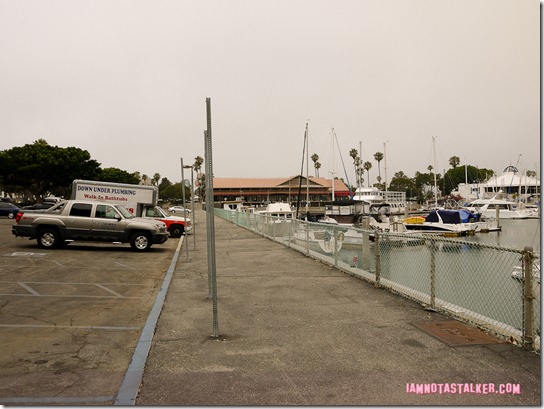 While Dylan is talking to Kelly, Jack's car blows up, killing him (or so producers would have us believe) and forever altering Dylan's life.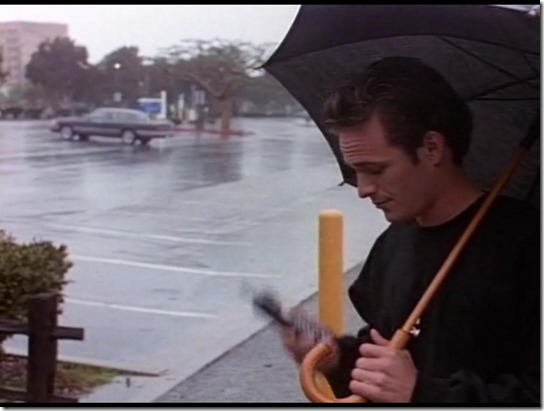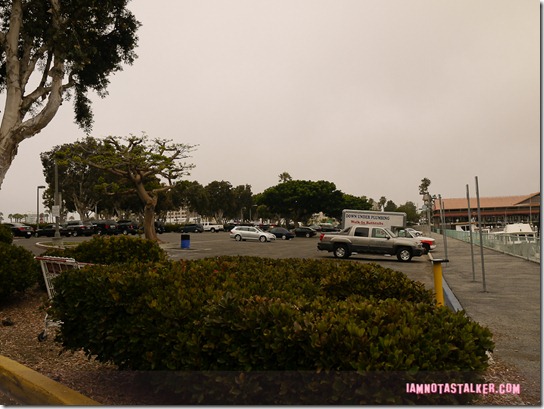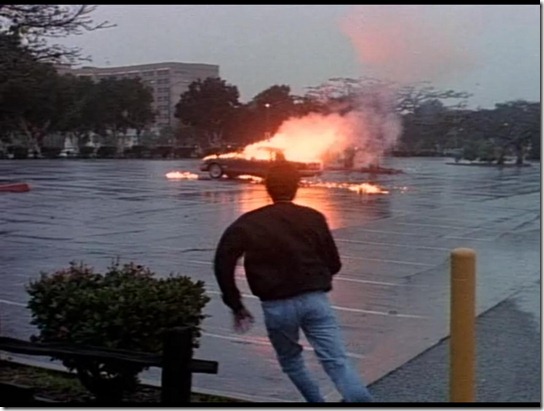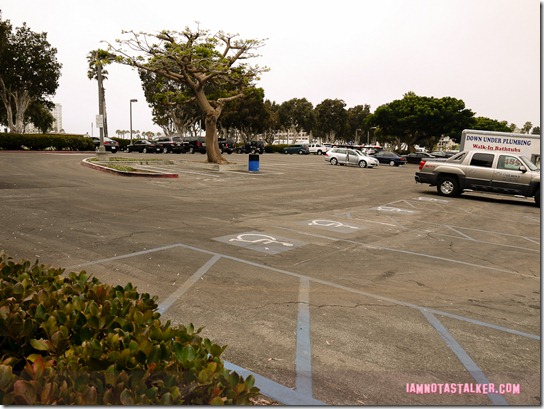 And I, of course, just had to imitate Dylan's reaction to the explosion while I was there.  (For some reason, I thought he had his arms out during the scene.)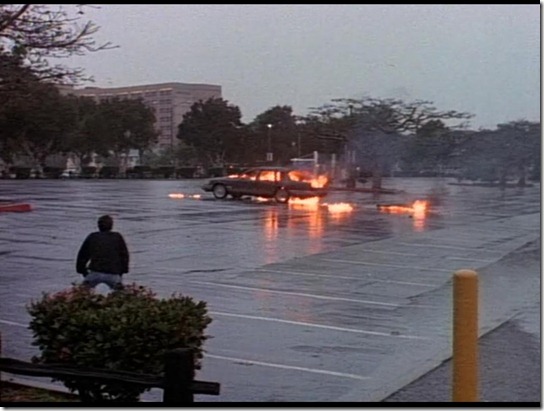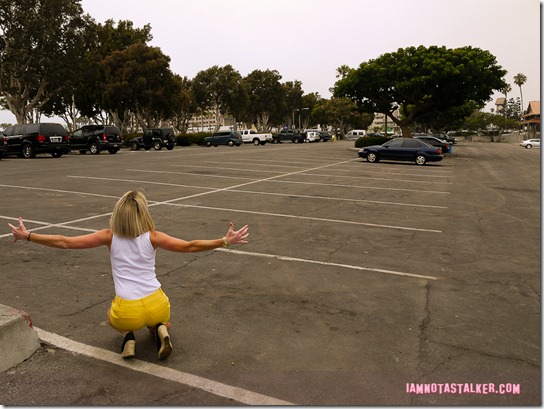 The very same parking lot was also the spot where Dylan got rid of his gun – and let go of his anger over his father's murder – with his girlfriend, Antonia "Toni" Marchette (Rebecca Gayheart), standing by his side in the Season 6 episode titled "Gypsies, Cramps and Fleas (a.k.a. Halloween VI)".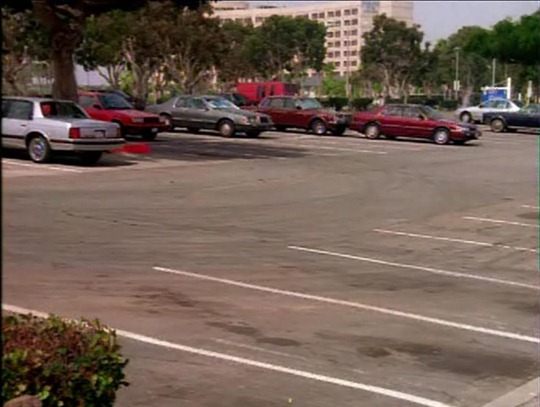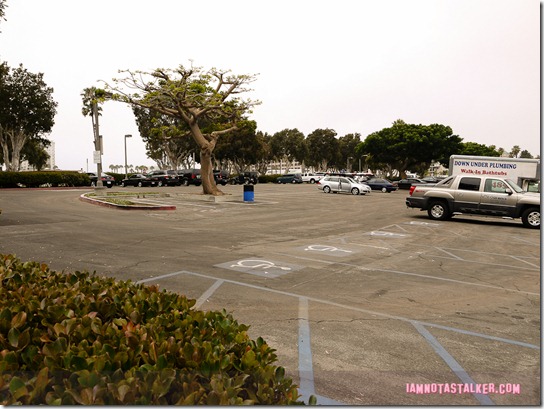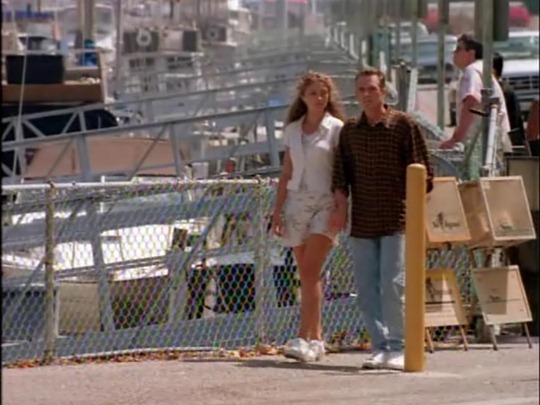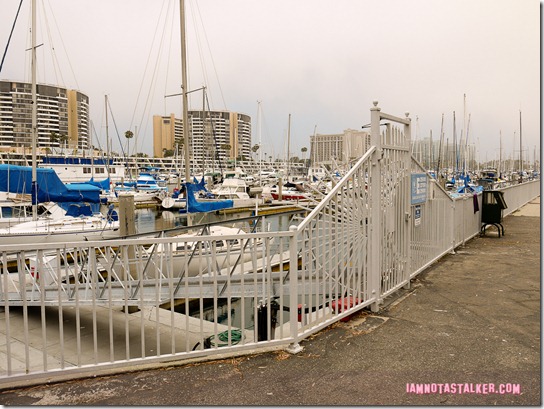 The parking lot was also used in the Season 2 episode of Dexter titled "An Inconvenient Lie", as Gulf Shore Motors, the used car dealership where murderer Roger Hicks (Don McManus) worked and where Dexter Morgan (Michael C. Hall) stalked him.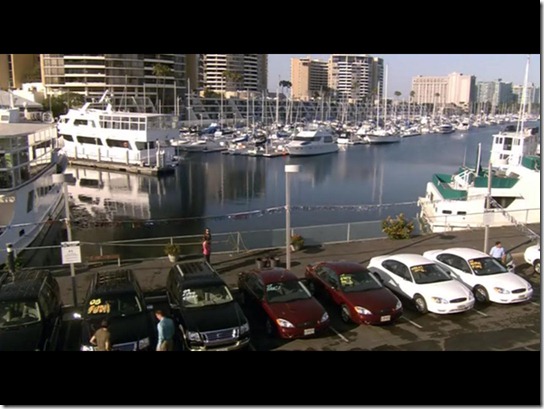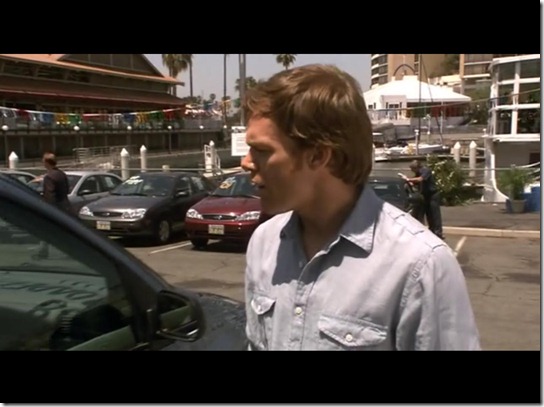 Be sure to "Like" IAMNOTASTALKER on Facebook here and "Friend" me on my personal page here.  You can also check out the IAMNOTASTALKER About Me page here and you can follow me on Twitter at @IAMNOTASTALKER.  And don't forget to take a look at my latest post – about my no-carb diet – on my other blog, The Well-Heeled Diabetic, here.
Big THANK YOU to Mike, from MovieShotsLA, for showing me this location! 

Until next time, Happy Stalking!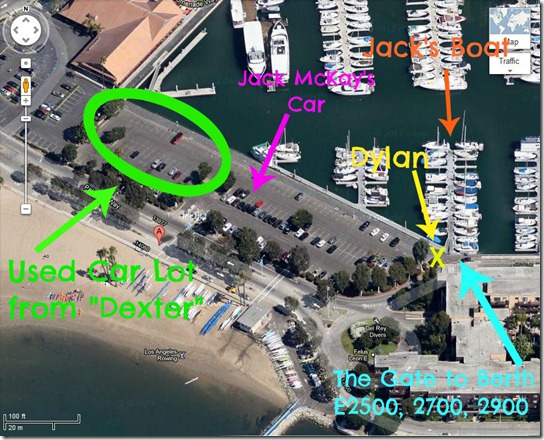 Stalk It: The parking lot where Dylan McKay's father was killed in the "Dead End" episode of Beverly Hills, 90210 is Public Parking Lot # 9 located at 14110 Palawan Way in Marina Del Rey.  In the above map, the location of Jack's boat is denoted with an orange arrow; the gate Dylan and his father walked out of (for berth E2500, 2700, 2900) is marked with a blue arrow; the spot where Jack's car was parked is designated with a pink arrow; the area where Dylan was standing when the bomb exploded is denoted with a yellow "X"; and finally, the used car lot from the "An Inconvenient Lie" episode of Dexter is stamped with a green circle.
55318