Mitch Hiller's House from "Enough"
Jul 18th, 2012 | By
Lindsay
| Category:
Movie Locations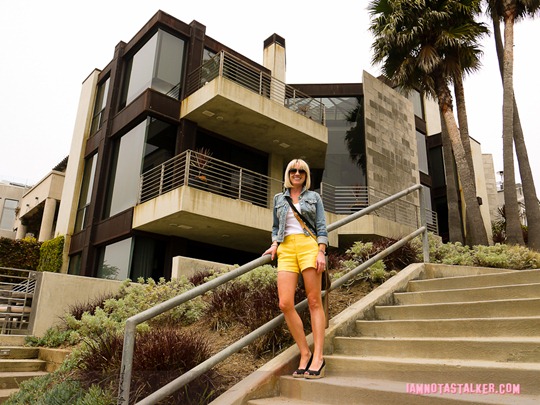 One location that I have been absolutely obsessed with for what seems like ages now is the ultra-modern beach house where Mitch Hiller (Billy Campbell) lived in the 2002 thriller Enough – which I just recently discovered is the very same spot that stands in for the exterior of the Indianapolis loft belonging to Chris Traeger (Rob Lowe) on fave show Parks and Recreation. Mike had long known where the property was located thanks to a former co-worker of his whose husband was on the Enough crew.  So, while we were in the Marina Del Rey-area on Saturday (which, as I mentioned yesterday, was completely dreary and overcast – I thought it was supposed to be summer, folks!), he took me right on over to stalk the place.  And I am very happy to report that it is just as spectacular in person as it was onscreen.  Looks like this stalker may just have herself a new dream house! 

The Enough house, which was originally constructed in 1996 out of glass, cement and weathering steel, boasts four bedrooms, five baths, an upstairs office, an elevator, a gourmet kitchen, a detached two-car garage, private balconies off of each bedroom, floor-to-ceiling windows, a media room, and sweeping views of Marina Del Rey's Grand Canal and the Pacific Ocean.  There seems to be some discrepancy online over the abode's square footage, though, as Zillow (and most property record sites) report it as measuring 5,758 square feet, while the pad's real estate website claims it to be "almost 3,000".  From viewing the place's exterior, I would guess the 3,000 measurement to be the better bet.  And while the dwelling was just recently for sale for a whopping $4,850,000, it appears to have since been taken off the market.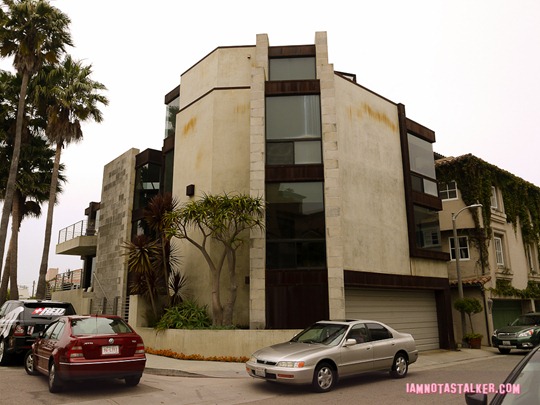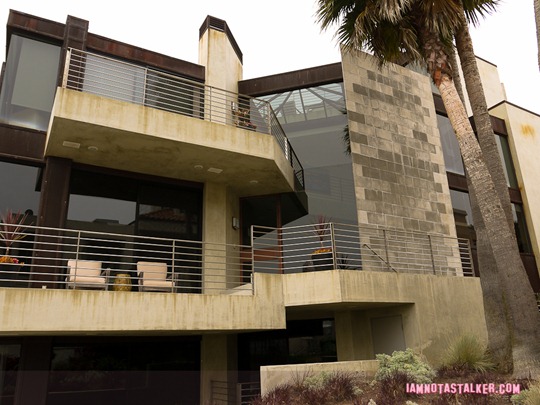 In Enough, Slim Hiller (Jennifer Lopez) stalks her abusive ex-husband Mitch and sets up an extensive trap to kill him at the home.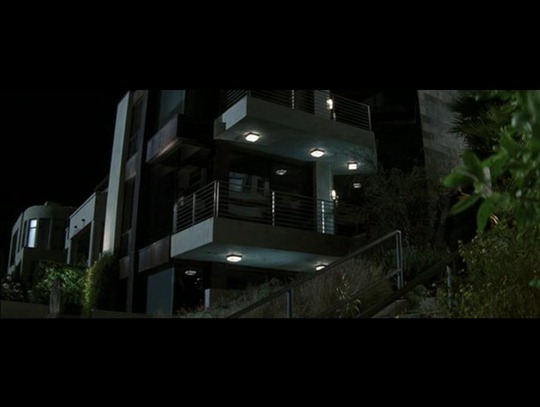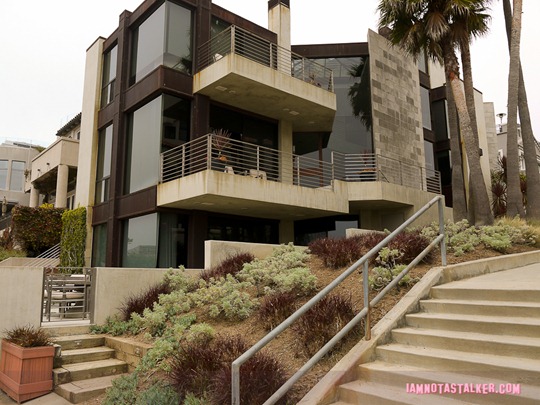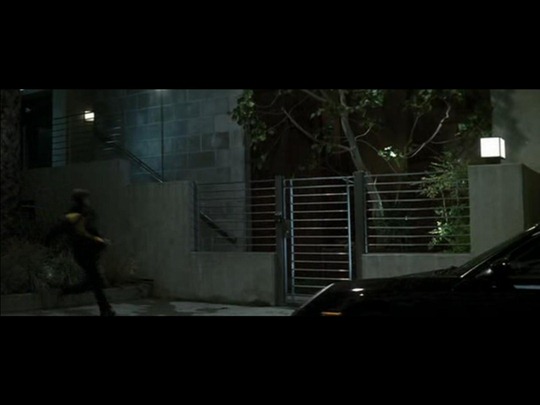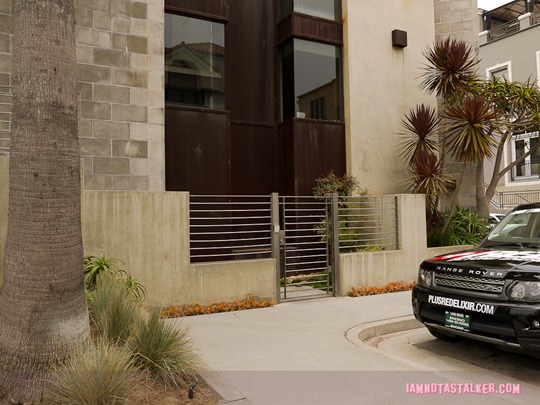 And while I would have bet money that the real life interior of the home was used in the filming, that does not appear to have been the case.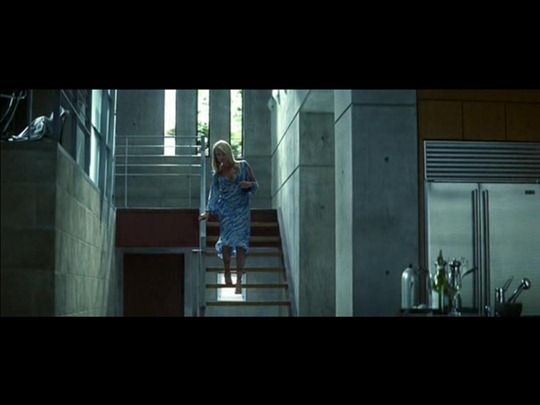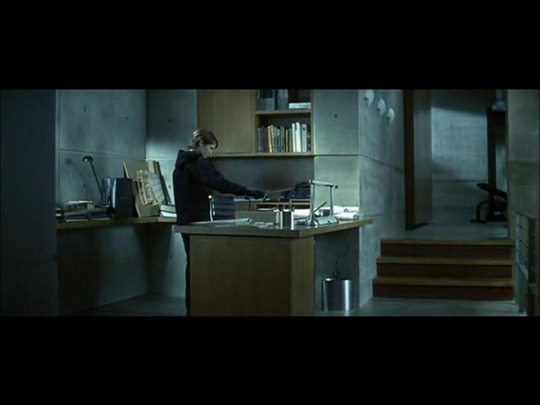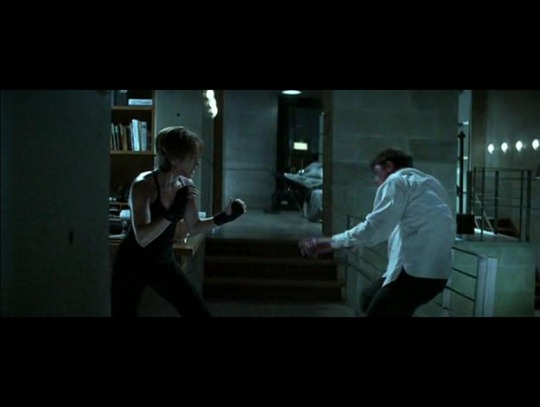 As you can see below, the real life property is not nearly as open as its onscreen counterpart and its ceilings are not nearly as high.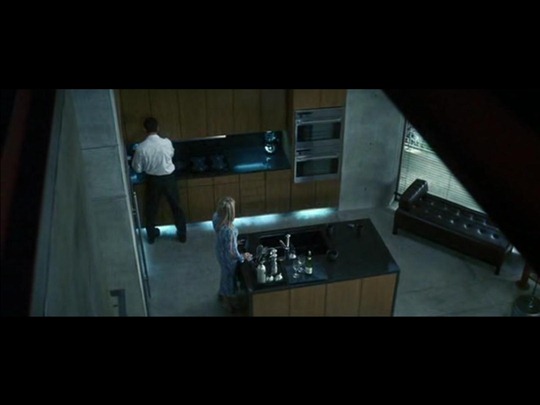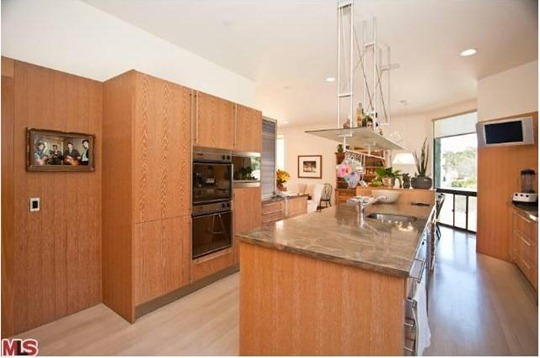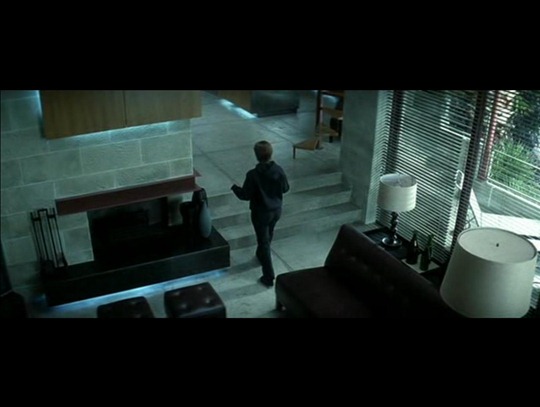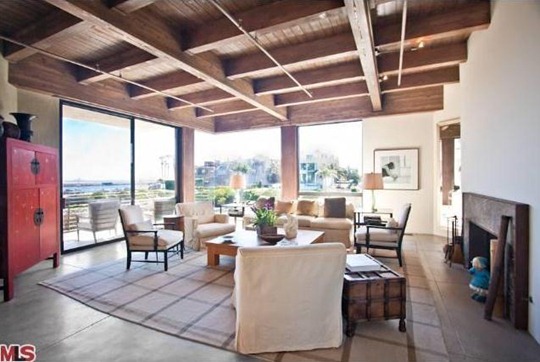 The actual home also has a more polished and less industrial look than what appeared in the movie.  So while I love, love, love the exterior of the place, I have to say that I much prefer the onscreen design of the interior to the reality.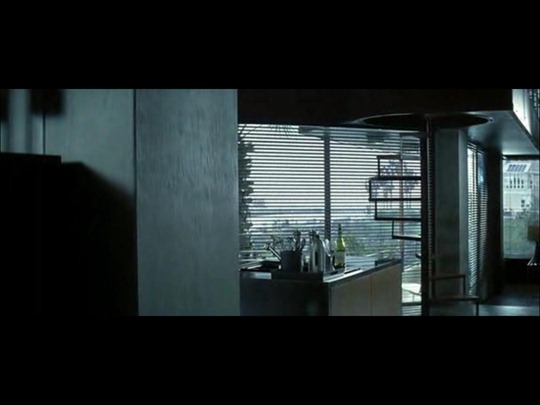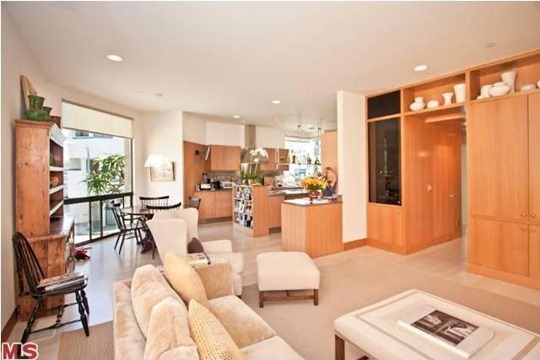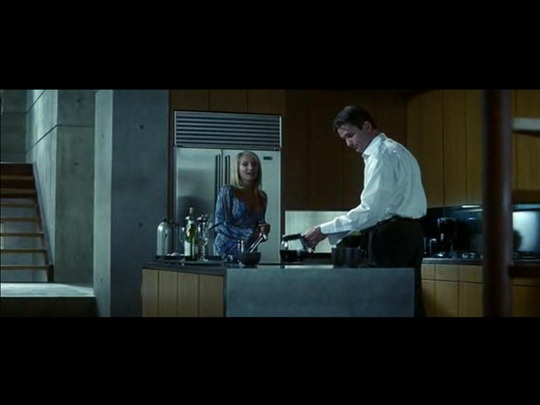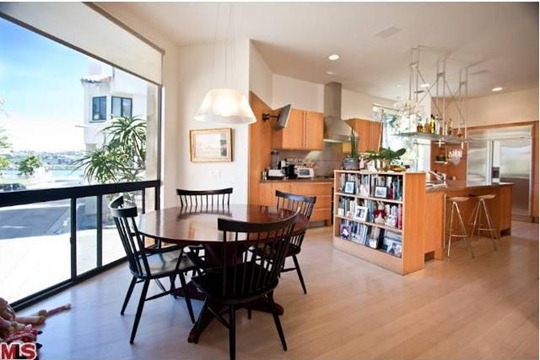 And while we were there, I, of course, just had to sit where JLo sat at the end of the flick.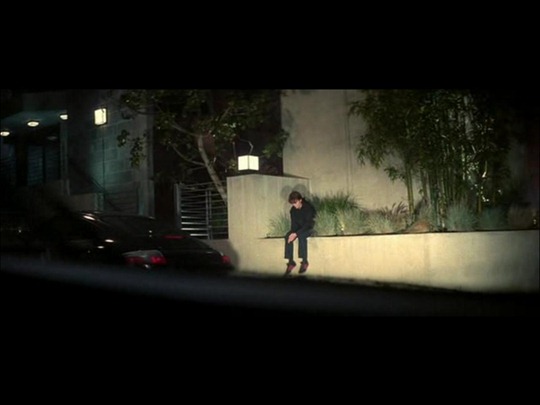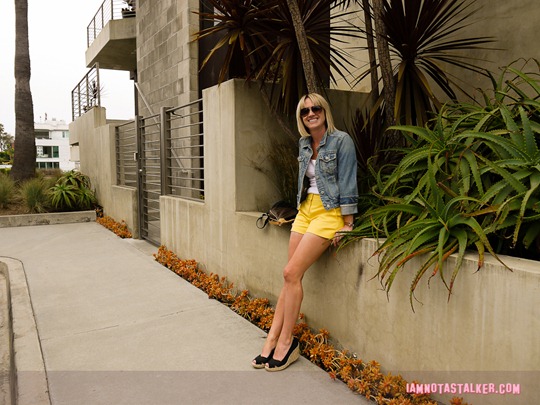 As I mentioned last week in my post about the loft where Chris lives on Parks and Recreation, the exterior of the Enough house also popped up as the exterior of Chris' pad in the Season 3 episodes titled "Indianapolis" and "Road Trip".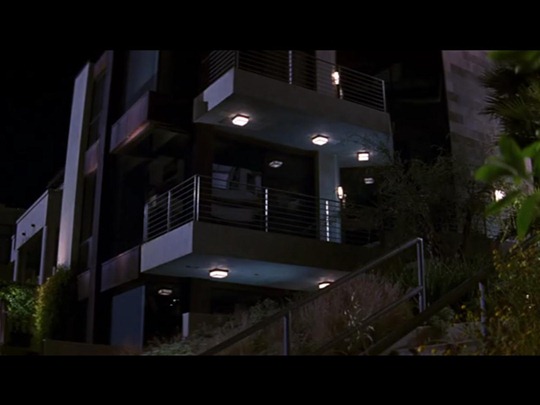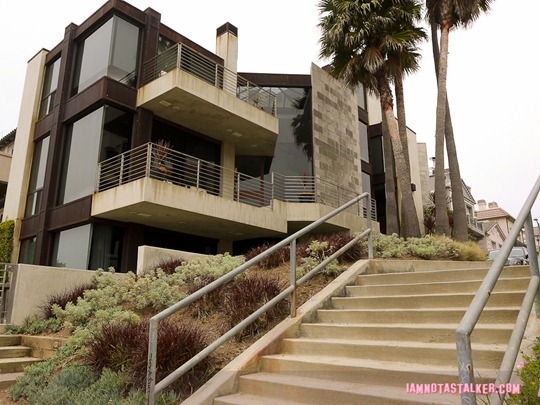 Mike, who, as I have mentioned countless times before, knows the City of L.A. and its surroundings like the back of his hand, also pointed out that retired Laker Rick Fox and then wife, actress Vanessa Williams, used to live right across the canal from the Enough house at 5518 Pacific Avenue.  The home was sold to new owners, though, sometime after the couple divorced in 2004.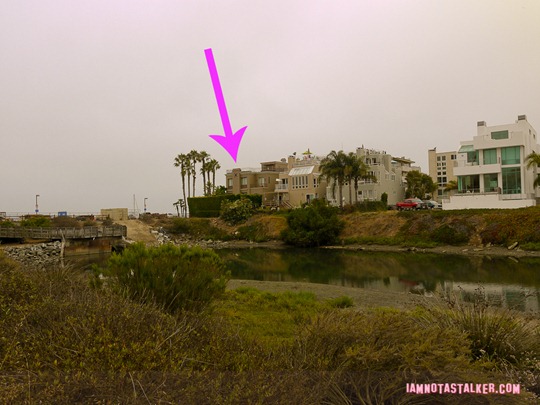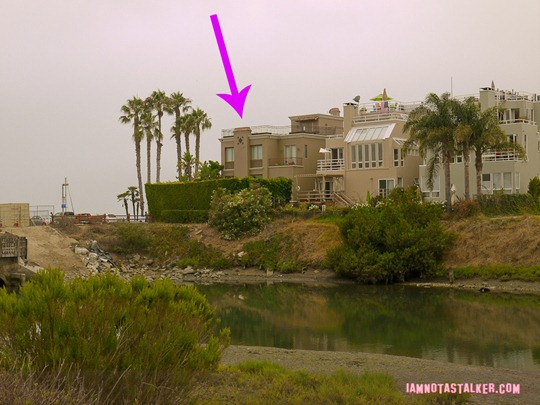 And while we were stalking the Enough house, Mike and I discovered a gorgeous garden named Channel Pointe located directly across the street.  Apparently gardens like the one pictured below are quite common in Marina Del Rey (which is quickly turning out to be one of my favorite cities in Los Angeles).   Love it!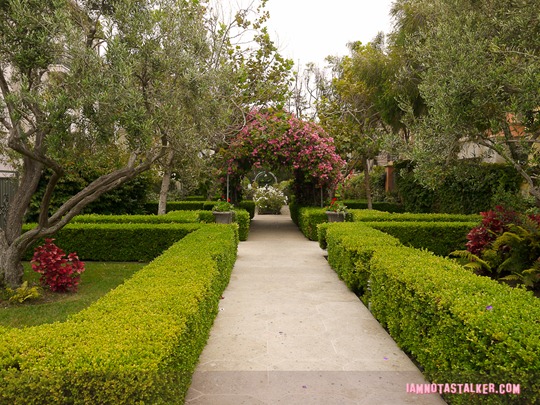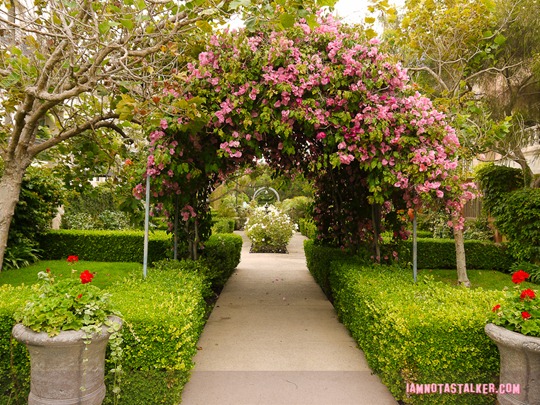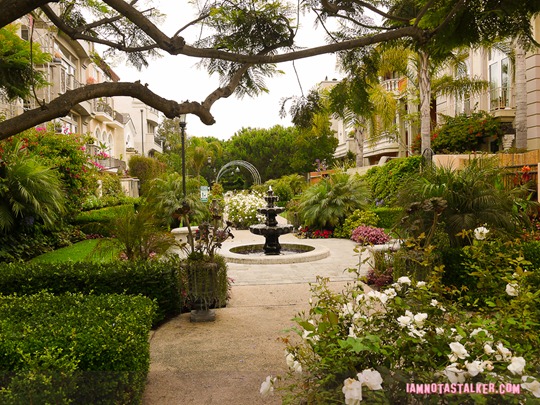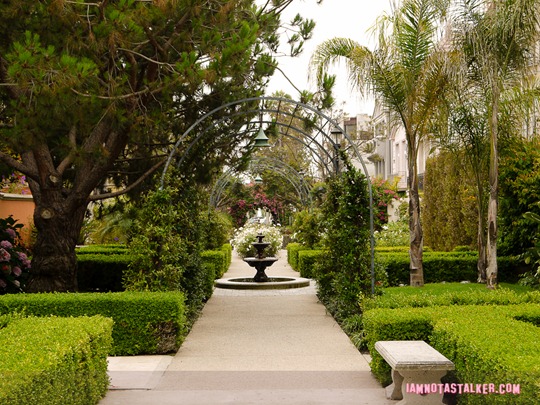 Be sure to "Like" IAMNOTASTALKER on Facebook here and "Friend" me on my personal page here.  You can also check out the IAMNOTASTALKER About Me page here and you can follow me on Twitter at @IAMNOTASTALKER.  And don't forget to take a look at my other blog, The Well-Heeled Diabetic, here.
Big THANK YOU to Mike, from MovieShotsLA, for telling me about this location!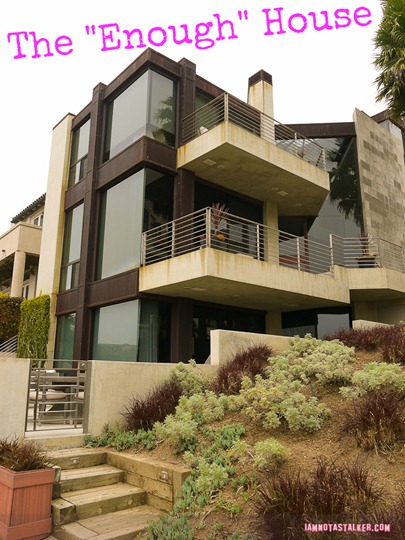 Until next time, Happy Stalking! 

Stalk It: Mitch's house from Enough is located at 5417 Via Donte in Marina Del Rey.  Rick Fox and Vanessa Williams formerly lived across the canal in the home located at 5518 Pacific Avenue.  And the Channel Pointe Garden can be reached from Via Donte, directly across the street from the Enough house.
55392