The Venice Beach Cotel – aka SanDeE*'s Apartment from "L.A. Story"
Jul 20th, 2012 | By
Lindsay
| Category:
Movie Locations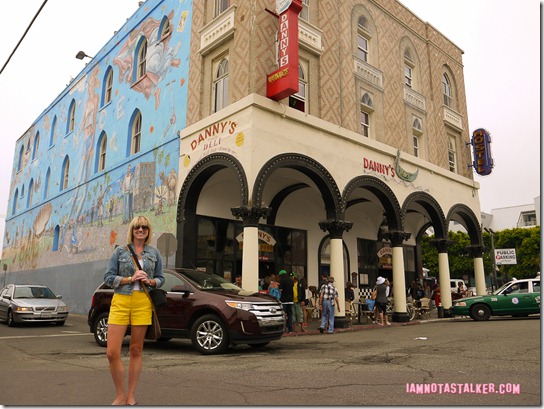 One location that I have been dying to track down ever since first moving to Southern California in 2000 was the apartment building where SanDeE* (my girl Sarah Jessica Parker) lived in the 1991 classic comedy L.A. Story. (And yes, that is the correct spelling of her name – as she says in the movie, "Big s, small a, small n, big d, small e, big e, and there's a little star at the end".  LOL)  I knew that the building was located somewhere in Venice, but because I do not know the area very well and rarely venture out there, I had a hard time tracking it down.  So imagine my excitement when, a couple of years ago, I came across a blurb about the place in fave stalking book Hollywood Escapes: The Moviegoer's Guide to Exploring Southern California's Great Outdoors.  As it turns out, SanDeE*'s apartment building is none other than the Venice Beach Cotel on Windward Avenue.  And while I immediately added the address to my To-Stalk list, I was not able to get out there until this past Saturday afternoon when Mike, from MovieShotsLA, and I were doing some stalking in the area.
Venice Beach actually has a very interesting history – one which involves the Cotel.  The city was dreamed up by a wealthy tobacco heir/real estate developer named Abbot Kinney, who wanted to establish "The Venice of America" right here in Los Angeles.  In the early 1900's, he purchased some coastal acreage, most of it marshland, south of Santa Monica and proceeded to create a replica of the Italian city.  The marshes were drained and transformed into eight miles of canals (a popular filming location, which I will be blogging about soon), complete with imported gondolas and singing gondoliers.  A 1600-foot fishing pier was also constructed, along with carnival rides, a large beachside pool, and an indoor saltwater pool known as "The Venice Hot Saltwater Plunge".  The focal point of Kinney's city, which was opened to the public in 1905 and was nicknamed "The Playland of the Pacific", was Windward Avenue, a main street lined with beautiful neo-Italianate, columned buildings and sweeping archways as far as the eye could see.  The buildings housed everything from luxury restaurants and shops to hotels, one of which was the ritzy St. Charles.  Today, that site is known as the Venice Beach Cotel and it is the city's oldest hotel.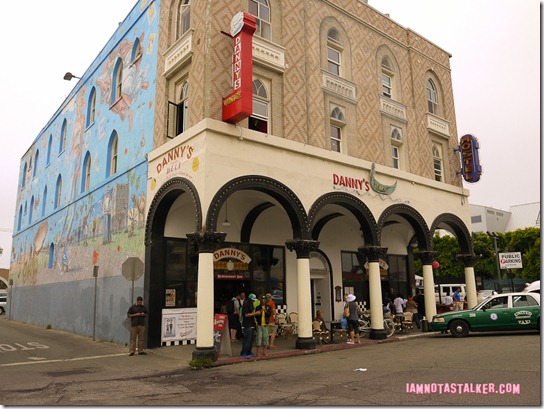 Sadly, while St. Charles was once luxurious and upscale, it fell into decline, along with the rest of the city, shortly after Abbot Kinney's death in 1920.  And while Venice Beach has experienced a resurgence of sorts in recent years, the property is still a bit seedy.  And what does the word "Cotel" mean, you ask?  According to the hostel's website, "The name Cotel comes from the prefix 'co', meaning getting together (people), which is what we are all about!"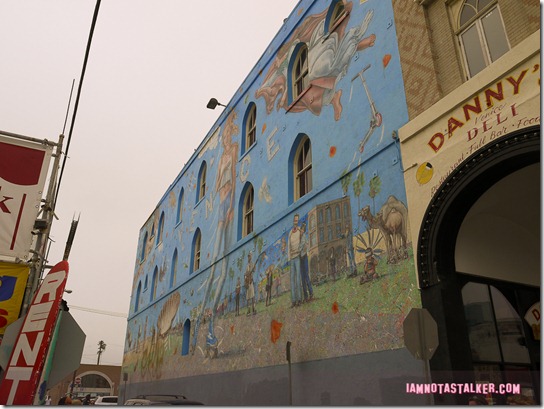 The infamous mural that dominates the west side of the Cotel is named "Venice Reconstituted" and it was originally painted in 1989 by muralist Rip Cronk.  It looks quite a bit different today than it did in L.A. Story, though, because in 2010, Cronk restored the huge painting, renamed it "Venice Kinesis", added and deleted a few figures, and moved it up an entire story in a futile attempt to keep it out of reach of taggers.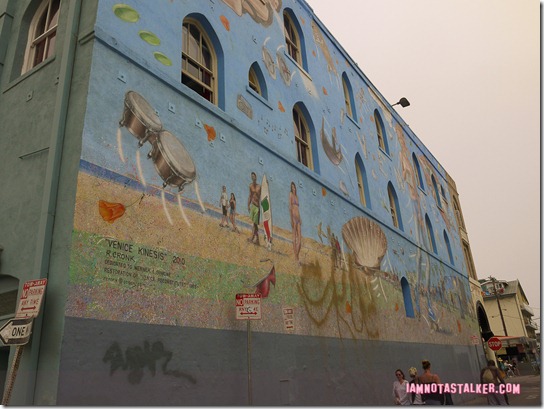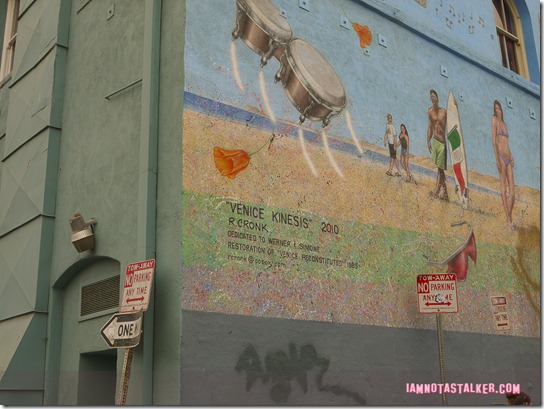 There is also a 102-foot by 50-foot mural that covers the east side of the Venice Beach Cotel, but it, too, has been re-visioned.  The piece was originally painted in the early 1900s by Terry Schoonhoven and was a view of what Windward Avenue looked like at the time.  You can see a historic photograph of it here.  Sadly, the work deteriorated and faded considerably over the years, so, in early 2012, artist Jonas Never covered over it with a new mural named "Touch of Venice" that was inspired by Touch of Evil, Orson Welles' 1958 film which was shot in its entirety in the beachside city.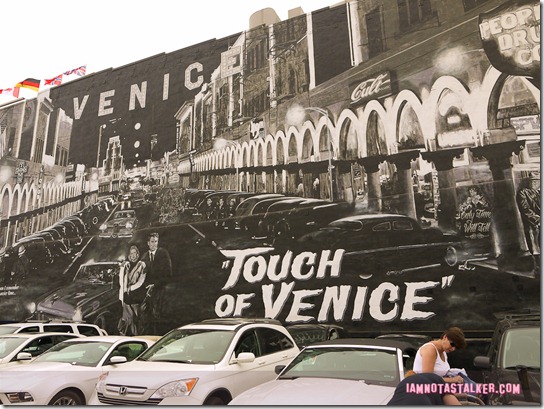 In L.A. Story, the Venice Beach Cotel is where SanDeE*, the dimwitted, colonic-loving girlfriend of wacky weatherman Harris K. Telemacher (Steve Martin), lived.  The building and Rip Cronk's mural popped up a few times in the flick.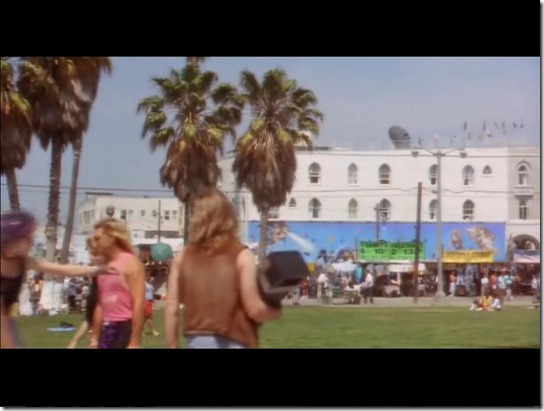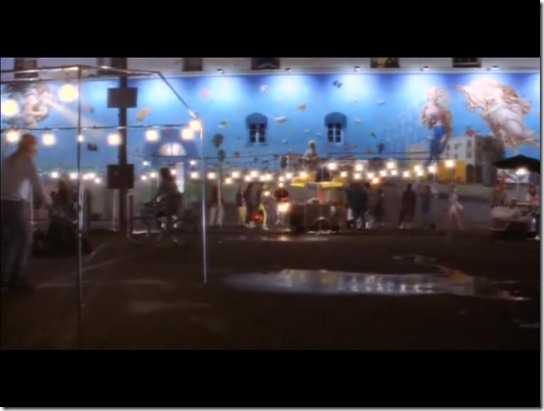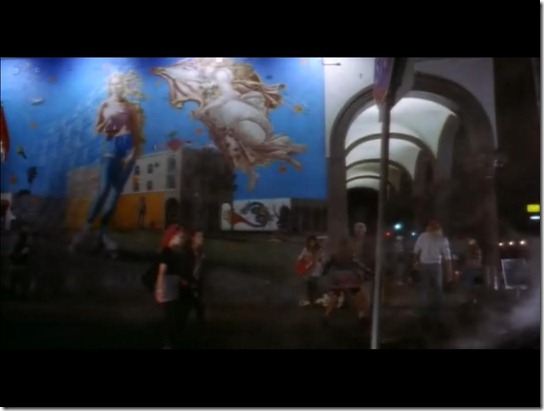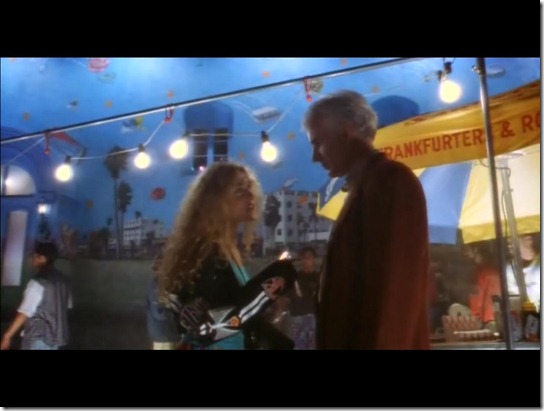 I cannot tell you how absolutely devastated I was when I saw that SanDeE*'s front doorway had since been removed, as I had so wanted to reenact the image below.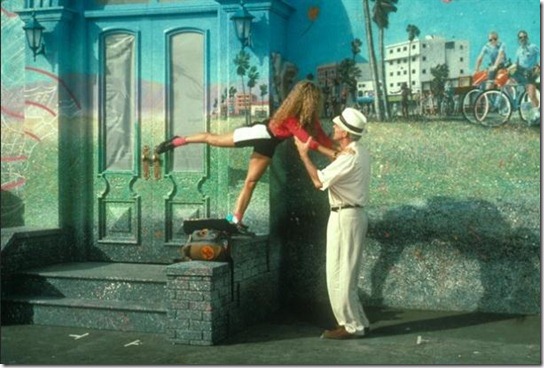 As I later discovered, though, SanDeE*'s (and I cannot express what a pain in the a** it is to type that name out repeatedly!

) doorway was never actually there, but was a façade that was added solely for the movie.  You can check out some pictures of the building from the same time period that L.A. Story was filmed here, here, and here, which show that the doorway never actually existed.  BOO!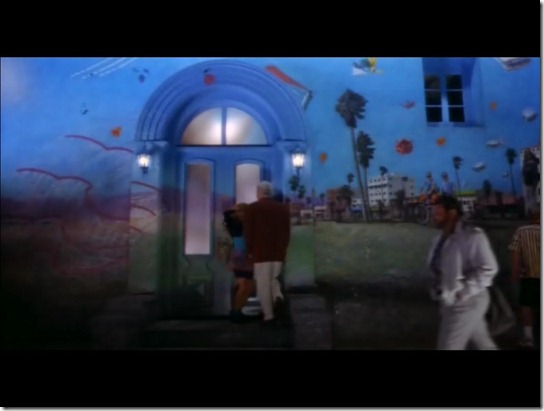 L.A. Story was hardly the first film to shoot at the Cotel.  In 1958's Touch of Evil, which as I mentioned above, was shot in its entirety in Venice, the building stood in for the Ritz Hotel in the fictional border town of Los Robles, where Susan Vargas (Janet Leigh) was threatened by drug kingpin "Uncle" Joe Grandi (Akim Tamiroff) while on her honeymoon.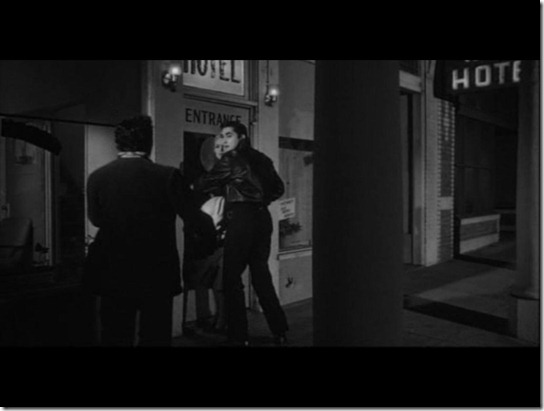 As an homage to Touch of Evil, the Cotel doubled as The Ritz Hotel once again in the opening scene of the 2001 flick Double Take.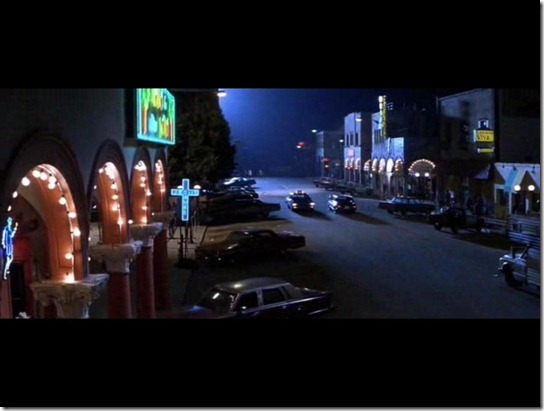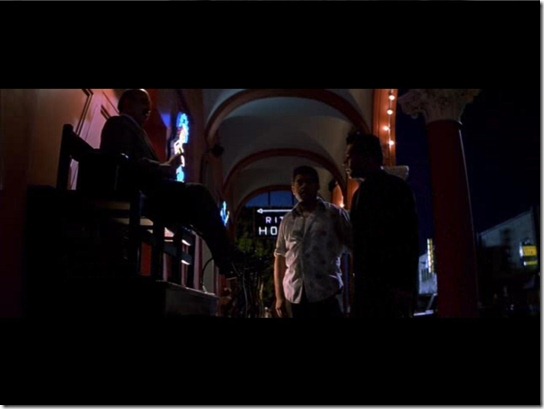 As you can see below, an exact replica of the "Ritz Hotel" sign from Touch of Evil was created for Double Take.  So cool!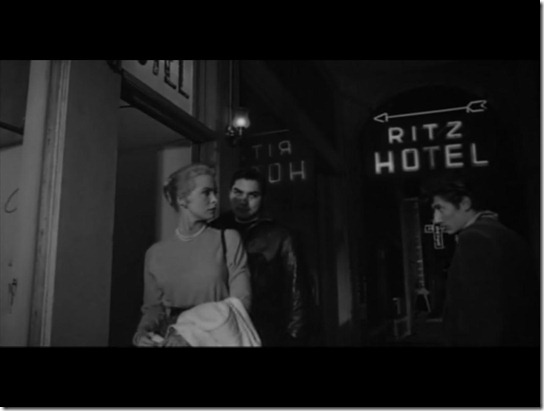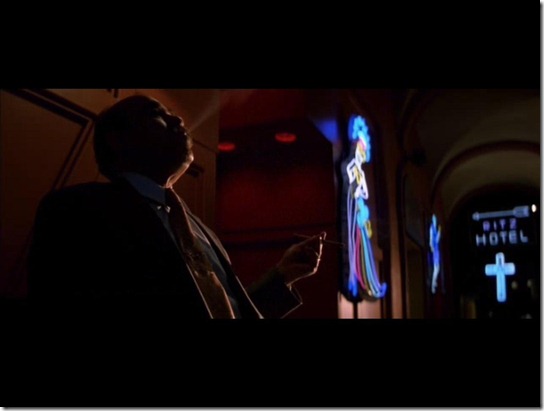 In 1968's I Love You, Alice B. Toklas!, Harold (Peter Sellers) shops at what he calls a "hippy supermarket" set up in front of the Venice Beach Cotel.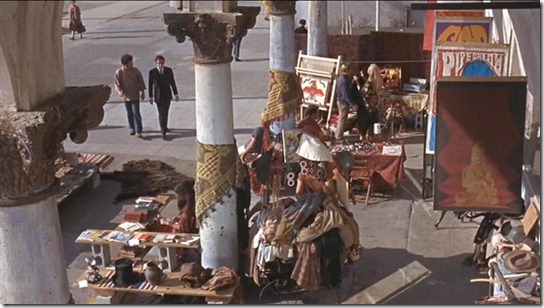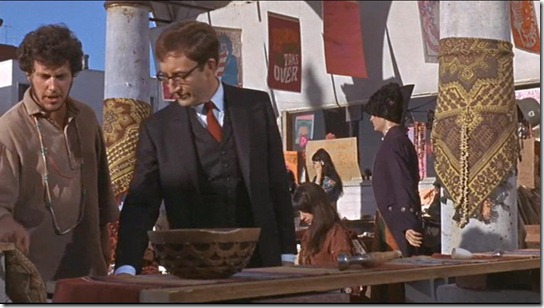 In the opening scene of 1992's White Men Can't Jump, Billy Hoyle (Woody Harrelson) parks in front of the hotel and then throws his basketball up against Rip Cronk's mural as he walks by.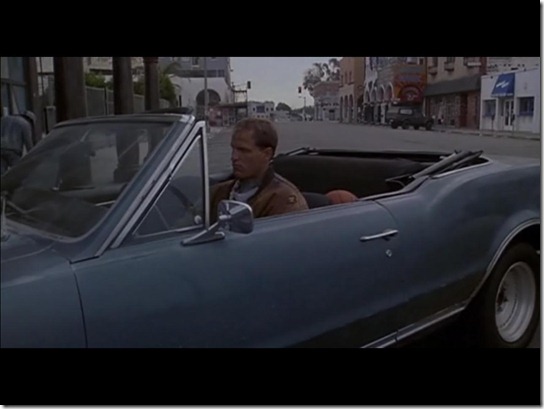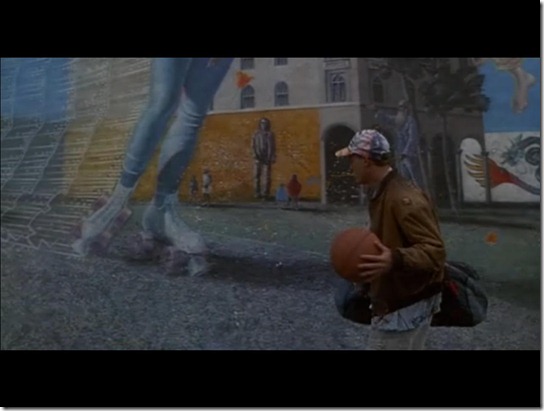 In 1993's Point of No Return, Maggie Hayward (Bridget Fonda) walks by the building upon first arriving in Venice.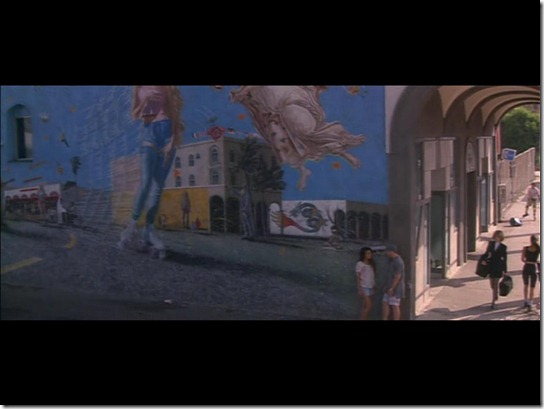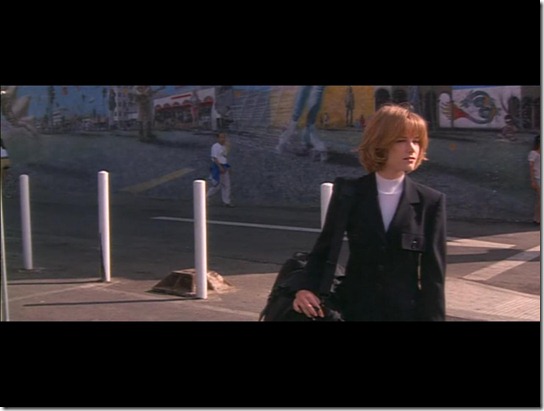 Rip's mural showed up very briefly in an establishing shot in 1992's Venice/Venice . . .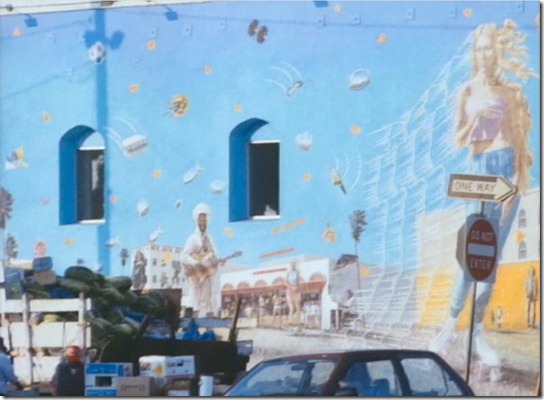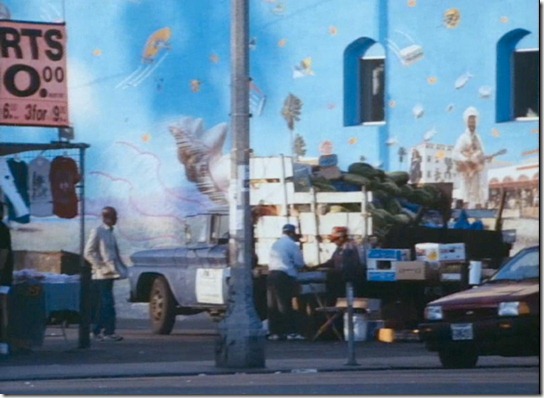 . . . which starred a very young David Duchovny.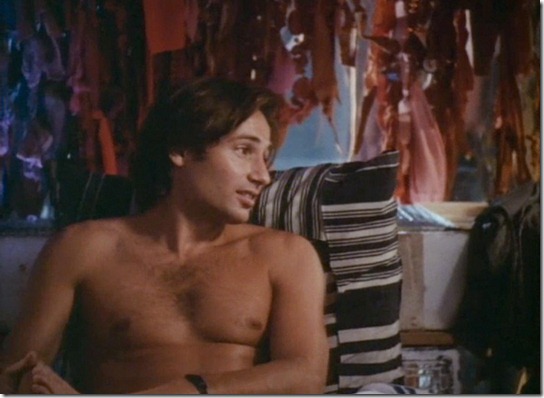 According to Hollywood Escapes, the Venice Beach Cotel is also visible in the 1983 remake of Breathless, but, unfortunately, I could not find any copies of it with which to make screen captures for this post.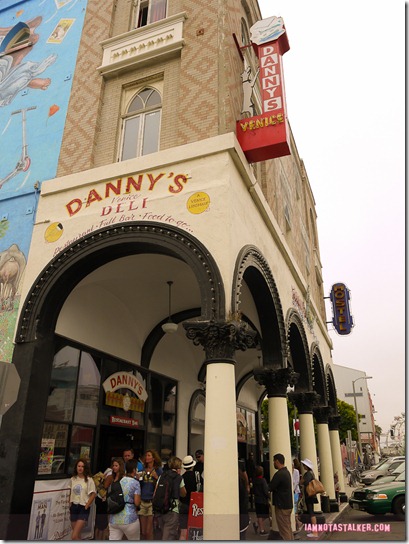 And on a Sarah Jessica Parker side-note – My good friend Steffi, who lives in Switzerland and is even more Sex-and-the-City-obsessed than I am (if that's possible), texted me the below picture yesterday.  Um, LOVE IT, LOVE IT, LOVE IT!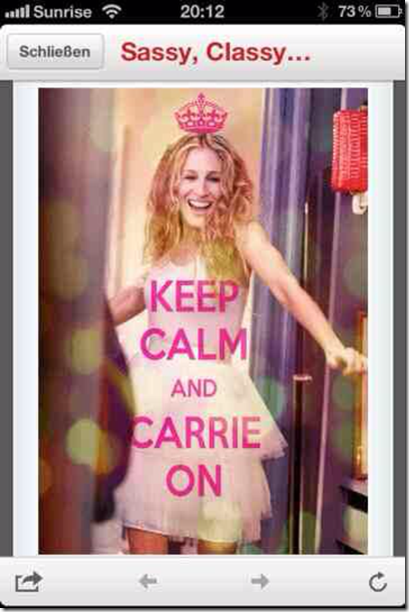 Be sure to "Like" IAMNOTASTALKER on Facebook here and "Friend" me on my personal page here.  You can also check out the IAMNOTASTALKER About Me page here and you can follow me on Twitter at @IAMNOTASTALKER.  And don't forget to take a look at my other blog, The Well-Heeled Diabetic, here.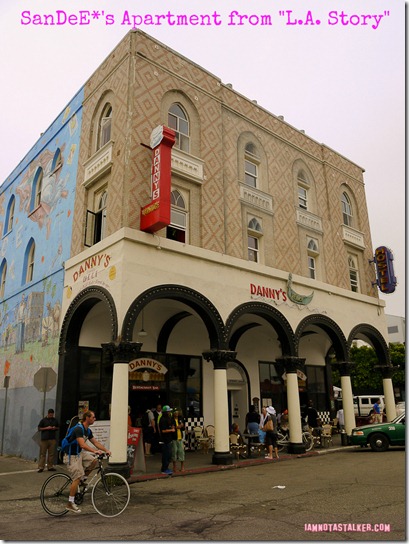 Until next time, Happy Stalking! 
Stalk It: The Venice Beach Cotel, aka SanDeE*'s apartment building from L.A. Story, is located at 25 Windward Avenue in Venice.  You can visit the hostel's official website here.
55534