Providence Saint Joseph Medical Center from "Parks and Recreation"
Aug 31st, 2012 | By
Lindsay
| Category:
TV Locations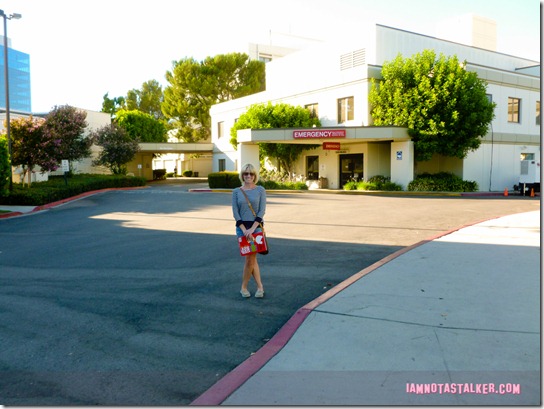 One location that had been lingering at the top of my To-Stalk for more than a few months was Providence Saint Joseph Medical Center in Burbank, which stands in for Pawnee Saint Joseph Hospital, where Ann Perkins (Rashida Jones) works, on fave show Parks and Recreation.  I found this locale thanks to Mike, from the always-fabulous Franklin Avenue blog, who recognized the site way back in 2010 when it popped up in the Season 2 finale of P&R titled "Freddy Spaghetti".  And while I did drag the Grim Cheaper out to stalk the place in early June, because I had failed to bring along any screen captures, I could not for the life of me figure out which angle of the building was used on the show and we ended up leaving after just a few minutes.  I promptly added Providence to my Re-Stalk list, though, and, after doing some celebrity stalking in the area this past Monday afternoon with my girl Miss Pinky Lovejoy, of the Thinking Pink blog, I dragged her right on over there to properly stalk the place.
Providence Saint Joseph Medical Center, which was originally founded in 1943 by the Sisters of Providence Health System, is the largest hospital in the entire San Fernando Valley, boasting 431 beds.  The location is also one of the largest employers in the SFV, with over 650 physicians and a staff of almost 2,500 on its payroll.  The hospital is located directly across the street from The Walt Disney Studios and, in fact, has a very large Disney connection.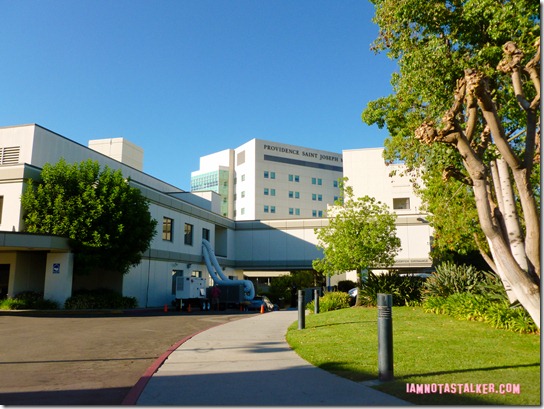 Walt Disney himself turned over the first official piece of sod during Providence's groundbreaking ceremony, provided funding for its construction, commissioned his animators to create artwork for the interior décor, and even served on the hospital's original Advisory Board (all of which you can see pictures of on the Started by a Mouse website here).  And sadly, after collapsing in his home on November 30th, 1966, he was taken to Providence where he remained for the next two weeks before passing away on December 15th.  According to the Started By a Mouse website, during his hospital stay, Walt "plotted out designs for his property in Florida [Walt Disney World] on [Providence's} acoustical ceiling tiles."  Walt's older brother, Roy O. Disney, also passed away at Providence, five years later – almost to the day – on December 19th, 1971.  But the connection does not end there.  Just recently, in 2010, the Roy and Patricia Disney Family Cancer Center (named in honor of Roy O.'s son, Roy E. Disney, and his former wife), was founded.  According to the Providence website, the state-of-the-art, four-floor, 55,000-square-foot facility provides cutting-edge care to "treat the body, mind and spirit of each patient" and utilizes both Western medical technologies, such as radiation and chemotherapy, as well as Eastern, including acupuncture, meditation, fitness, yoga, and herbal remedies.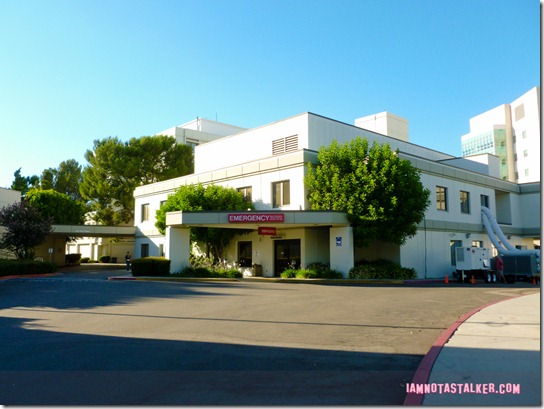 Parks and Recreation and Walt Disney are hardly Providence Saint Joseph Medical Center's only claims to fame.  Due to its proximity to both The Walt Disney Studios and NBC Studios, the hospital has seen its fair share of celebrities come through its automatic doors.  Pop star Justin Bieber was taken there in January 2011 after suffering from an allergic reaction while filming an episode of CSI;  Lucy Lawless was rushed there in October 1996 after falling off a horse while filming a skit for The Tonight Show; and John Ritter tragically passed away there on September 11th, 2003, as did Corey Haim on March 10th, 2010.  (As you can see in the photograph below, some filming was actually taking place while Pinky and I were stalking the hospital, but we did not see any crew members whom we could ask about it.  All of the filming signs were marked "BOP" and for the life of me I cannot figure out what that acronym stands for.  Any ideas? UPDATE – the Providence Found blog tweeted me to let me know that the television series Body of Proof was filming at the hospital the day we were there.  Thanks, Providence Found!)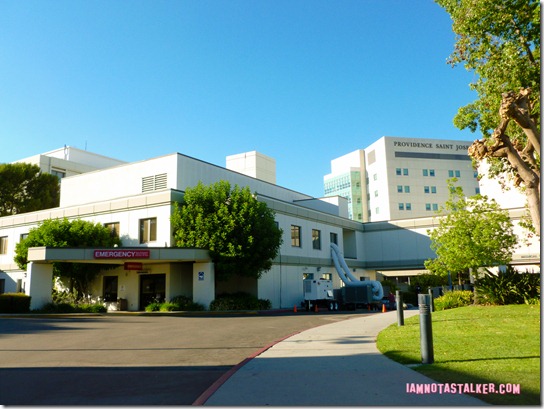 On Parks and Recreation, Providence Saint Joseph Medical Center pops up pretty much weekly in establishing shots of Pawnee Saint Joseph Hospital, or Saint Joseph's Medical Center as it is also sometimes referred to.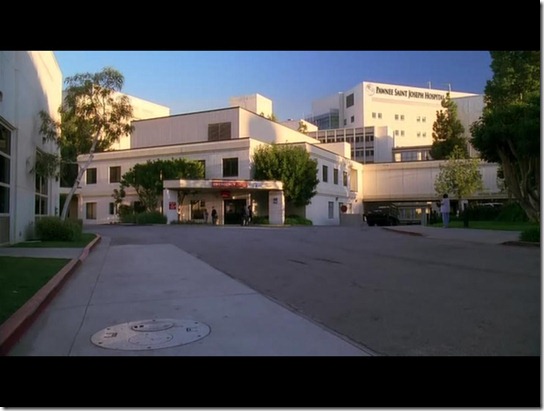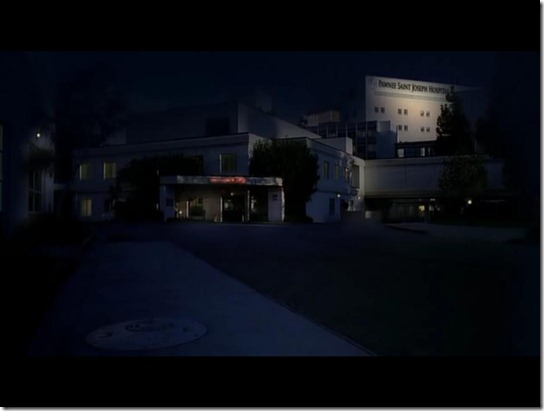 The interior of Pawnee Saint Joseph Hospital, though, is, of course, just a set.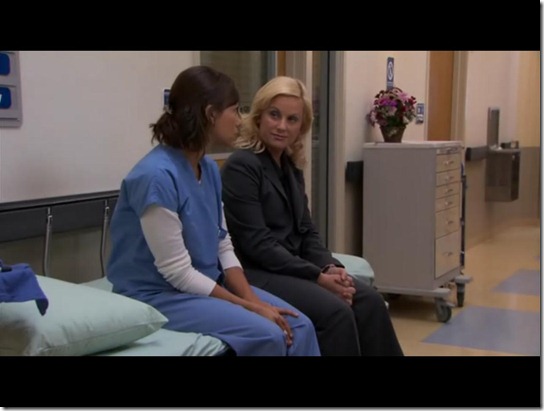 Oddly enough, though, while Providence Saint Joseph Medical Center is used for all establishing shots of Pawnee Saint Joseph Hospital, a different location – St. Vincent Medical Center, located at 2131 West 3rd Street, just north of MacArthur Park, in Los Angeles – stood in for the place in the Season 1 finale of Parks and Recreation, which was titled "Rock Show".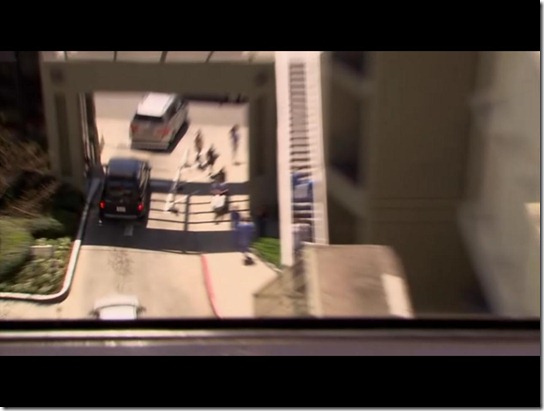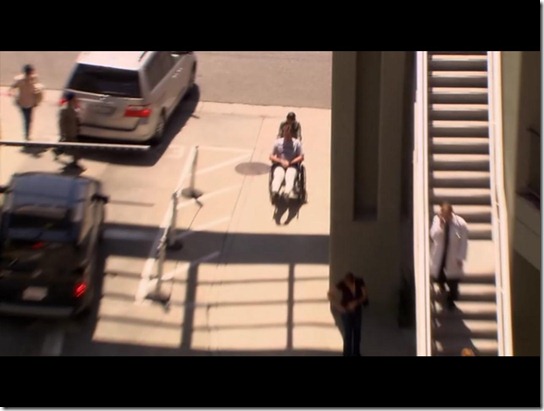 Some actual filming of that episode also took place inside of St. Vincent Medical Center.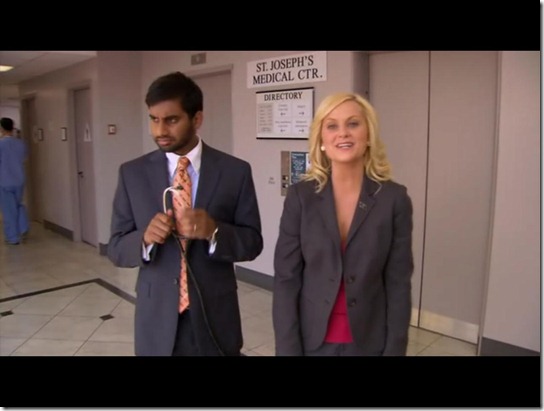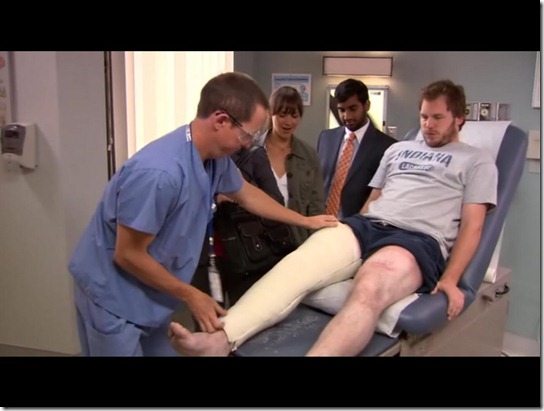 Providence Saint Joseph Medical Center was also featured in the Season 2 episode of Keeping Up with the Kardashians titled "Kris the Cheerleader", as the place where Kris Jenner underwent emergency knee surgery, although a different side of the building was shown than what is regularly shown on Parks and Rec.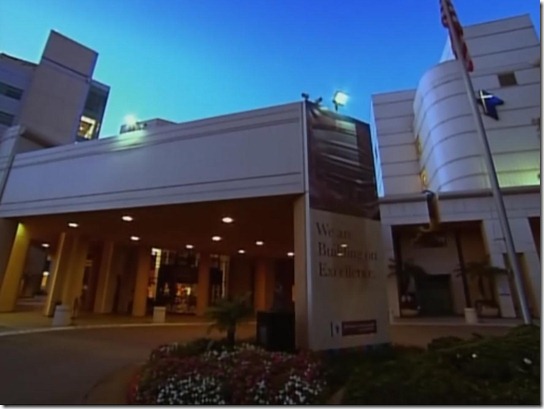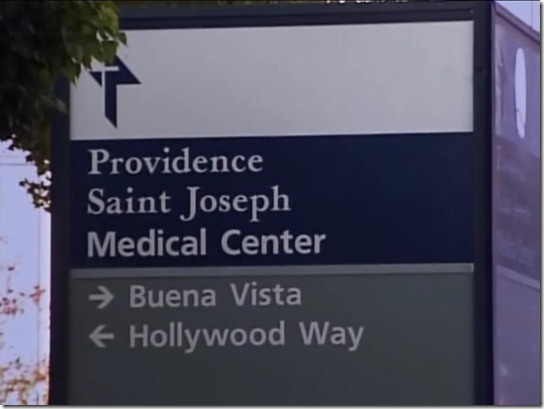 Filming of the "Kris the Cheerleader" episode also took place inside of the hospital.  And I have to comment here that, wow, that show is bad!  It was painful just scanning through a single episode to make screen captures for this post!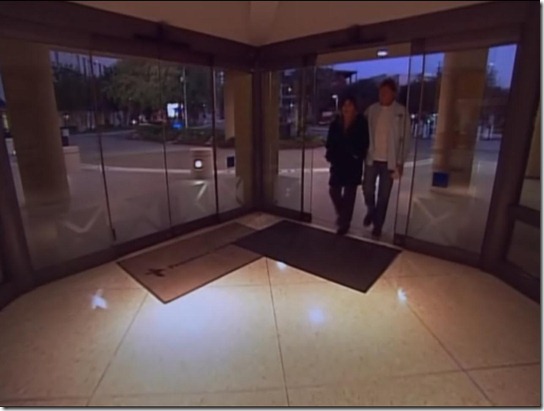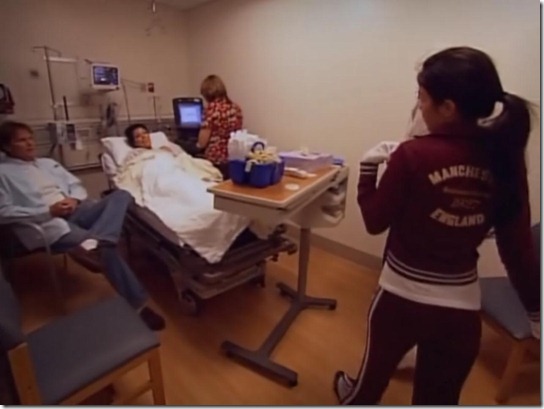 The Providence Found blog let me know that in 2010's Due Date, Providence Saint Joseph Medical Center was "Pacific Mercy Hospital" where Sarah Highman (Michelle Monaghan) gave birth and the place that Peter Highman (Robert Downey Jr.) spent the entire movie trying to get to.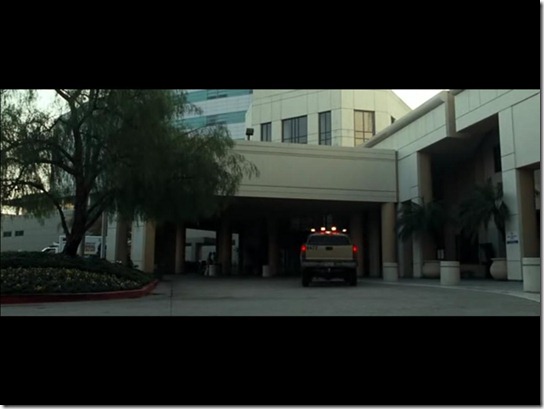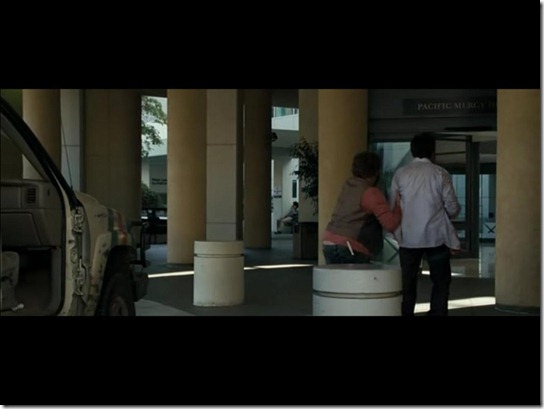 The interior of the hospital also appeared in the movie.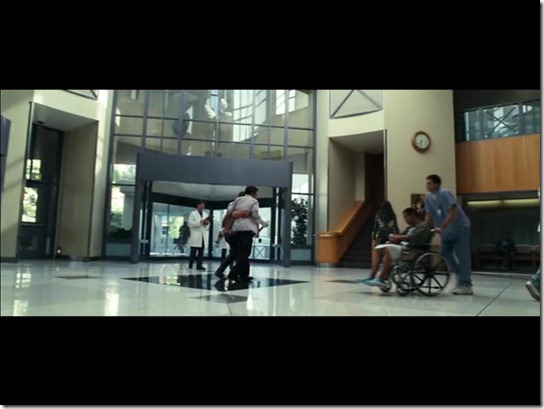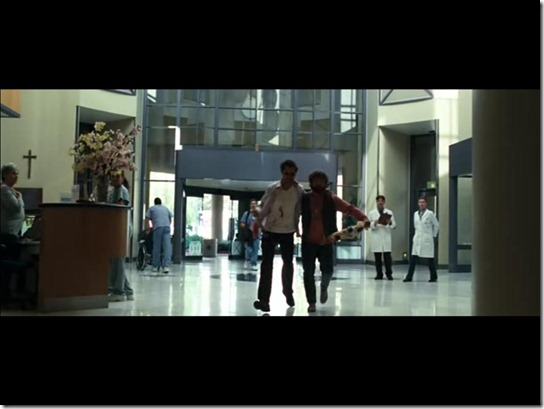 Providence Found also informed me that Providence Saint Joseph Medical Center stood in for "Los Angeles Hospital" where Julia Fitzpatrick (Jennifer Garner) discovered that her boyfriend, Dr. Harrison Copeland (Patrick Dempsey), was married.  The catwalk over the hospital's healing garden was used in the film.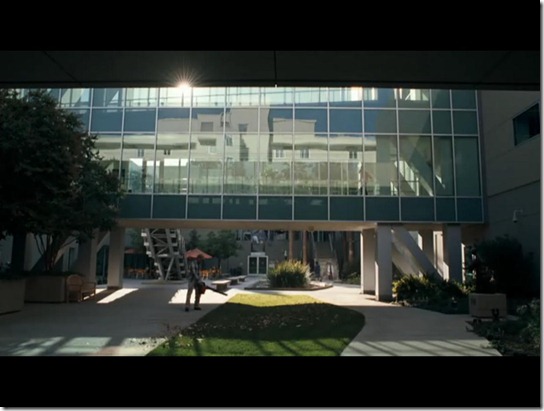 As was the GI waiting area.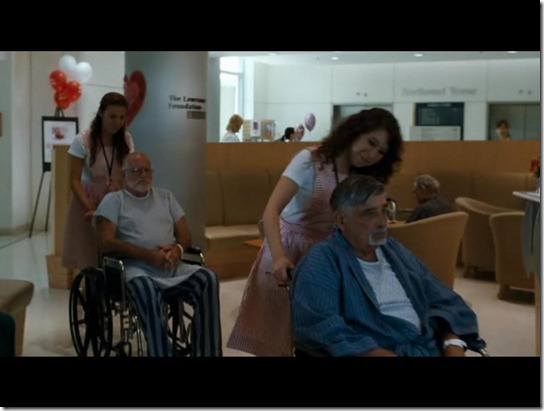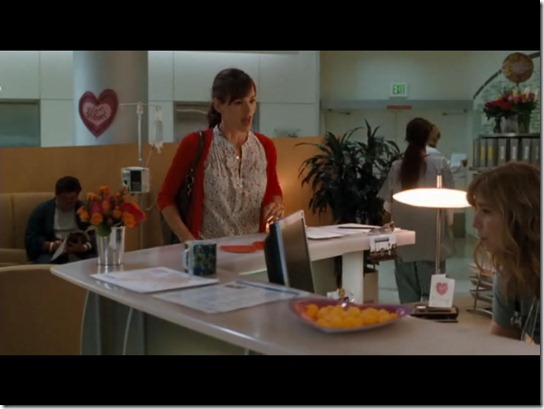 On a stalking side-note – My buddy E.J., of The Movieland Directory website, who is easily one of the best researchers and wittiest writers I know, recently penned a book about Old Hollywood titled Unscripted: Hollywood Back-Stories, Volume 1.  I highly recommend checking it out!  You can purchase an e-copy of the book (it is currently only available digitally) on Nook here and on Kindle here.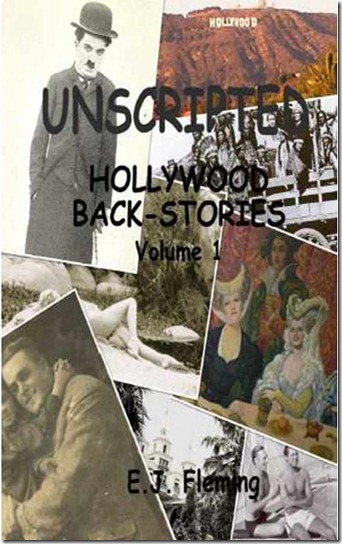 You can find me on Facebook here and on Twitter at @IAMNOTASTALKER.  And be sure to check out my latest post – about a nightmare experience at the DMV – on my other blog, The Well-Heeled Diabetic.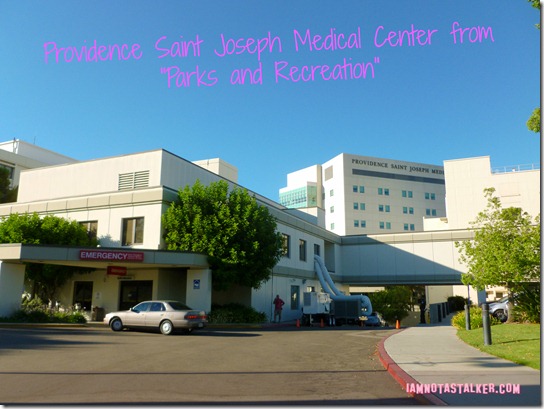 Until next time, Happy Stalking! 

Stalk It: Providence Saint Joseph Medical Center, aka Pawnee Saint Joseph Hospital from Parks and Recreation, is located at 501 South Buena Vista Street in Burbank.  You can visit the hospital's official website here.  The area shown in establishing shots on Parks and Recreation is the exterior of Providence's emergency room, which is located off Buena Vista Street, while the Alameda Street entrance was the entrance shown on Keeping Up with the Kardashians.
57082