Canter's Deli from "Entourage"
Sep 19th, 2012 | By
Lindsay
| Category:
TV Locations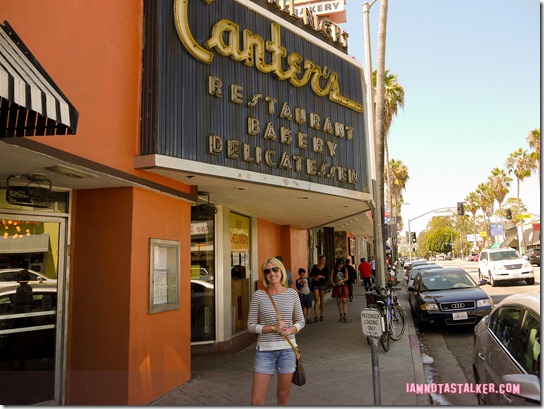 This will, unfortunately, be my last post for this week as I am heading out to Palm Springs bright and early tomorrow morning to take my dad to a few doctor appointments and I will not be back until late Thursday night.  And because I am going to the Emmy's on Sunday (whoo hoo – pinch me now!), there is a good chance that I will not have time to write a new blog post for Monday, either.   So apologies in advance.  I will for sure be back on Tuesday, though, with a whole new location.  And now, on with the post!  One very historic locale that I have stalked several times, but, for whatever reason, never blogged about is the legendary Canter's Deli in Los Angeles' Fairfax District.  So when the Grim Cheaper suggested we grab a bite to eat there a couple of weekends ago, I decided that it was about time I snap some pictures of the place and do a post on it.  Here goes!
[ad]
Canter's Deli was originally founded in 1924 as Canter Brothers' Delicatessen by Ben Canter and his two brothers in Jersey City, New Jersey.  When the deli faltered due to the stock market crash of 1929, the three brothers moved to Los Angeles with only a shared $500 to their name.  They settled in the then-predominantly Jewish area of Boyle Heights and, in 1931, opened a West Coast outpost of their delicatessen, which you can see a photo of here.  When L.A.'s Jewish population started to migrate west towards the Fairfax District following World War II, Ben and his brothers decided to move their establishment, as well.  In 1948, they purchased a storefront at 439 North Fairfax Avenue and changed the eatery's name to the simpler "Canter's Deli".  In 1953, the restaurant was moved once again, this time to the old Esquire Theatre at 419 North Fairfax, where it remains to this day.  Thanks to its massive popularity, the eatery expanded in 1953 and then, in 1961, added on a bar and cocktail lounge named the Kibitz Room.  The Kibitz's stage has hosted countless well-known musicians over the years including Blues Traveler, The Black Crowes, The Wallflowers, and, most notably, Guns N' Roses, who got their start on the premises.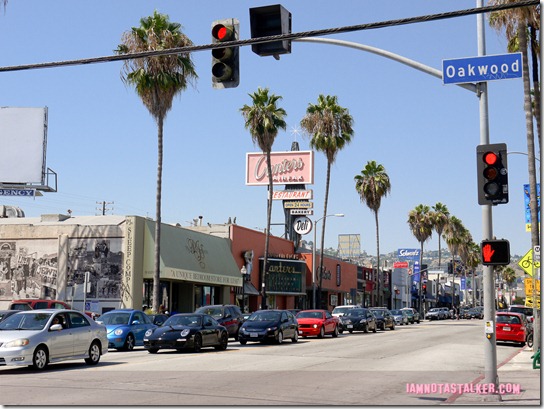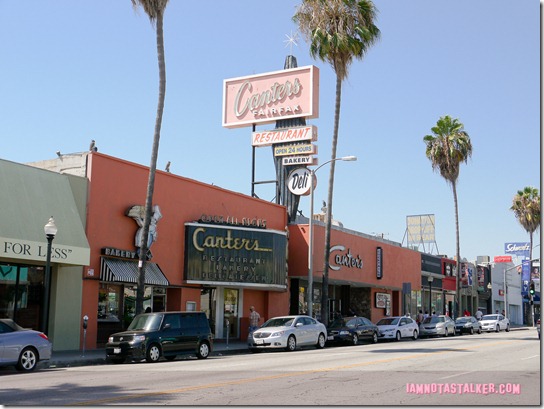 Canter's Deli, which, amazingly enough, is still owned and operated by the Canter family, has been a celebrity hot spot since its inception.  In the heyday of Hollywood, such stars as Arthur Miller, Elizabeth Taylor, Cary Grant, Jack Benny, Elvis Presley, and my girl Marilyn Monroe all dined there.  In more recent years, Drew Barrymore, John Travolta, Dick Van Dyke, Brooke Shields, Sidney Poitier, Adam Brody, Shenae Grimes, Lea Michele, Cory Monteith, and Taylor Swift have all been spotted at the eatery.  Sarah Silverman even did a photo shoot at Canter's for the clothing company Boy by Band of Outsiders, which you can take a look at here.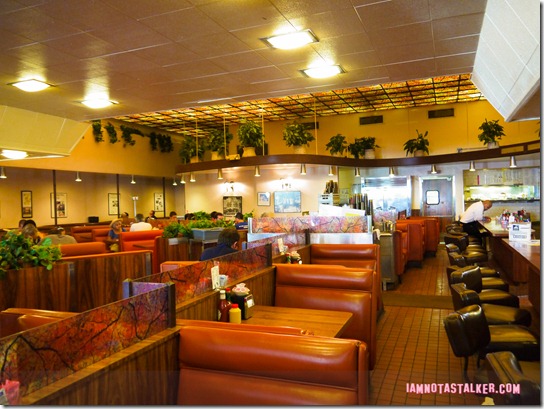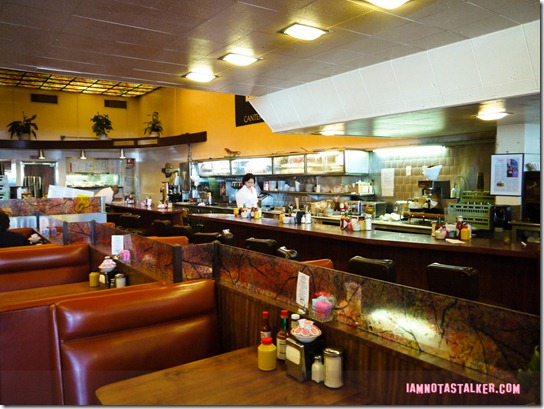 Canter's Deli has won countless awards over the years (and deservedly so!) including "Best Waffles" from Los Angeles Magazine, "Best Deli" from both MyFoxLA and LA Hotlist, and, my personal favorite, Top 10 Jewish Silver Screen Landmarks from the Jewish Journal.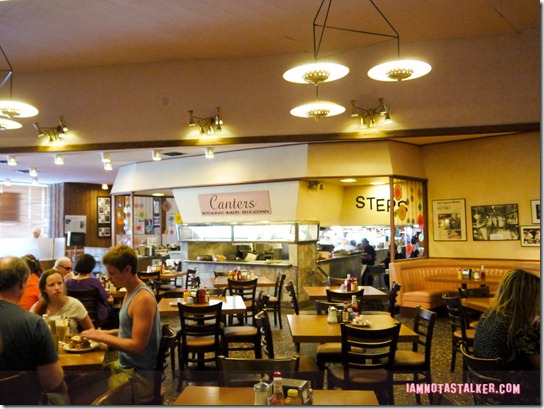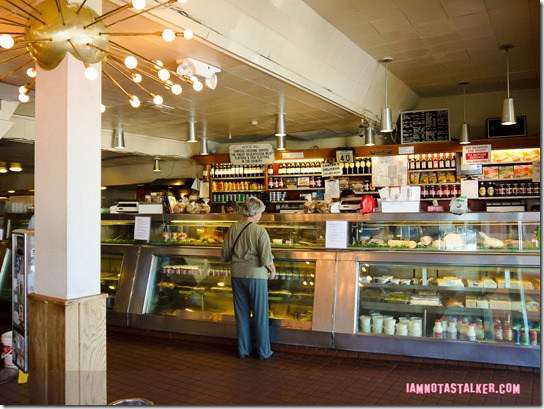 All of Canter's offerings are handmade on the premises each day, including their humongous pickles, which are nothing short of fabulous – as is all of their food.  Amazingly enough, over its "lifetime", the deli has served over 2 million pounds of lox, 9 million pounds of corned beef, 10 million matzo balls, 20 million bagels, and 24 million bowls of chicken soup!  Oy vey, that's a lot of food!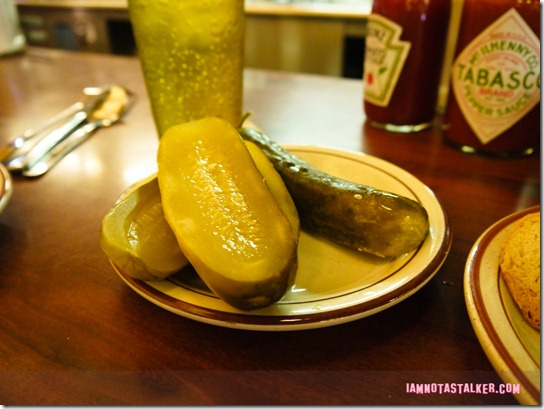 Canter's Deli has been featured in quite a few notable productions over the years.  In the 1982 flick I Ought to Be in Pictures, Herbert Tucker (Walter Matthau) took his estranged daughter, Libby Tucker (Dinah Manoff, aka "Marty Maraschino" from Grease), for a late-night meal at the historic eatery.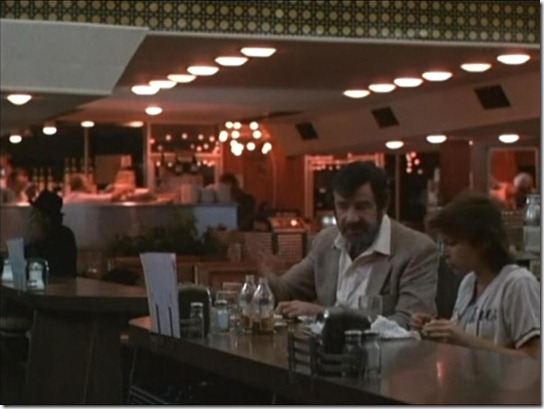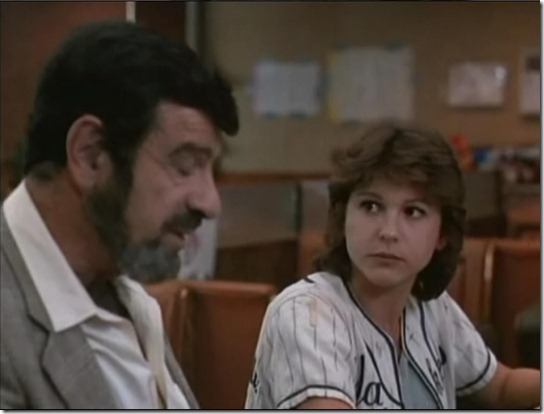 In the 1998 thriller Enemy of the State, the interior of Canter's masqueraded as the interior of Washington, D.C.'s Sam's Deli Restaurant, where lawyer Robert Clayton Dean (Will Smith) told his informant/former girlfriend, Rachel F. Banks (Lisa Bonet), that he wanted to meet her source, Brill (Gabriel Byrne).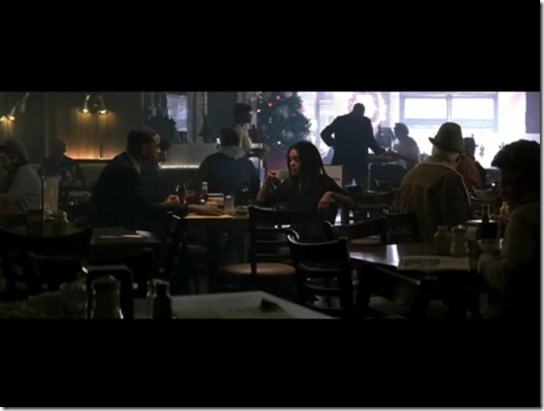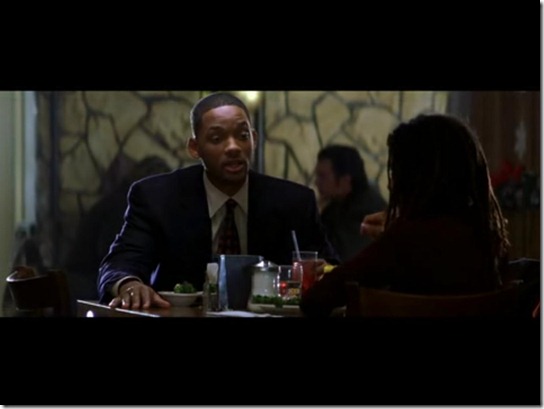 For the exterior of Sam's, a different location was used, though.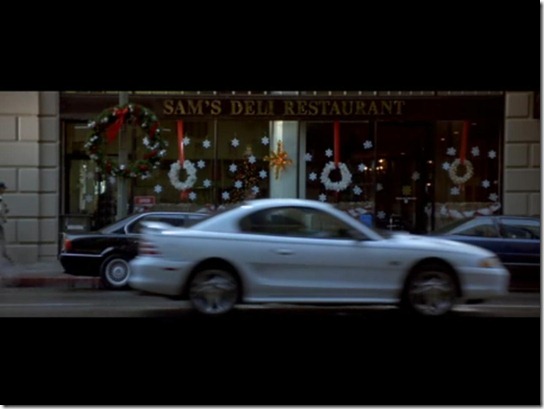 In the Season 4 episode of Curb Your Enthusiasm titled "The Blind Date", which aired in 2004, Canter's was where Larry David (Larry David) took his new friend Haboos (Moon Unit Zappa) for lunch.  Both the exterior . . .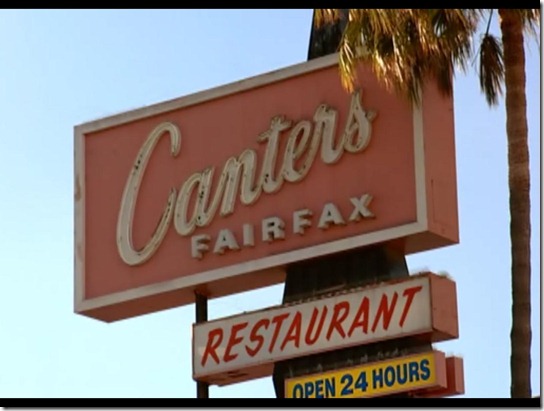 . . . and the interior appeared in the episode.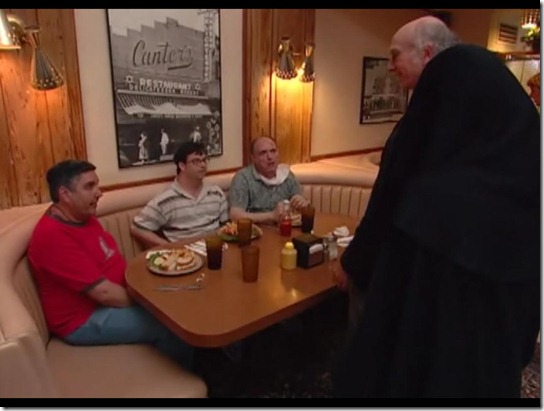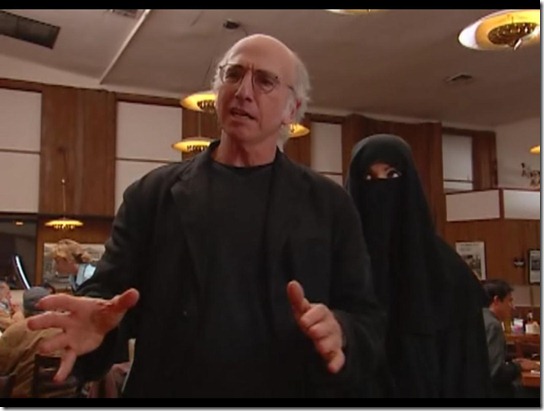 In 2005's Be Cool, Canter's was where Raji (Vince Vaughn) told hitman Joe Loop (Robert Pastorelli) that he killed the wrong guy.  Both the exterior . . .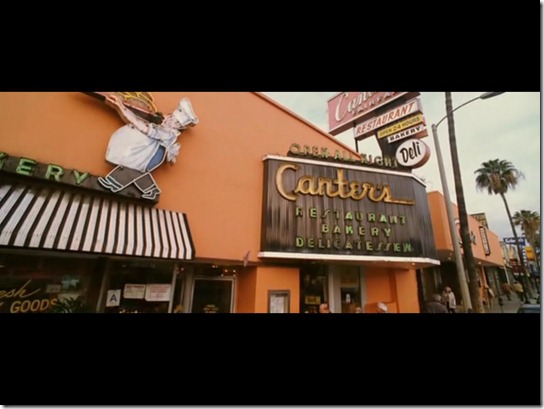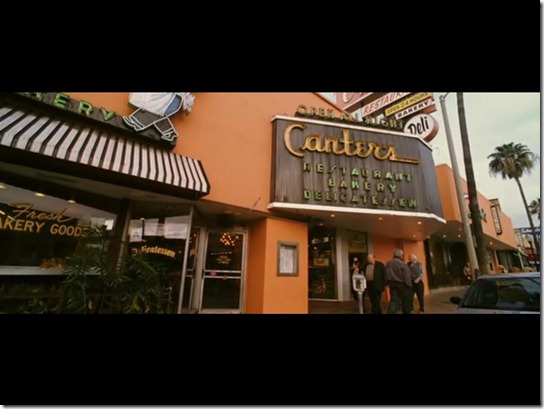 . . . and the interior were used in the flick.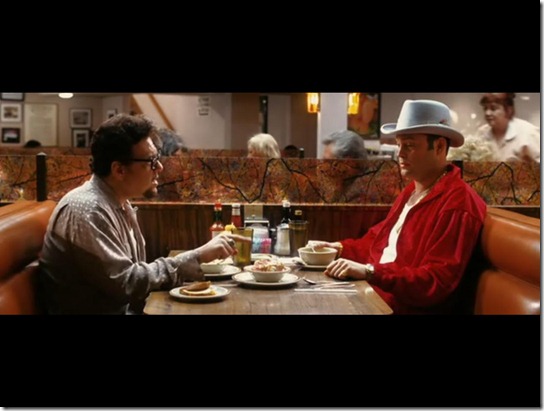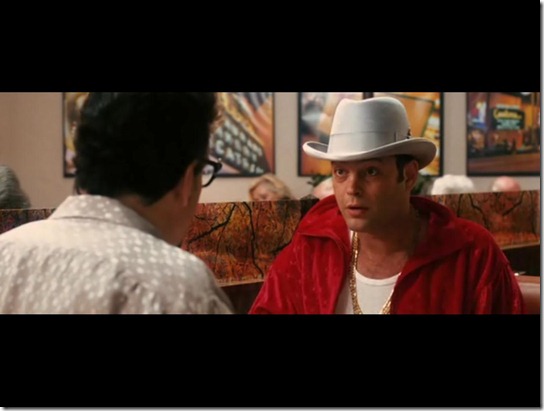 In the Season 6 episode of Entourage titled "Berried Alive", which aired in 2009, Canter's Deli is where the gang – Vincent Chase (Adrian Grenier), Eric Murphy (Kevin Connolly), Johnny Drama (Kevin Dillon), and Turtle (cutie Jerry Ferrara, who I am dying to meet, by the way!) – grabbed late-night drinks and where Drama ran into his former boss, Melrose Place-producer Phil Yagoda (William Fichtner).  Both the exterior . . .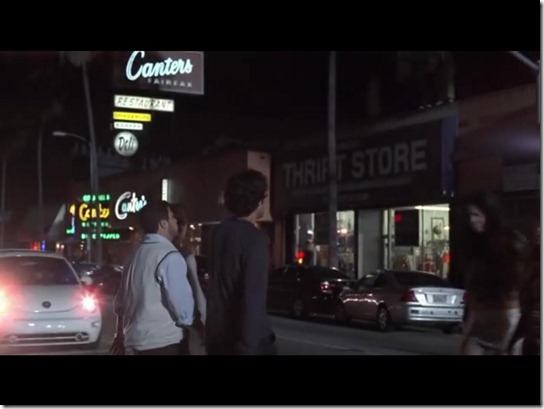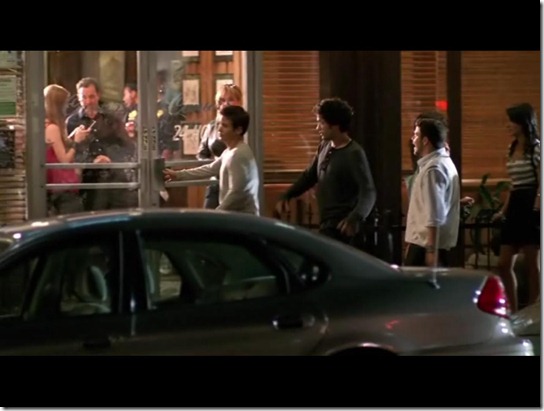 . . . and the interior of the deli appeared in the episode.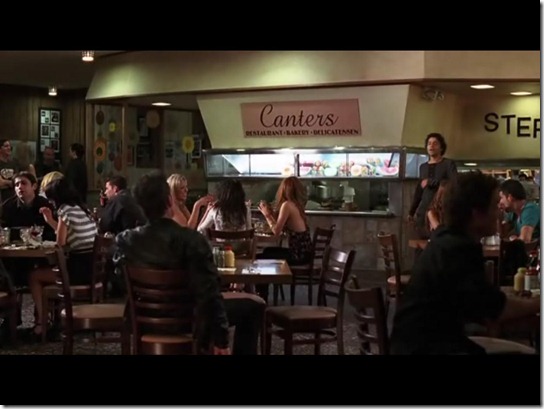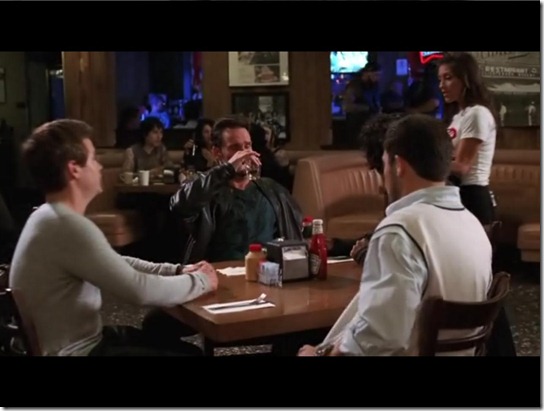 You can find me on Facebook here and on Twitter at @IAMNOTASTALKER.  And be sure to check out my other blog, The Well-Heeled Diabetic.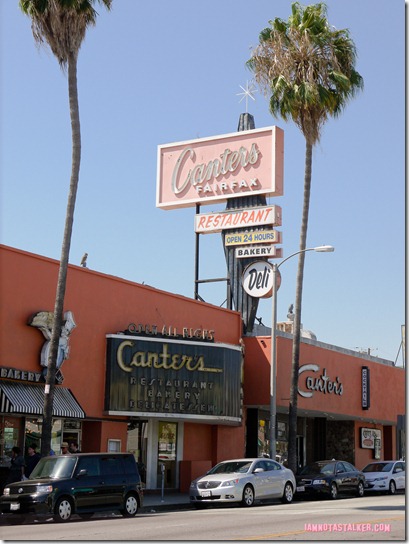 Until next time, Happy Stalking! 
Stalk It: Canter's Deli, from the "Berried Alive" episode of Entourage, is located at 419 North Fairfax Avenue in the Fairfax District of Los Angeles.  You can visit the official Canter's website here.  The deli is open 24 hours a day, 363 days a year (it is closed on both Rosh Hashanah and Yom Kippur).
58084