The Home Where Marvin Gaye Was Killed
Oct 12th, 2012 | By
Lindsay
| Category:
Celebrity Homes
,
Haunted Hollywood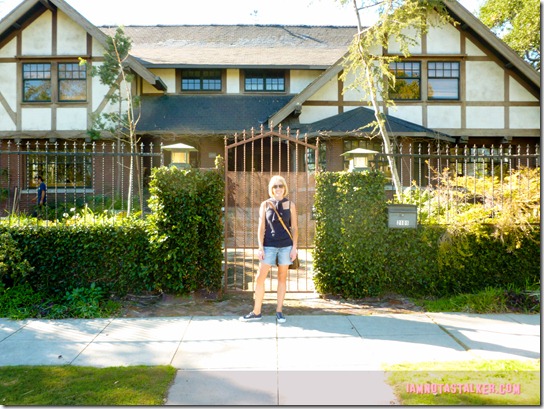 Way back in January, while on a stalking adventure with Mike, from MovieShotsLA, he took me by the West Adams-area home where, on April 1st, 1984, singer Marvin Gaye Jr. was shot and killed by his father, Marvin Gay Sr. (and no, gay is not a typo – Marvin Jr. added an e to his surname early on in his career). Mike thought the location would fit in perfectly with my annual Haunted Hollywood theme and, while I adamantly agreed, that unfortunately meant that I had to wait over ten months to blog about the place. So without further ado, here goes . . . finally!
Marvin Gaye Jr.'s former home, which was originally built in 1905, was designed by Sumner Hunt, who also designed the Thomas W. Phillips residence, aka The People Under the Stairs house, that I blogged about yesterday. Marvin Jr., who had found massive success thanks to such hits as "Let's Get It On", "I Heard It Through the Grapevine", "What's Going On", and "Sexual Healing", purchased the large Tudor-style dwelling in 1975 for $30,500, but, due to issues with drugs and a dire financial situation, wound up having to quit-claim the property to his parents just a year and a half later.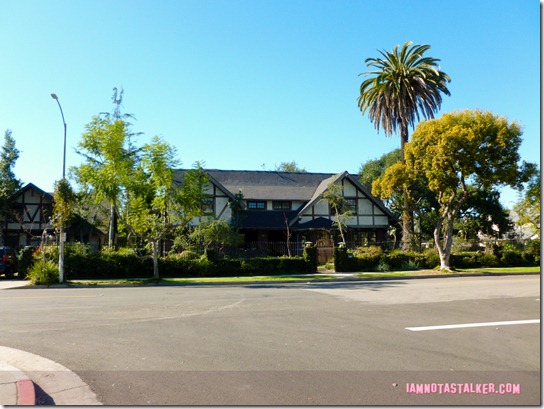 As the story goes, in late 1983, Marvin Jr. moved back into the home following the end of his U.S. tour. The singer was not in good shape. At the time, he was suffering from extreme depression, cocaine addiction, suicidal tendencies, and severe paranoia. Convinced that someone was trying to kill him, he had even taken to wearing a bulletproof vest when not onstage. And, according to this article, at one press conference he announced that he had been poisoned by an unknown individual and then later saved by an antidote potion that had been created by comedian Dick Gregory. Um, OK.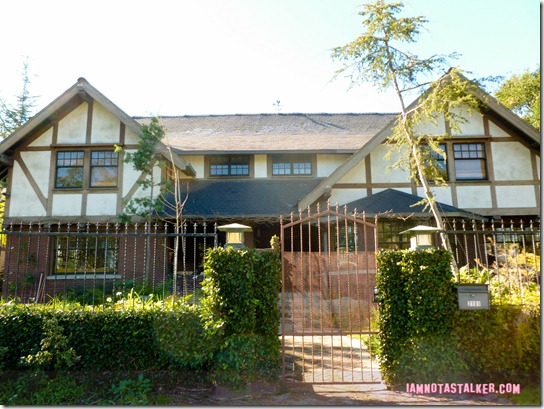 At about 11 a.m. on April 1st, 1984, Marvin Jr. got into an argument with his father, who was a Pentecostal minister and with whom he had always had a stormy relationship, in an upstairs bedroom of the house. The argument quickly escalated and got physical, resulting in Marvin Sr. grabbing a .38-caliber pistol and shooting his son twice in the chest.
In a very odd move, Marvin Sr. then walked downstairs, opened the front door, tossed the gun onto the lawn, sat on the porch, and waited for the police to arrive. There is a conflicting report making the rounds online that Marvin Sr.'s wife, Alberta Gay, was the one who actually threw the gun onto the lawn from an upstairs window. I am unsure which version of the story is true, but, either way, when the police did arrive, Marvin Sr. was waiting for them on the porch. He was arrested and later charged with murder. Marvin Jr. was taken to California Hospital Medical Center (located at 1401 South Grand Avenue), where he was pronounced dead at 1:01 p.m. – one day before his 45th birthday.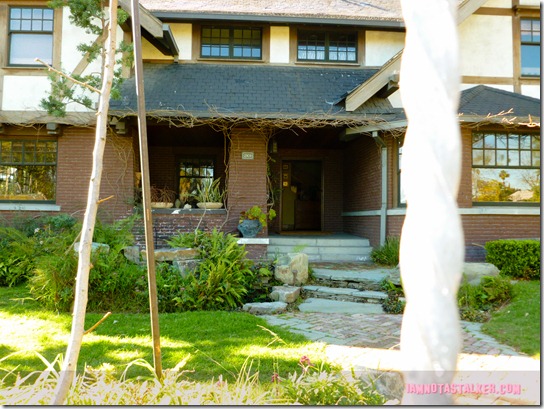 Due to the fact that he had suffered massive bruising from the altercation with his son, Marvin Sr. was allowed to plead no-contest to voluntary manslaughter and received only five years probation for the crime. Alberta moved out of the house during the trial and subsequently sued her husband for divorce. She passed away in 1987. That same year, Marvin Jr.'s sisters deeded the property to the Marvin P. Gaye Jr. Memorial Foundation, which wound up selling it to new owners in 1988. And while Wikipedia states that Marvin Sr. lived at the West Adams residence for a time briefly following his trial, I am not sure if that information is correct.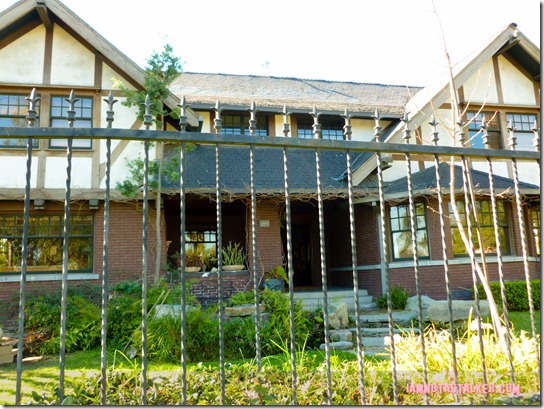 Marvin Gaye's former home boasts 5 bedrooms, 2 baths, 5,352 square feet, and a 0.48-acre plot of land. The front door happened to be open while we were stalking the place, so we got a tiny peek at the interior.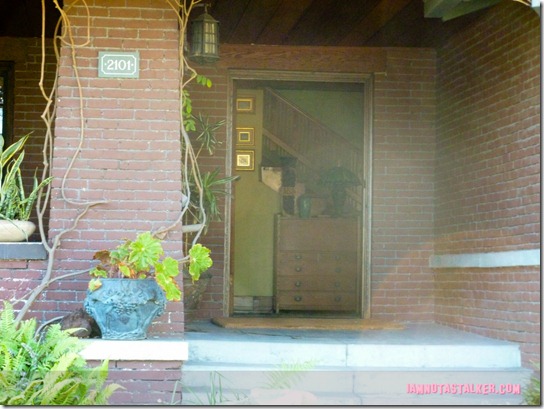 The property also boasts a huge detached two-car garage with an upstairs guest house that Marvin Jr.'s brother Frankie and his wife, Irene, lived in at the time of the killing.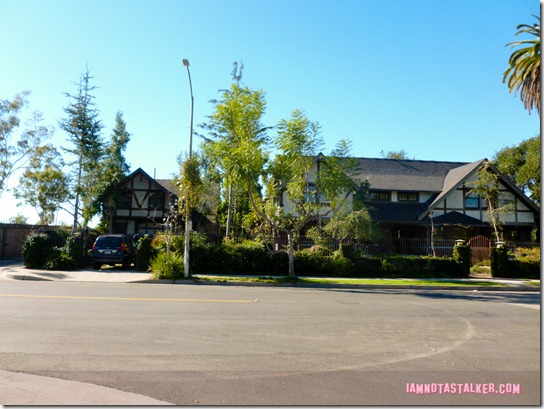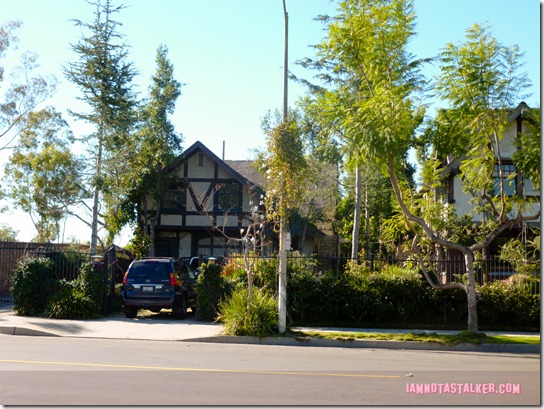 Fellow stalker Scott Michaels, from the FindADeath website, did a fabulous write-up on Marvin's killing and also posted a photograph of the home taken shortly afterwards in which you can see that it still looks EXACTLY the same today as it did in 1984. Aside from a change in the trim's paint color and a different style of fence, the residence is pretty much identical to its 1984 self. Absolutely amazing! You can check out another 1984 photograph of the house here. And while a January 1998 Los Angeles Magazine article stated that devoted fans still showed up to the residence annually on Marvin Jr.'s birthday to hold candlelight vigils for the fallen singer, I am unsure if those vigils still take place to this day.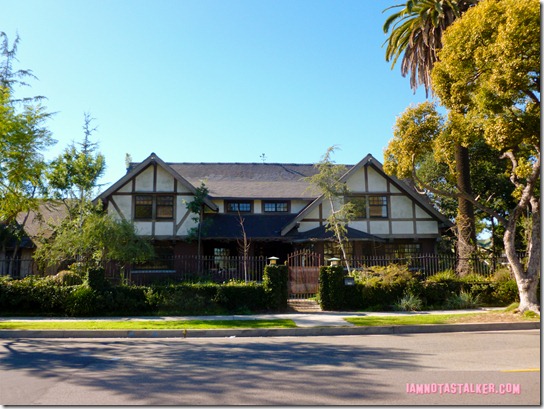 You can check out a video that Scott Michaels took inside of the home by clicking below.
You can find me on Facebook here and on Twitter at @IAMNOTASTALKER. And be sure to check out my other blog, The Well-Heeled Diabetic.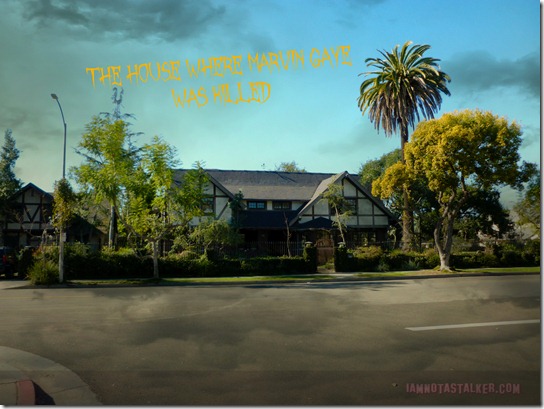 Big THANK YOU to Mike, from MovieShotsLA, for telling me about this location.

Until next time, Happy Stalking!

Stalk It: The home where Marvin Gaye was killed is located at 2101 South Gramercy Place in the West Adams District of Los Angeles.
59730