Johnny Weissmuller's Former Home
Oct 31st, 2012 | By
Lindsay
| Category:
Celebrity Homes
,
Haunted Hollywood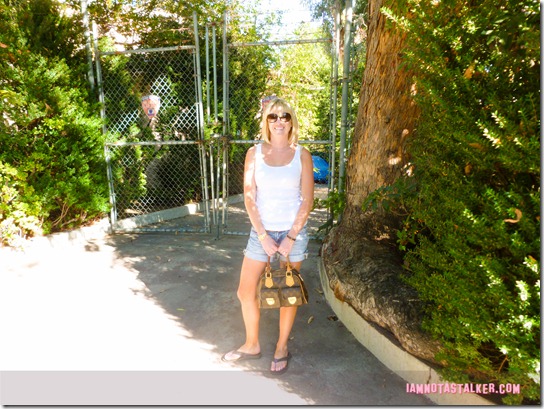 I would like to start off today's post by wishing all of my fellow stalkers a very Happy Halloween! And while I could not be more excited to celebrate the day that I pretty much spend all year waiting for, my heart is broken over the devastation to the East Coast (especially New York, one of my favorite cities in the entire world) caused by Hurricane Sandy. My prayers go out to those affected by the storm. Here's wishing for a speedy and safe recovery process and that those on the East Coast are still able to somewhat enjoy Halloween. And now, on with the post! Knowing how much I love me some historical properties, fellow stalker E.J., from The Movieland Directory website, recently told me about a massive Bel Air estate that had once belonged to Tarzan-actor/five-time Olympic-gold-medalist Johnny Weissmuller. E.J. thought that I might be interested in stalking the place for my Haunted Hollywood posts being that it has been abandoned for almost two and a half decades now. An abandoned mansion with a Hollywood history? Um, sold! So I immediately added the site to my To-Stalk list and dragged the Grim Cheaper right on over there this past weekend.
According to Wikipedia, the property, which was named a Los Angeles Historic-Cultural Monument on April 6, 1990, is known as the Nicolosi Estate and it was designed in 1931 by Paul Revere Williams, the legendary architect who also designed Perino's restaurant (which I blogged about here) and the residence that stood in for Wayne Manor on the Batman television series (which I blogged about here). The mansion was named in honor of one of its lesser-known residents, sculptor Joseph Nicolosi, who lived on the premises beginning in the 1950s until his death in 1961. According to property records, the Mediterranean Revival-style pad still belongs to the Nicolosi family, although it has not been lived in for over 24 years. As you can see below, sadly, not much of the place can currently be seen from the street.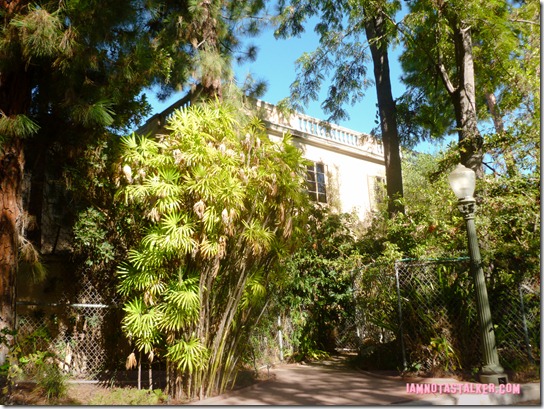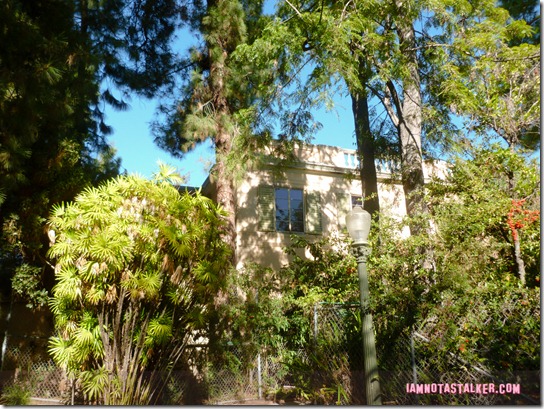 Thankfully though, E.J. was kind enough to share some photographs that he took of the home back in 1988, when the property was much more visible to the public. As you can see, thanks to some fire damage, the place looks like a real life haunted house.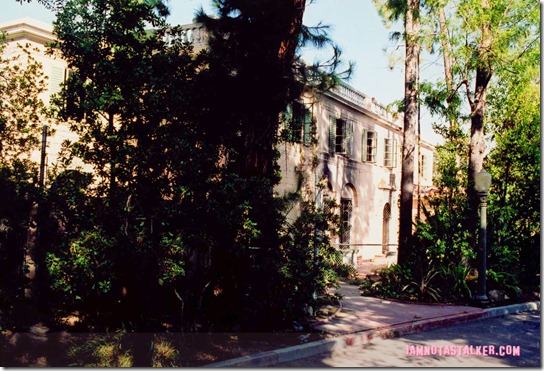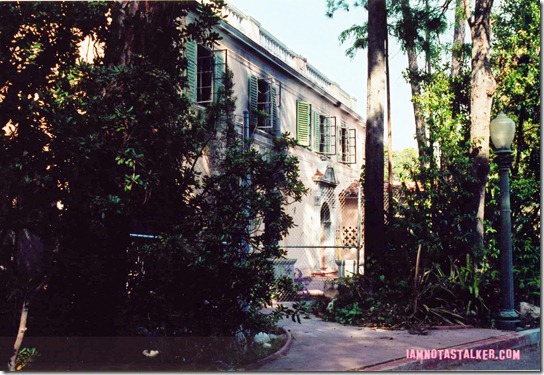 The Nicolosi Estate was commissioned by Johnny Weissmuller, who portrayed the legendary character Tarzan in twelve of the series' films. The actor was also a lifelong competitive swimmer and the house reflects his passion. While the 8,700-square-foot, 4-bedroom, 5-bath abode looks to have been pretty spectacular during its heyday, it is the GINORMOUS 300-foot-long serpentine swimming pool (which is visible from the road) that circles around the dwelling, complete with rock bridges and grotto-style hot tubs, that had me drooling. What I would not give to have seen that pool in its glory days!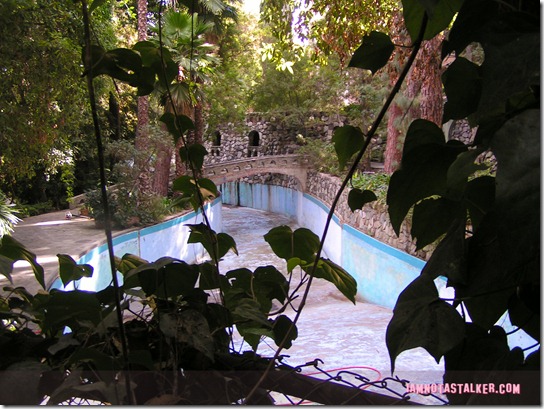 The pool also featured a cascading 150-foot electric waterfall made out of rocks, which you can see a portion of in the photograph below.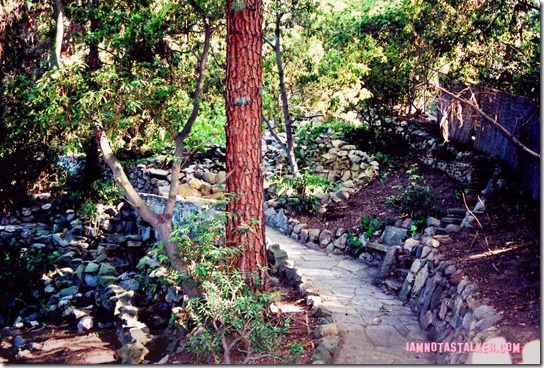 There seems to be quite a bit of confusion, as well as a slew of rumors, surrounding the history of the Nicolosi Estate. In fact, some people doubt that the house ever even belonged to Weissmuller. In The Ultimate Hollywood Tour Book, author William A. Gordon states, "Weissmuller's only biographer was unable to substantiate this claim, and Jeff Hyland, a prominent Beverly Hills realtor and author of The Estates of Beverly Hills, told me he believes tour guides concocted the story because 'it sounded good.'" According to the official Paul Revere Williams website, though, the house was indeed built for the Tarzan actor. And judging by that spectacular pool, I would say that the place definitely had to have been commissioned by a professional swimmer.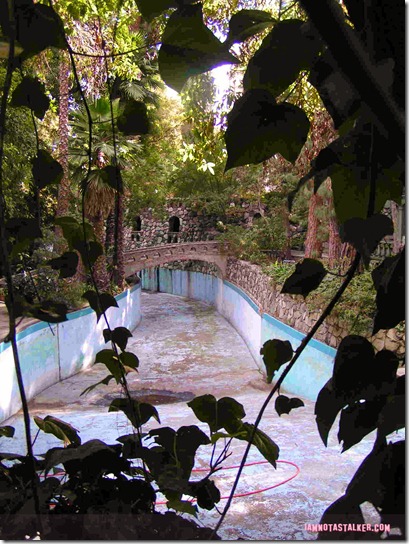 The rumors don't stop there, though. In the book Miss O'Dell: My Hard Days and Long Nights with The Beatles, The Stones, Bob Dylan, Eric Clapton, and the Women They Loved, author/groupie Chris O'Dell says of the house, "The grounds were equally extravagant, with a swimming pool the size of a football field, another pool made to look like a river and big enough for a rowboat, tennis courts, four pink stucco guest houses, and stately old trees with overarching branches and dense foliage. Newspaper tycoon William Randolph Hearst had bought the house for his mistress, actress Marion Davies; Howard Hughes had been a guest there in the grand old days of Hollywood, and John and Jackie Kennedy had honeymooned there in 1953. At least that's what I was told, and I believed it." And while the William Randolph Hearst/Marion Davies story is, most likely, true, I do not believe that JFK and Jackie ever spent any time on the premises.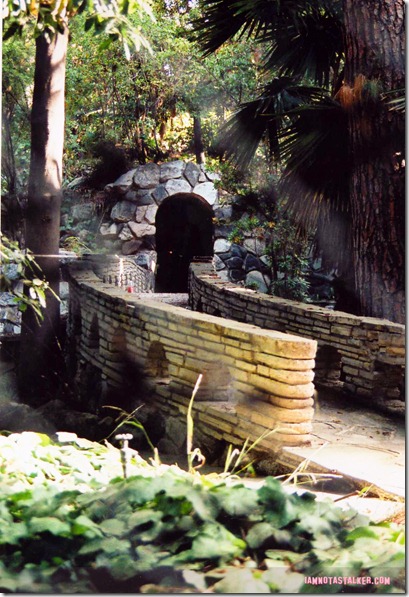 Not that the place didn't have its fair share of celebrity inhabitants. In 1972, actress Mackenzie Phillips lived there for a short time with her father, The Mamas & the Papas' John Phillips, and step-mom, actress Genevieve Waite. In her 2009 book High on Arrival, Mackenzie says, "Dad gave me my own wing of the mansion. It was that kind of place – a pink Italian palace that was designed by Paul Williams for Johnny Weissmuller, the Olympic swimmer and on-screen Tarzan. We also heard it had been rented or owned by William Randolph Hearst for his long-term paramour, Marion Davis. Whatever the case, the house was clearly built as a place for rich people to play. First Mick and Bianca Jagger had rented it at my dad's recommendation, and when they left, Dad and Genevieve moved in from the Chateau Marmont. Dad liked to live large, to show everyone what a big star he was. The ceilings were twenty feet tall. The moldings had hand-painted fleur-de-lis. There was a mirrored hall and countless antiques. The vast ballroom was surrounded by Moroccan murals of guys on horses and temples with pointed tops. There was a stage, mirrors, a ballet bar, and a supply of wax to restore the floor to an optimal surface for dancing."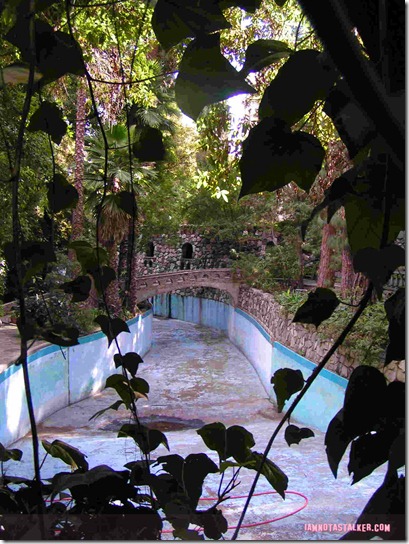 Of the pool, Mackenzie states, "Outside, there was a swimming pool that Johnny Weissmuller must have had built so he could do his laps. To say the pool was long is an understatement. It was 301 feet long, but skinny, and winding like a snake through exotic landscaping and funhouse weirdness. An arched bridge crossed over the pool and led to a stone tunnel with Gothic windows. Near the tunnel was a wall of hand-painted stucco cabanas. All the structures, including the bottom of the bridge over the pool (the part you saw when you swam under it) were decorated with hand-painted murals. It looked like the hybrid child of an Italian church and a Hawaiian lagoon. At the end of the pool closest to the road was a massive waterfall. What made the enormous, serpentine swimming pool most extraordinary was that it was kept empty. Who could maintain a pool that size? Dry and collecting dead leaves, it wound a deep, smooth path through the gardens with the mysterious aura of ancient ruins – the indestructible relic of other people's lives. It may have been empty and eerie, but we put the pool to good use. It would have made an excellent skateboard park, but we didn't have skateboards, so we rode Big Wheels down the length of it at four in the morning, racing back and forth in the deep darkness of the long, sunken pit." So incredibly odd!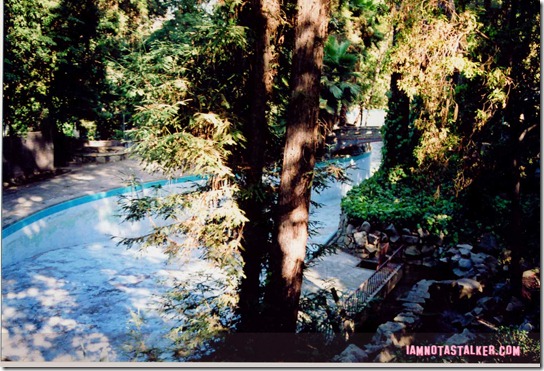 The Phillips family was evicted from the Nicolosi Estate after only a few short months due to non-payment of rent. Apparently, when Mackenzie was on The Oprah Winfrey Show in 2009, a video clip of the house was shown, but I, unfortunately, could not find a copy of the episode anywhere with which to make screen captures for this post.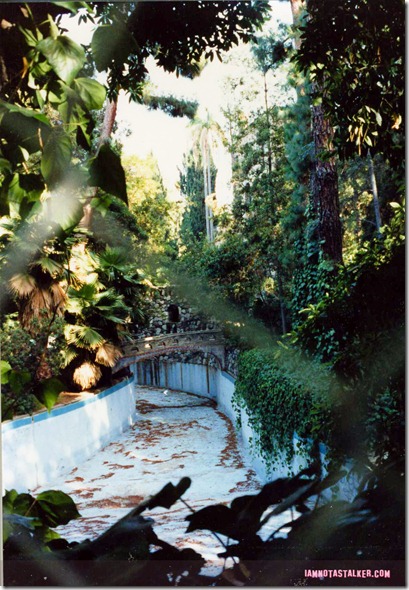 Sadly, the massive abode was completely gutted by a fire sometime in the late '80s and, for whatever reason, has been left to rot, abandoned, ever since. You can see some of the fire damage in E.J.'s photographs below. According to Yahoo Answers poster Cortney K., another rumor about the house states that the then owner of the property set fire to it, while his family was inside, one Christmas Eve night before fleeing the scene. Who knows if that story is true or not, but Cortney said she did once spot old Christmas lights and bows on the premises. Oh, if only those walls could talk! Whatever the truth behind the mystery of the abode may be, there is no discounting the fact that it is a fabulous place to stalk and I was absolutely in awe while there.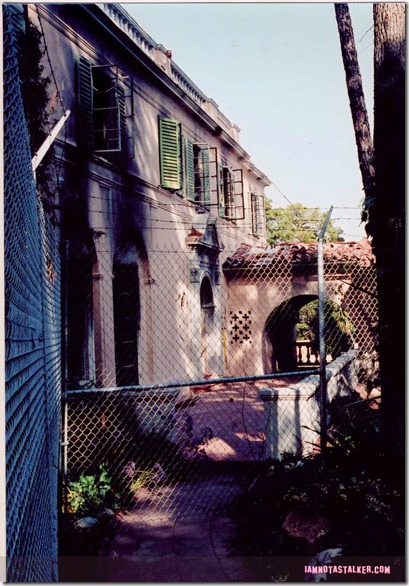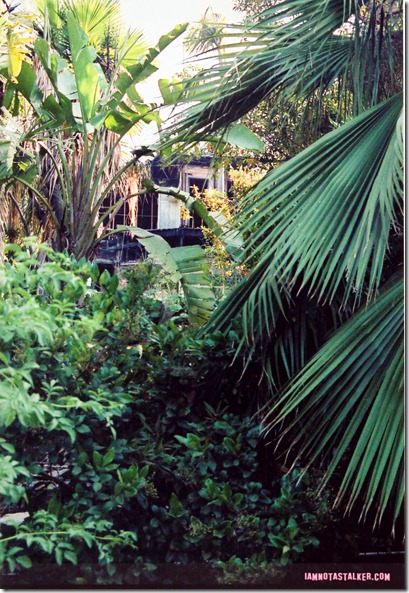 You can find me on Facebook here and on Twitter at @IAMNOTASTALKER. And be sure to check out my other blog, The Well-Heeled Diabetic.
Big THANK YOU to E.J., from The Movieland Directory website, for telling me about this location and for providing the fabulous pictures for this post!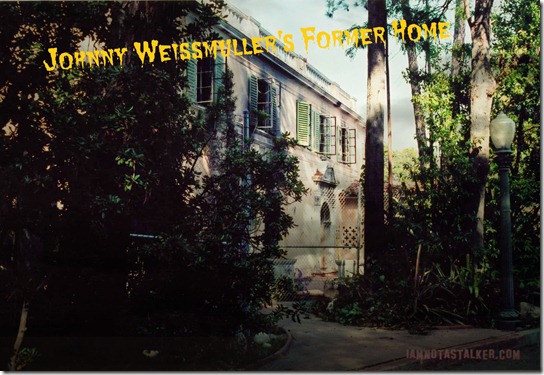 Until next time, Happy Stalking!

Stalk It: Johnny Weissmuller's former house is located at 414 St. Pierre Road in Bel Air. Alfred Hitchcock's first Los Angeles home (which I blogged about here) is located just around the corner at 609 St. Cloud Road.
61926