The Reichman Mansion from "Major Crimes"
Nov 5th, 2012 | By
Lindsay
| Category:
TV Locations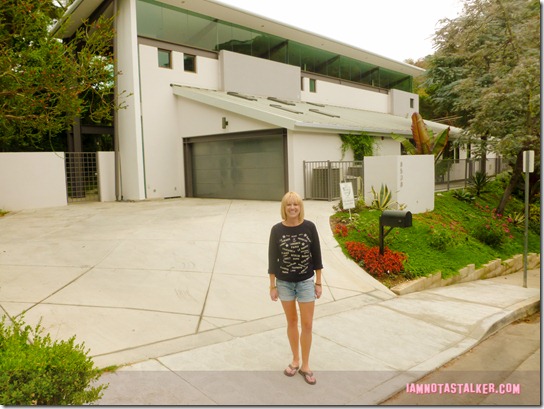 The weather in L.A. has finally turned and there is now a crispness in the air ensuring that jacket season is finally upon us.  It is also, unfortunately, time to bid adieu to this year's Haunted Hollywood postings.  Sadness!  For the next eleven months, I will just be writing about regular ol' stalking locations.  So here goes.  In early October, when the Season 1 episode of Major Crimes titled "Dismissed with Prejudice" aired, I became absolutely enthralled with the gorgeous ultra-modern mansion that was featured in it.  So I immediately set about searching for the place (before the episode was even over) and, thanks to the fact that the residence is currently for sale, it was not too hard to track down.  A simple Google search of modern-style houses in the Hollywood area yielded this real estate listing, so I immediately dragged the Grim Cheaper, along with my good friends, fellow stalkers Lavonna and Kim who were in town visiting from Ohio, right on out to stalk it.
In person, the house did not disappoint!  The abode, which was originally built in 1958, but has since been extensively remodeled (we're talking completely gutted both inside and out), currently boasts 4 bedrooms, 5 baths, 3,906 square feet of living space, and a 0.25-acre plot of land.  Thanks to the Berg Properties website and fellow stalker E.J.'s The Movieland Directory, I learned that the dwelling has a fairly vast list of former celebrity residents.  For a time the place belonged to character actor Frank Marth and it was later owned by comedian Jack Black and his then girlfriend Laura Kightlinger, who purchased the pad in 2002 for $1,075,000.  When Jack and Laura broke up, he bought out her stake of the residence for $699,000 and then subsequently sold the place in 2007 for $1,210,000.  The remodel/knock down took place at some point thereafter.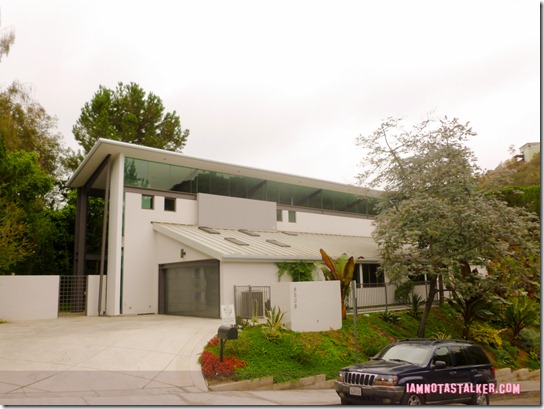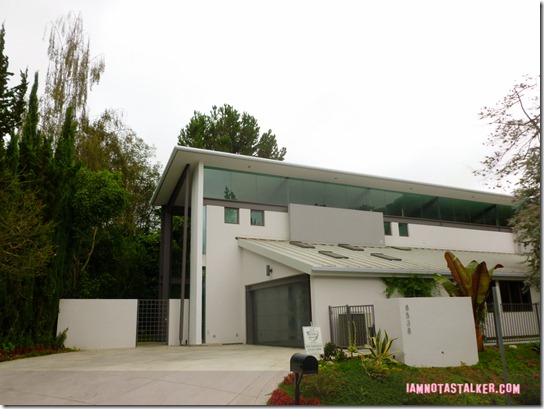 The dwelling that originally stood on the property looks to have been Spanish in style (as you can see in the image below which I got from the Historic Aerials website) and, measuring 3 bedrooms, 2 baths, and 1,959 square feet, was much smaller than its successor.  You can check out a (not very great) photograph of the original home on an old real estate listing here.  At the time, the property was described as being a "spectacular '50s post & beam hacienda".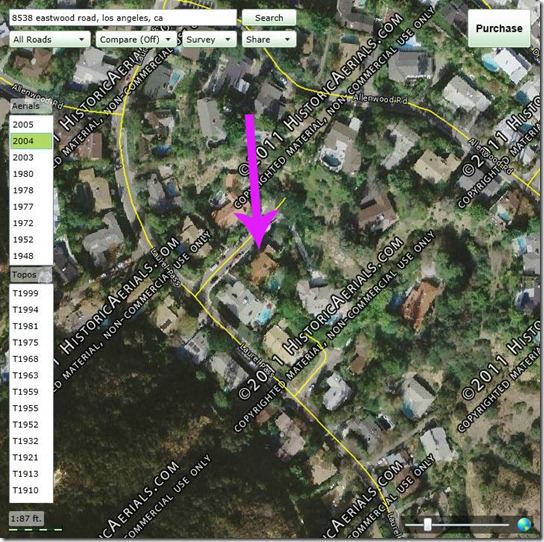 As you can see in the Google Street View images below, the house was changed drastically during the remodel.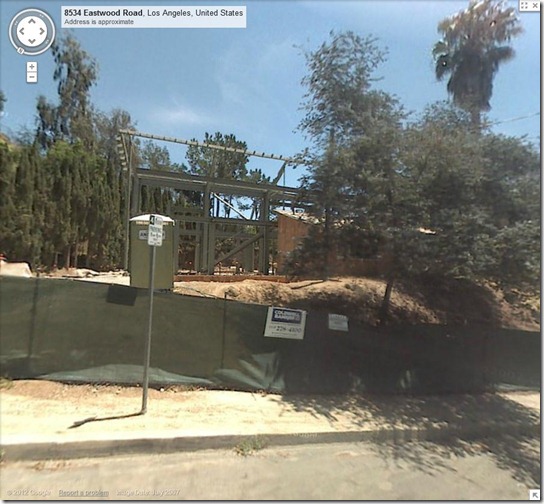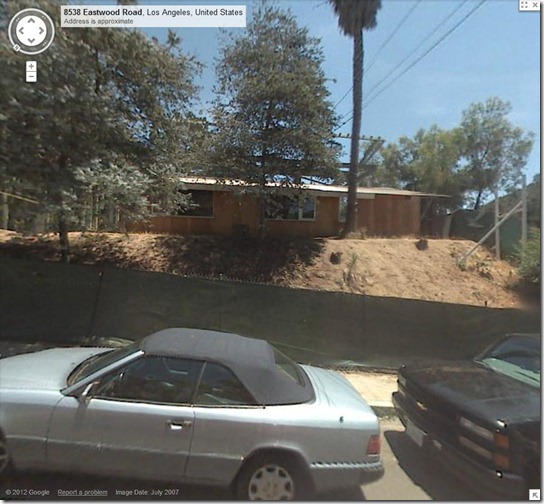 The result is nothing short of spectacular!  The dwelling, which was constructed primarily of steel and glass, features a butterfly roof, cruciform columns, polished concrete floors, a large saltwater pool, a waterfall, a koi pond, a BBQ area, and a master suite with a spa-like bathroom that encompasses the structure's entire second floor.  And, if you have an extra $2,795,000 lying around, it could be yours!  You can check out the home's real estate listing here.  According to several websites (which you can see here and here), the place is currently owned by a celebrity, though, much as I tried, I could not figure out by whom.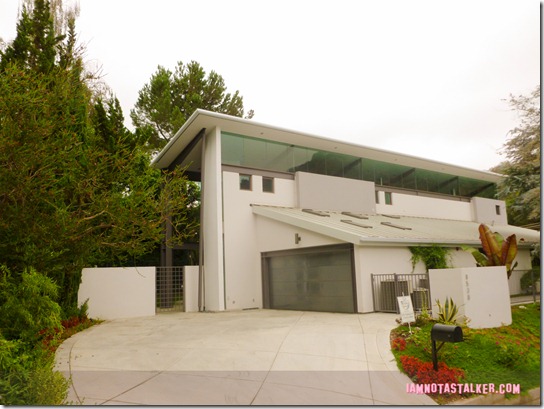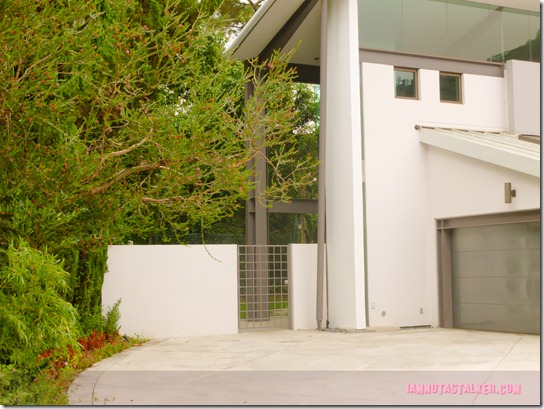 In the "Dismissed with Prejudice" episode of Major Crimes, the residence belonged to Will Reichman (William R. Moses), an architect whom Lieutenant Mike Tau (Michael Paul Chan) put away for murder eight and a half years prior.  And I just have to say here that I absolutely LOVE me some Major Crimes!  While I was initially doubtful as to how The Closer spinoff would fare sans Kyra Sedgwick at the helm, I am very happy to report that the series is fabulous.  Bringing in the Rusty Beck character (played by the brilliant Graham Patrick Martin, who also starred as Eldridge Mackelroy on Two and a Half Men) was genius and gave the show – and Captain Raydor (Mary McDonnell) – a heart.  I cannot wait for it to start up again next season.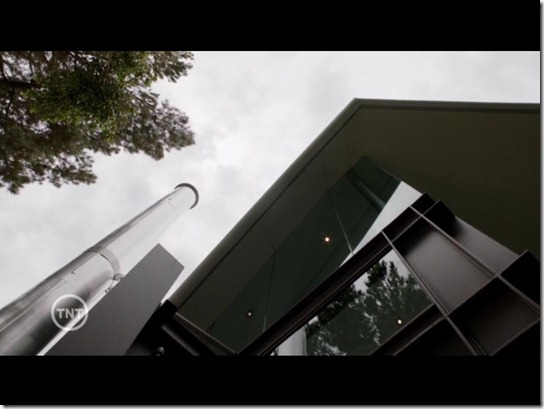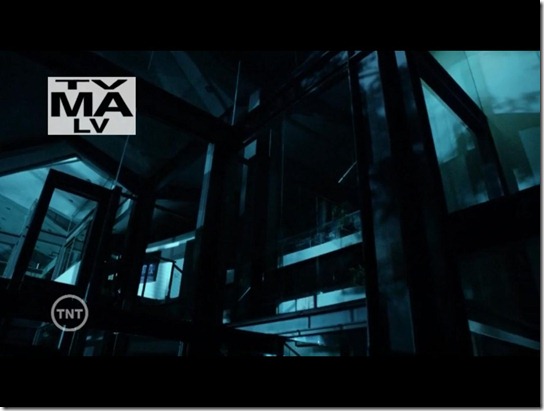 For whatever reason, only the backside of the property was used in the episode.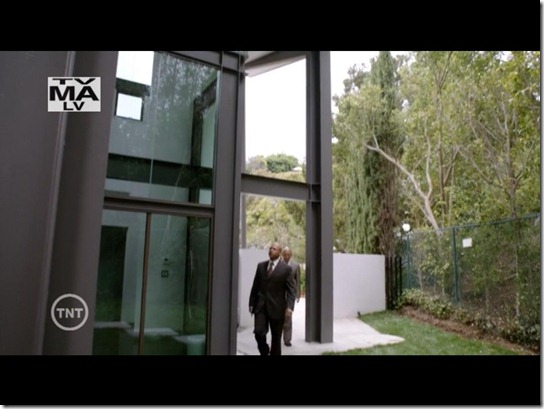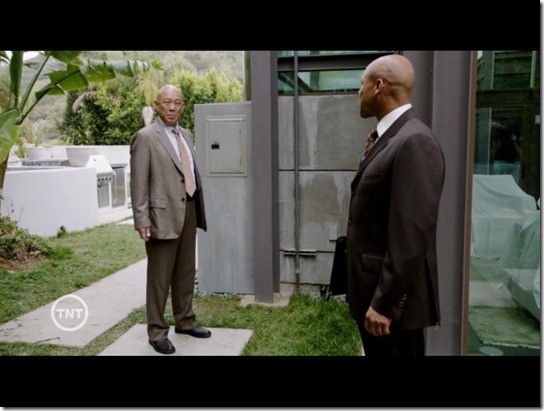 The interior – which is all open spaces, towering plate glass windows, and high ceilings (drool!) – was featured extensively, though.  Man, what I wouldn't give to live there!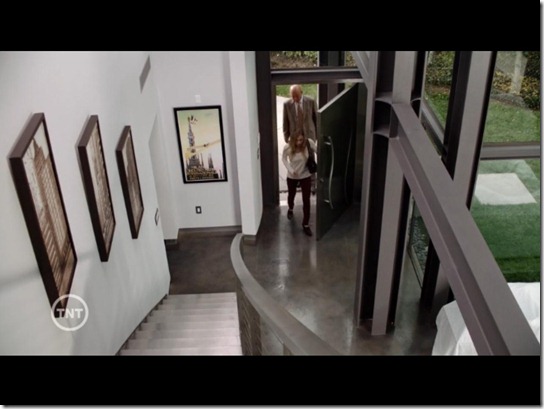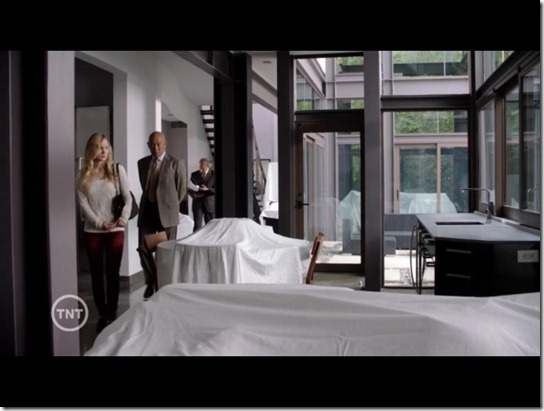 The staircase is absolutely to die for!  LOVE IT!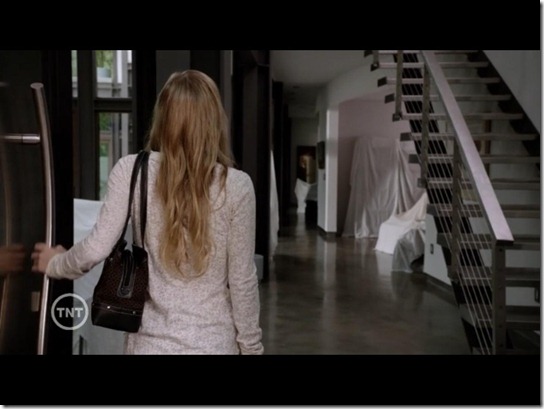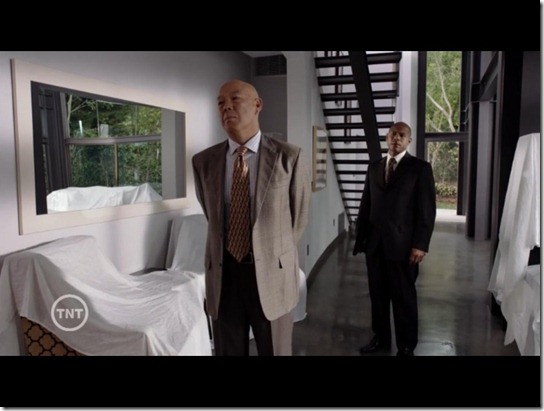 Thanks to fave website Curbed L.A., I learned that the dwelling was also featured in the Season 1 episode of Selling L.A. titled "Rock Star Real Estate", as the home that former actress/Playboy Playmate-turned-Keller-Williams-broker Martha Smith showed one-time Guns N' Roses drummer Matt Sorum.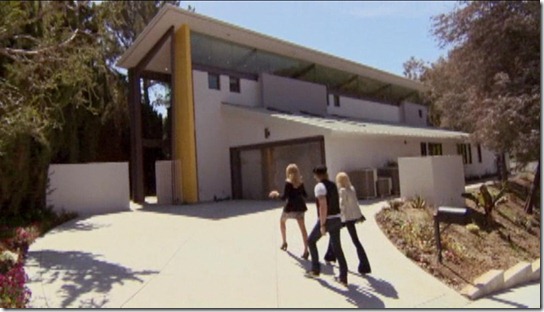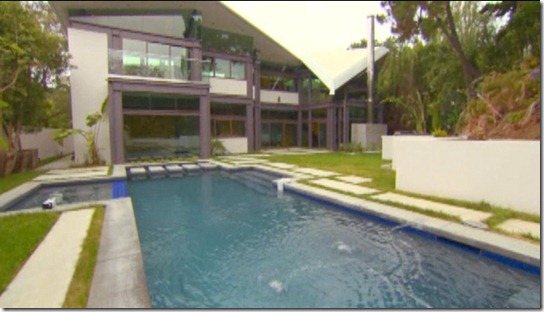 The episode aired on October 27th, 2011 and, at the time, the residence was for sale for $3.395 million and looked very much the same as it did in Major Crimes (although the yellow accent walls have since been painted over, thank God!)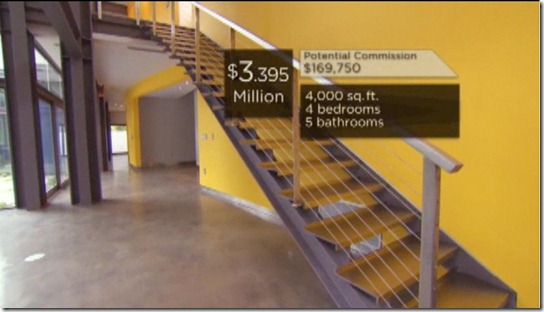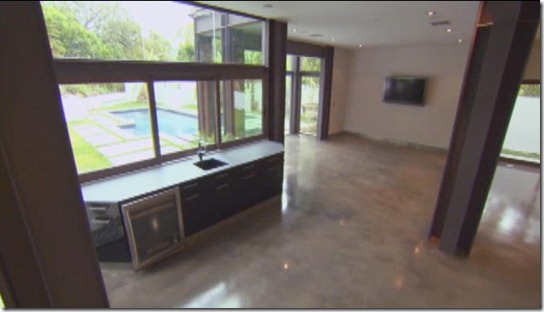 In the episode, Martha talks about the fact that the "small, sort of low-profile kitchen" was designed for a celebrity who "just didn't care much about kitchens" (someone after my own heart!

).  I am not sure if said celeb ever lived on the premises or if he or she put it on the market as soon as the remodel was complete.  Either way, I am fairly certain that the place is currently vacant.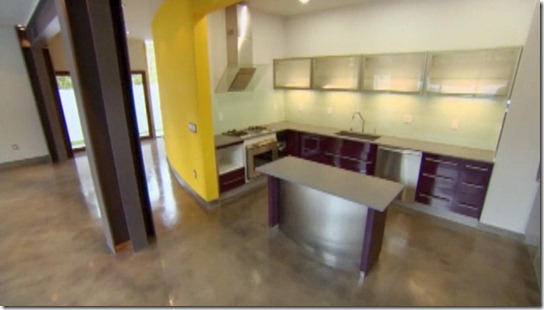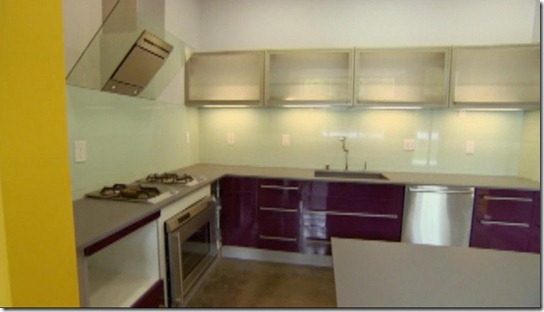 You can find me on Facebook here and on Twitter at @IAMNOTASTALKER.  And be sure to check out my other blog, The Well-Heeled Diabetic.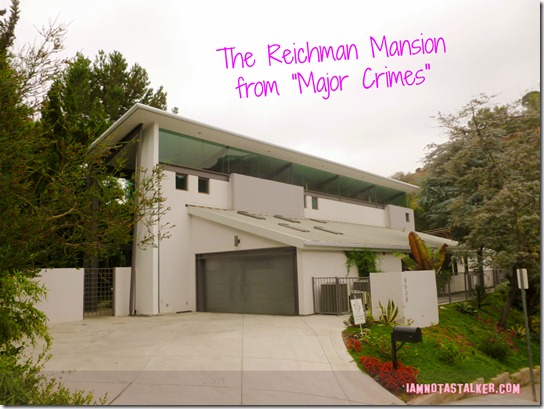 Until next time, Happy Stalking! 

Stalk It: The Reichman mansion from the "Dismissed with Prejudice" episode of Major Crimes is located at 8538 Eastwood Road in the Hollywood Hills.
62256