Temple Israel of Hollywood from "Will & Grace"
Nov 15th, 2012 | By
Lindsay
| Category:
TV Locations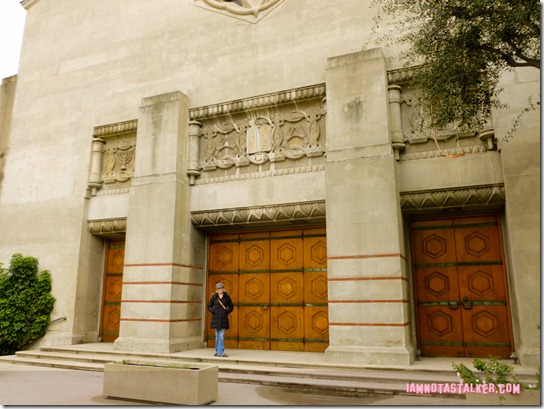 Earlier this year, fellow stalker Lavonna informed me that she had just tracked down the temple where Grace Adler (Debra Messing) married Leo Markus (Harry Connick Jr.) in the Season 5 episode of Will & Grace titled "Marry Me a Little, Marry Me a Little More".  As it turns out, while the wedding supposedly took place on the island of Manhattan, in reality Leo and Grace tied the knot right here in Los Angeles – at Temple Israel of Hollywood.  Because Lavonna has long been obsessed with the series (it is pretty much her Beverly Hills, 90210), she put in a special request for me to stalk the place.  So I dragged the Grim Cheaper right on out there one (very cold) day in March.  Sadly though, the temple was closed when we showed up, so we only got to catch a glimpse of its exterior . . .
Flash forward to this past October when Lavonna and her good friend Kim came out to L.A. for a visit from Ohio.  Lavonna was absolutely dying to see the interior of Temple Israel of Hollywood (natch!) and called up the main office to ask for a tour.  Amazingly enough, they told us to come right on over!  So we headed out there immediately after our Dearly Departed tour (which I will be blogging about soon) had ended.  And I am very happy to report that the place did not disappoint!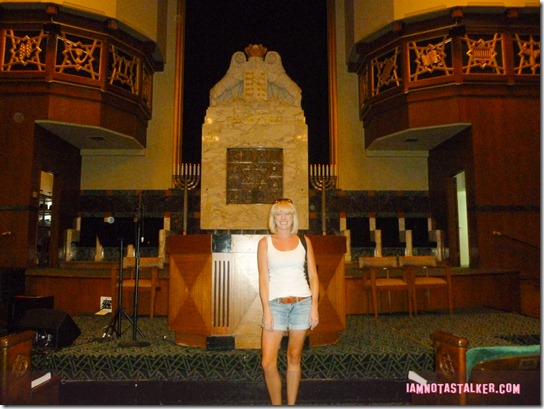 Temple Israel of Hollywood was originally founded in 1926 by a small group of individuals, most of whom were involved in the entertainment industry.  In fact, the place had such major Hollywood connections that it was quickly given the nickname "Filmland's House of Worship".  Um, LOVE it!  For its early meetings, members rented a now-defunct castle-like mansion that, at the time, belonged to Japanese actor Sessue Hayakawa and stood on the corner of Franklin Avenue and Ivar Street.  In 1930, the growing congregation purchased the former First Methodist Church on Hollywood Boulevard and proceeded to hold services there until 1948, when it was decided that a new and even bigger temple – the one that stands today – would be constructed about a mile west.  The new synagogue was designed by architects S. Charles Lee (who also designed the Max Factor Building, the Los Angeles Theatre, and the Hollywood & Western Building) and Samuel Lunden.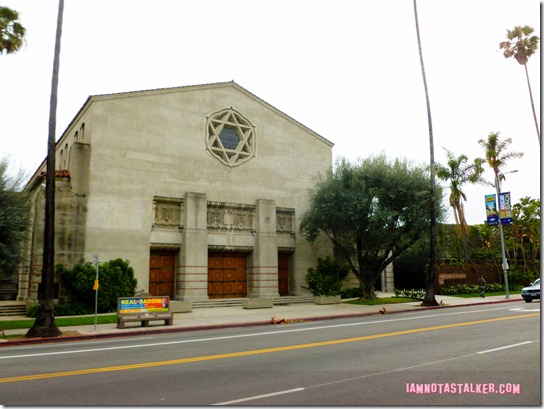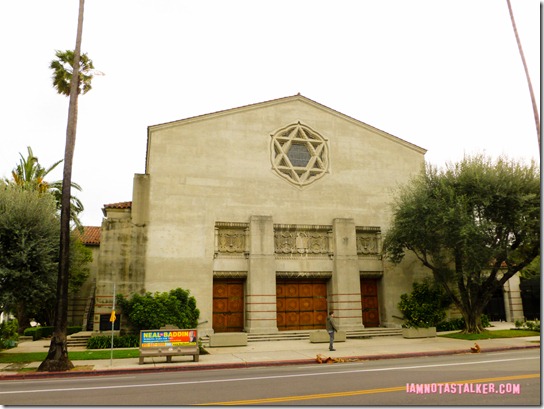 Today, the Temple Israel of Hollywood congregation consists of over 950 families – and is still a major draw for the entertainment industry.  Just a few of the celebrities who have attended services there at some point in time include Eddie Fisher, Tony Curtis, Marlon Brando, Bob Dylan, Al Jolson, Sammy Davis Jr., Eddie Cantor, Leonard Nimoy, Mike Todd, David O. Selznick, Lea Thompson, Amanda Peet, and Ben Stein.  In 1965, Martin Luther King Jr. gave a speech on the premises and, on March 27th, 1959, Elizabeth Taylor converted to Judaism there, taking the Hebrew name Elisheba Rachel.  The place definitely deserves its "Filmland's House of Worship" nickname!  In fact, I think I may need to convert and start attending services there!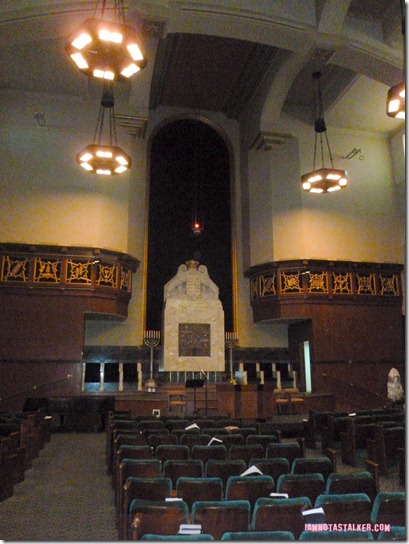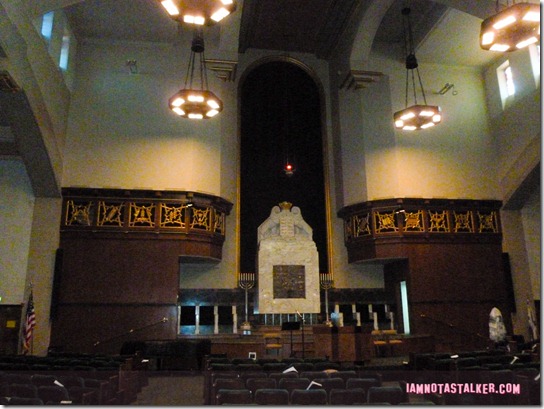 In the two-part "Marry Me a Little, Marry Me a Little More" episode of Will & Grace, Grace and Leo decide to get married in a temple, after learning that their first wedding, in which they tied the knot on a whim while on The Today Show, was not valid.  Only the interior of Temple Israel of Hollywood was featured in the episode, though.  For the exterior of their wedding venue,  Temple Emanu-El, located at One East 65th Street in New York, was used.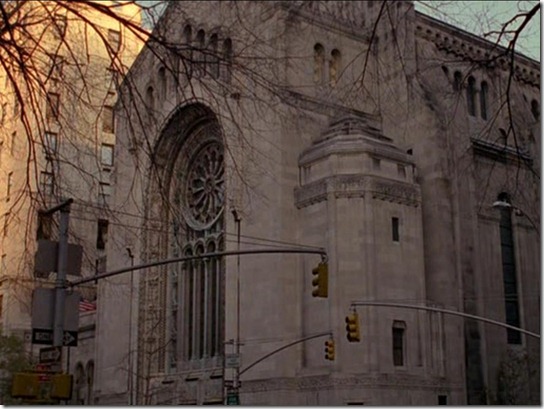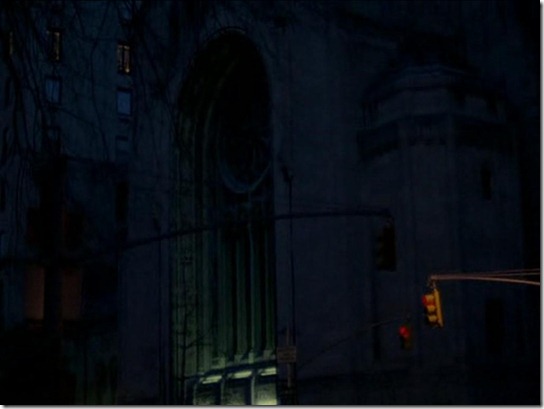 Grace and Leo's wedding took place in Temple Israel of Hollywood's Sanctuary area.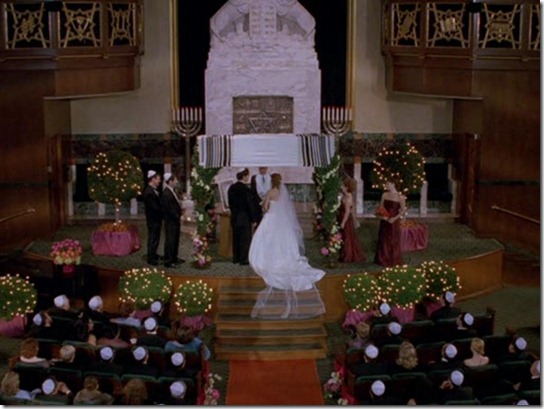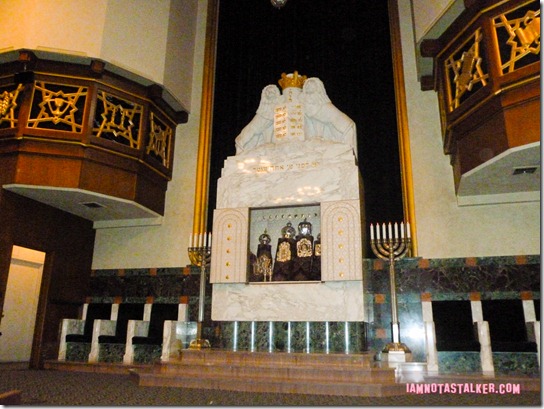 Visible in the episode is the temple's real life Ark, which was constructed out of silver and white Italian marble and is flanked by two large lions representing strength, courage and majesty.  The Ark was a bit covered over by a chuppah in the scene, though, as you can see below.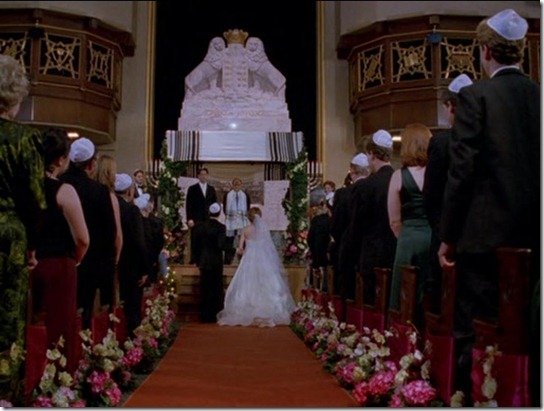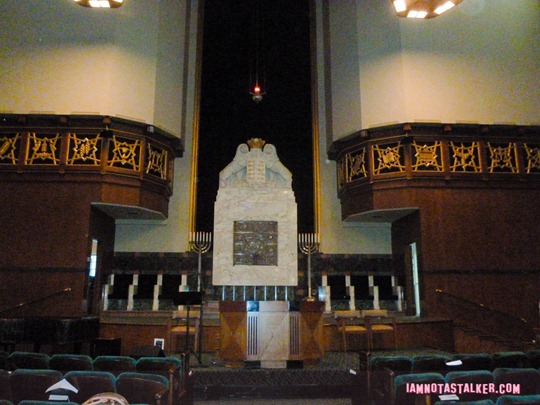 In a perplexing twist, while the real life altar area matches up to what appeared in the episode, the back half of the temple does not.  Although it is not readily apparent in my photograph below, the temple's actual ceiling is much shorter than what was depicted onscreen, due to the existence of a large mezzanine.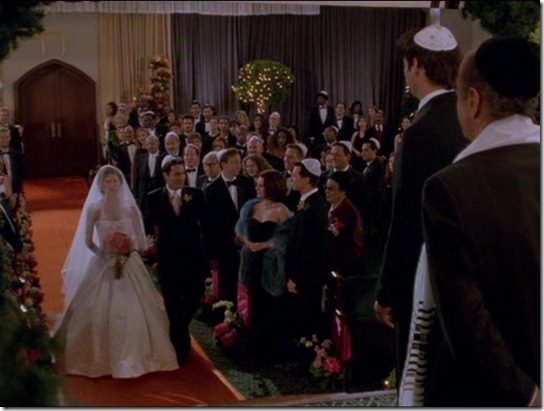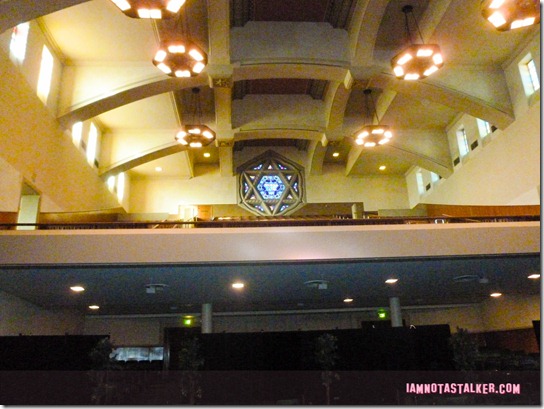 And while both the green rug underneath the aisle runner and the velvet and wooden seats match up perfectly to what was shown in the episode, the real life doors of the temple are completely different.  I had Mike, from MovieShotsLA, call the temple's main office for me (for some reason I am petrified of making phone calls to strangers – in person, I LOVE talking to random people, but on the phone I'm a total wuss) to ask if the Sanctuary had been remodeled in recent years and, as it turns out, there was a renovation done in 2009.  But, while doing further research, I came across a black and white photograph (from an undetermined year) on the Paradise Leased blog which shows the Sanctuary in the exact same state that it is today.  So a few different scenarios are possible here – the Paradise Leased photo may very well be a recent one that just happened to have been taken in black and white, making it possible that the back portion of the Sanctuary was drastically changed during the 2009 remodel OR Grace and Leo's wedding ceremony was filmed partially on a set and partially in the actual temple.  Hey, stranger things have been known to happen in Hollywood.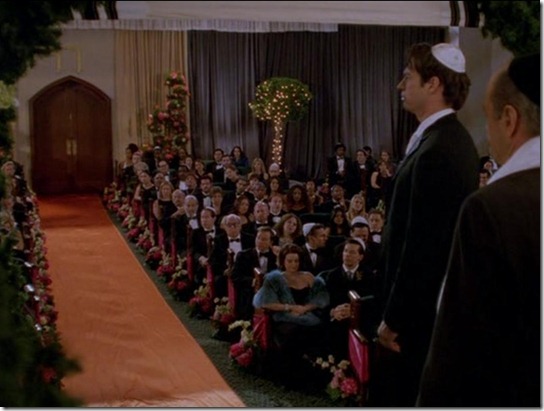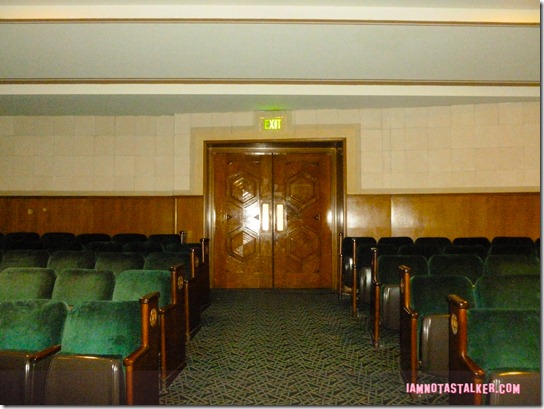 While I am unsure of the Sanctuary situation, I am almost positive that both the anteroom . . .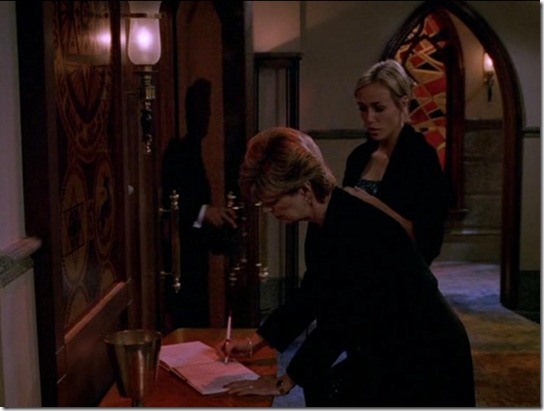 . . . and bride's dressing room that appeared in the episode were sets built at CBS Studio Center, where Will & Grace was lensed.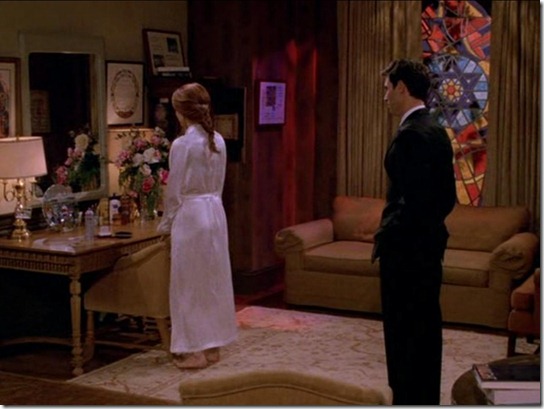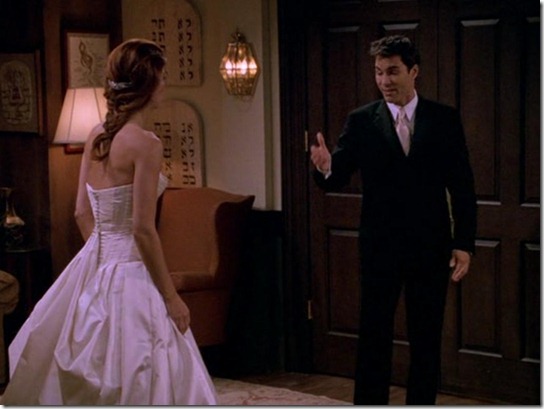 And I, of course, just had to pose for a pic next to the chair where Will Truman (Eric McCormack) sat after he gave Grace away.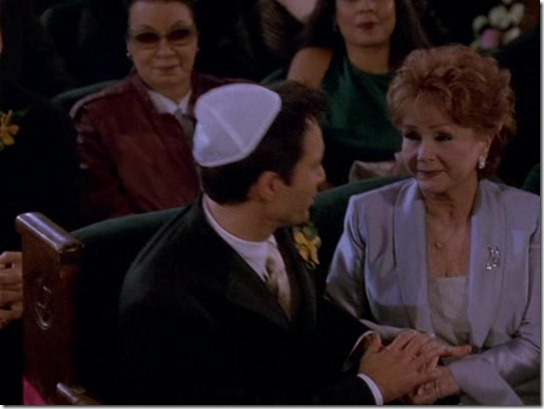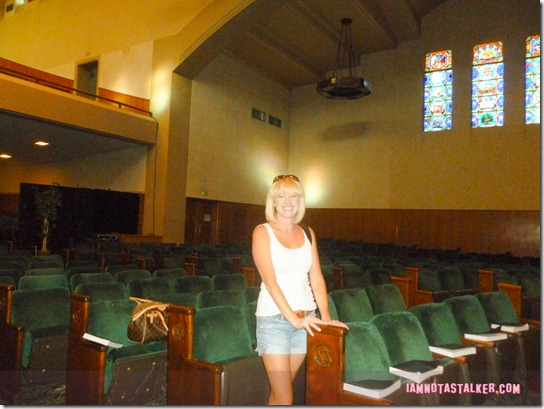 On a Will & Grace side-note – I absolutely LOVE the shearling coat that Grace wore in the "Marry Me a Little, Marry Me a Little More" episode.  I want, I want, I want!  Oh, GC – are you listening?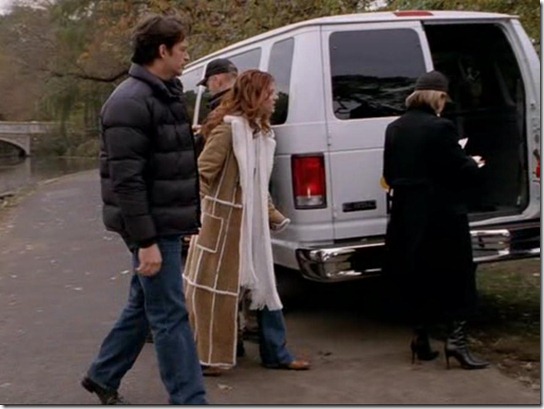 You can find me on Facebook here and on Twitter at @IAMNOTASTALKER.  And be sure to check out my other blog, The Well-Heeled Diabetic.
Big THANK YOU to fellow stalker Lavonna for finding this location!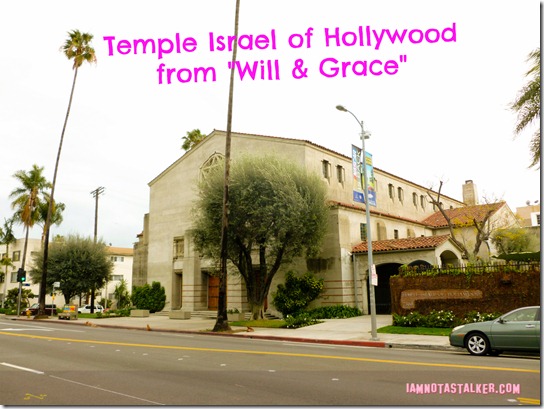 Until next time, Happy Stalking! 

Stalk It: Temple Israel of Hollywood, where Grace and Leo got married in the "Marry Me a Little, Marry Me a Little More" episode of Will & Grace, is located at 7300 Hollywood Boulevard in Hollywood.  Their wedding took place in the Sanctuary.  You can visit the temple's official website here.
62779