Lester Siegel's House from "Argo"
Jan 29th, 2013 | By
Lindsay
| Category:
Movie Locations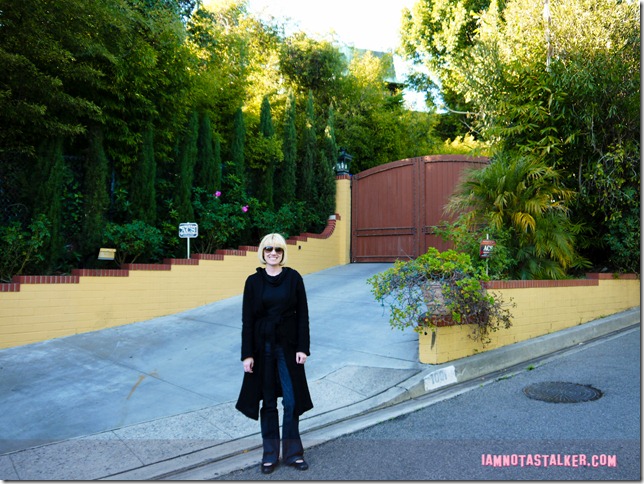 Today's post is the very first blog written from my new home in the desert. The Grim Cheaper and I moved last Wednesday (it took over 15 hours!) and are finally getting settled in to our Palm Springs pad. There is still quite a bit left to complete, though, and, while the hyper-organized/anal/OCD-side of me has a hard time doing anything while there are still boxes to be unpacked and rooms to be organized, I decided to do a little blogging today, regardless. My posts over the next couple of weeks will most likely be intermittent, though, while we continue to settle in. And now, on with the post! Another filming location from fave movie Argo that I found thanks to the fabulous Los Angeles Times article forwarded to me by Mike, from MovieShotsLA, was the home where Hollywood producer Lester Siegel (Alan Arkin) lived. And I just have to say here how desperate I am to stalk LA/Ontario International Airport, which masqueraded as the Tehran airport in Argo. I have a flight scheduled out of there in early March and, let me tell you, I canNOT wait! But I digress. Anyway, I dragged the GC right on out to stalk Lester Siegel's mansion a few weekends ago, shortly before our big move.
In real life, Lester's mansion actually belongs to actress Zsa Zsa Gabor and her longtime husband, Frederic Prinz von Anhalt, who seems to be a rather accident-prone individual – in October 2010, Frederic swallowed a bee that then stung him in the throat; in December 2010, after mistaking nail glue for eye drops, he accidentally glued his own eye shut; and in September 2011, he was hit by a car while walking in Beverly Hills. Yikes! Although there are quite a few conflicting reports about the property's history online (many of which seem to have been propagated by Gabor and Frederic themselves), the fact of the matter is that the residence was originally built in 1955 for John and Gladys Zurlo. And while famous recluse Howard Hughes did rent the dwelling for a time in the 1960s (and apparently wore a hole in the carpet thanks to his notorious pacing), he never owned the place nor was it built for him. Gabor has also reportedly stated that she bought the pad directly from Hughes, but according to the Zurlos' granddaughter, Barbara Yobs, the couple themselves sold the home to Gabor in 1973 for $250,000. For the record, it is further untrue that Elvis Presley ever lived on the premises, as Gabor has also claimed. Anyway, due to failing health and mounting medical bills, Gabor and Frederic put the property on the market in June 2011 for $15 million. It has yet to sell, though, so in the meantime the couple has been leasing the place out to film crews. HBO's yet-to-be released Liberace biopic Behind the Candelabra also made use of the estate last year.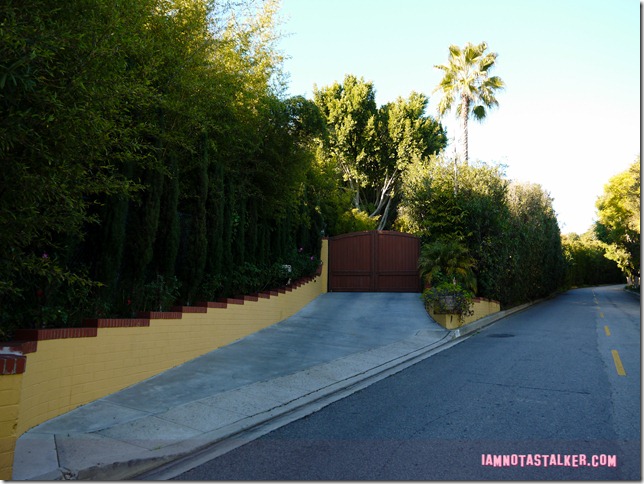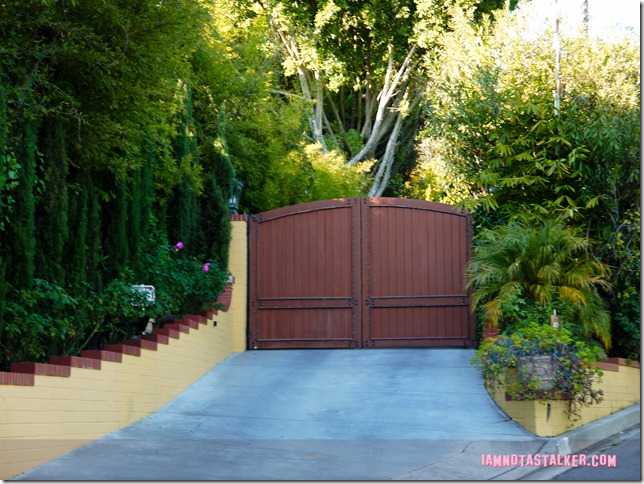 Sadly, as you can see below, aside from the front gate, very little of the dwelling is visible from the street. Back in June 2011, fave website CurbedLA posted quite a few real estate photographs, though, which you can check out here. As stated in a Huffington Post article, the home "was built in the '50s and doesn't look as if it has been redecorated since. It is lavish and sings old over-the-top Hollywood glamour." Yep, that pretty much sums it up. The Hollywood Regency-style dwelling boasts seven bedrooms, seven baths, 8,878 square feet of living space (or 6,393 depending on which real estate listing you check), one acre of land, 270-degree views of downtown Los Angeles and the Pacific Ocean, a grand salon, staff quarters, a bar, a rooftop terrace, indoor and outdoor entertaining areas, and a pool. Supposedly, Zsa Zsa swam naked in said pool every morning (yuck!) and also entertained such luminaries as Queen Elizabeth, Bob Hope, Ronald and Nancy Reagan, Elizabeth Taylor, Kirk Douglas, George H.W. Bush, George W. Bush, Frank Sinatra, and Henry Kissinger on the premises.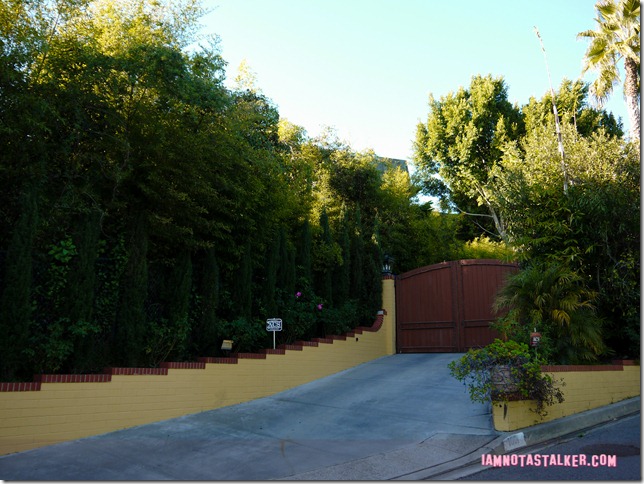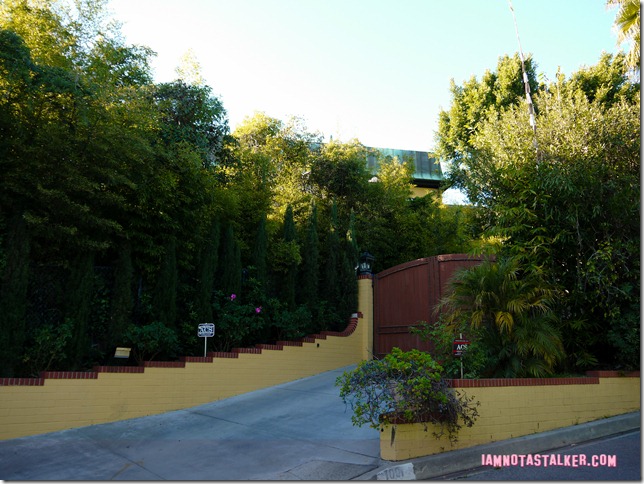 Quite a few areas of the house were used in Argo, including the front exterior;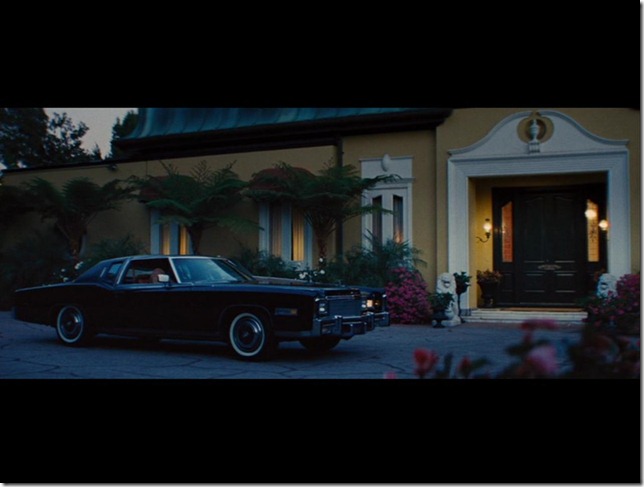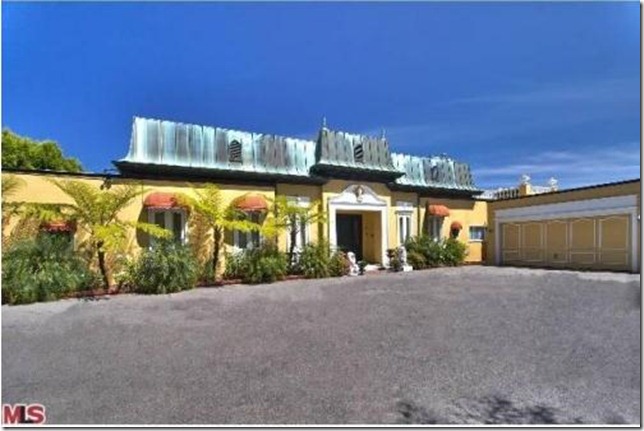 the circular entry-way (LOVE those red walls!);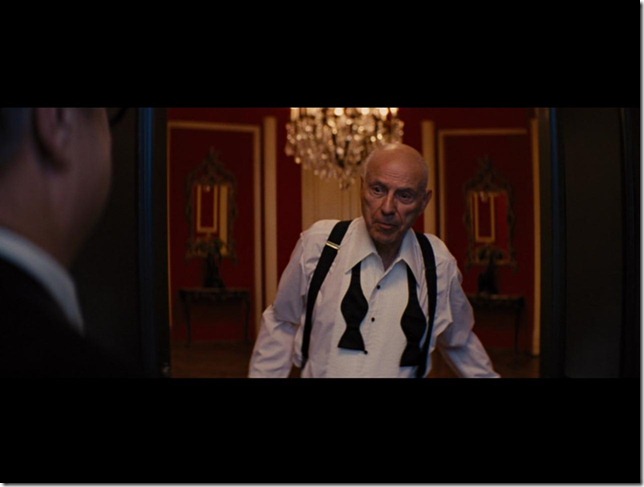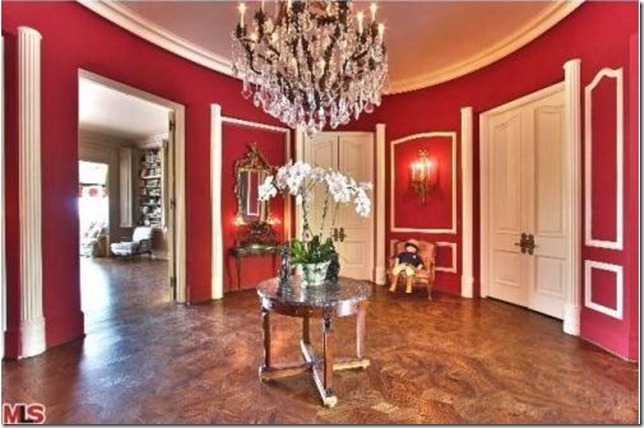 the formal living room;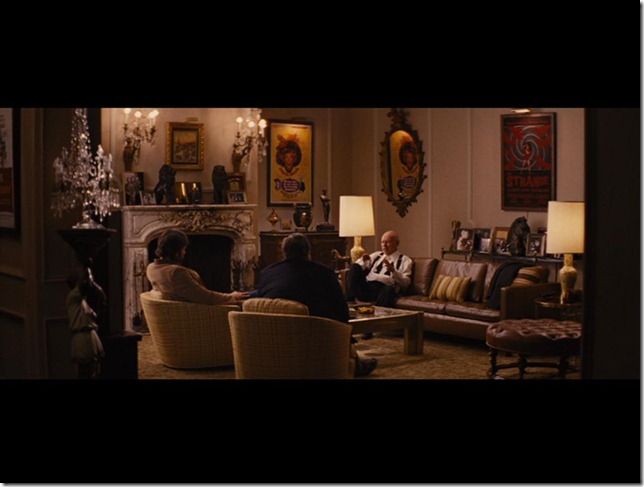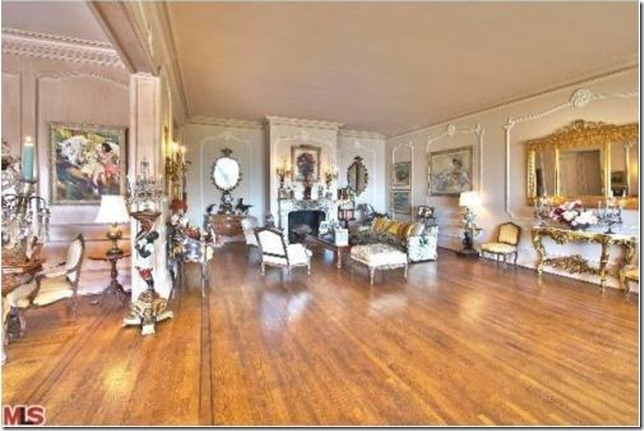 the bar;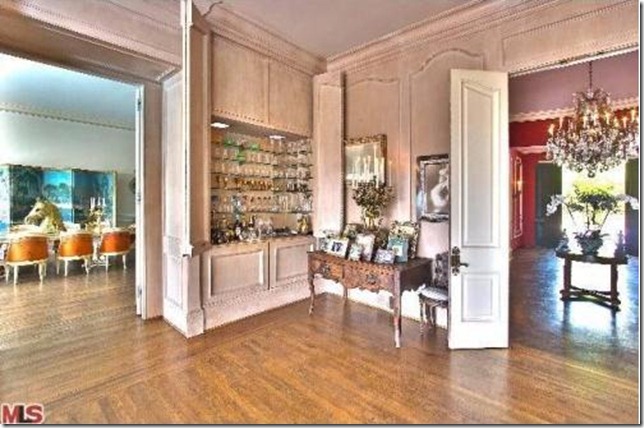 and the backyard and pool.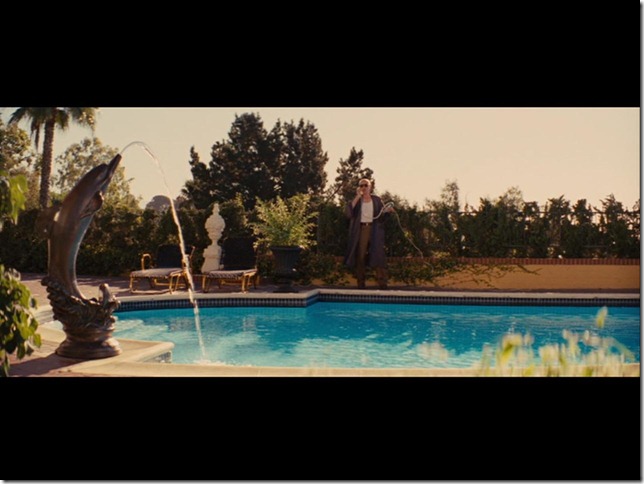 A great aerial view of the house was also shown in the flick. Man, what I wouldn't give to see the inside of that place!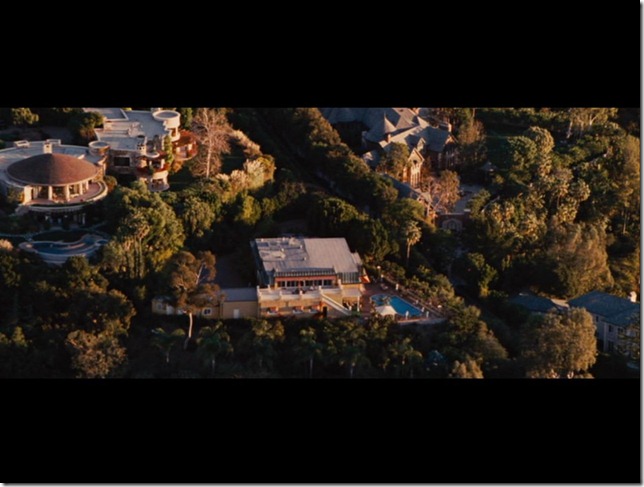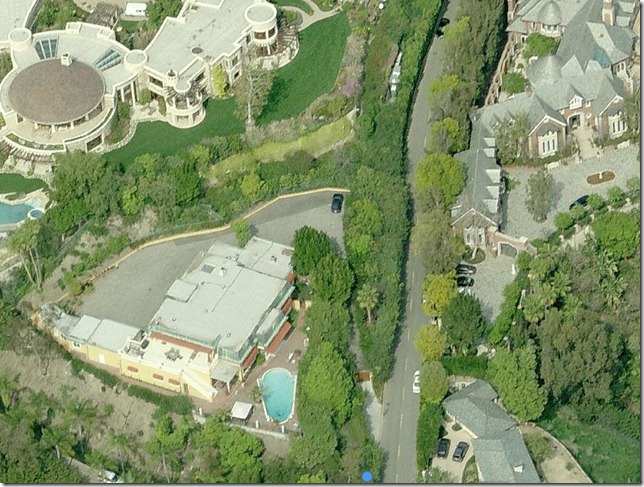 On an Argo side-note – for those interested in how much of the movie was actually true (and the vast majority of it was – even the part about the Iranian government hiring professional carpet-weavers to piece together documents and photographs that had been shredded by American diplomats just prior to the embassy being taken hostage!), you can check out a fabulous Slate.com article here.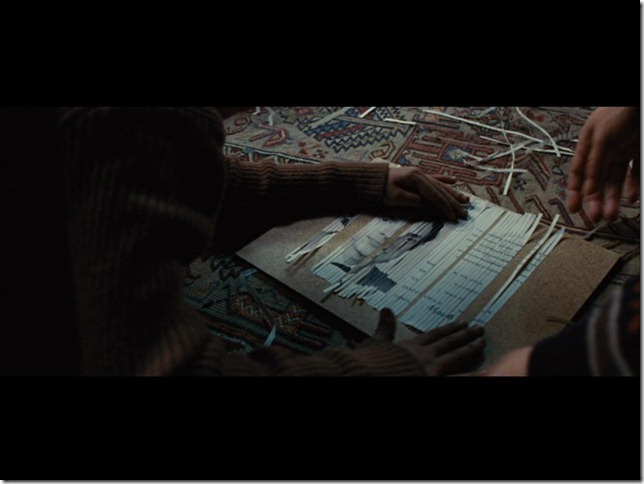 You can find me on Facebook here and on Twitter at @IAMNOTASTALKER. And be sure to check out my other blog, The Well-Heeled Diabetic.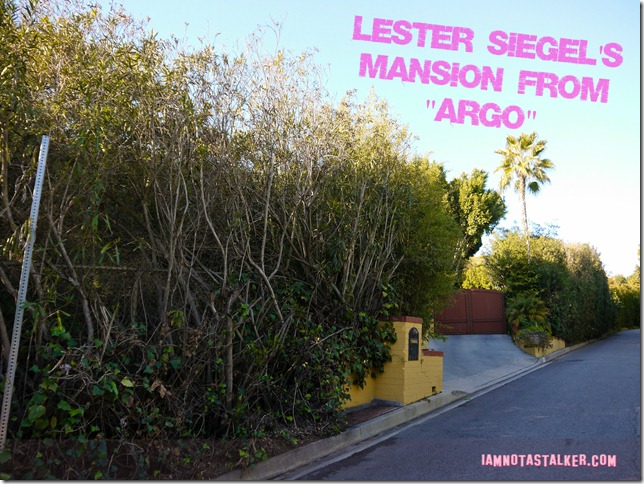 Until next time, Happy Stalking!

Stalk It: Zsa Zsa Gabor's house, aka Lester Siegel's mansion from Argo, is located at 1001 Bel Air Road in Bel Air.
64734