Rainbow Bar and Grill – the Site of Joe DiMaggio and Marilyn Monroe's First Date
Feb 11th, 2013 | By
Lindsay
| Category:
Marilyn Monroe Locations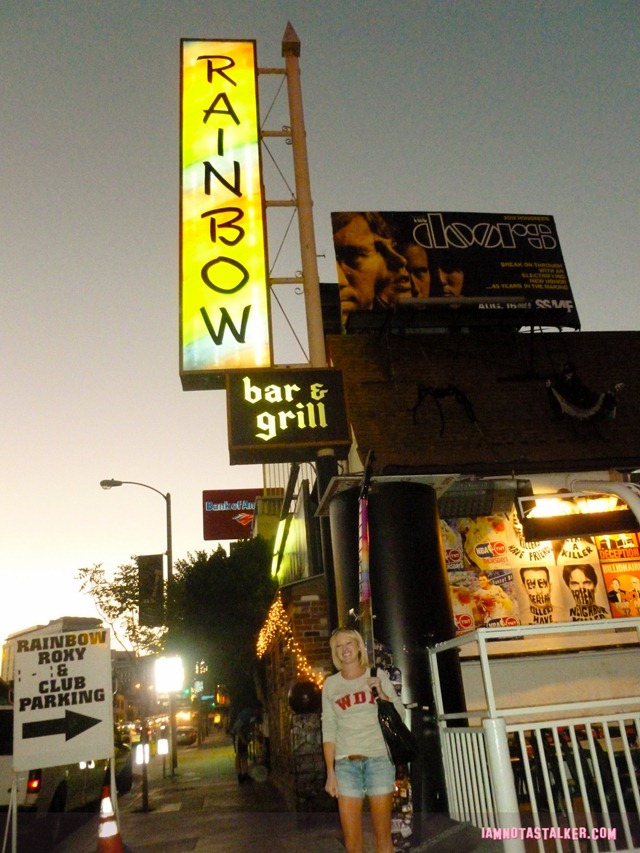 One locale that I had long heard mentioned repeatedly in the various books and articles I had read about my girl Miss Marilyn Monroe over the years was the Sunset Strip's Rainbow Bar and Grill – where Joe DiMaggio took the starlet for their very first date.  At the time, the establishment was known as Villa Nova, an exclusive Italian eatery that, sadly, shuttered its doors in the late 1960s and moved south to Newport Beach.  Because the historic West Hollywood restaurant had changed hands and names over four decades ago, I had always assumed it bared little resemblance to the spot where Joe and Marilyn had once dined.  So imagine my surprise when, while doing some online research, I discovered that the locale still looks pretty much exactly the same today (well, the exterior, at least) as it did when it was first established in the 1920s!  I immediately added the spot to my To-Stalk list and dragged the Grim Cheaper right on over there shortly thereafter on a Saturday afternoon to grab lunch.  Unfortunately, Rainbow Bar and Grill only serves lunch on weekdays, so I had to put my stalking plans on hold.  I did manage to get back out there, though, this past October, when my good friends, fellow stalkers Lavonna and Kim, were in town visiting from Ohio.  And I have to say that the place was well-worth the wait.
Stepping into the historic restaurant, with its wood-paneled walls and red leather booths, is like stepping back in time, but in a good way.  (The place was all decked out for Halloween when we stalked it and does not usually have ghosts and cobwebs adorning the walls and ceiling. 

)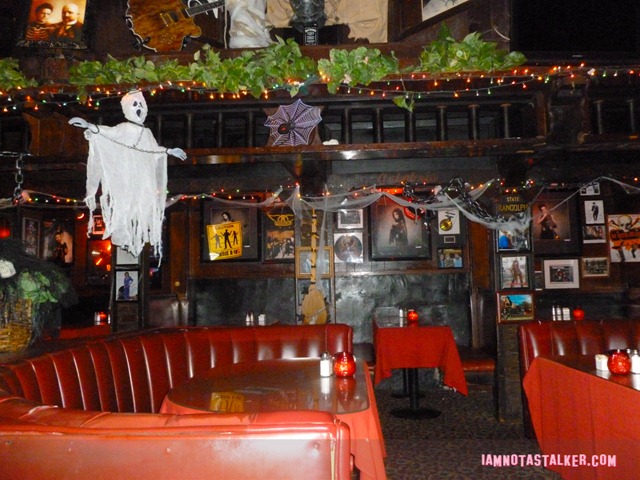 The historic Sunset Strip eatery was originally founded as the Mermaid Club Café in the late 1920s.  (You can check out some really cool 1930s-era video footage in which the restaurant appears here.)  In 1933, the establishment was taken over by director Vincente Minnelli and renamed Villa Nova.  Due to the strict "no press" policy, the site became a haven for the Hollywood elite.  Just a few of the luminaries who dined there include Bing Crosby, Charlie Chaplin, John Wayne, and Dean Martin.  Minnelli even proposed to future wife Judy Garland at the restaurant one night over dinner.  And, as I mentioned above, in March 1952 (or 1953, depending on which website or book one happens to be reading), Joe DiMaggio met Marilyn Monroe there while on a blind date.  (As you can see, the exterior of the locale still looks pretty much exactly the same today as it did in the 1930s.)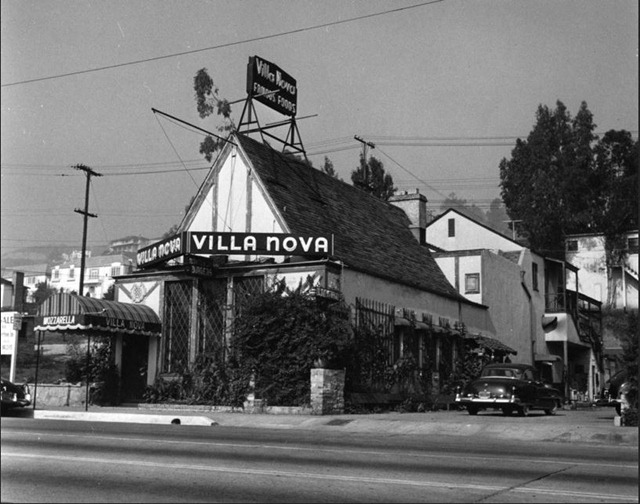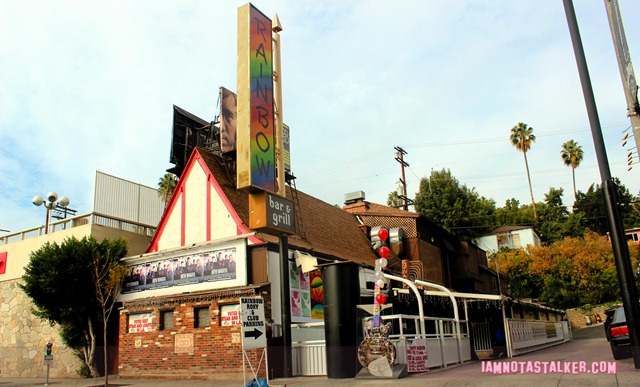 As the story goes, Joe became smitten with Marilyn after seeing pictures from a promotional photo shoot she did with the Chicago White Sox – a photo shoot which I just found out took place at Brookside Park in Pasadena!  (And yes, I'm planning to stalk it!)  The baseball icon asked a mutual friend named David March to set the two of them up shortly thereafter.  Marilyn agreed, but only if David would chaperone.  The double date took place on a Saturday night and Marilyn, as usual, showed up about two hours late.  And while the legendary blonde did not expect to like the sports star, the two hit it off – over a plate of Villa Nova's Scalloppine of Veal (according to the book Dishing Hollywood) while sitting at Table 14 (according to Marilyn Monroe Dyed Here).  Apparently, Marilyn was quite amused – and surprised -at the many patrons who approached their table that evening – not to meet or catch a glimpse of her, but to shake the hand of the world famous Joltin' Joe.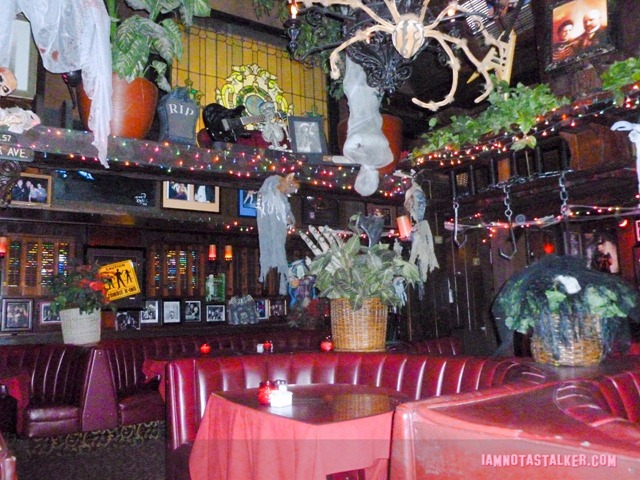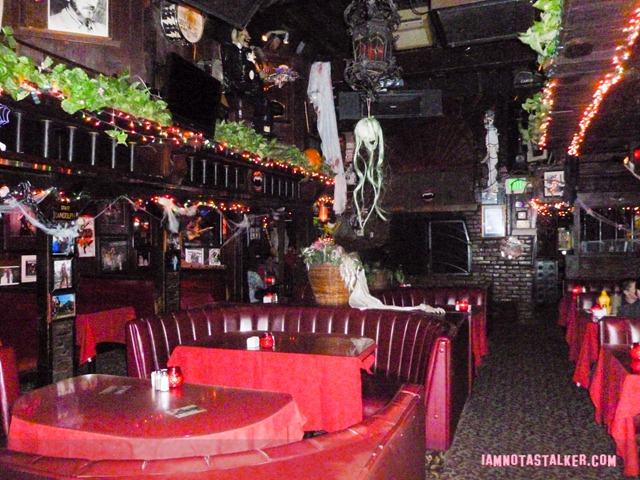 I had read on several websites that a plaque commemorating the rendezvous was on display at Rainbow Bar & Grill, but I could not find said plaque anywhere, nor did any of the servers know of its existence.  Lavonna did manage to spot a gold plate with Marilyn on it embedded in the sidewalk out in front of the Rainbow, though.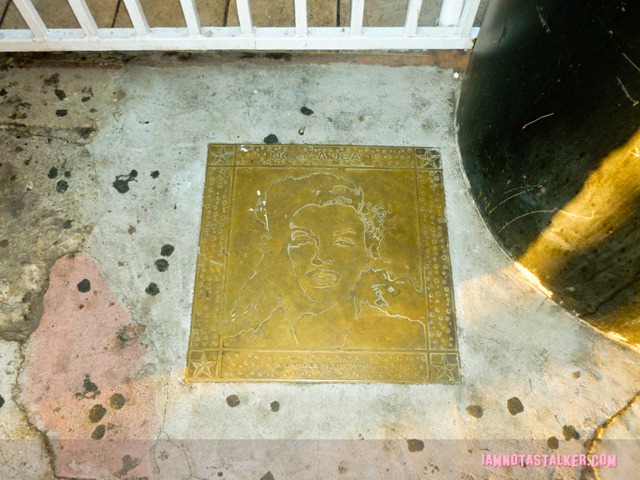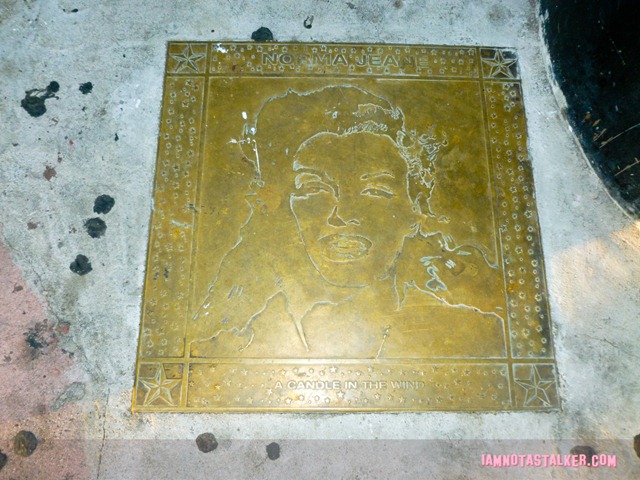 In the late 1960s, as the Sunset Strip became less and less ritzy, Villa Nova moved south to the exclusive Newport Beach area and the eatery's original site was sold to music producer Lou Adler and restaurateurs Elmer Valentine and Mario Maglieri.  (While the GC and I were in Newport this past December, we stopped by Villa Nova's OC locale to do some stalking, but it was, sadly, closed at the time, so I was only able to get photos of the exterior.  I do definitely plan on going back, though.)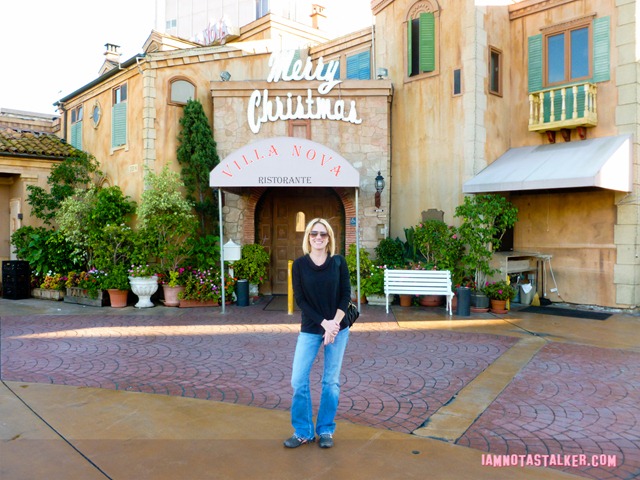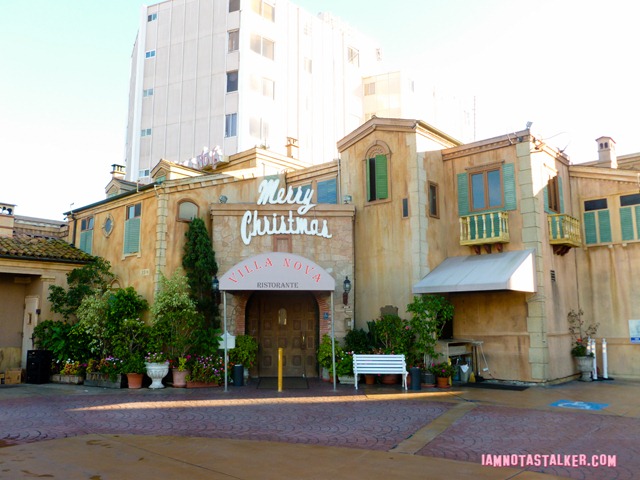 Valentine, Adler and Maglieri founded a new restaurant named Rainbow Bar and Grill at the old Villa Nova site and feted its opening by hosting a party on April 16, 1972 in honor of singer Elton John.  It was not long before the establishment became a hangout for actors and rock-n-rollers alike and such stars as Jack Nicholson, Elvis Presley, Neil Diamond, Alice Cooper, Mick Jagger, Sylvester Stallone, Robin Williams, Robert De Niro, Nicolas Cage, and John Lennon have all dined there at one time or another.  The Beatles even once partied at Over the Rainbow, the Grill's second-floor private VIP area.  And John Belushi supposedly ate his last meal (lentil soup at Table 16) at the Rainbow before passing away from a drug overdose on March 5th, 1982.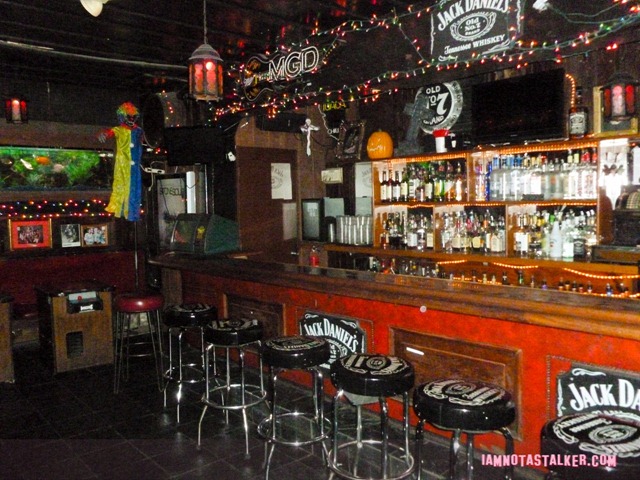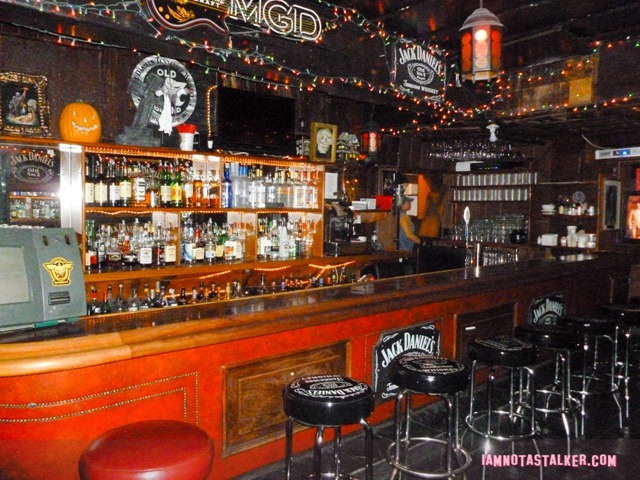 Besides being a celebrity hangout, Rainbow Bar and Grill is also a filming location!  The restaurant has been featured in two Guns N' Roses music videos, including the video for their 1992 hit "November Rain".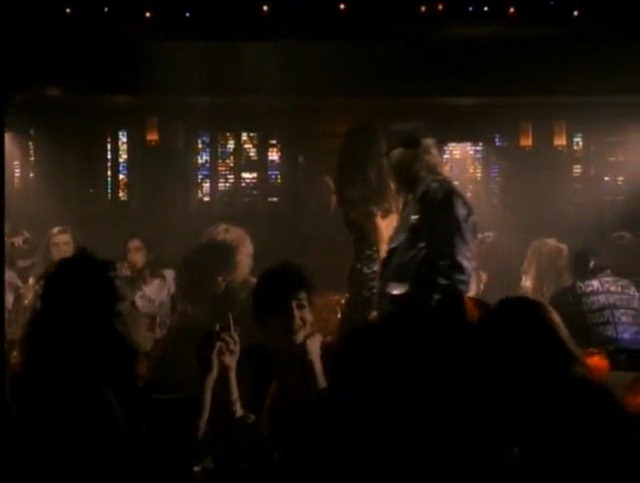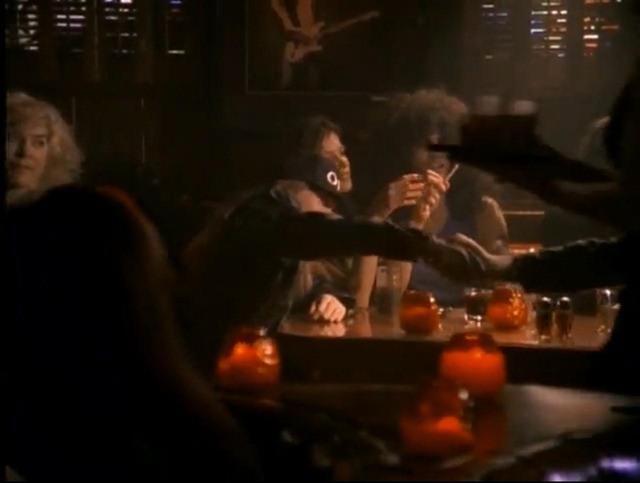 You can watch that video by clicking below.
The exterior of the bar also briefly appeared in the group's video for their 1993 song "Estranged."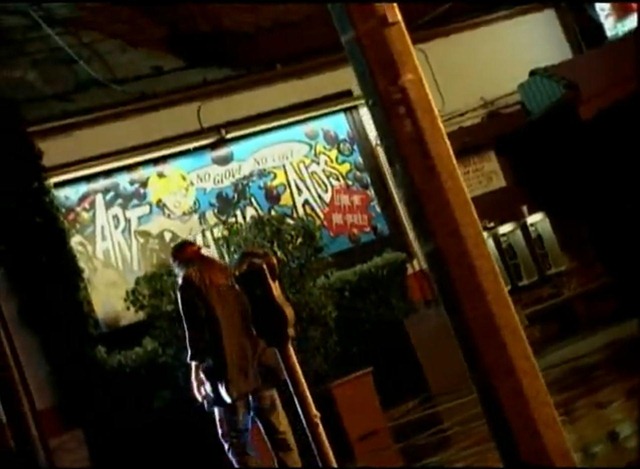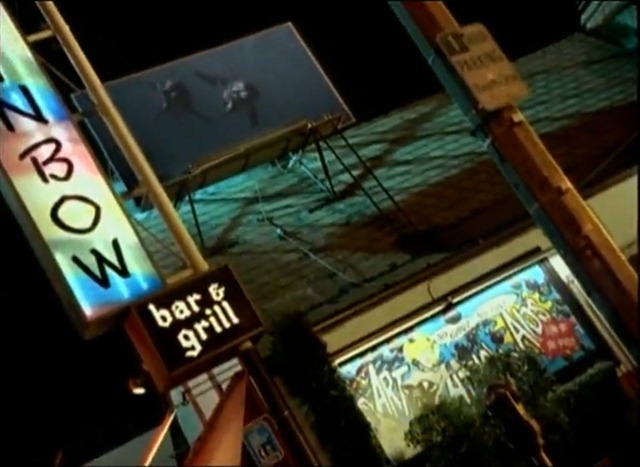 You can watch the "Estranged" video by clicking below.
The Rainbow Room was also featured in the Season 2 episode of Californication titled "The Great Ashby" as the spot where record producer Lew Ashby (Callum Keith Rennie) took Hank Moody (David Duchovny) for a drink after the two were released from jail.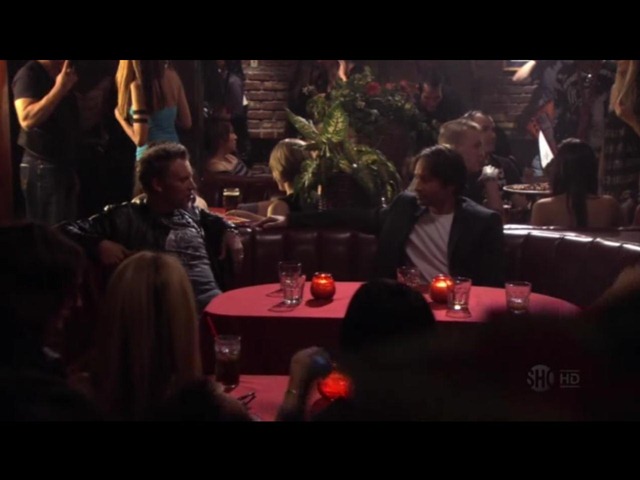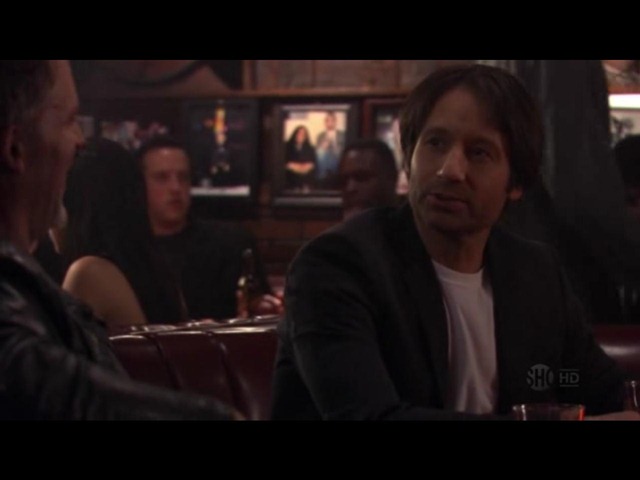 You can find me on Facebook here and on Twitter at @IAMNOTASTALKER.  And be sure to check out my other blog, The Well-Heeled Diabetic.
Big THANK YOU to Mike, from MovieShotsLA, for taking all of the exterior photographs of Rainbow Bar and Grill that appear in this post! 
Until next time, Happy Stalking! 
Stalk It: Rainbow Bar and Grill is located at 9015 West Sunset Boulevard in West Hollywood.  You can visit the eatery's website here.  Villa Nova Restaurant is located at 3131 West Coast Highway in Newport Beach.  You can visit the Villa Nova website here.
65206