Tom Rose's House from "Beverly Hills, 90210"
Feb 14th, 2013 | By
Lindsay
| Category:
90210 & Beverly Hills, 90210 Filming Locations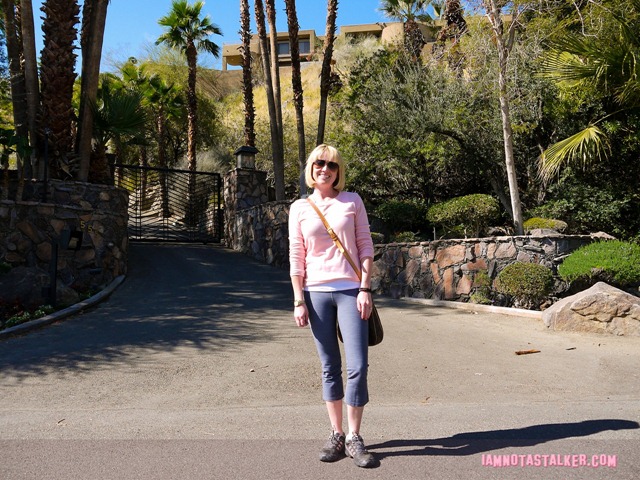 This past weekend, the Grim Cheaper surprised me with tickets for the Children's Discovery Museum of the Desert annual Discovery Home Tour as a sort-of Welcome-to-Palm-Springs gift. The tour was an experience, to say the least. I honestly cannot remember the last time the GC and I laughed so hard – and for so long. I was "live texting" fellow stalker Owen, of the When Write Is Wrong blog, throughout the day and at one point, after describing a house that had a microwave, mini-fridge, espresso machine, and pantry set up in multiple bathrooms directly across from toilets
(I'm not making this up – residents of that particular abode could literally be sitting on the toilet and making espresso at the same time!), he asked, "What f*cking desert have you moved to? The Sahara?" I have tears in my eyes right now going back through all of the texts from that day. Ah, good times! Anyway, while driving through the Las Palmas neighborhood mid-tour, I mentioned to the GC that I had yet to stalk the Palm Springs residence that Dylan McKay (Luke Perry) visited in the Season 5 episode of fave show Beverly Hills, 90210 titled "P.S. I Love You." I remembered that fellow stalker Geoff, from the 90210Locations website, had the address posted on his site, so I pulled over to look it up. As fate would have it, I actually pulled over directly across the street from the home! I mean, what are the odds of that? So I jumped out of the car and quickly snapped a few pics.
In real life, the residence, which was originally built in 1983 and sits perched above Patencio Road, boasts seven bedrooms, seven baths, 6,989 square feet of living space, and a 0.73-acre plot of land. The ginormous property was last sold in December 1986 for $3,428,000.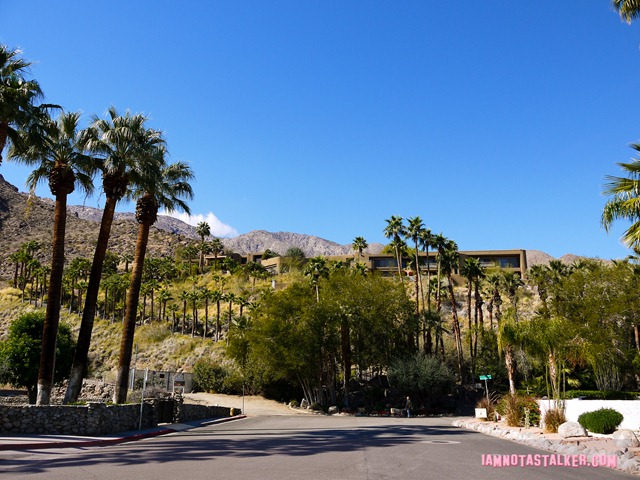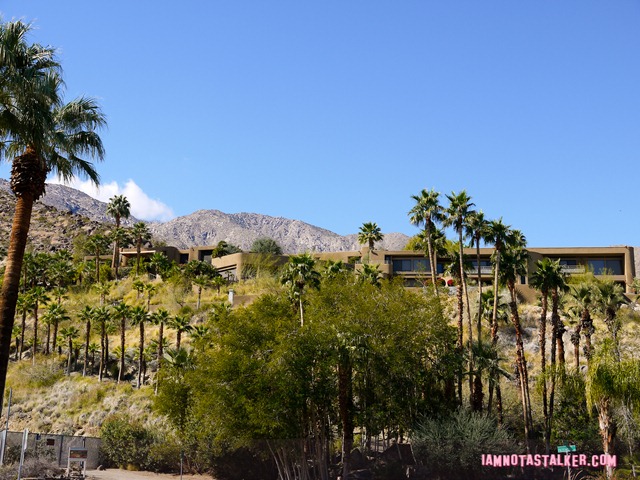 According to a September 2010 Palm Springs Life article, the dwelling belongs to none other than Barbra Streisand and James Brolin, although I was unable to verify that claim through property records or other sources.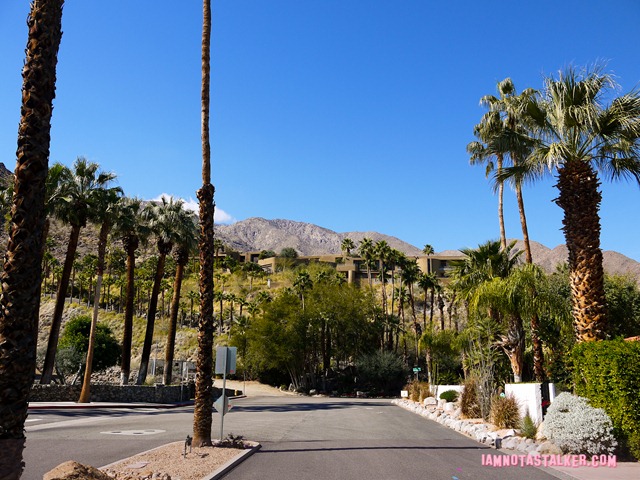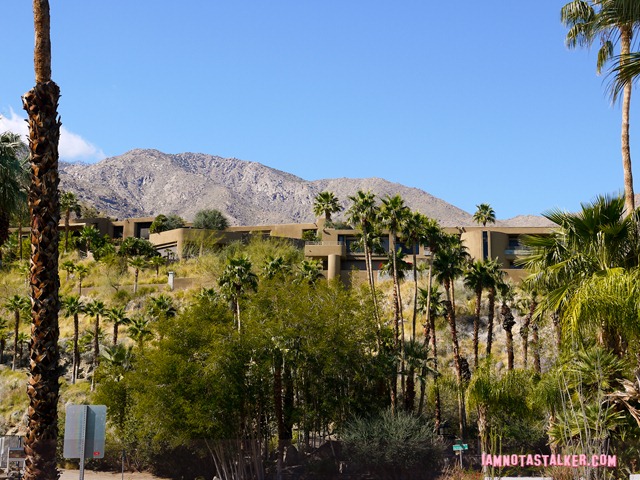 The article also states that the residence boasts a "guest mansion", which, from looking at aerial views, can only be the structure denoted below. It was also built in 1983 and features five bedrooms, six baths, 6,948 square feet, and a 0.9-acre plot of land. Some guest mansion! That place is bigger than most houses!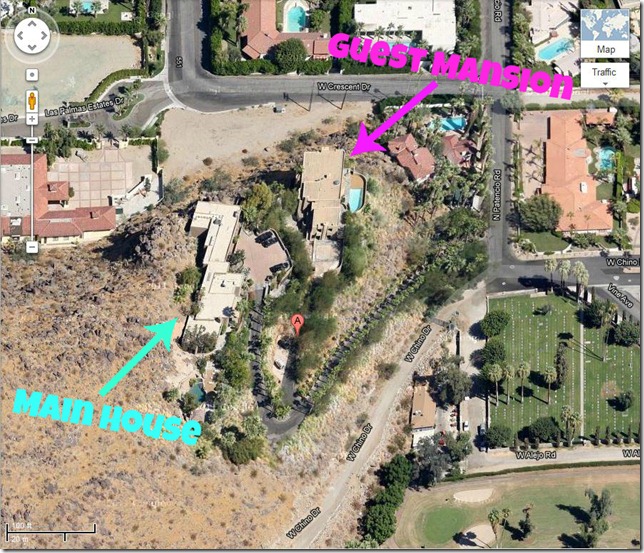 In the "P.S. I Love You" episode of Beverly Hills, 90210, Dylan and Charley Rawlins (Jeffrey King) head to Palm Springs to meet with a possible investor for their movie. That investor, Tom Rose (James Handy), turns out to be a mobster and, as you can see below, things don't go quite according to plan. Gotta love the later years of 90210!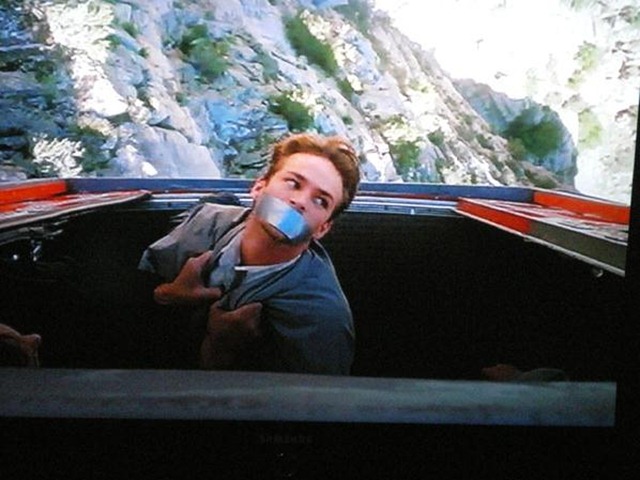 Before Dylan winds up hanging off of the Palm Springs Aerial Tramway, though, he meets with Tom Rose at the mobster's desert mansion. As you can see below, the home's front gate looks exactly the same in person as it did onscreen. (A HUGE thank you to Mike, from MovieShotsLA, for making screen captures of Tom's house for me. I do not own Season 5 of 90210 on DVD, but presumed that the episode would be available for download on iTunes or elsewhere online. Sadly, that was not the case. I could not find "P.S. I Love You" ANYWHERE! Because the vast majority of the episode took place in the Coachella Valley, I was really looking forward to watching it, too. Boo!)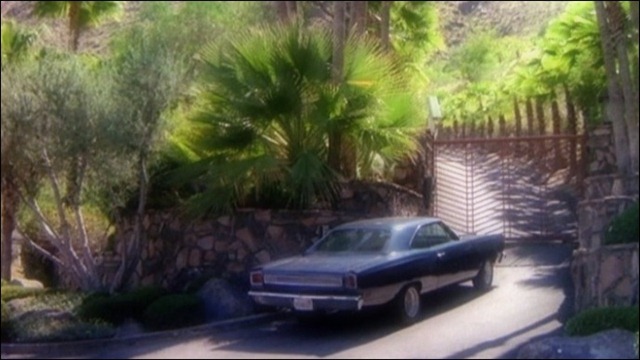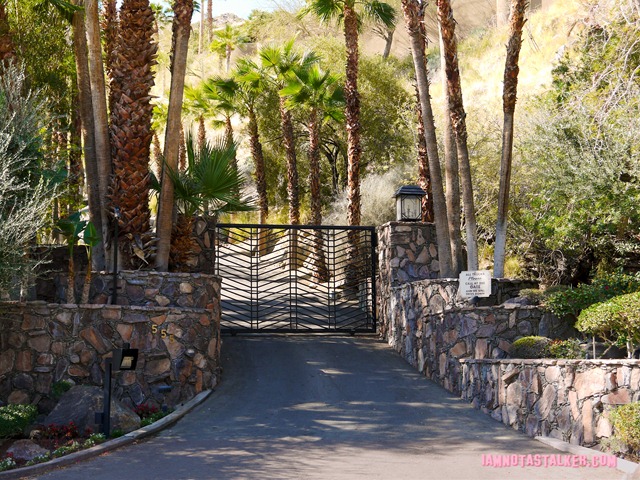 The property's intercom now looks completely different, though, and was either swapped out for the filming or has since been replaced.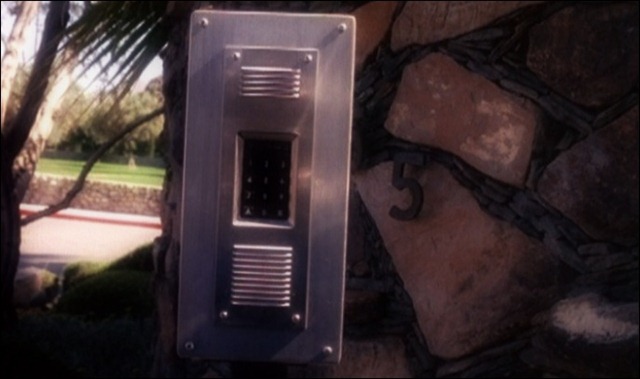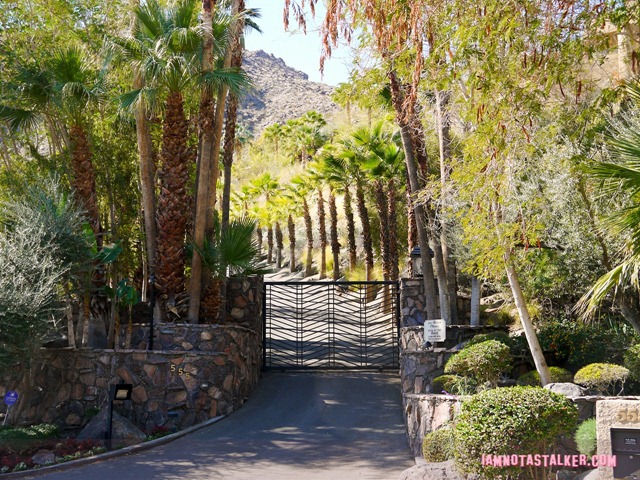 In an odd twist, the house that appeared in the episode looks nothing at all like the actual house that stands behind that front gate. As you can see below, Tom Rose's residence was Moroccan in style and featured a tall, domed tower . . .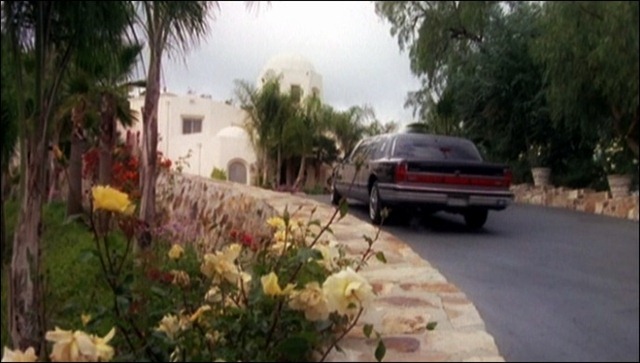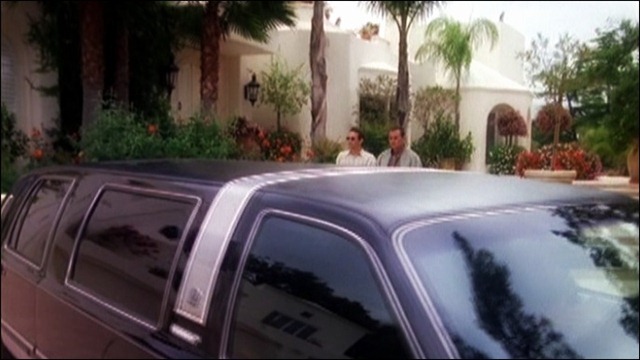 . . . while the real life residence is modern in style and lacks any sort of a tower.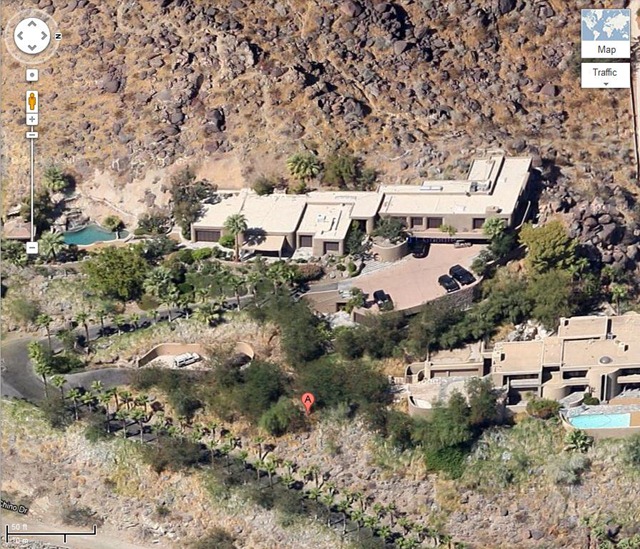 The home's real life driveway does not match what appeared in the episode, either. While Tom Rose's driveway opened up to the front of his residence, the actual driveway opens up to the side of the house. Tom's driveway was also flanked by short stone walls . . .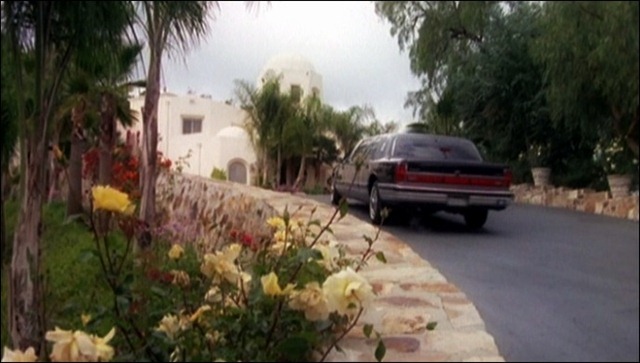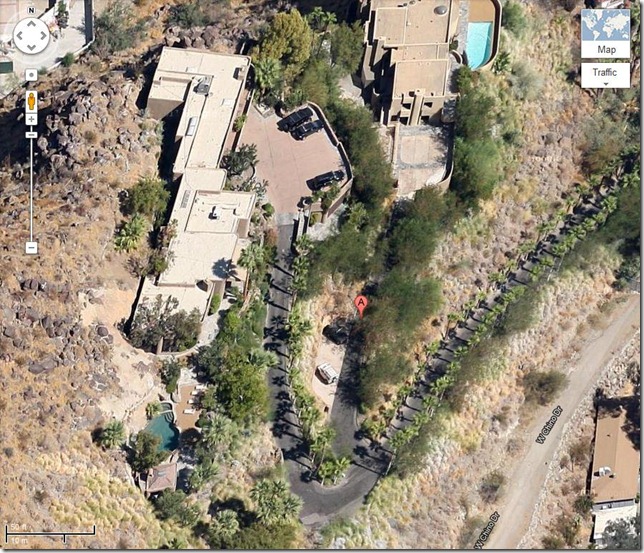 . . . which are missing in real life. If I had to guess, I would say that, while it is possible that the residence has been vastly remodeled since the filming of 90210 in 1995, I think it is much more likely that a different house (most likely one in the Los Angeles area) was used for the scenes that took place behind the front gate. Don't quote me on that, though – it is just a guess. If Barbra Streisand really does own the home, as Palm Springs Life states (and because it was last sold in 1986, that means she would have owned it at the time of the filming, as well) this scenario would make sense, as Babs does not strike me as the sort of person who would EVER allow a film crew inside of her residence.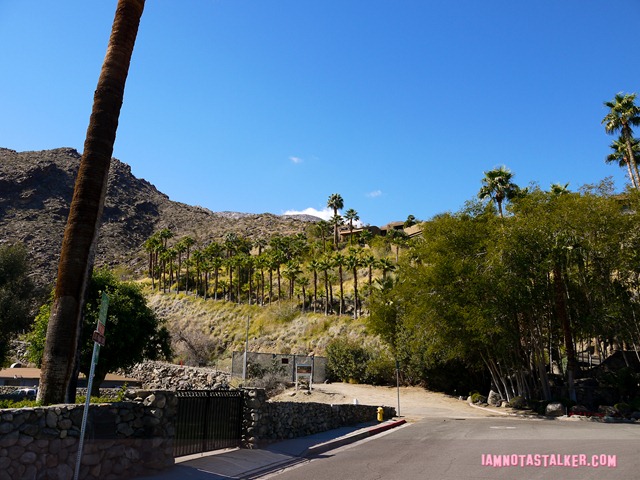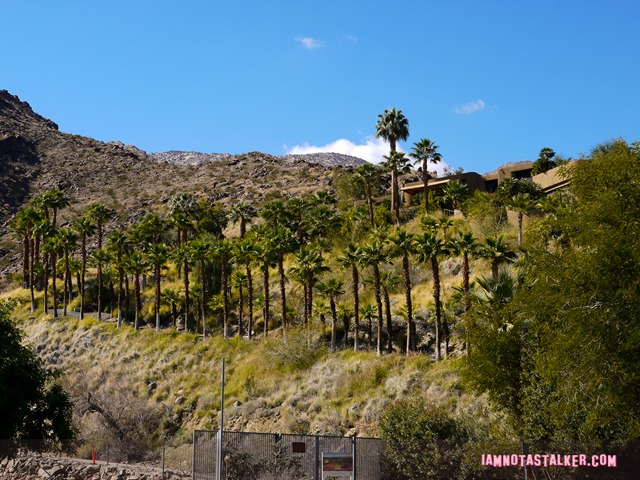 The interior of the property that appeared in the episode is pictured below. And while I am certain that a real life interior was used in the filming and not a set, I am guessing that said interior is located elsewhere, most likely in Los Angeles.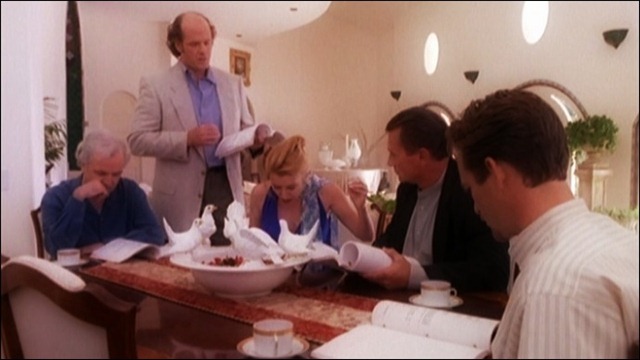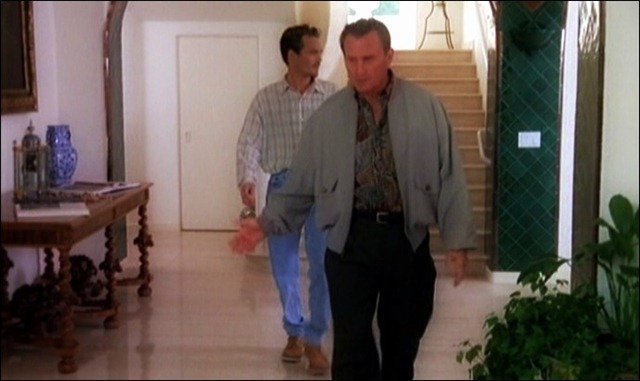 Check out the boom microphone visible in the top of the screen capture below, which Mike pointed out to me.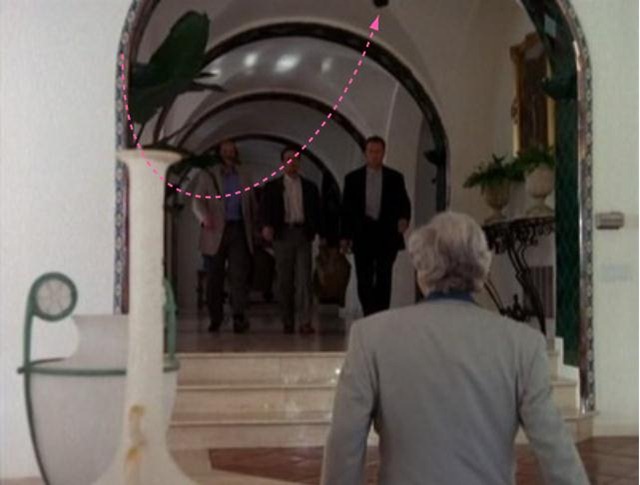 You can find me on Facebook here and on Twitter at @IAMNOTASTALKER. And be sure to check out my other blog, The Well-Heeled Diabetic.
Big THANK YOU to Geoff, from the 90210Locations website, for finding this location and to Mike, from MovieShotsLA, for making the screen captures that appear in this post.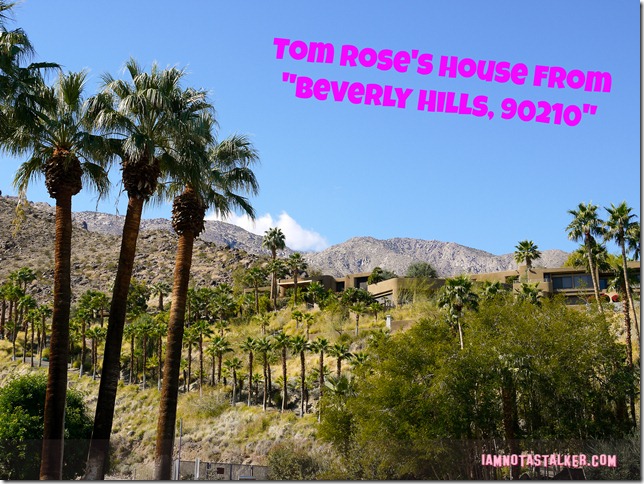 Until next time, Happy Stalking – and a very happy Valentine's Day to all of my fellow stalkers!

Stalk It: Tom Rose's house from the "P.S. I Love You" episode of Beverly Hills, 90210 is located at 555 North Patencio Road in Palm Springs.
65373