Bahooka Family Restaurant from "Fear and Loathing in Las Vegas"
Feb 27th, 2013 | By
Lindsay
| Category:
Movie Locations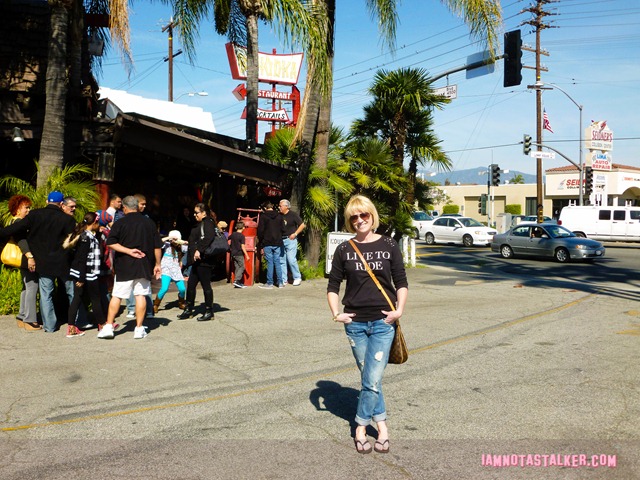 This past Sunday morning, my mom emailed me a link to a Los Angeles Magazine article about the upcoming closure of a veritable San Gabriel Valley institution, Bahooka Family Restaurant in Rosemead, with the admonishment, "You'd better take pictures! It HAS to have been in movies." And she was right. Bahooka has starred in no less than three films over its 37-year history, most notably in a scene from Fear and Loathing in Las Vegas that featured Johnny Depp. I was absolutely shocked to learn that the iconic restaurant would soon be shuttered. While I had never dined there, I worked as a substitute teacher in Rosemead for over eight years and would drive by the oddly-decorated eatery almost every single day. I also used to hear quite colorful stories about the place from fellow teachers who had grown up in the area. So when I found out that Bahooka's days were numbered, I was a bit heartbroken and dragged the Grim Cheaper right on over there that very afternoon with the hopes of grabbing some Polynesian-style lunch. Sadly though, we were not able to do so as there was a two-plus-hour wait for a table and the GC was having none of that. I was at least able to snap some photographs of the place for posterity's sake, though.
The first Bahooka Family Restaurant, or Bahooka Ribs & Grog as it is also known, was founded by siblings Betty Twigg and Jack Fliegel in 1967 in a building located at 1312 West Francisquito Avenue in West Covina. The tiny eatery featured a scant 13 tables. The second, and much larger, Bahooka location opened in 1976 at 4501 Rosemead Boulevard. And while the West Covina outpost closed its doors in 1980 (allegedly due to a property dispute), the Rosemead outpost, which boasts seating for 350 patrons and a banquet room that serves 80, had been going strong ever since with a loyal following of neighborhood regulars.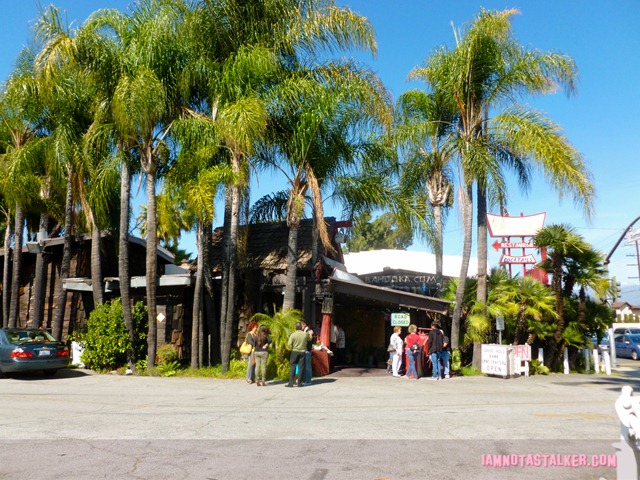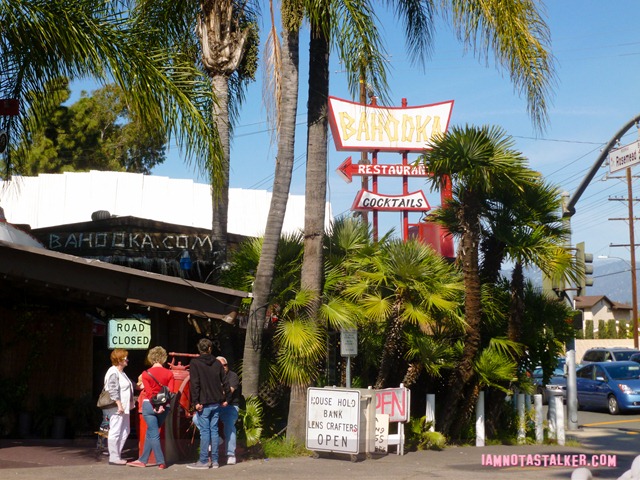 When Twigg and Fliegel decided to retire years ago, they handed Bahooka, which supposedly means "shack", over to their respective children, Steve and Stacey. Now Steve and Stacey are looking to hang up their aprons, as well, but unfortunately, according to this LA Weekly article, have no children to pass the restaurant along to. So on the market it went – with a $3.3 million price tag. The 8,598-square-foot establishment sold in just one day. The new proprietor apparently purchased the Bahooka building, its hundreds upon hundreds of fish (which I'll get to in a minute) and the site's liquor license. The Bahooka name, though, was not for sale, as the Twiggs and Fliegels (as well as co-owner Suzanne Schneider) plan on continuing to sell their signature salad dressing, which comes from a 47-year-old family recipe, at grocery stores, including Ralphs and Costco.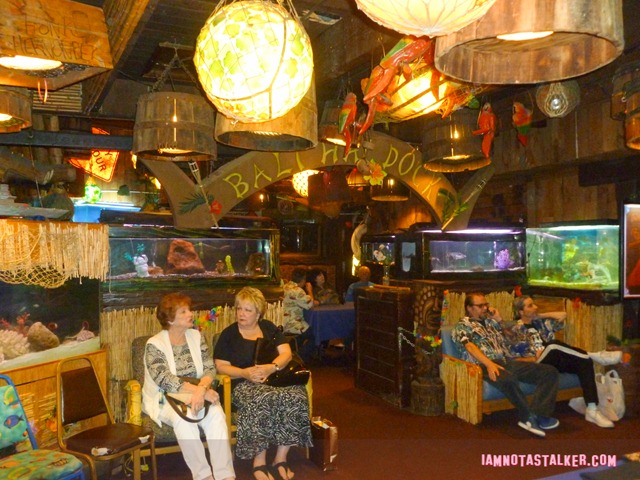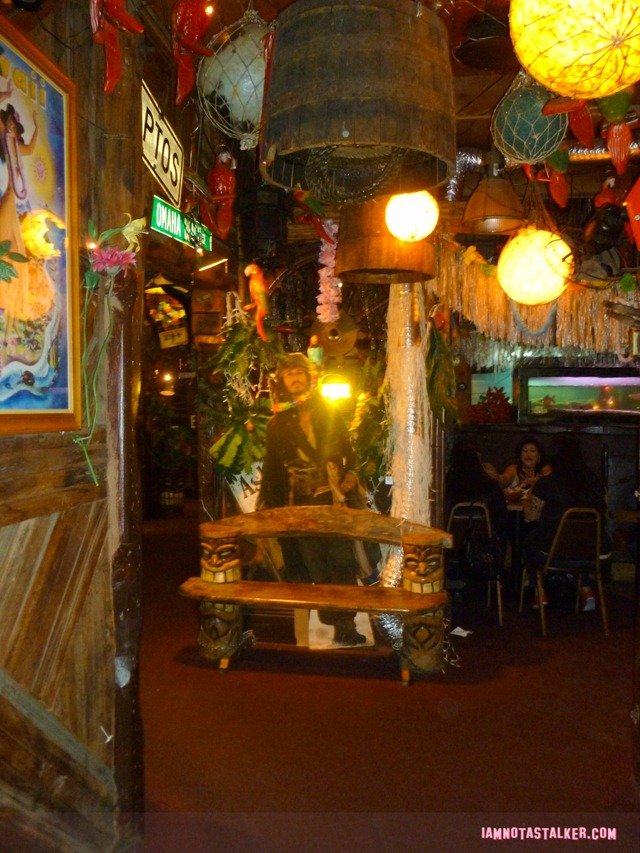 Bahooka's decidedly unique tiki- and nautical-themed décor was collected from various antique shops and scrap yards over the years, creating what countless websites and reviewers have described as a "flotsam and jetsam" dining experience.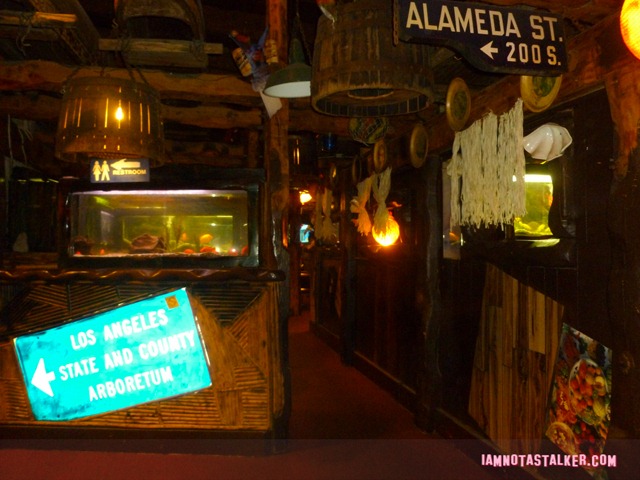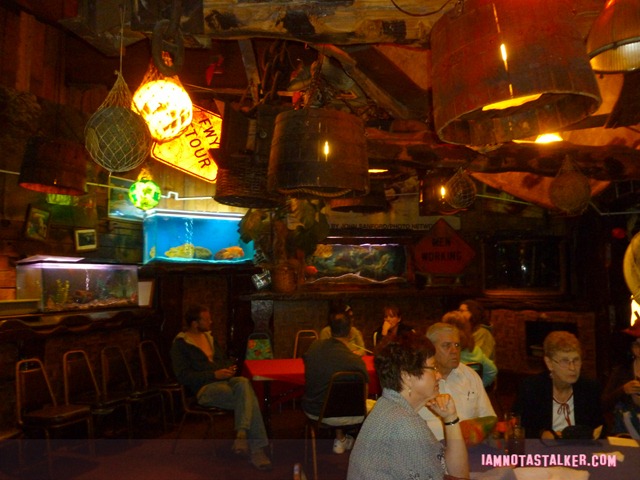 Just a few of the whimsical touches include an actual set of antique post office boxes in the restaurant's entrance area . . .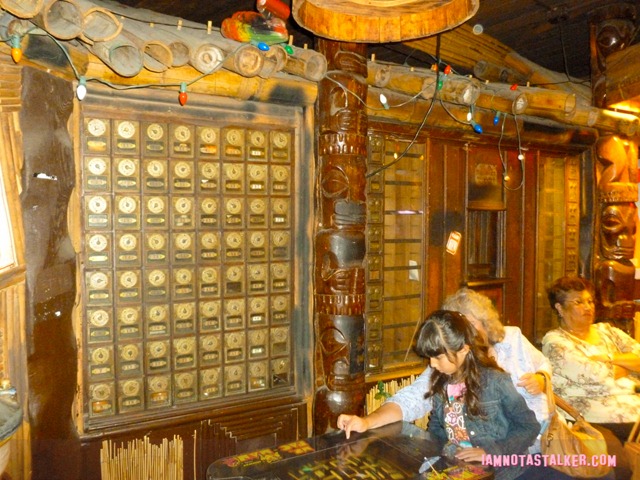 . . . and a cannon in the parking lot.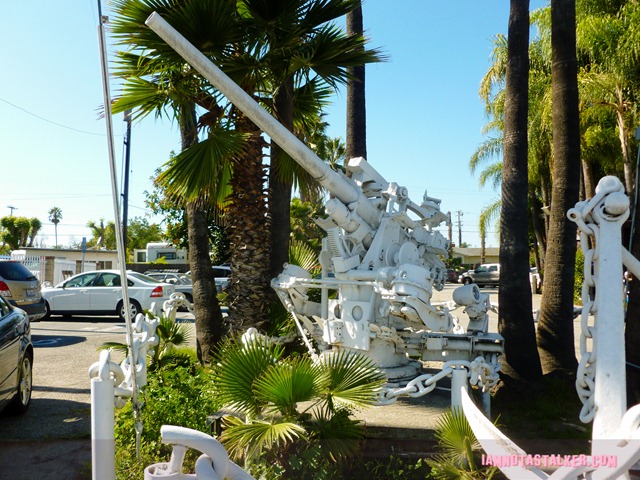 The tables, most of which were empty while we were there (which does not coincide with the supposed two-hour wait time), are fashioned with nautical – and Christmas! – adornments.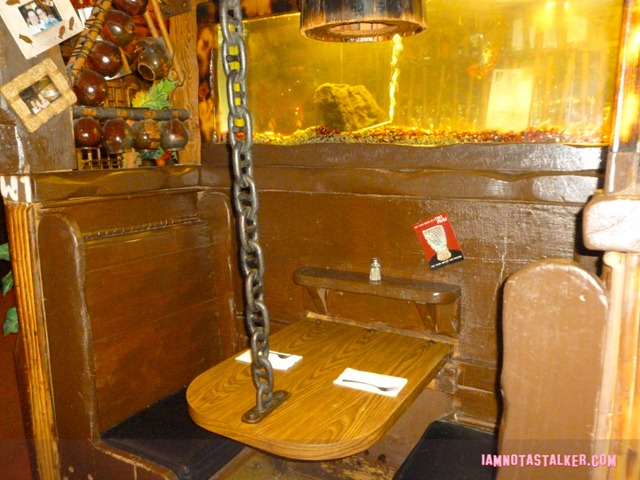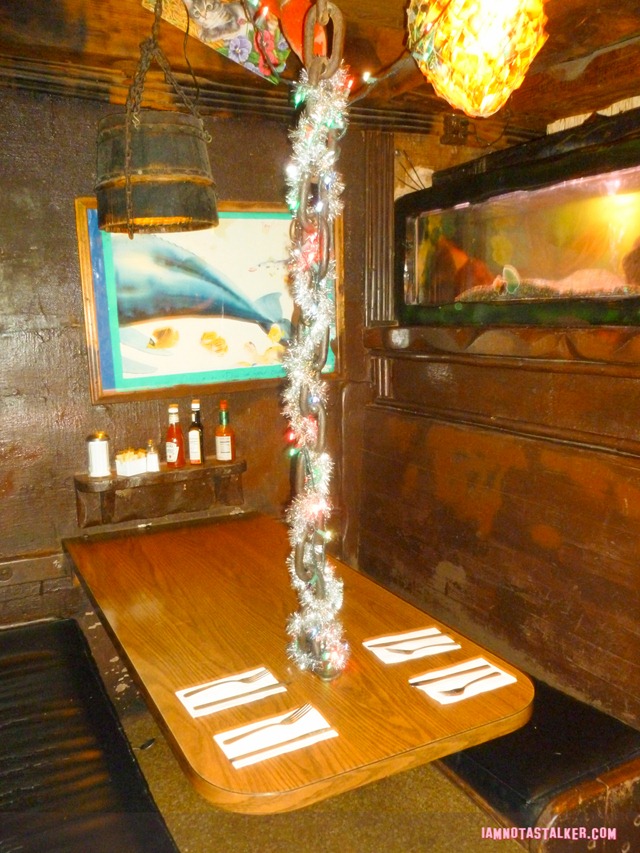 A few tables are even situated inside of an old jail cell.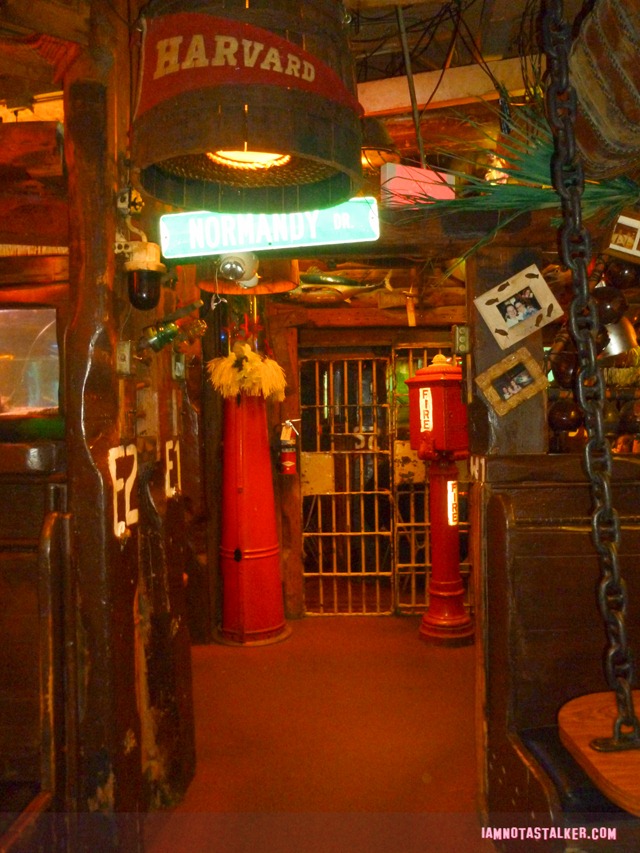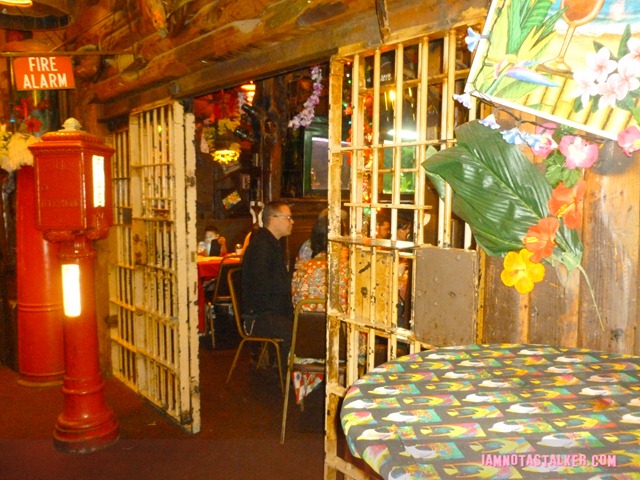 The eatery's most notable décor, though, has to be the 105 (yes, 105!) built-in aquariums which house countless fish, with varieties including pacus, silver dollars, catfish, Jack Dempseys, Oscars, clown knives, and koi. Almost every booth in the place is flanked by at least two aquariums.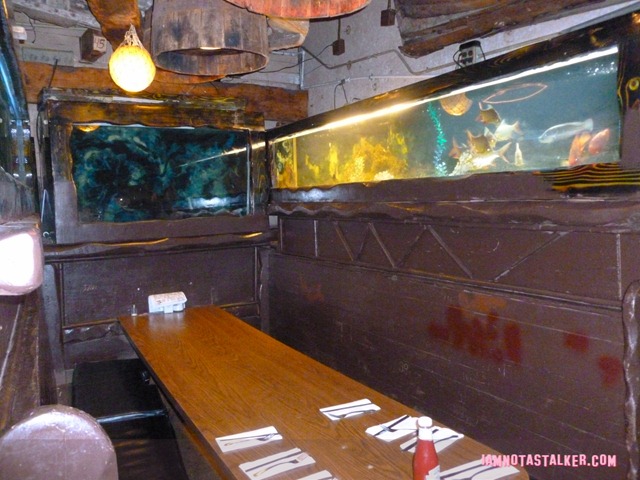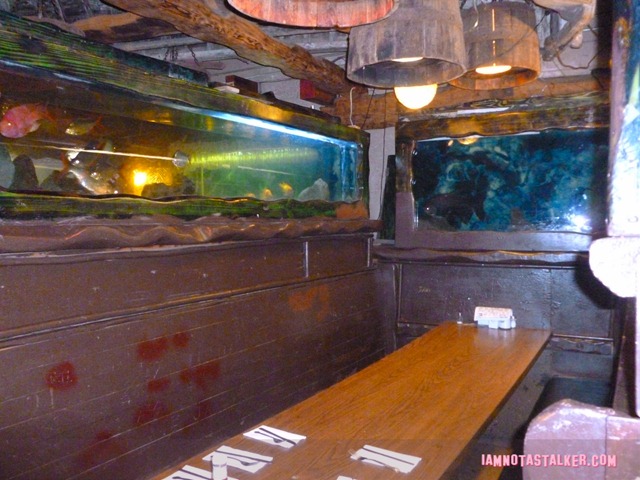 The bar, which inexplicably does not have any bar stools, was even fashioned out of a fish tank.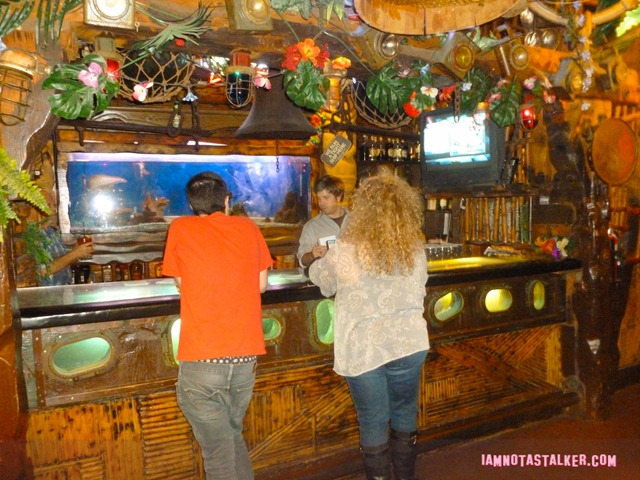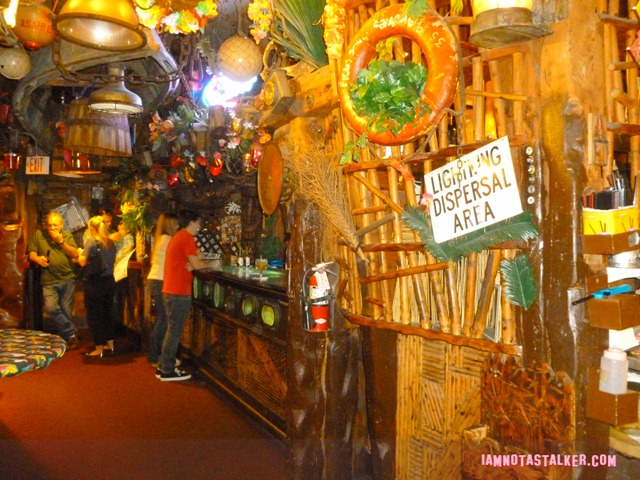 Thanks to the site's truly unique look, it is not hard to see how it ended up onscreen numerous times over the years. In 1998's Fear and Loathing in Las Vegas, Bahooka masqueraded as a Hollywood-area restaurant where Dr Gonzo (Benicio Del Toro) stopped to use a pay phone, while his friend Raoul Duke (Johnny Depp) ordered drinks at the bar.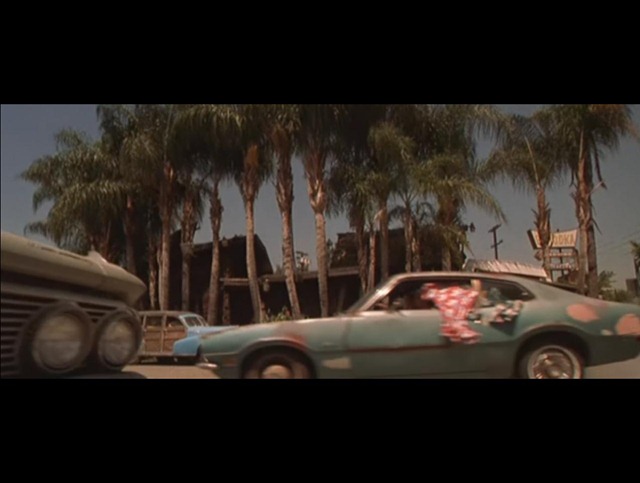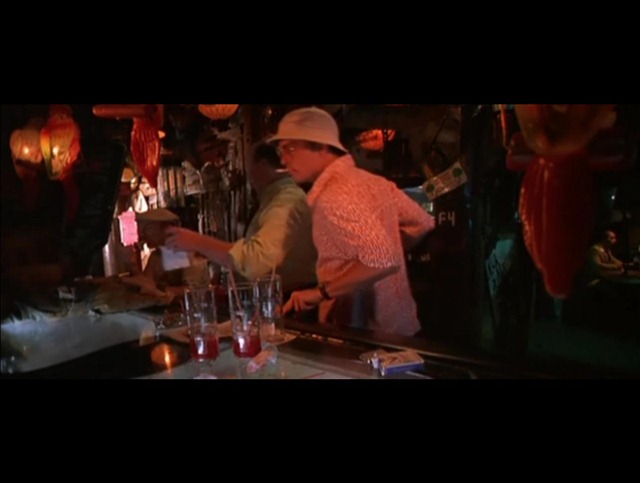 The restaurant's legendary 34-pound, 36-year-old pacu fish, Rufus, was even featured in the movie.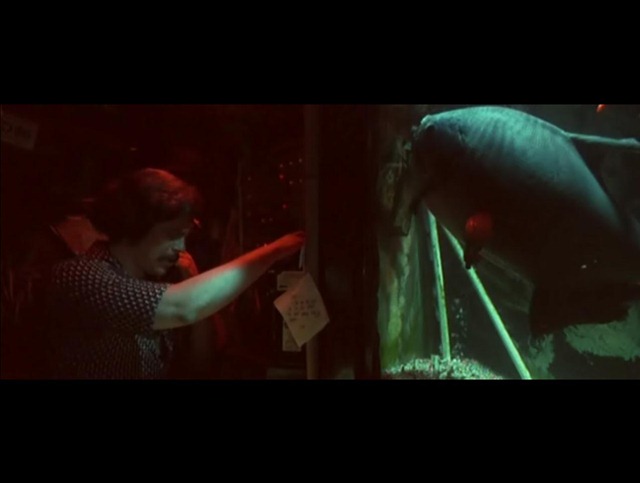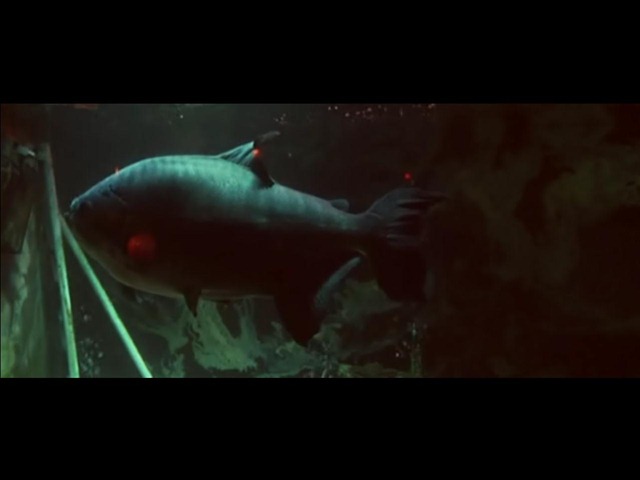 Rufus is absolutely HUGE in real life. The photograph below does not even begin to do him justice.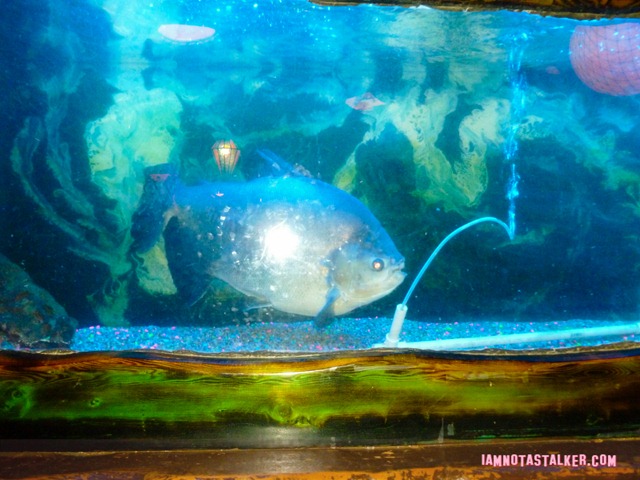 On a Rufus side-note – in a typo worthy of fellow stalker Owen's When Write Is Wrong blog, the poor fish's name is misspelled on the sign displayed below his tank.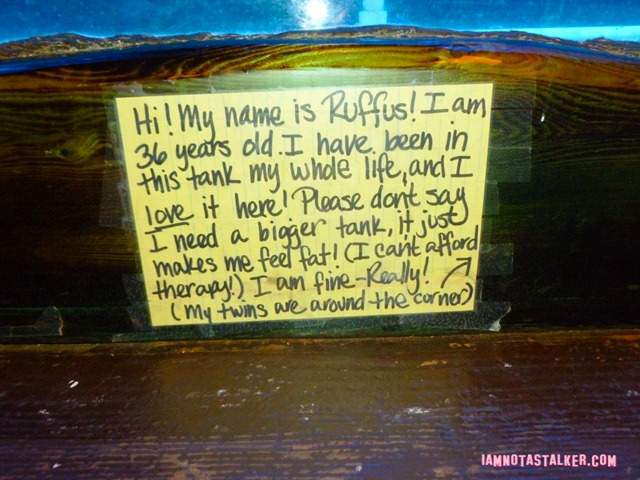 Rufus' "twins", who are both also huge, are pictured below.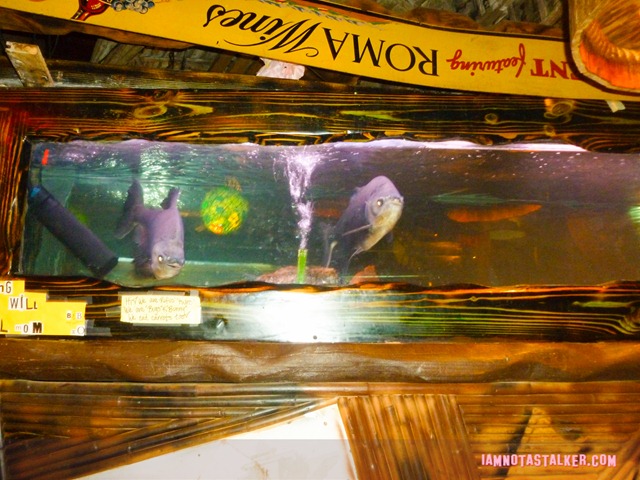 In 2007's The Number 23, Bahooka was the site of the Christmas party where Walter Sparrow (Jim Carrey) was hit on by his co-worker Sybil (Michelle Arthur).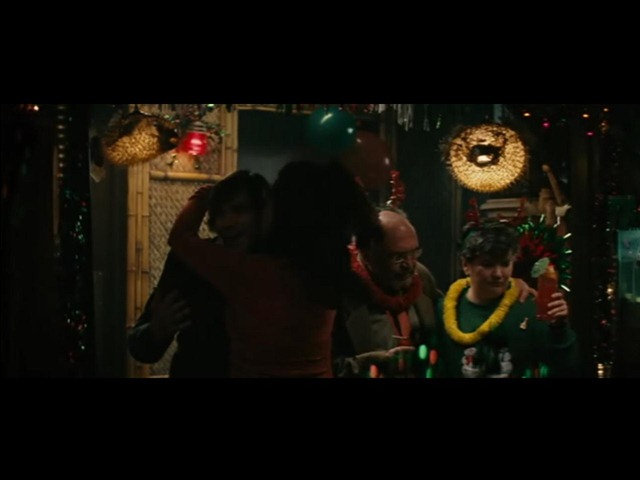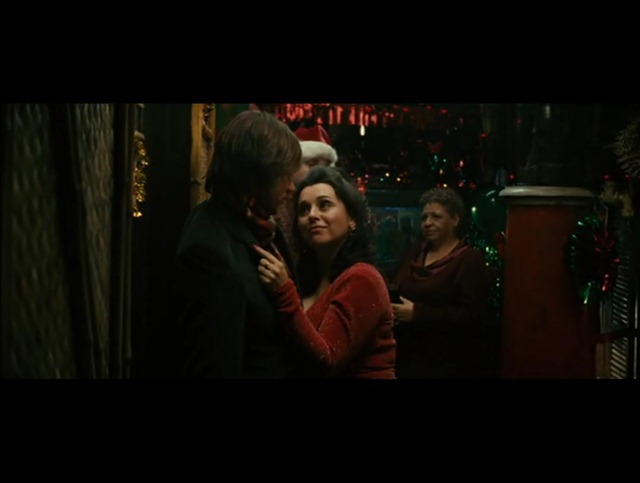 In the 2010 comedy Barry Munday, Bahooka was where Barry Munday (Patrick Wilson) met Ginger Farley (Judy Greer).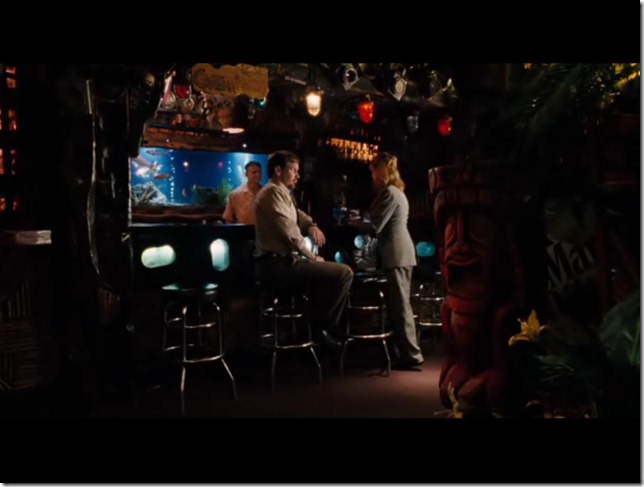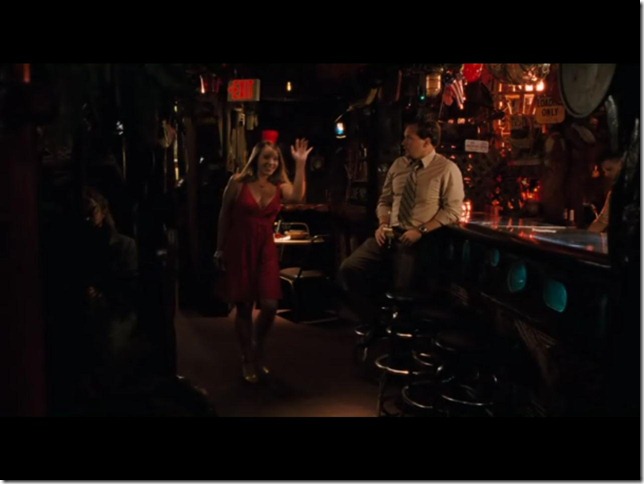 And while IMDB states that the 1993 movie Kalifornia also did some filming at Bahooka, I scanned through the flick yesterday and did not see the restaurant pop up anywhere.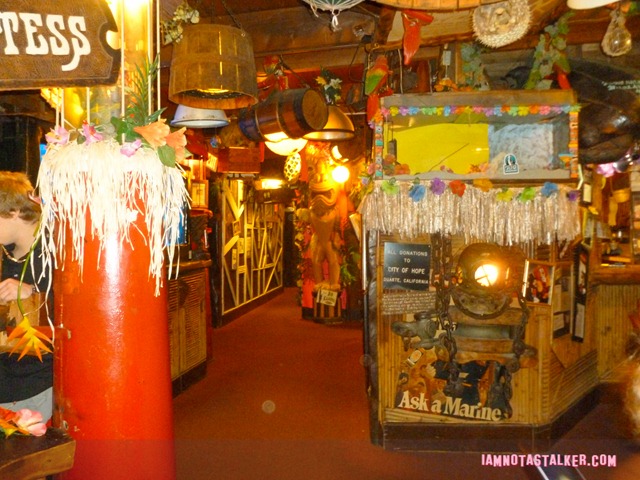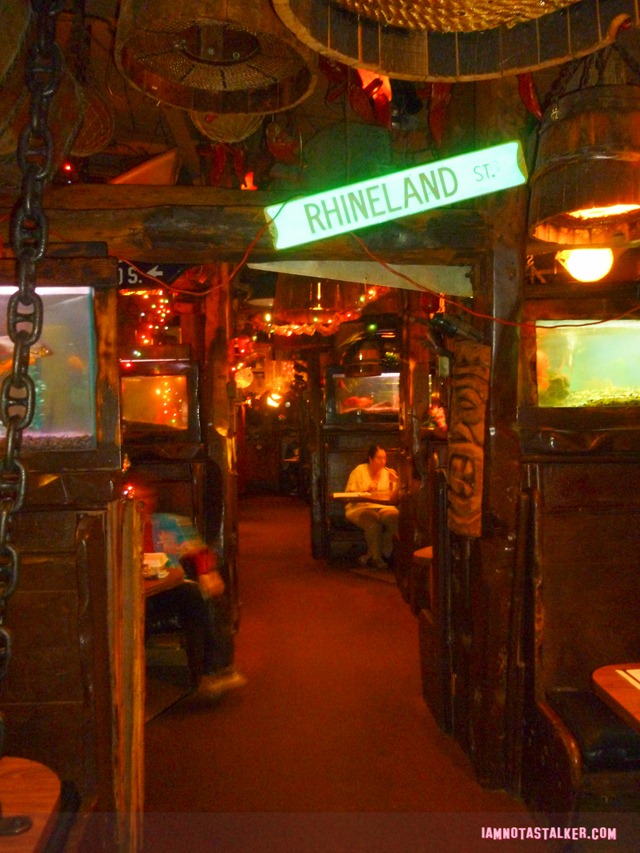 Besides being a filming location, Bahooka is also something of a celebrity magnet. Such stars as Topher Grace, Valente Rodriguez, Oscar De La Hoya, Kirstie Alley, and David Hasselhoff have all been spotted dining there over the years.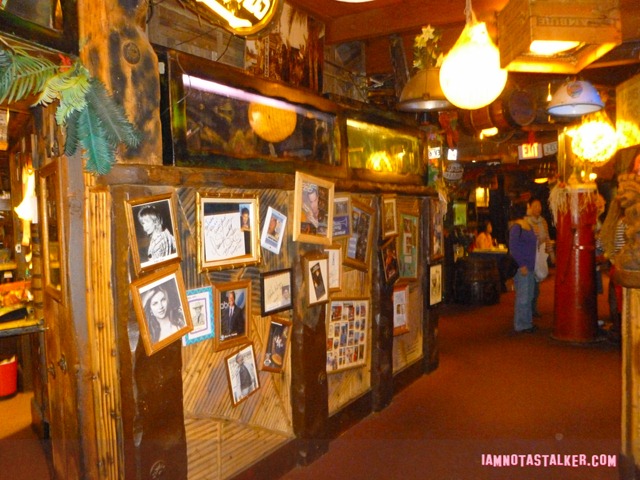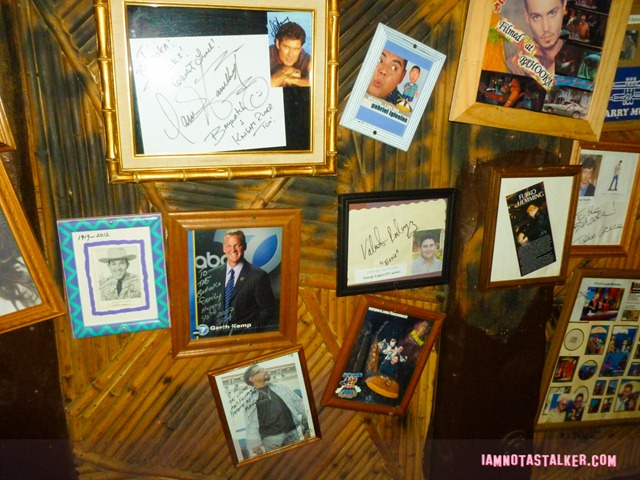 You can find me on Facebook here and on Twitter at @IAMNOTASTALKER. And be sure to check out my other blog, The Well-Heeled Diabetic.
Until next time, Happy Stalking!

Stalk It: Bahooka Family Restaurant, from Fear and Loathing in Las Vegas, is located at 4501 Rosemead Boulevard in Rosemead. You can visit Bahooka's official website here. The restaurant will only be open until Sunday, March 10th, after which time its doors will be closed for good.
65903