The "Easy A" Coffee Shop
Mar 11th, 2013 | By
Lindsay
| Category:
Movie Locations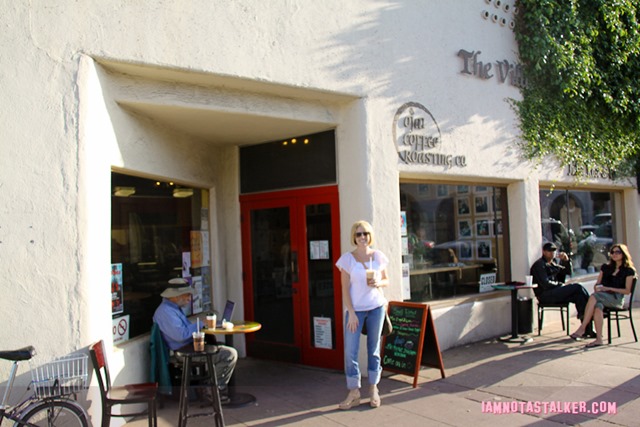 Last Friday, while reading the latest post on Emily Schuman's fabulous Cupcakes and Cashmere blog, in which she mentioned a recent overnight trip she had taken to Ojai, I was reminded of a stalking adventure along Highway 126 that the Grim Cheaper and I had embarked upon almost two full years ago.  We had originally headed up that way to stalk Georgia Rule locations in Santa Paula (which I have yet to blog about), but wound up in Ojai, aka the "Shangri-La of Southern California", in the late afternoon hours and both absolutely fell in love with the place.  While we were there, I happened to text fellow stalker Owen, of the When Write Is Wrong blog, to see if he knew of anything that had been filmed in the area and, as luck would have it, he did!  He texted me right back with a list of pretty much every locale featured in fave movie Easy A, one of which was the Ojai Coffee Roasting Company.  Well, as you can imagine, once I read the word "coffee", I immediately told the GC to head on over there.
Ojai, the name of which was taken from the Chumash Indian word for "moon" and is pronounced "oh-high", is an absolutely idyllic little community nestled about 12 miles inland from Ventura.  The quaint town (it is the smallest city in Ventura County) is known for its picturesque geography, health-minded resorts and charming downtown area.  Thanks to a city ordinance, chain stores are, for the most part, restricted from setting up shop (there is no Starbucks within the city limits – egad!), which makes for a unique collection of family-owned and operated specialty stores and restaurants that attract thousands upon thousands of tourists each year.  And while I badly wanted to nab a room for a spontaneous little staycation while we were there, because Ojai hotel rates are pretty astronomical, the GC was having none of that.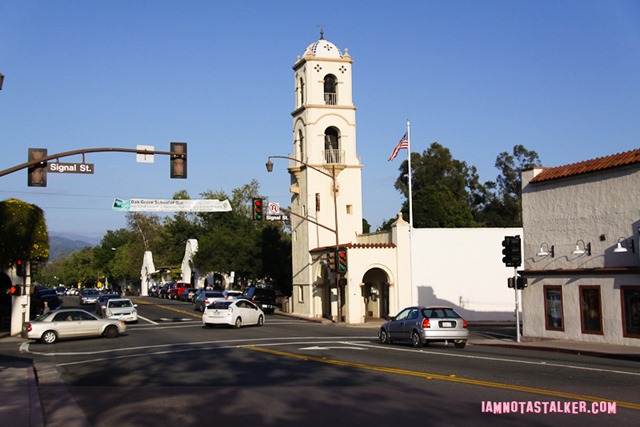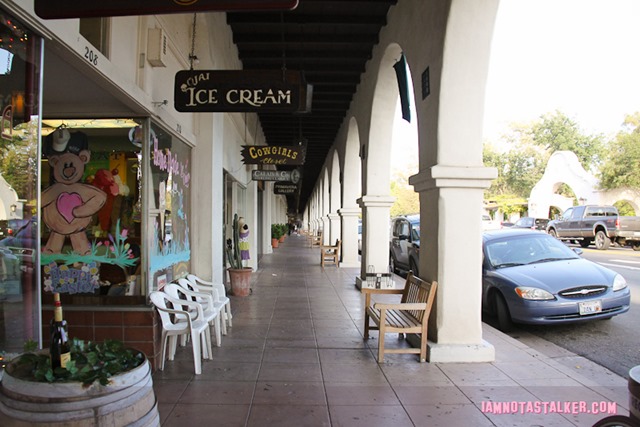 I was able to sample a latte from the Ojai Coffee Roasting Company, though, so there's that. 

  The small java shop was originally founded in 1995 by Stacey Jones and I am very happy to report that it serves up some great coffee and tea.  The baristas were also incredibly nice and answered all of my silly little questions about the filming.  And the place is even something of a celebrity hot-spot! Reese Witherspoon apparently gets her java on at Ojai Coffee Roasting Company wherever she is in town and her friend Renee Zellweger stopped by while visiting Ojai for Reese's wedding to Jim Toth.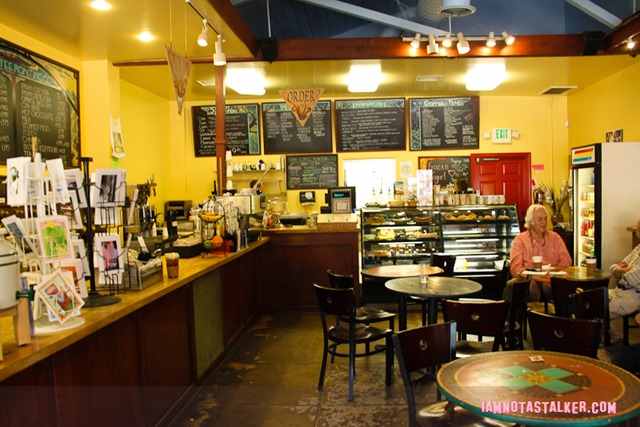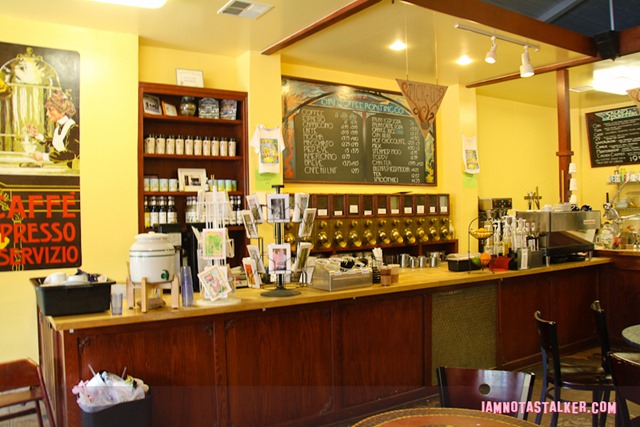 Ojai Coffee Roasting Company popped up only once in Easy A, in the blink-and-you'll-miss-it scene in which Olive Penderghast (Emma Stone) learns that her friend Brandon (Dan Byrd) has run off with a "big, hulking black guy."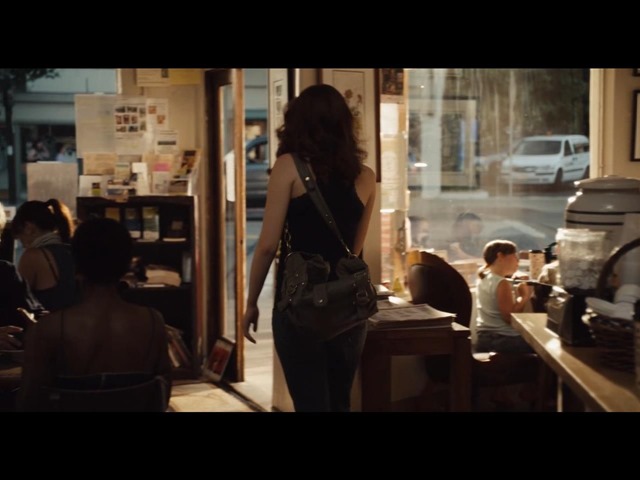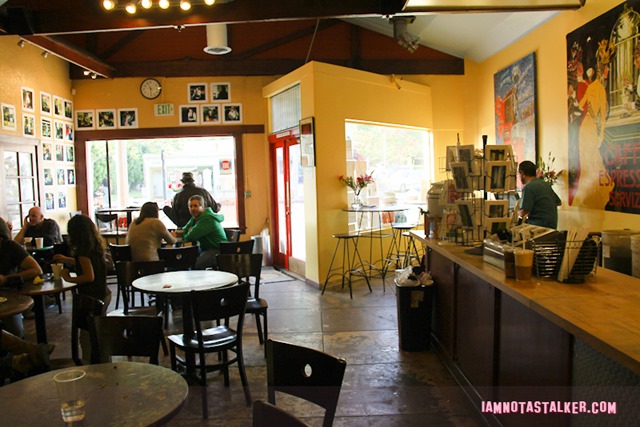 The baristas were even nice enough to tell me where Emma Stone stood in the scene so that I could pose for a picture there, although my positioning was a little too far forward.  As you can see below, the blue and white ceramic water dispenser that was visible behind Emma in the scene was there in real life, too.  Love it!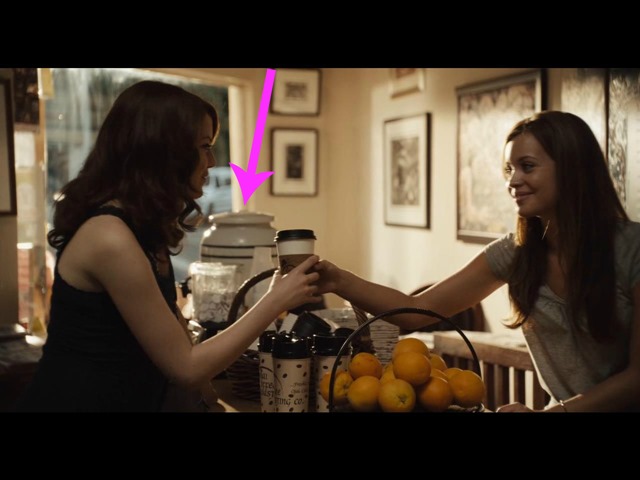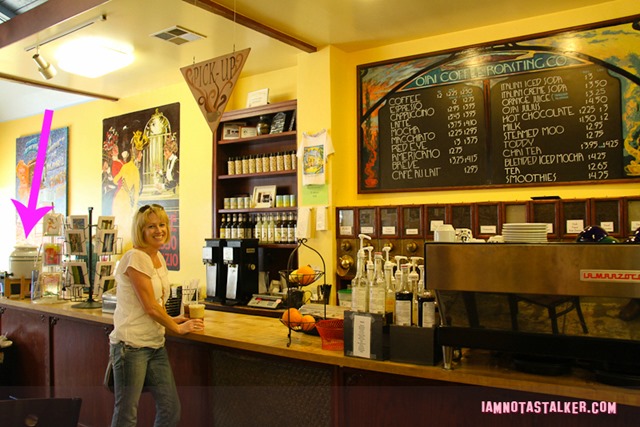 You can find me on Facebook here and on Twitter at @IAMNOTASTALKER.  And be sure to check out my other blog, The Well-Heeled Diabetic.
Big THANK YOU to Owen, from the When Write Is Wrong blog, for finding this location! 

Until next time, Happy Stalking! 

Stalk It: Ojai Coffee Roasting Company from Easy A is located at 337 East Ojai Avenue in Ojai.  You can visit the shop's official website here.
66331