Loretta Young's Former West Hollywood House
Mar 21st, 2013 | By
Lindsay
| Category:
Celebrity Homes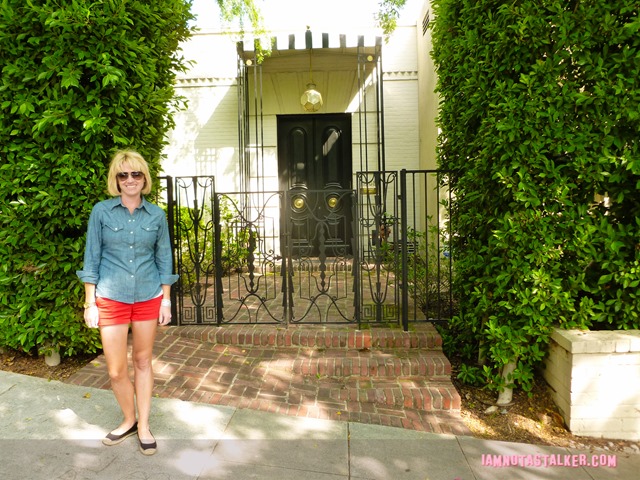 Once I discovered that Loretta Young's Palm Springs house (which I blogged about on Tuesday) was not, in fact, the place where Judy Lewis (the legendary actress' secret love child with Clark Gable) learned the truth about her birth, I set out to track down the location where the encounter actually did take place.  And thanks to Judy's fascinating 1994 biography, Uncommon Knowledge, that endeavor was a snap.
A woman obviously after my own heart, Judy named each chapter of her book after the street she lived on during the corresponding time period of her life.  Um, LOVE it!  The chapter chronicling the years 1955 to 1958 is titled "The Flores House" and, thankfully, featured a photograph (pictured below) of the front of Judy's former abode in which an address number of 1308 was visible.  From there I looked at the Google Street View image of the residence located at 1308 North Flores Street and, voila, it was the same residence pictured in Uncommon Knowledge.  Thank you, Judy!  So I ran right out to stalk the place while the Grim Cheaper and I were visiting L.A. this past weekend.  (As you can see below, the exterior of the property still looks almost exactly the same today as it did when Judy lived there almost six decades ago.)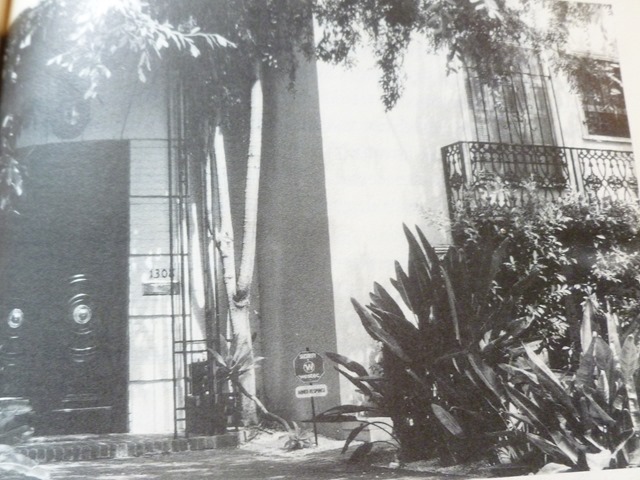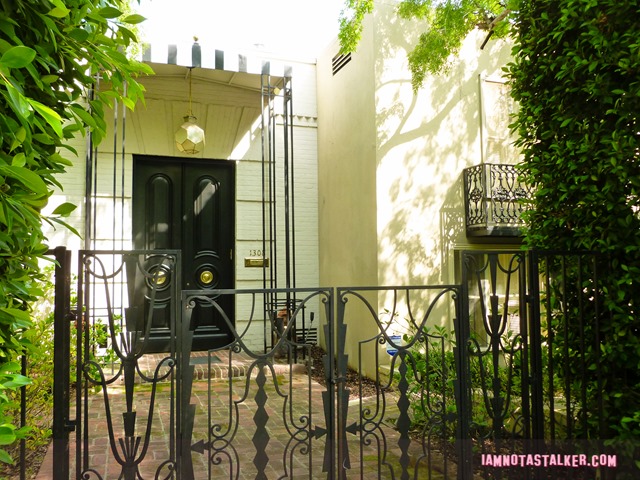 There seems to be quite a bit of misinformation about the dwelling floating around online, most of which states that it was specifically built for Loretta in 1927.  While the original construction does indeed date back to 1927, it was not until 1952 that Loretta and her then husband, Tom Lewis, purchased the site, which at the time was actually an upscale apartment complex consisting of "two-storied maisonettes with individual private gardens", from millionaire Huntington Hartford.  The couple planned on using part of the property as a family home while renting out the remaining units for income.  Loretta's mother, Gladys Belzer, who was one of the most sought-after interior decorators in all of Los Angeles at the time, and famed architect John Elgin Woolf immediately began an extensive renovation of the site and the family moved into a leased beach house in Santa Monica (one that had formerly belonged to Harry Warner at 605 Pacific Coast Highway) while waiting for their new home to be completed.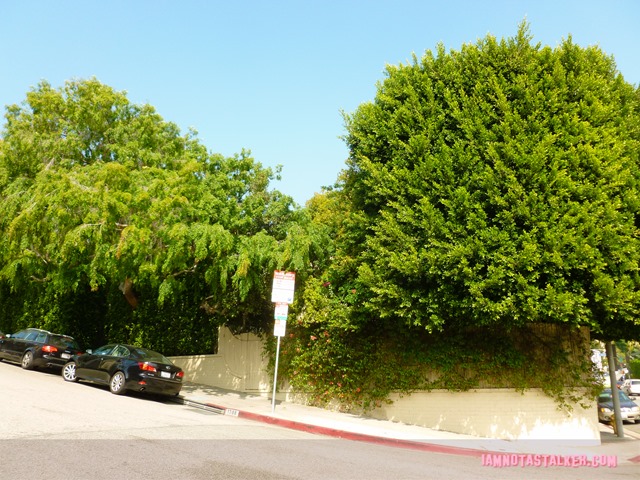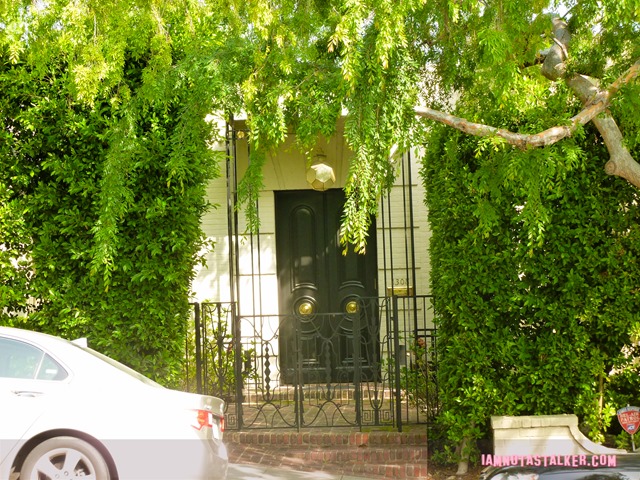 The family finally moved into the Flores house sometime in 1955.  Of the residence, Judy said, "Grandma had done a superb job of redesigning and redecorating.  Our house had white-marble floors in the entry and black marble in the atrium; the ceilings were high and the rooms flooded in sunlight.  Word spread rapidly and the maisonettes were occupied by members of the movie community, Joan Crawford and Rod Steiger among the first tenants."  Rock Hudson also supposedly lived on the premises at one point in time.  The Flores residence boasted five bedrooms, four baths, 6,000 square feet of living space, several fireplaces, a formal dining room, high ceilings, hardwood flooring, separate maid's quarters (natch!), a pool, and a pool house.  According to fave book Hollywood: The Movie Lover's Guide, Loretta sold the property sometime during the 1970s to actress Alexis Smith and her husband Craig Stevens.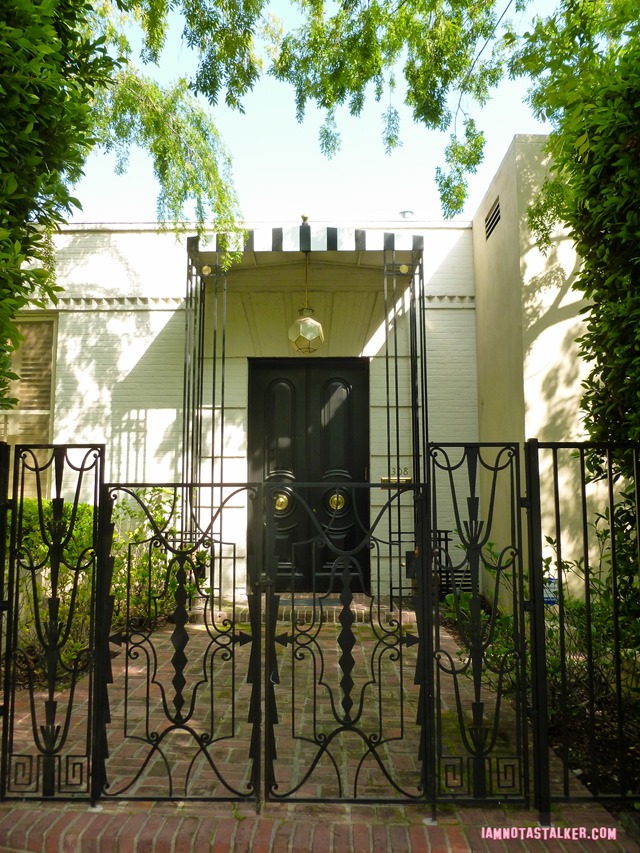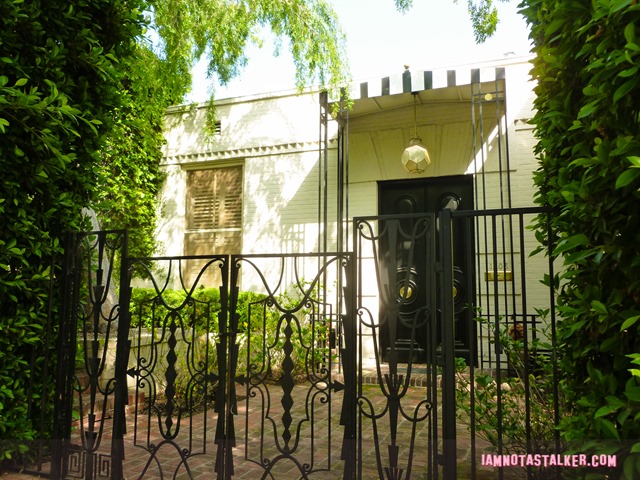 As you can see in the below photographs from Uncommon Knowledge as compared to photographs from the property's 2008 MLS listing, the living room area, with its built-it bookshelves, still looks much the same today as it did when Judy lived there.
The doors that Loretta famously twirled through each week on her wildly popular television series The Loretta Young Show were based upon the actual living room doors of the Flores Street house.  So incredibly cool!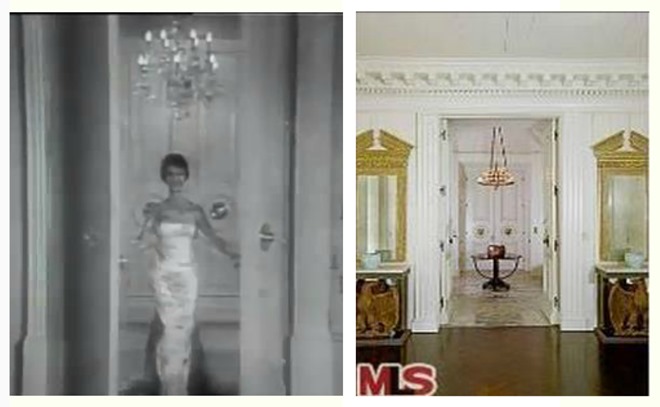 Judy learned of her secret heritage while visiting her mother at the Flores house during Labor Weekend 1966, six years after Clark Gable's death.  She confronted Loretta late one night in the actress' opulent bedroom and before begrudgingly admitting the truth – that Judy was in fact her biological daughter with the "King of Hollywood" – Loretta went into the bathroom and threw up.  After finally learning the real story, Judy said, "A feeling of utter relief went through me.  It was as if I had been holding my breath for the past several hours and suddenly I could breathe again.  Finally all doubts were gone, I had a name and a face and an identity to the other missing half of myself.  I had known that my mother was my birth mother for years, even though we had never discussed it, but the mystery of my father was finally solved.  Now I knew definitively once and for all that I was really Clark Gable's daughter.  I almost laughed with relief.  It had been such a long and difficult journey to get to this moment.  And now, finally, after all these years, I was past it, on the other side – a whole person."  When Judy published Uncommon Knowledge in 1994, Loretta publicly denied her daughter's claims and it was not until three months after her own death in August 2000, when her authorized biography, Forever Young, was released, that Loretta finally admitted the truth – from beyond the grave.  It is a heartbreaking story from beginning to end and I cannot even imagine the pain that Judy endured throughout her lifetime.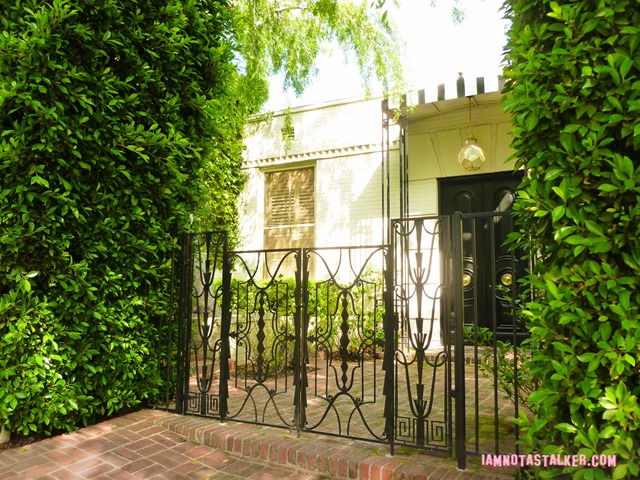 You can find me on Facebook here and on Twitter at @IAMNOTASTALKER.  And be sure to check out my other blog, The Well-Heeled Diabetic.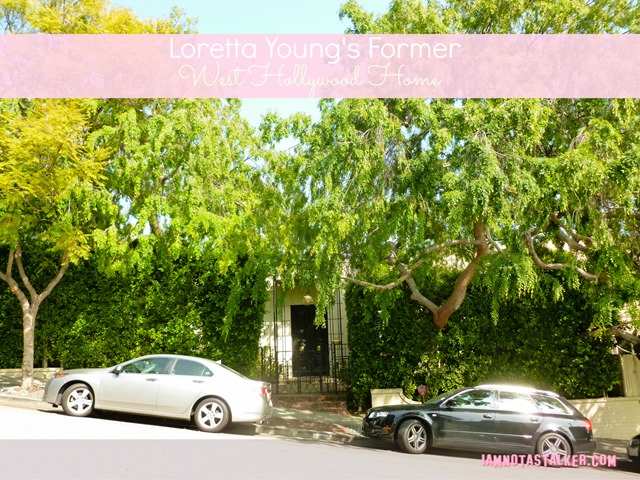 Until next time, Happy Stalking! 

Stalk It: Loretta Young's longtime former home is located at 1308 North Flores Street in West Hollywood.  Note – Loretta's former address is also sometimes listed as 8313 Fountain Avenue in West Hollywood.
66804