The Apple Pan from "Beverly Hills, 90210"
Mar 26th, 2013 | By
Lindsay
| Category:
90210 & Beverly Hills, 90210 Filming Locations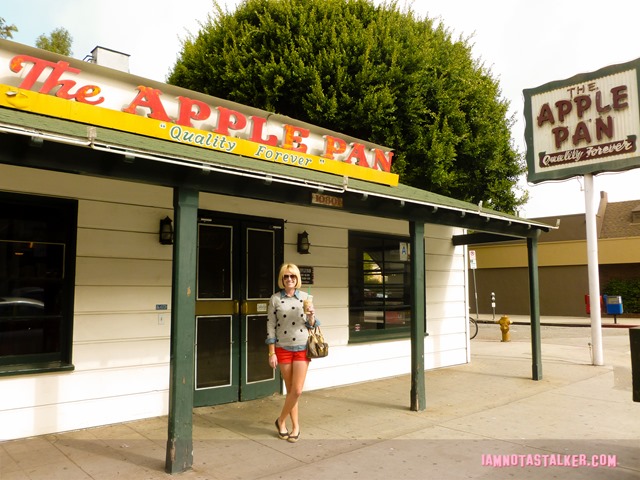 While the Grim Cheaper and I were out and about doing some stalking in the West L.A. area two weekends ago, we happened to pass by The Apple Pan, the exterior of which masqueraded as the original Peach Pit on fave show Beverly Hills, 90210.  Finding ourselves both hungry, we decided to pop in for a bite to eat, which turned out to be quite the magical experience for this stalker, let me tell you!  So, even though I have stalked and blogged about The Apple Pan once before – very, very briefly, way back in May 2008 (you can read that post here) – because it was such a short write-up and because I did not venture inside during that particular visit, I figured the place was most-definitely worthy of a re-hash.
The Apple Pan was first established by Alan and Ellen Baker on April 11th, 1947 and, amazingly enough, still currently stands in the exact same spot that it did on that opening day.  Even more astounding is the fact that the eatery is still owned and operated by the Baker family over six decades later!  Alan and Ellen made the fortuitous decision to purchase the land on which The Apple Pan now stands (long before they ever built the restaurant, in fact), and, thankfully, despite countless – and very large – offers from developers to sell, held onto it, which is a big part of how it has managed to survive for so long.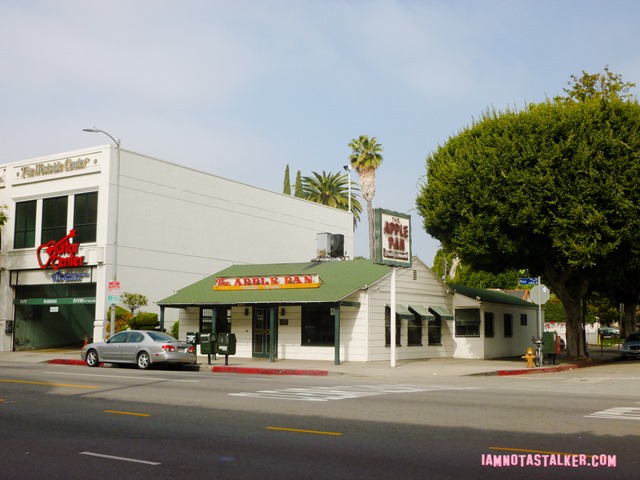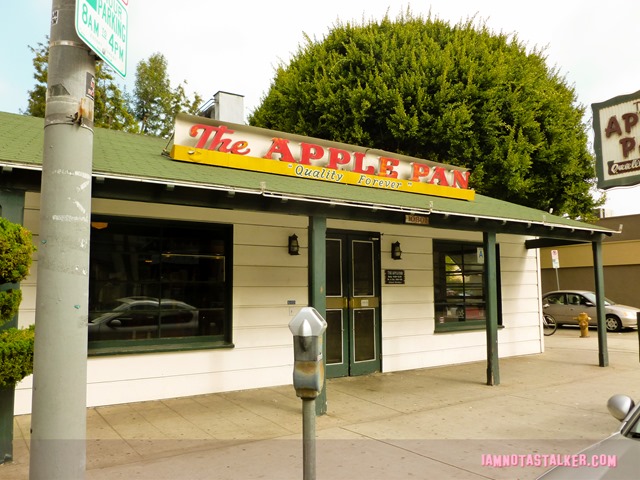 Nothing, and I do mean NOTHING, about the eatery has been altered since its inception – not the menu (which consists of age-old family recipes), not the seating, not the décor, not even the employees, most of whom have worked there for well over thirty years!  Such a refreshing thing to see in a city where change seems to be the norm.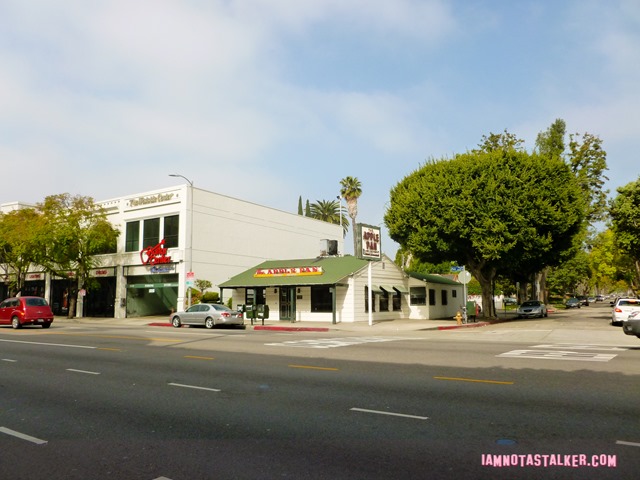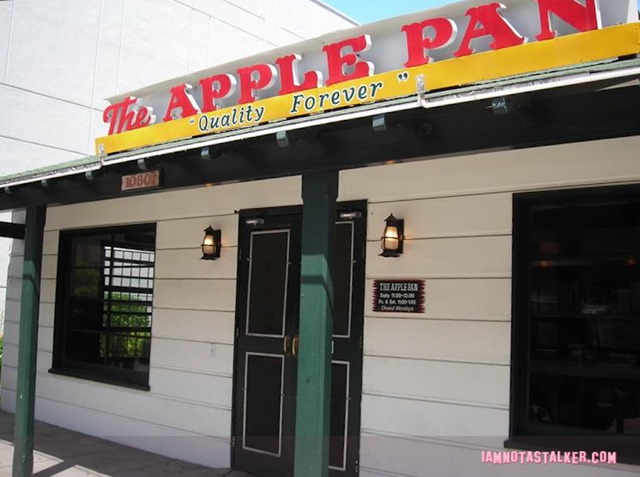 The Apple Pan menu, which you can take a look at here, consists of a scant 11 items – two burgers (the Steakburger and the Hickoryburger), five sandwiches [Southern Baked Ham, Swiss Cheese, Combination (a ham and cheese combo), Tuna Salad, and Egg Salad], three pies (Pecan Pie, Fresh Apple Pie and Cream Pie), and French Fries, which are simply uh-ma-zing!  According to a 2007 Los Angeles Times article, of the stalwart menu, owner Martha Gamble (Alan and Ellen's daughter) said, "My dad was a perfectionist.  He tried recipes out at home until it was the way he wanted it."  Alan is my kinda guy – why mess with something that is obviously working?  There are also a few "secret" menu items available to those in the know, including Grilled Cheese, Tuna Melts, and Pickled Peppers.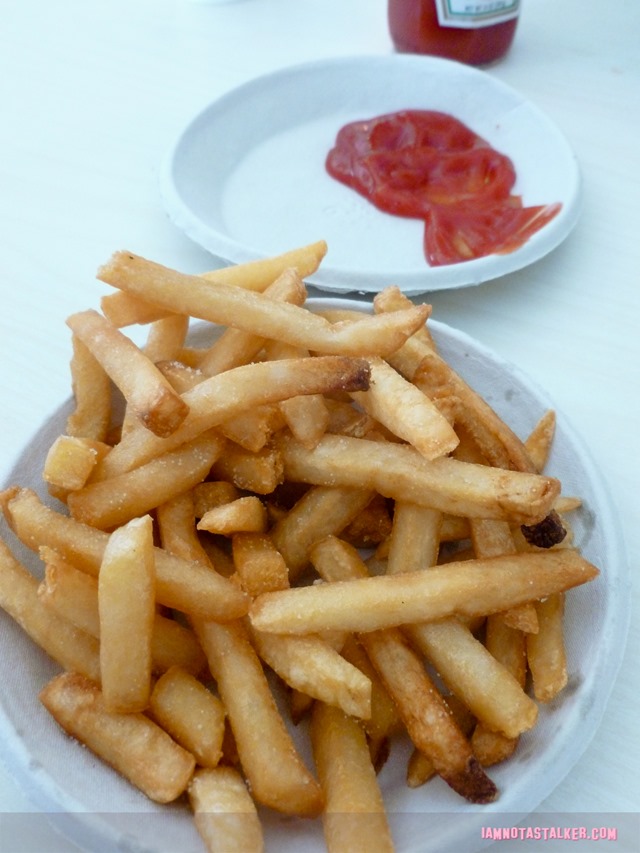 I opted for the Steakburger with cheese and, even though I am not AT ALL a meat person, absolutely LOVED it.  As you can see below, The Apple Pan serves its burgers standing up and wrapped in paper, utilizing much the same method as Johnny Rockets restaurants.  Apparently, Johnny Rockets founder Ronn Teitelbaum used the The Apple Pan as the model for his popular diner chain.  There are other similarities, as well, including the use of small cardboard plates to serve French Fries and ketchup, as you can see above.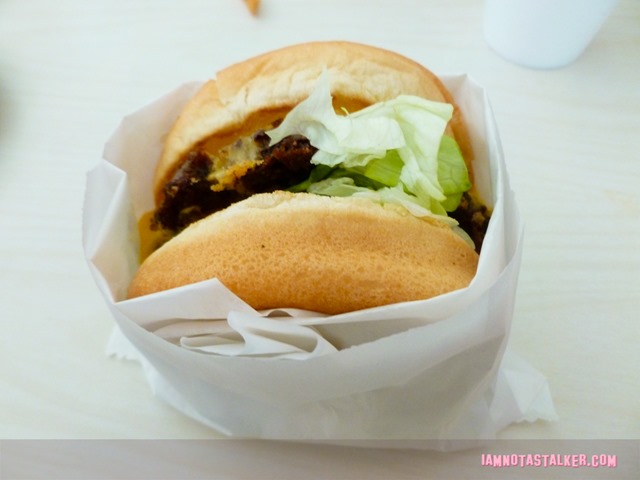 The Apple Pan serves its sodas (Coca-Cola, Root Beer, Orange, and Dr Pepper) in paper cones that sit inside of stainless steel cup-holders, which apparently used to be commonplace back in the 1940s.  This stalker had never seen anything like it before, though, and thought it was so incredibly cool!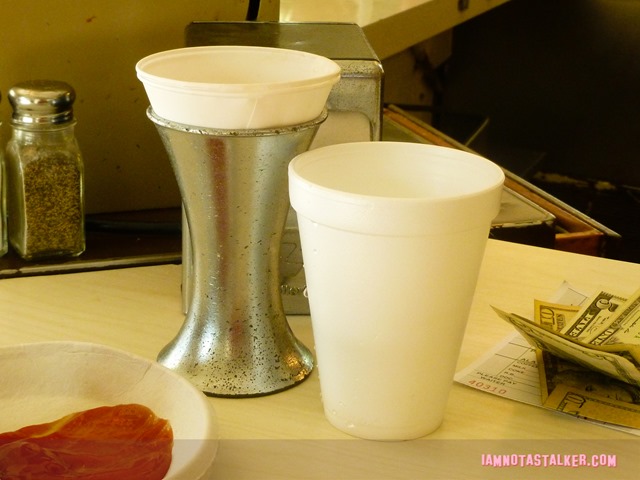 The tiny, 26-stool, Zagat-rated eatery is so immensely popular that it is pretty much standing-room only every single day of the week (except for Monday, when it is closed).  Even celebs have been known to frequent the place.  Such stars as the Jonas Brothers, Tori Amos, Michael Kors, Emma Stone, Rob Lowe, Rob Reiner, Rodney Dangerfield, Sammy Davis Jr., Joel Siegel, Lee Iacocca, and Magic Johnson have all been spotted there at one time or another.  Drew Barrymore and then fiancé/now husband Will Kopelman even ate Valentine's Day dinner there in 2012.  Of the eatery, Drew told the JustJared website, "It's an institution basically and you HAVE to try it.  You'll love it."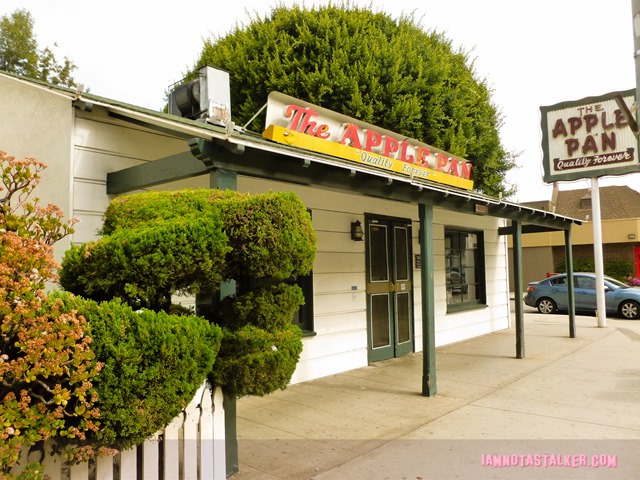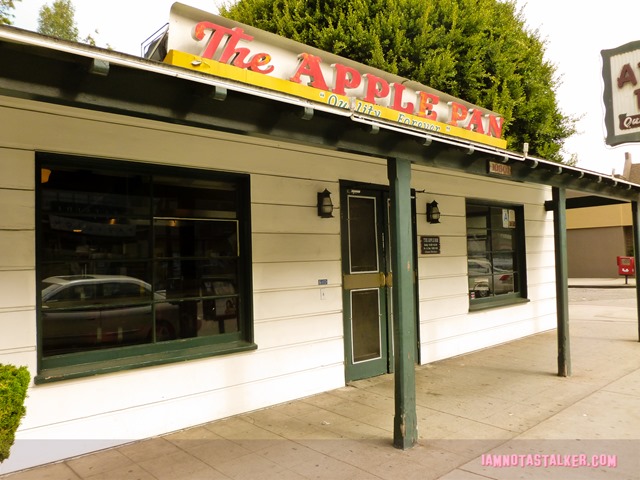 The exterior of the Apple Pan showed up only twice on Beverly Hills, 90210.  It first appeared at the very end of the Season 1 episode titled "Every Dream Has Its Price (Tag)", in the scene in which Dylan McKay (Luke Perry) took Brandon Walsh (Jason Priestley) out for a piece of "the best pie in L.A."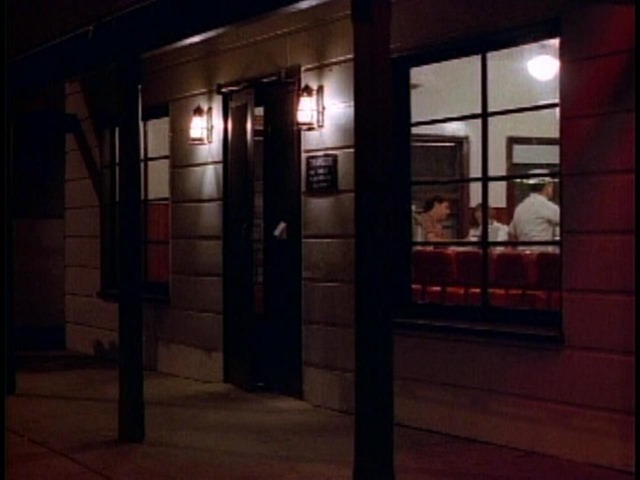 It then showed up again in the episode titled "One on One", in the scene in which Brandon stopped by his workplace to ask Nat Bussichio (Joe E. Tata) for his paycheck and, while waiting, ran into James Townsend (Tico Wells), his rival for a spot on the West Beverly High basketball team.  Ironically, in the scene's establishing shot of The Peach Pit, The Apple Pan sign was visible, as you can see below!  LOL  Oddly enough, in the very next episode, which was titled "Higher Education", The Apple Pan had been replaced with a different exterior – one at 1027 Abbot Kinney Boulevard in Venice, which I blogged about here.  That location was used throughout the end of Season 1, until it, too, was replaced by a third exterior in the Season 2 episode titled "Pass, Not Pass."  That third and final exterior, which I blogged about here, can be found at 45 South Fair Oaks Avenue in Pasadena.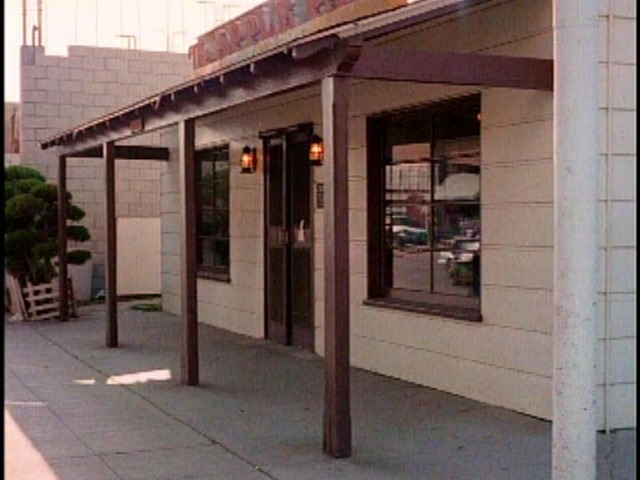 While I knew (thanks to Darren Star's DVD commentary for the Season 1 episode of Beverly Hills, 90210 titled "Spring Dance") that The Apple Pan had served as the model for The Peach Pit's interior set, I was not at all prepared for how closely the real life restaurant would resemble its onscreen counterpart.  When I walked through The Apple Pan's front doors, I honestly felt like I had stepped right inside The Pit!  For a die-hard 90210 fan like myself, the experience was nothing short of exhilarating!  Not only is The Apple Pan set up exactly like The Peach Pit, with a small U-shaped counter surrounding an open kitchen . . .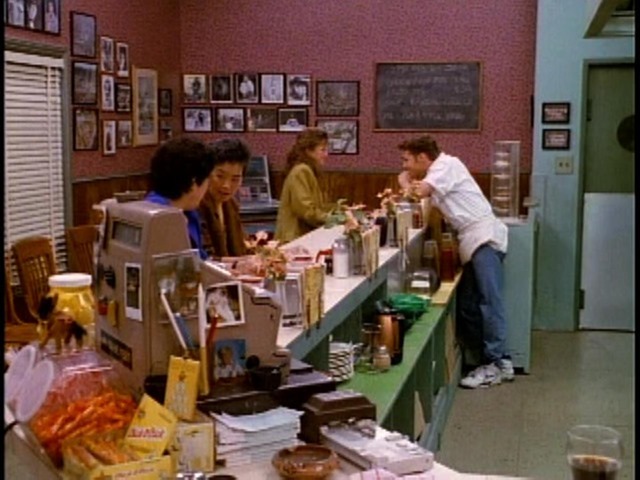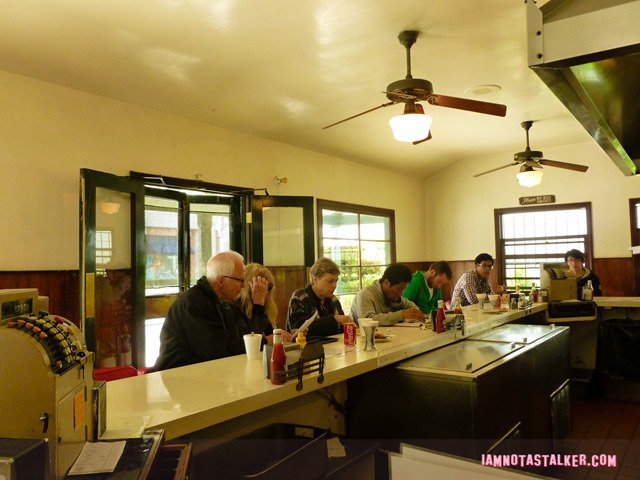 . . . but, as you can see below, the doors and windows are also an exact match.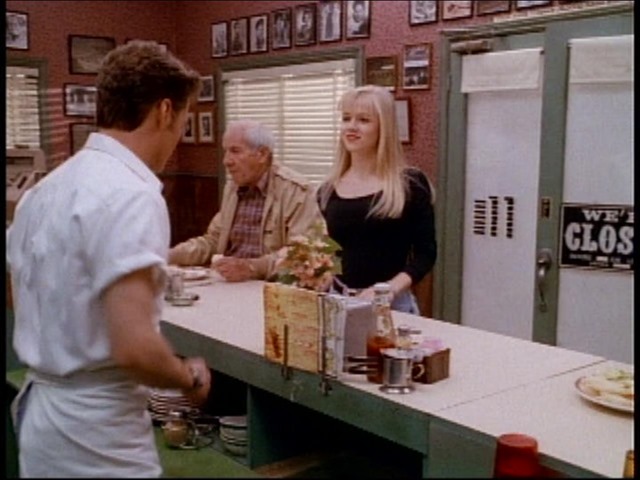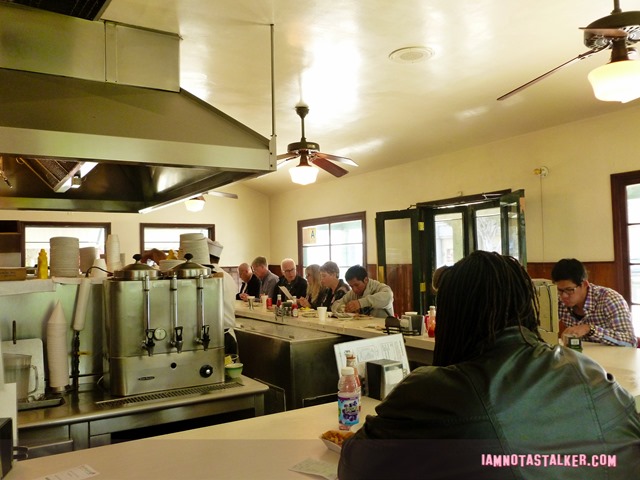 As is the wood wall paneling . . .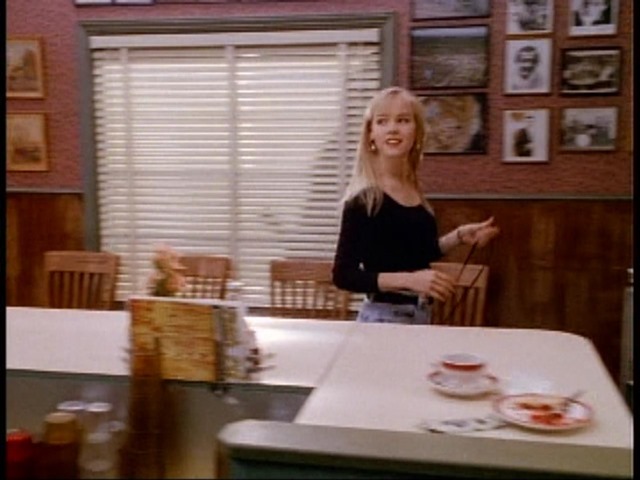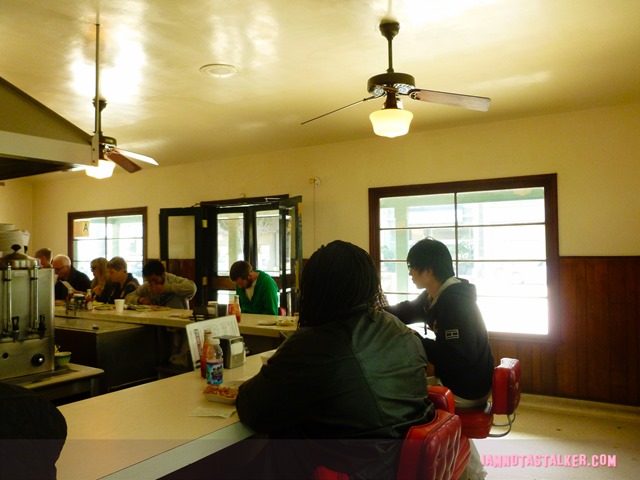 . . . and the vintage cash register!  Love it, love it, love it!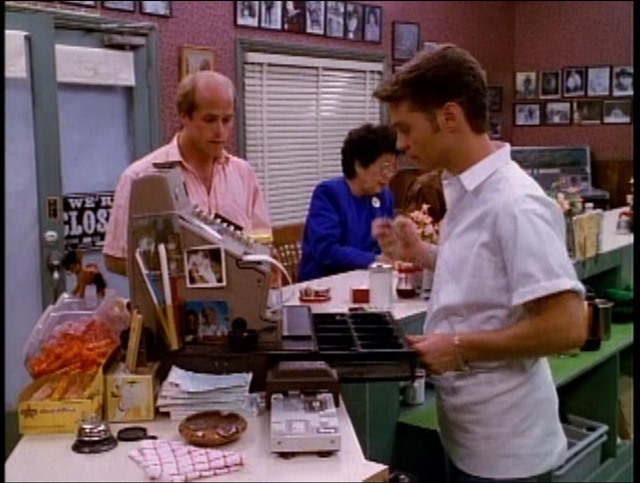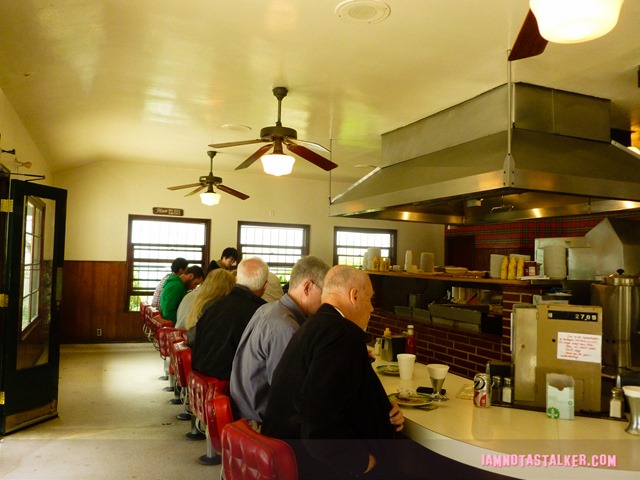 In a 2008 interview with the Zap2It website, Jason Priestley mentioned The Apple Pan, saying, "That's what the Peach Pit was modeled after.  If you watch the early episodes of 90210, the Peach Pit is laid out almost exactly like The Apple Pan.  Whenever I'd have dinner with Charles Rosin, the show runner, we'd go there. "  He also calls the burgers "amazing."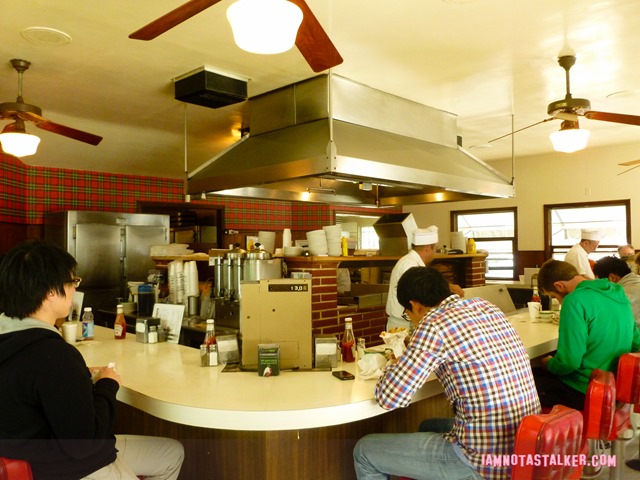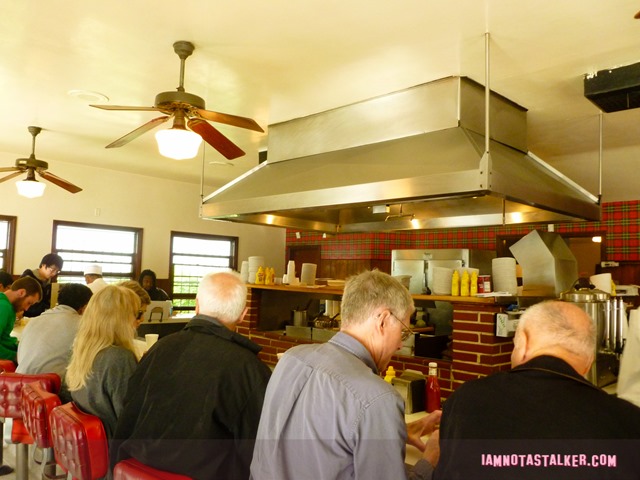 The Apple Pan was also featured in THREE different Huell Howser specials over the years – one in 1992, one in 1996, and one in 2009.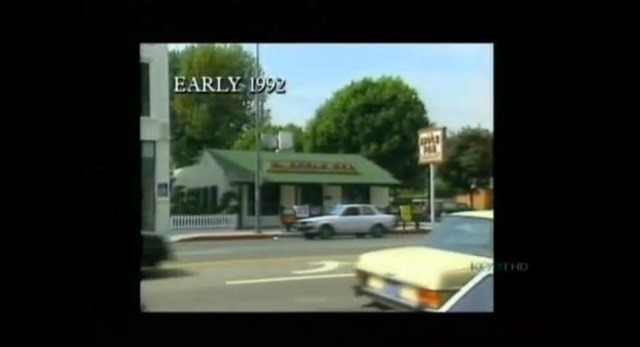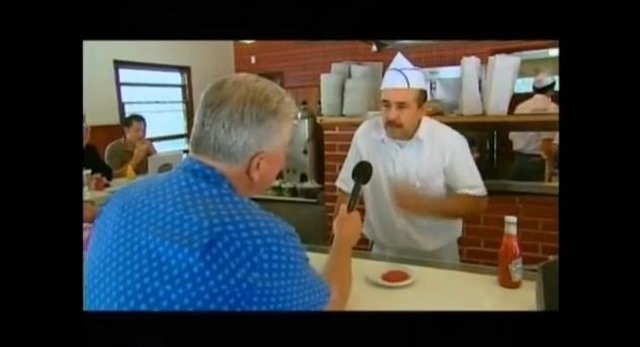 You can watch one of those specials by clicking below.
You can find me on Facebook here and on Twitter at @IAMNOTASTALKER.  And be sure to check out my other blog, The Well-Heeled Diabetic.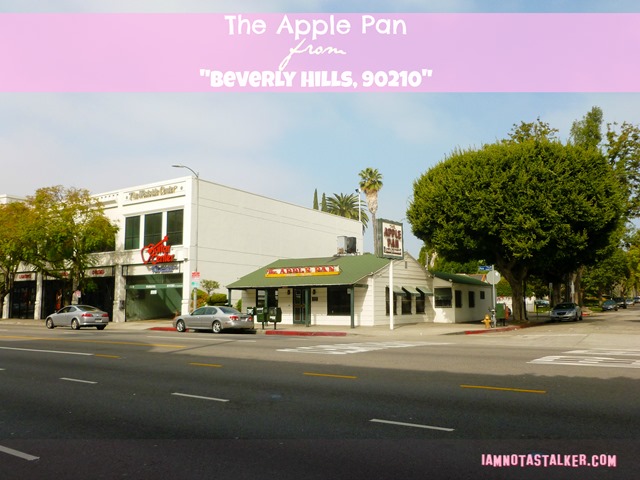 Until next time, Happy Stalking! 

Stalk It: The Apple Pan, aka The Peach Pit from Beverly Hills, 90210, is located at 10801 West Pico Boulevard in West Los Angeles.
66939