Brookside Park from Marilyn Monroe's Photo Shoot with the White Sox
Mar 28th, 2013 | By
Lindsay
| Category:
Marilyn Monroe Locations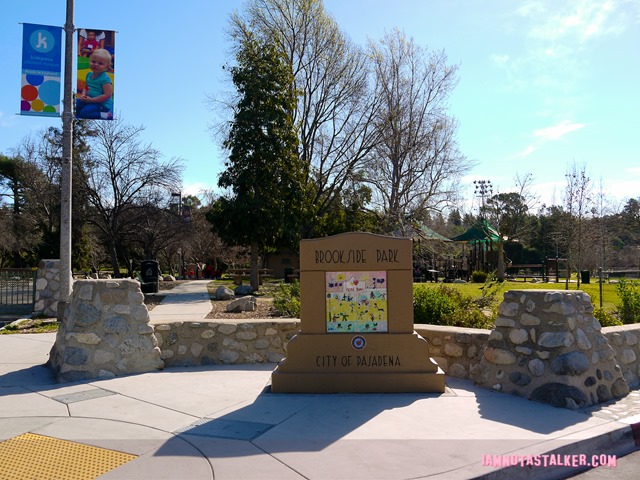 Back in February, while doing research for my post about the Rainbow Bar and Grill, where my girl Miss Marilyn Monroe went on her first date with Joe DiMaggio, I came across a blurb in the book The Secret Life of Marilyn Monroe which stated that the starlet had first caught Joltin' Joe's eye via a photo shoot she had done with the Chicago White Sox in 1951. The blurb mentioned that the shoot had taken place at none other than Brookside Park in Pasadena – right in my own former backyard! I was absolutely over the moon about learning this information, immediately added the site to my To-Stalk list and made it one of my very first stops while visiting L.A. just a few days later.
Sadly though, when I arrived, I discovered that the park's Jackie Robinson Memorial Field, where I was fairly certain the shoot had taken place, was fenced in due to some sort of construction project and was completely inaccessible to the public. Boo!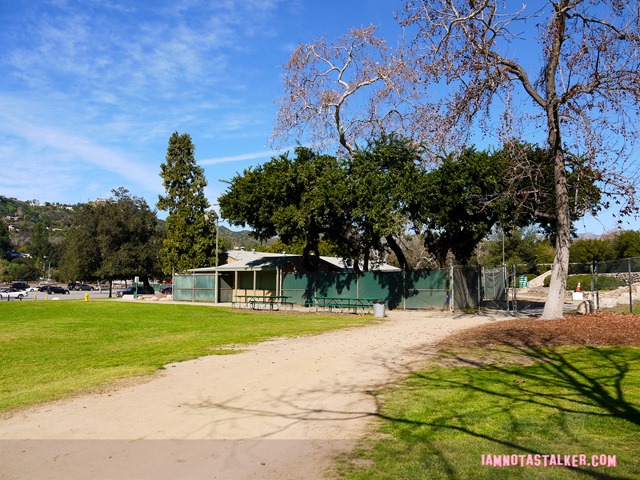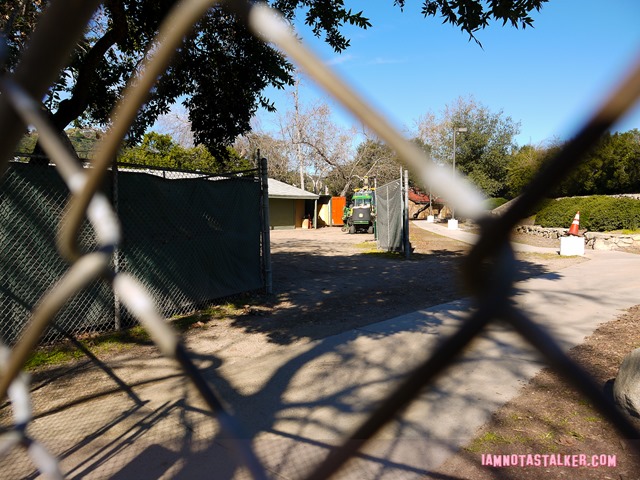 Despite that fact, I still had an absolute blast walking around trying to figure out exactly where the world's most famous blonde had posed sixty-two years prior.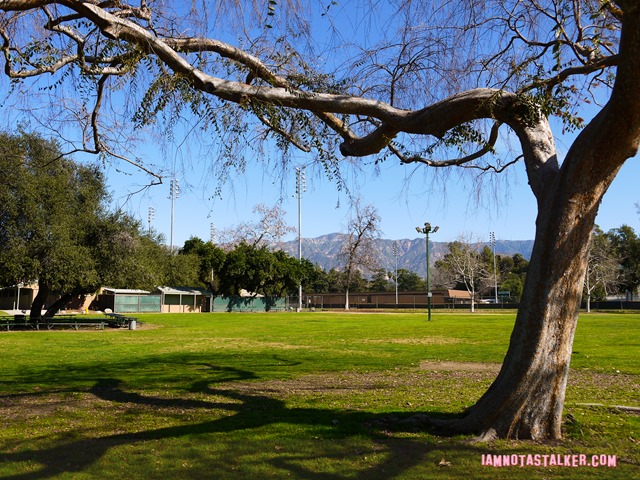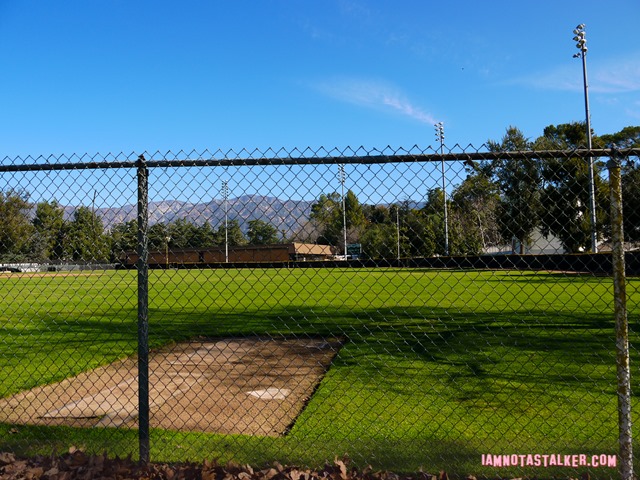 The site was originally founded as Arroyo Springs Park in 1912 when the City of Pasadena purchased thirty acres of what was then known as Sheep Corral Springs (so named because sheep often grazed there) with the intent of turning it into a public gathering area. In 1914, the wealthy wife of a Chicago lumber manufacturer named Everett Wellington Brooks donated $3,000 to the city to go towards the construction of a public swimming pool on the property. The park name was then subsequently changed to Brookside in her honor. Today, the 62-acre space is comprised of a fitness course, a walking trail, picnic facilities, five tennis courts, three baseball fields, two playgrounds, bleachers, the Kidspace Children's Museum, and a world-class aquatics center with two Olympic-sized swimming pools (where quite a bit of filming has taken place over the years, but that is a different post for a different time).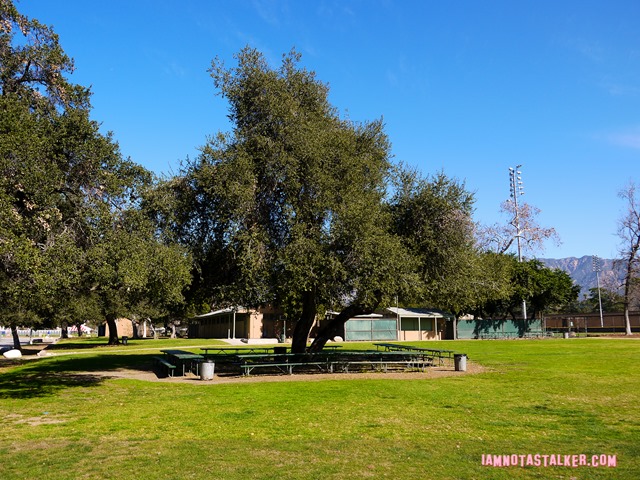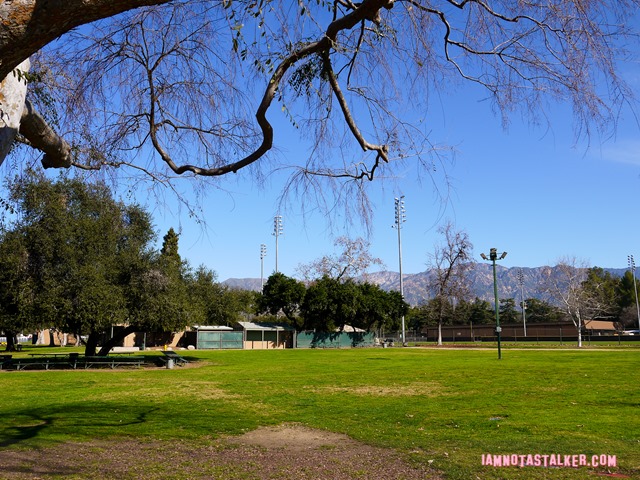 Brookside Park also boasts some really cool ruins that I could, unfortunately, not find any information about online.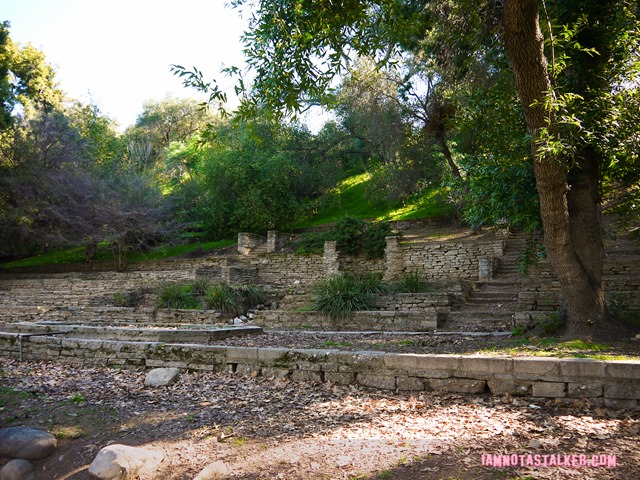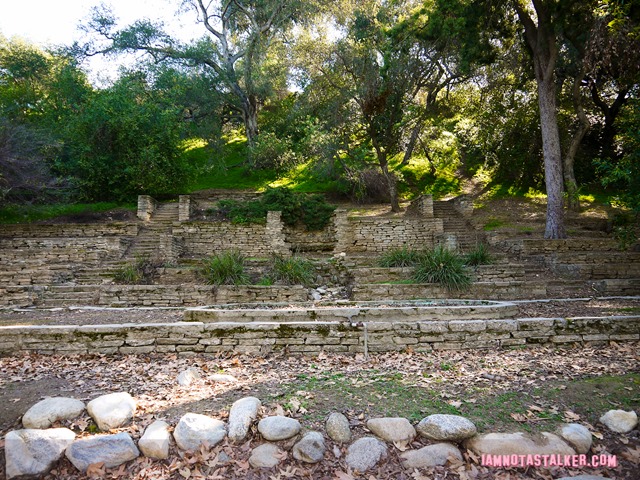 The photo shoot, which was set up by Twentieth Century Fox and featured MM posing with Joe Dobson, Gus Zernial, and Hank Majeski, took place at the Chicago White Sox Spring Training Camp at Brookside Park in early 1951. The team had been utilizing the park for Spring Training for years, beginning in 1933, with a brief reprieve from 1943 to 1945 due to World War II. Oddly enough, though, according to this Spring Training Online article, the White Sox 1951 training was actually held in Palm Springs and not at Brookside Park. I am not sure what to make of that. Anyway, as the story goes, Joe DiMaggio spotted the pictures of Marilyn in a newspaper and became immediately enamored. According to The Marilyn Monroe treasures, The Yankee Clipper later confronted Gus Zernial about the shoot. Of the encounter, Gus said in a 2006 Baseball Digest interview, "He couldn't believe someone like me could meet Marilyn Monroe. He made the comment, 'Why should a busher [a 1960s term for "slacker"] like me get to meet her?' Joe then asked Gus to put him in touch with Marilyn and the rest is tabloid history.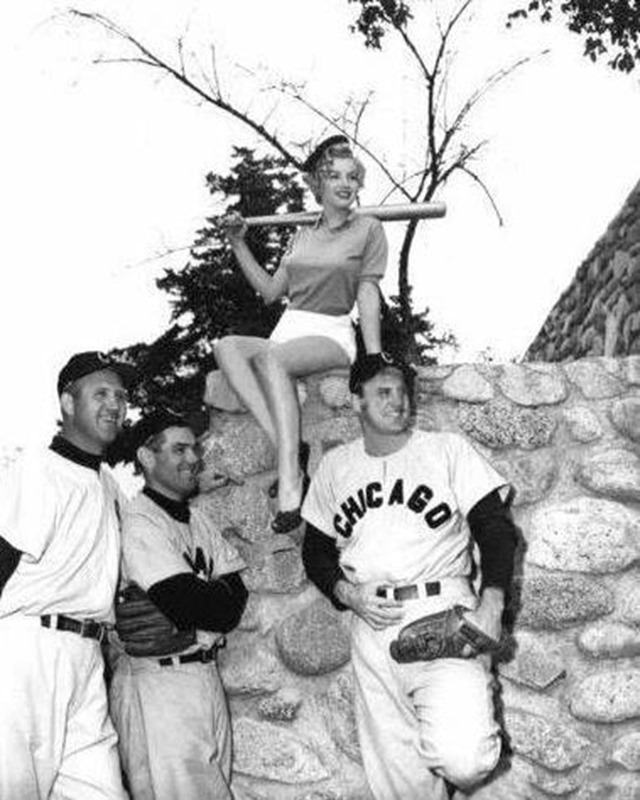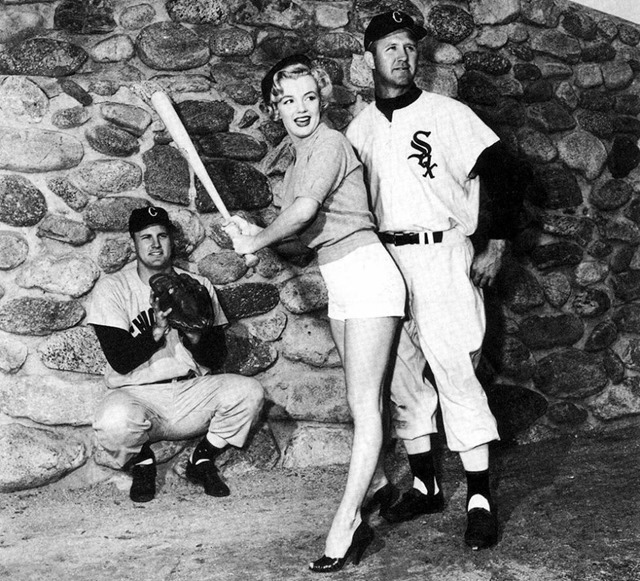 After scouring through the photo shoot images as compared with the photographs that I took while visiting Brookside Park last month, I am fairly certain that Marilyn posed in front of the curved rock wall pictured below (which is actually the side of Jackie Robinson Memorial Field) and the buildings located just west of it.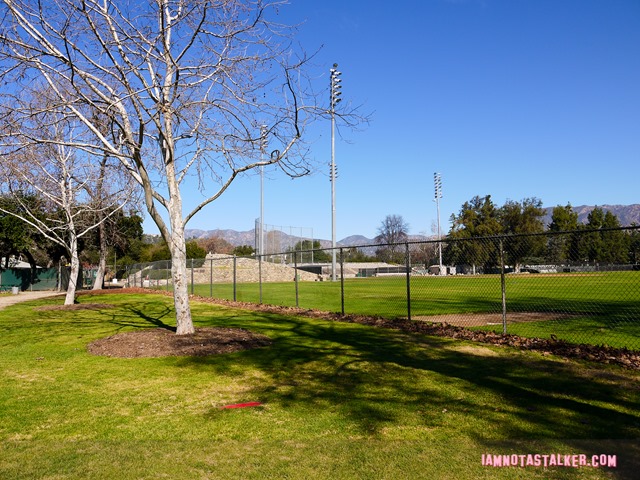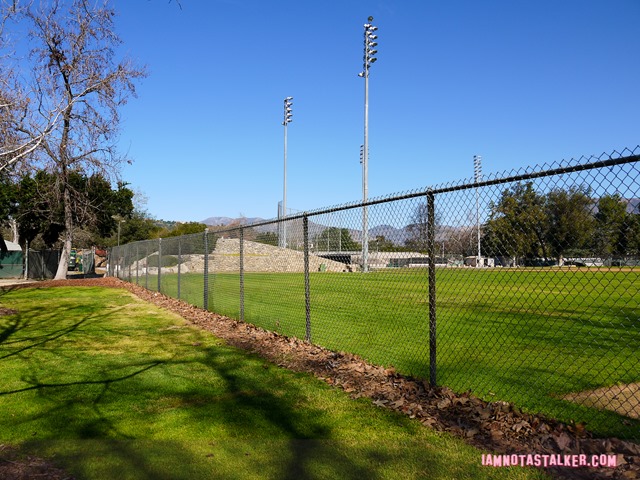 In the photograph where Marilyn is sitting on top of a rock wall, I believe she is sitting in the spot indicated by the pink arrow in the photograph below.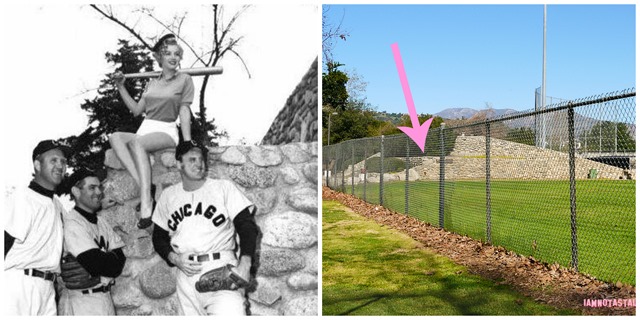 As you can see, not only does the rock wall that MM sat on match the one pictured below, but the rock wall that runs perpendicular to it is also a match. Oh, what I wouldn't give to sit on that wall myself!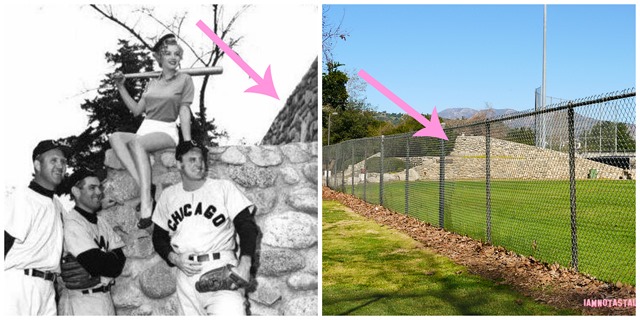 The lip that is visible on the wall behind Marilyn in the batting practice photo also matches the lip of the wall pictured below . . .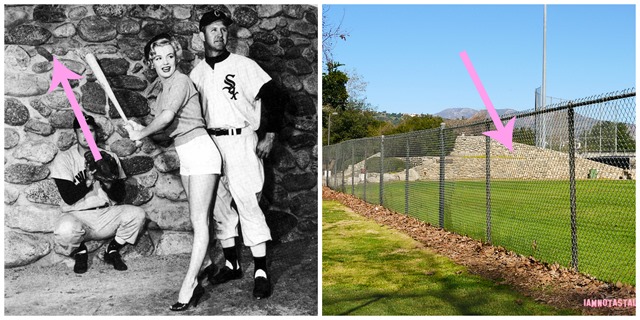 . . . as does the rounded edge.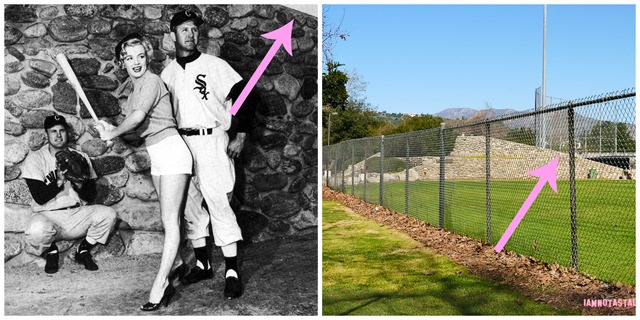 I am fairly certain that the tree pictured behind Marilyn and Gus is the same tree that is pictured below, although I would have assumed that it would have grown quite a bit larger than it seems to have in sixty years time.
And I am also fairly certain that the building visible behind Marilyn and Hank is the same building pictured below (which is located just west of the rock wall). As you can see, the air vents are a perfect match. SO INCREDIBLY COOL!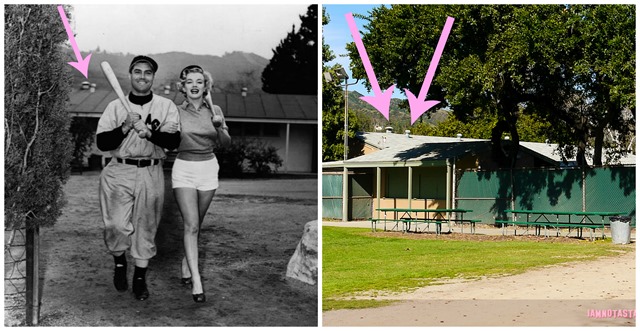 You can find me on Facebook here and on Twitter at @IAMNOTASTALKER. And be sure to check out my other blog, The Well-Heeled Diabetic.
Until next time, Happy Stalking!

Stalk It: Brookside Park, where Marilyn Monroe's 1951 photo shoot with the Chicago White Sox took place, is located at 360 North Arroyo Boulevard in Pasadena. The shoot was lensed near Jackie Robinson Memorial Field, which is located in the northwest section of the park, in the area denoted with a pink arrow below.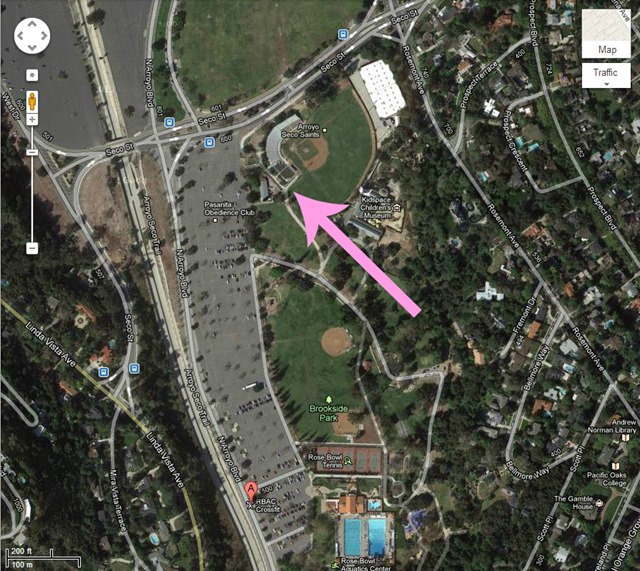 67112