Now! Clothing from "L.A. Story"
Apr 15th, 2013 | By
Lindsay
| Category:
Movie Locations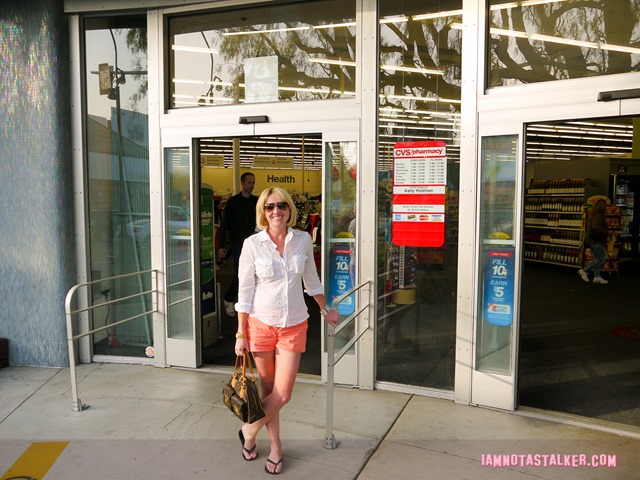 My second most-wanted location from the 1991 classic comedy L.A. Story was Now!, the ultra-hip clothing store with unisex dressing rooms where SanDeE* (my girl Sarah Jessica Parker) worked.  (My first most-wanted was, of course, the iconic freeway sign that I blogged about last Thursday.)  So I was floored to see that the locale was included in "The L.A. of L.A. Story" special feature on the movie's 15th Anniversary Edition DVD.  In the feature, which was lensed in 2006, production designer Lawrence Miller said, "This was a clothing store at the intersection of La Cienega and Santa Monica Boulevard and is now, regrettably, a Sav-on drug store."  I was shocked to learn this information as Now! had always looked like a Venice Beach-type shop to me and I had even spent quite a bit of time looking for it in that area.  D'oh!  Well, believe you me, once I had the correct address, I immediately added it to my To-Stalk list and ran right out there just a few days later, while in L.A. for a brief visit.  It was not until I started doing research for today's post, though, that I discovered what a ridiculously vast history the place has – such a vast history, in fact, that while I had intended on publishing this column last Friday, I was still compiling information at 8 p.m. on Thursday night and had to postpone it until today.
Now! clothing is currently a CVS pharmacy.  (CVS Caremark acquired all Southern California Sav-on drug stores in 2006.)  Amazingly enough, though, it still looks almost exactly the same today as it did 22 years ago when L.A. Story was filmed!  But more on that later.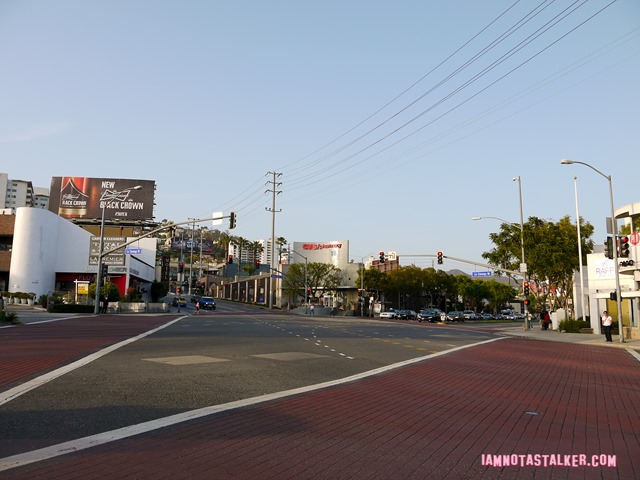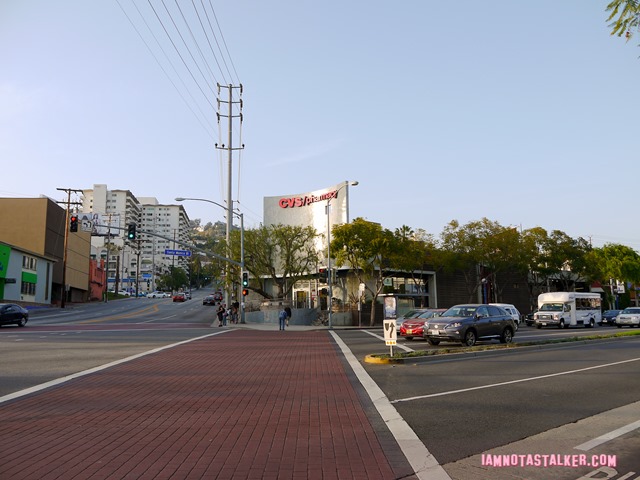 The location has gone through many different incarnations during its lifetime, each of them quite unique and notable.  It was originally constructed in 1940 as a 22-lane bowling alley named La Cienega Lanes, which you can see a photograph of here.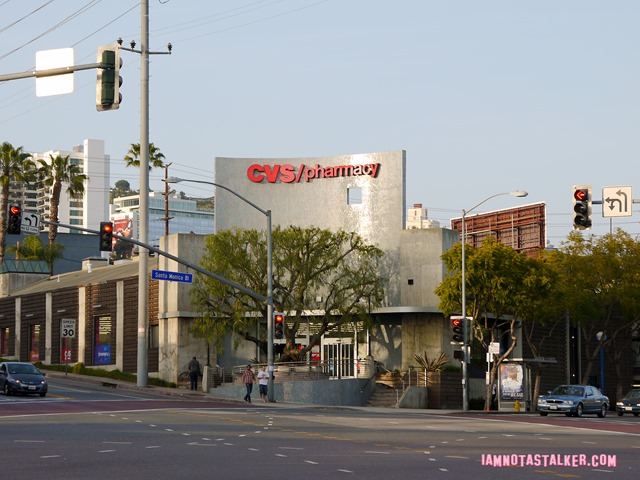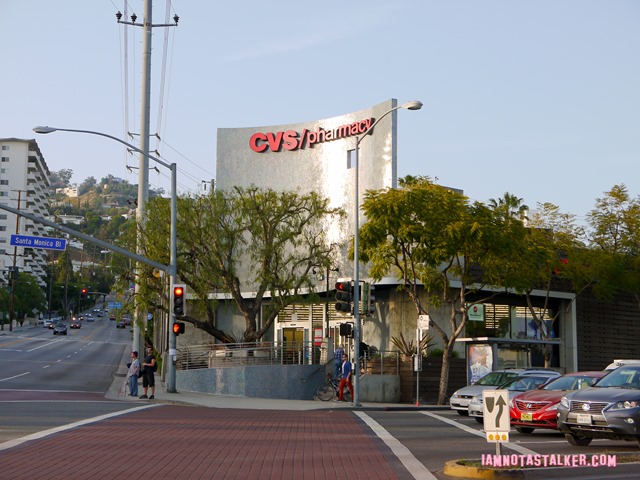 La Cienega Lanes, which was owned at one point by Art Linkletter, was featured numerous times in the 1956 thriller Man in the Vault, as the hangout of locksmith Tommy Dancer (William Campbell).  Both the exterior . . .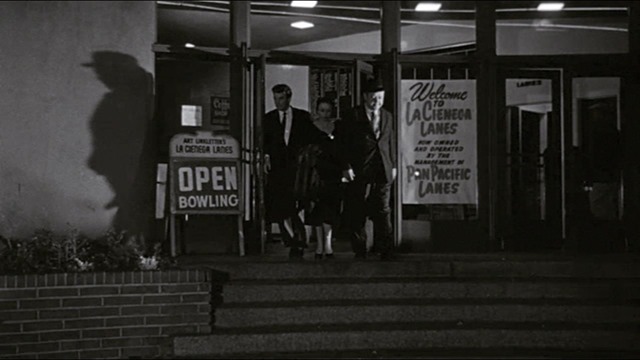 . . . and the interior of the alley appeared in the movie.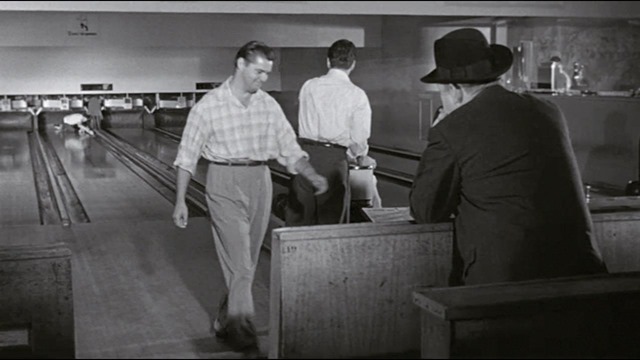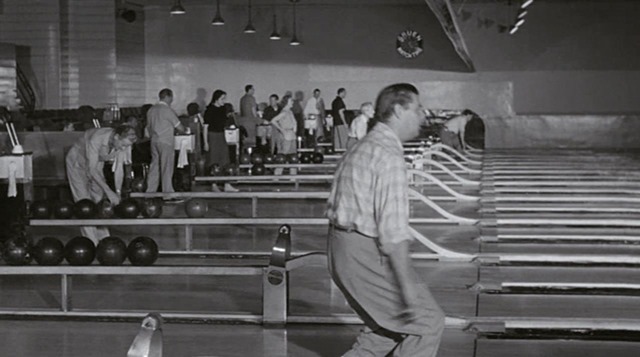 La Cienega Lanes closed sometime in the late 1970s.  In July 1979, music producer Denny Cordell opened a private, members-only "roller boogie palace" named Flippers at the site.  The exclusive club, which had a cap of 1,000 members who paid $200 annually plus a $7 entrance fee for each visit, boasted a bar, a restaurant, a custom skate shop, and a skating floor made of polyurethane.   You can check out a photograph of the exterior of the rink in all of its bright blue and purple glory here.  By February 1980, the tropical-themed club ceased being a members-only institution and was opened to the public.  It also became a popular concert venue at that time, with such legends as The Go-Go's, John Cougar, The Ramones, and Prince on the line-up.  The band Cerrone even featured the exterior of the rink on the cover of their 1984 album Club Underworld.  Flippers was also a major celebrity hot spot and in its heyday such stars as Cher (who was rumored to be part-owner of the place), Olivia Newton-John, Cheryl Ladd, Loni Anderson, Robin Williams, Jane Fonda, Aretha Franklin, Jacqueline Bisset, Patrick Swayze, and Kareem Abdul-Jabbar all got their skate on there.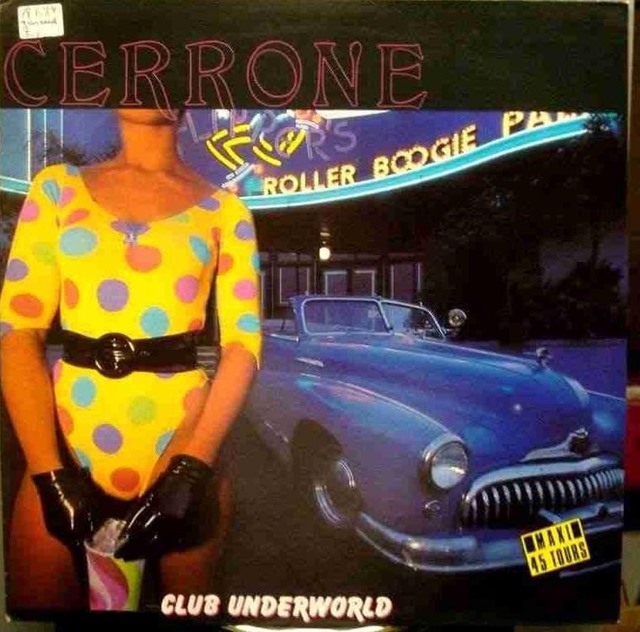 Flippers has a bit of a filming history, as well.  The club was featured in the Season 4 episode of Charlie's Angels titled "Angels on Skates", in which the Angels – Kelly Garrett (Jaclyn Smith), Kris Munroe (Cheryl Ladd), and Tiffany Welles (Shelley Hack) – investigated the kidnapping of a young skater named Rita Morgan (Lory Walsh).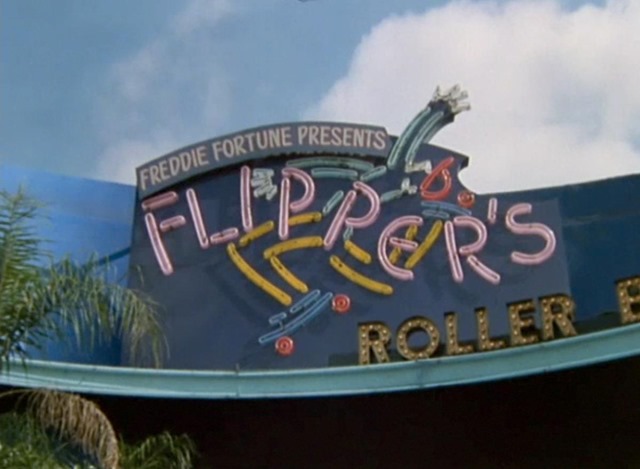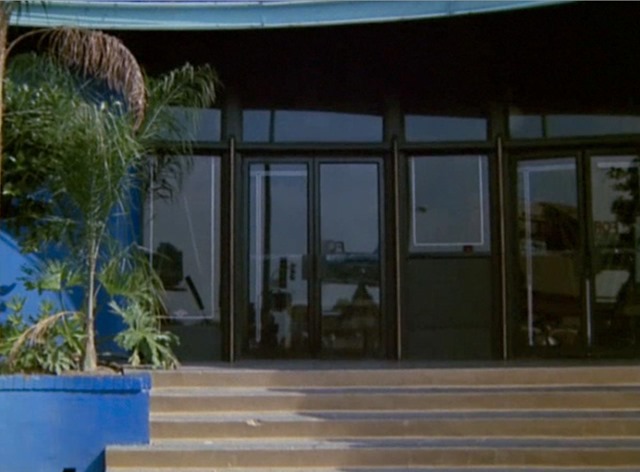 The interior of the roller disco was also used in the episode.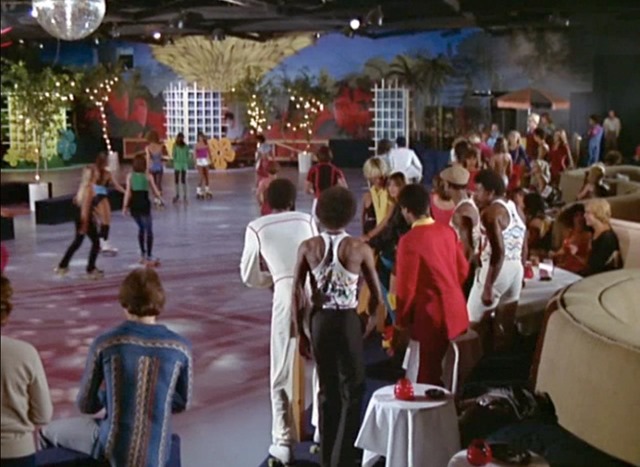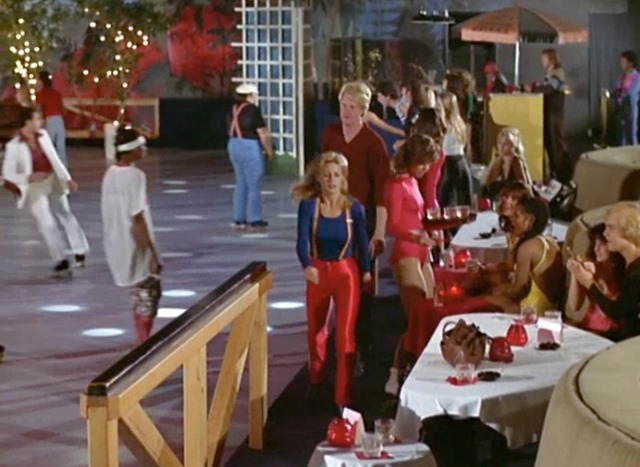 Fellow stalker Mike, from MovieShotsLA, let me know that Flippers was also featured in the Season 3 episodes of CHiPs titled "Roller Disco: Part 1" and "Roller Disco: Part II".  Unfortunately, Season 3 of CHiPs has not yet been released on DVD, nor is it available for streaming on iTunes, Amazon, or Netflix, but I was able to make the grabs below thanks to the Melissa Sue Anderson Fan website.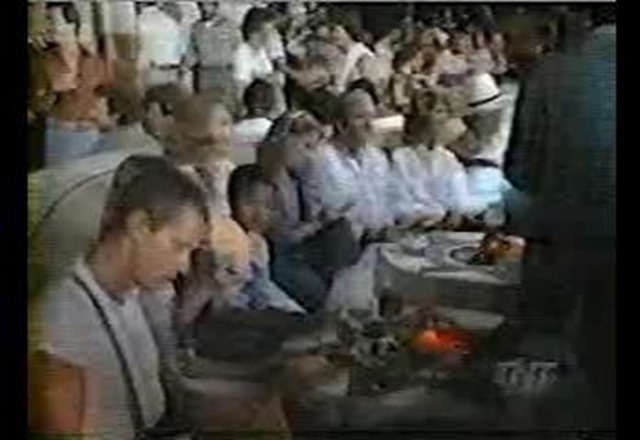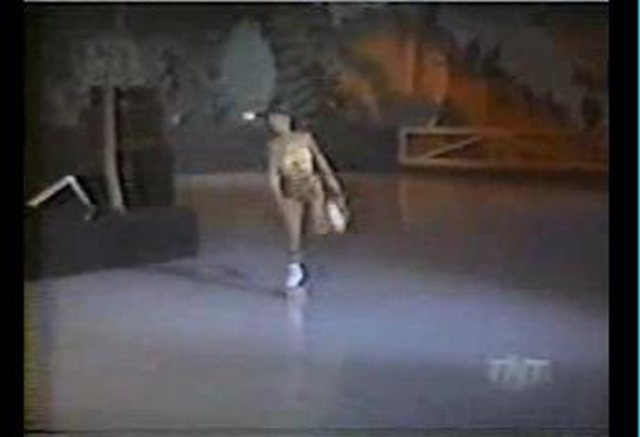 According to both Wikipedia and IMDB, the roller disco set from Skatetown, U.S.A. (which was built inside of the Hollywood Palladium) was based on the real life interior of Flippers, but I think that information is actually incorrect.  Flippers opened its doors in July 1979 and Skatetown was released just a mere three months later, in October 1979.  Being that movies typically take at least eight months to edit, even if they had done a rush job on the flick, the timing simply does not add up.  Not to mention that the Skatetown set looks nothing at all like Flippers.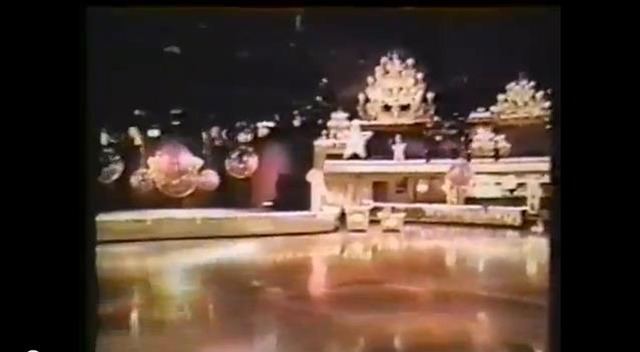 And while a few websites have stated that 1979's Roller Boogie was filmed at Flippers, that information is also incorrect.  The exterior roller rink scenes from the movie were shot at at Moonlight Rollerway in Glendale, which I blogged about back in October 2010.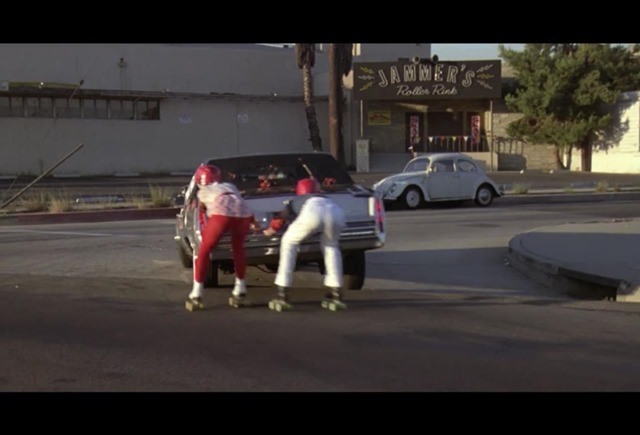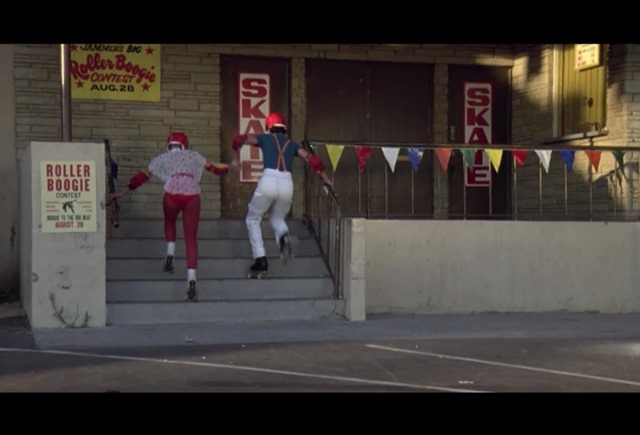 I am unsure of where the interior scenes were filmed, but, as you can see below, it was not Flippers.  According to a poster named "Wanda Pr of Arlington" on Flickr, who was in the movie, the interiors were shot at "an old dance hall on Sunset."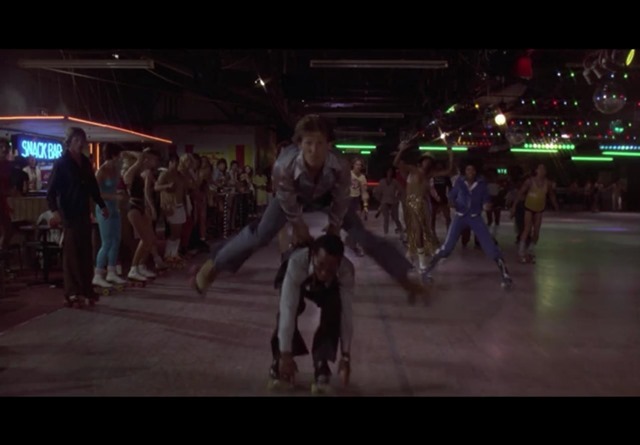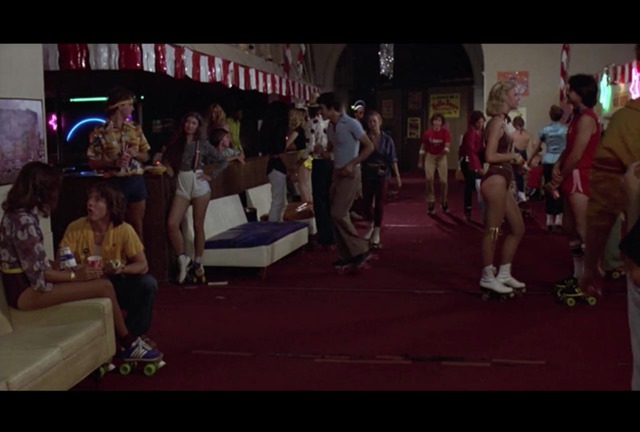 For whatever reason, Flippers did not last long.  In 1983, the space was purchased by Doug and Susie Tompkins, owners of the popular San Francisco-based Esprit de Corp. clothing brand.  The site was to become the company's first freestanding retail store.  The couple quickly began a $15-million, 15-month renovation of the building and hired famed designer Joseph D'Urso to carry it out.  He remodeled both the interior and the exterior of the property and added a three-story, 150-space parking lot (pictured below).  The 32,000-square foot store, which became Esprit's flagship, opened in December 1984.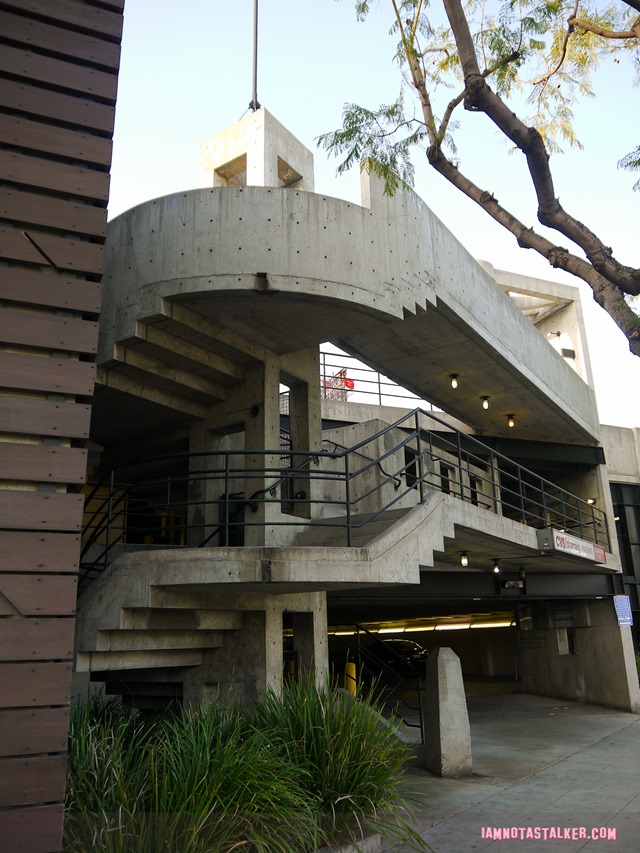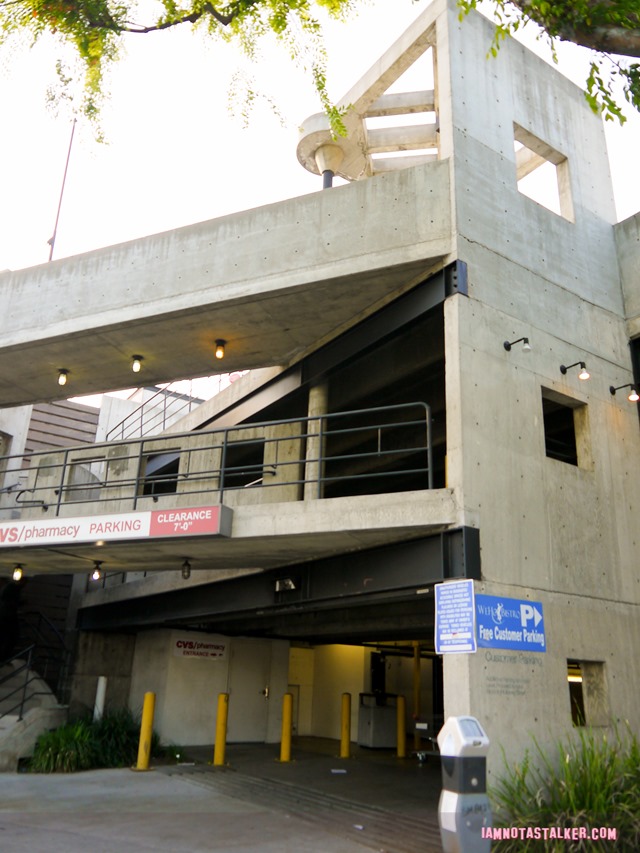 According to a 1985 Milwaukee Journal article, D'Urso designed a swirling ramp at Esprit's entrance to provide handicapped access as well as a "ceremonial route" to the double front doors.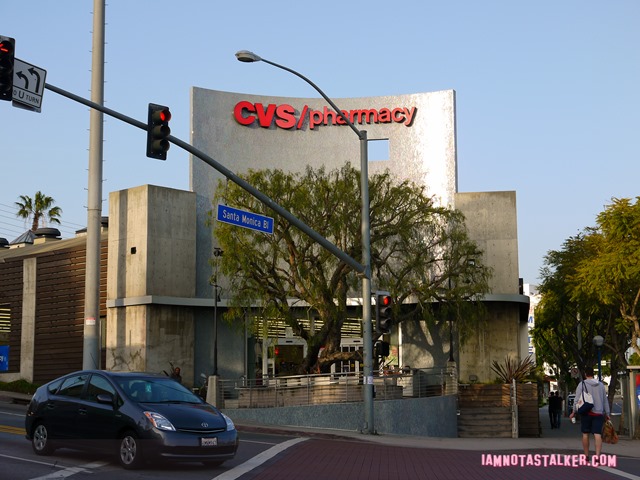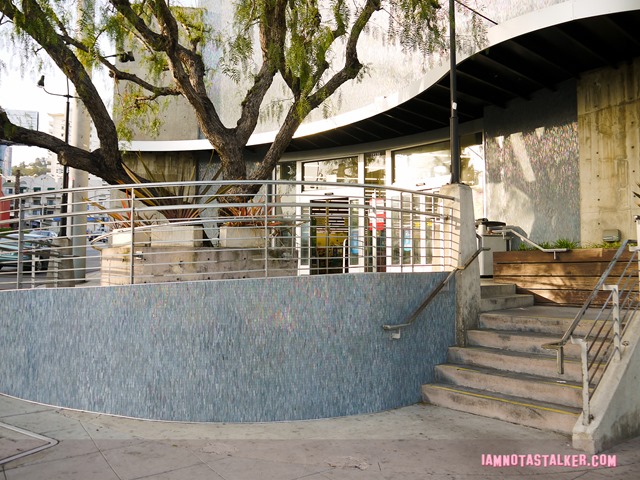 He also designed a small "tree-shaded plaza" in the hopes that "people would feel more protected from the traffic" cruising by on the busy Santa Monica and La Cienega Boulevards.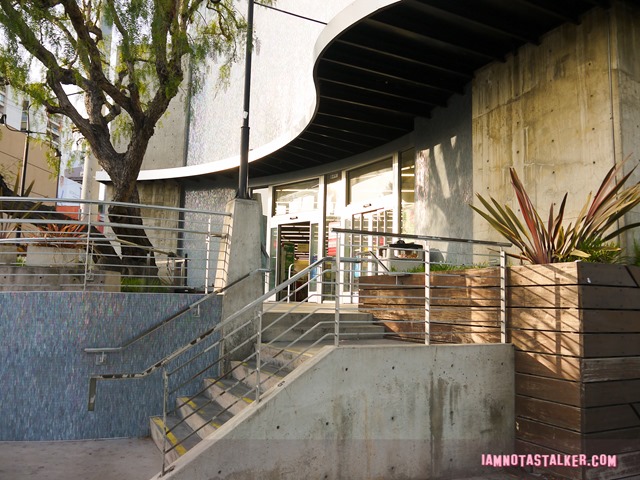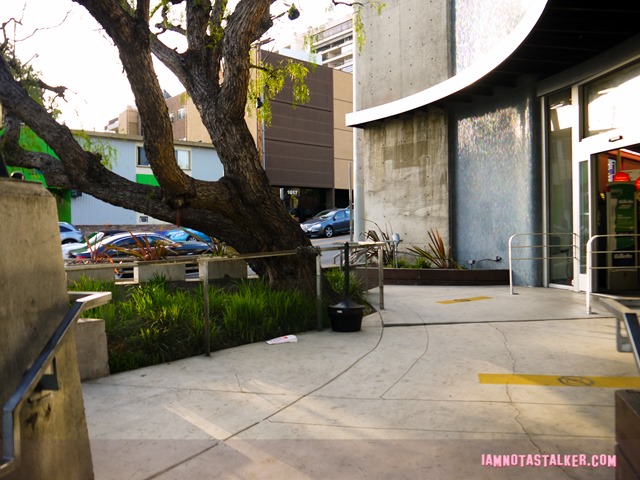 It was during its time as an Esprit store that the building was used in L.A. Story.  The location popped up twice in the movie, first in the scene in which Harris K. Telemacher (Steve Martin) went shopping with his girlfriend, Trudi (Marliu Henner), and wound up meeting SanDeE*, who sold him a pair of white pants.  Only the interior of the store was shown in that scene.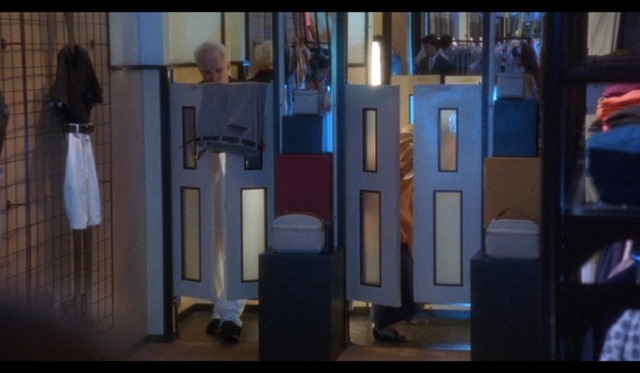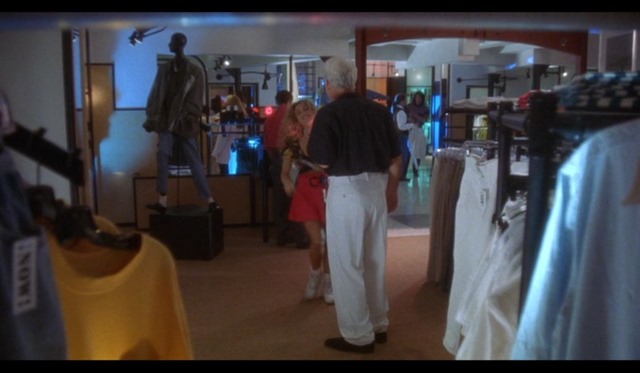 In "The L.A. of L.A. Story", Lawrence Miller stated that the interior, which featured Zolatone walls, metal catwalks, and black waxed cement, was left pretty much as-is for the shoot.  He also said they were "blessed" to such a find such a perfect interior in which to film and that it worked perfectly as "part of the build-up" to Harris and SanDeE* meeting in an environment that "shows how inappropriate she is".  Man, what I wouldn't give to have seen that interior!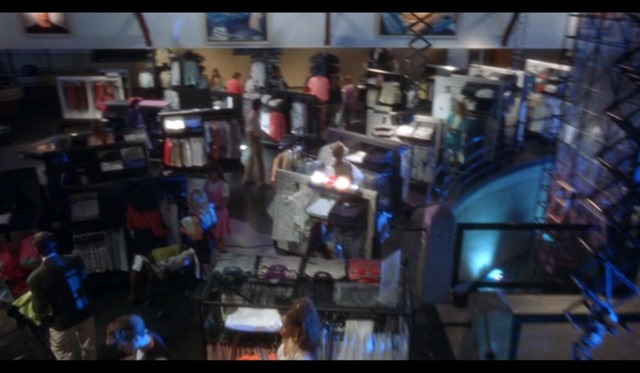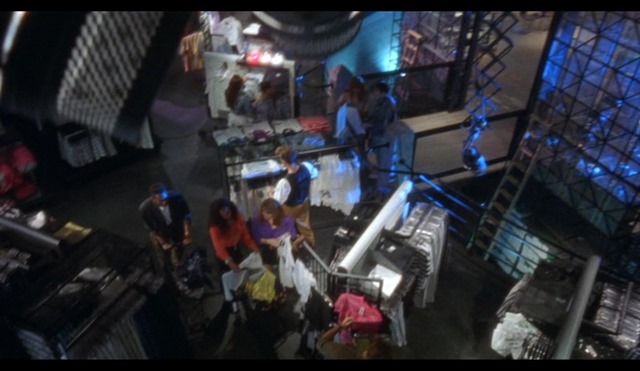 Harris later returns to Now! to pick up his pants, which were being altered, and it is in that scene that the exterior of the building is shown.  As you can see below, aside from a few very minor changes, the site stills looks exactly the same today as it did then!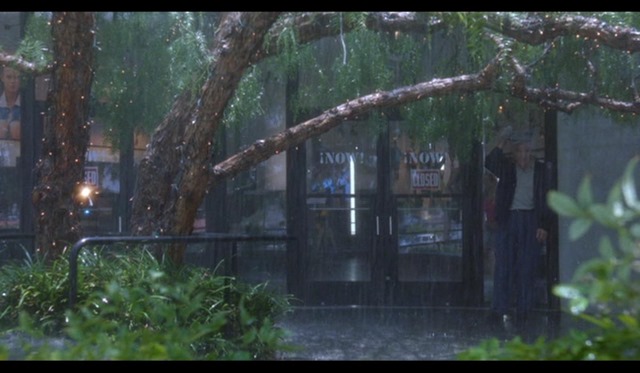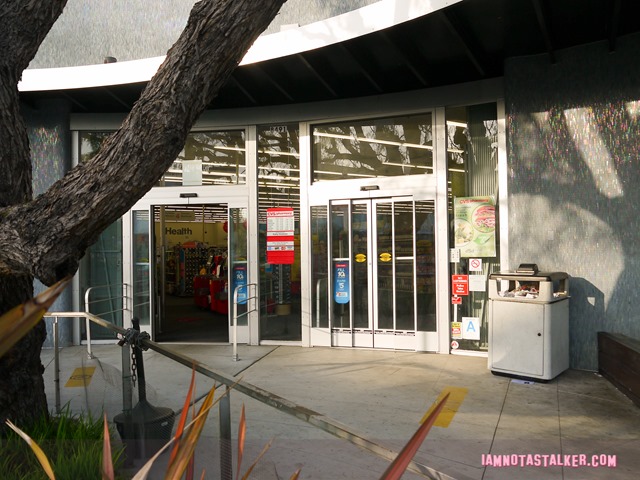 As you can imagine, I could hardly contain myself when I arrived at CVS and saw how much it still looked like Now!  SO INCREDIBLY COOL!  It was all I could do not to start spinning out in front of the store like SJP did in the flick.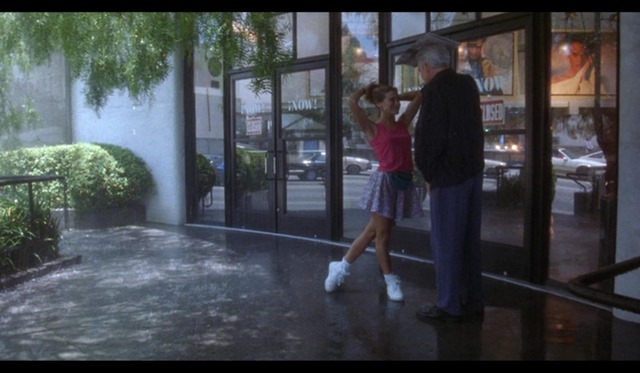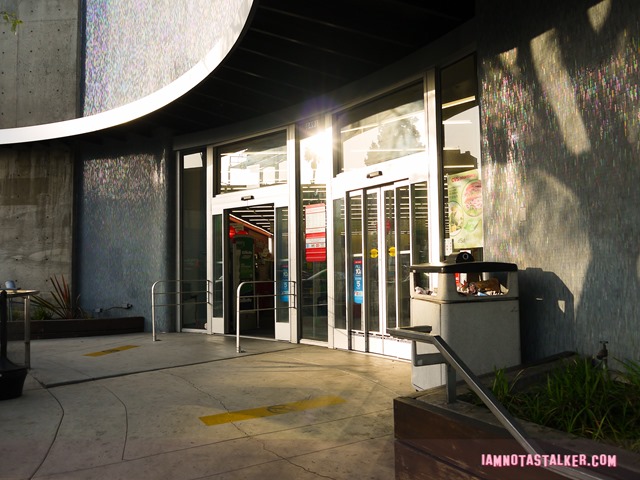 Despite immense popularity among the teen set, Esprit de Corp. suffered a major downfall in the late '80s, due in large part to Doug and Susie's messy divorce, and the flagship store closed its doors in 1994.  The site sat vacant for a decade, despite talks of the city of West Hollywood purchasing it to use as their City Council chambers and a library.  Sometime in 2004 or 2005, the building was turned into a Sav-on.  Thankfully, though, the exterior was left intact for all of us stalkers to appreciate.  And, according to this April 2013 article on the WeHoVille blog, the shadow of the Esprit sign is STILL visible on the side of the building!  I so wish I had known that before stalking the place!  For those who are interested, the shadow is located on the eastern-most side of the parking structure.  You can just barely see it in the Google Street View image below.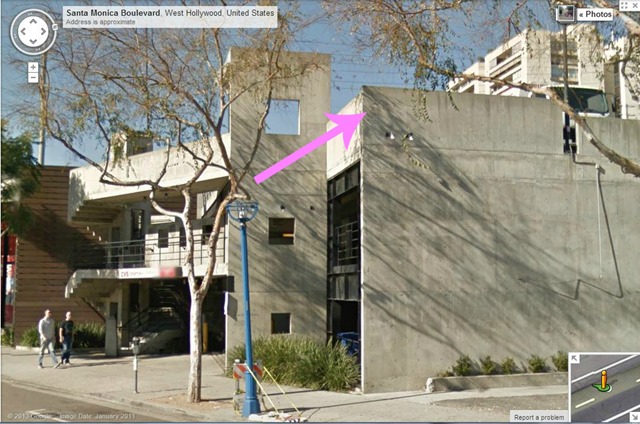 You can find me on Facebook here and on Twitter at @IAMNOTASTALKER.  And be sure to check out my other blog, The Well-Heeled Diabetic.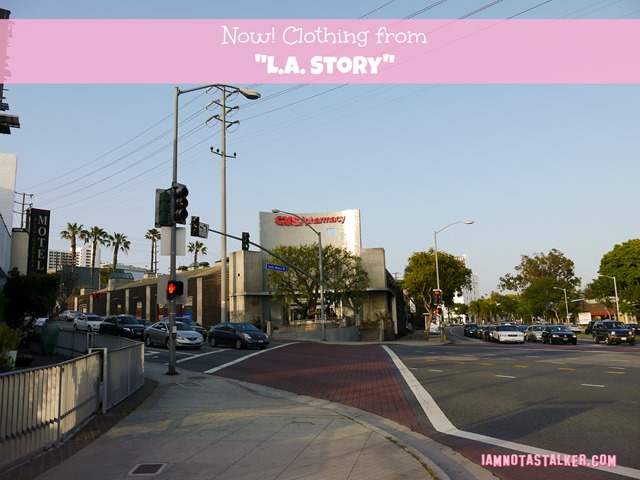 Until next time, Happy Stalking! 

Stalk It: Now! Clothing from L.A. Story, aka CVS pharmacy, is located at 8491 West Santa Monica Boulevard in West Hollywood.
67786