Malibu Hindu Temple from "Beverly Hills Ninja"
Apr 17th, 2013 | By
Lindsay
| Category:
Movie Locations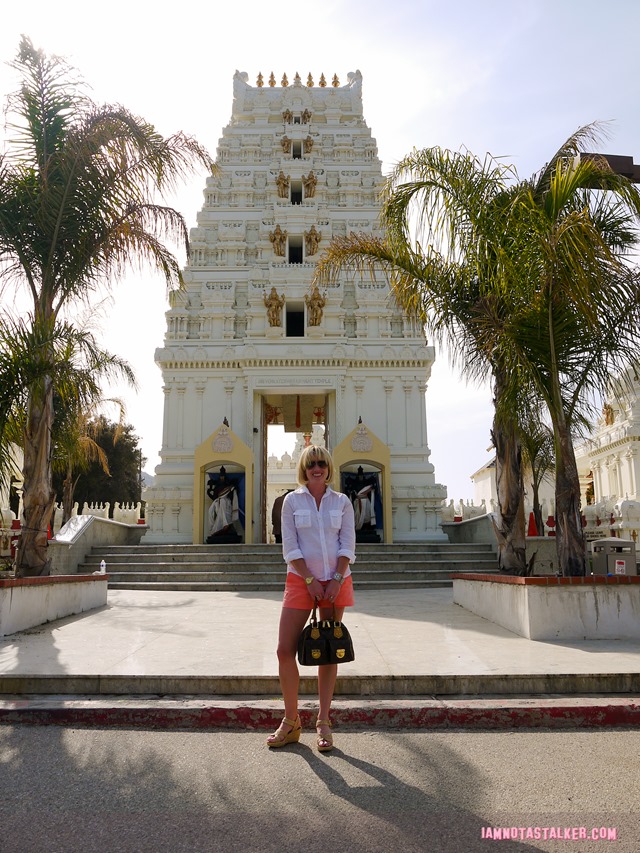 A couple of weeks back, while doing research on the Calabasas-area mansion where the contestants live on the fabulous Bachelor parody series Burning Love (which I blogged about here), I came across a blurb in fave book Los Angeles Attractions detailing the Malibu Hindu Temple.  I had never before heard of the place, but my interest was immediately piqued when I read the words, "It was the setting for scenes in Beverly Hills Ninja."  Um, sign me up!  So I immediately added the site to my To-Stalk list and headed right on over there with Mike, from MovieShotsLA, while I was in L.A. for a couple of days last week.
As we pulled up to the temple, which sits on 4.5 acres nestled in the Santa Monica Mountains, my first thought was, 'How in the heck had I not known about this place until just recently?'  As you can see below, not only is it absolutely HUGE, but it is also quite spectacular.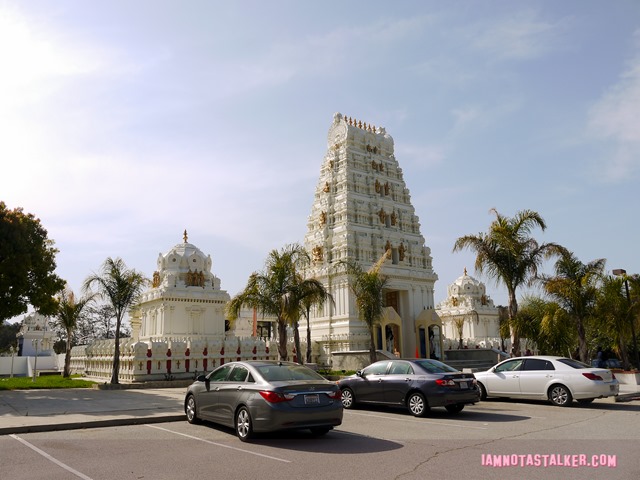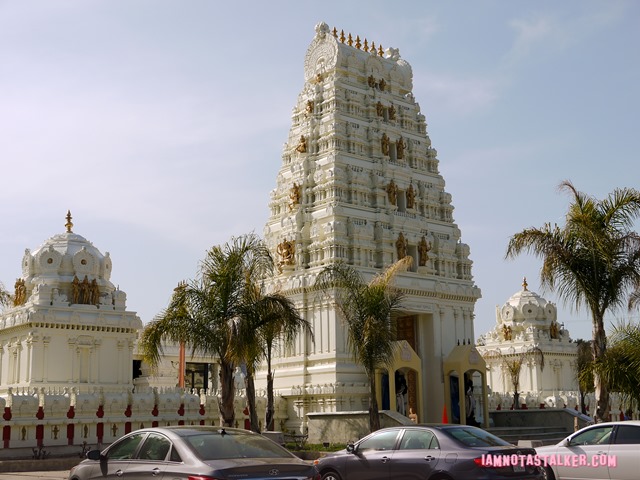 The sanctuary, which is also known as the Sri Venkateswara Temple, was originally constructed in the Chola style by Indian craftsman in 1981 and is owned and operated by the Hindu Temple Society of Southern California.  According to Los Angeles Attractions, it is the largest Hindu temple on the West Coast, with 120,000 worshipers visiting annually.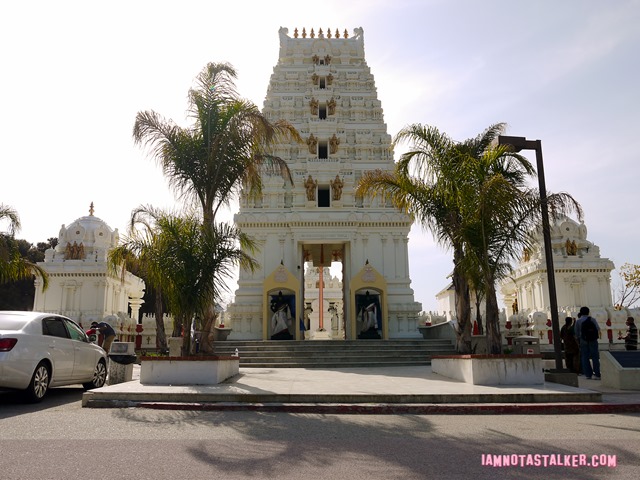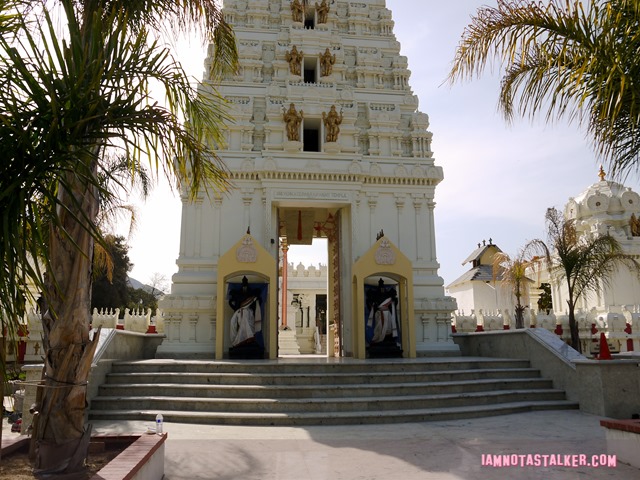 The temple complex consists of two sections – the upper (and main) portion (pictured below), which is presided over by Lord Venkateswara . . .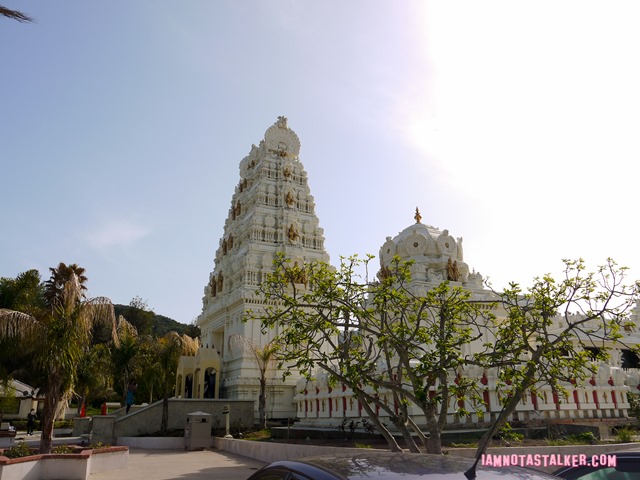 . .  and the lower portion (pictured below), which is presided over by Lord Shiva.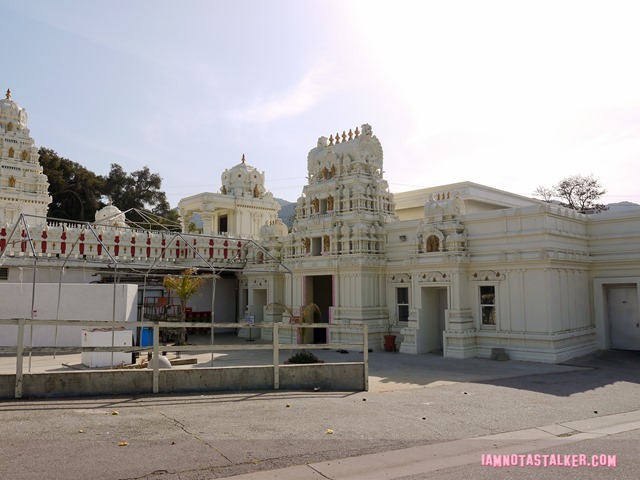 Amazingly enough, for being such an impressive structure, I could find virtually no information about the place online, other than the fact that Britney Spears attended services there in 2006 with son Sean Preston.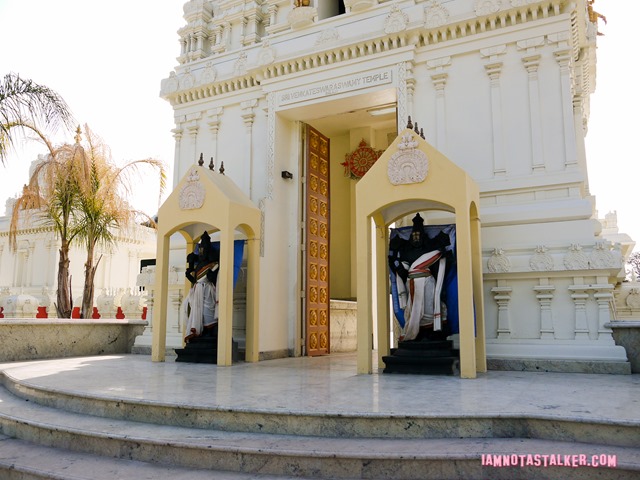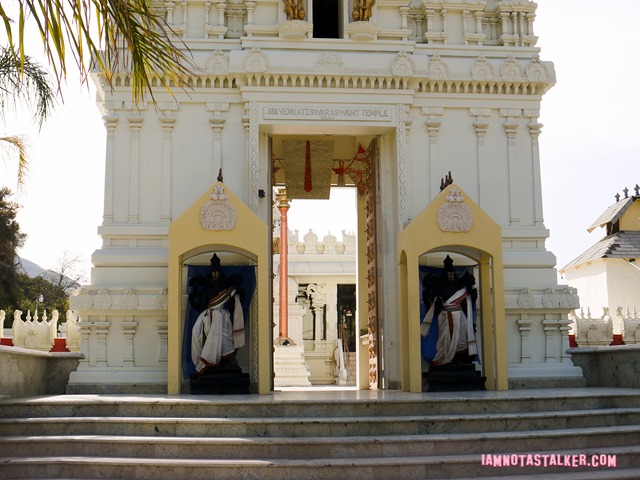 While there, I did, of course, venture into the temple, even though I had to remove my shoes to do so – and immediately started having visions of the Season 6 episode of Sex and the City titled "A Woman's Right to Shoes" (one of my all-time favorites!), in which Carrie Bradshaw's (my girl Sarah Jessica Parker's) Manolo Blahniks were stolen after she was forced to doff them while attending a party.  Before heading inside, I did vow to "register" for a new pair of wedges, like Carrie did in the episode, if mine were stolen. 

  They weren't, thankfully.  (Speaking of Sarah Jessica Parker and shoes, the actress will be auctioning off three pairs of hers to benefit the LaGuardia High School of Music, Art and the Performing Arts on April 24.  You can bid here.)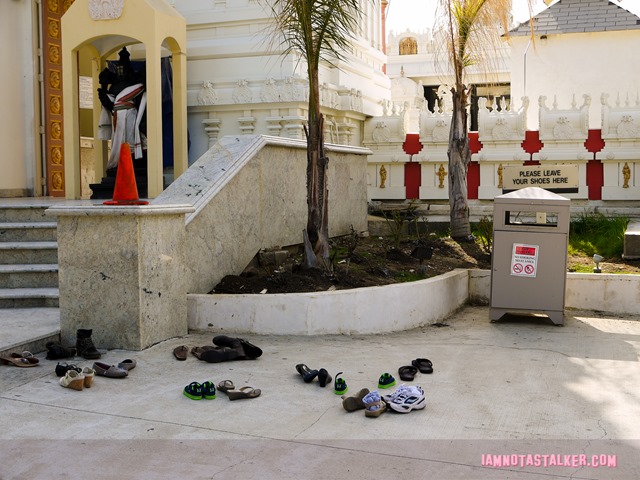 The temple is quite beautiful on the inside, as well.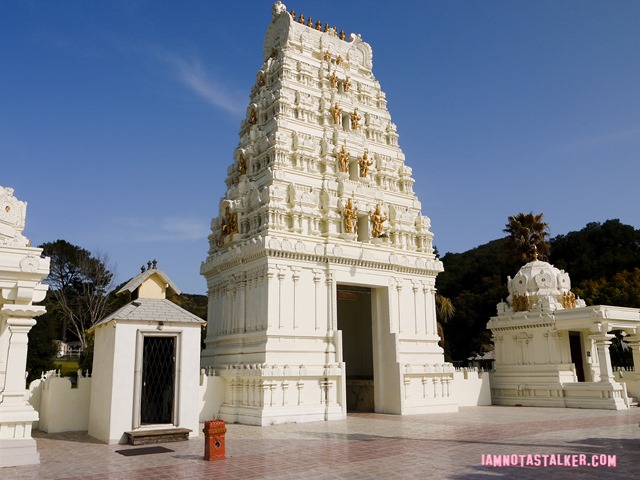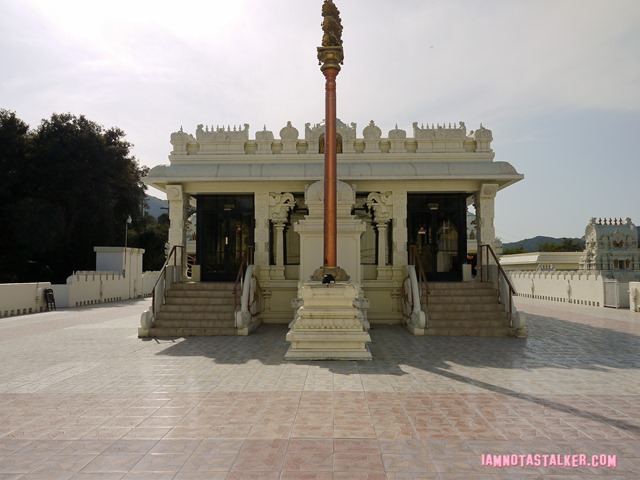 In Beverly Hills Ninja, which premiered in 1997, Malibu Hindu Temple was where Martin Tanley (Nathaniel Parker) met with a rival gang in order to pick up counterfeiting plates, shortly after capturing Haru (Chris Farley).  While at the temple, Allison Page (Nicollette Sheridan) rescues Haru, but winds up being captured by Martin herself just a few minutes later.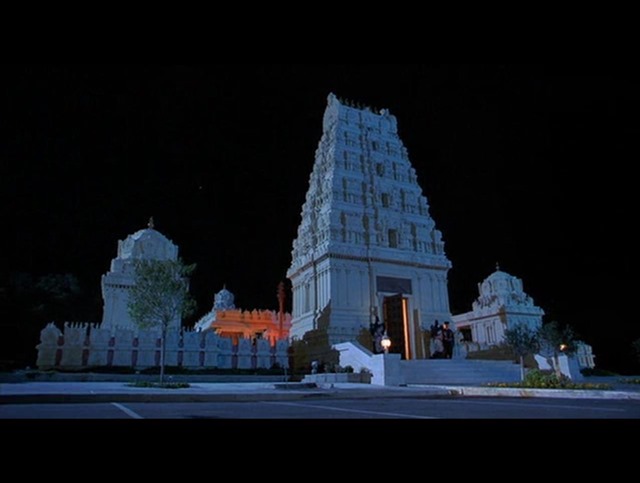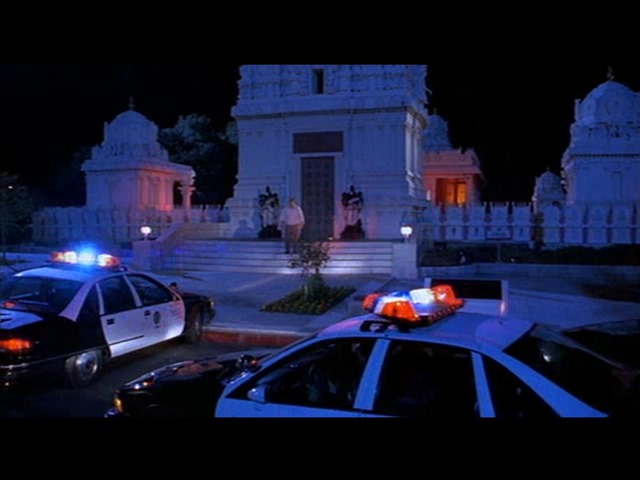 The interior portion of the temple also appeared in the movie.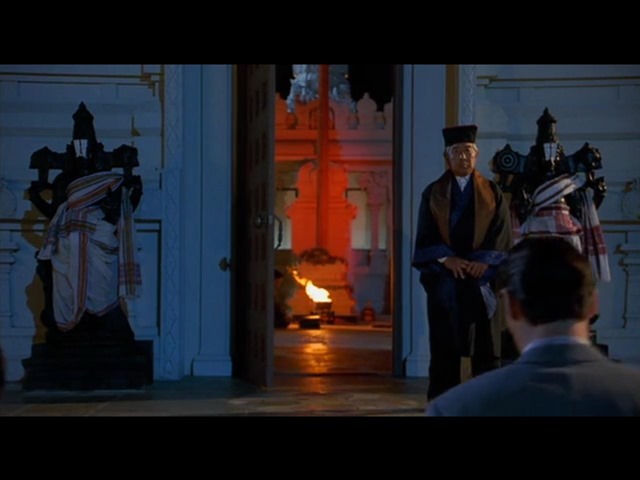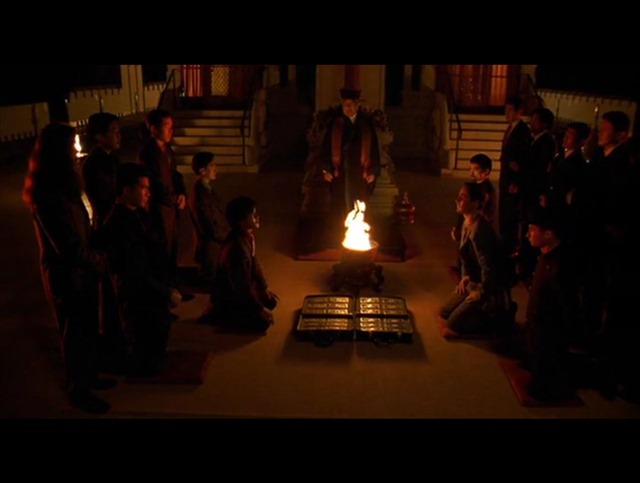 In 1998, the temple was featured during a musical sequence in the Indian Tamil move Jeans.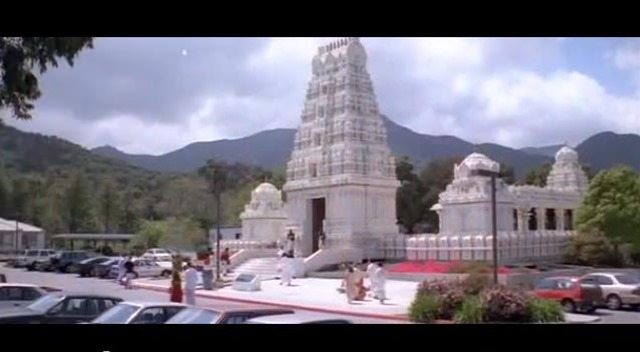 Malibu Hindu Temple also popped up in Fog & Smog's 2001 parody music video "Yoga Girl".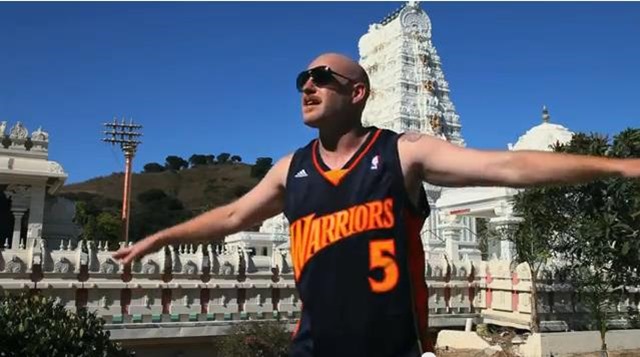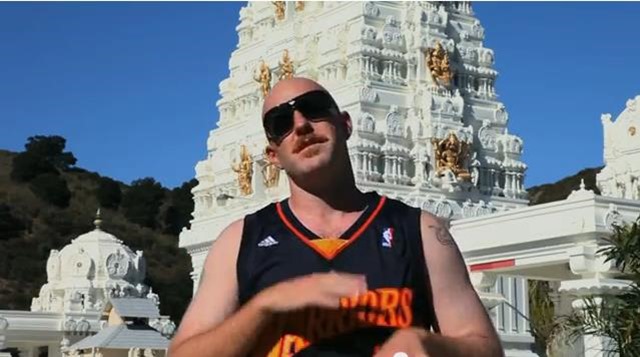 You can watch that video by clicking below.
You can find me on Facebook here and on Twitter at @IAMNOTASTALKER.  And be sure to check out my other blog, The Well-Heeled Diabetic.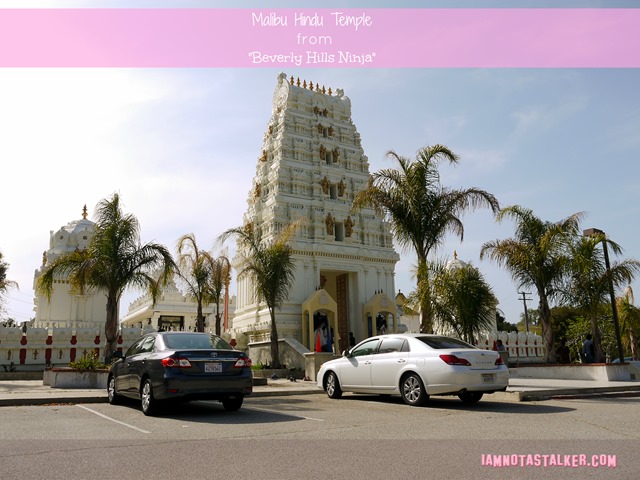 Until next time, Happy Stalking! 

Stalk It: Malibu Hindu Temple, from Beverly Hills Ninja, is located at 1600 Las Virgenes Canyon Road in Calabasas.  You can visit the temple's official website here.
68091