Trudi's Apartment Building from "L.A. Story"
May 15th, 2013 | By
Lindsay
| Category:
Movie Locations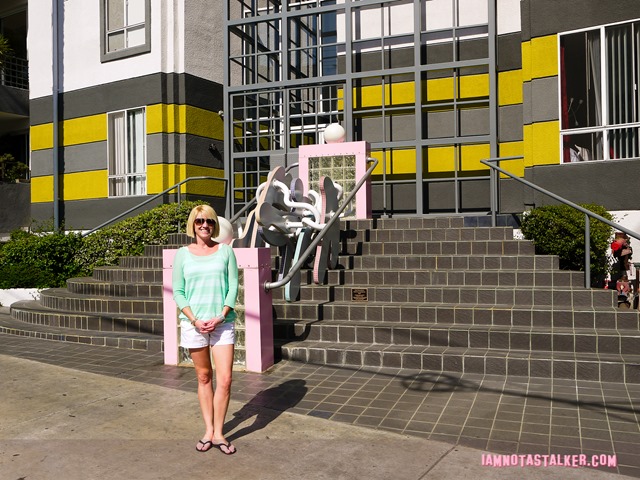 Last month, when I published my post on the location of the iconic talking freeway sign from L.A. Story, a friend named David, whom I met in an acting class years ago, sent me a Facebook message letting me know that the unique, modern-style apartment building where Trudi (Marilu Henner) lived in the flick was located at 884 Palm Avenue in West Hollywood.  David also informed me that the building still looked pretty much exactly the same as it did 22 years ago when filming took place, which, of course, had me salivating.  So I ran right out to stalk it shortly after visiting the house belonging to Harris K. Telemacher (Steve Martin) in the 1991 comedy, which I blogged about yesterday.
Amazingly enough, despite the building's unique look, I could find virtually no information whatsoever about its history online.  The only fact that I was able to glean – thanks to views of the property on the Historic Aerials website – was that it was constructed sometime between the years 1980 and 1987.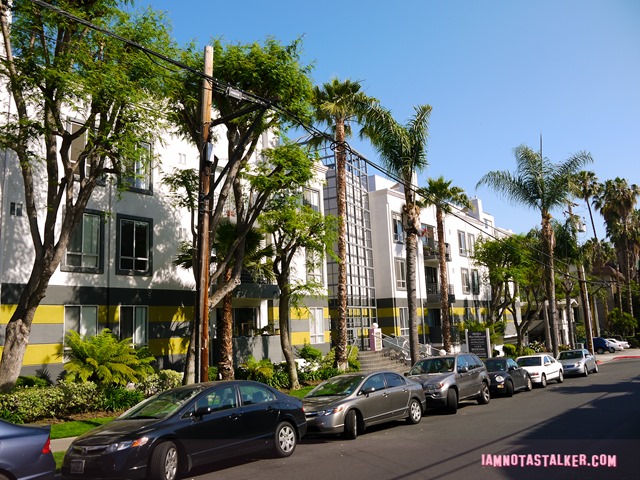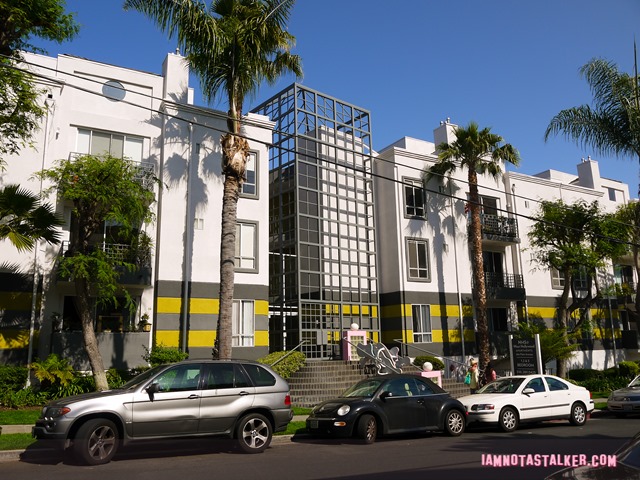 When L.A. Story was filmed in 1991, the site was known as the Palm Square Apartments.  The 29-unit, upscale building, which is currently named NMS Apartments @ West Hollywood, features a pool, a Jacuzzi, an executive gym, and gourmet kitchens and hardwood flooring in each suite.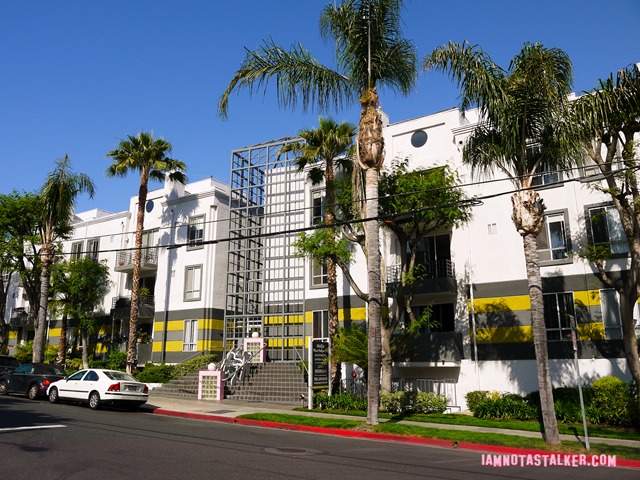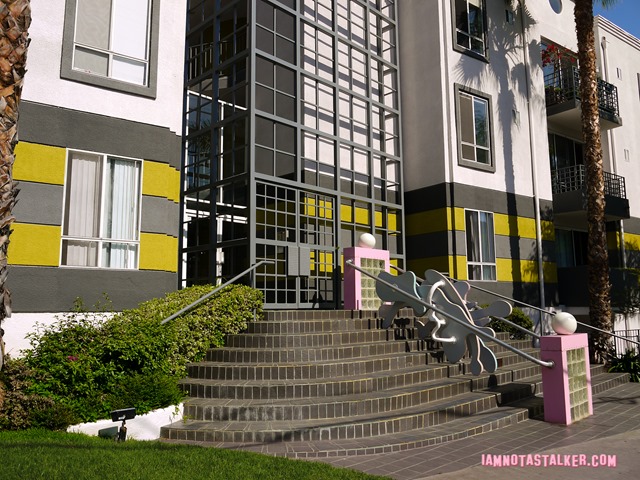 The building is most well-known for the unusual artwork located at its entrance.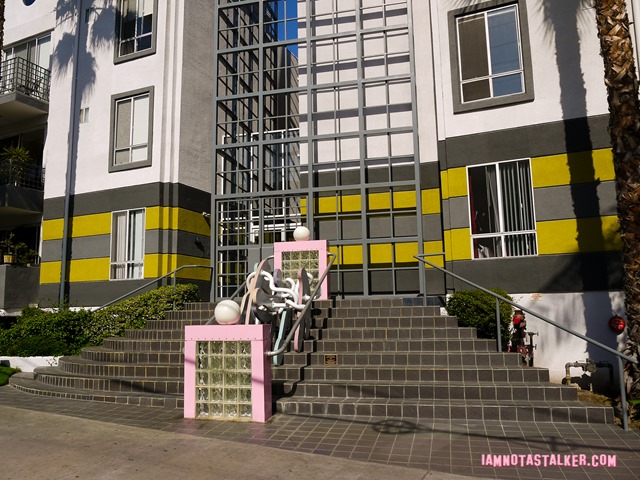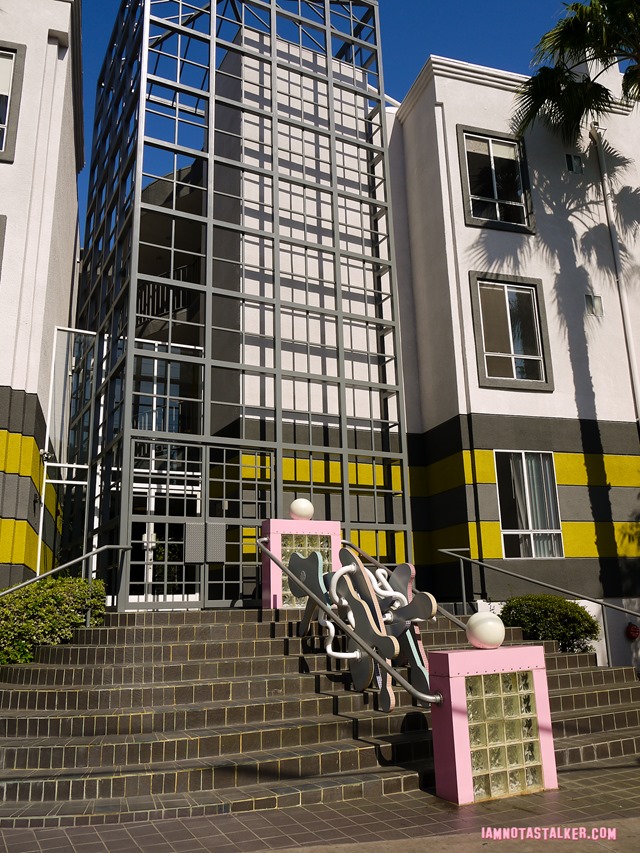 The piece, which is named "Stairway Sculpture", was created by artist Paul Betouliere in 1987 as part of the West Hollywood Urban Arts Collection.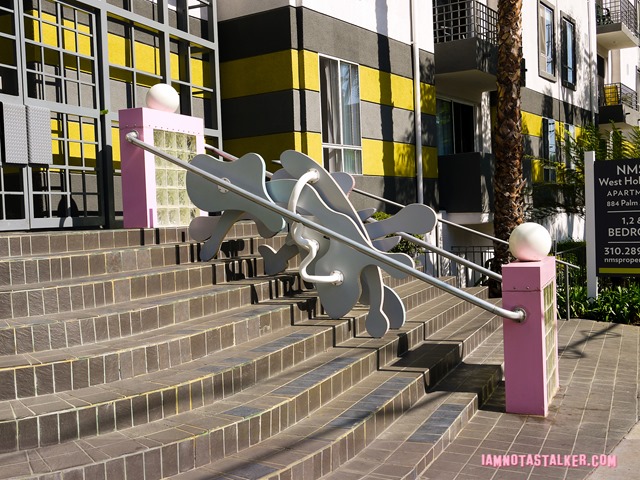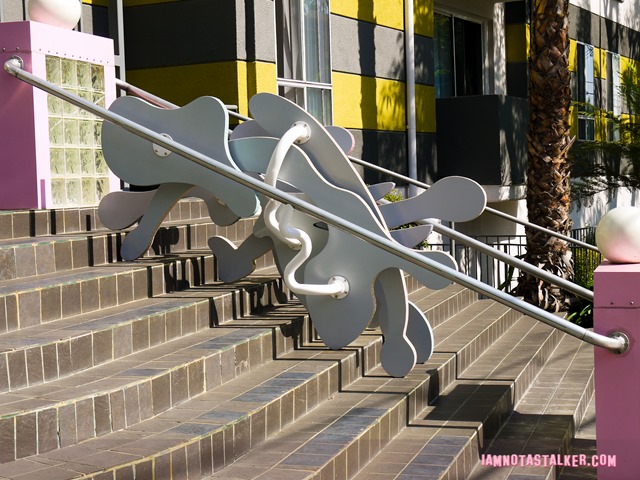 NMS Apartments @ West Hollywood popped up twice in L.A. Story – first in the scene in which Harris not-so-patiently waits for Trudi to finish her "abstract busyness", including putting on "thirty-minute lips", before heading to a brunch.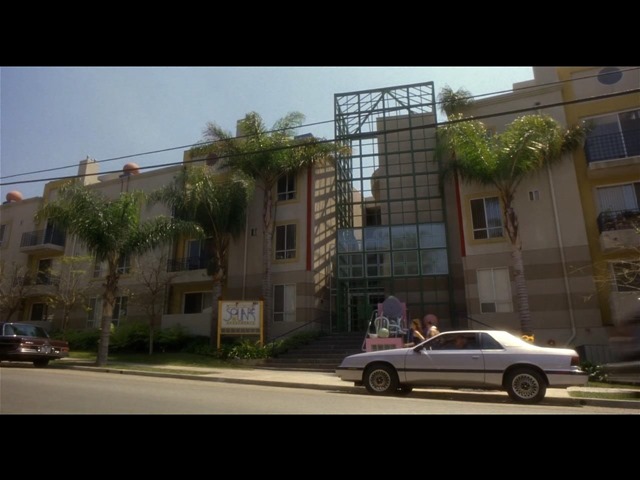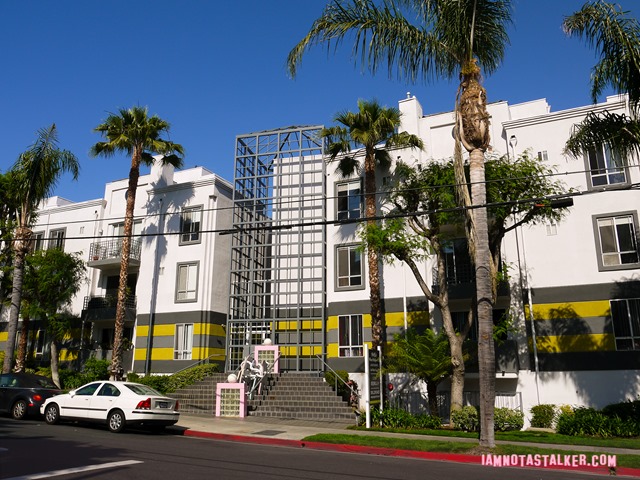 The Stair Sculpture was shown prominently in that scene.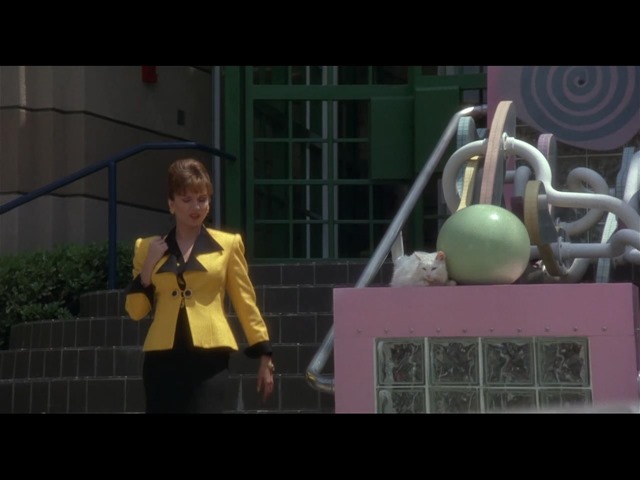 NMS Apartments @ West Hollywood next appears in the scene in which Trudi informs Harris about the three-year affair she has been having with his agent, Frank Swan (Kevin Pollak).  After breaking up with her over her indiscretions, an elated Harris dances down the front steps of the building.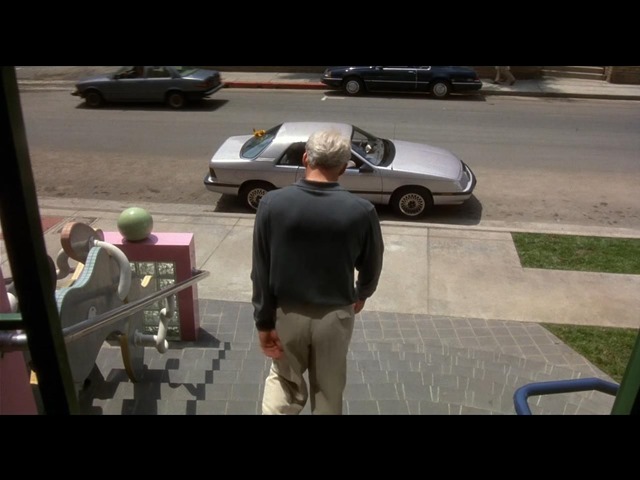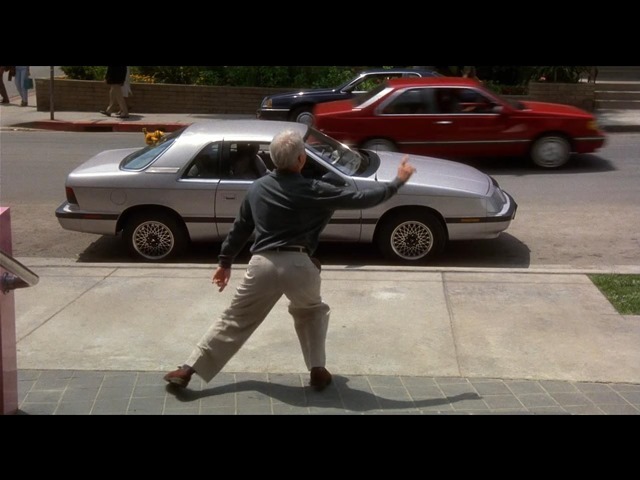 So I, of course, just had to imitate him while I was there.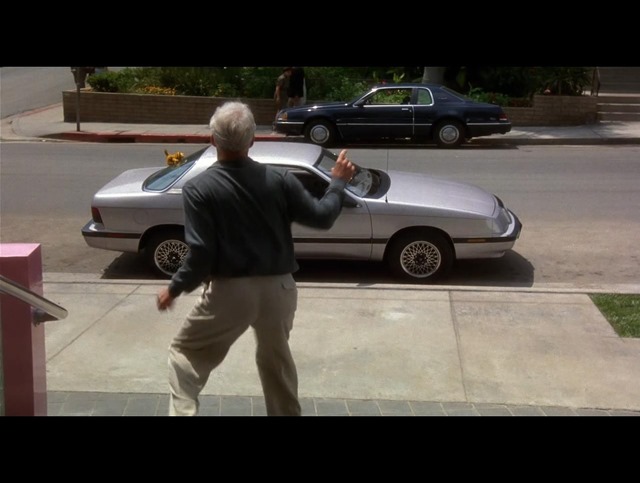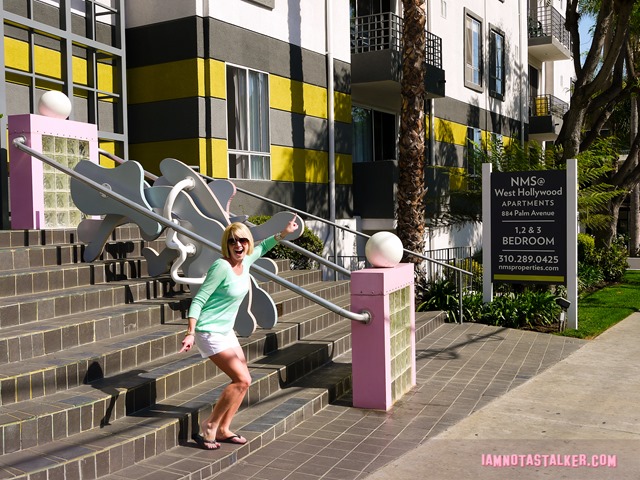 Thanks to a real estate listing that I found on Zillow, I can confirm that the actual interior of one of the NMS units was used as the interior of Trudi's apartment in L.A. Story.  As you can see below, the setup of the kitchen in the listing matches up to what appeared onscreen.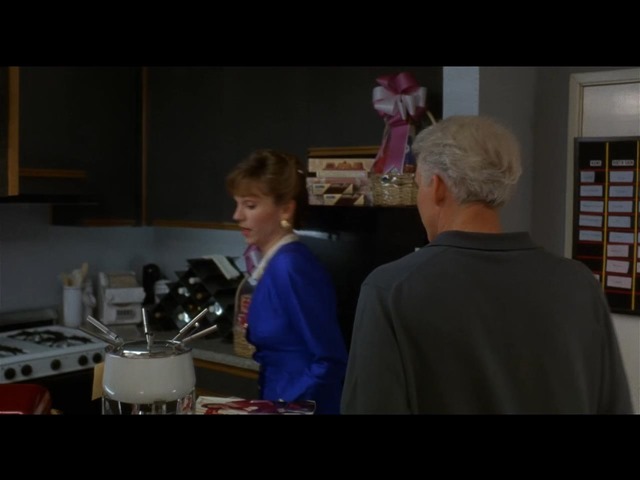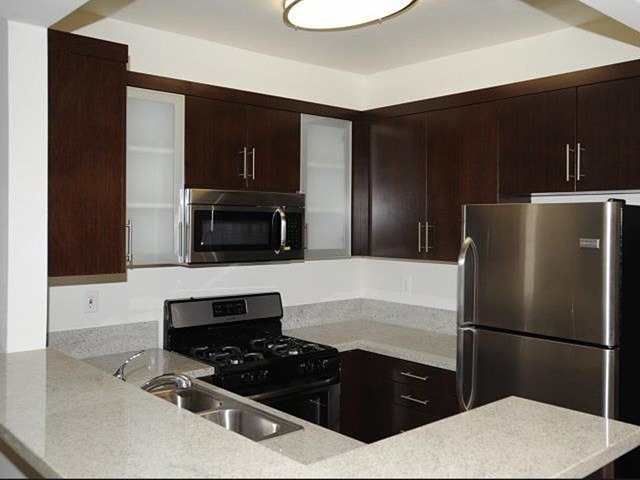 As does the curving staircase.  Even the railing is still the same – albeit a different color, thank God!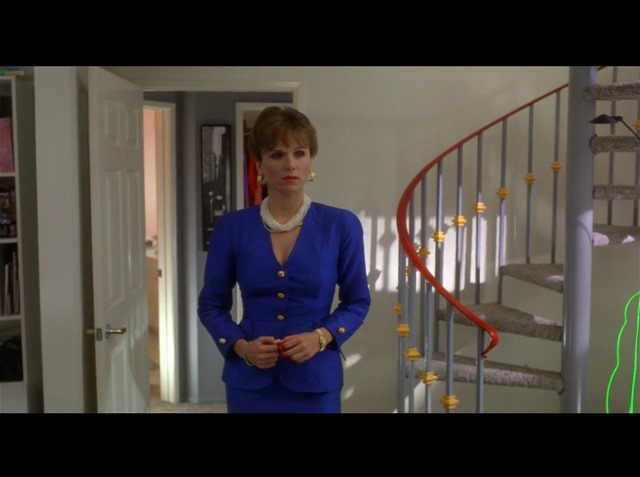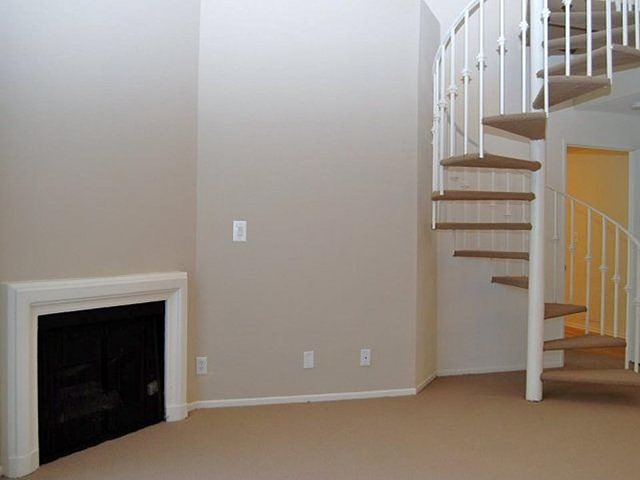 You can find me on Facebook here and on Twitter at @IAMNOTASTALKER.  And be sure to check out my other blog, The Well-Heeled Diabetic.
Big THANK YOU to David for telling me about this location!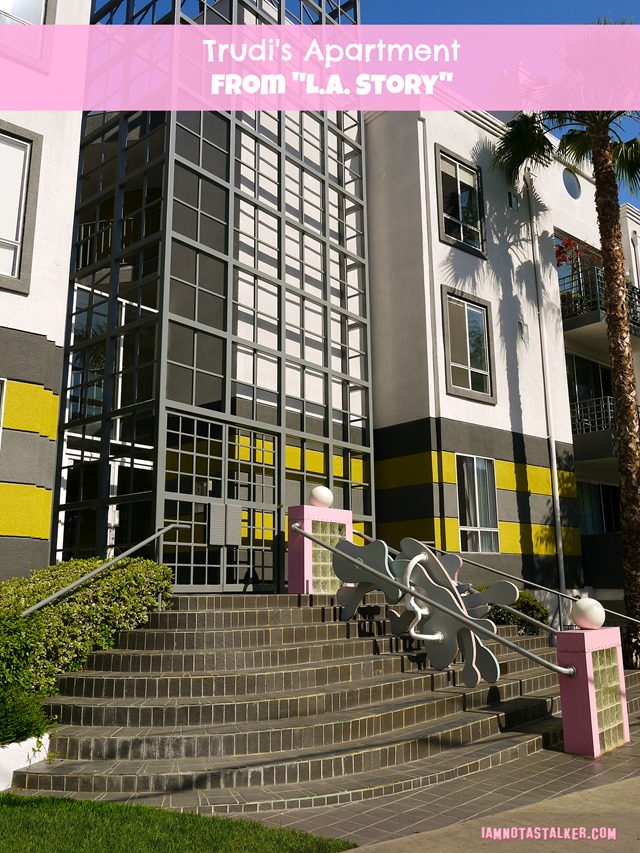 Until next time, Happy Stalking! 

Stalk It: Trudi's apartment building from L.A. Story is located at 884 Palm Avenue in West Hollywood.
69391