The Site of Ariel's House from "L.A. Story"
Jul 3rd, 2013 | By
Lindsay
| Category:
Movie Locations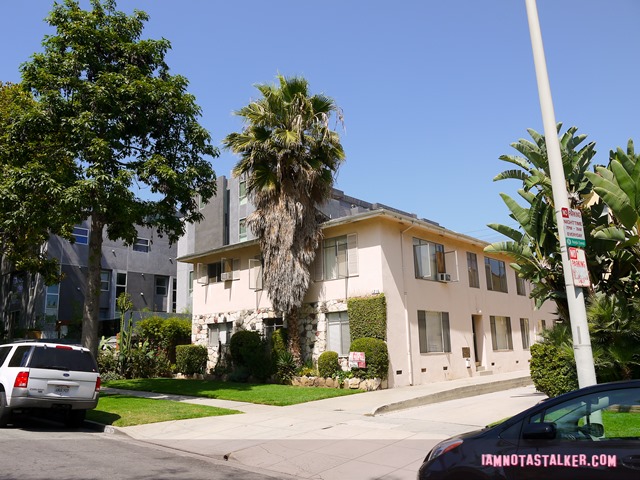 One L.A. Story location that I tracked down and stalked months ago, but has since become a bit of a conundrum to me, is the apartment building – or house – where Ariel (Susan Forristal), the best friend of wacky weatherman Harris K. Telemacher (Steve Martin), lived.  Finding the locale was pretty much a no-brainer (or so I thought), being that it is a running gag throughout the movie that Harris drives to Ariel's place whenever he wants to visit her, despite the fact that his home (which I blogged about here) is located just a couple of doors away.
In the movie, the exterior of Ariel's dwelling is never actually shown.  All that is shown is Harris leaving his house, walking to his car  . . .
. . . and then driving about 25 feet before parking in front of an apartment building with an odd lattice façade, which I assumed was where Ariel lived.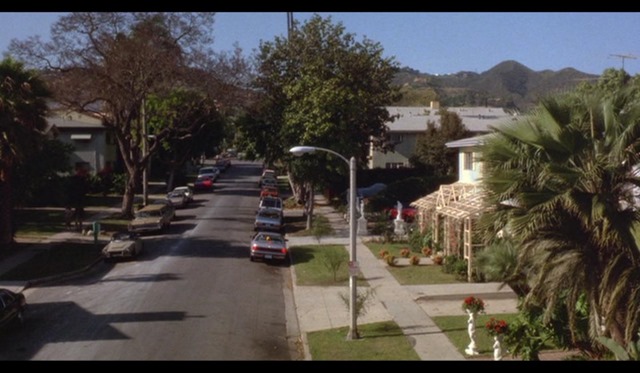 So while in L.A. this past May, I stalked that apartment building.  In real life, the place does not have a lattice façade and I do not believe that it ever actually did.  I am fairly certain that the façade, along with the numerous statuaries posted along the street, were added solely for the filming.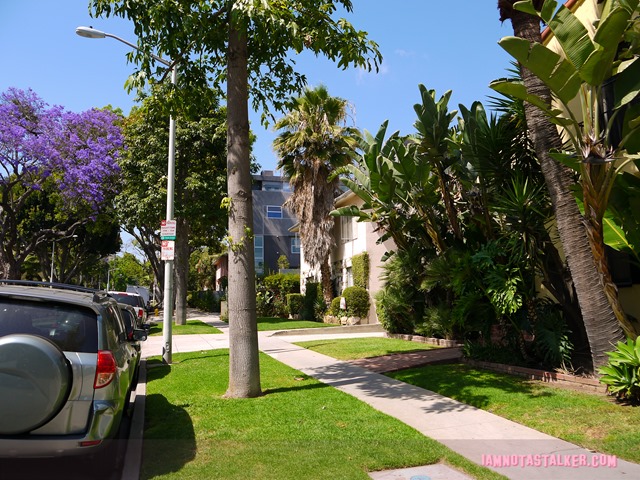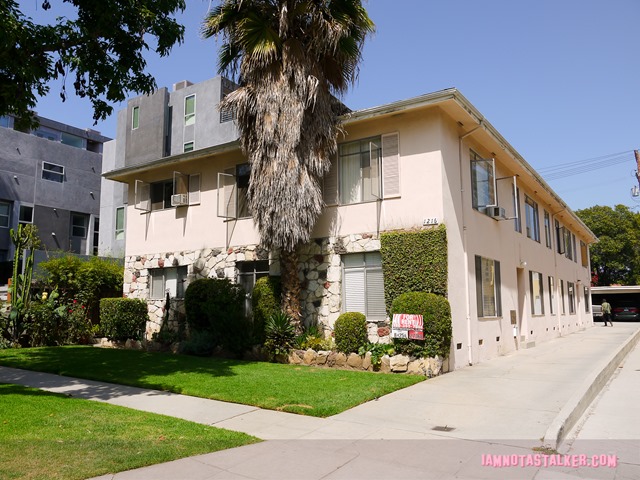 When I got home a few days later and re-watched the scenes that took place at Ariel's house, though, I began to have doubts about the location that I stalked.  As you can see below, the interior of Ariel's residence does not look like an apartment at all, but more like the interior of a typical L.A-style bungalow.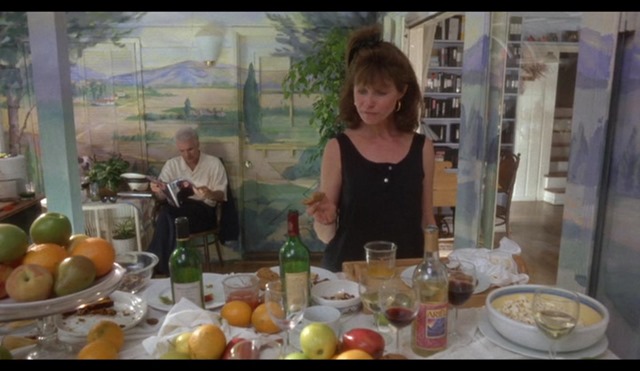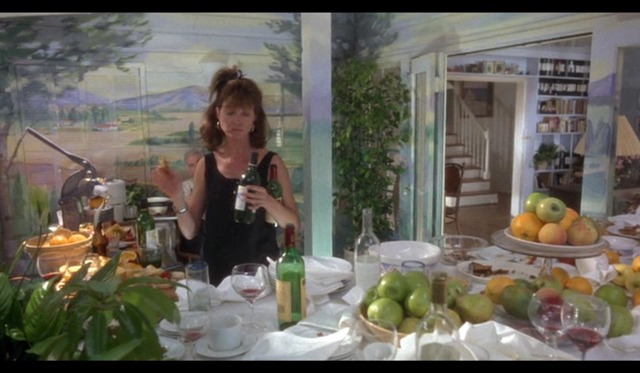 Her pad even appears to have some sort of covered porch – a feature that most definitely would not be found in an apartment.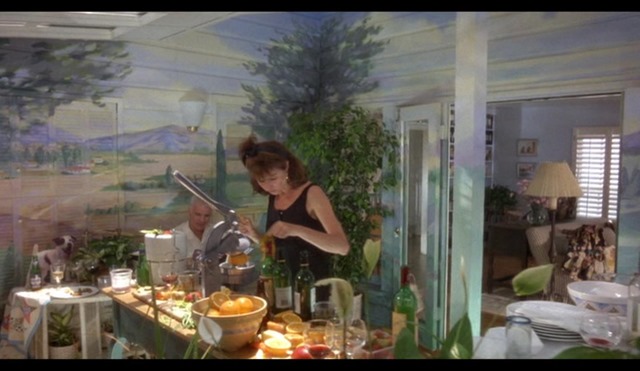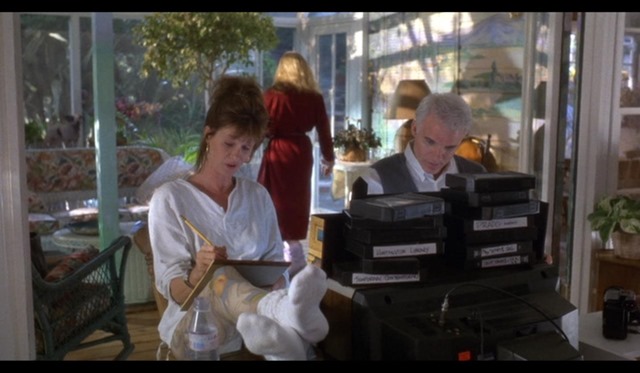 I also noticed that the size and positioning of Ariel's living rooms windows did not match up to the size and positioning of the real life windows at the apartment building.  In fact, one window was missing entirely.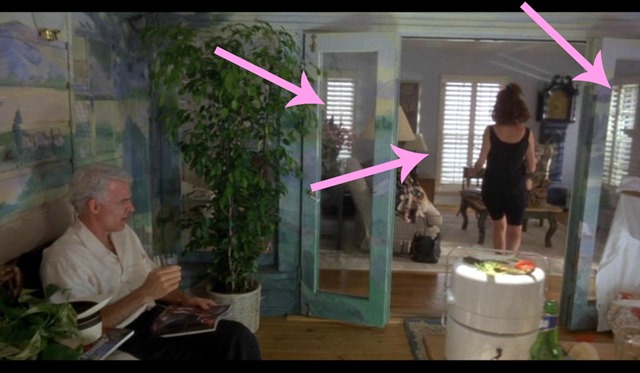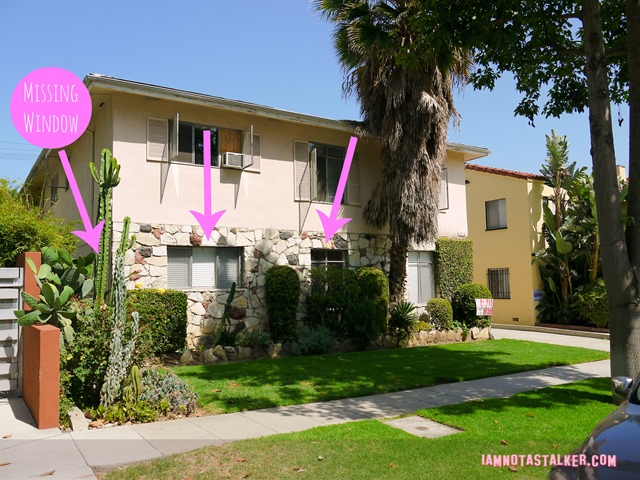 As you can see below, Ariel's home also has a fireplace, yet the actual apartment building has no visible chimney.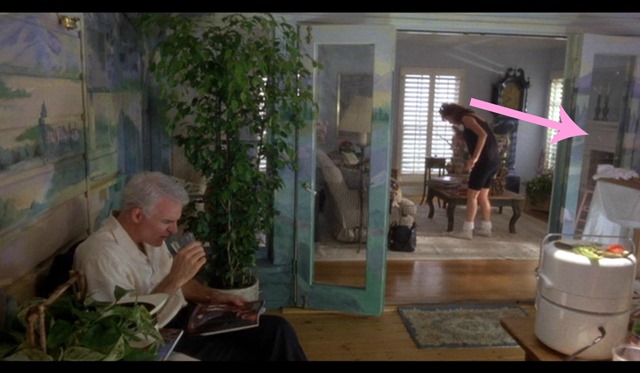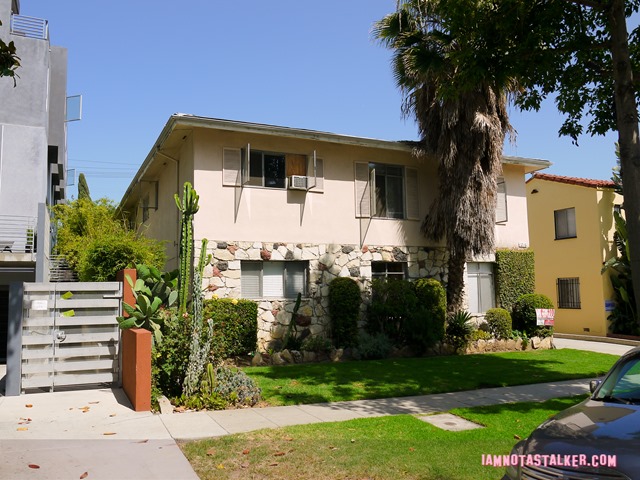 Because the apartment building does not look to have been remodeled since it was built in the 1950s (or at least since 1991 when L.A. Story was filmed), I became fairly certain that I had the wrong location.  And while it is possible that producers used two different locales to depict Ariel's dwelling – one for the exterior and another for the interior – or even possibly built a set for the inside scenes, I do not believe that to be the case.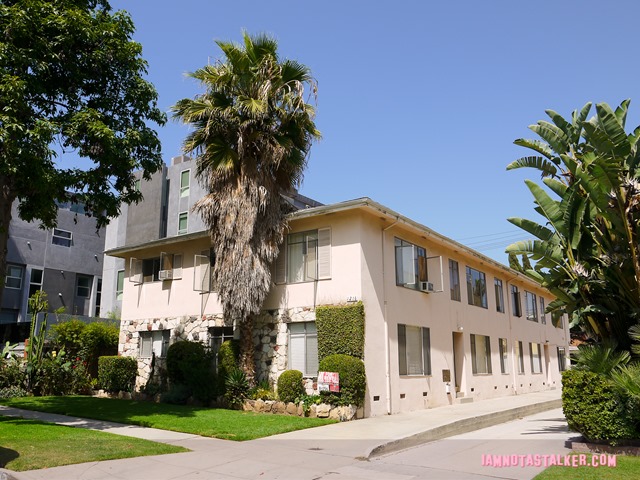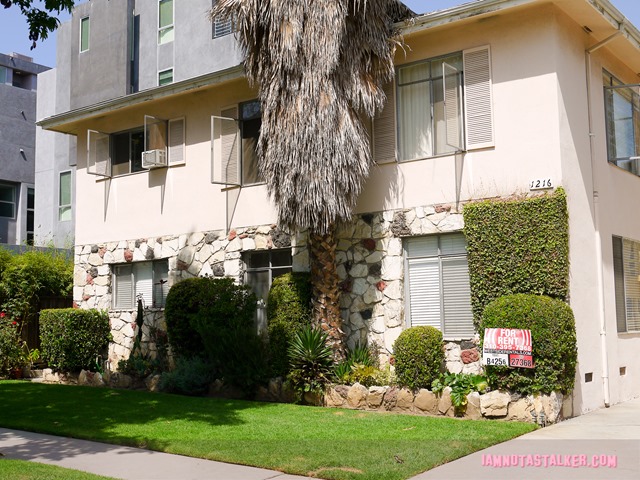 Upon further inspection (I know, I know – I have WAY too much time on my hands

), I noticed that when visiting Ariel, Harris actually did not park directly in front of the apartment building that I had stalked, but a bit past it.  In fact, whenever he is shown driving to Ariel's, he stops his car at a point halfway blocking the driveway belonging to the house just north of the building, as you can see below.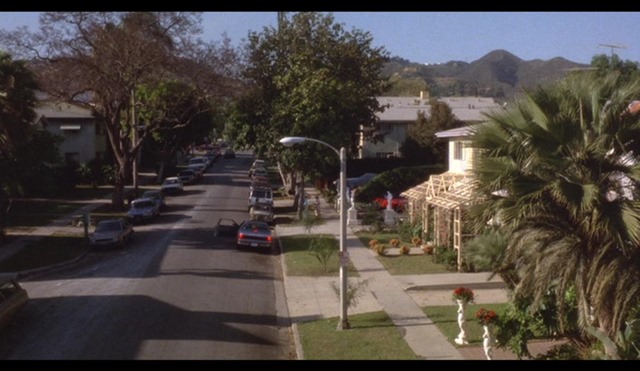 So I went back to the drawing board and began doing some Google Street View stalking and noticed that the apartment complex located just north of the building that I had stalked was newly constructed.  On a hunch, I headed on over to Historic Aerials to see if there used to be a bungalow located on that site at one point in time.  And sure enough, there was!  It is my belief that that now-defunct bungalow is the house that was used as Ariel's.  And while fellow stalker Owen, of the When Write Is Wrong blog, was nice enough to put me in touch with a very helpful L.A. Story crew member (whom he had contacted a few weeks prior when helping me track down some of the flick's other locales) in the hopes that he might be able to shed some light on this mystery, said crew member, unfortunately, did not remember anything about the location of Ariel's house.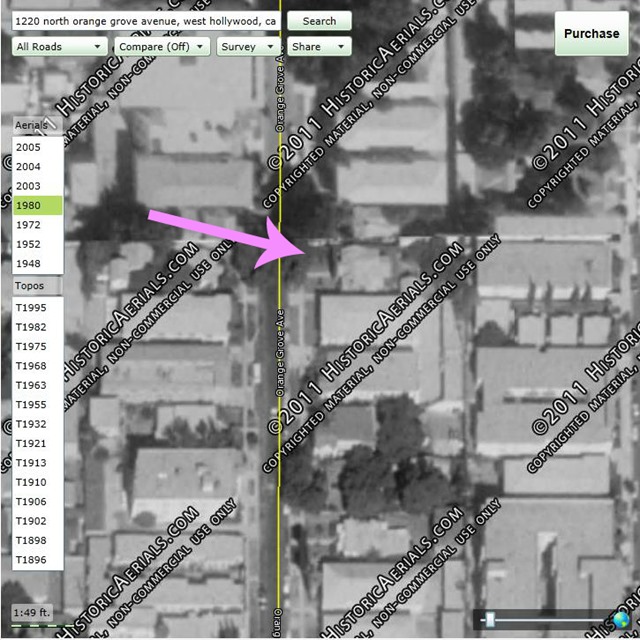 Even though the bungalow is long gone, I sent Mike, from MovieShotsLA, out to do some stalking of the apartment building that now stands in its place.  Thank you, Mike!  According to fave website CurbedLA, construction on the ultra-modern concrete complex was started sometime around 2008.  The developer then hit some financial trouble and the project was stalled until finally being completed in 2010.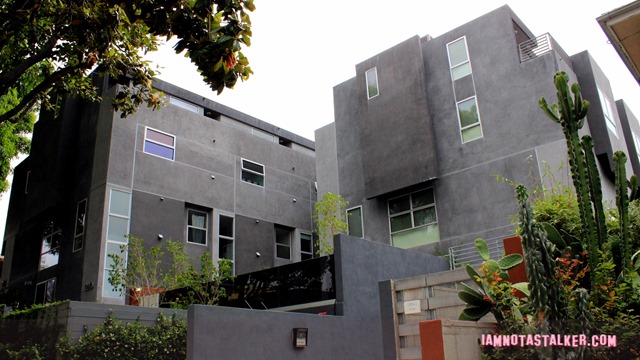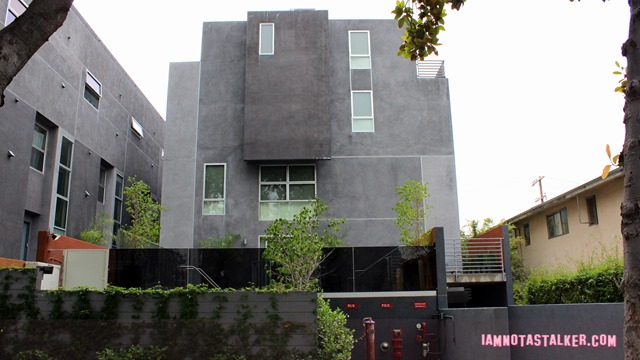 And while the Curbed commenters were pretty harsh about the aesthetic of the place, I actually really like what it looks like.  Especially the interiors, which you can take a look at here.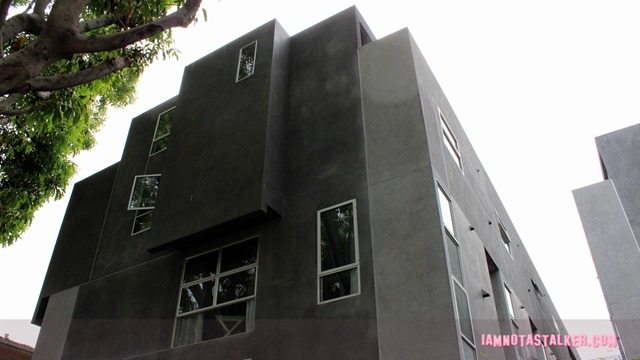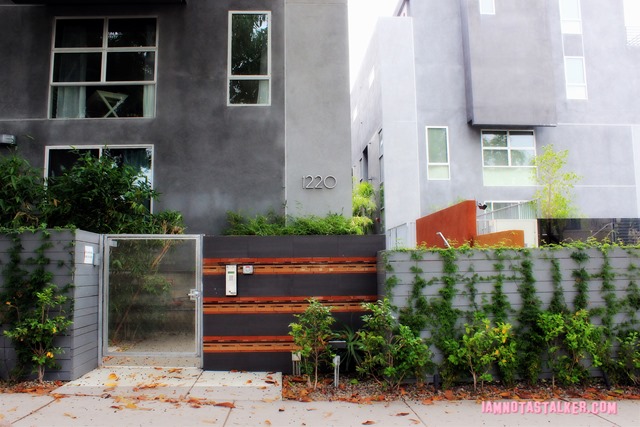 Be sure to follow me on Facebook, Twitter and Instagram for even more stalking fun!  And you can check out my other blog, The Well-Heeled Diabetic, here. 
Big THANK YOU to Mike, from MovieShotsLA, for taking the pictures of the site where I believe Ariel's house once stood.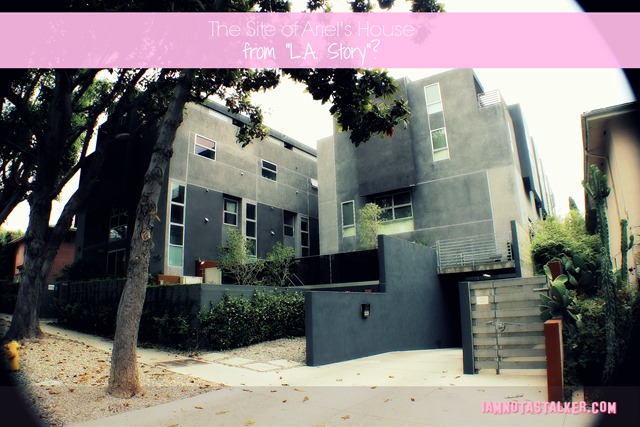 Until next time, Happy Stalking! 

Stalk It: The site where I believe Ariel's house from L.A. Story once stood is located at 1220 North Orange Grove Avenue in West Hollywood.  The building that I originally thought was Ariel's is located at 1216 North Orange Grove Avenue.  And Harris' house from L.A. Story is located at 1206 North Orange Grove Avenue.
70740