Wokcano from "Get Shorty"
Jul 22nd, 2013 | By
Lindsay
| Category:
Movie Locations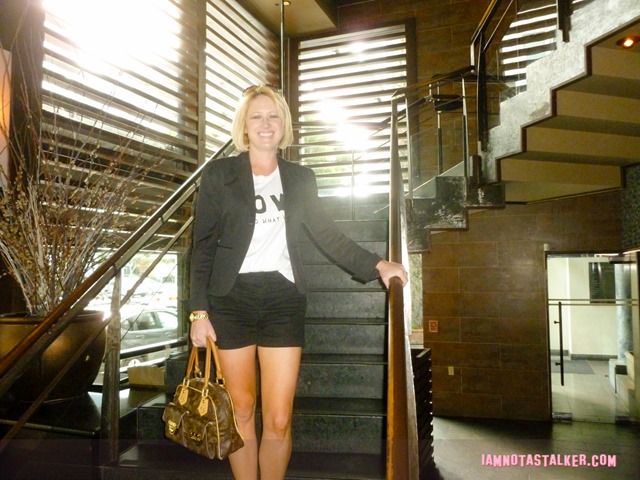 A couple of months ago, Mike, from MovieShotsLA, called to let me know that he had just discovered that the iconic scene from Get Shorty in which loan-shark-turned-movie-producer Chili Palmer (John Travolta) threw a henchman named Bear (James Gandolfini) down a flight of stairs had been lensed at a restaurant named Abiquiu (now Wokcano) in Santa Monica.  And even though I had not seen the 1995 gangster comedy in years, I was beyond thrilled to learn this information and dragged the Grim Cheaper right on over there for happy hour just a few days later.
Abiquiu was opened at 1413 5th Street in Santa Monica on July 28th, 1994 by John Sedlar.  The restaurateur had originally founded a more upscale, special occasion-type eatery named Bikini at the site in 1991.  After Bikini folded in early 1994, due to a combination of the recession and the aftereffects of the the Northridge earthquake, the two-story space sat vacant for the about six months.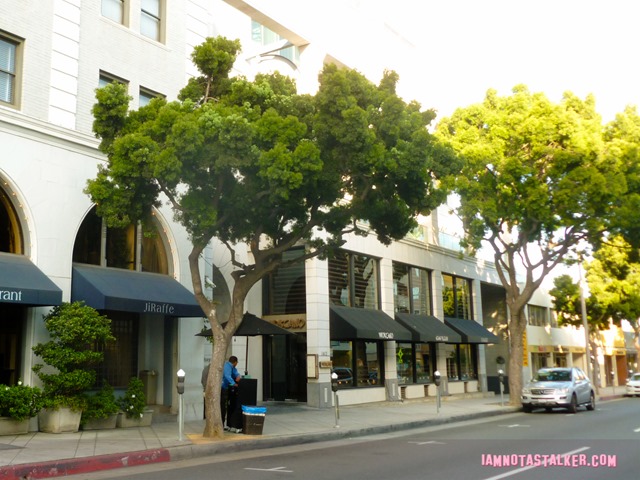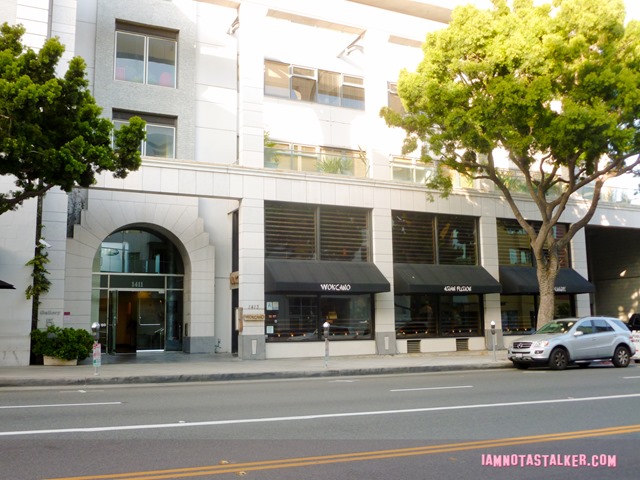 Sedlar then opened the more casual Abiquiu, named for the Santa Fe town where his grandparents once lived, in its place.  He kept the interior, which in an August 1994 Los Angeles Times article journalist S. Irene Virbila described as "one of the most beautiful in L.A.", largely the same.  At some point in 2002, Abiquiu closed.  Following in its place were several eateries, including Union, then Akwa, and then, most-recently, in July 2008, the Wokcano chain opened its fifth Los Angeles-area outpost at the site.  Amazingly enough, despite the many changes in ownership over the 18 years since Get Shorty was filmed, the restaurant is still very recognizable from its onscreen appearance.  But more on that later.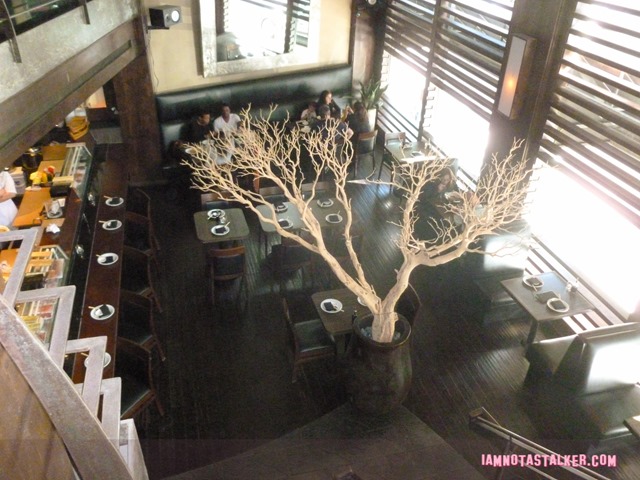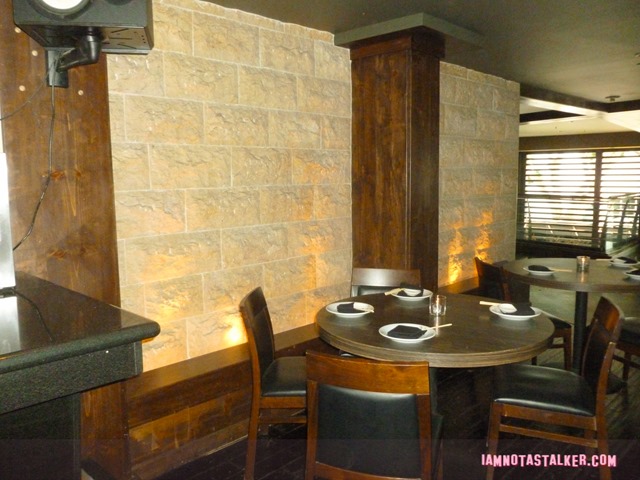 The GC was floored to discover Wokcano's stellar happy hour, which he quickly dubbed "the best in L.A."  And I have to say that I agree with him.  The food was excellent, the servings huge and the prices extremely inexpensive.  I highly recommend the Garlic Brussels Sprouts ($5) and the Crispy Pepper Calamari ($7), both of which are to die for!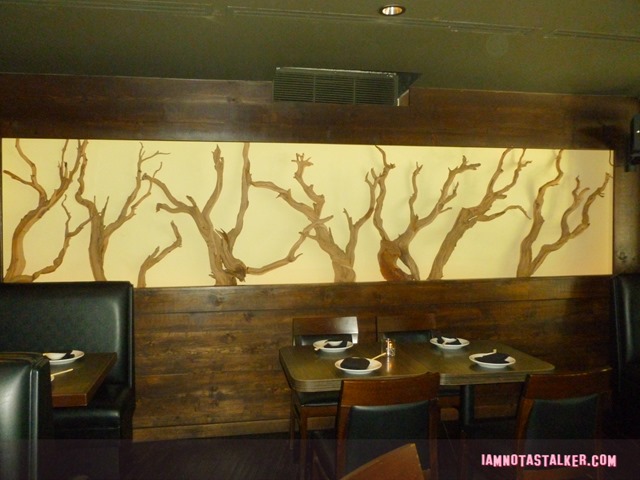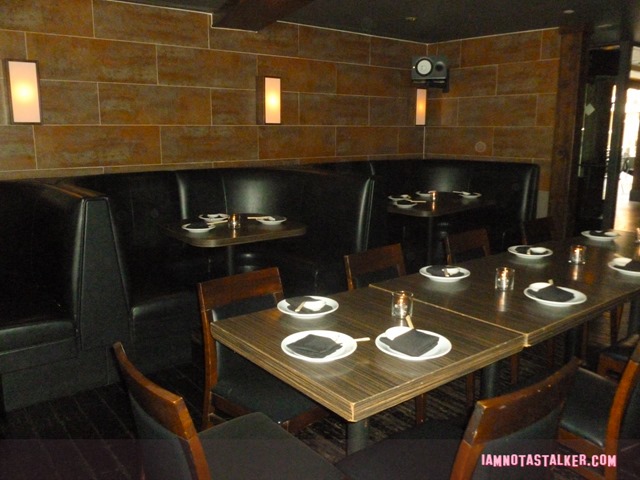 Happy hour is offered in Wokcano's upstairs bar area, off of which is located a huge outdoor patio, complete with couches and cabanas.  Love it!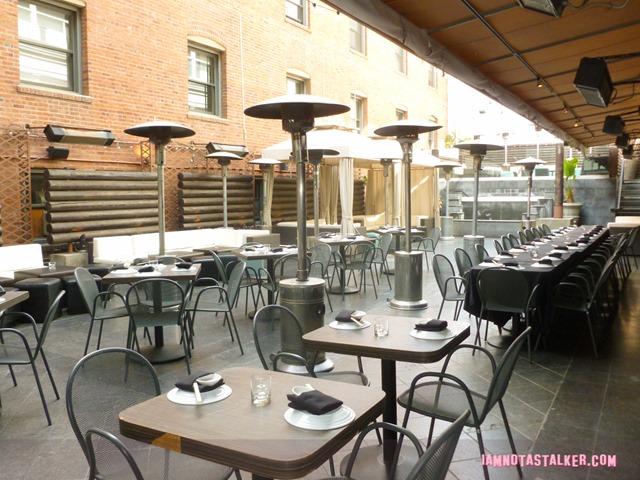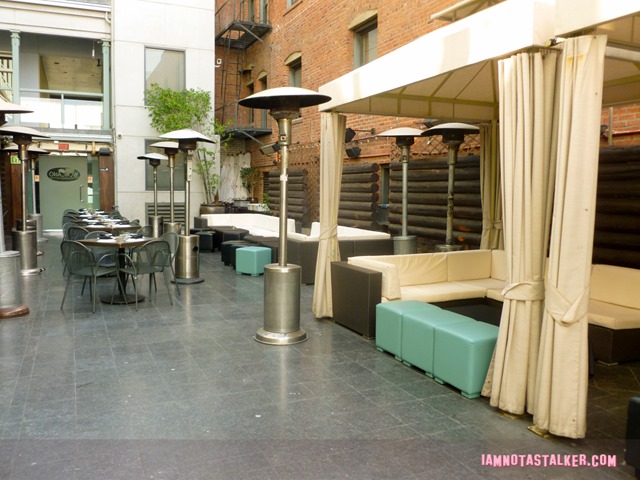 In Get Shorty, Abiquiu was the restaurant where Bo Catlett (Delroy Lindo) tried to sabotage Karen Flores (Rene Russo) and Chili's lunch meeting with movie producer Harry Zimm (Gene Hackman).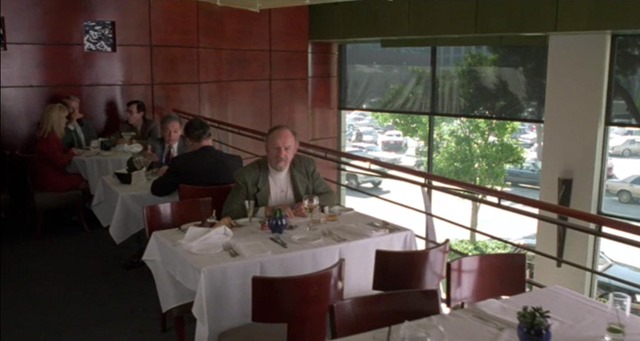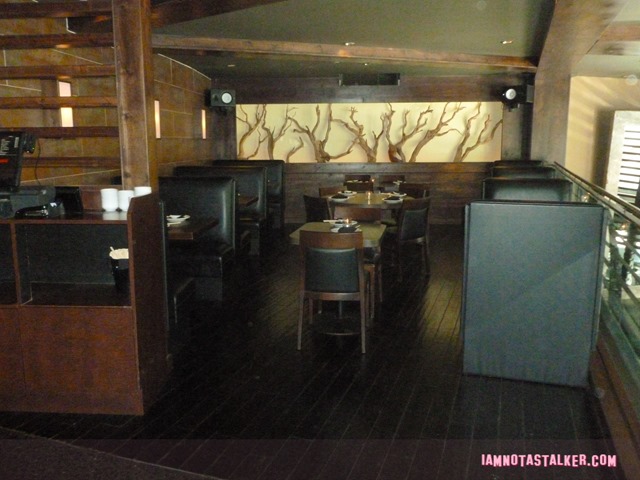 When Bo's "muscle", Bear, tried to intimidate Chili, Chili responded by throwing him down a flight of stairs.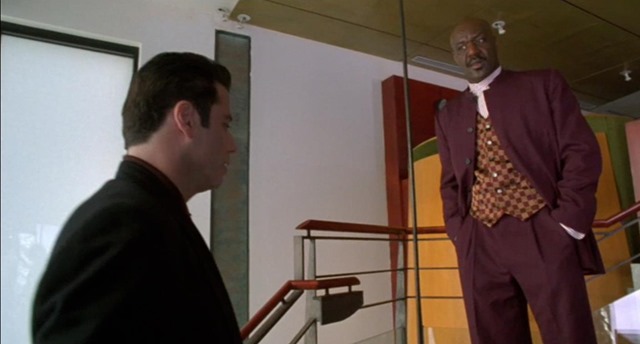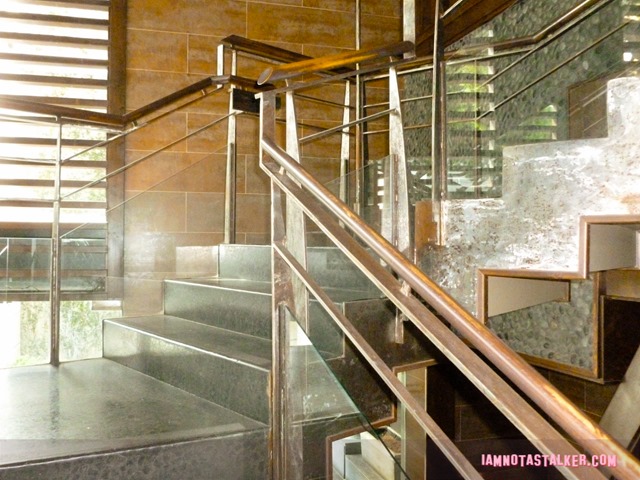 Amazingly, that now-famous staircase still looks exactly the same as it did when Get Shorty was filmed!  (Unfortunately, Wokcano is housed in an extremely bright space, which wreaked havoc on my photographs.)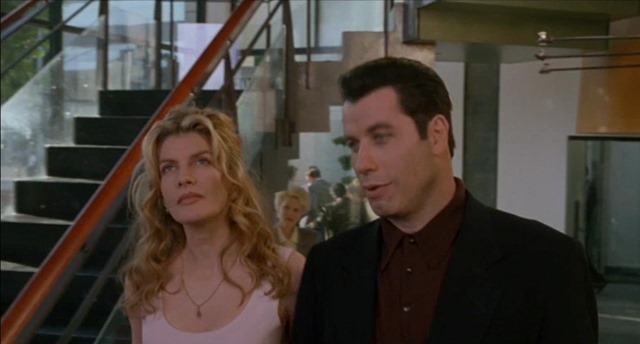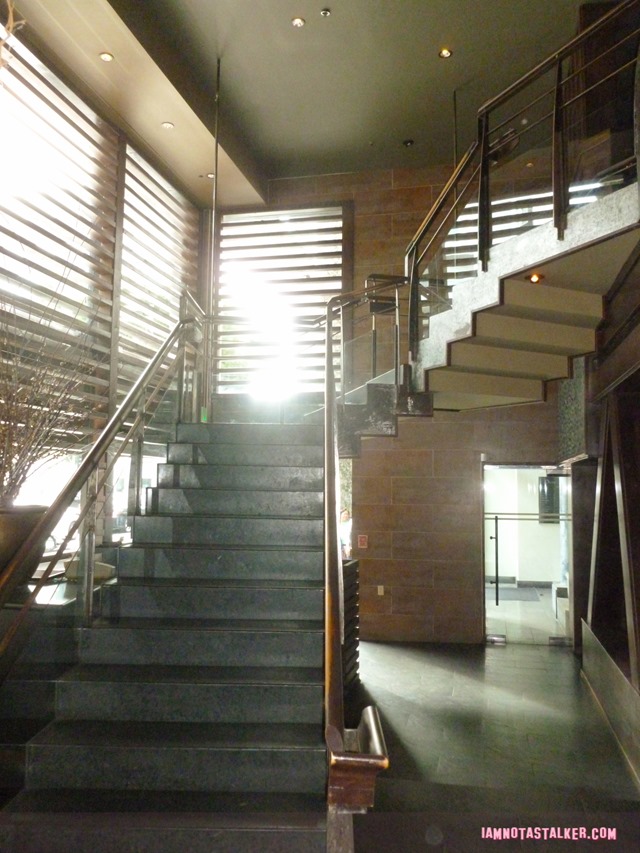 The downstairs decor has changed quite a bit since filming took place, however.  Gone are the brightly-colored walls and booths, and a sushi bar has since been installed.  Otherwise, though, the restaurant still looks very much the same as it did onscreen.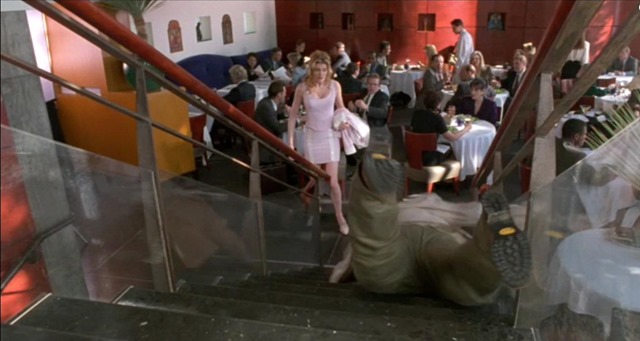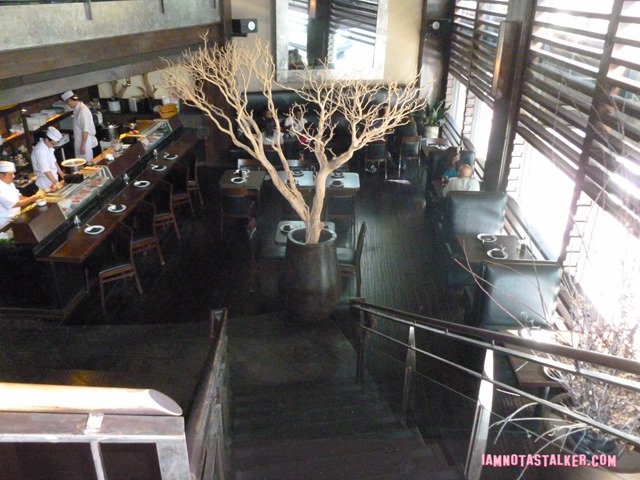 At one point while I was taking pictures, the hostess came up to ask why I had such an interest in the staircase.  When I told her of its famous onscreen appearance, she was shocked.  Apparently, she had not known that bit of trivia prior to speaking with me, which was shocking!  I mean, doesn't information of that importance deserve a mention in the employee handbook?  😉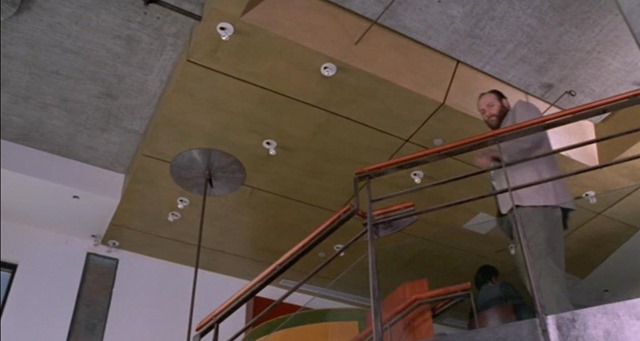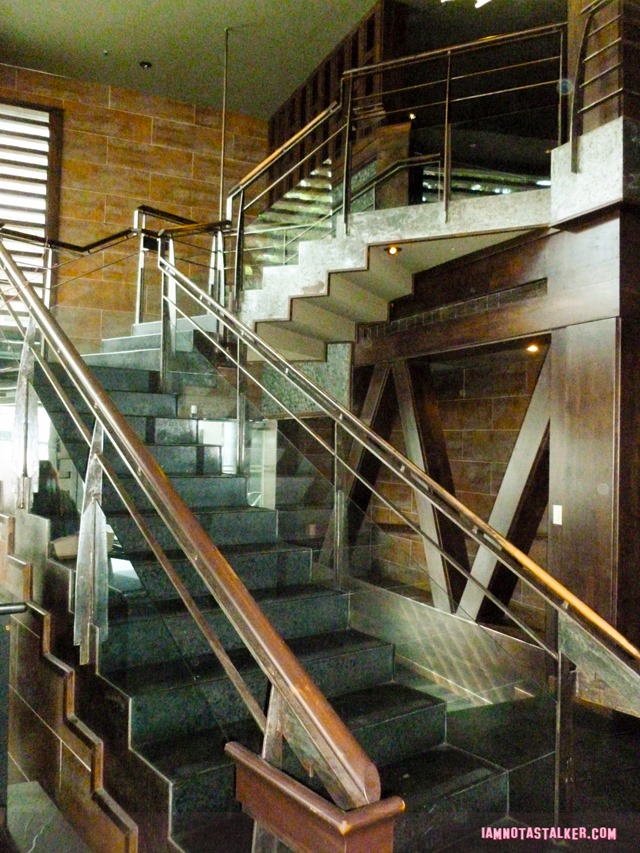 For more stalking fun, be sure to follow me on Facebook, Twitter and Instagram. And you can check out my other blog, The Well-Heeled Diabetic, here.
Big THANK YOU to Mike, from MovieShotsLA, for finding this location!  🙂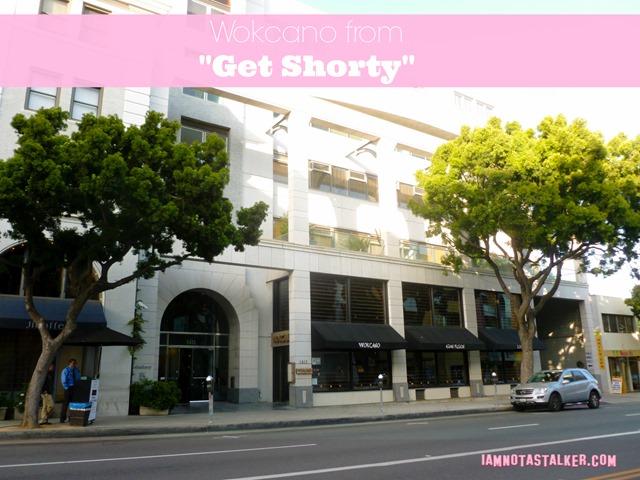 Until next time, Happy Stalking!  🙂
Stalk It: The Get Shorty staircase can be found at Wokcano, aka the site of the former Abiquiu restaurant, which is located at 1413 5th Street in Santa Monica.  You can visit the eatery's website here.
71372