Sherman Way Adult Books from "Behind the Candelabra"
Aug 19th, 2013 | By
Lindsay
| Category:
Movie Locations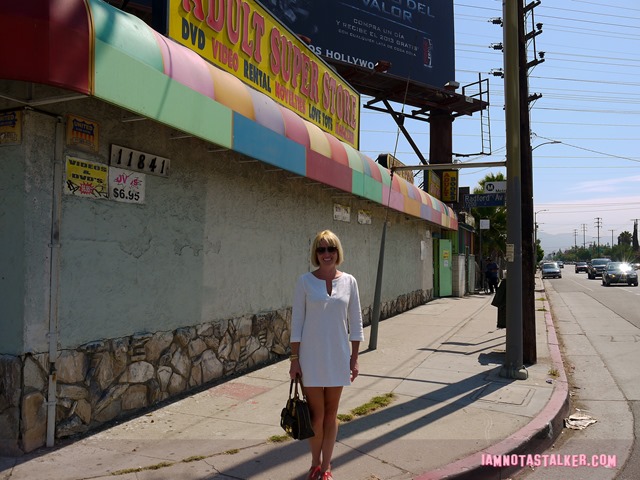 Today's location is a bit of a risqué one, so brace yourselves, my fellow stalkers!  Back in May, after Behind the Candelabra first premiered, I received an email from my buddy E.J., of The Movieland Directory website, listing a few of the locales that he had tracked down from the HBO biopic.  He ended the email with, "You only need to find the adult film store, the condo penthouse in L.A., Scott Thorson (Matt Damon) and Liberace's (Michael Douglas') Valley-area house, and the Thorson family's ranch which is somewhere in Santa Clarita."  Challenge accepted, E.J.!  Thankfully, with a little help from Mike, from MovieShotsLA, I was able to find the four locales.  The condo penthouse is at 7461 Beverly Boulevard in the Fairfax District (which I blogged about here); the Valley house is at 4238 Olympiad Drive in View Park-Windsor Hills (I have yet to stalk it, though); the Thorson family's ranch is the Main Ranch House at Disney's Golden Oak Ranch in Newhall (a property that is, sadly, closed to the public); and the adult bookstore is Sherman Way Adult Books at 11841 Sherman Way in North Hollywood.  Booyah!
This location was a simple find thanks to the 11841 address number that was visible when Liberace and Scott first arrived at the bookstore.  I just popped "11841" and "adult book store" into Google and, voila, the first result that came back was for Sherman Way Adult Books.  So I dragged the Grim Cheaper right on out to stalk it a few weekends ago while the two of us were in L.A.  (And yes, I actually stalked an adult bookstore for this post. 

)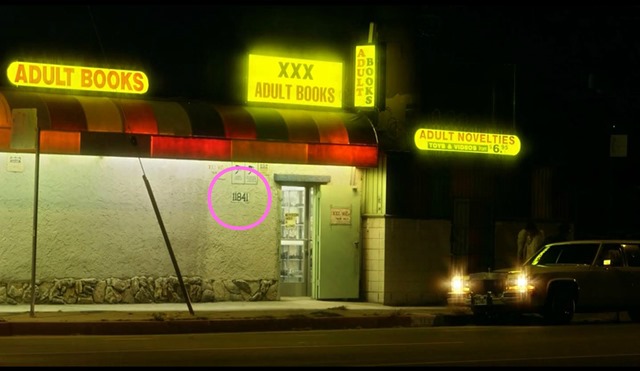 The 2,742-square-foot store, which was originally built in 1950, was recently on the market for $800,000.  And, apparently, the place next door buys pallets.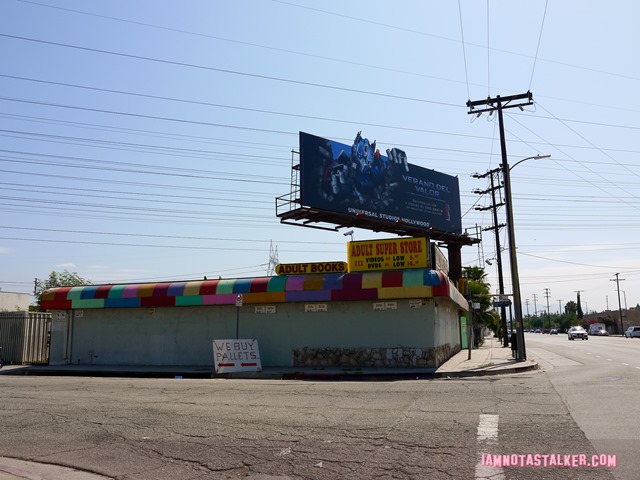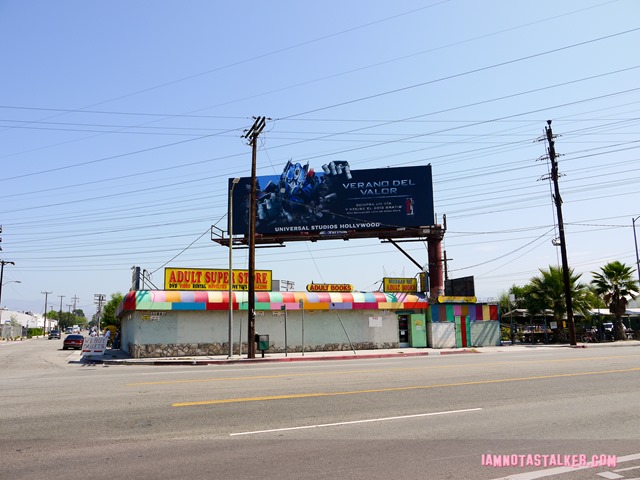 In Behind the Candelabra, a tipsy Liberace dragged his very reluctant and drugged-out then boyfriend Scott into a supposed Las Vegas-area adult bookstore, where Scott proceeded to then get sick.  Sherman Way Adult Books was only shown very briefly in the short scene.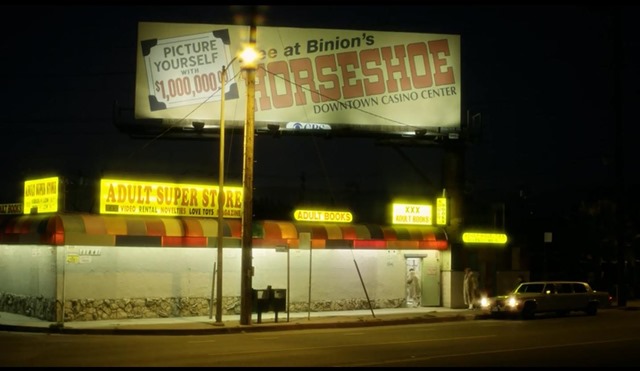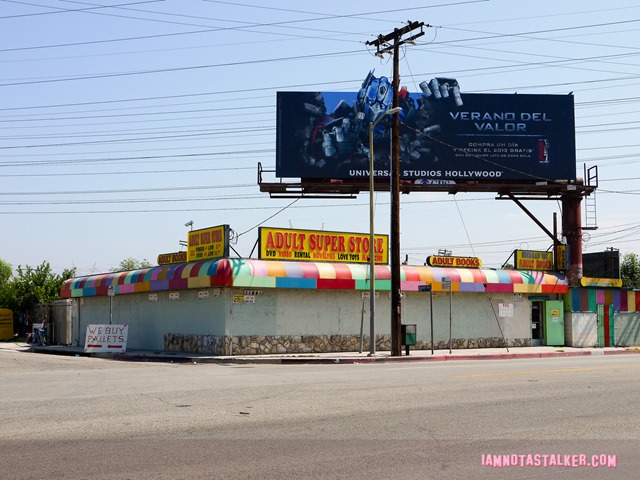 Because the store was supposed to be located in Las Vegas in the movie, its name was changed from "Sherman Way Adult Books" to "XXX Adult Books."  You can see the alteration made to the signage in the below screen capture and photograph.  Aside from the signage, though, the site looks exactly the same in person as it did on screen – and just as colorful!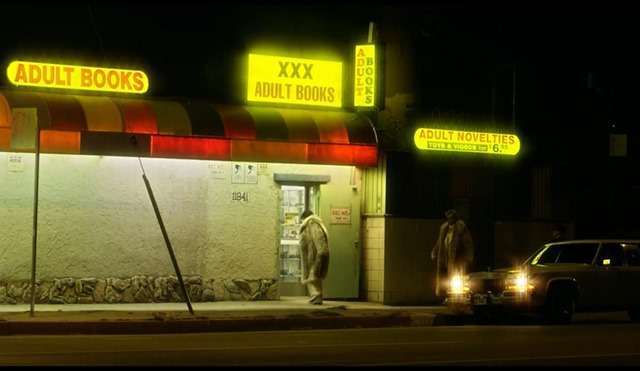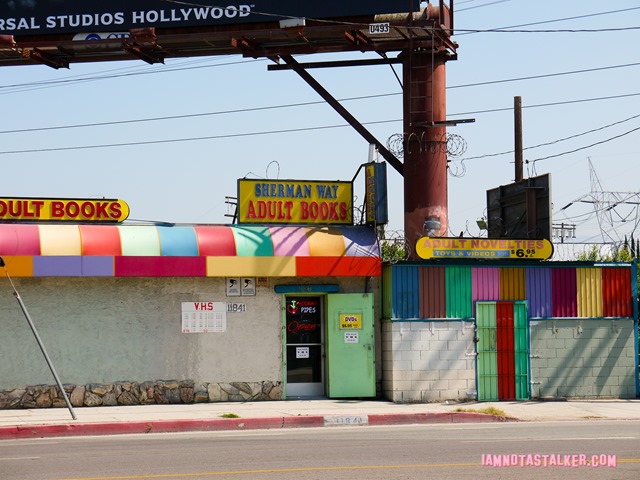 And while I am fairly certain that the real life interior of Sherman Way Adult Books was used in the filming, I opted not to step inside to verify that hunch.  For anyone looking to frequent the store, it actually has a very favorable Yelp review, though.  Yes, someone actually filled out a Yelp review for the place, which I could not stop laughing about when I came across it.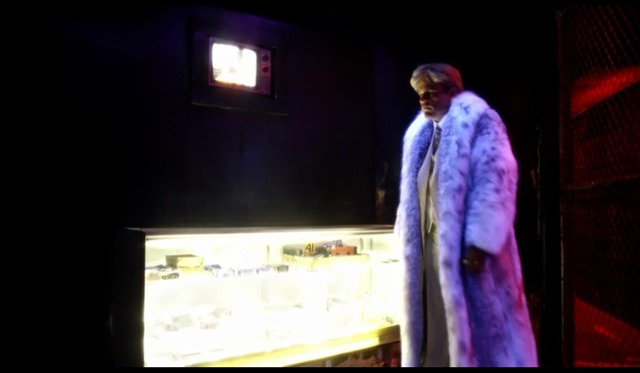 For more stalking fun, be sure to follow me on Facebook, Twitter and Instagram.  And you can check out my other blog, The Well-Heeled Diabetic, here.
Big THANK YOU to E.J., from The Movieland Directory website, for challenging me to find this location.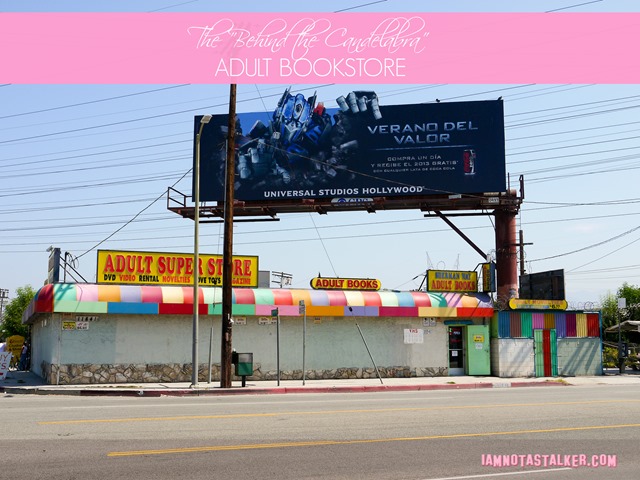 Until next time, Happy Stalking! 

Stalk It: Sherman Way Adult Books, from Behind the Candelabra, is located at 11841 Sherman Way in North Hollywood.
72455