The Stuart Building from "That Thing You Do!"
Nov 19th, 2013 | By
Lindsay
| Category:
Movie Locations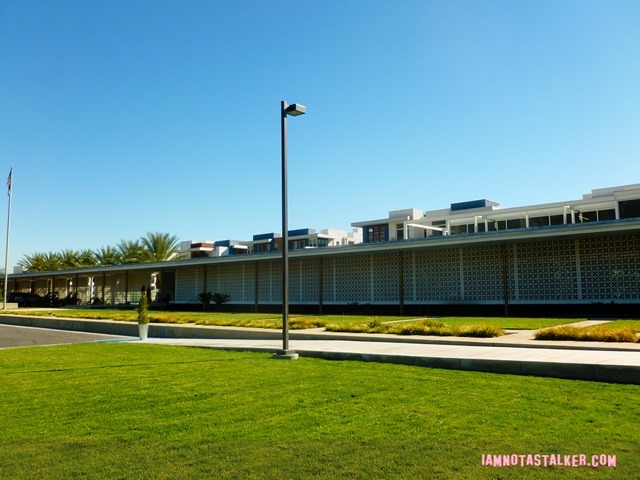 Back in early October, upon returning home from doing some That Thing You Do! stalking in Orange (you can read my posts on the locations I stalked here, here and here), I popped in my DVD of the 1996 flick to re-watch it for the first time in years.  I was absolutely shocked – and floored – to discover in the course of the viewing that The Stuart at Sierra Madre Villa, an architecturally-stunning Pasadena apartment complex that I toured while house-hunting in 2006, had been featured in the movie.  Because I had not taken any photos of The Stuart during the tour, I ran right out to re-stalk the place while I was in L.A. last week.
The Stuart at Sierra Madre Villa was originally constructed as the Stuart Pharmaceutical Company's (they created Mylanta!) main manufacturing facility and office headquarters in 1958.  The New Formalist-style structure, which is set back 150 feet from Foothill Boulevard and which was originally known as the Stuart Company Building, was designed by architect Edward Durell Stone and took two years to complete.  (Stone also fashioned Radio City Music Hall in New York and the John F. Kennedy Center for the Performing Arts in Washington, D.C.)  The Stuart's 9.4-acre grounds were designed by legendary landscape architect Thomas Dolliver Church.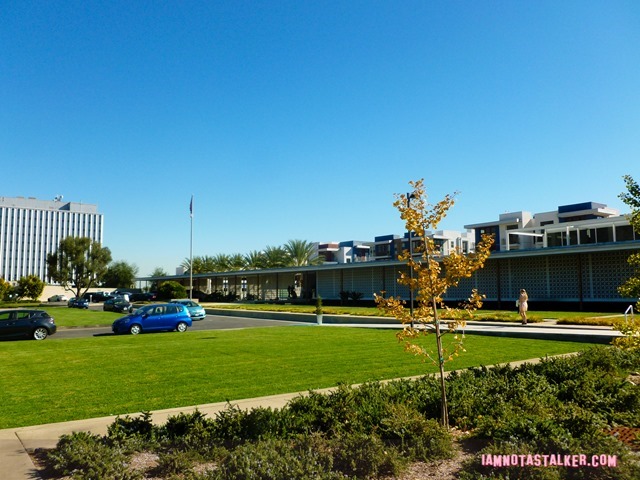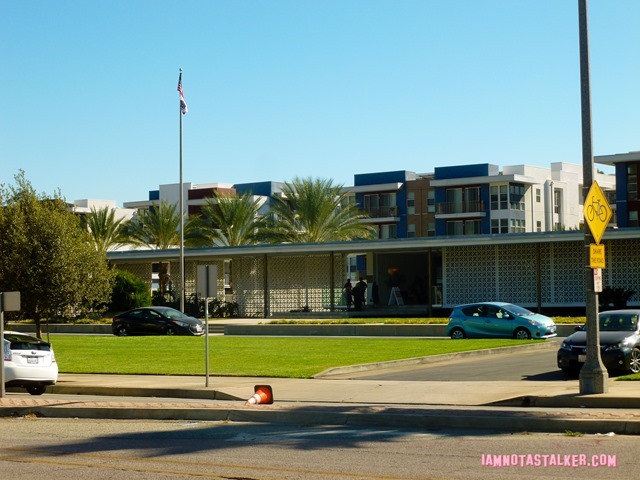 The flat-roofed building, which boasts a cast concrete block screen façade and a large linear reflecting pool with fountains, won the National First Honor Award from the American Institute of Architects and was featured on the cover of Time magazine the year it was completed.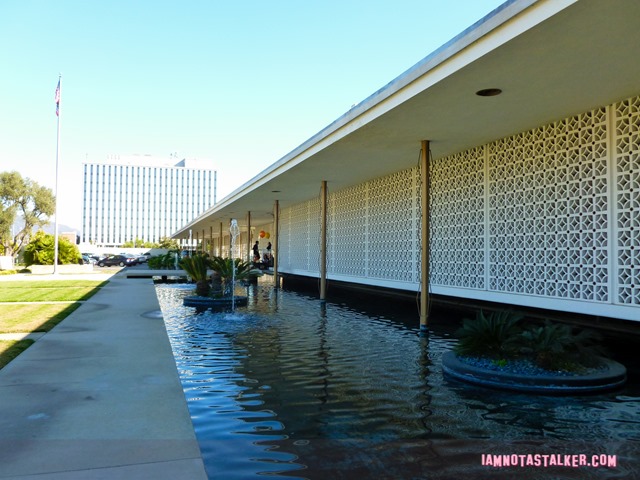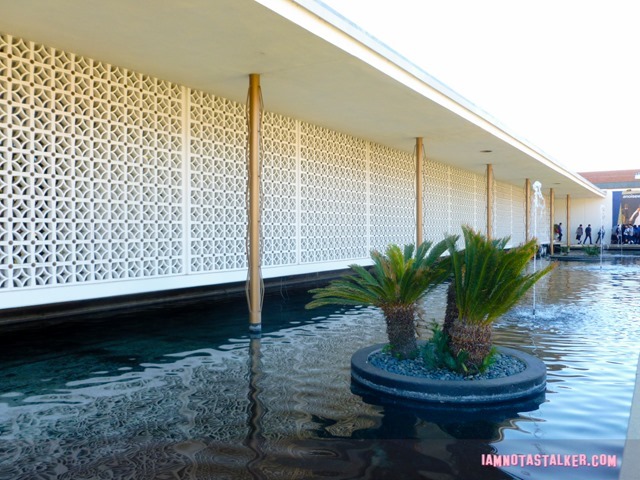 Arthur O. Hanisch, the Stuart Company's forward-thinking owner, sought comfort for his employees in the construction of the building and assigned several recreational areas to the 35,000-square-foot site, including an atrium with a gorgeous open staircase, a garden court, a dining lounge, a pool, a pool house, a large terrace, and an outdoor shade pavilion.  As you can see below, the two-story atrium is pretty darn striking!  There's a reason I remembered it all these years later while watching That Thing You Do!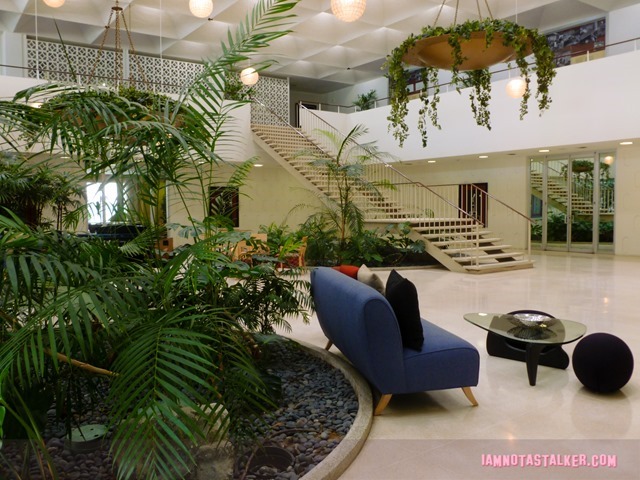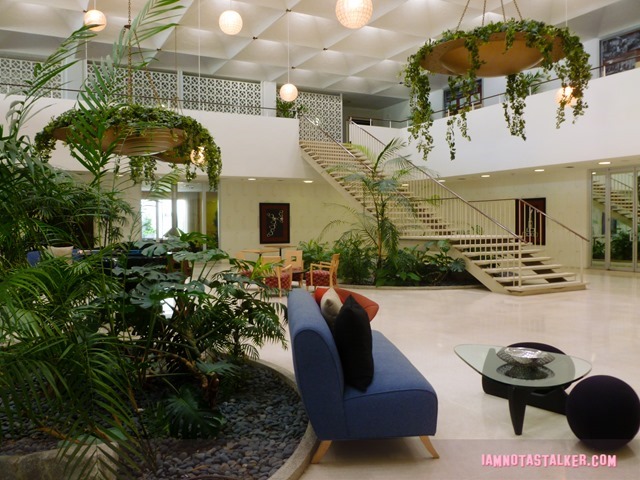 In 1990, the Stuart Company, which had been named in honor of Arthur O. Hanisch's son, was purchased by Johnson and Johnson/Merck Pharmaceuticals Co.  The Stuart Company Building was shuttered shortly thereafter and, in 1993, was put on the market for $16 million.  A year later, it was purchased by the Metropolitan Transit Authority, who intended to bulldoze it and construct a metro station on the property.  Thankfully, the Pasadena Heritage group immediately stepped in and nominated the Stuart for National Registry status to protect it from demolition.  It was added to the National Register of Historic Places in 1998.  During the interim, while its fate was being decided, the building sat vacant and, sadly, fell victim to vandals and transients.  Then, in 2002, the site was purchased by a development company named BRE Properties and a multi-million dollar restoration project was begun.  BRE also started construction on an upscale 188-unit apartment complex directly behind the Stuart Building, which became known as The Stuart at Sierra Madre Villa.  Today, the arresting atrium serves as a leasing office and communal space for residents.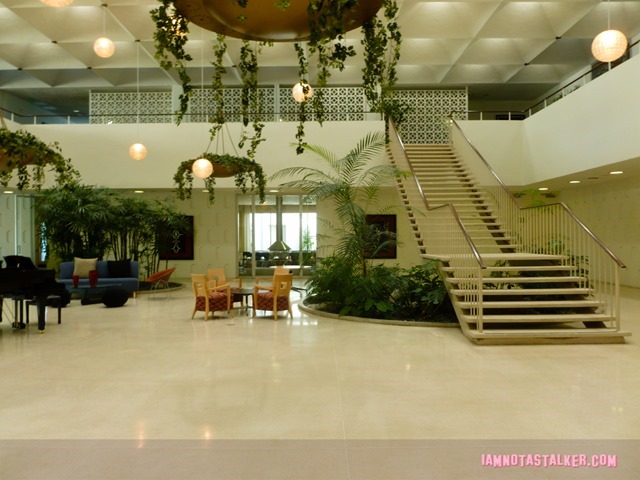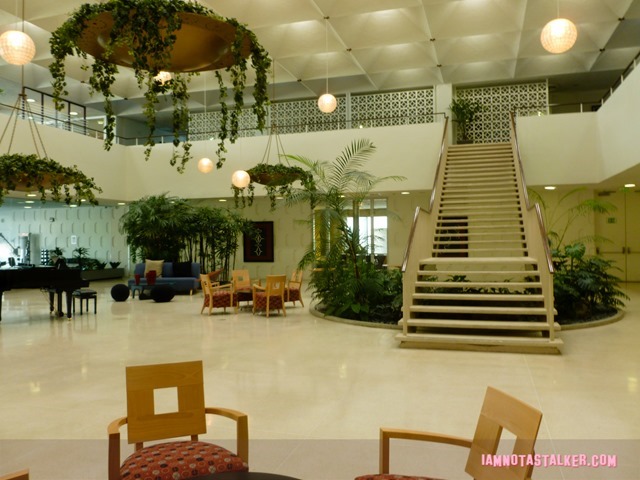 In That Thing You Do!, the Stuart Company Building's atrium masqueraded as the Play-Tone Records headquarters where The Wonders – Guy Patterson (Tom Everett Scott), Jimmy Mattingly (Johnathon Schaech), Lenny Haise (Steve Zahn), and T.B. Player (Ethan Embry) – posed for publicity photos upon first arriving in Los Angeles.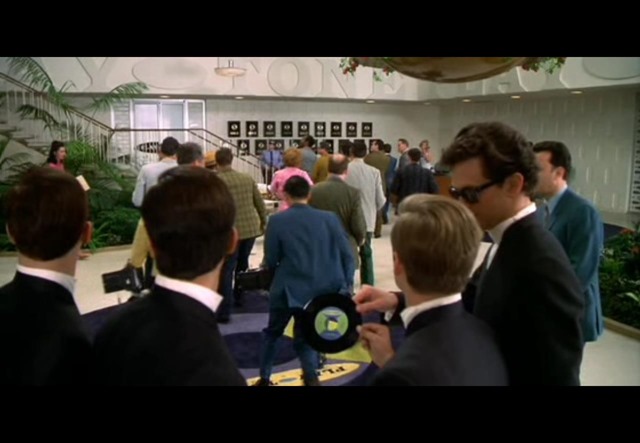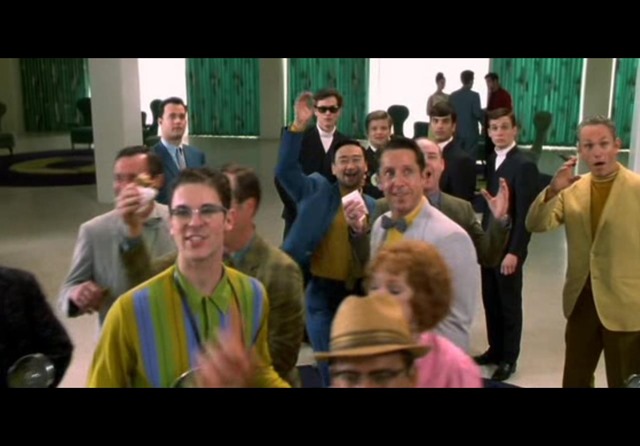 The Stuart Company Building was also featured in the 2000 made-for-television movie If These Walls Could Talk 2, in which it stood in for the fertility center visited by Fran (Sharon Stone) and Kal (Ellen DeGeneres).  Several areas of the property were used in the filming, including the atrium;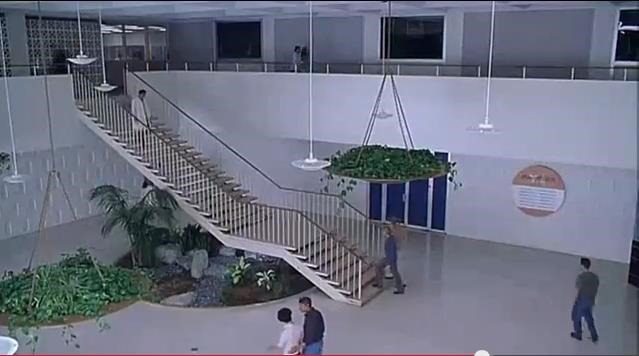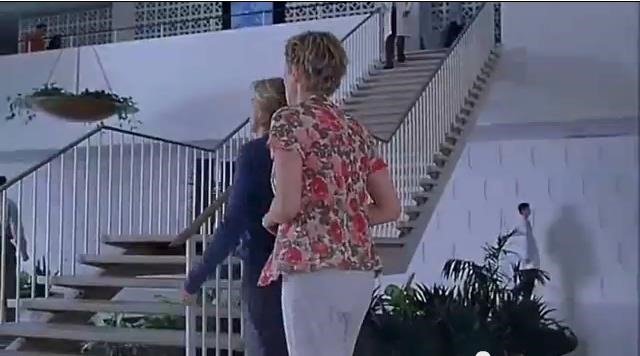 a hallway;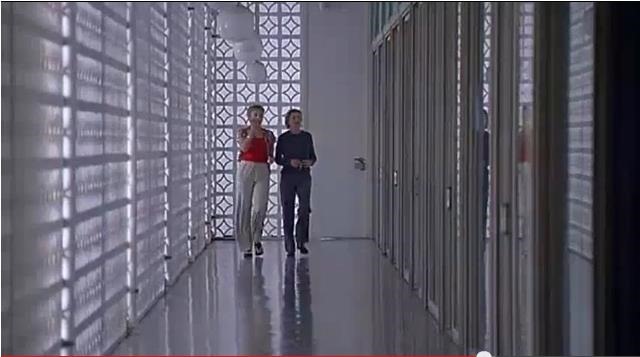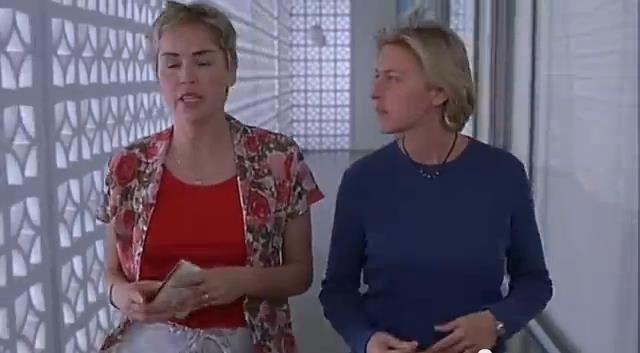 a waiting room;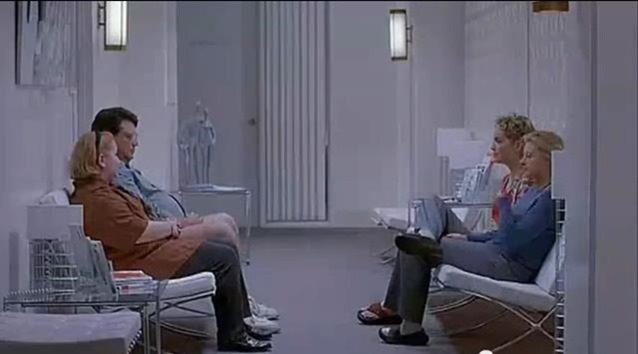 and an office.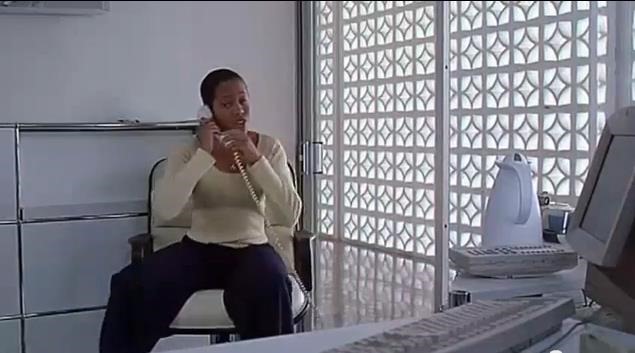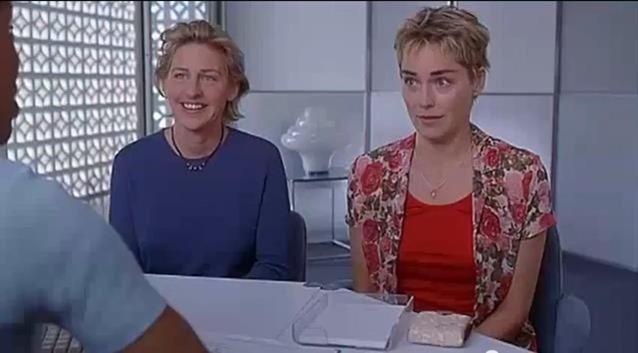 For more stalking fun, be sure to follow me on Facebook, Twitter and Instagram.  And you can check out my other blog, The Well-Heeled Diabetic, here.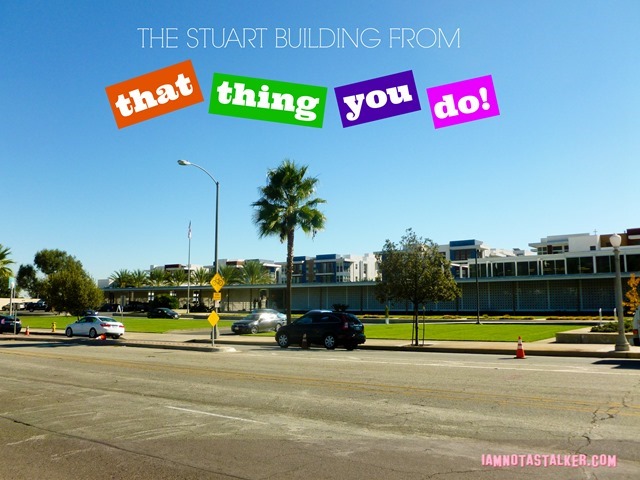 Until next time, Happy Stalking! 

Stalk It: The Stuart at Sierra Madre Villa, from That Thing You Do!, is located at 3360 East Foothill Boulevard in Pasadena.  You can visit the complex's official website here.
77058