Aldo's Coffee Shop – Where Sonny Met Cher
Nov 20th, 2013 | By
Lindsay
| Category:
This and That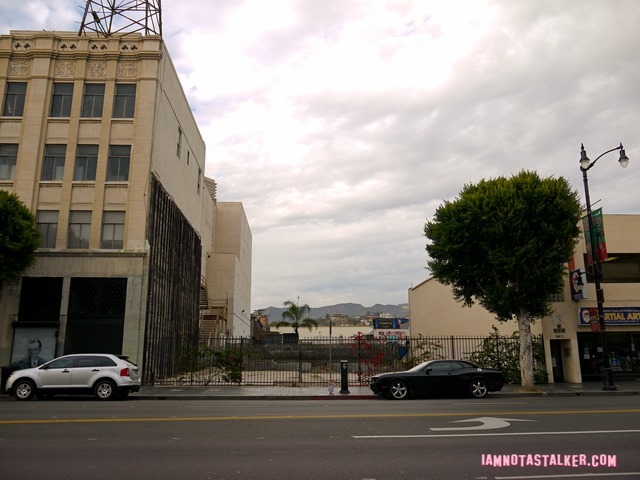 On the November 4th episode of Dancing with the Stars, which featured singer Cher as a guest judge, contestants Leah Remini and Tony Dovolani danced a Viennese Waltz that adorably reenacted Cher's first encounter with Sonny Bono to the 1965 hit "I Got You Babe."  In the segment showing Leah and Tony prepping for the performance, Leah mentioned that Sonny and Cher first met at a coffee shop in L.A.  Well, believe you me, those words were hardly out of her mouth before I had my phone in hand to try to track down the location of that coffee shop.  Through a simple Google search, I quickly learned that the name of the shop was Aldo's, but I could not seem to find an address for it anywhere.  So the following morning I emailed fellow stalker E.J., of The Movieland Directory, to see if he might be able to help and he responded just a few minutes later with two possible addresses.  From there it was not too hard to figure out the right one.  Sadly, the building that once housed Aldo's was demolished around 1991 and the site today is just a vacant lot (I think – but more on that later).  I still ran right out to stalk it, though, this past week while the Grim Cheaper and I were in L.A.
To find the address for Aldo's Coffee Shop, E.J. scanned through old Los Angeles phone directories and came up with two results – 6413 Hollywood Boulevard and 6721 Hollywood Boulevard, as you can see below.  Cher mentioned in her autobiography, The First Time (which I checked out from the library the day after the Dancing with the Stars episode aired), that the Aldo's where she met Sonny was located next door to the KFWB radio station studio.  From there, I tracked down the station's location in 1962, the year Sonny and Cher met, which turned out to be 6419 Hollywood Boulevard, meaning that the correct Aldo's was the one at 6413.  Eureka!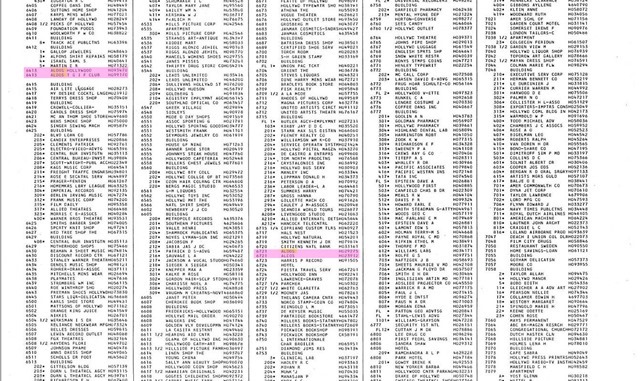 Cher, who was 16 at the time, met Sonny thanks to her then-boyfriend, record-promoter Red Baldwin.  Of their first encounter, Cher writes, "One day Red told me, 'I have a great friend who just split up with his wife.  He's a weird guy, but he's a lot of fun, and everyone loves him.  Maybe you could introduce him to your roommate, and we could double-date.'  So we all decided to meet.  One afternoon at Aldo's Coffee Shop, a hangout for radio people and disc jockeys who worked next door at KFWB, Red and I sat down at a table with Melissa, my roommate.  Then someone came in, and everybody turned around.  The room started buzzing – 'Sonny's here!  'Hey, Son!' – and that's when I got my first look at Salvatore Phillip Bono.  I will never forget it, because everyone else in the room disappeared, just washed away into some fuzzy soft focus, like when Maria saw Tony at the dance in West Side Story."  She later states, "And I actually thought to myself, Something is different now.  You're never going to be the same."  And while she broke up with Red the following morning, it took a bit more time for Sonny to feel the fireworks, initially telling Cher, "I don't find you terribly attractive."  LOL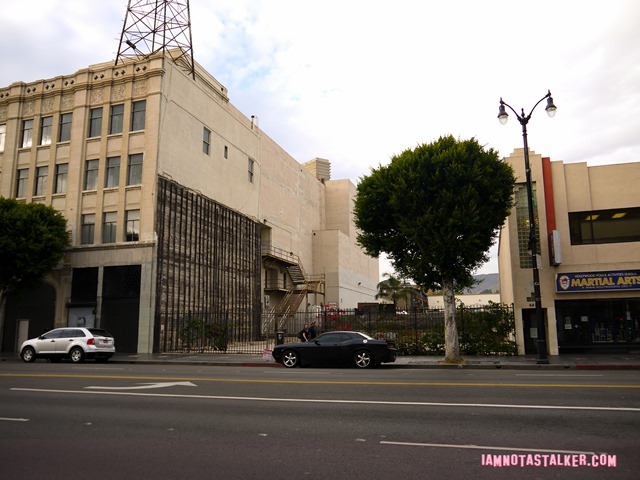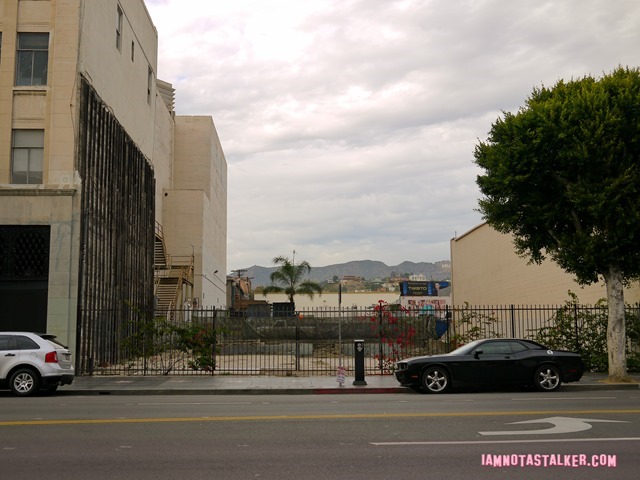 Sadly, I cannot find any photographs of Aldo's online.  You can check out a picture of what the KFWB building, which was demolished in 1991, looked like in 1972 here, though.  The photo below was taken from virtually the same angle.  While comparing the storefronts that appear in the 1972 image to the listings in the 1973 Los Angeles phone directory,  I noticed that some things did not seem to add up and have come to the conclusion that Aldo's was most likely located in the western-most space of the building denoted with a pink arrow below, which is currently addressed 6411 Hollywood Boulevard.  I believe that structure was also torn down at some point and rebuilt (and its address subsequently changed from 6413 to 6411), as it does not match the building that stands in that spot in the 1972 photo.  Without seeing actual images of Aldo's, though, I cannot be certain.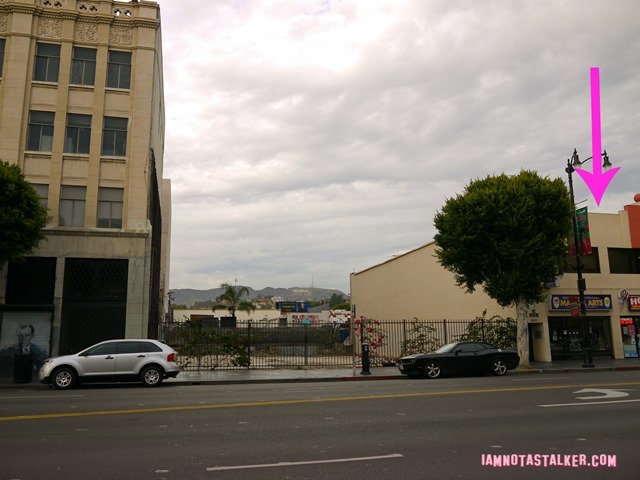 The site does boast a fabulous view of the Hollywood Sign, so at least there's that.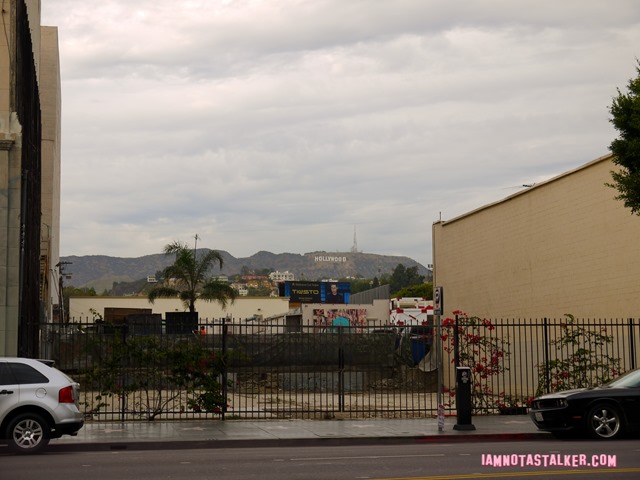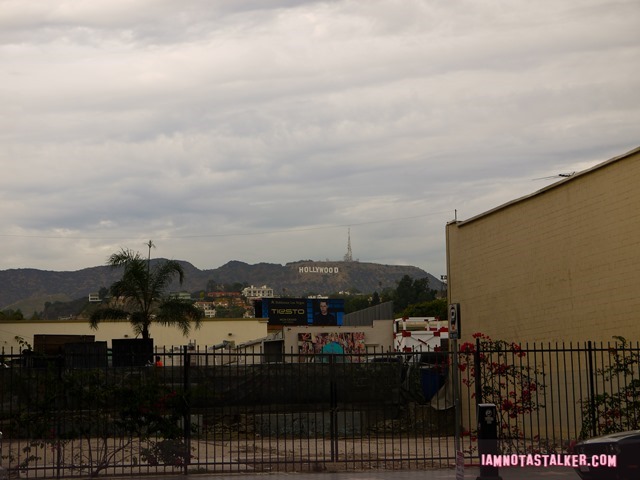 You can watch Leah and Tony's adorably sweet "I Got You Babe" dance by clicking below.
For more stalking fun, be sure to follow me on Facebook, Twitter and Instagram.  And you can check out my other blog, The Well-Heeled Diabetic, here.
Big THANK YOU to fellow stalker E.J., of The Movieland Directory, for helping me to find this location!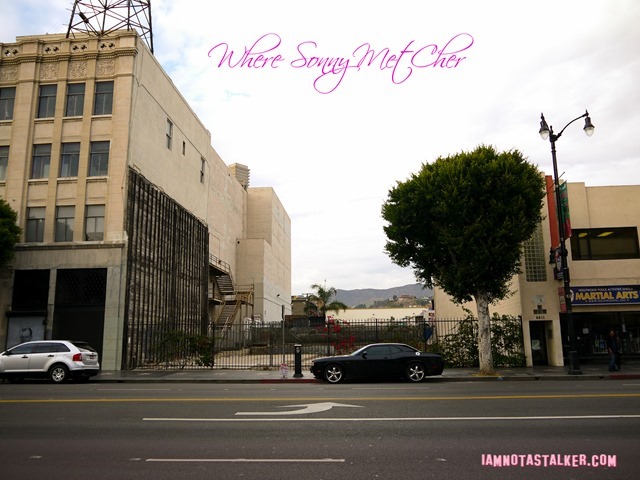 Until next time, Happy Stalking! 

Stalk It: Aldo's Coffee Shop, where Cher and Sonny Bono first met, was formerly located at 6413 Hollywood Boulevard in Hollywood.
77105