Roscoe "Fatty" Arbuckle's Former West Adams Houses
Nov 21st, 2013 | By
Lindsay
| Category:
Celebrity Homes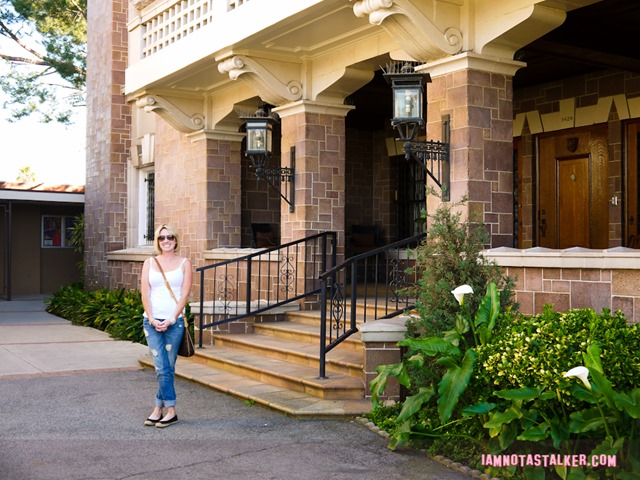 I just finished reading a fabulous book about one of Hollywood's first and biggest controversies titled Room 1219:  The Life of Fatty Arbuckle, the Mysterious Death of Virginia Rappe, and the Scandal That Changed Hollywood by Greg Merritt.  Prior to reading the tome, I knew little about actor/comedian Roscoe "Fatty" Arbuckle, but had always been fascinated by his rape and murder trial, which rocked Tinseltown to its core.  I had actually previously stalked two of Fatty's former West Adams homes after finding their addresses thanks to fellow stalker E.J., of The Movieland Directory, and his book Hollywood Death and Scandal Sites.  My original intent was to blog about them during the month of October, but once I discovered that the pads aren't reported to be haunted and that the Roscoe scandal did not actually take place on either premises I decided to hold off until November.  So here goes!
The tale of Fatty is a sad one.  The robust comedian became Hollywood's golden boy and one of its highest paid stars in the 1910s, after toiling penniless for years on the Vaudeville circuit.  Cut to Labor Day weekend 1921, when Roscoe made the fateful decision to go to San Francisco with two friends.  He stayed in Room 1219 of  the Saint Francis Hotel (a location that I hope to stalk in the near future) and threw a raucous party.  A young actress name Virginia Rappe was in attendance.  She drank quite a bit at the soiree and, at some point, ruptured her bladder, dying four days later from peritonitis in a nearby sanitarium.  One of Rappe's friends falsely accused Arbuckle of raping Virginia and causing her death.  Despite the fact that doctors found no evidence of a rape, Fatty was arrested for murder.  The media had a field day denouncing the comedian and his films were soon banned in most states.  His first two trials resulted in hung juries and he was finally acquitted – and given a written apology from the jury – at the third in April 1922.  His career never recovered, though, and he was forced to work mostly behind the scenes under a pseudonym for the remainder of his life, which was not long.  Roscoe passed away from a heart attack in 1933 at the age of 46.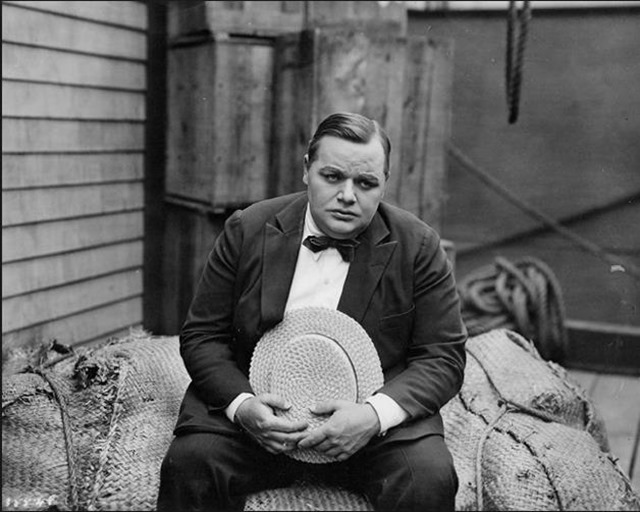 According to E.J., Roscoe rented the Vienna Secessionist-style mansion pictured below in the late 1910s (although I've also heard reports that he lived there after his trials ended).  The residence had been commissioned by businessman/real estate developer Lycurgus Lindsay (love the name!) in 1908 and was constructed of hollow hard-burned terra cotta from Western Art Tile Works, a company Lindsay owned.  The property was designed by Charles Frederick Whittlesey, who also devised the original Wentworth Hotel in Pasadena, which was later re-built as the Huntington Hotel.   In 1908, the home's grounds measured over four acres, stretched from West Adams Street all the way to West 27th Street, and included three large terraced-pieces of land and a greenhouse.  The dwelling, which was considered fire- and earthquake-proof, boasted three stories, a large reception hall with an art-glass window depicting a waterfall, a formal dining room, a butler's pantry, servants' quarters, leaded glass windows,  a conservatory, and quarter-grain oak and Peruvian mahogany detailing.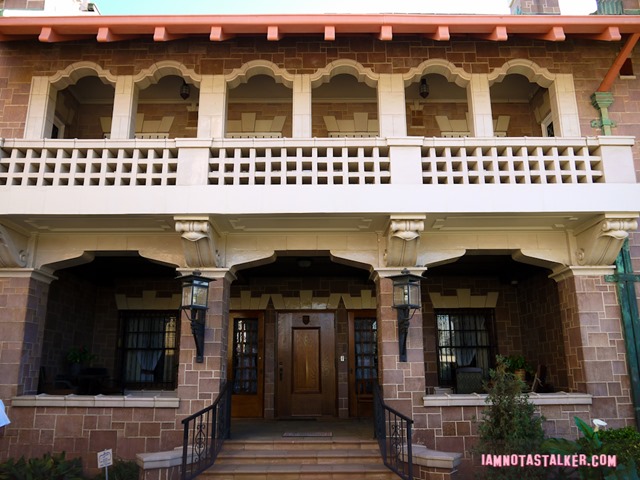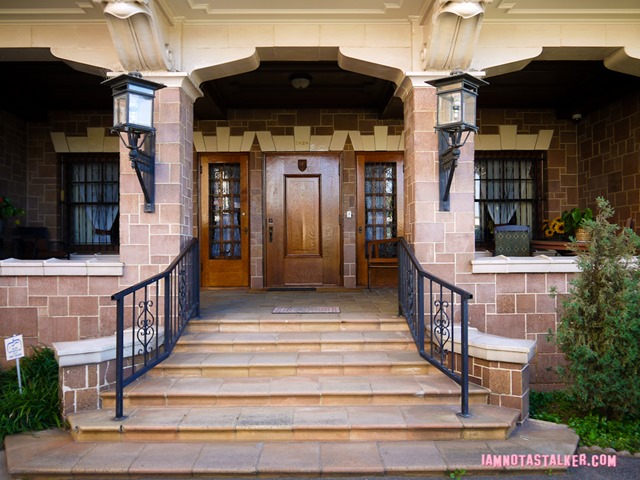 According to the Los Angeles History blog, Lindsay lived at the residence, which is a Los Angeles Historic-Cultural Monument, from the time it was completed in 1910 to 1913.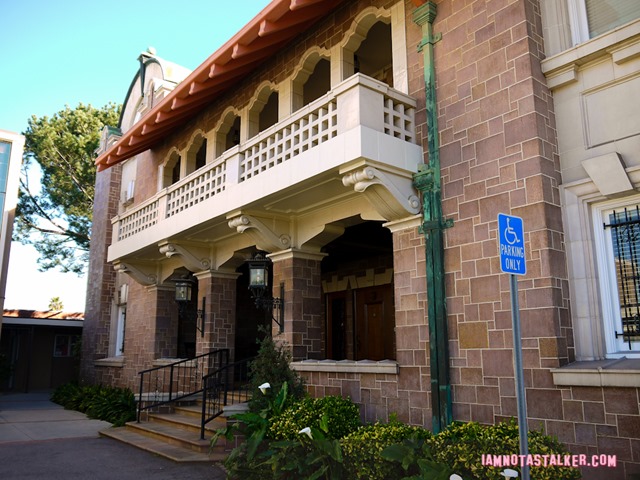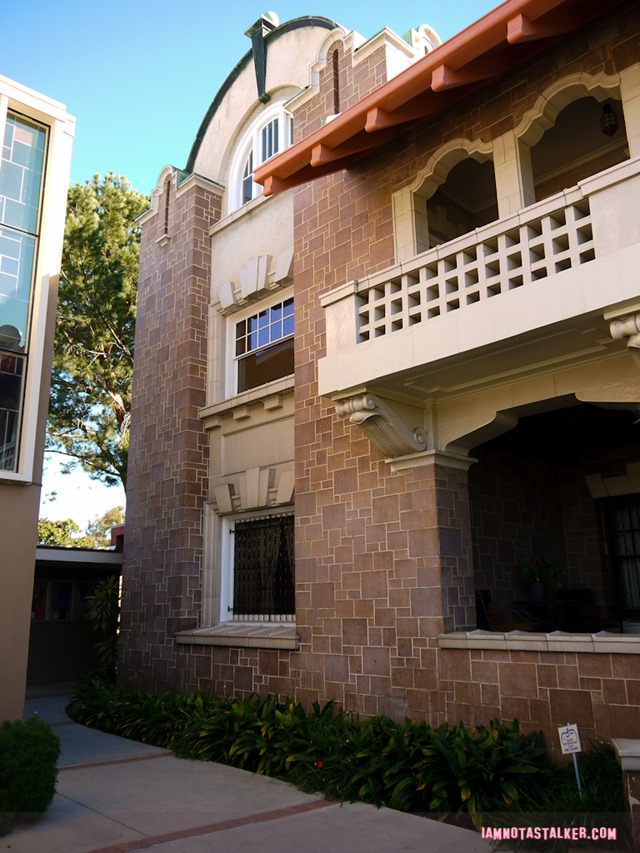 At some point, the property was obtained by the Our Lady of the Bright Mount Roman Catholic Polish Church and a parish was subsequently constructed in the front yard area, almost completely obscuring the mansion from view.  In fact, when the Grim Cheaper and I first went to stalk it, we drove right by the place without even realizing it was there.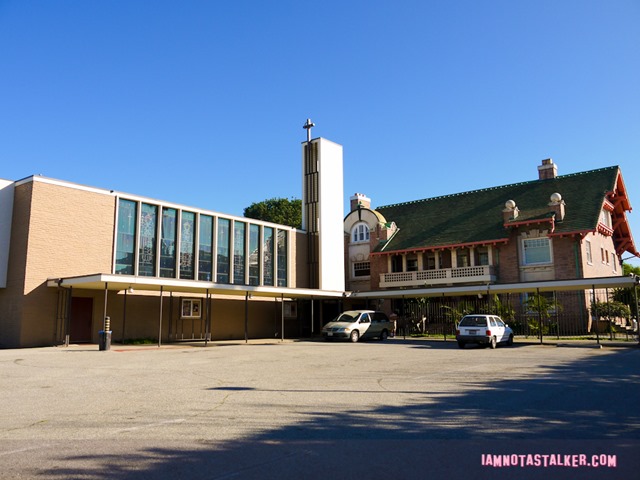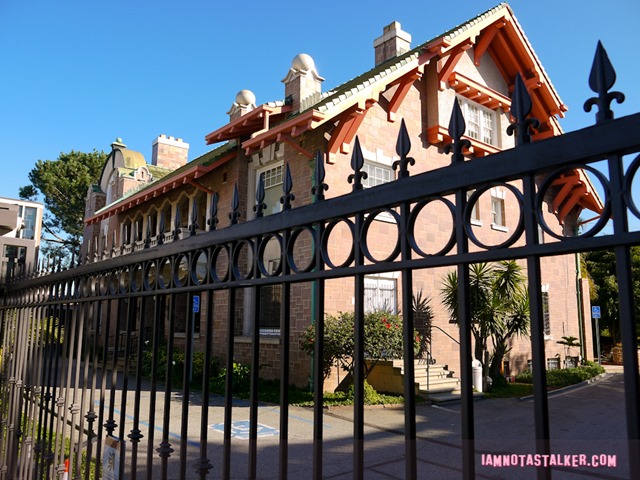 It is so sad to me that such a gorgeous edifice has been so obscured.  Thankfully though, one of the priests who happened to be on the premises noticed us taking photographs and invited us behind the gates for a better view.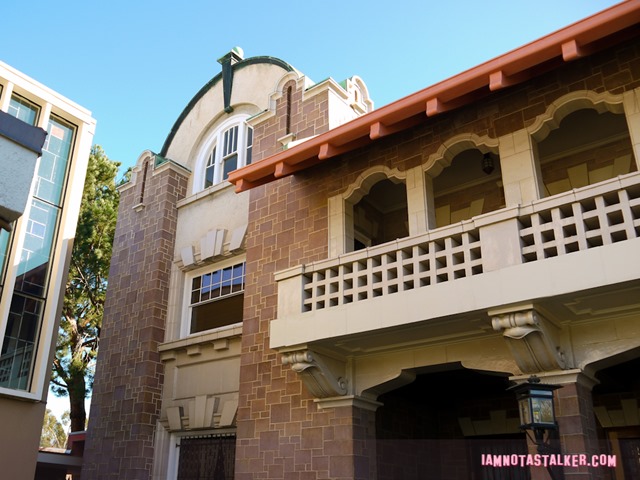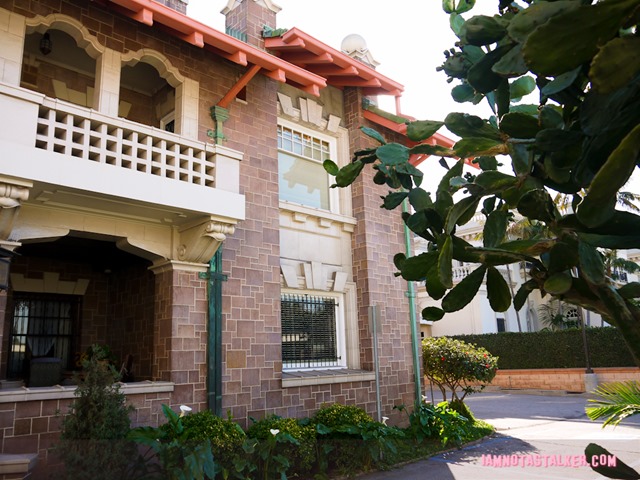 In 1919, Roscoe leased another West Adams-area mansion located about three miles east.  The property had originally been commissioned in 1905 by United States Navy Commander Randolph Huntington Miner and his wife, shipping heir Tulita Wilcox Miner.  The two-story, twenty-room Tudor revival-style dwelling boasted a drawing room that could hold two hundred people, a gabled roof, a Japanese meditation garden, a koi pond, and stained glass windows.  In 1917, the Miners migrated to France and leased out their home to silent film siren Theda Bara.  When Theda moved out in 1919, Roscoe and his then-wife Minta Durfee moved in.  A short time later, they purchased the pad from the Miners for $250,000.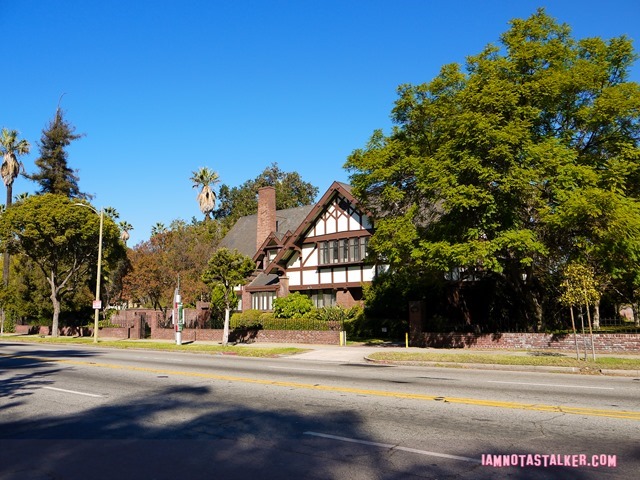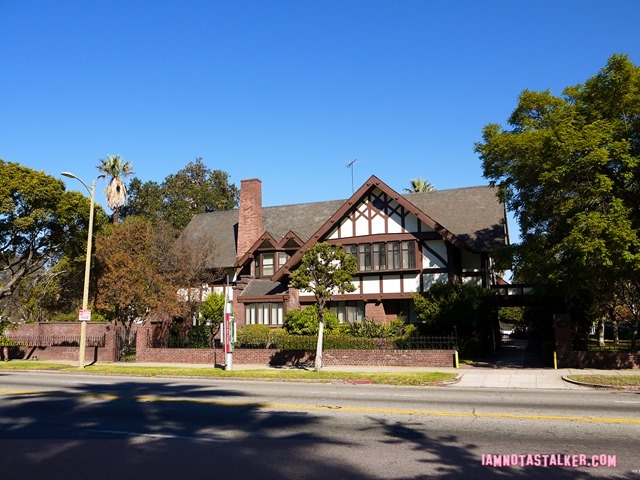 According to Merritt, Arbuckle spent copious amounts to decorate the place.  He writes, "He imported an intricately carved front door from Spain (cost: $12,000) and bought and bought and bought: ornate mahogany paneling, gold-leafed bathtubs, crystal chandeliers, Oriental rugs, marble counters, fine-art paintings, antique china.  The red lacquer dining room table with golden-clawed feet was from China.  The lanai featured a Hawaiian royal chair.  There was a Japanese bridge over the pond.  Forever fascinated by technical gadgetry, Arbuckle had his closets and dressers wired with lights that came on when a door or drawer was opened."  The home's humongous detached garage had space for all six of Roscoe's luxury cars, including his beloved custom-built Pierce-Arrow.  (You can see the spire of nearby St. Vincent de Paul Church, which I blogged about here, on the right-hand side of the top photo below.)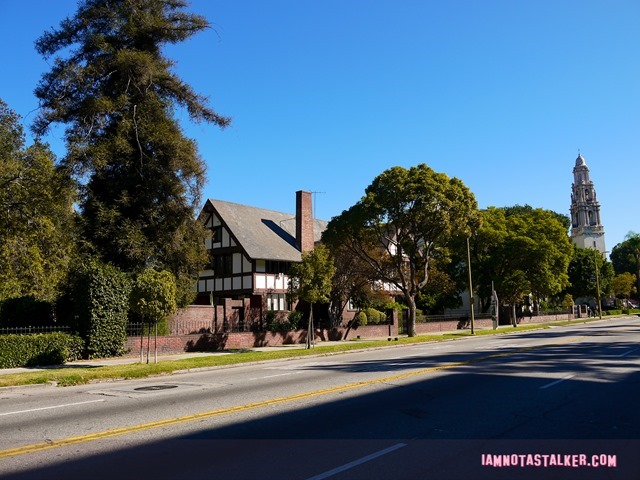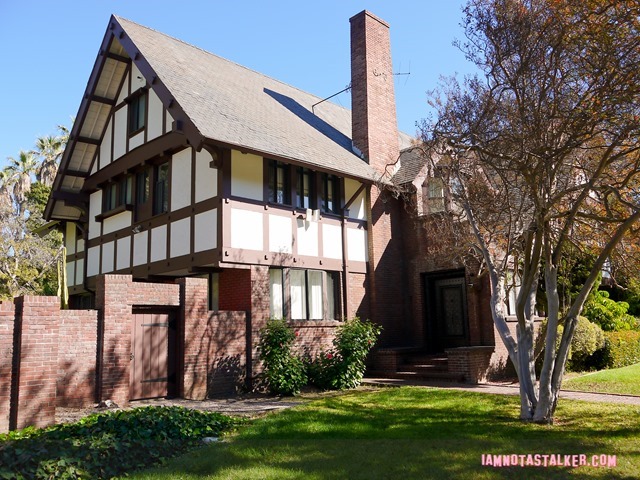 The Virgina Rappe scandal and Roscoe's ensuing unemployment left the actor virtually destitute.  To pay for the trials (which it is rumored cost him $750,000 – and that's 1920s money!), he deeded his mansion to Joseph Schenck.  He continued to live on the premises, though, leasing the property back from the legendary producer.  By June 1922, Fatty's manager Lou Anger and his wife had rented the residence for themselves, allowing Arbuckle, whose own wife had since moved out, to stay there as well.  By December of that year, the broke – and broken – comedian was living by himself in a small bungalow in Hollywood.  Today, the property serves as a rectory for Congregation of the Mission and is known as the Amat House, named (I believe) in honor of the first bishop of Los Angeles, Thaddeus Amat y Brusi.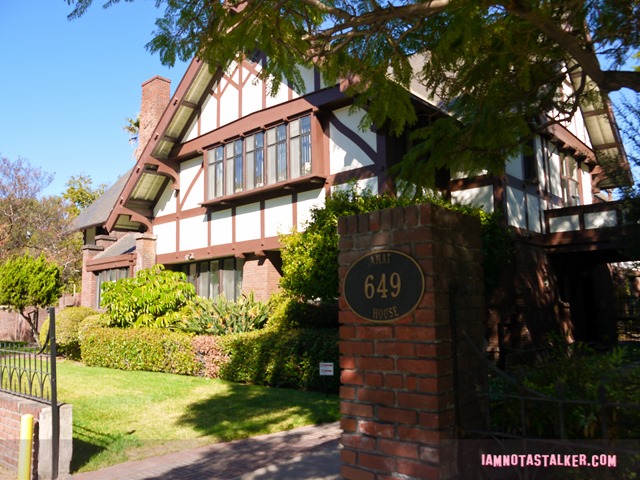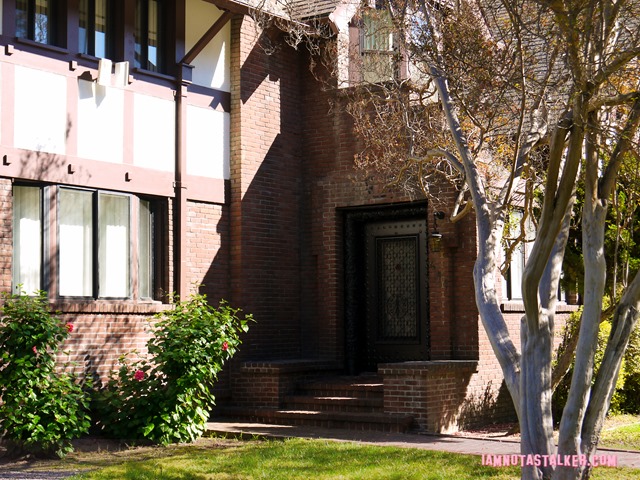 For more stalking fun, be sure to follow me on Facebook, Twitter and Instagram.  And you can check out my other blog, The Well-Heeled Diabetic, here.
Big THANK YOU to E.J., of The Movieland Directory, for writing about these locations in his book Hollywood Death and Scandal Sites!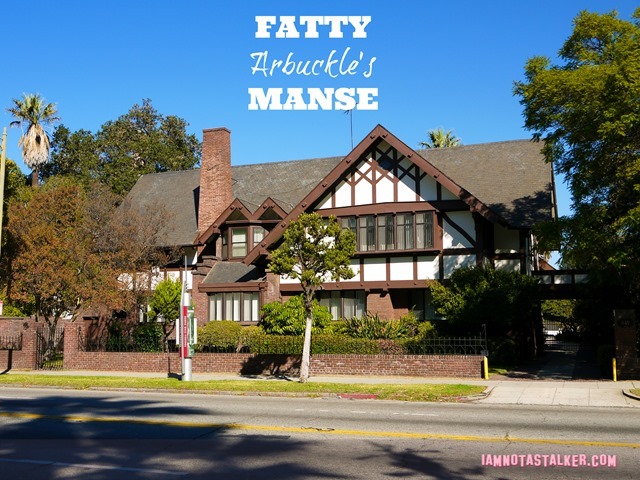 Until next time, Happy Stalking! 

Stalk It: Fatty Arbuckle's former homes are both located in the West Adams District of Los Angeles – the Lycurgus Lindsay house can be found at 3424 West Adams Boulevard and the Amat House is located at 649 West Adams Boulevard.
75520