Marilyn Monroe's Childhood Home
Dec 6th, 2013 | By
Lindsay
| Category:
Marilyn Monroe Locations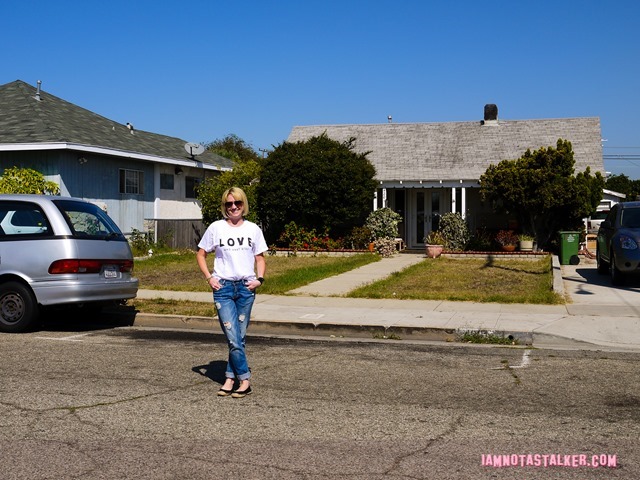 One location that had been on my To-Stalk list for what seemed like ages was the Hawthorne-area home where my girl Miss Marilyn Monroe spent the first eight-and-a-half years of her life.  Fellow stalker Lavonna had texted me the address years ago, but because I so rarely find myself in that neck of the woods, I was never able to make it out there.  Until a couple of weeks ago, that is, when I realized that the residence was not too far from a hotel near LAX where the Grim Cheaper and I happened to be staying.  So I dragged him right on over to stalk it (and to a Four Christmases locale that I will be writing about in late December).
Gladys Mortensen was single, living in Hollywood and working as a film cutter at Consolidated Film Industries when she became pregnant with Marilyn in 1925.  In December of that year, shortly before she was to give birth, she headed to Hawthorne in the hopes that she could move in with her mother, Della, for a brief time before and after the delivery.  Della had other plans, though – she was about to sail to Borneo to make amends with her estranged husband, Charles Grainger, who was working in the oil fields there.  Arrangements were instead made for Gladys to stay across the street at the home of Wayne and Ida Bolender, a deeply religious couple who served as foster parents to several children.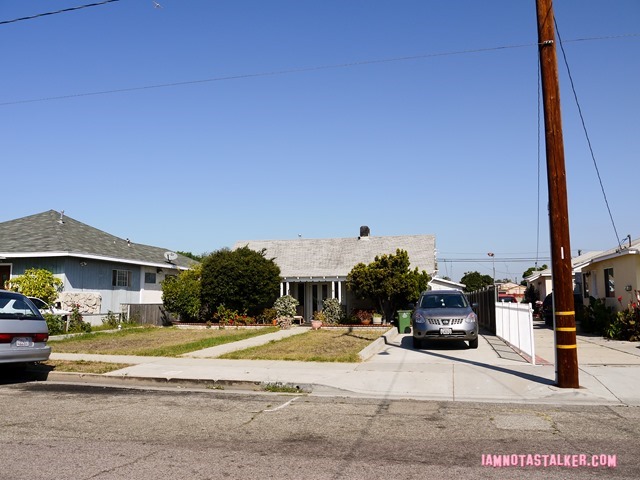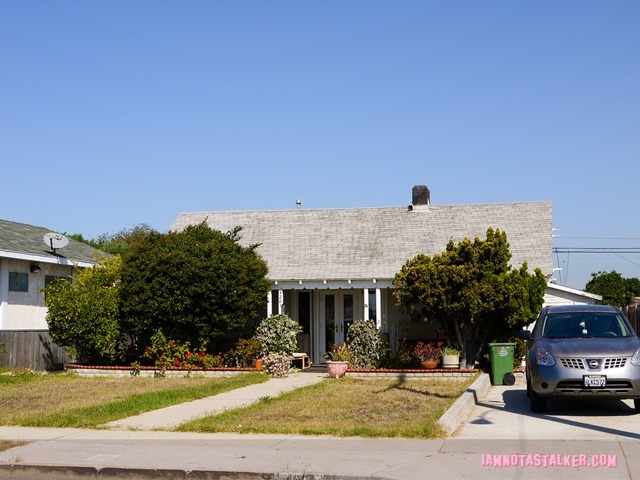 The Bolenders had moved into the 3-bedroom, 1-bath, 1,376-square-foot clapboard residence pictured below in 1919.  At the time, the home, which was built in 1913, boasted 4 four acres of land (it now sits on a 0.20-acre parcel), where the family raised chickens and goats and grew vegetables.  The property's original address was 459 East Rhode Island Street, but during the re-districting of the area in the '30s and '40s it was changed to 4201 West 134th Street.  You can see a photograph of the house from the time that the Bolenders owned it here.  It is absolutely REMARKABLE how little of it has changed over the past ninety-plus years!  You can also check out a picture of a newborn Marilyn in front of the dwelling here, in which a "459" address placard is visible in the background.  So incredibly cool!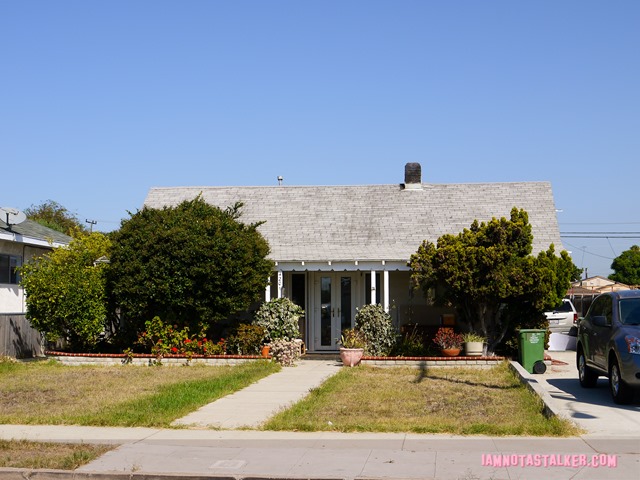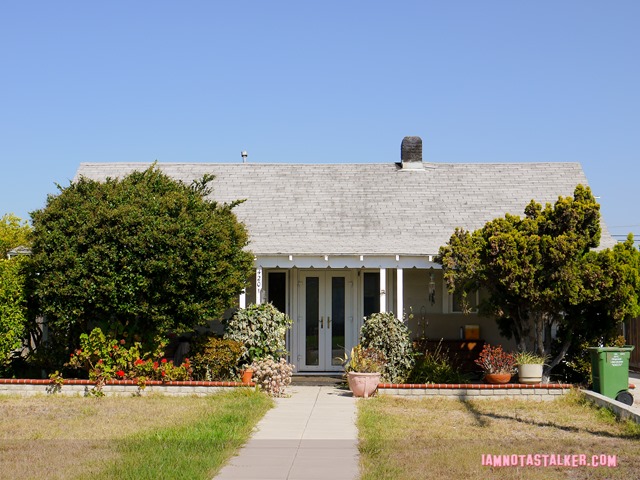 Gladys gave birth on June 1st, 1926 in the charity ward of Los Angeles General Hospital.  She named her new daughter Norma Jeane Mortensen.  After twelve days, the two returned to the Bolender's.  Gladys spent about three weeks at the Hawthorne house with Marilyn before heading back to Hollywood and her job at Consolidated in July.  She left her baby behind, paying Wayne and Ida $5 a week to care for her.  Contrary to what has been reported, Gladys did not abandon Marilyn entirely, but came to visit her on a weekly basis, often spending the night.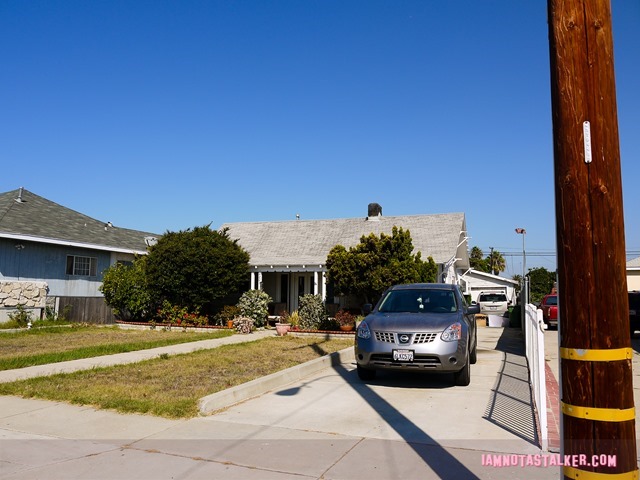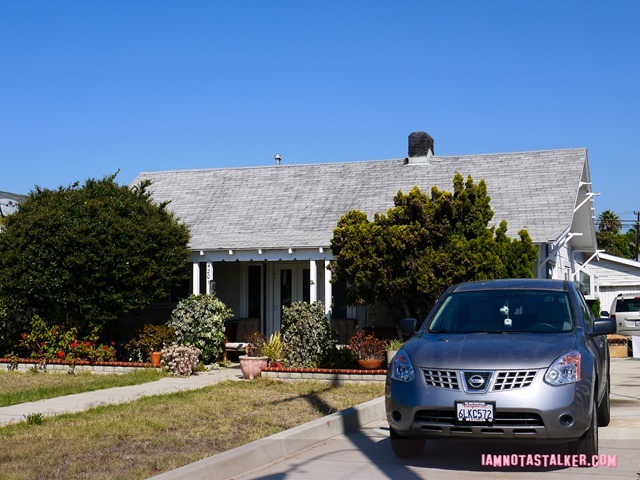 When Gladys' son from her first marriage, Jackie, from whom she was estranged, died at the age of 14 in August 1933, she became compelled to regain custody of Norma Jeane.  She took on a second job and by October 1934, had saved enough money to purchase a six-thousand-dollar house (at 6812 Arbol Drive in Hollywood – sadly, it's no longer standing).  That same month, eight-year-old Marilyn left the Bolenders and moved in with her mother.  She didn't stay long, though.  Gladys had a nervous breakdown in late December and was committed to an asylum, at which point Norma Jeane was sent to live with one of her mother's good friends, Grace McKee.  She didn't stay there long, though, either.  By 1935, Gladys could no longer afford to care for Marilyn and sent her to the Los Angeles Orphan's Home (now Hollygrove Home for Children, which I blogged about here).  The girl who would become the world's most famous blonde spent the remaining years of her childhood being bounced around from foster parents to family members.  Then, at the tender age of 16, she married her first husband, James Dougherty, and moved into a guest house in Sherman Oaks, which also, unfortunately, no longer stands.  You can read my blog post on that location here.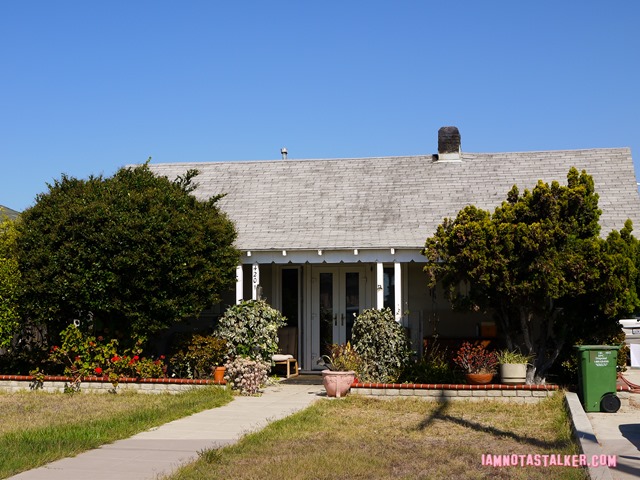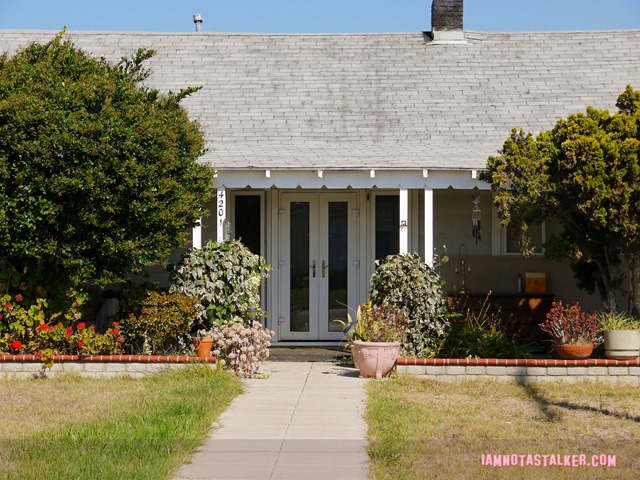 For more stalking fun, be sure to follow me on Facebook, Twitter, Instagram, and Los Angeles magazine online.  And you can check out my other blog, The Well-Heeled Diabetic, here.
Big THANK YOU to fellow stalker Lavonna for telling me about this location!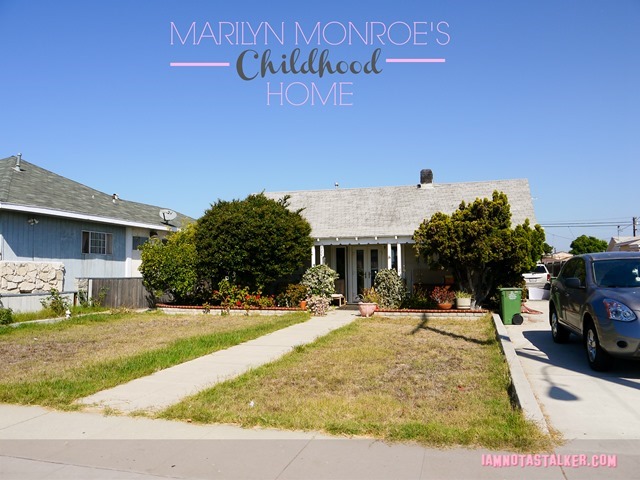 Until next time, Happy Stalking! 

Stalk It: Marilyn Monroe's childhood home is located at 4201 West 134th Street in Hawthorne.
77562