Melrose Avenue from "L.A. Story"
Dec 10th, 2013 | By
Lindsay
| Category:
Movie Locations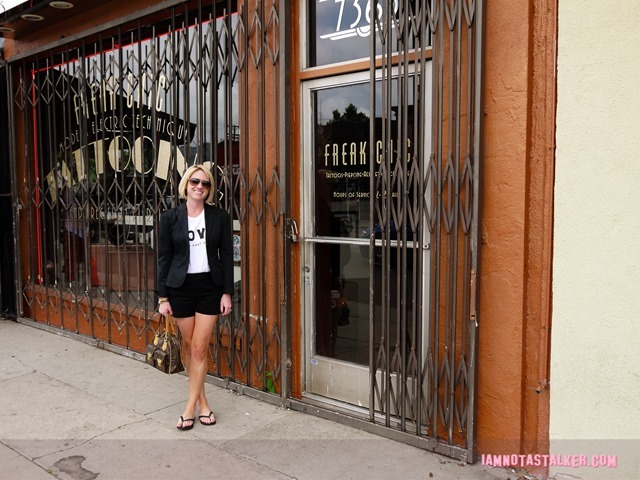 Another L.A. Story location that has been waiting patiently in my stalking backlog is the block of Melrose Avenue where Harris K. Telemacher (Steve Martin) and Sara McDowel (Victoria Tennant) walked and talked after attending a fundraiser for a private art museum in the 1991 flick.  Unfortunately though, because the movie was lensed over twenty years ago and that area of Melrose has changed quite a bit during the interim, I am unsure of the exact spot where filming took place.  But I sure did my best to try to pinpoint it.
While watching Harris and Sara's walk-and-talk scene in L.A. Story, I noticed a neon sign in the background that spelled out "Wacko."  Harris had mentioned in the scene that they were wandering down Melrose, so I decided to begin my hunt there and did a Google search for "Wacko" and "Melrose Avenue."  Sure enough, I was led to an April 1997 Los Angeles Times article that stated, "Wacko, a toy and trinket shop with a bizarre inventory ranging from eyeball magnets to 'mystic smoke for fingertips,' is famous for its colorful neon name sign that has become an icon of hipness known worldwide."  (I must not be all that hip being that I had been completely unaware of the sign prior to reading the article. 

)  From there, finding the address of the former Wacko storefront – at 7404 Melrose Avenue – was fairly easy.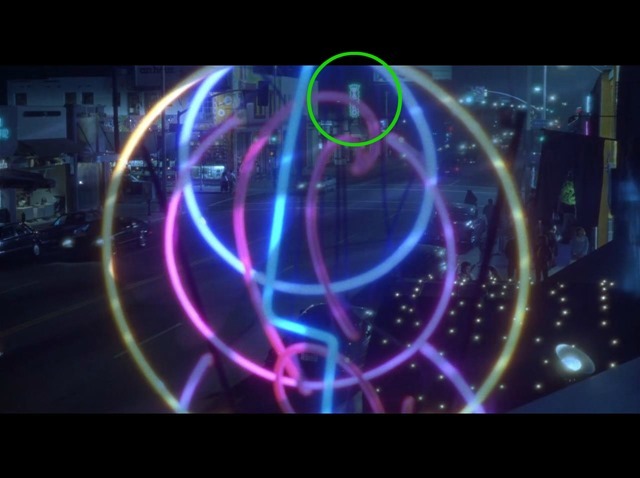 It was not until later that I realized a street sign for "Martel Avenue" was visible in the background of the scene.  My search would have been a whole lot easier had I noticed that earlier!  D'oh!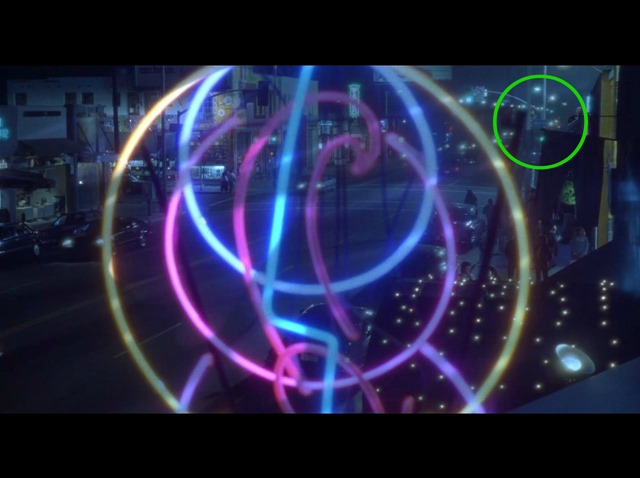 Wacko was originally established in 1984 by entrepreneur/art collector Billy Shire.  Shire's parents had founded the Soap Plant, a boutique specializing in handmade soap, ceramics and leather clothing, in Los Feliz in 1971.  In 1980, Billy took over the family business and moved it to a strikingly unique corner building at 7400 Melrose Avenue.  The new space was larger, enabling Billy to expand his wares to include jewelry and books.  Four years later, when two vacant storefronts located next door to the Soap Plant became available, he opened a "pop culture toy shop" named Wacko, aka "The Second Happiest Place on Earth."  Besides selling Japanese robots, wind-up trinkets and games, Wacko also offered the largest selection of postcards in all of Los Angeles.  In 1986, Shire founded an art showplace named La Luz de Jesus Gallery in the space located upstairs from the Soap Plant and Wacko.  All three were so successful that nine years later he opened up sister locations in a 6,500-square-foot space at 4633 Hollywood Boulevard in Los Feliz.  Sadly, as the Melrose Avenue clientele shifted from punk to hipster in the late '90s, his business began to decline and he wound up closing his outposts there in 1997.  His Hollywood Boulevard shops are still alive and well, though.  Today, Wacko's former Melrose Avenue home is the site of a boot shop and cell phone store.  You can check out what the building looked like during the Wacko days here.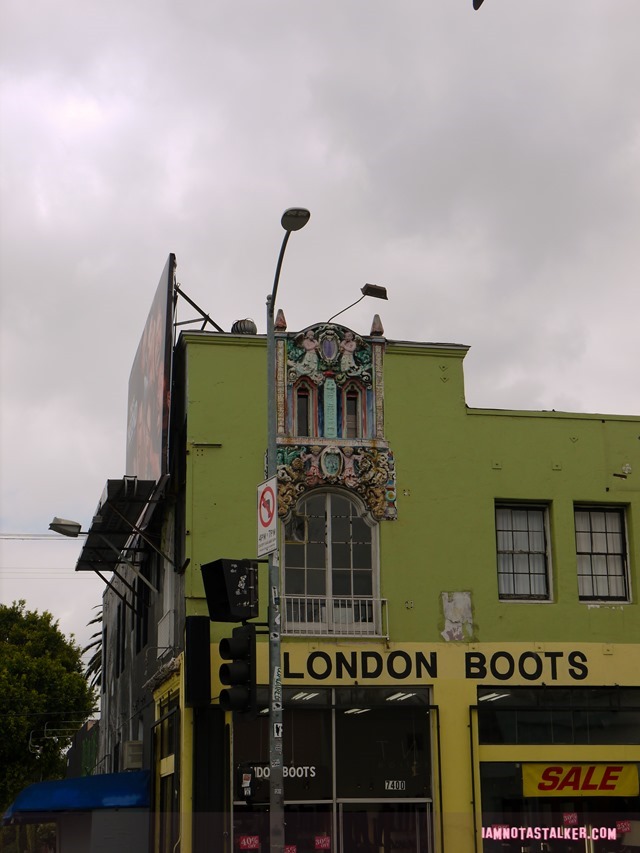 While the former Wacko building was an easy find, I still have not been able to pinpoint the exact storefronts that Harris and Sara walked in front of in L.A. Story.  It is clear from the position of Wacko's neon sign in the scene that the two were on the north side of Melrose Avenue, heading east from the Martel Avenue intersection towards North Fuller Avenue.  None of the storefronts on that particular block match up to what appeared onscreen, though.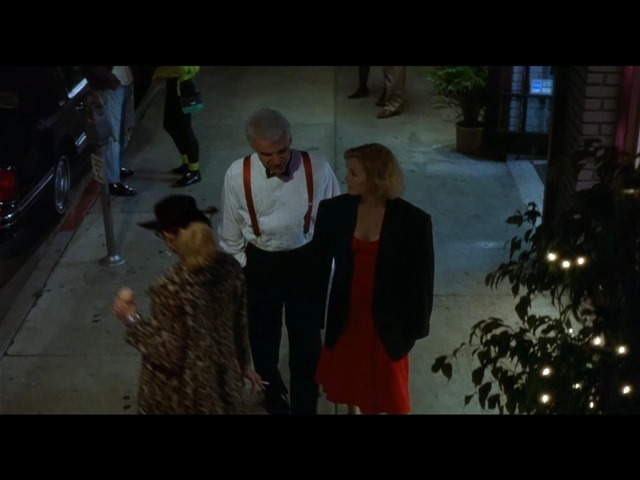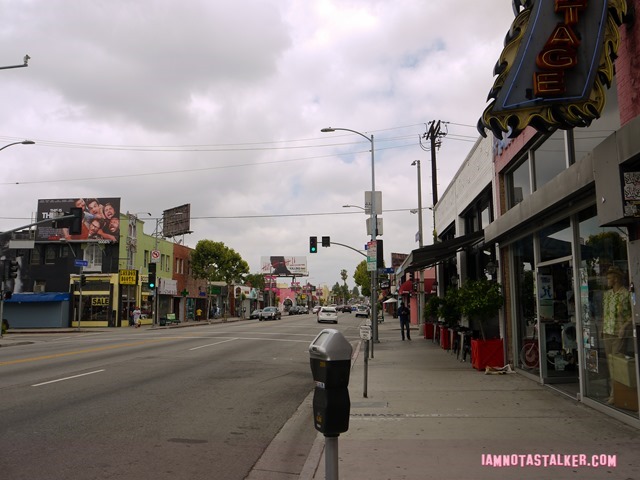 Granted a lot can change in 22 years time, but I was absolutely certain that I would find something that had remained the same, something that would allow me to identify the exact storefronts.  Sadly though, the Grim Cheaper and I walked up and down that particular block of Melrose several times, screen captures in hand, without turning up a single thing.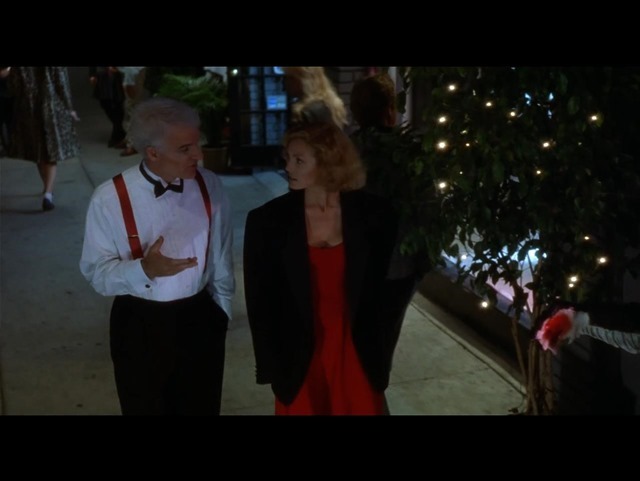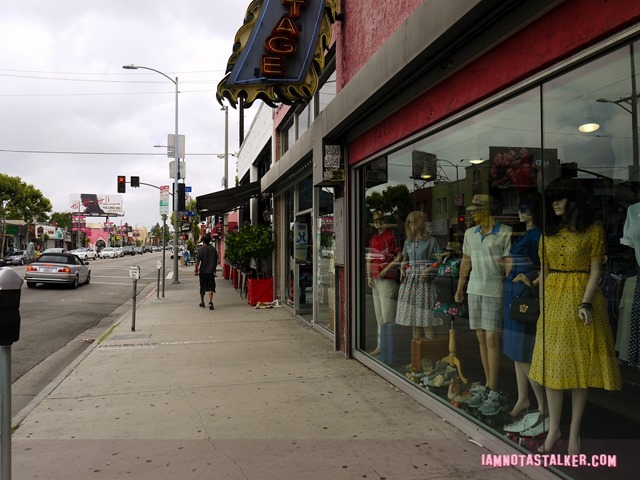 The storefront that I most wanted to locate was the spot with the neon-decorated three-panel window, where Harris and Sara paused and where Harris uttered his famous line, "So there I was jabbering at her about my new job as a serious newsman – about anything at all – but all I could think was wonderful, wonderful, wonderful, wonderful, wonderful, and most wonderful, and yet again, wonderful."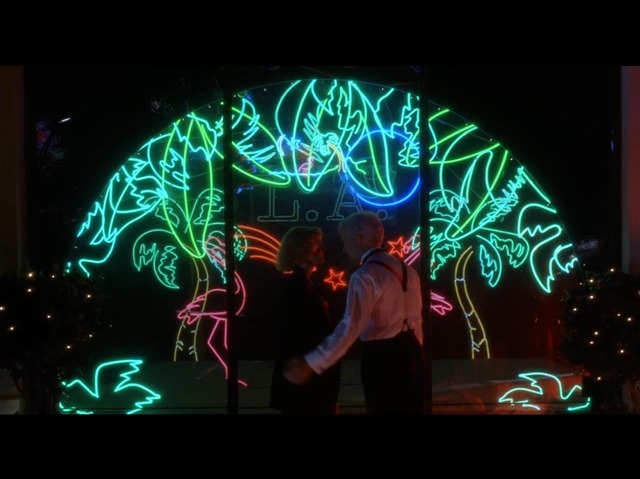 While I originally thought that the window that appeared behind them in the scene was arched, as you can see in the screen capture pictured below (which I lightened a bit), that is not actually the case.  Some sort of arched backdrop was used to create that illusion, but in reality the window is rectangular in shape.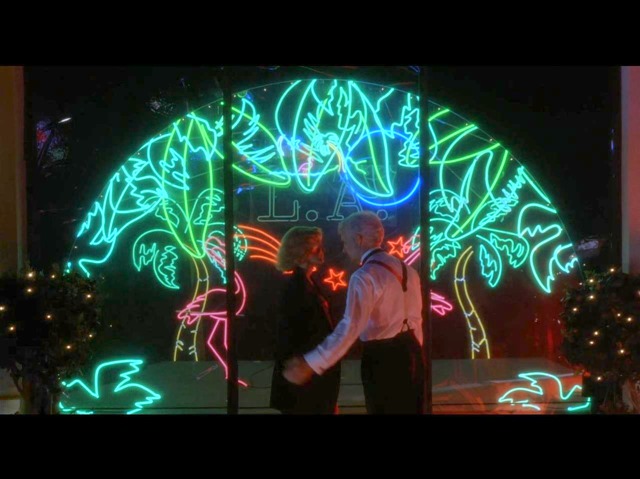 My best guess is that the storefront used is the one located at 7365 Melrose Avenue, which now houses Freak Chic Tattoo.  That is just a guess, though.  While the shop does boast a similarly-shaped three-panel window, because there are no other identifying marks, it is virtually impossible to say for sure.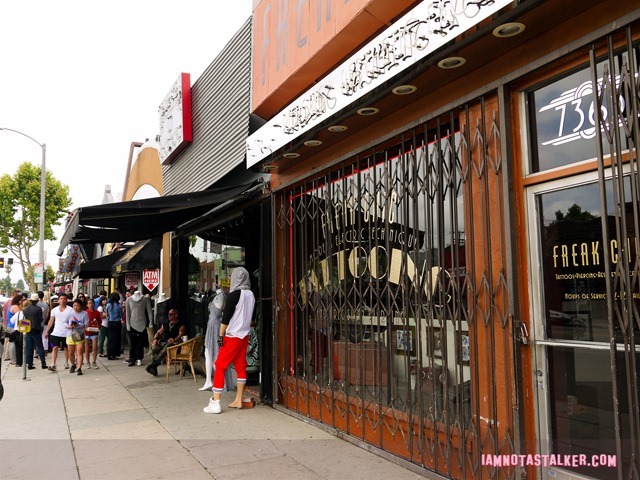 For more stalking fun, be sure to follow me on Facebook, Twitter, Instagram and Los Angeles magazine online.  And you can check out my other blog, The Well-Heeled Diabetic, here.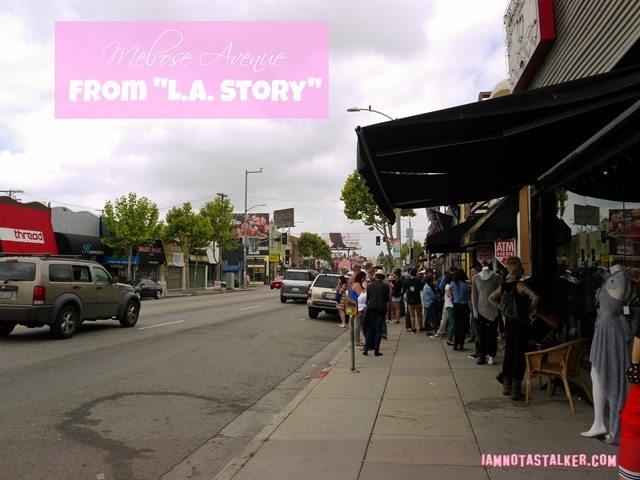 Until next time, Happy Stalking! 

Stalk It: Harris and Sara's walk-and-talk from L.A. Story took place on the 7300 block of Melrose Avenue in Los Angeles' Fairfax district.  The couple was on the north side of the street in the scene, near the storefronts located at 7377 and 7383, heading east.  I believe that Harris and Sara stopped in front of the storefront located at 7365 Melrose Avenue.  The former site of Soap Plant and Wacko can be found at 7400/7404 Melrose Avenue.  You can visit the Soap Plant/Wacko official website here.
77680