The All American Burger from "Don't Tell Mom the Babysitter's Dead"
Feb 20th, 2014 | By
Lindsay
| Category:
Movie Locations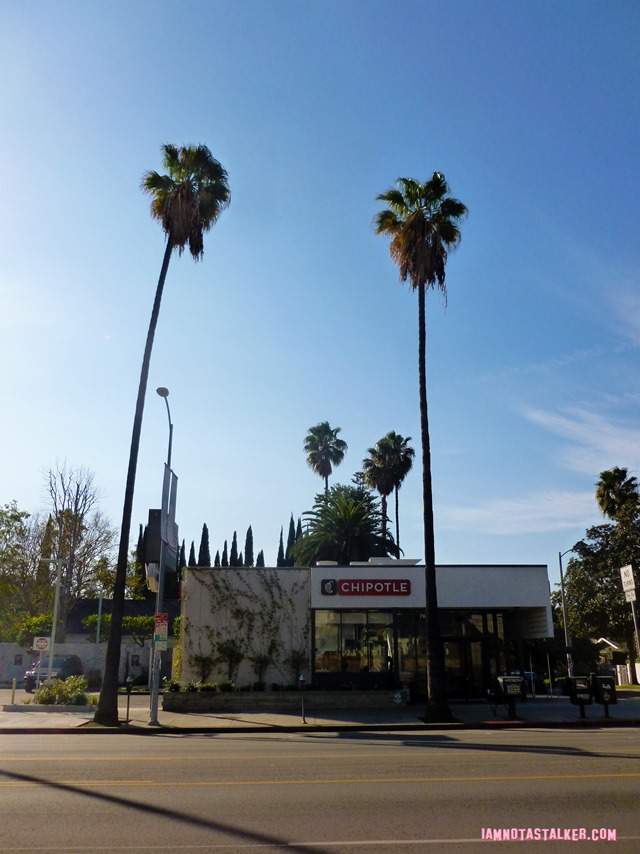 I was devastated to learn back in early 2010, thanks to fellow stalker Amanda, that The All American Burger on Sunset Boulevard, which masqueraded as Clown Dog restaurant in 1991's Don't Tell Mom the Babysitter's Dead, was being turned into a Chipotle Mexican Grill.  I never expected that the historic eatery was going to be demolished in the process, though, so when I drove by it later that same year, I was shocked to discover a vacant lot.  All that remained of the once-popular burger shack was its neon signage.  It was not until two weeks ago, though, while I was on my way to stalk Parisian Florist, that I saw the Chipotle outpost that now stands in its place.  Sad as I was, I figured I might as well pull over and snap some pics so that I could write an updated post on the property.
The All American Burger was originally founded in 1963 by a successful stockbroker named Aaron Binder.  The company grew fairly quickly and, by 1970, four sister eateries had opened up throughout L.A.  For reasons that are unclear, things took a turn for the worse in 1981 and the chain filed for bankruptcy.  Binder was later found guilty of fraud (stemming from a tax shelter investment scheme) and sent to prison for ten years.  He wound up serving 42 months.  It is unclear what happened to the restaurants following the bankruptcy and Binder's imprisonment, but I believe they were sold to several new owners.  Each branch was eventually shuttered, except for the Sunset Boulevard location which, according to LA Weekly, was the last remaining of the chain, until it, too, closed its doors in early 2010.  The subsequent demolition of the restaurant and rebuilding did not take long as Chipotle opened on the site in November of that same year.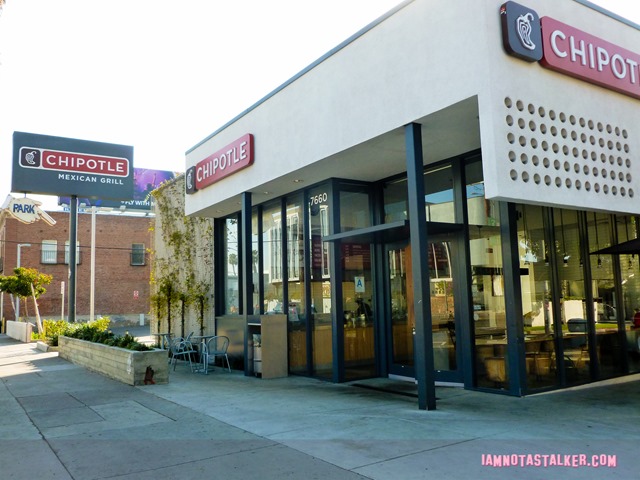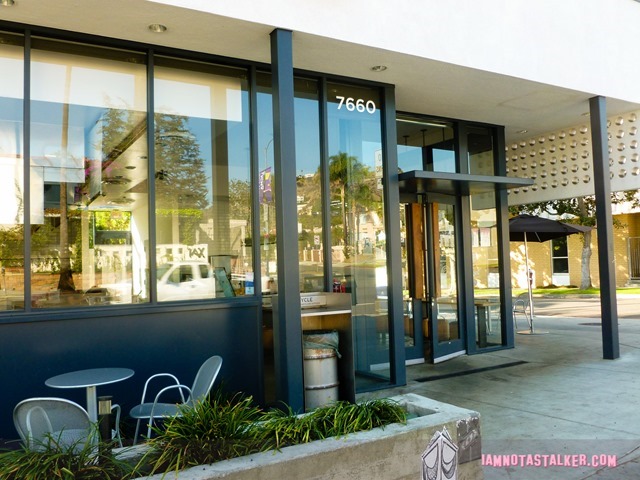 I originally visited The All American Burger in December 2009 and it turned out to be one of my favorite stalking experiences ever.  You can read about that stalk – in which I got to don an All American Burger uniform and go behind the counter – here.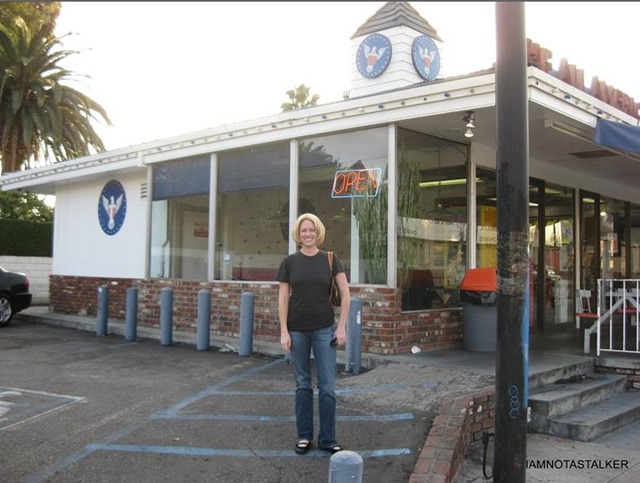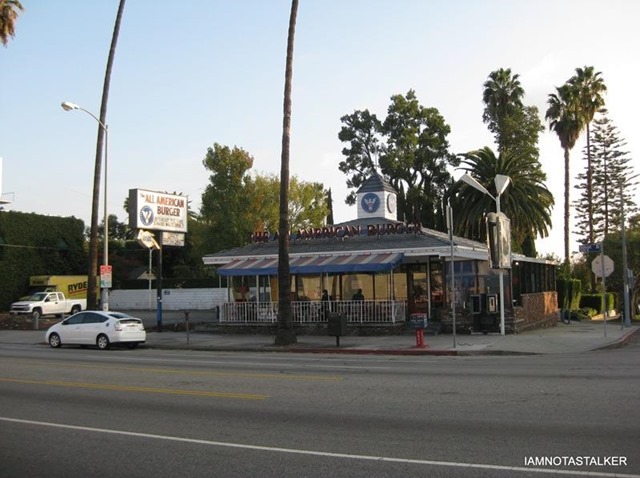 Sadly, the Chipotle building looks nothing at all like the former The All American Burger.  As I mentioned, the sole remnant of the historic eatery is its signage – or at least a portion of it.  As you can see below, the hand pointing to the parking lot that was part of the All American Burger sign was incorporated into Chipotle's new sign.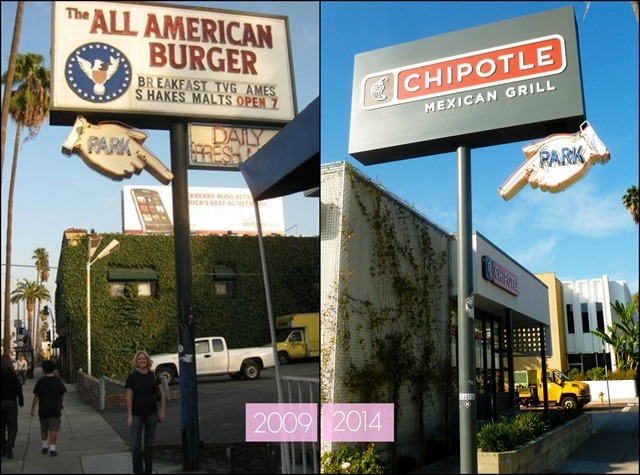 I would say I love the fact that Chipotle made the gesture, but I'm too darn sad that The All American Burger was demolished in the first place.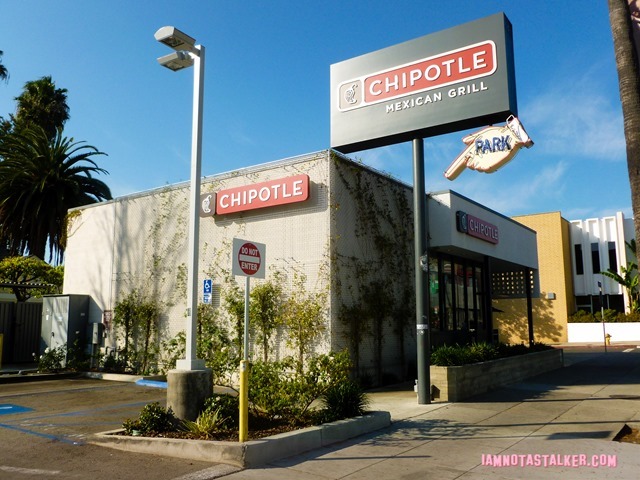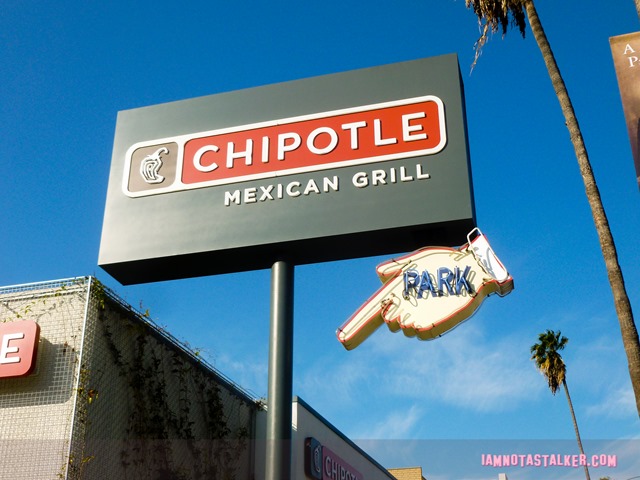 While doing research for this post I learned that it was directly across the street from The All American Burger, on the curb in front of 7677 Sunset Boulevard, that Hugh Grant infamously picked up a prostitute named Divine Brown in the early morning hours of June 27th, 1995.  Hugh then drove Divine three blocks to the corner of Hawthorn and North Curson Avenues, where the two indulged in "lewd conduct" and were eventually arrested.  Oddly, neither seemed to be negatively affected by the arrest.  Hugh's career did not miss a beat and, according to this 2010 Daily Mail article, Divine made about $1 million off of the 20-minute encounter and wound up leaving the "business" for good.  She currently runs a music production company in Atlanta.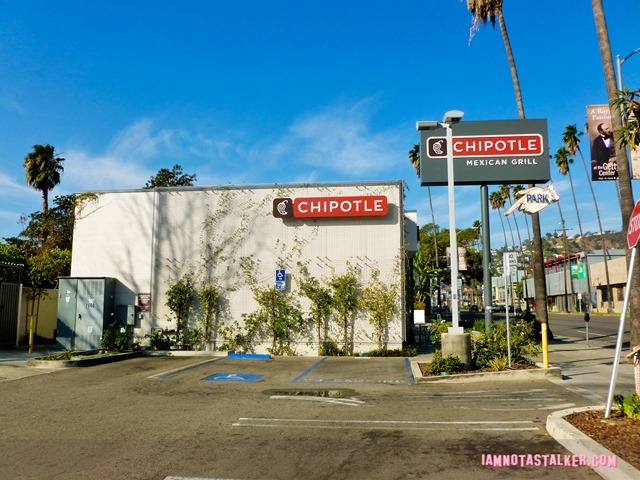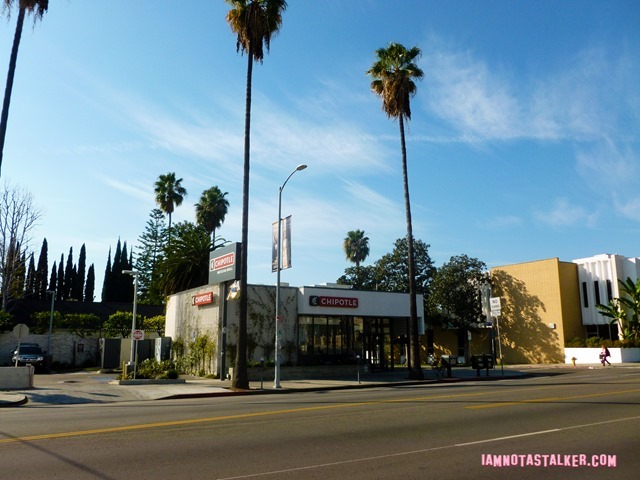 In Don't Tell Mom the Babysitter's Dead, The All American Burger stood in for Clown Dog restaurant, where Sue Ellen Crandell (Christina Applegate) worked for a day and met her future boyfriend, delivery boy Bryan (The Good Wife's Josh Charles).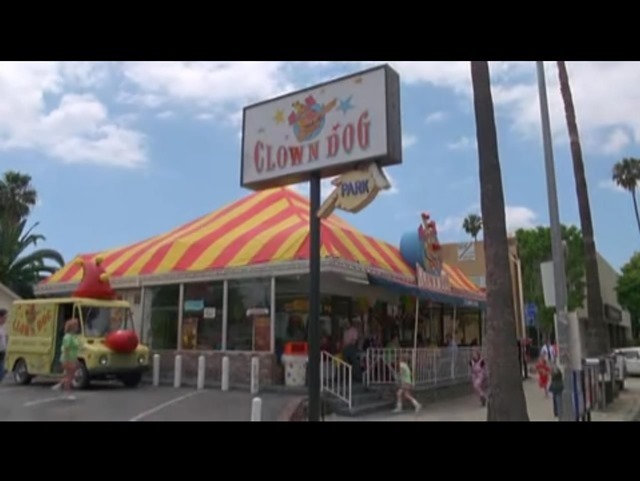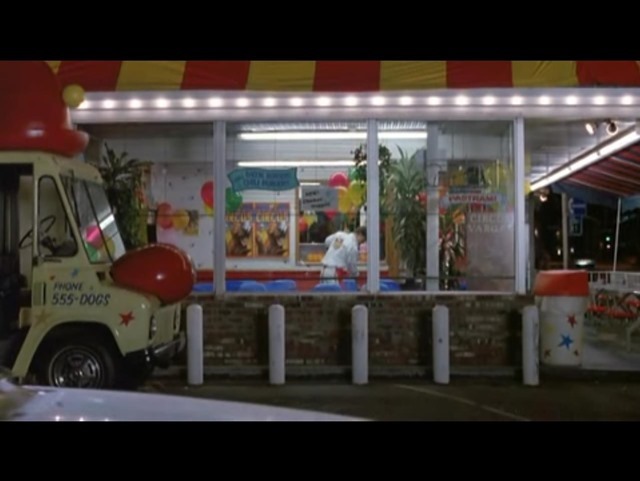 The real life interior of the eatery was also used in the movie.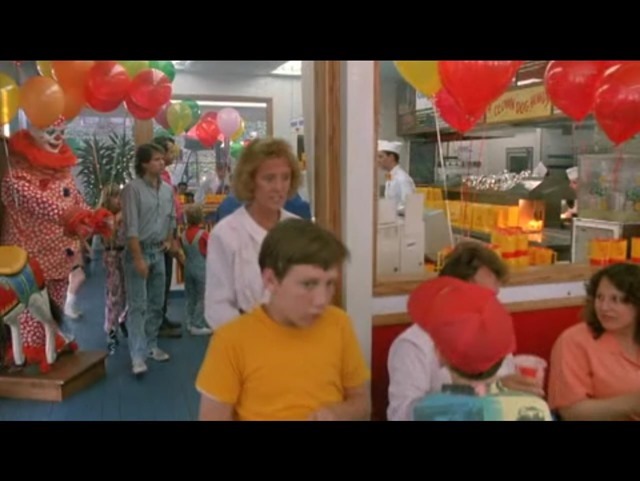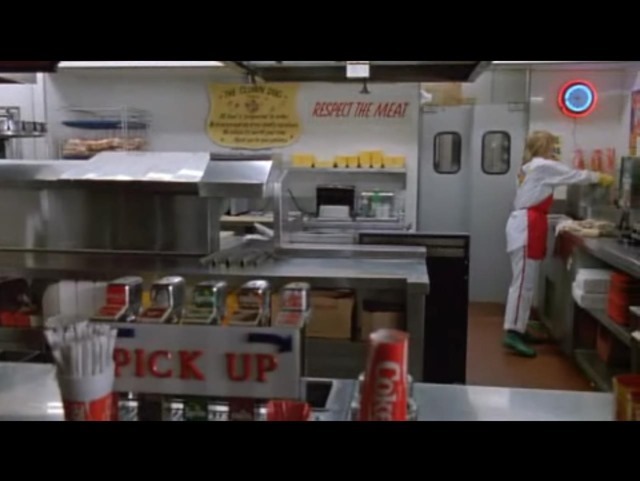 The All American Burger was featured in a couple of other productions during its too-short lifetime.  In the Season 2 episode of Californication titled "La Petite Mort," which aired in 2008, the restaurant was where Hank Moody (David Duchovny) confronted his daughter's boyfriend, Damian (Ezra Miller).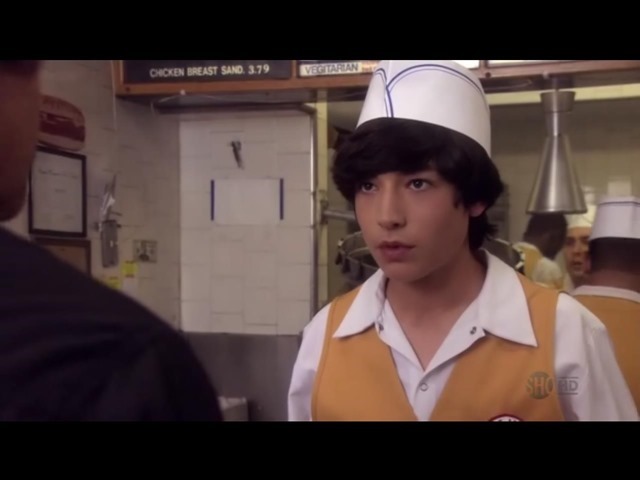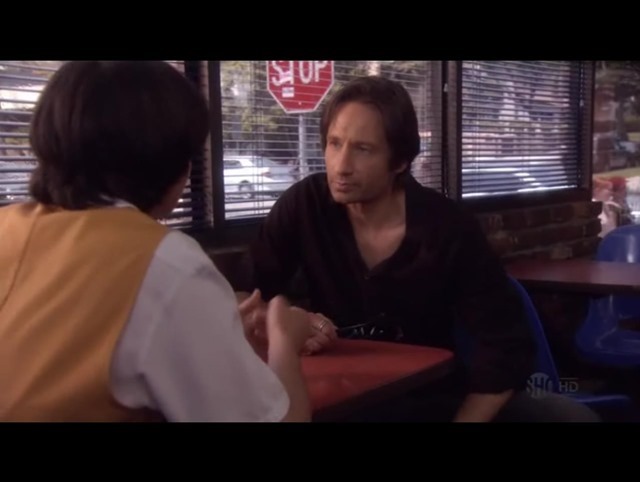 And in 2009, the eatery was where Officer John Cooper (Michael Cudlitz) and Officer Ben Sherman (cutie Ben McKenzie – sigh!) responded to a 911 call from a customer complaining that her regular lunch spot was out of chicken nuggets (LOL) in the Season 1 episode of Southland titled "Derailed."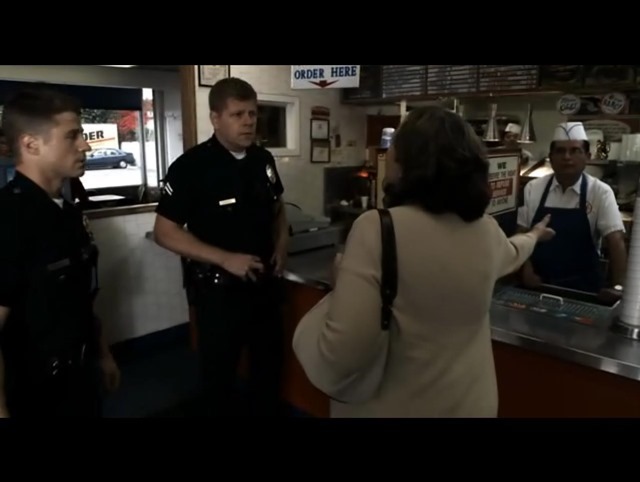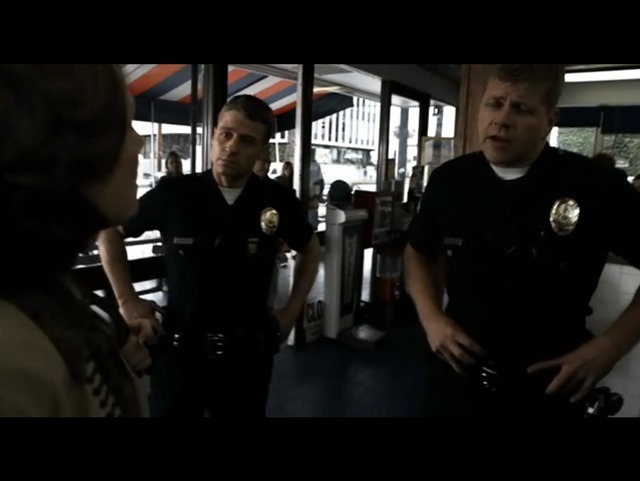 For more stalking fun, be sure to follow me on Facebook, Twitter, Instagram and Los Angeles magazine online.  And you can check out my other blog, The Well-Heeled Diabetic, here.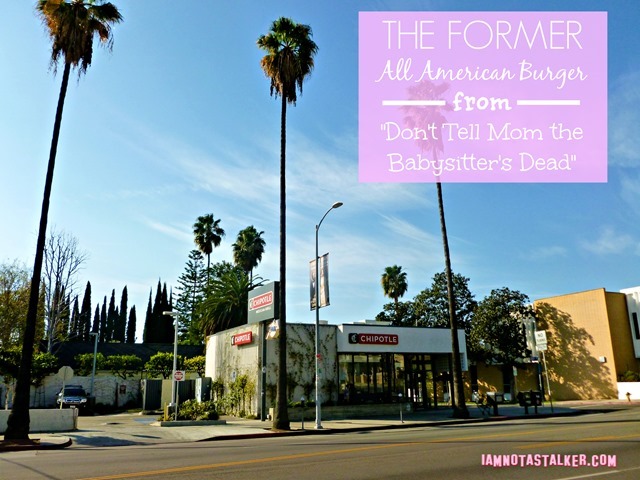 Until next time, Happy Stalking! 

Stalk It: The All American Burger, aka Clown Dog restaurant from Don't Tell Mom the Babysitter's Dead, was formerly located at 7660 West Sunset Boulevard in Hollywood.  The property is now the site of a Chipotle Mexican Grill.
79310