Auntie Em's Kitchen from "L!fe Happens"
Apr 1st, 2014 | By
Lindsay
| Category:
Movie Locations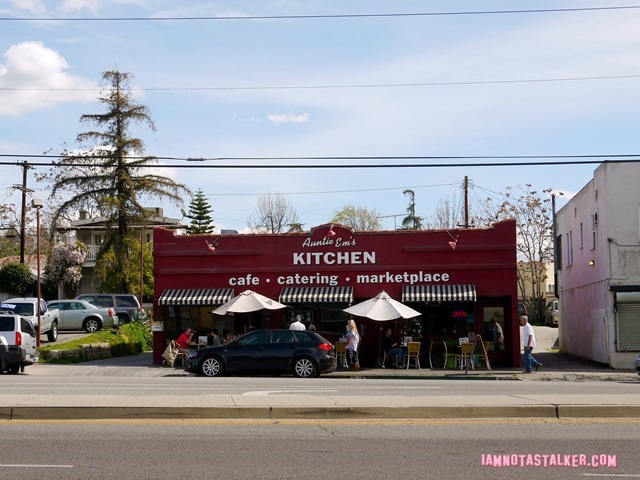 I recently re-watched the 2011 romantic comedy L!fe Happens and I have to say that I enjoyed it much more the second time around.  One of the locations featured in it – Auntie Em's Kitchen in Eagle Rock – I had actually recognized during my first viewing.  I used to drive by the place frequently when I lived in Pasadena, but, despite hearing rave reviews, never dropped in.  So I decided that it was high time I did so and headed on over there a couple of weeks ago for lunch.
Auntie Em's owner, Theresa Wahl, was led to the food world in a rather circuitous way.  The former lead singer and guitarist for the all-female punk bank The Red Aunts, Theresa spent the better part of the '90s touring the U.S. and Europe.  During her travels, she discovered countless new recipes, as well as some modern twists on old favorites.  Upon returning to L.A., Wahl decided to put what she had learned to good use.  She retired from singing and focused her efforts on the culinary arts, opening up a catering company specializing in good old American comfort food.  Thanks to her music connections, she quickly landed jobs providing fare for bands and on music video and production sets.  Just a few of the famous names that Theresa has fed over the years include Jennifer Lopez, Christina Aguilera, Mariah Carey, Britney Spears, the Red Hot Chili Peppers, Rihanna, Brandy, Sheryl Crow, Carmen Electra, Dr. Phil, Lionel Richie, Alec Baldwin, Elton John, Ellen DeGeneres, and Cindy Crawford.  She even provided the catering for Rose McGowan's October 2013 wedding to Davey Detail.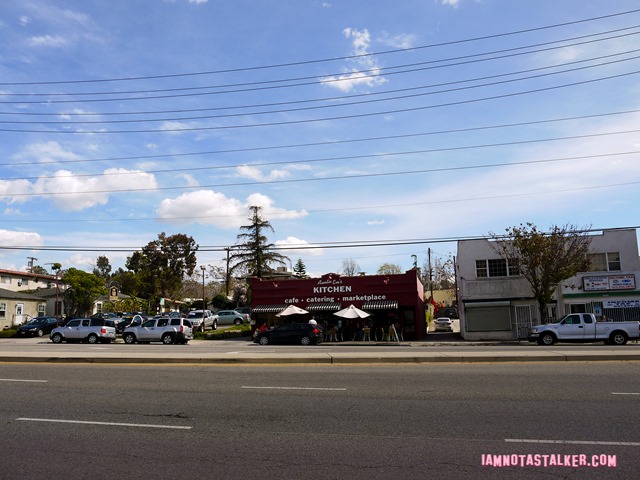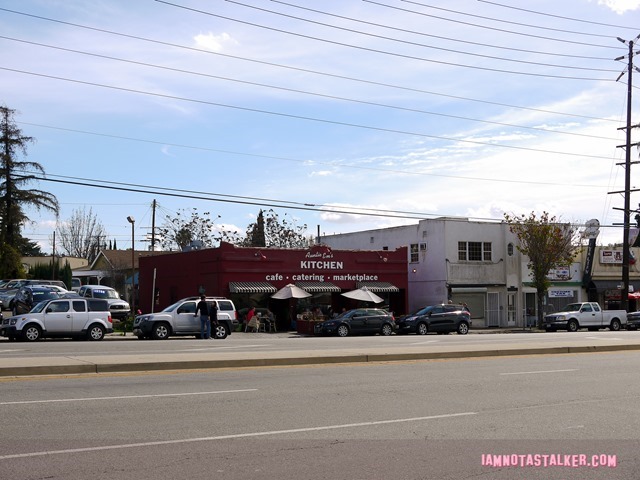 In 2002, Theresa founded Auntie Em's Kitchen, named in honor of the Auntie Em character from The Wizard of Oz.  Um, love it!  The place was an instant success and led to appearances for Theresa on the Food Network's Throwdown with Bobby Flay and Sugar High.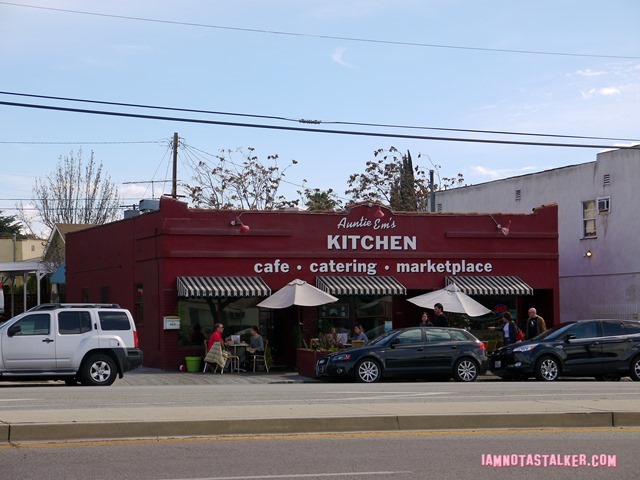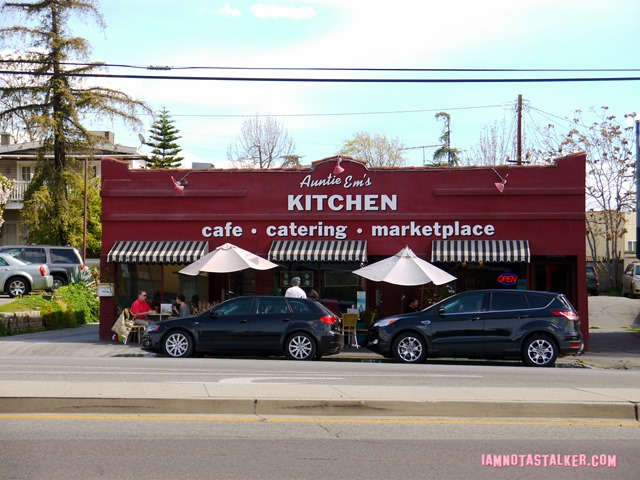 Auntie Em's cheerful interior décor (which I somehow did not take any photographs of) is reminiscent of Monica and Rachel's apartment on Friends – a bright mish-mash of colors and styles that merge together perfectly to create a warm, welcoming space.  The eatery also features a bakery (which, being diabetic, I, unfortunately, could not partake of) and a marketplace that sells gourmet foods and unique trinkets.  The place is pretty much the restaurant version of my favorite store, Lula Mae.  Of the fare, Wahl said in a January 2013 USA Today article, "We're cooking up comfort food with attitude.  It's just like Mom would make, if Mom had been a punk rocker with a baking habit. These are recipes that make me happy, and I love sharing them."  All ingredients are fresh – she says, "If it can't be found at the farmers' market, it won't be found on your plate" – and almost everything served is homemade on the premises.  What isn't, is obtained from such high-regarded spots as La Brea Bakery and Strauss Family Creamery.  I opted for the Artisanal Cheese Plate for my lunch and it was fabulous!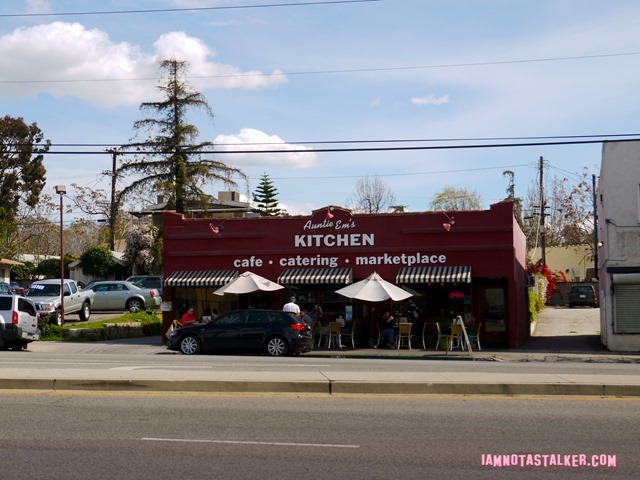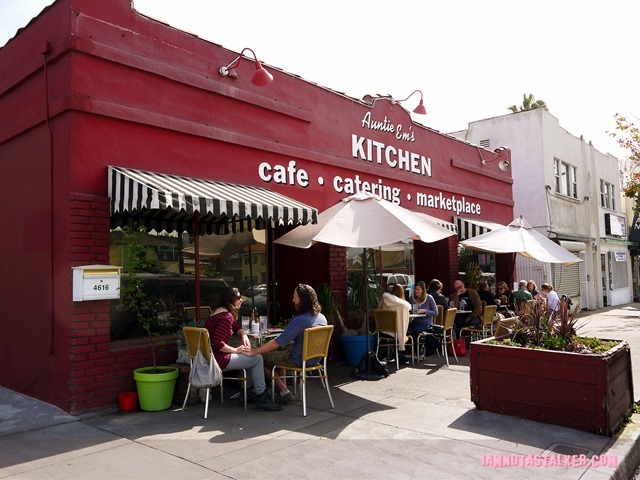 In L!fe Happens, Auntie Em's Kitchen is where Deena (Kate Bosworth) writes her book and where she allows Henri (Justin Kirk) to hang out with her, as long as he adheres to her conditions – "no talking, no touching, no disturbing my work flow."  Only the exterior of the restaurant was used in the filming and, as you can see below, two large foliage pieces were installed at either end of the property during the shoot, most likely to block the view of the prying lenses of the paparazzi.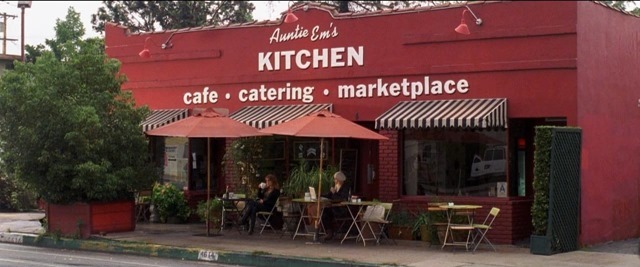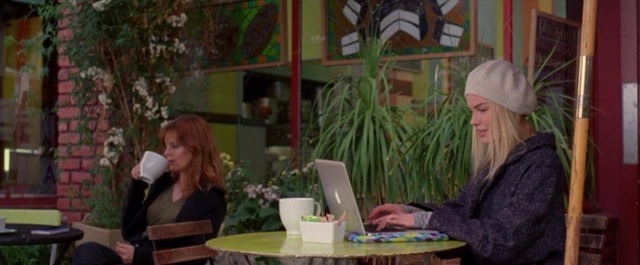 For more stalking fun, be sure to follow me on Facebook, Twitter, Instagram and Los Angeles magazine online.  And you can check out my other blog, The Well-Heeled Diabetic, here.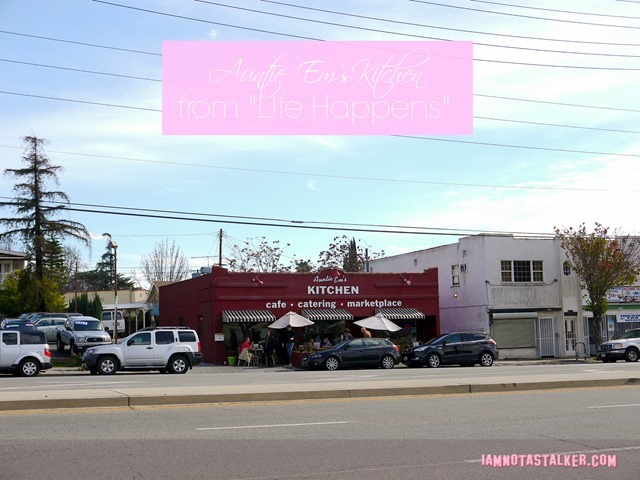 Until next time, Happy Stalking! 

Stalk It: Auntie Em's Kitchen, from L!fe Happens, is located at 4616 Eagle Rock Boulevard in Eagle Rock.  You can visit the restaurant's official website here.
79914