The Disneyland Locations from "Saving Mr. Banks"
Apr 18th, 2014 | By
Lindsay
| Category:
Movie Locations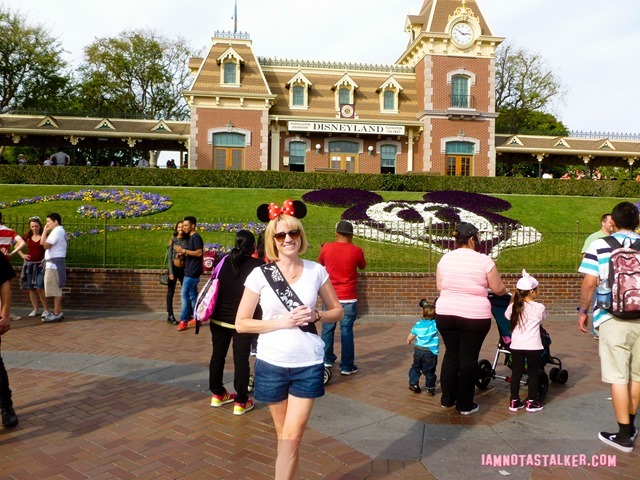 In February (on what turned out to be an exorbitantly crowded day), the Grim Cheaper and I visited The Happiest Place on Earth with Miss Pinky Lovejoy, of the Thinking Pink blog, and her husband, Keith Coogan.   Since I had just recently watched – and fallen in love with – Saving Mr. Banks, I decided to do a little stalking of the Disneyland locales that appeared in the flick while I was there.
In Saving Mr. Banks, which chronicles the making of the 1964 film Mary Poppins, Walt Disney (Tom Hanks) takes P.L. Travers (Emma Thompson) to Disneyland for the day in the hopes that the trip will soften the prickly author and make her more a bit more agreeable to work with.  When P.L. arrives at the park, she is driven right through the main gates and up to the the back side of Disneyland Railroad's Main Street Train Station, where Walt is waiting for her.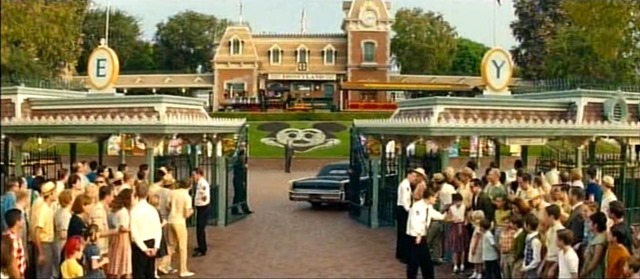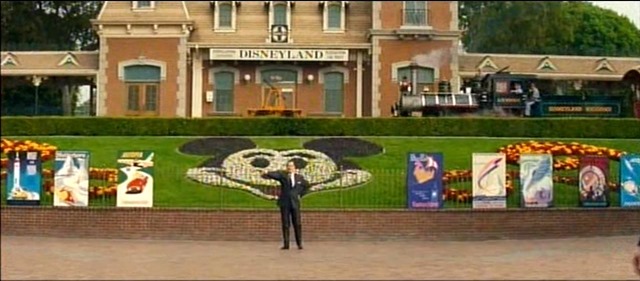 The Main Street Train Station and Disneyland Railroad are both original attractions, opened the same day that the park was on July 17th, 1955.  The Victorian-style station is one of four located throughout the property and is serviced by five different trains.  The locomotives, which run on bio-diesel fuel, are all historically accurate in their design, with one, the C.K. Holiday train, boasting a special caboose named the Lilly Belle.  The Belle, which was originally part of the now-retired Retlaw 1 train, was redesigned with luxurious appointments in 1974 in order to act as a special passenger car for VIPs.  You can check out some photographs of it here.  The car is still in operation to this day and is open to the public, pending availability.  If you would like to ride the Lilly Belle, inquire  at the front desk of the Main Street Railroad Station as soon as the park opens and, if it is running that day and is available, you and your party will be given a scheduled ride time.  Passengers are even given special train tickets to commemorate the experience.  (There are rumors floating around the internet that the public is no longer allowed on the Belle.  While this website claims the rumors have been confirmed, I am not sure if that is accurate.)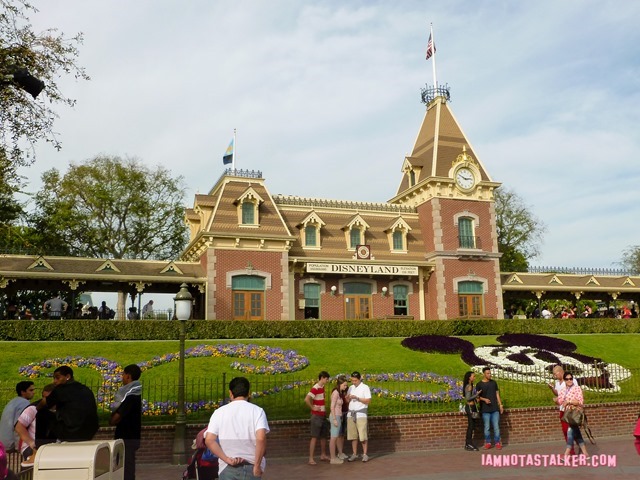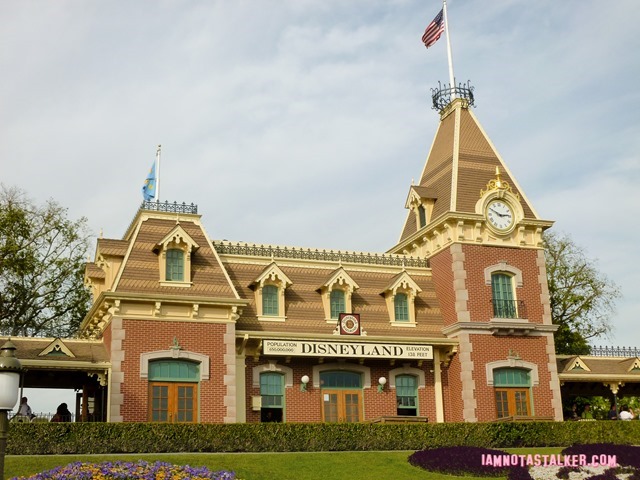 While outside the Main Street Train Station, Walt is shown jovially greeting admirers and handing out pre-signed autographs, which never ceases to crack me up as your chances of catching Tom Hanks happily interacting with fans are slim to none.  The guy's a great actor, but not AT ALL friendly – in fact he was downright mean to me when I met him a few years back.  He was also deemed one of The Top Ten Worst Autograph Signers of 2013 by Mike the Fanboy – and rightly so.  You can read Mike's write-up here.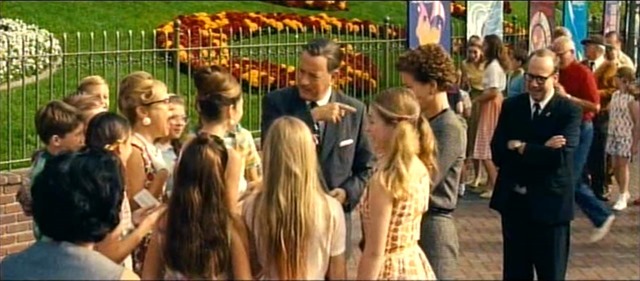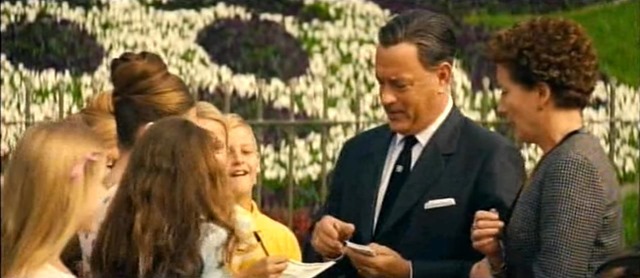 Walt and P.L. then make their way down Main Street, U.S.A.  Mid-walk, Walt gazes up longingly at a window that bears his father's name.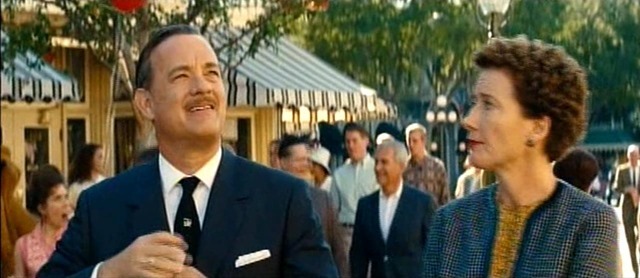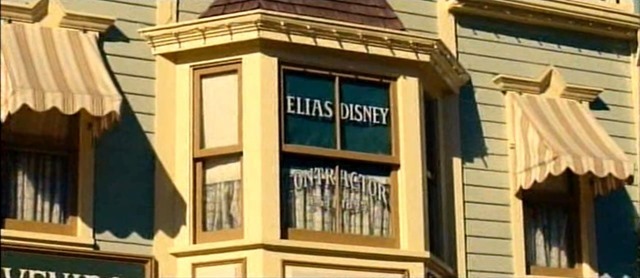 That window, located above the Emporium (Disneyland's largest gift shop), is, too, a park original and has been there since opening day.  It reads "Elias Disney, Contractor, Est. 1895."  Elias held a number of different jobs throughout his lifetime, including mail carrier, orange farmer and railroad crewman.  He also did some work contracting houses in Chicago and it is believed that he might have started his own contracting business in 1895, hence the year listed on the window.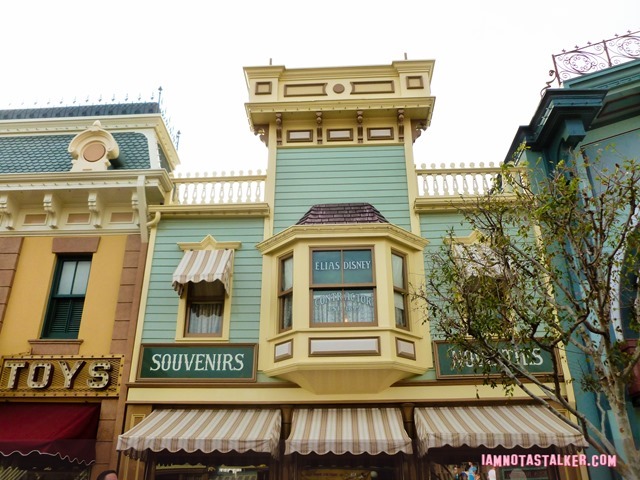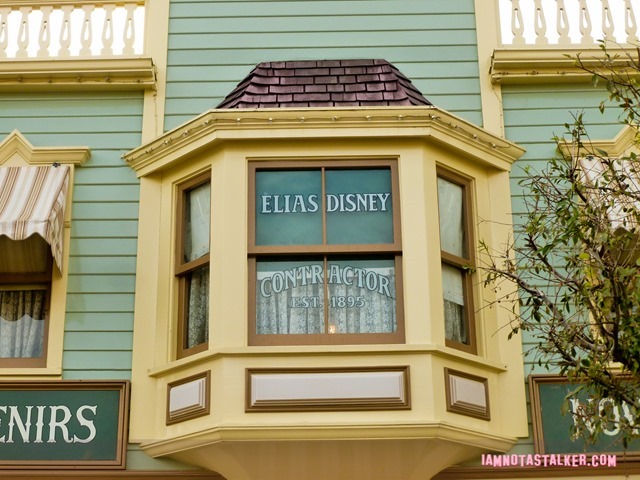 Walt then manages to get P.L. on a  ride – the King Arthur Carrousel – although she does so very begrudgingly.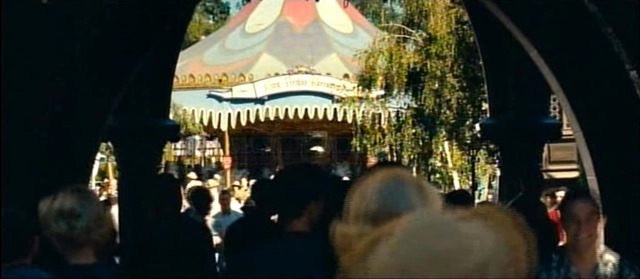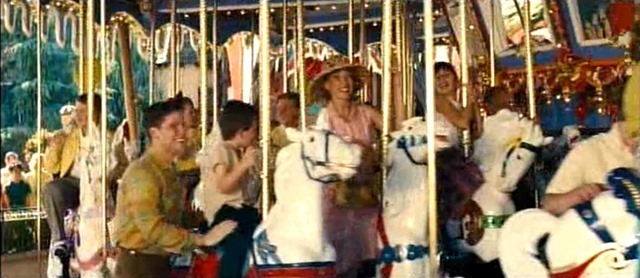 The King Arthur Carrousel (which utilizes a British spelling) is also a Disneyland Opening Day attraction and has been in operation since 1955.  (It was in fact a carousel, the one at Griffith Park, that inspired Walt to create Disneyland in the first place.)  The merry-go-round was originally built in 1922 and, prior to its relocation to The Happiest Place on Earth, had been a part of Sunnyside Beach Park in Toronto, Canada.  Walt had the ride enlarged and remodeled before it made its Disney debut.  The carousel features 68 hand-carved wooden horses (each has a name – supposedly, you were once able to stop by Disneyland City Hall and pick up a list of those names), one chariot and 3,328 sparkling bulb lights.  Jingles, the horse that P.L. rides in Saving Mr. Banks, is one of the attraction's actual steeds and its most ornately-decorated.  In an ironic twist, on April 8th, 2008, as part of the park's 50th anniversary celebration, Jingles was dedicated to none other than Mary Poppins herself, actress Julie Andrews.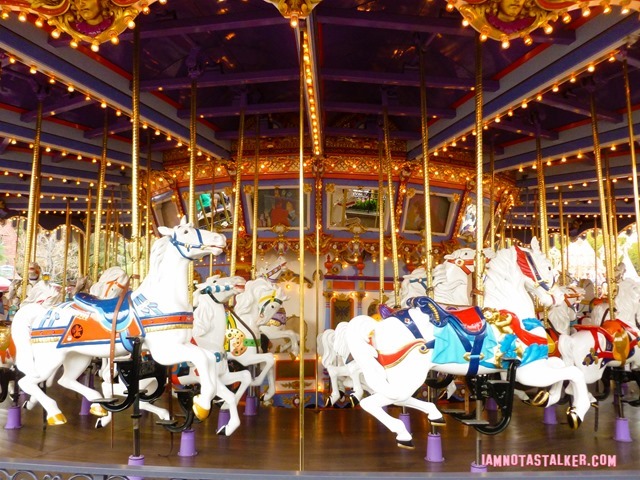 The Disneyland locations can be seen briefly in the Saving Mr. Banks trailer, which you can watch by clicking below.
For more stalking fun, be sure to follow me on Facebook, Twitter, Instagram and Los Angeles magazine online.  And you can check out my other blog, The Well-Heeled Diabetic, here.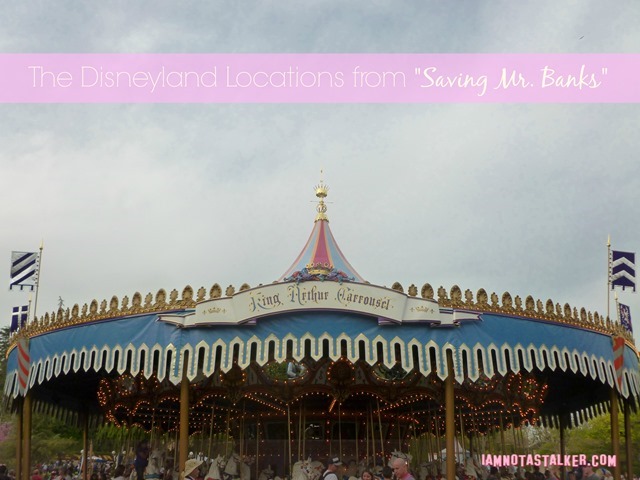 Until next time, Happy Stalking!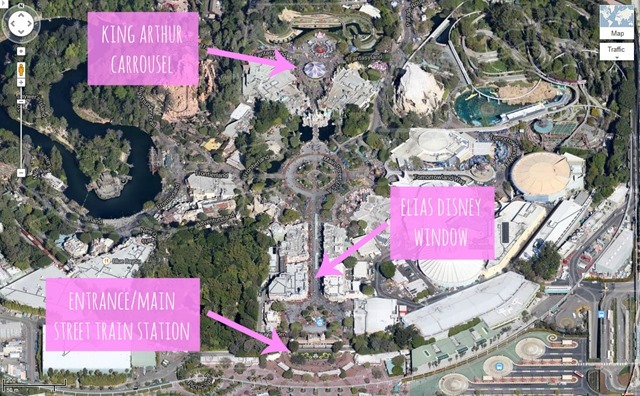 Stalk It: Disneyland Resort is located at 1313 Disneyland Drive in Anaheim.  You can visit the park's official website here.  The areas used in Saving Mr. Banks include the rear side of the Main Street Train Station, just beyond the park's front entrance; the Elias Disney window, which can be found on the west side of Main Street, on the second floor of the Emporium, next to and just south of the Crystal Arcade storefront; and the King Arthur Carrousel, which is in Fantasyland, just north of Sleeping Beauty's Castle.
80228