Bombay Beach
Apr 30th, 2014 | By
Lindsay
| Category:
This and That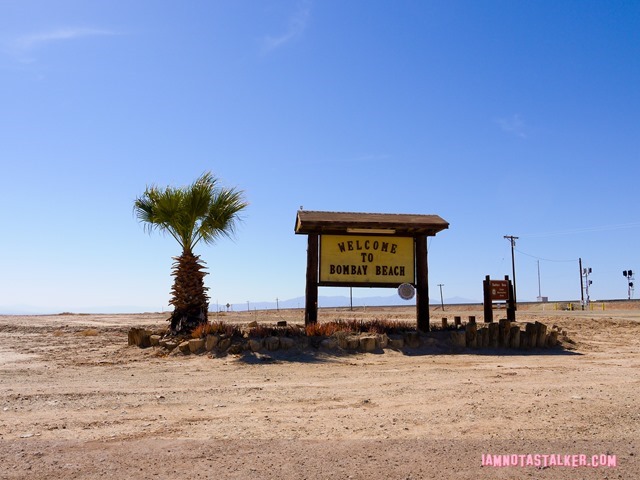 Out of all of the Salton Sea townships that I stalked while my best friend, Robin, was visiting in March, Bombay Beach was, without a doubt, my favorite.  Situated about twenty miles south of the North Shore Beach and Yacht Club (which I blogged about here), the tiny census-designated place is made up of about two hundred homes and trailers, a great number of which are abandoned.
At 223 feet below sea level, Bombay Beach has the distinction of being the lowest city in America.  It is also, according to this July 2013 article, the most-filmed location in the entire Imperial County.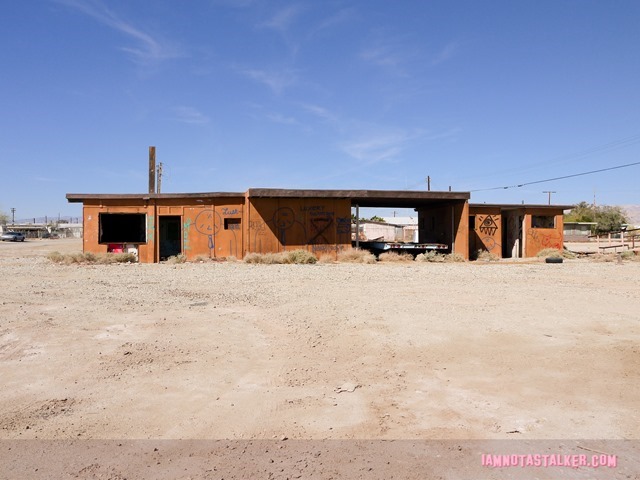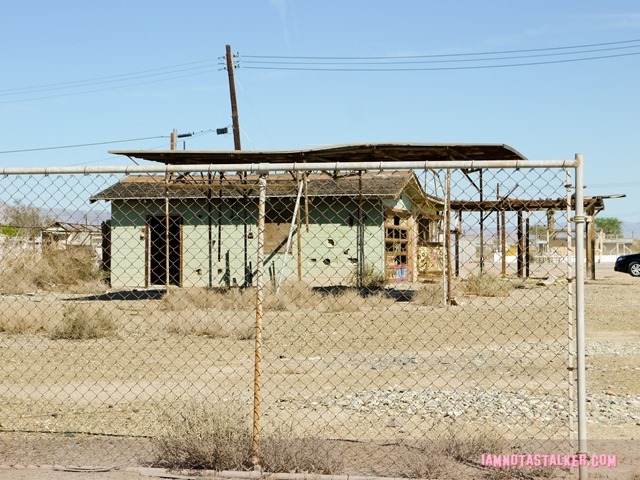 Originally set to be a Riviera-like resort destination on the shores of the Salton Sea, Bombay Beach suffered the same fate as its neighboring townships.  As the sea's toxicity and salinity increased in the late 1960s, the fish and bird population died off.  It was not long before animal carcasses covered the once-sandy beaches and the smell of their decaying bodies permeated the air.  Many residents vacated the region.  Then, when the storms of 1976 and 1977 hit and caused massive flooding, even more people fled.  Oddly though, some stayed behind and still call Bombay Beach home to this day.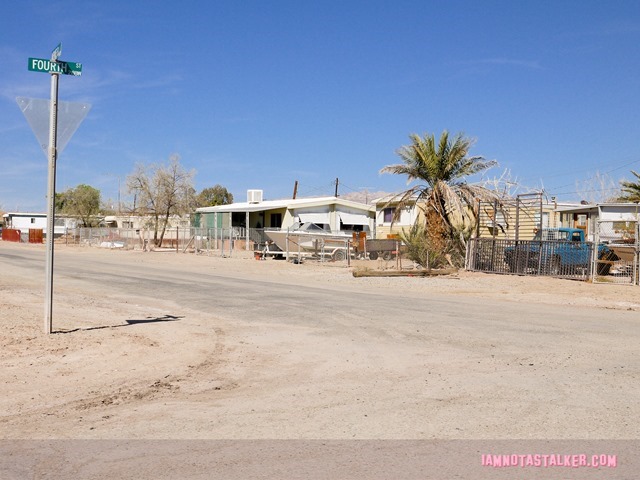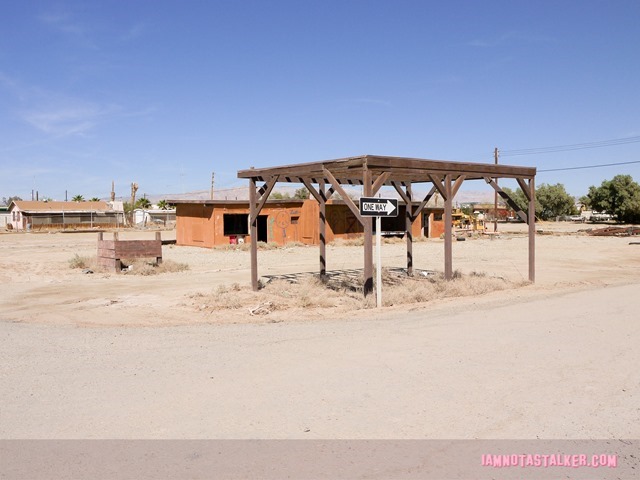 The tiny, 0.9-square-mile township currently boasts about three hundred residents.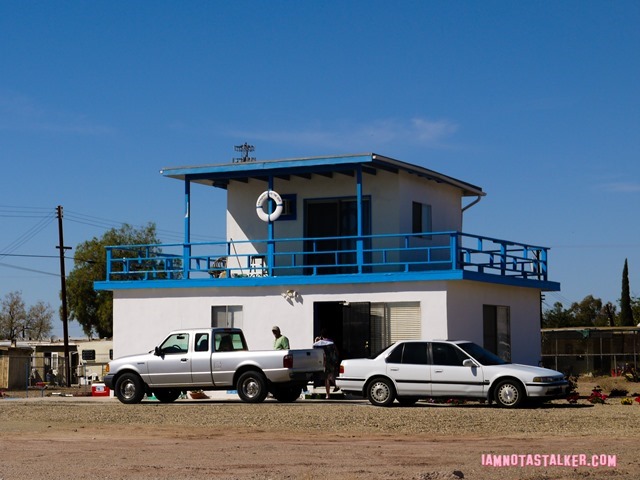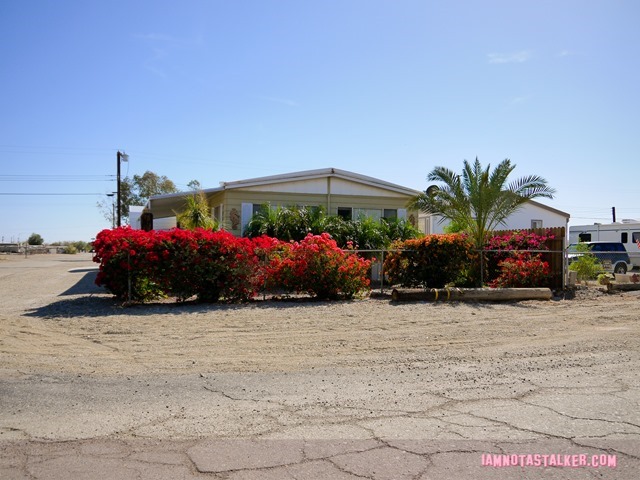 The abandoned properties remain, though.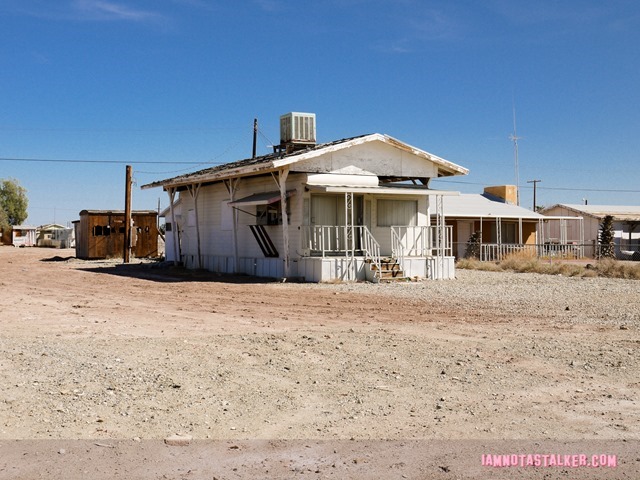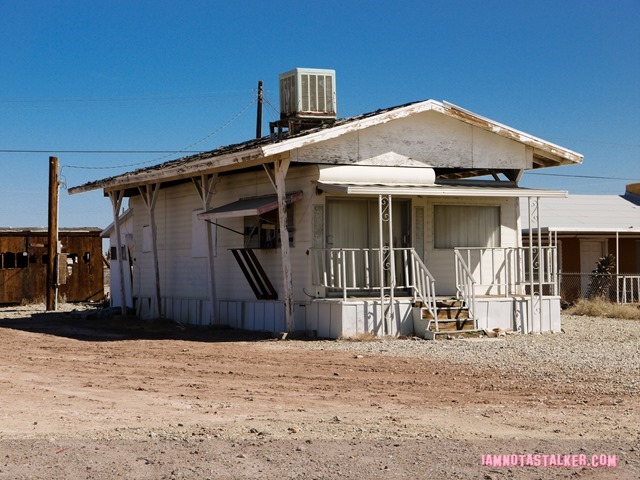 It is this juxtaposition that makes the place so eerie.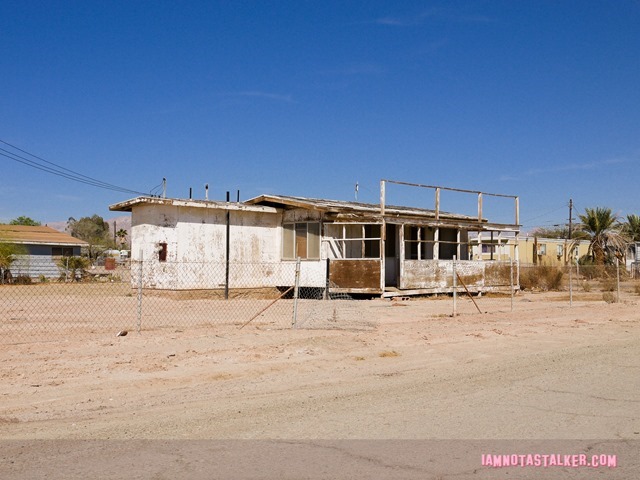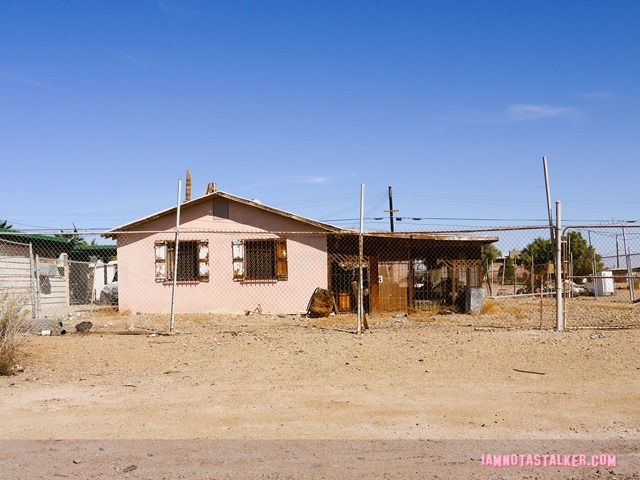 Also adding to the creepiness factor is the fact that many of those who fled walked away not only from their properties, but all of their belongings, as well.  Forgotten sofas, toys and even cars can be seen strewn about the landscape.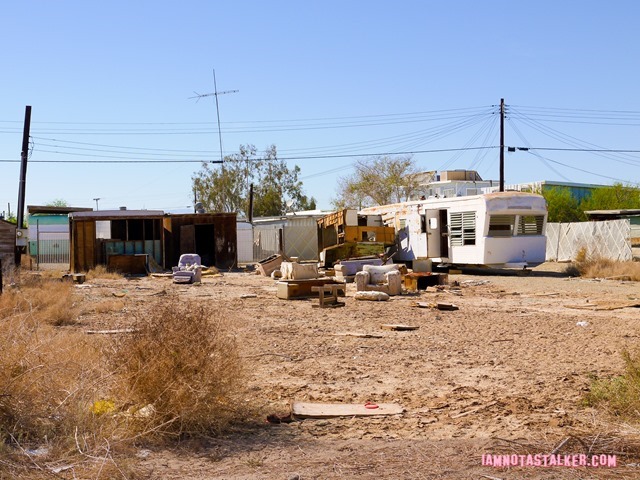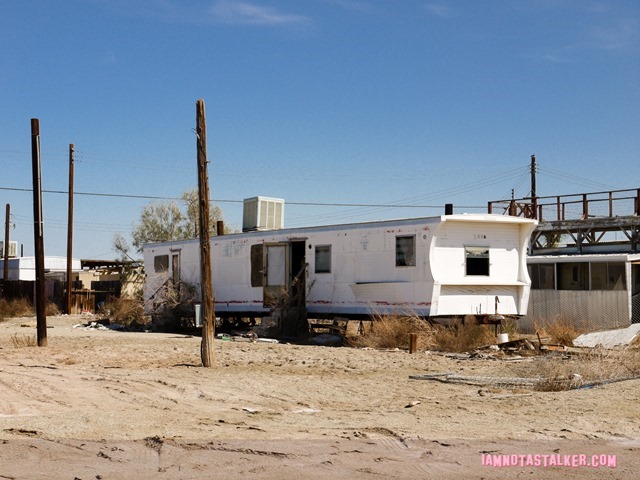 In fact, I'm pretty sure that's the Friends couch visible through the window below.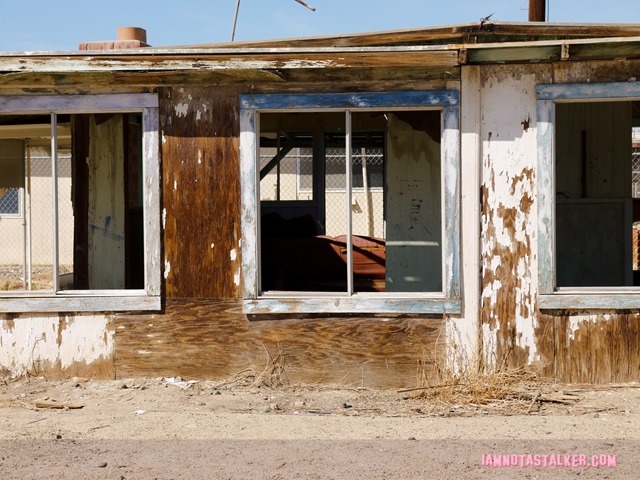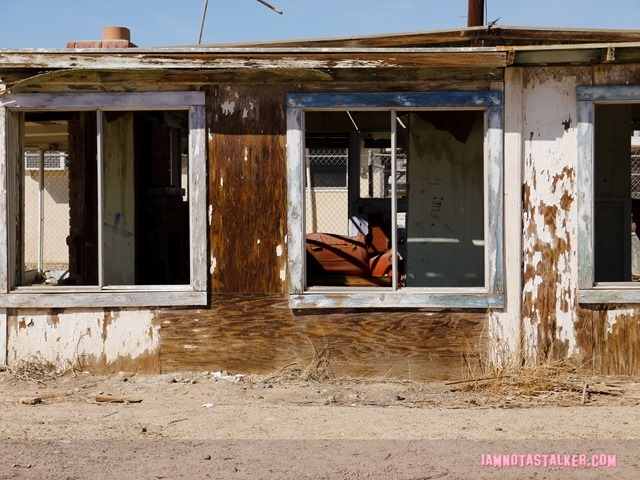 Situated in the midst of this apocalyptic–like setting is a church . . .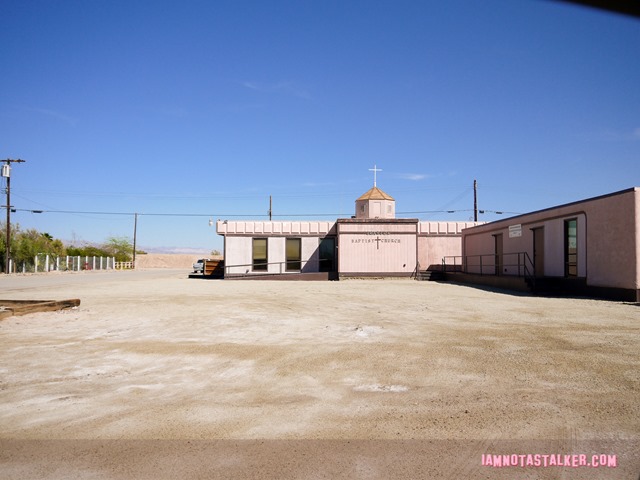 . . . two mini-marts (I only got a photograph of one) . . .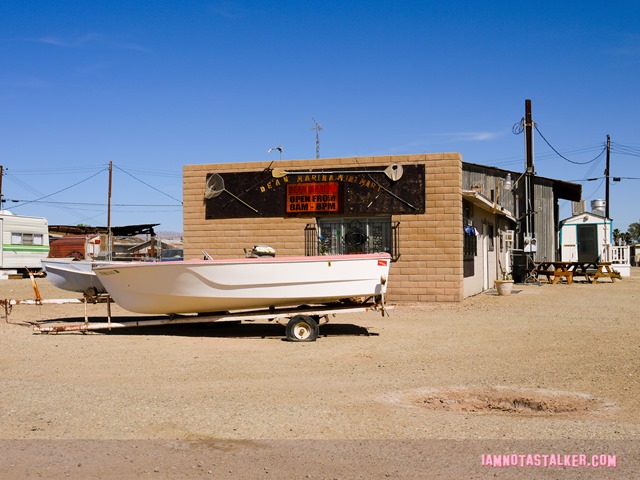 . . . and a "fireside lounge" named Blues After Dark, which is currently for sale.  There's also a restaurant, the Ski Inn, but I'll get to that in a bit.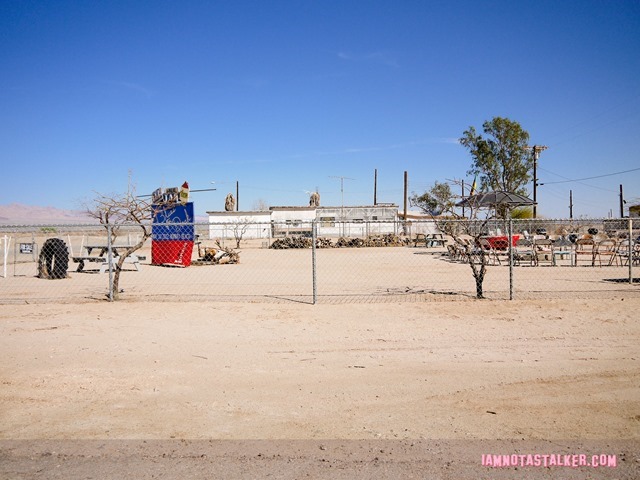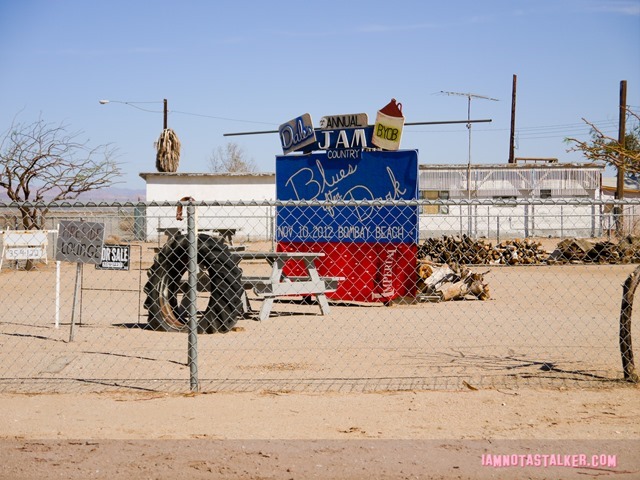 The entire area was just begging to be photographed.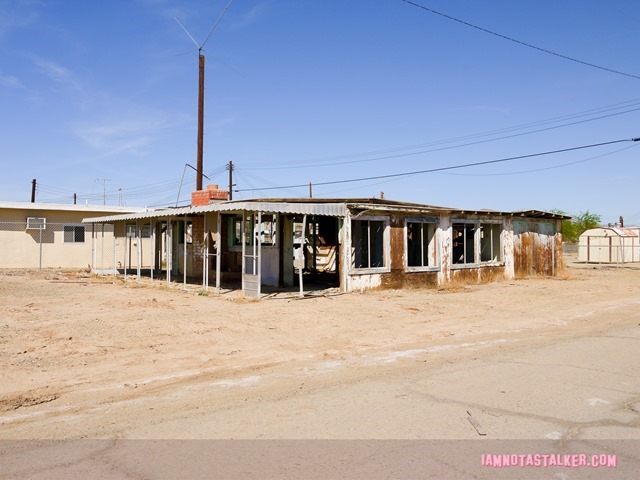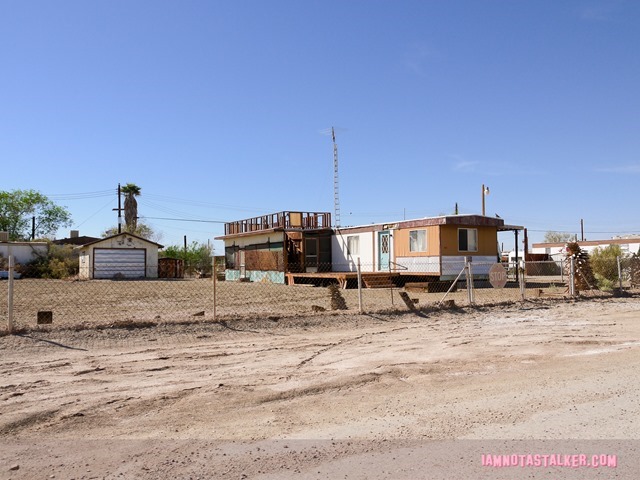 Yep, the graffiti pictured below reads, "Abandon all hope ye who enter."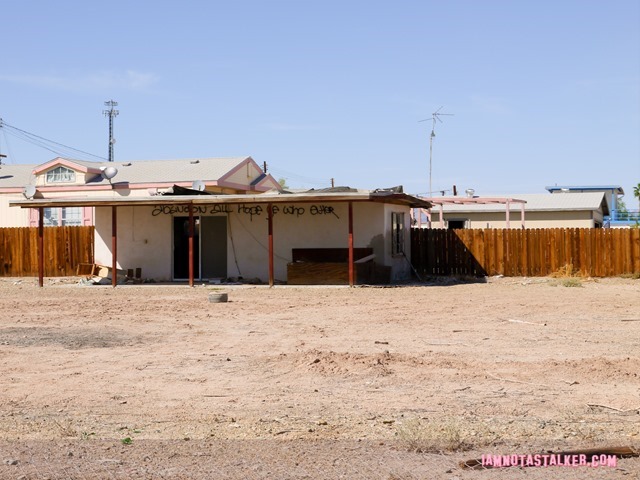 Prior to visiting Bombay Beach, I had never even heard of the place, so I was absolutely shocked to discover how often it has been utilized for filming.  I guess its immortalization onscreen should not have come as a surprise, though, considering its vastly unique and desolate landscape.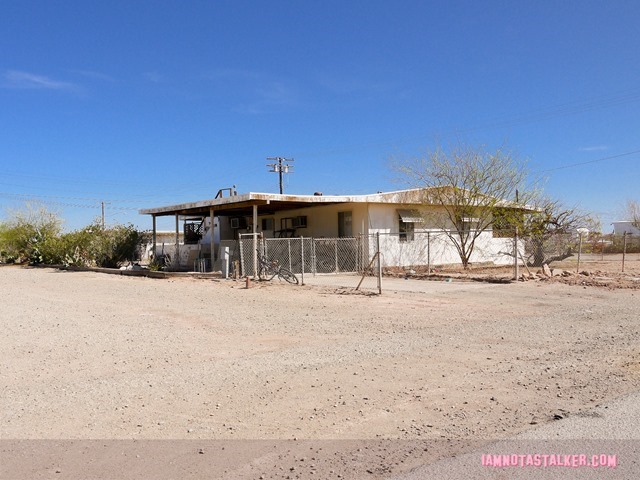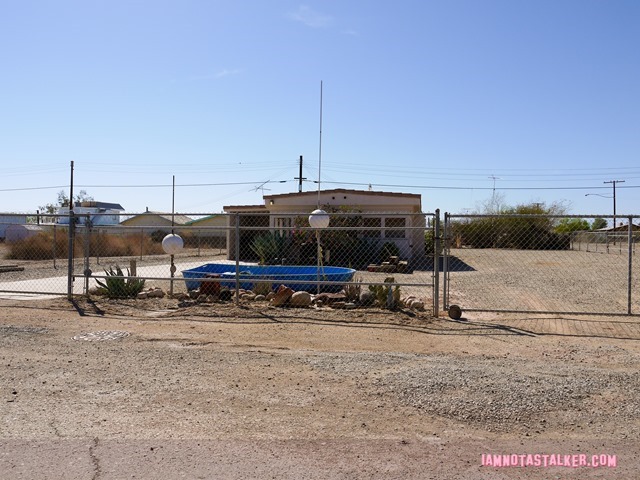 In the 1990 made-for-television movie The Great Los Angeles Earthquake, Bombay Beach was said to be the site of numerous foreshocks, but it does not appear that any actual filming took place there.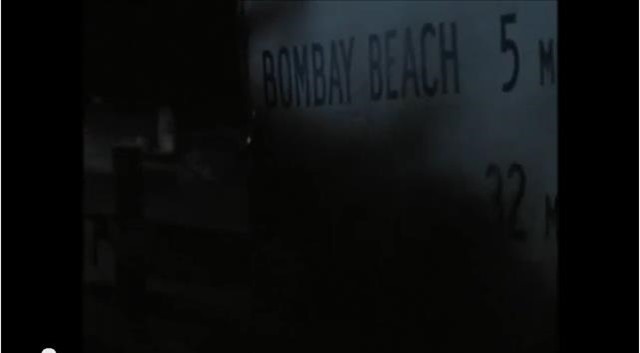 In 2008, chef Anthony Bourdain visited Bombay Beach to film the Season 4 episode of his Travel Channel reality series Anthony Bourdain: No Reservations titled "U.S. Southwest."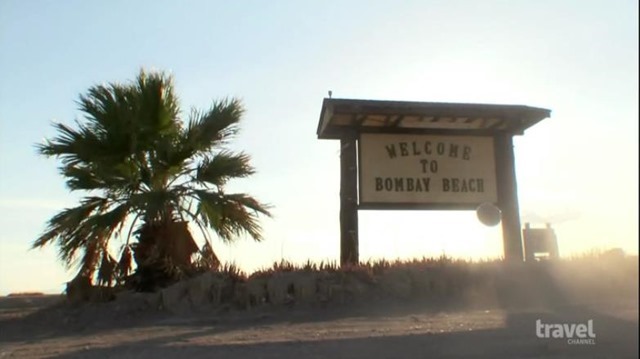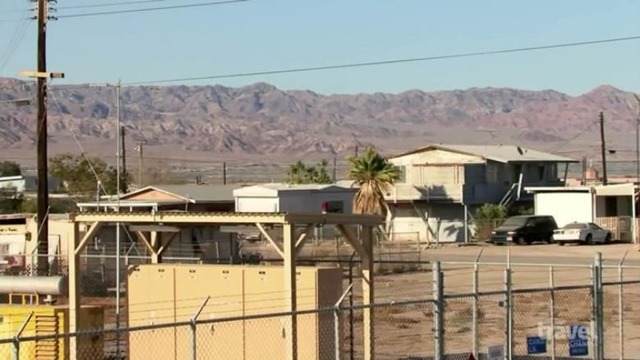 During his sojourn, Bourdain partook of a patty melt at Bombay Beach's sole restaurant, the Ski Inn.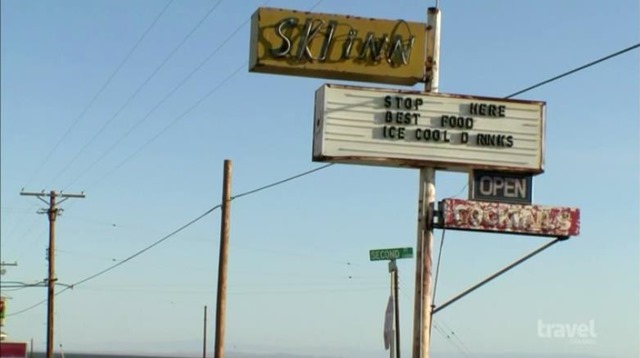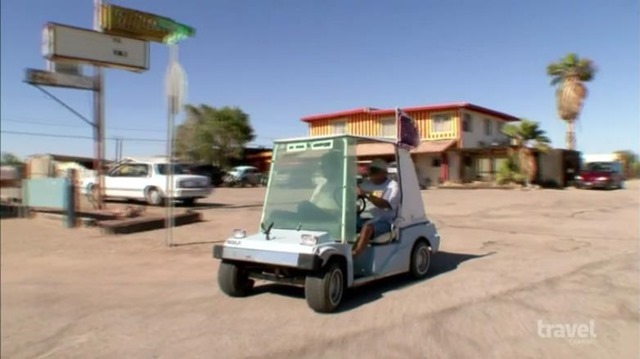 The episode makes for a fascinating watch and is available for purchase via Amazon Instant Video.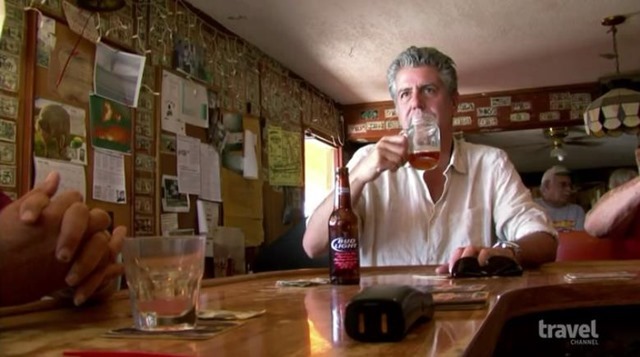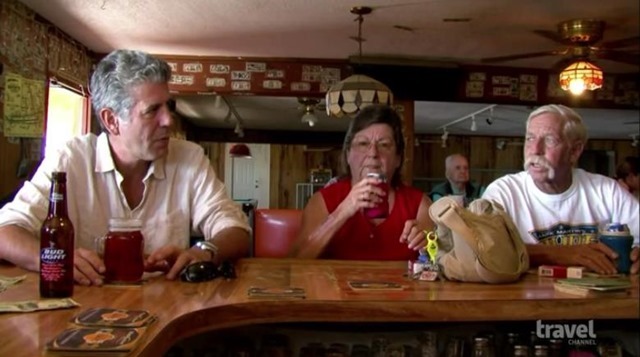 A 2011 documentary was also made about the township.  Appropriately titled Bombay Beach, the film was directed by Israeli filmmaker Alma Har'el and followed the lives of three Bombay Beach residents.  It won "Best Documentary Feature" at the 2011 Tribeca Film Festival and was nominated for an Independent Spirit award.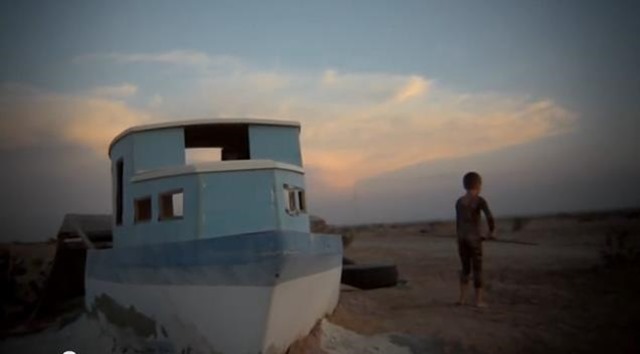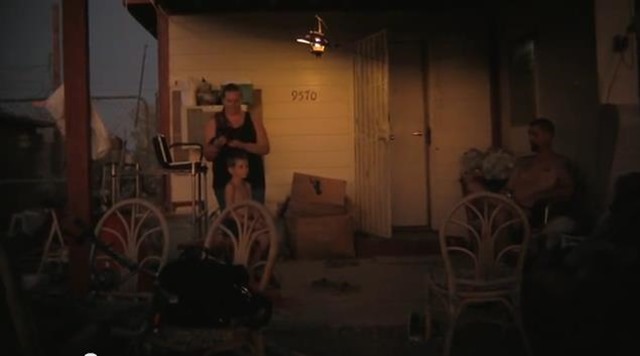 You can watch the Bombay Beach trailer by clicking below.
In 2013, Jeremy Wade shot a promo for the fifth season of his Animal Planet series, River Monsters, at Bombay Beach.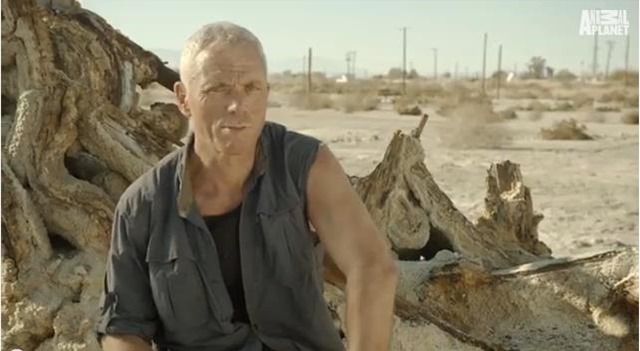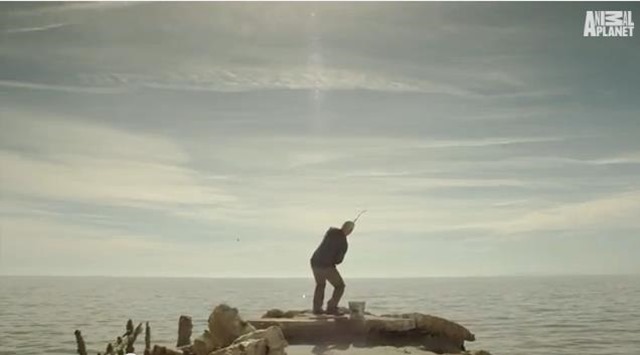 You can watch that promo by clicking below.
Bombay Beach was used extensively in the 2013 music video for Austrian singer Christina Sturmer's song "Millionen Lichter" (translation – "A Million Lights").  The video was shot on the shoreline . . .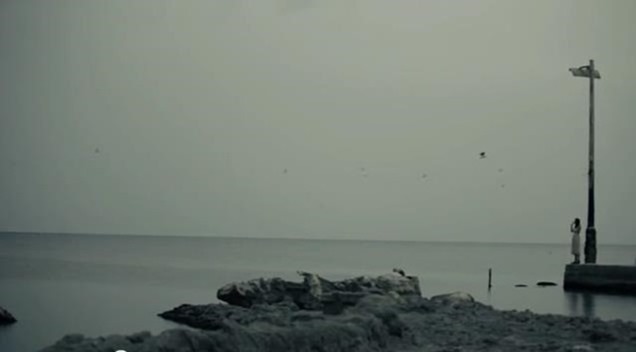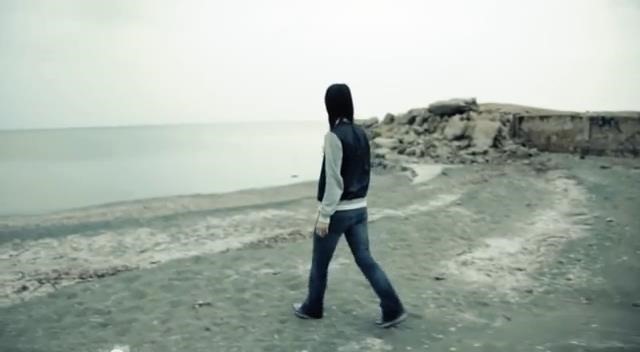 . . . throughout the town itself . . .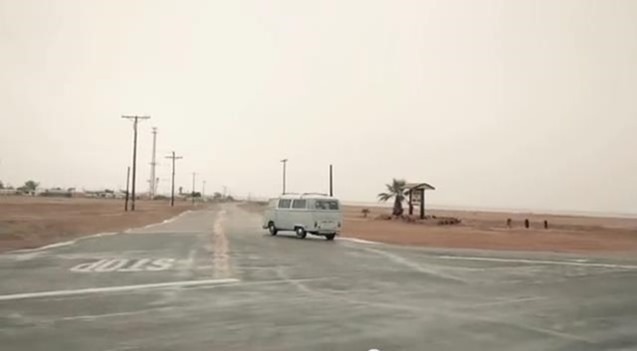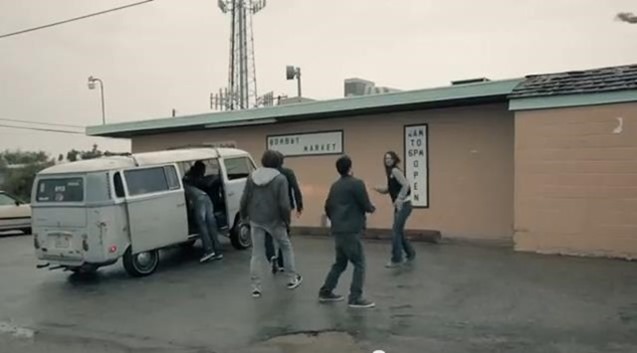 . . . and in front of several Bombay Beach houses.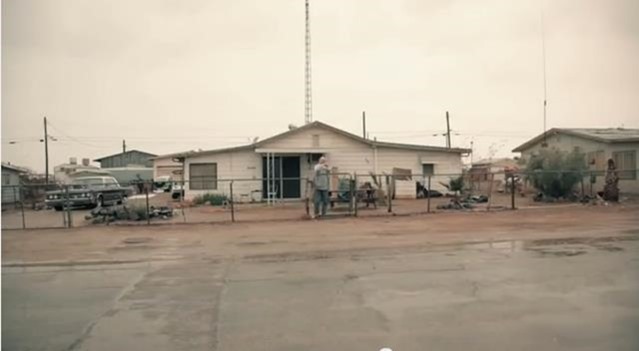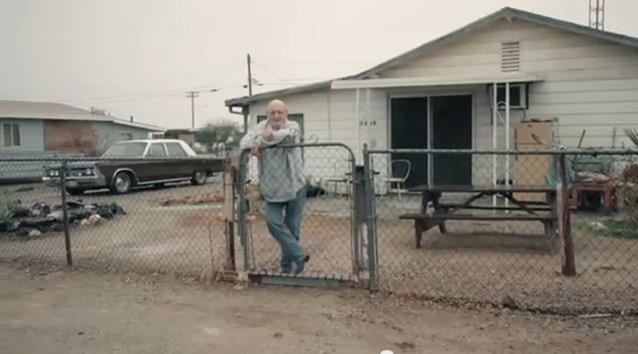 The motel that appeared in "Millionen Lichter" cannot be found in Bombay Beach, however, but about 170 miles away.  It is the Four Aces movie set in Palmdale, which has appeared in countless productions over the years and which I have stalked, but have yet to blog about.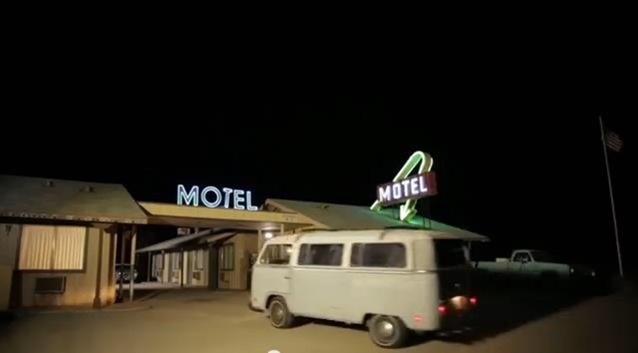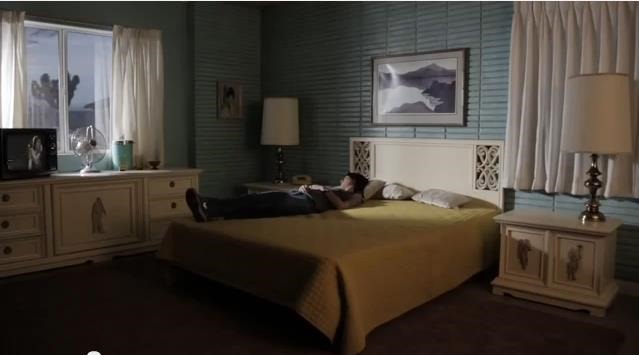 You can watch the "Millionen Lichter" video by clicking below.  It's actually a really catchy song, although I don't understand a word of it.
I was absolutely shocked to discover while doing research for this post that the Season 6 episode of The Mentalist titled "The Desert Rose" was filmed on location at Bombay Beach.  "The Desert Rose" was one of my favorite episodes of the show ever, so how I did not recognize the place when we visited is beyond me.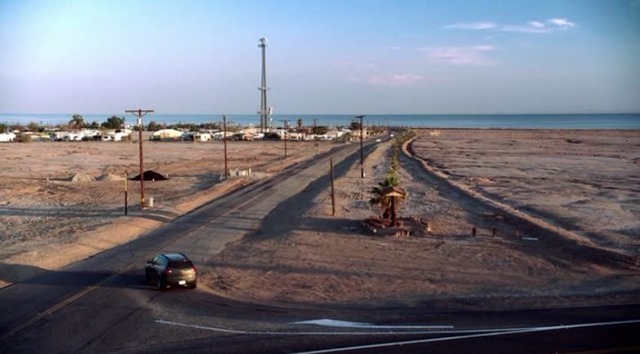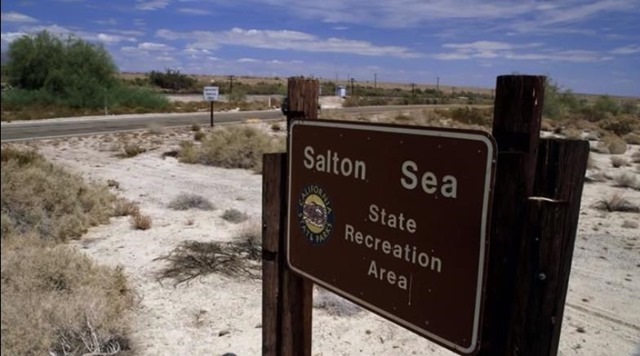 In "The Desert Rose," Patrick Jane (Simon Baker) and Teresa Lisbon (Robin Tunney) are sent to the Salton Sea to investigate the murder of a real estate developer named Brooke Yardley (Alex Daniels), whose body was found on the shores of Bombay Beach.  The spot where the body was found is located near Avenue D & 5th Street.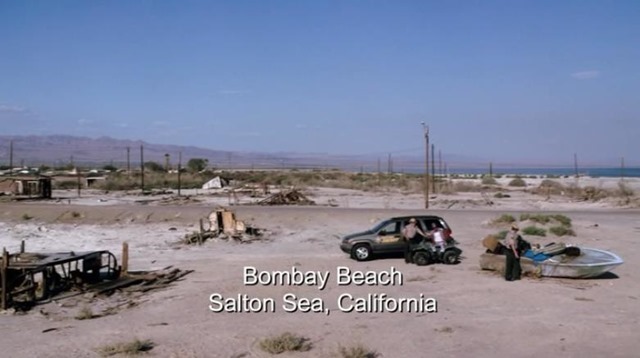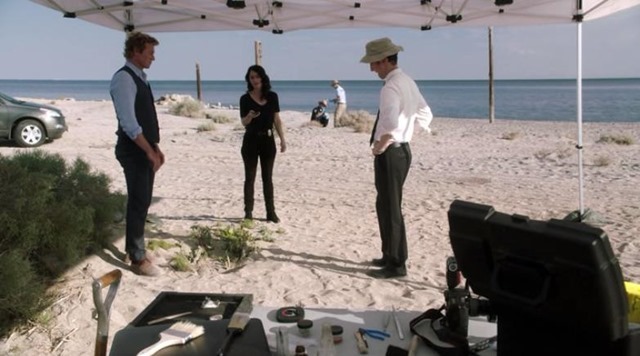 While in town, Lisbon and Jane pop into the Borrego Gap Diner, which is actually the Ski Inn, Anthony Bourdain's former stomping grounds.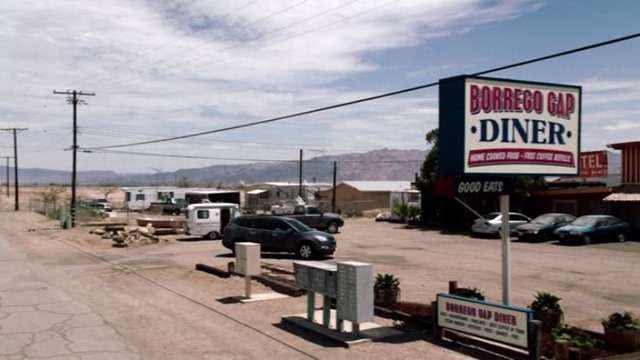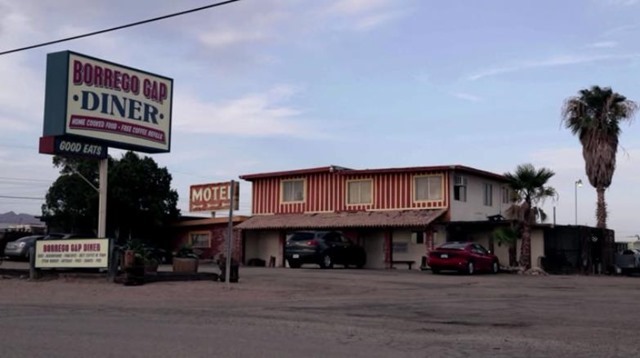 Sadly, because I did not realize its significance at the time, I only got one partial photograph of the eatery.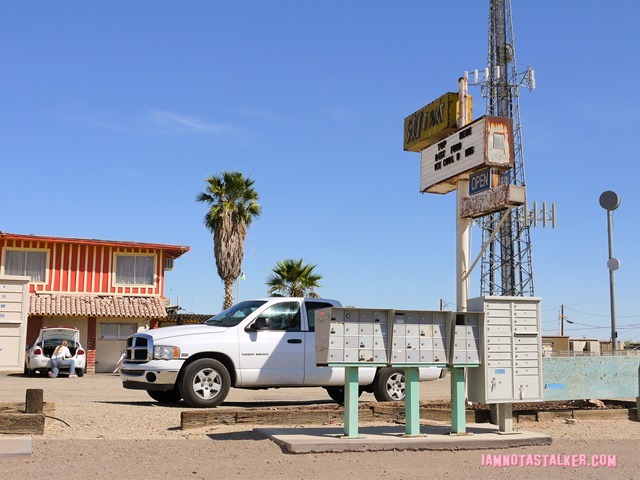 The inside of the Ski Inn (which you can check out some pictures of here) does bear a striking resemblance to the diner shown on The Mentalist, but I do not believe any interior filming actually took place on the premises.  As you can see in this photograph, not only are there structural differences between the two, but the flooring shown in the episode does not match the restaurant's actual flooring.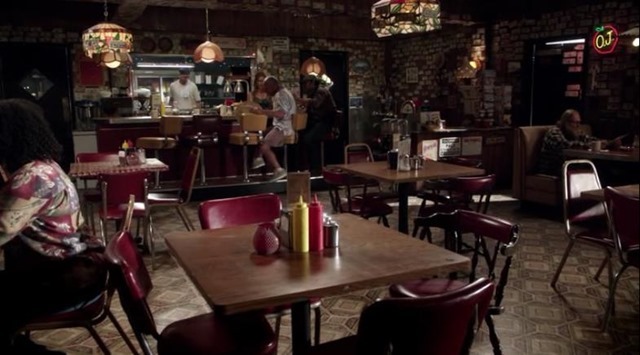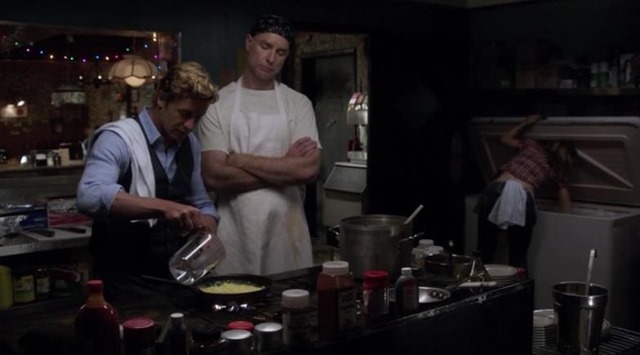 While we were driving around Bombay Beach, Robin mentioned how much it reminded him of Sandy Shores from Grand Theft Auto V.  I had no clue what he was talking about at the time, but was floored to discover while reading a Wikipedia article later that day that Bombay Beach had served as the inspiration for the town in the game!  I should mention here that Robin is not into filming locations AT ALL, so this was a first – and I couldn't have been more excited about it.  I swear I'll make a stalker out of him yet! 

  I ended up buying the Grim Cheaper a PlayStation 3 and Grand Theft Auto V for his birthday shortly after Robin's visit and, in our excitement to see Bombay Beach onscreen, we stole a boat in the opening scene of the game and drove it right up to Sandy Shores.  Now we are kind of stuck there, unsure of what to do.  Sure enough, though, the place does look exactly like Bombay Beach.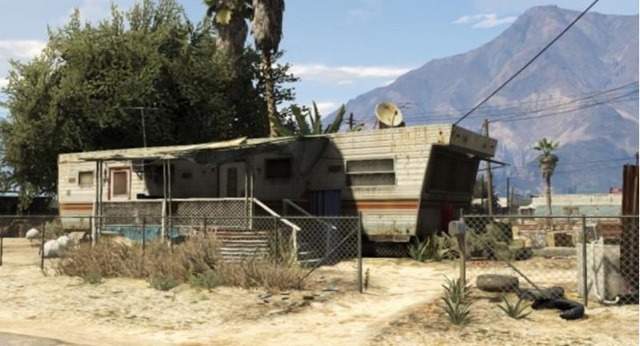 Of the Sandy Shores design, Grand Theft Auto V art director Aaron Garbut said in a 2014 interview with the Edge, "We did know the [biographies] for the three characters right at the start, so we knew we wanted to create an area for Trevor out in the sticks.  Towards the beginning of preproduction, I met up with [Rockstar president] Sam [Houser] in LA, and we spent a week together driving about, just exploring and talking.  During that trip, we drove out into the desert and eventually ended up visiting Salton Sea [in California].  We went to an amazing spot called Bombay Beach and expected a real-life Trevor to burst out on us at any second.  When the full reference trip was organized, we sent a team out to Salton Sea for a few days."  LOVE it!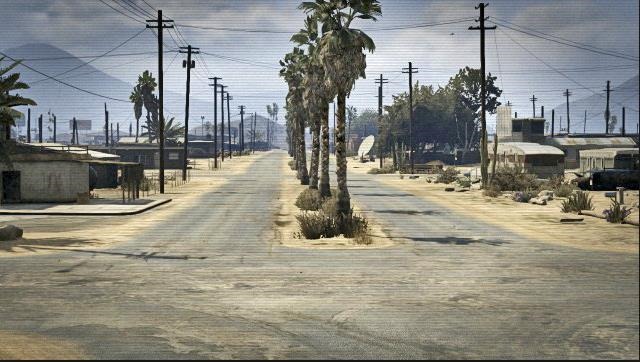 On an abandoned sites side-note – I just learned about an abandoned water park located on the grounds of none other than the Walt Disney World Resort!  Known as River Country, the park was shuttered in 2001 and has sat rotting ever since. Man, would I love to see it in person!  You can check out some great photographs of the property in its current state here.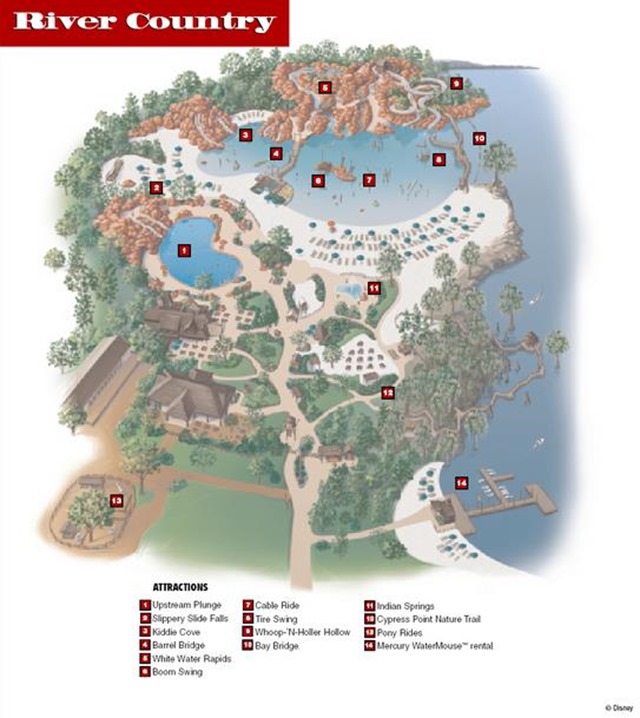 For more stalking fun, be sure to follow me on Facebook, Twitter, Instagram and Los Angeles magazine online.  And you can check out my other blog, The Well-Heeled Diabetic, here.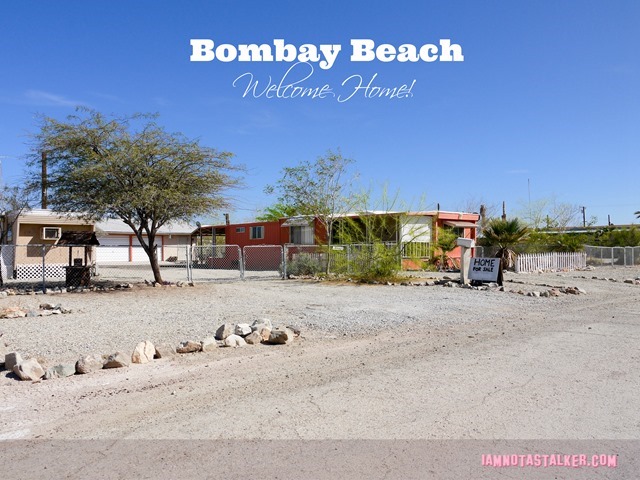 Until next time, Happy Stalking! 

Stalk It: Bombay Beach is located on the eastern side of the Salton Sea, about twenty miles north of Niland and twenty miles south of the North Shore Yacht Club.  The Ski Inn, aka the Borrego Gap Diner from The Mentalist, is located at 9596 Avenue A.
80719