Chez Jay from "A Single Man"
Jun 2nd, 2014 | By
Lindsay
| Category:
Movie Locations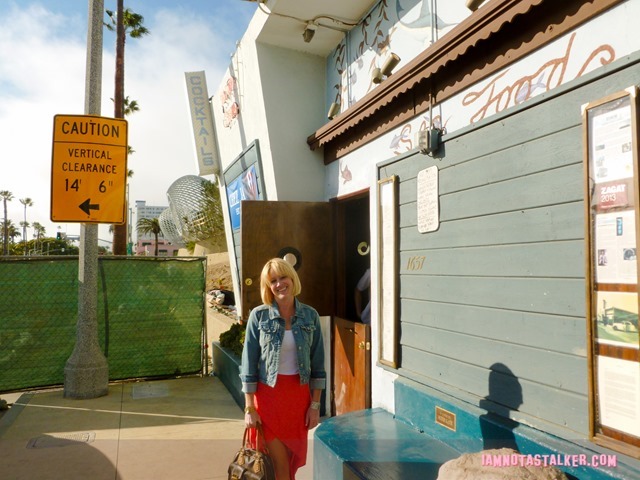 The April issue of Los Angeles magazine (for which I wrote my very first print article ever – you can read it here) featured a Time Frame image of one of Santa Monica's most historic restaurants, Chez Jay, reminding me that while I had stalked the watering hole ages ago, I had yet to blog about it.  So here goes!
Chez Jay was originally founded by a Connecticut-born struggling actor named Jay Fiondella.  During the 1950s, Jay was working as a bartender at Sinbad's on the Santa Monica Pier and, before his shifts, he would often grab a bite to eat at a nearby coffee shop named Dawn's Cafe.  He learned through his regular visits that Dawn's was struggling financially and one fateful day the owner offered to sell the place to him for the bargain price of $1.  Fiondella laid down the bill and the eatery became his.  He named the place "Chez Jay," in honor of Chez Joey, the restaurant owned by Frank Sinatra in the 1957 movie Pal Joey.  (In a fateful twist, Sinatra would later become a Chez Jay regular.)  The new eatery opened for business on July 4th, 1959.  For the grand opening fete, Jay brought in showgirls and an elephant.  Yes, an elephant!  (You can see a photograph of it here.)  Legend has it that the animal slammed its trunk on the bar at one point in the evening, denting it, and that that dent it still visible to this day.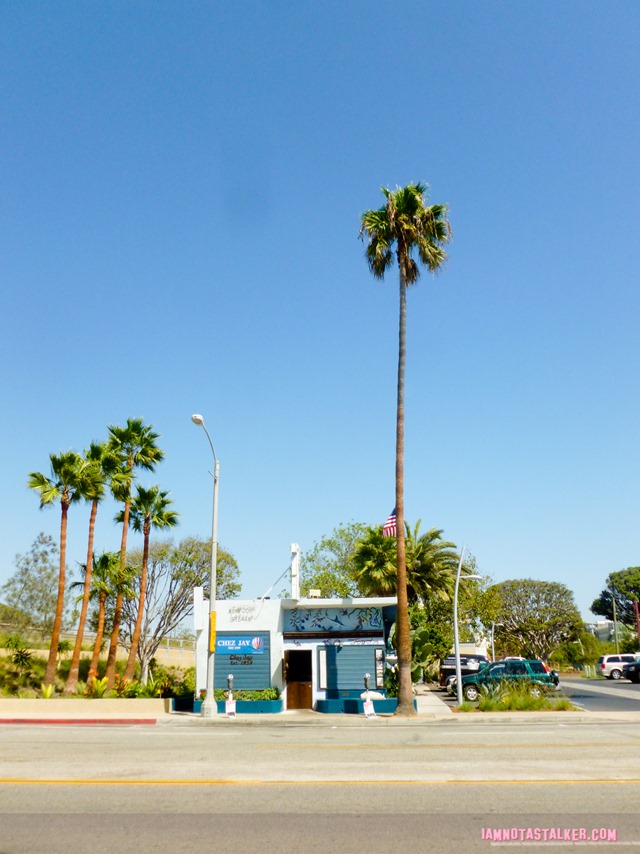 The tiny space, which boasts a scant 10 tables, 12 bar stools and a 150-square-foot kitchen, quickly became popular with everyone from locals to the Hollywood set.  Just a few of the luminaries who have dined there over the years include Ava Gardner, Vivien Leigh, Peter Sellers, Angie Dickinson, Chris Penn, Bronson Pinchot, Warren Beatty, Hugh Hefner, Robert Mitchum, my girl Marilyn Monroe, Joe DiMaggio, Marlon Brando, Judy Garland, Cary Grant, Jim Morrison, Michael Caine, Fred Astaire, John Belushi, Elizabeth Taylor, Richard Burton, Clint Eastwood, Dennis Hopper, Steve McQueen, Natalie Wood, Henry Kissinger, Leonard Nimoy, Cher, Viggo Mortensen, Renee Zellweger, Kiefer Sutherland, Mick Jagger, Tony Bennett, Joan Baez, Lee Marvin (legend has it that he once rode his motorcycle right up to the bar and ordered a drink), Julia Roberts, Sean Penn, Quentin Tarantino, Drew Barrymore, and Kevin Bacon.  Frank Sinatra and other members of the Rat Pack would dine there weekly before their regular poker game.  David E. Kelley and Michelle Pfeiffer even met there for the first time during a dinner party.  And Matt Damon and Ben Affleck worked on their Oscar-winning screenplay for Good Will Hunting in the establishment's back room.  Not too shabby of a clientele!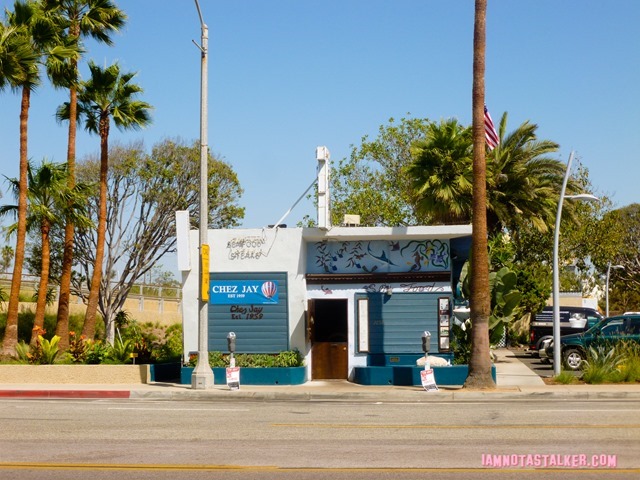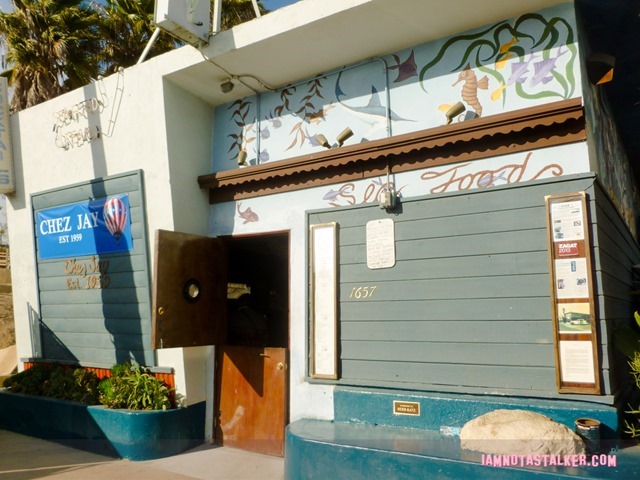 Legend has it that Chez Jay was also the inspiration for the Regal Beagle, local Santa Monica hangout of Jack Tripper (John Ritter) and the gang, on Three's Company.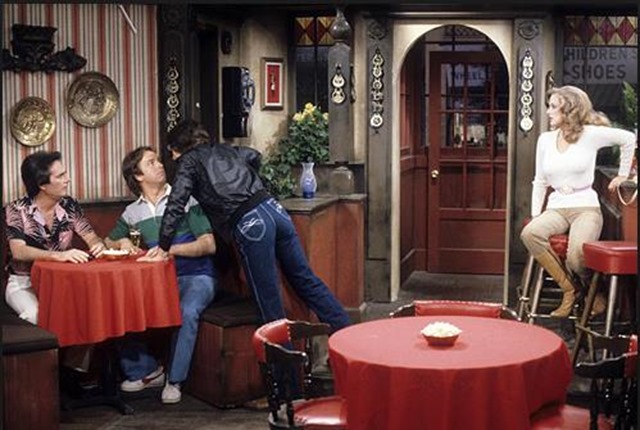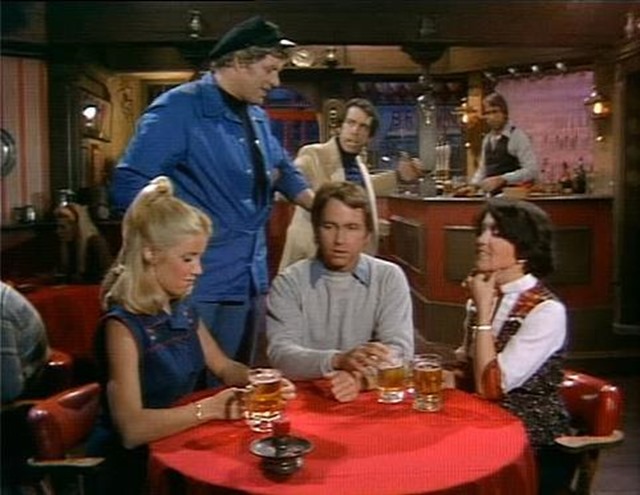 Jay Fiondella passed away in 2008 at the age of 82 and the iconic restaurant is now run by his son, Chaz, daughter, Anita, and longtime business partner, Michael Anderson.  The eatery's future became uncertain shortly after Jay's death when the City of Santa Monica began demolishing an adjoining parking lot to build what is now Tongva Park.  During construction, city officials decided that Chez Jay did not fit in with their vision and hoped to demolish the place to make room for an open-air, family-friendly establishment.  Thankfully, preservationists stepped in and the historic watering hole was given landmark status in late 2012.  Chez Jay's future is still somewhat uncertain, though, as the restaurant may be forced to undergo a remodel or an add-on.  You can read a more in-depth history of the site here and here.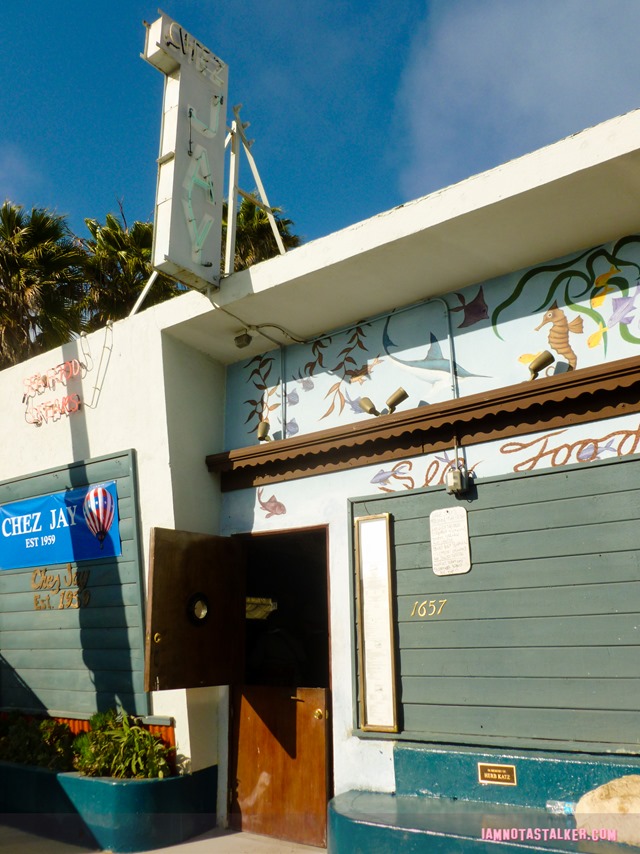 Despite having stalked Chez Jay on more than one occasion, the Grim Cheaper and I have never actually eaten there.  It's not for lack of trying, though.  The place is always packed to the gills and typically doesn't even have any standing-room-only space.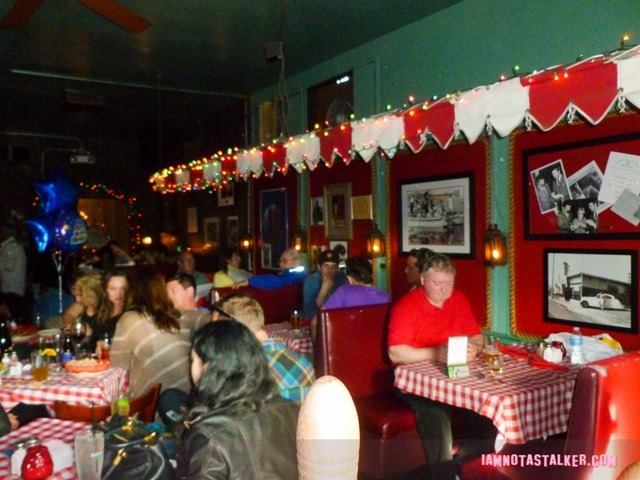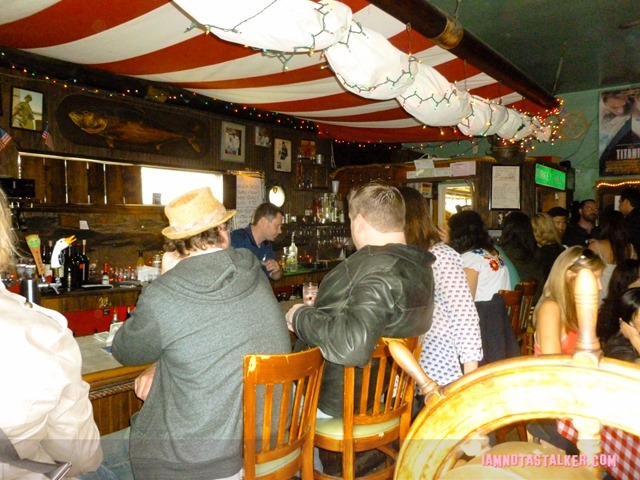 Thanks largely to the fact that little of Chez Jay has been changed over its 55-year history, the place has been featured onscreen several times.  In the 1990 film Bad Influence, the restaurant was where Alex (Rob Lowe) took Michael Boll (James Spader) for a beer shortly after meeting him.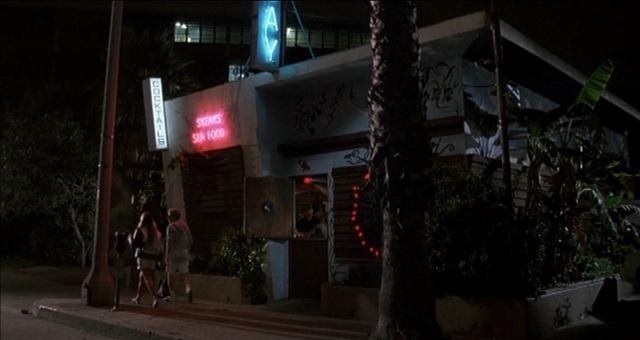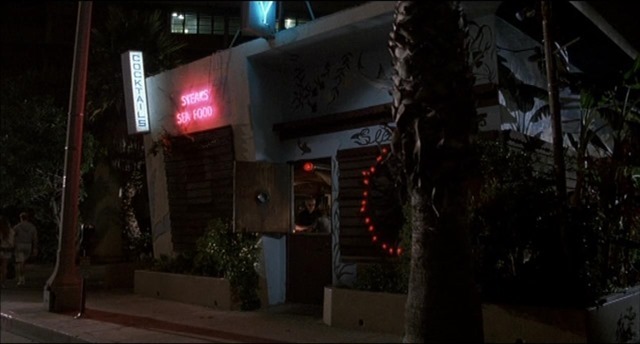 The interior of Chez Jay was also shown briefly in the scene.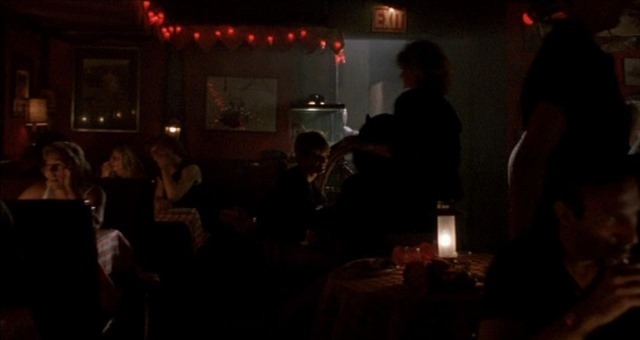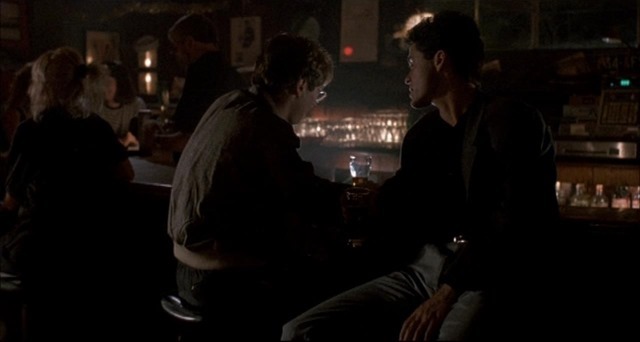 In the 2009 drama A Single Man, Chez Jay popped up twice as The Starboard Side bar.  It first appeared in the flashback scene in which George (Colin Firth) remembered first meeting his longtime boyfriend, Jim (The Good Wife's Matthew Goode).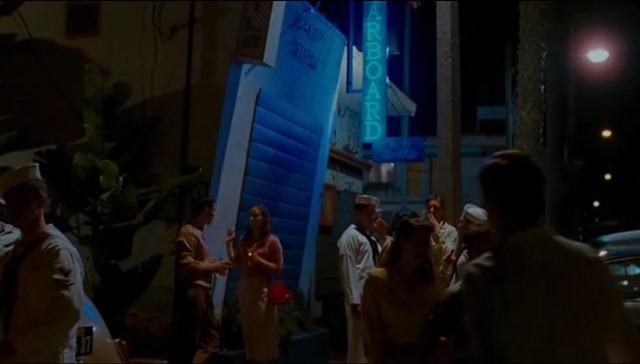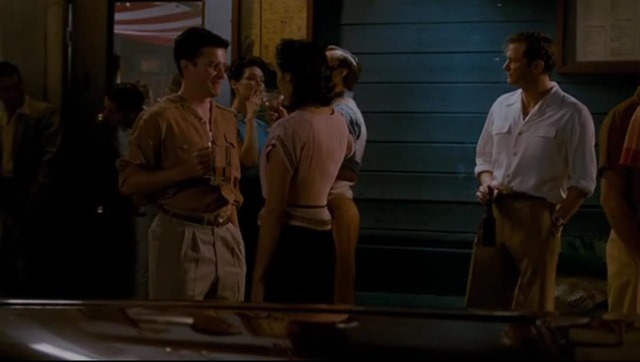 While the interior of the bar was also used briefly in the scene, not much of it was visible.  The large amount of people shown packed inside it is a pretty accurate depiction of what the place is like in real life, though.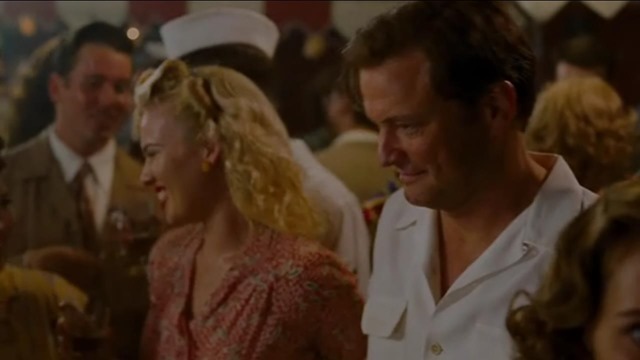 In a later scene, George runs into a student named Kenny (Nicholas Hoult) while at Chez Jay and the two have drinks.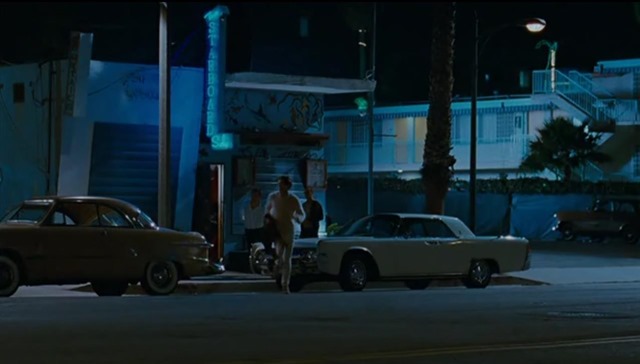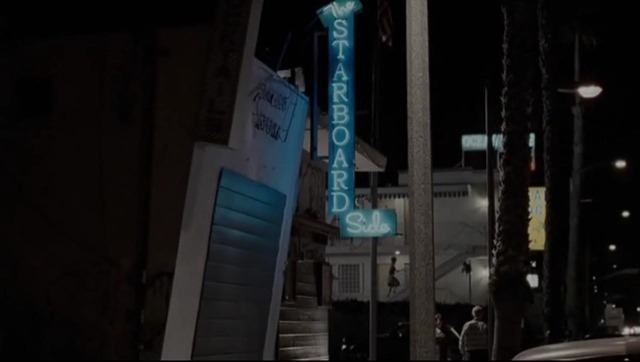 The interior is shown in that scene, as well.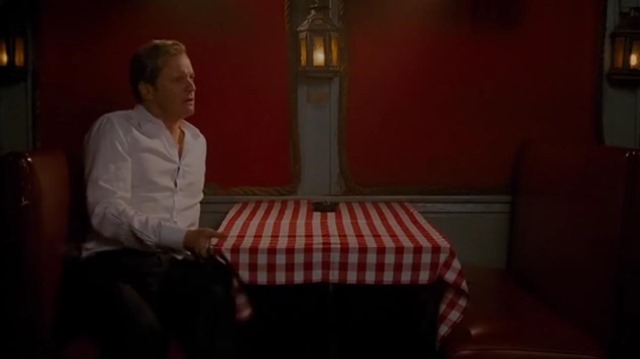 For more stalking fun, be sure to follow me on Facebook, Twitter, Instagram and Los Angeles magazine online.  And you can check out my other blog, The Well-Heeled Diabetic, here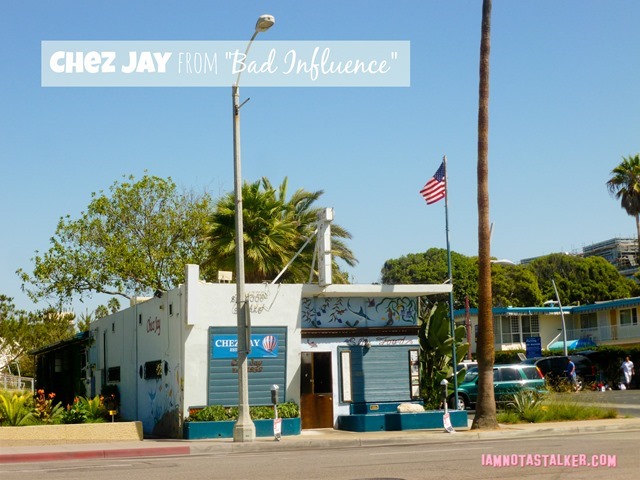 Until next time, Happy Stalking! 

Stalk It: Chez Jay, from Bad Influence, is located at 1657 Ocean Avenue in Santa Monica.  You can visit the restaurant's official website here.
81293