Tom's Bistro from "Parks and Recreation"
Jun 6th, 2014 | By
Lindsay
| Category:
TV Locations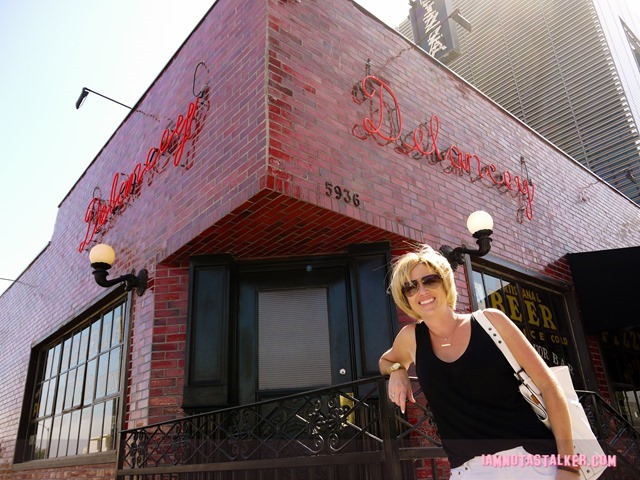 A couple of months ago, I asked fellow stalker Owen, of the When Write Is Wrong blog, to assist me in finding Tom's Bistro from fave show Parks and Recreation.  It took him less than a minute to track the place down (thanks to this April 25th tweet).  As it turns out, a Hollywood pizzeria named Delancey stood in for the supposed Pawnee, Indiana-area restaurant.  Once Owen told me the news, I wanted to kick myself as the very same eatery had been used as a location in another of my favorite shows, Dexter.  Though I had never stalked it, how I did not recognize the place is absolutely beyond me!  So I decided to amend the situation and ran out to visit Delancey last week while I was in L.A.  (You can tell from the photograph above that Mike, from MovieShotsLA, was with me when I did so.  The pictures I take never turn out that good!)
Delancey was originally opened by restaurateur George Abou-Daoud (he also founded Bowery, Rosewood Tavern and The Mercantile Wine Bar, as well as several other L.A. eateries) in April 2008.  He designed the space, which previously housed Taste of Thai, to resemble a New York bistro.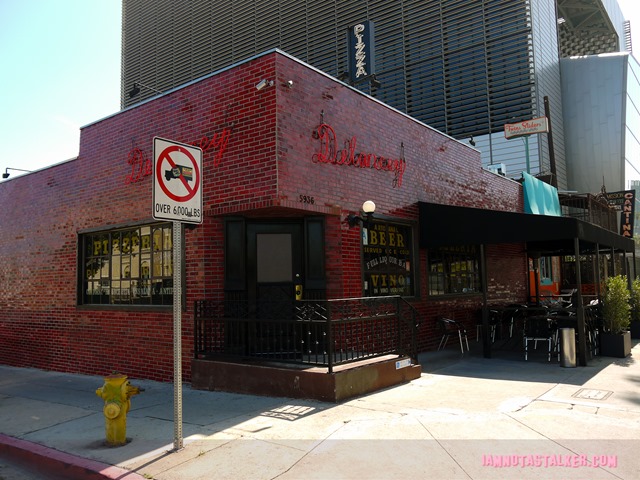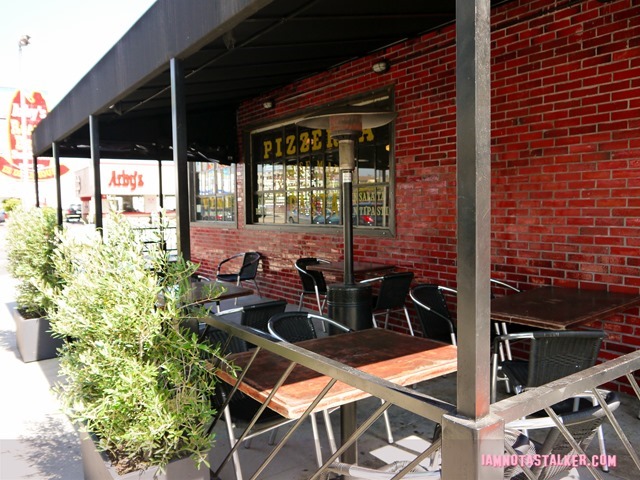 Delancey's exterior is marked by red subway tile and wrought-iron detailing and does very much look like a restaurant one would find in the West Village.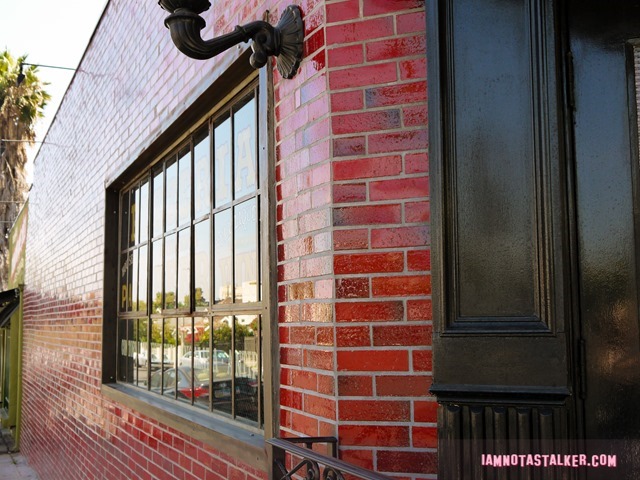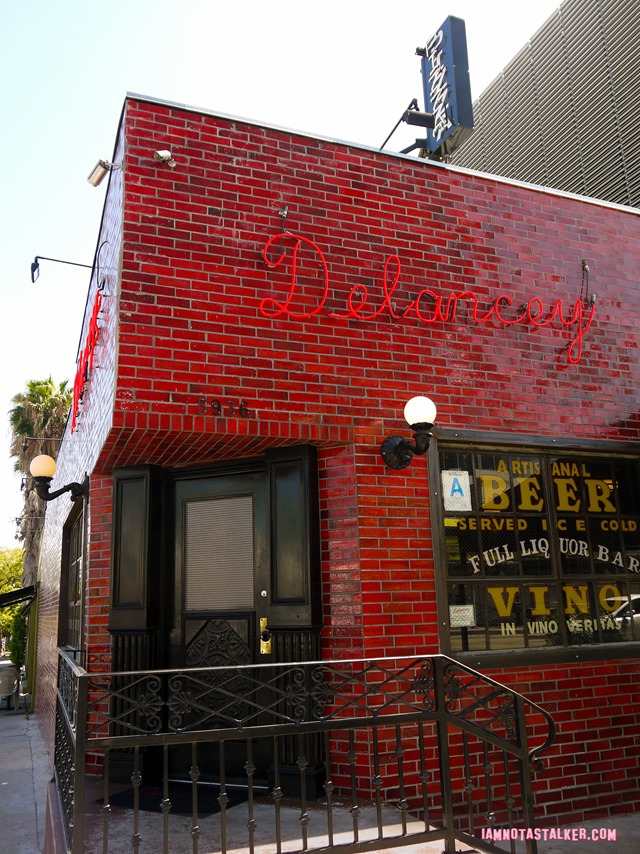 The interior boasts much of that same Big-Apple vibe, with dark Cherry hardwood floors, exposed brick arches, pressed-tin ceilings, antique radiators, an oak bar and red leather booths.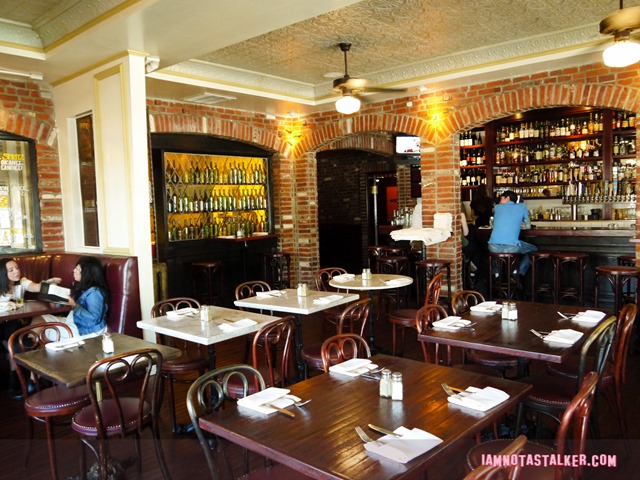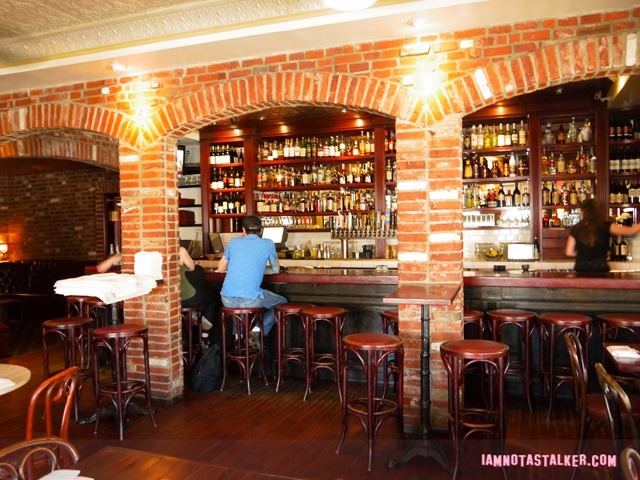 Sadly, Mike and I did not get to sample any of Delancey's fare while we were there (we had just finished a big meal elsewhere), but, from what I've read online, the food is superb.  I cannot wait to go back there sometime in the near future.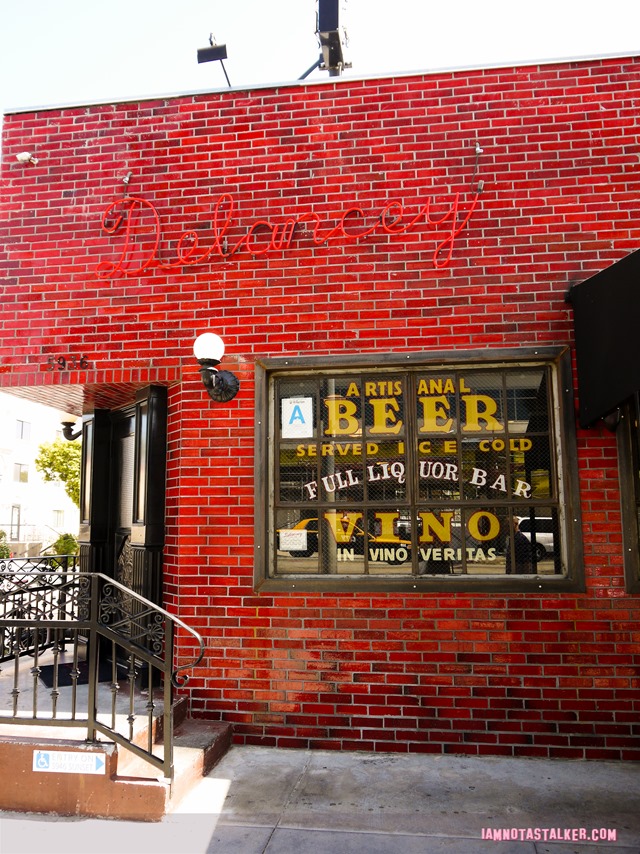 Delancey was first featured in the Season 6 episode of Parks and Recreation titled "New Slogan," in the scene in which Donna Meagle (Retta) and April Ludgate (Aubrey Plaza) took Tom Haverford (Aziz Ansari) location scouting for his new restaurant.  Only the interior of the gastropub appeared in the episode.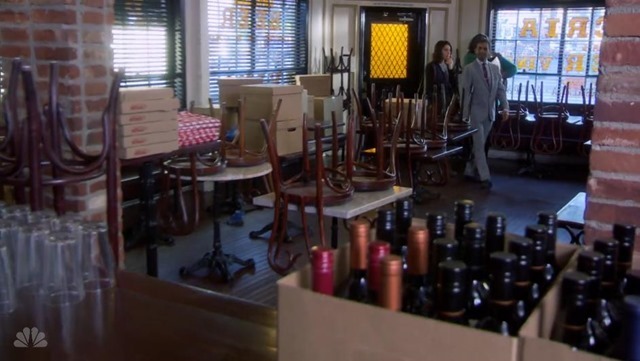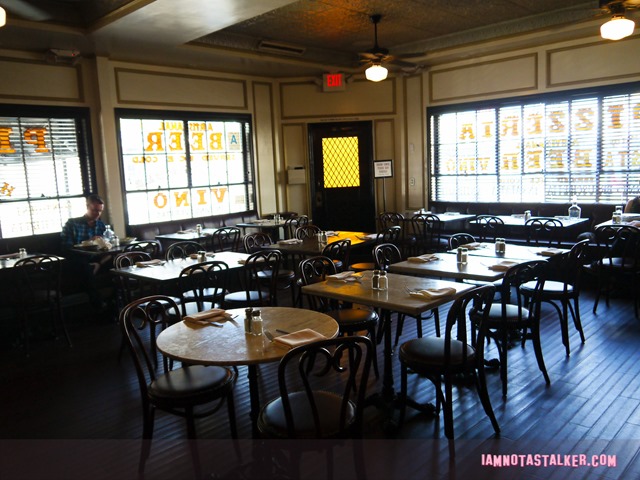 The interior actually only appeared in that one episode.  According to the super-nice server that we spoke with, a set based on Delancey's interior was built at CBS Studio Center, where the series is lensed, shortly following the "New Slogan" filming.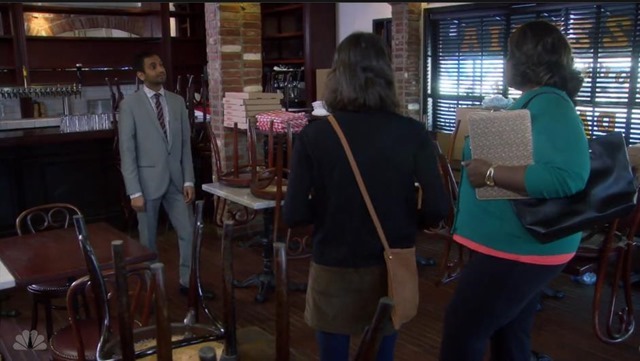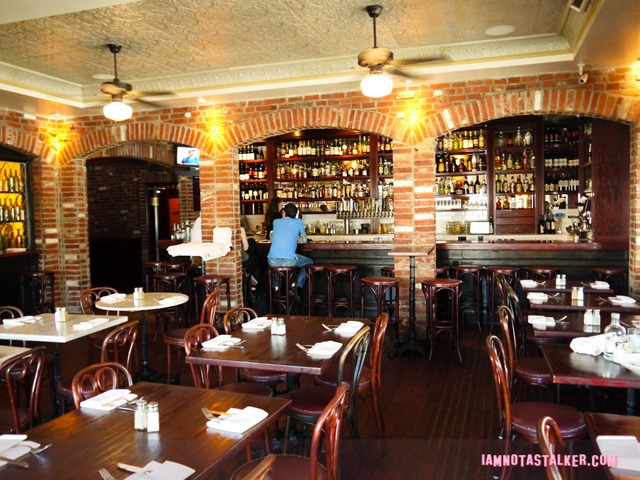 Delancey was not featured again until the Season 6 finale of Parks and Rec, which was titled "Moving Up."  This time, the exterior of the eatery was shown in both a daytime shot . . .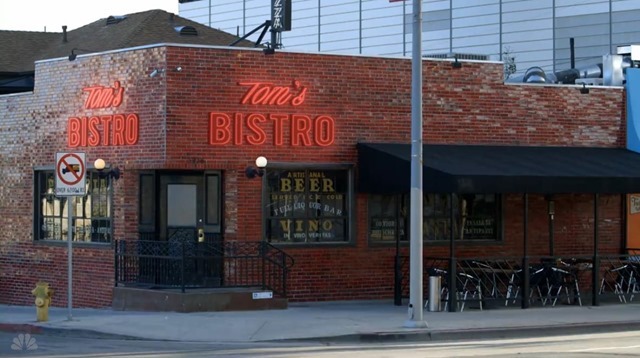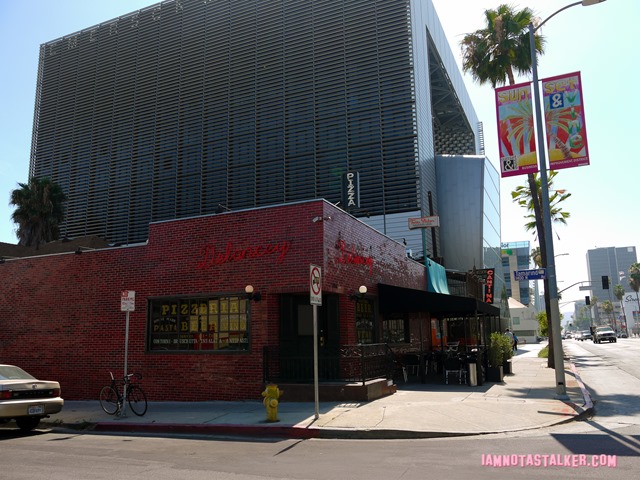 . . . and a nighttime shot.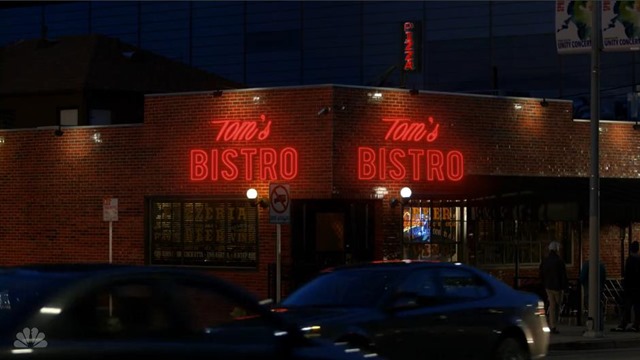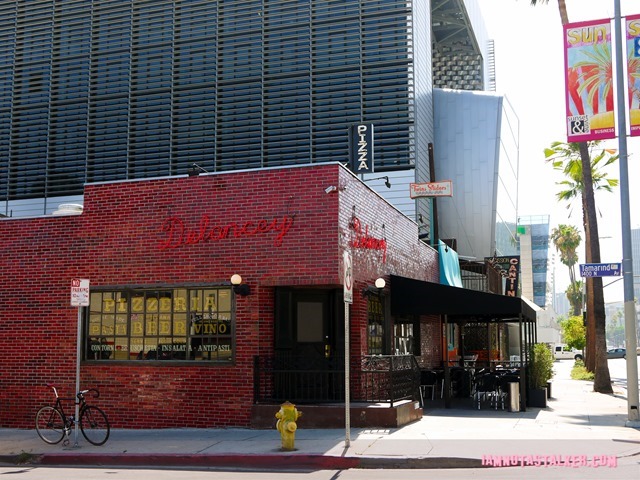 In "Moving Up," the replica set was used for interior filming.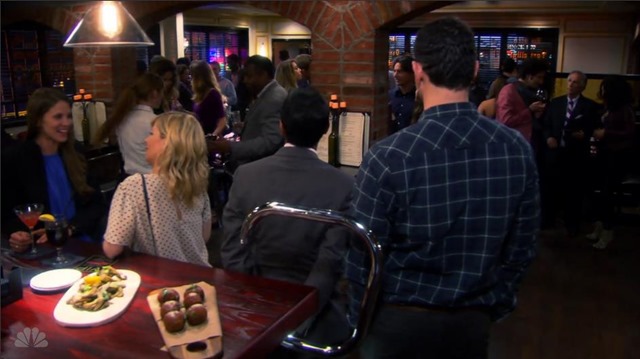 As you can see below, the interior of Tom's Bistro is considerably larger than the actual Delancey interior.  (This marketing scheme is absolutely amazing, by the way!)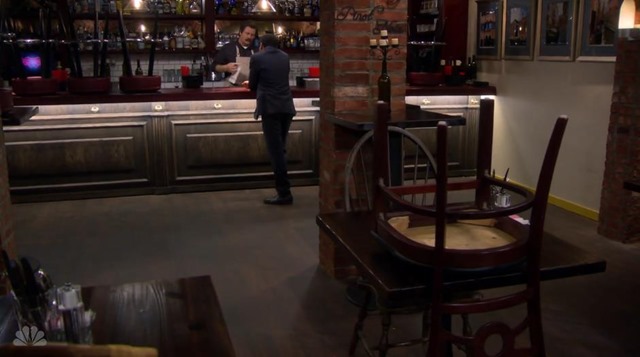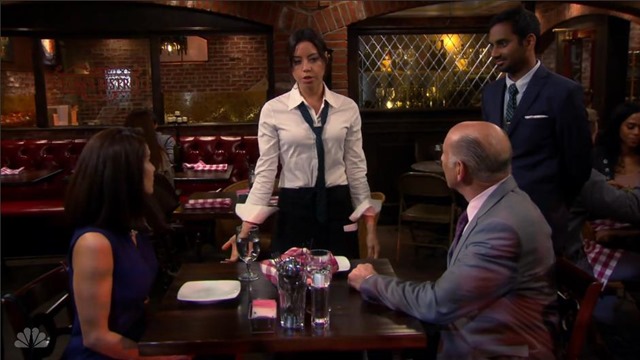 On a random Parks side-note – In the "Moving Up" episode, Aubrey Plaza looked to be wearing Adina Reyter's Tiny Square Necklace – the very same necklace that my girl Kristin Cavallari regularly wears, which I had a faux gold replica of made a couple of years ago.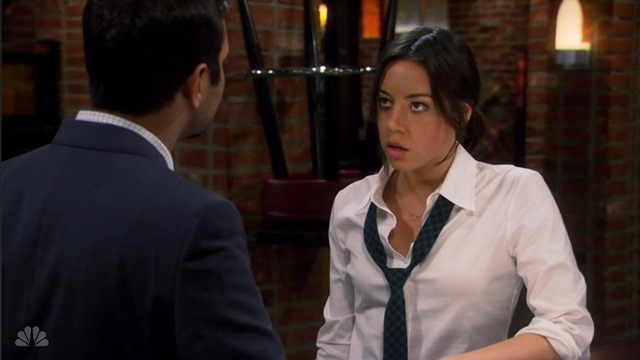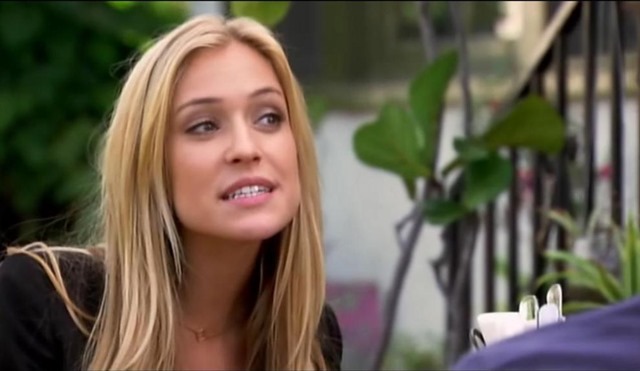 As I mentioned earlier, Delancey also appeared in Dexter. In the Season 5 episode titled "My Bad" the restaurant was used in a flashback scene in which Rita Bennett (Julie Benz) and Dexter Morgan (Michael C. Hall) had their first date.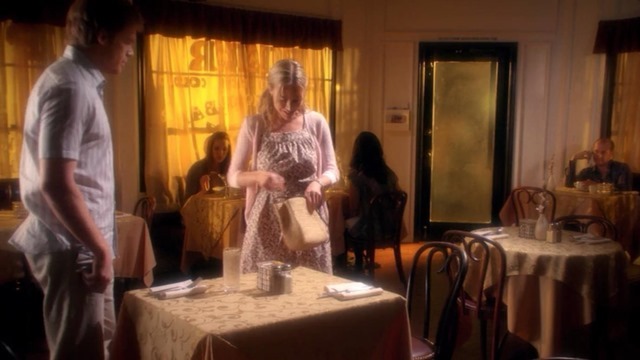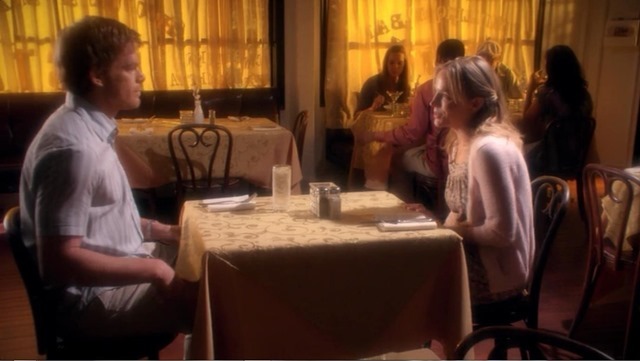 Only the interior of Delancey was shown in the scene.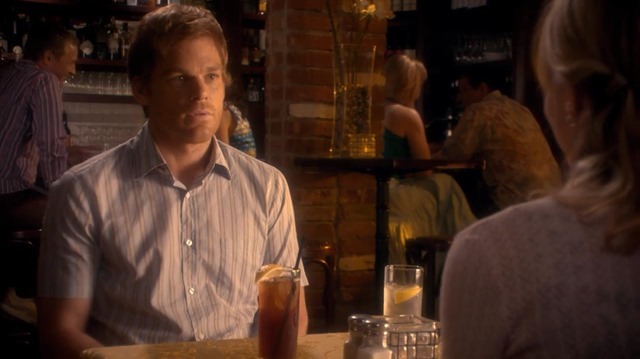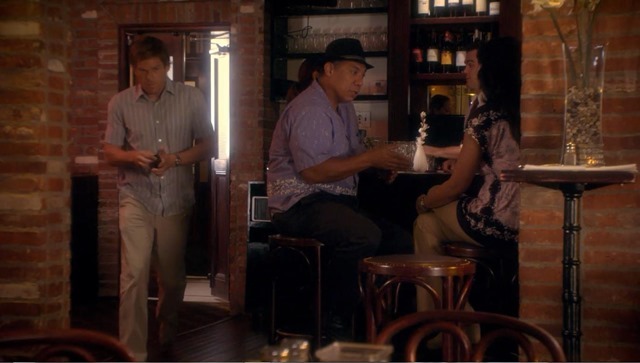 For more stalking fun, be sure to follow me on Facebook, Twitter, Instagram and Los Angeles magazine online.  And you can check out my other blog, The Well-Heeled Diabetic, here
Big THANK YOU to fellow stalker Owen, from the When Write Is Wrong blog, for finding this location!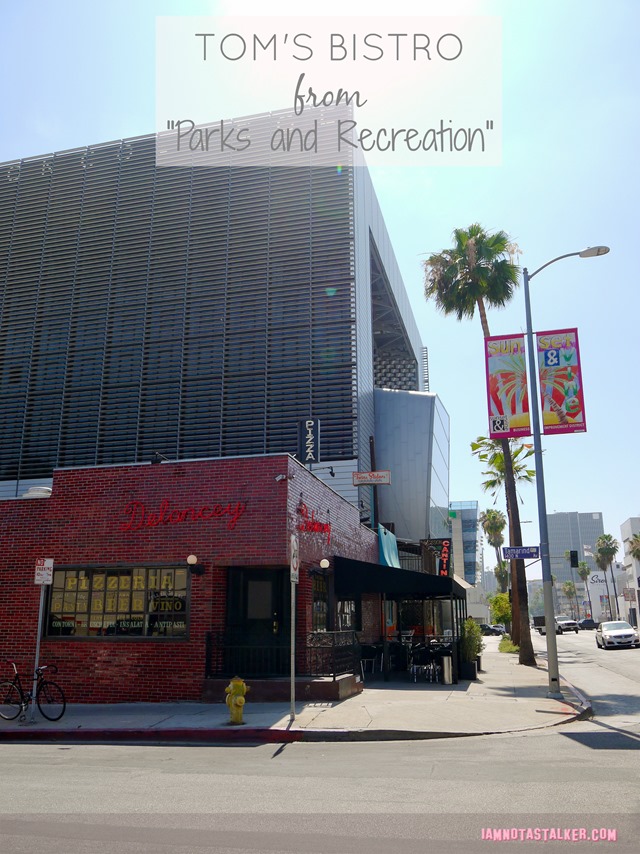 Until next time, Happy Stalking! 

Stalk It: Delancey, aka Tom's Bistro from Parks and Recreation, is located at 5936 Sunset Boulevard in Hollywood.  You can visit the restaurant's official website here.
81535