Fat Sal's Deli – Jerry Ferrara's Restaurant
Jun 17th, 2014 | By
Lindsay
| Category:
This and That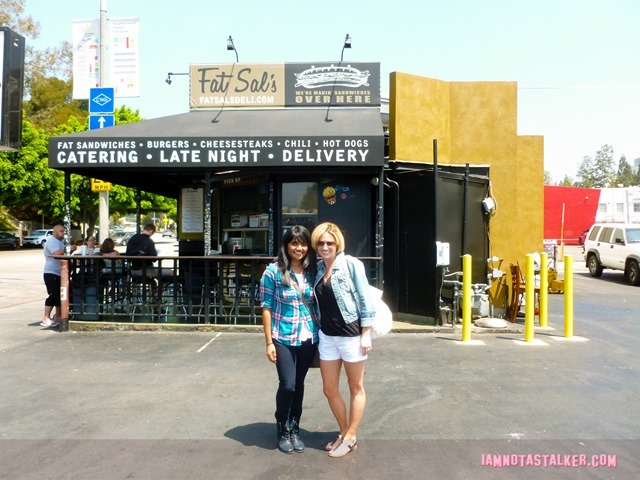 I'm back, people!  To say that last week was a blast would be an understatement.  It was honestly one of the best weeks of my life and a really special birthday celebration.  There was never a dull moment and I am officially exhausted (and now have a cold), but it was well worth it!  A huge THANK YOU to the Grim Cheaper and my friends Lavonna, Kim, Katie and Kaylee for making it all happen.  One of our many adventures (and I will be blogging about all of them soon) included hitting up the premiere of How to Train Your Dragon 2 in Westwood.  We arrived on the scene bright and early only to learn that the premiere had been postponed from 10 a.m. to 3 p.m.  Yeah, no thank you!  After quickly deciding to bail (and after randomly running into fellow stalker Anushika, from the Mike the Fanboy family – that's her in the above picture), we did some shopping nearby (I got an adorable dress at Brandy Melville) and then I dragged the entire gang over to grab a bite to eat at Fat Sal's Deli, a place I had wanted to stalk for ages due to the fact that it is owned by cutie Jerry Ferrara, aka Turtle from Entourage.
Jerry founded Fat Sal's in 2010, along with his childhood pals Josh Stone and Sal Capek.  Frustrated over their inability to find good East Coast-style sandwiches in Los Angeles, the three native New Yorkers decided to open up their own place.   Their first outpost was on Gayley Avenue in a walk-up space that formerly housed a sausage stand named Spoc's.  Thanks to its fab food, late night hours (it does not close until 3 a.m. most days) and proximity to UCLA, Fat Sal's became wildly successful and two sister restaurants were eventually opened – one in Hollywood and one in San Diego.  A fourth is set to launch later this year in Austin, Texas.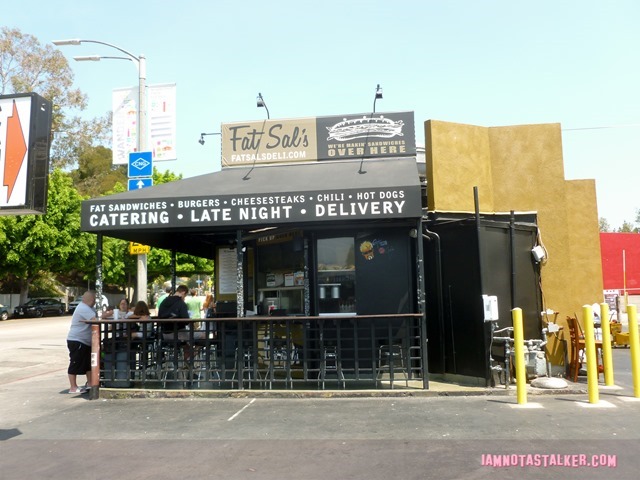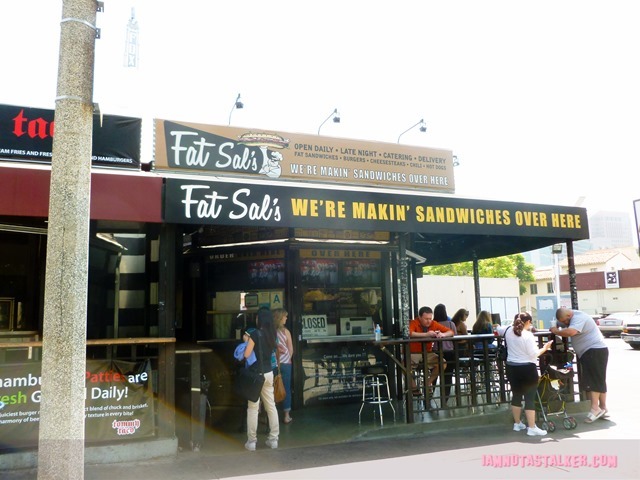 Fat Sal's menu is unique to say the least, with such offerings as Pepperoni Pizza Fries (French fries covered in chopped pepperoni, mozzarella cheese and marinara sauce), the Fat Jerry (a hero sandwich comprised of chicken fingers, cheesesteak, fried mozzarella sticks, bacon, eggs, French fries, mayo, ketchup, salt and pepper) and Meat Luv'rz Pizza Rolls (spring rolls filled with pepperoni, ground beef, sweet Italian sausage, provolone, mozzarella and marinara sauce).  I played it safe and opted for Fat Sal's Cheese Dog, which, as you can see below, I was pretty darn excited about.  And I am happy to report that the dog did not disappoint.  It was delish!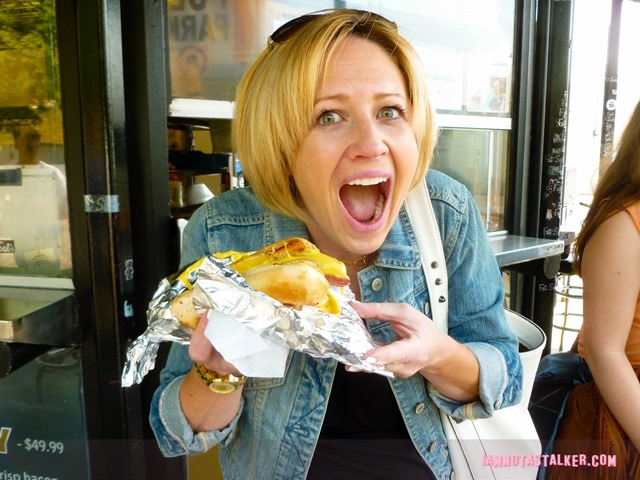 The gang all loved their orders, as well.  (That's our group pictured below.)  And while we tried to convince Lavonna to order the Big Fat Fatty, she was having none of it.  For those not in the know, the Big Fat Fatty is a 27-inch (!!) hero filled with five cheeseburgers, a pound of pastrami, cheesesteak, chicken fingers, bacon, mozzarella sticks, fried eggs, jalapeno poppers, French fries, onion rings, chili, marinara sauce and fat sauce.  The monster sandwich costs a whopping $49.95, but if a patron can eat the whole thing in forty minutes or less, it's free!  If someone does manage to accomplish such a feat, he or she gets to design and name a sandwich that will then be added to Sal's menu.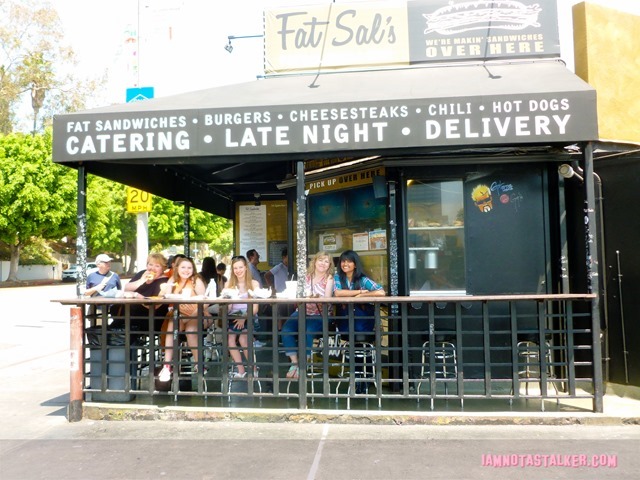 In 2011, Fat Sal's was featured in the pilot of Planet Green's Suzilla: The Mouth that Roars.  In the episode, series star Suzanna French, aka "Suzilla," who just so happens to be the fourth-ranked competitive eater in the world, attempted to eat a Big Fat Fatty.  Spoiler alert – she was not successful.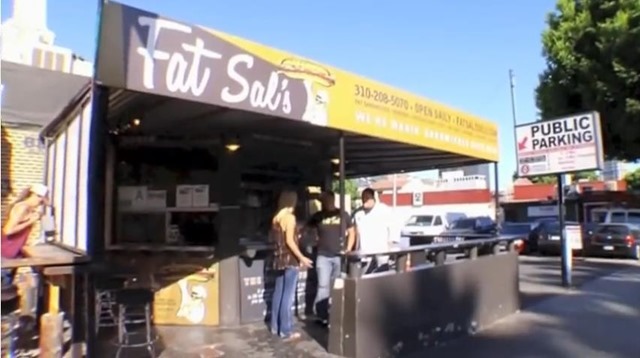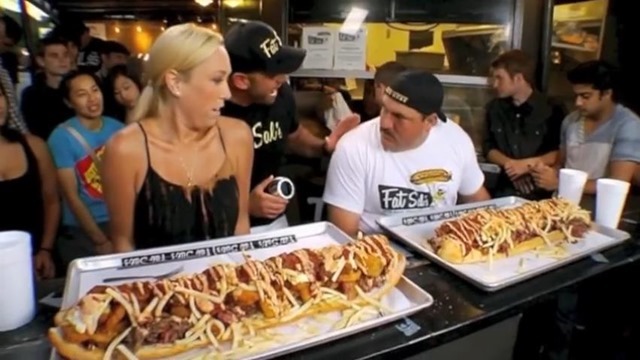 You can watch the Suzilla: The Mouth that Roars episode by clicking below.
The eatery was also featured in the Season 19 episode of Diners, Drive-Ins and Dives titled "Righteous Bites," which just aired a couple of weeks ago.  You can watch the episode on Amazon, iTunes or Xfinity here.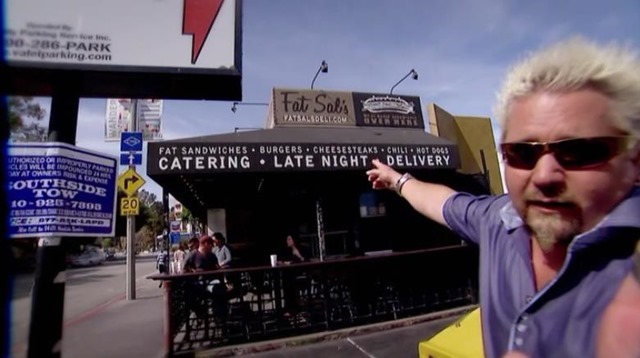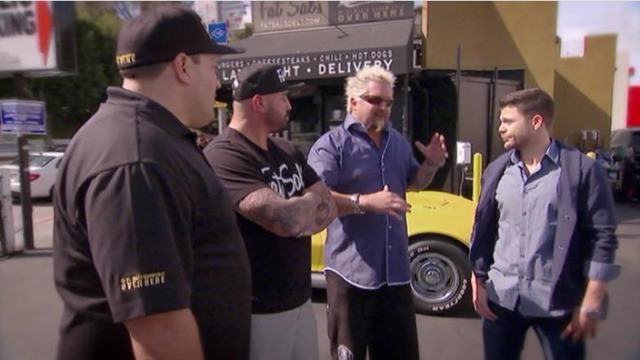 I was super excited to see Guy Fieri's autograph on the wall while we were there.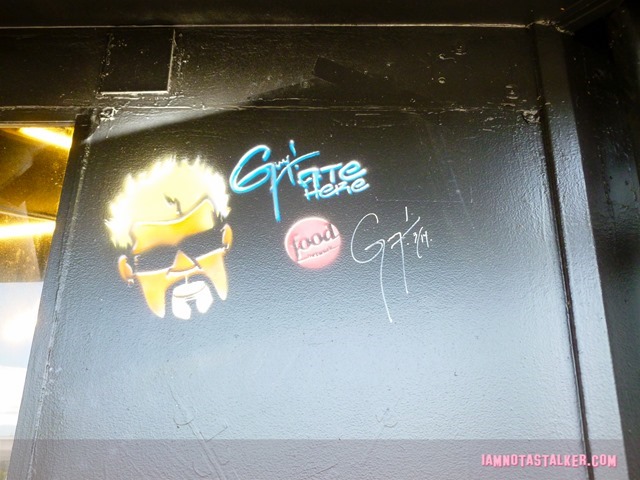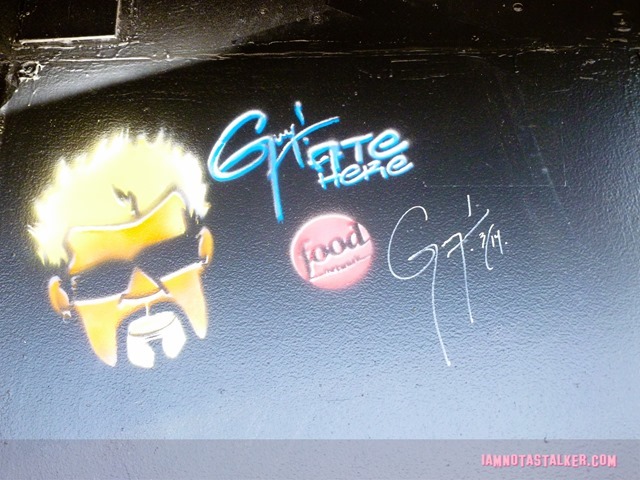 For more stalking fun, be sure to follow me on Facebook, Twitter, Instagram and Los Angeles magazine online.  And you can check out my other blog, The Well-Heeled Diabetic, here.
Until next time, Happy Stalking! 

Stalk It: The original Fat Sal's Deli is located at 972 Gayley Avenue in Westwood.  You can visit the restaurant's official website here.
81577