Hotel Erwin from "Cougar Town"
Jun 18th, 2014 | By
Lindsay
| Category:
TV Locations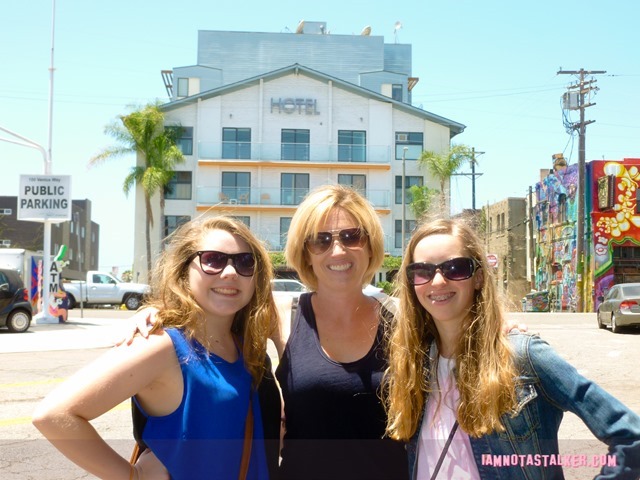 I have never been a big fan of Venice Beach, but during my weeklong birthday celebration in L.A. my pals Lavonna, Kim, Katie, and Kaylee wanted to do some shopping, so I suggested hitting up Abbot Kinney Boulevard.  While there, Lavonna asked if I had any stalking to do in the area and a light bulb went on in my head.  I had long wanted to visit Hotel Erwin, where the Cul-de-Sac Crew stayed in the Season 4 episode of Cougar Town titled "Have Love Will Travel."  Because I typically avoid Venice like the plague, though, I had yet to do so.  So the five of us headed right on over there.  (That's Katie and Kaylee, Kim's daughter and Lavonna's niece, respectively, in the photo above.)
Since Angelinos tend to be much friendlier toward tourists than locals (at least when it comes to stalking), I always utilize Lavonna's thick Southern accent whenever stalking with her.  (She jokes that I just use her for her voice. 
)  This particular venture was no exception.  The area of Hotel Erwin that I most wanted to see was its rooftop lounge, High, which was featured in several scenes on Cougar Town, so I promptly sent Lavonna to the front desk to inquire if we could go up there and snap some photos.  Upon drawling to the concierge, "Y'all got a rooftop bar?", Lavonna was informed that the lounge was closed, but that we were more than welcome to head up there to check it out and take pictures.  (See, that accent works every time!)  So we did just that.  And, let me tell you, the place is nothing short of spectacular.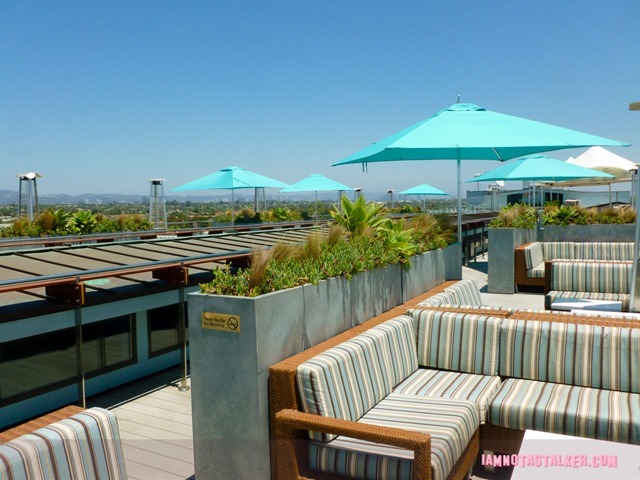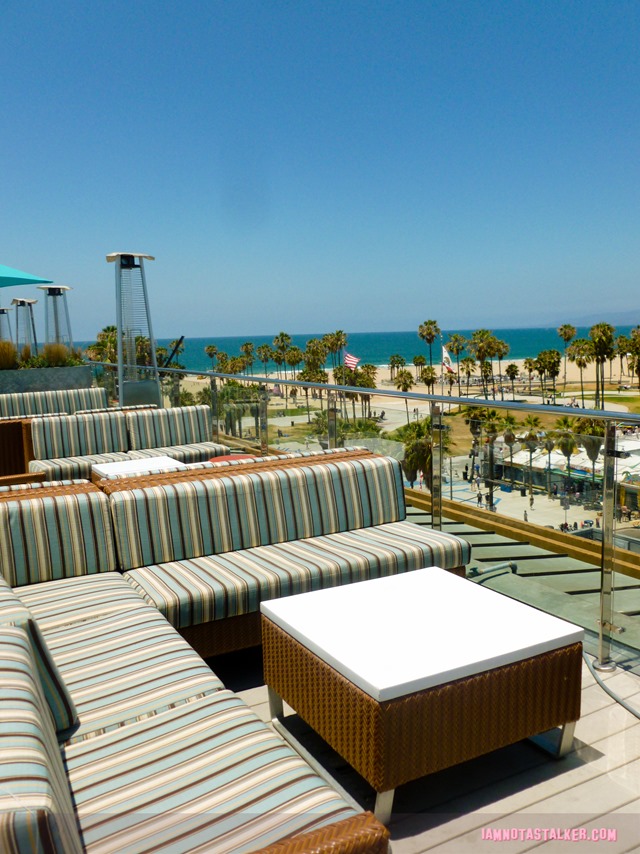 High Rooftop Lounge is absolutely HUGE, encompassing the entire roof of the Erwin.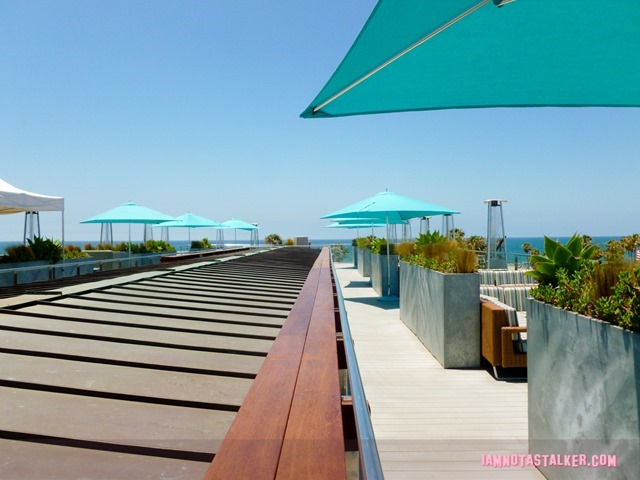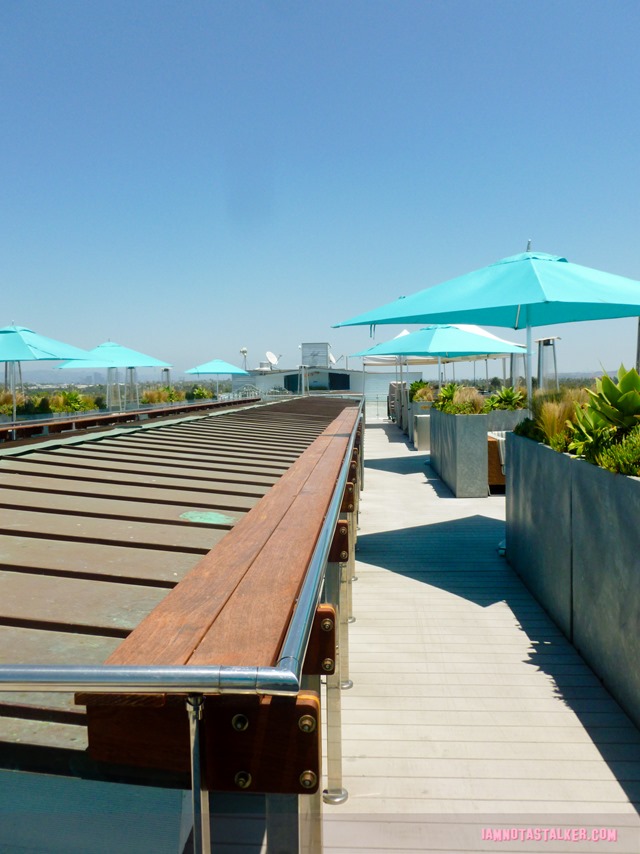 Glass walls surround the premises, allowing for stunning beach and city views from pretty much every seat.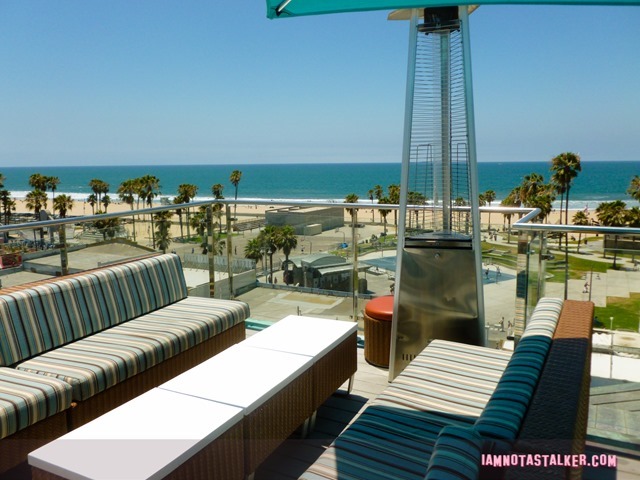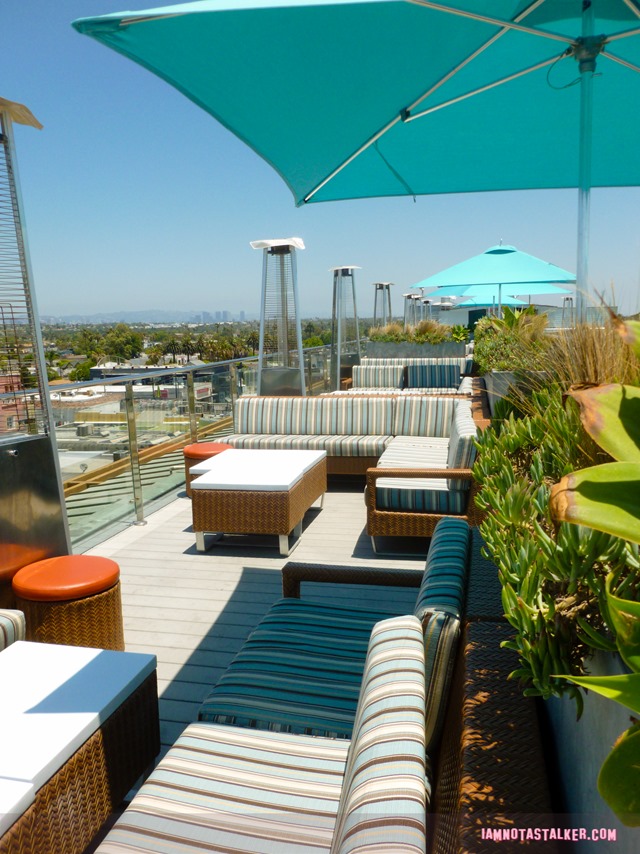 I mean, check out that scenery!  Uh-ma-zing!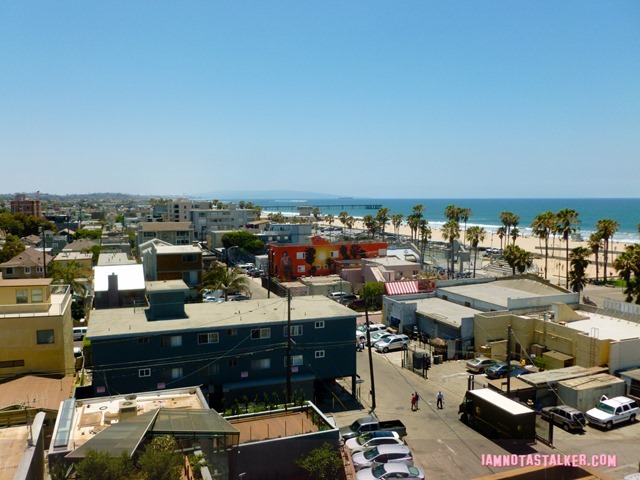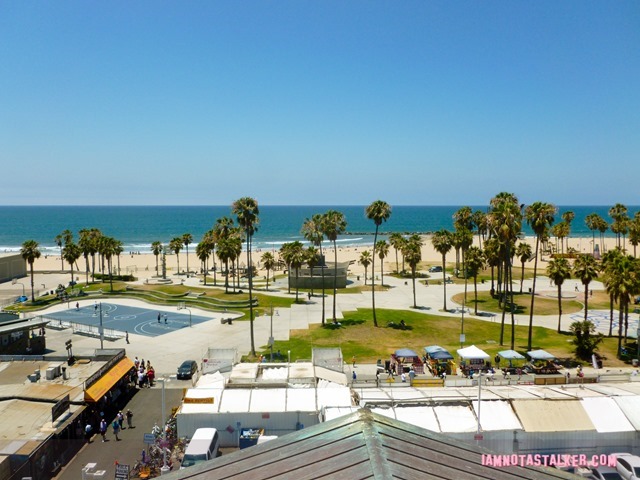 Hotel Erwin, which was built in 1967, originally housed the Best Western Marina Pacific Hotel.  In 2008, the Joie de Vivre Group took over management of the site and cut its name to the "Marina Pacific Hotel."  A short five months later, management changed once again and an extensive, multimillion-dollar renovation project was begun, during which time an entire floor of ocean-view suites and new rooftop were added to the property.  You can check out a photograph of what the structure looked like as the Best Western here.  As you can see, the hotel lacked a fifth floor and rooftop lounge at the time and looked quite a bit different than it does in comparison to the pictures below.  The site was re-dedicated as the Hotel Erwin, named in honor of owner Erwin Sokol, in mid-2009.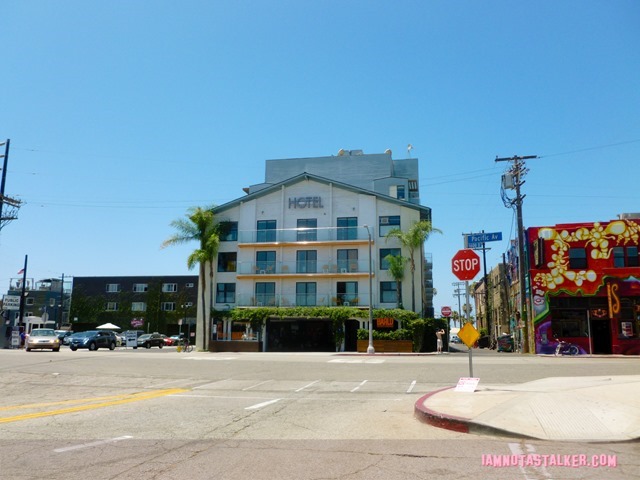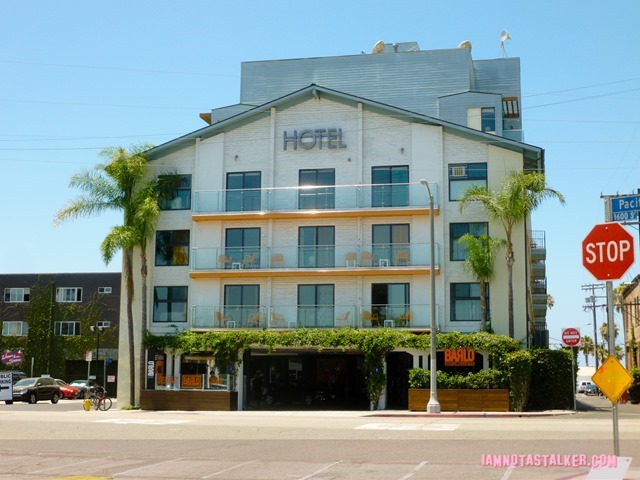 In the "Have Love Will Travel" episode of Cougar Town, which was the Season 4 finale and one of my favorite episodes of the entire series, Jules Cobb (Courteney Cox) and the gang headed to Los Angeles for a short vacation.  While there, they stayed at Hotel Erwin.  Quite a few areas of the 119-room property were shown in the episode, including High Rooftop Lounge, where the Cul-de-Sac Crew regularly hung out.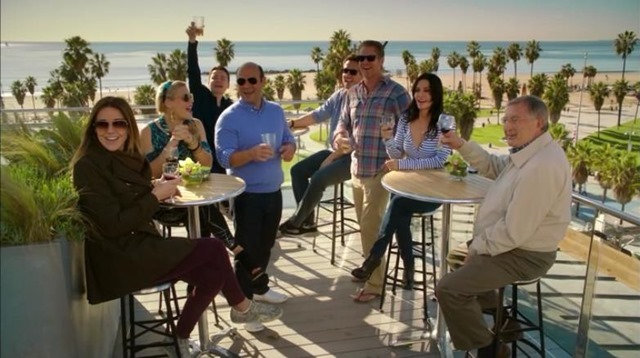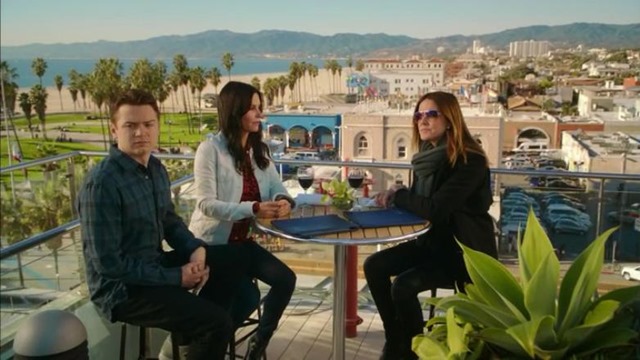 A night scene also took place at High.  As you can see in the screen captures below, the bar's views are even gorgeous after the sun sets.  Oh, Grim Cheaper, I sense a field trip to Venice on the horizon!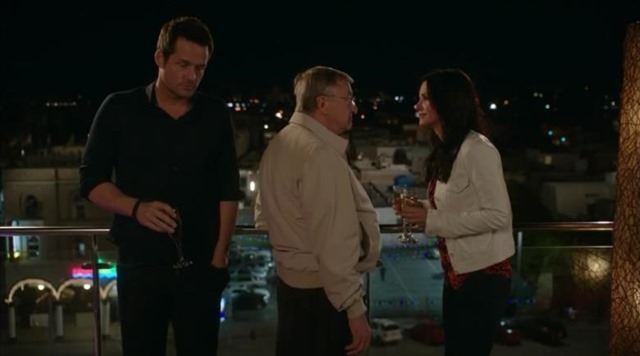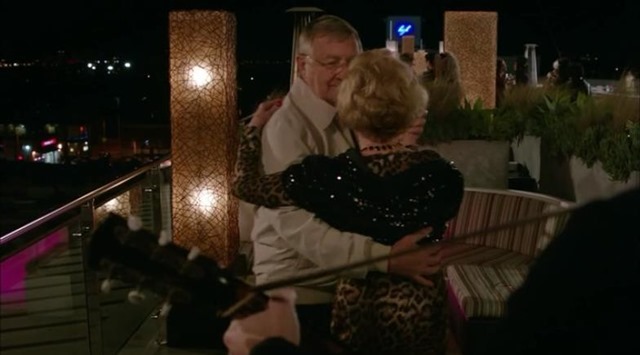 Hotel Erwin's front entrance was also utilized in the episode.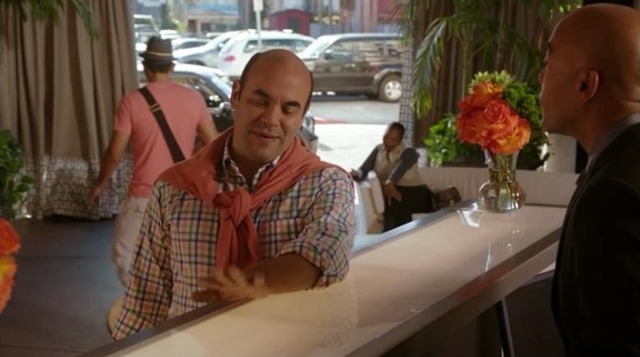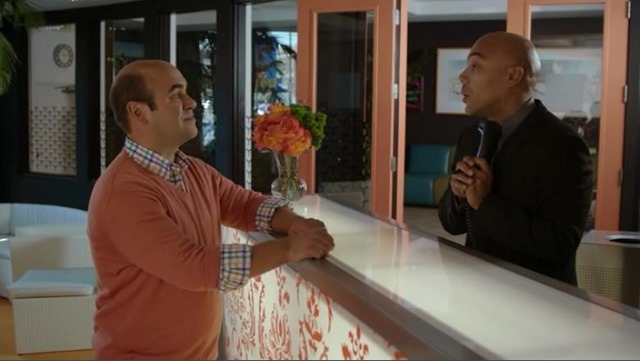 It was dressed quite a bit differently for the shoot.  In real life, there is no furniture or concierge desk in that area.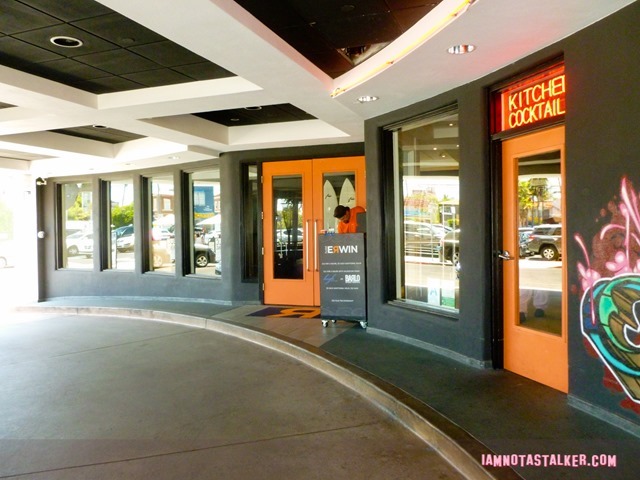 The entrance does feature a little outdoor lounge, though.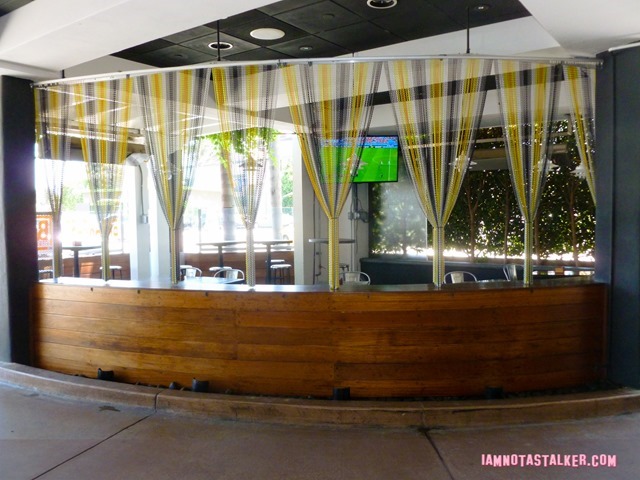 The exterior of Hotel Erwin was also briefly visible in the scene in which Travis Cobb (Dan Byrd) and Laurie Keller (Busy Phillips) discussed the fact that fate seemed to be against them being together.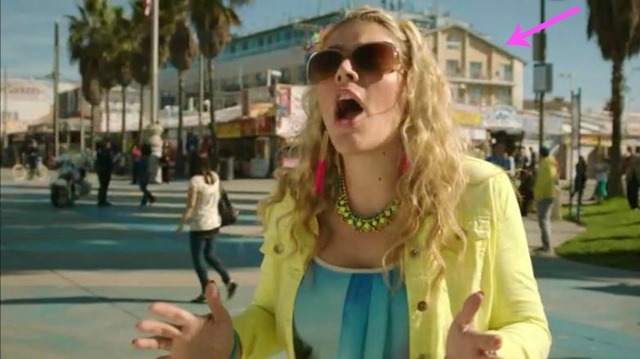 The interiors of the rooms where the gang stayed in the episode were sets and not actual Hotel Erwin rooms.  Photographs of the property's real life accommodations can be viewed here.  As you can see, they do not match up to what appeared onscreen.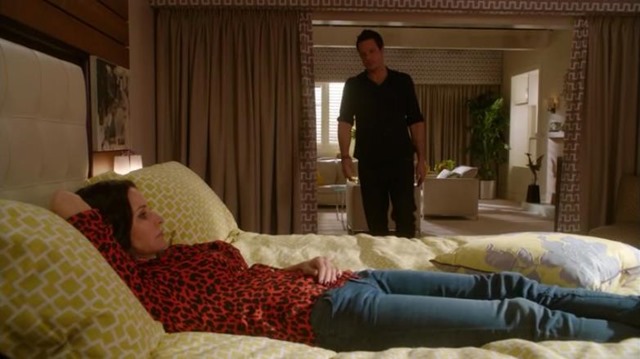 For more stalking fun, be sure to follow me on Facebook, Twitter, Instagram and Los Angeles magazine online.  And you can check out my other blog, The Well-Heeled Diabetic, here.
Until next time, Happy Stalking!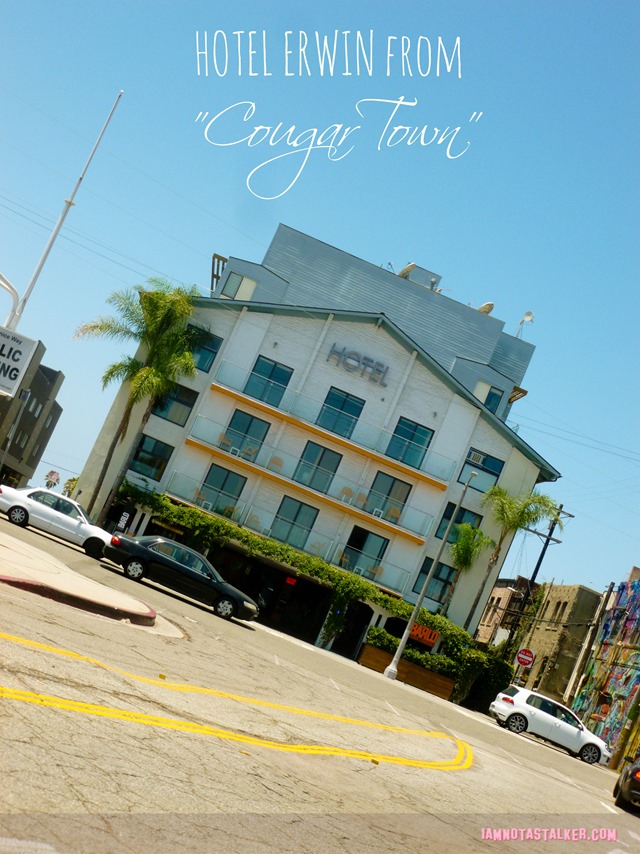 Stalk It: Hotel Erwin, from the "Have Love Will Travel" episode of Cougar Town, is located at 1697 Pacific Avenue in Venice Beach.  You can visit the property's official website here.  High Rooftop Lounge is open daily, starting at 3 p.m. Monday through Friday and 2 p.m. Saturday and Sunday.
81700