The "Walk in Walt's Disneyland Footsteps" Tour
Jul 22nd, 2014 | By
Lindsay
| Category:
This and That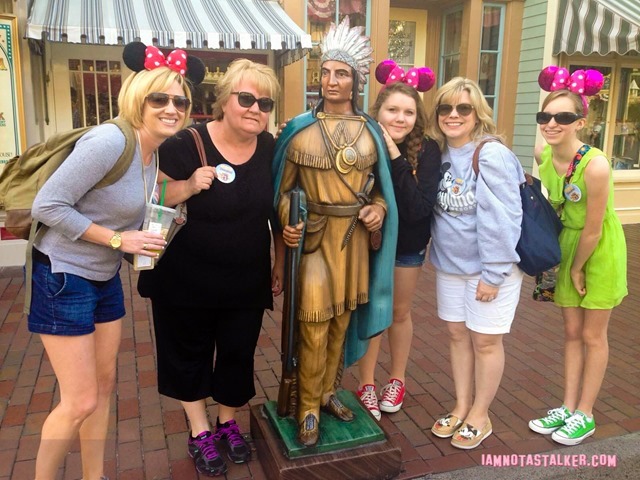 I have long considered myself a Disneyland expert (or a "foamer" – a term I learned from Pinky Lovejoy, of the Thinking Pink blog, that refers to those who foam at the mouth over all things Disney).  I have visited The Happiest Place on Earth more times than I can count and know its layout like the back of my hand.  I even had the amazing opportunity to dine at the park's ultra-exclusive Club 33 back in 2009.  So I was shocked when fellow stalkers Kim, Lavonna, Katie and Kaylee, while preparing for their June trip to Los Angeles, told me they were buying tickets for the Walk in Walt's Disneyland Footsteps tour, during which guests are taken inside Walt Disney's Main Street apartment.  I had no idea such a tour existed (though James Franco did) or that visitors were ever allowed inside the hallowed walls of the Disney apartment!  Kim and Lavonna were nice enough to gift me with a Walk in Walt's Disneyland Footsteps ticket for my birthday and we wound up spending two glorious days at The Happiest Place on Earth, of which the tour was the definite highlight.
The tour, which lasted about three hours, kicked off at the Disneyland Tour Gardens kiosk on Main Street, where we were introduced to our guide and each given a headset to wear.  The excursion included a free lunch and, upon arrival, we were asked to choose a meal.  Several dining options were available, including Chicken Salad, Caprese and Roasted Turkey sandwiches, as well as Roasted Vegetable and Jolly Holiday salads.  Desert was also included.  Our group was especially excited about the White Chocolate Matterhorn Macaroons.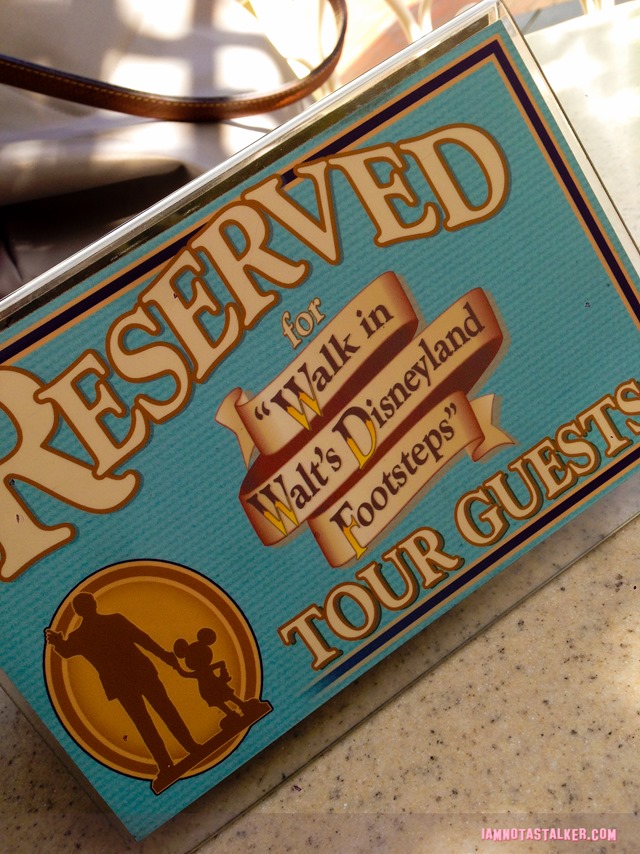 The tour got started promptly at 9:30 a.m. and we headed down Main Street, U.S.A. . . .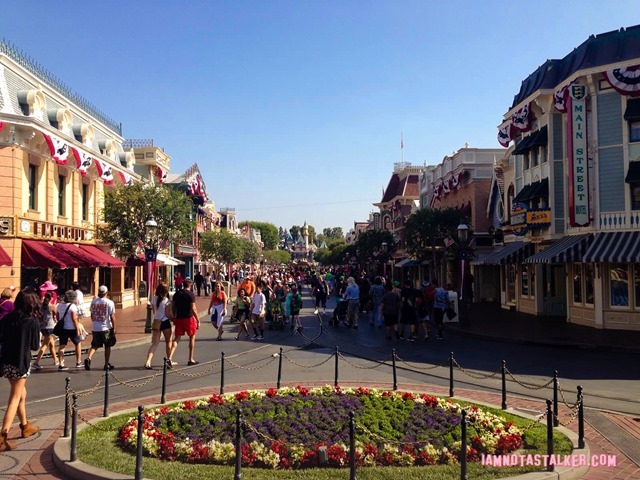 . . . towards Sleeping Beauty Castle.  Along the way, we stopped at several spots and were told historical anecdotes about Walt's creation of the park.  There were even sound clips of some of Walt's speeches that were played at key locations throughout our journey.  I got goose bumps listening to his Fantasyland dedication while standing in the shadow of the Sleeping Beauty Castle.  Fantasyland was the land dearest to Walt's heart and the last to be unveiled on Disneyland's opening day, July 17th, 1955.  In his speech, he said, "Now the plaque reserved for last.  A few words of dedication for the happiest kingdom of them all, Fantasyland.  Here is the world of imagination, hopes and dreams.  In this timeless land of enchantment, the age of chivalry, magic and make-believe are reborn and fairy tales come true.  Fantasyland is dedicated to the young and the young-at-heart, to those who believe that when you wish upon a star, your dreams do come true."  The castle's drawbridge was then lowered and the 28,000 guests present that day allowed to venture forth into Fantasyland.  Yep, you read that right – the Sleeping Beauty Castle drawbridge is operable!  It has only been publicly lowered twice, though – on opening day and then again almost thirty years later, upon the unveiling of Fantasyland's 1983 remodel.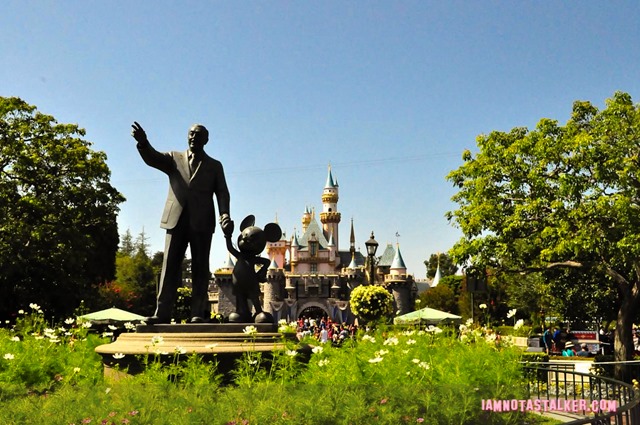 Our guide took us through almost every square inch of the park, sharing details and stories each step of the way.  I should point out here that it is a walking tour and, boy, did we do a lot of it!  If you decide to partake of Walk in Walt's Disneyland Footsteps yourself, be sure to wear comfortable shoes!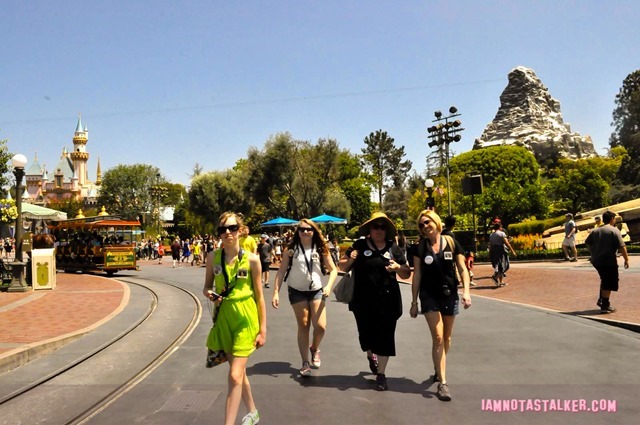 Because it was our second full day at Disneyland, the stroll really took it out of us.  I turned around during one of our stops to see Kim like this.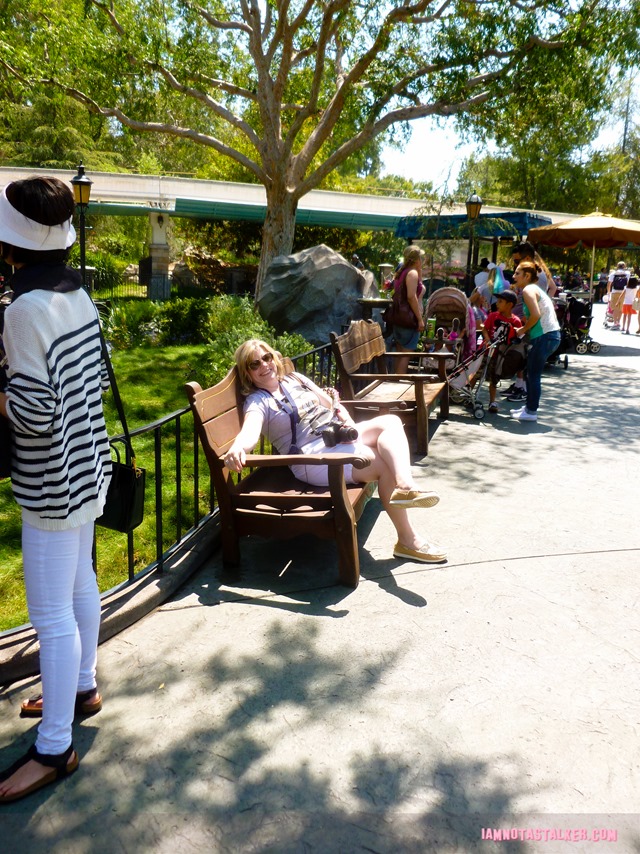 The Walk in Walt's Disneyland Footsteps tour included a visit to two attractions – and yes, we got to skip the line both times!  At one point, we passed by someone who said, "Those people are on some sort of VIP tour."  Yep, that's how we roll!  The first ride we were taken to was Peter Pan's Flight, one of my all-time favorites.  The ride was also one of Walt's favorites and has been in operation since Disneyland's opening day, which is incredible to me!  I was so thankful that we got to bypass that particular line as it is invariably one of the park's longest, no matter what time of day.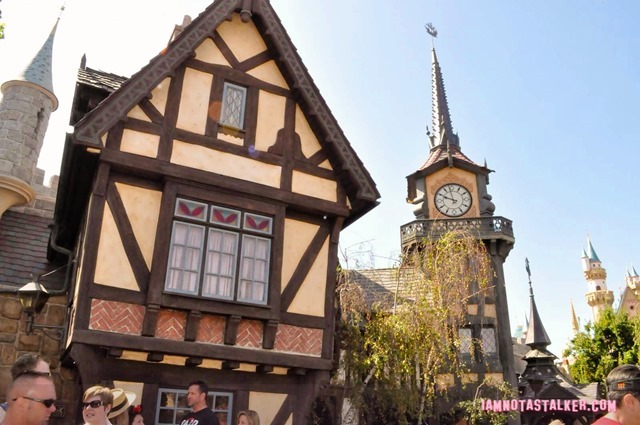 The second "ride" we got to experience was Great Moments with Mr. Lincoln at the Main Street Opera House, which, as luck would have it, was the attraction that Lavonna most wanted to see while visiting the park due to its appearance in a Season 3 episode of Modern Family.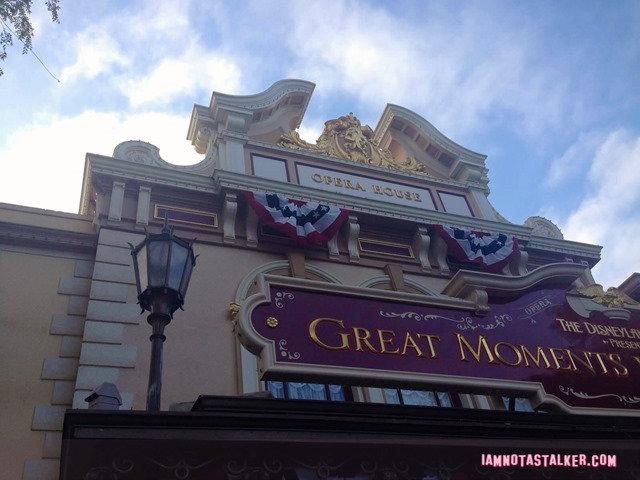 In the episode, aptly titled "Disneyland," Jay Pritchett (Ed O'Neill) drags his family to watch Great Moments with Mr. Lincoln, which holds special meaning for him thanks to a visit he had there with his children, Mitchell Pritchett (Jesse Tyler Ferguson) and Claire Dunphy (Julie Bowen), when they were young.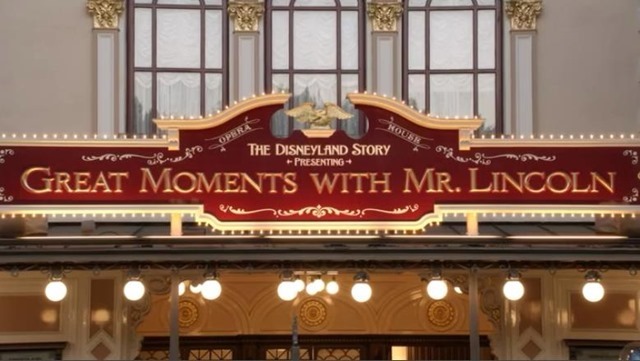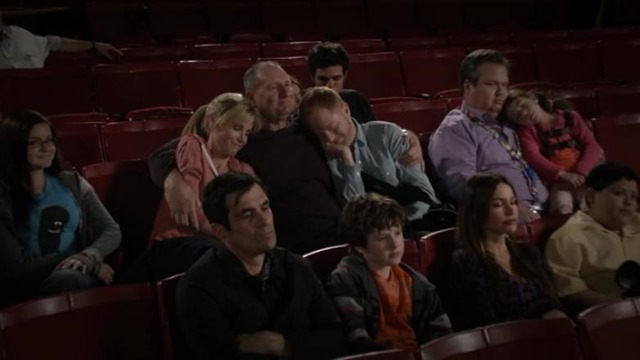 Sadly, our experience was not as favorable as Jay's.  The show features a short film about the life of Abraham Lincoln and then culminates with an animatronic version of the former president delivering a mash-up of several of his famous speeches.  Our guide had really talked up the fabulous and technologically-advanced animatronics used to create Honest Abe.  Too bad we never got to see it.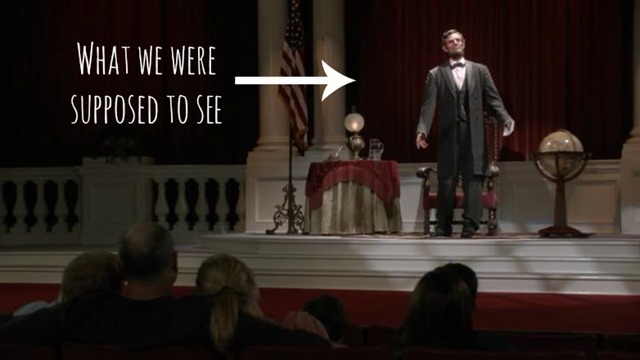 As the music flared into a loud crescendo and the curtain pulled back to reveal the Lincoln figurine, something went awry.  While we heard the former president's voice, all that we saw during his speech was a black hole of darkness and two hazy lights.  (Yes, I took a picture of it.)  None of the Disney cast members noticed anything was wrong – not even our tour guide, who was texting at the time – and the unseen Abe was allowed to finish out his speech in obscurity.  Our group kept looking over at Lavonna who was NOT a happy camper at that point.  The rest of us were in hysterics, though.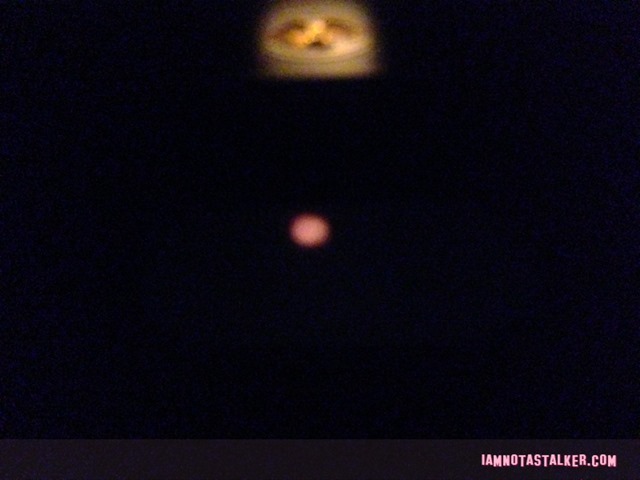 At the end of Abe's speech, the music swelled, the curtain fell and a graphic reading "America, Keep on Dreaming" appeared, while a hologram of an eagle flew in front of us.  At that point we all pretty much died laughing (well, excluding Lavonna) and "Keep on Dreaming" became our catchphrase for the rest of the trip.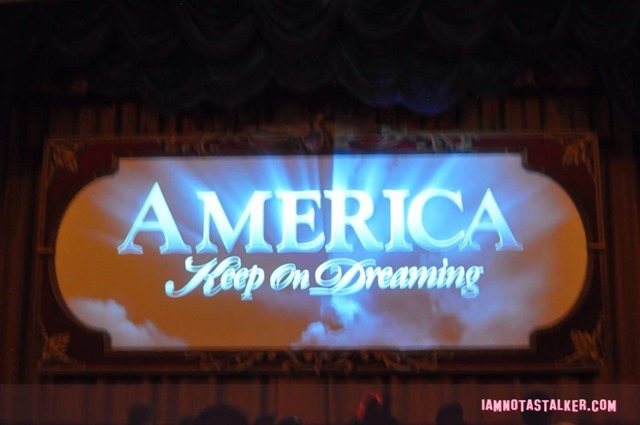 As we walked out of the theatre into the Opera House lobby, our guide apologized for the mishap and then led us through an exit hallway, where we were shown photographs of Disney and plaques displaying some of his famous quotes.  It was at that point that she told us about Walt's sudden passing on December 15th, 1966.  It was a somber moment and I had tears in my eyes as she spoke of Roy Disney saying goodbye to his beloved brother while standing at the foot of his hospital bed.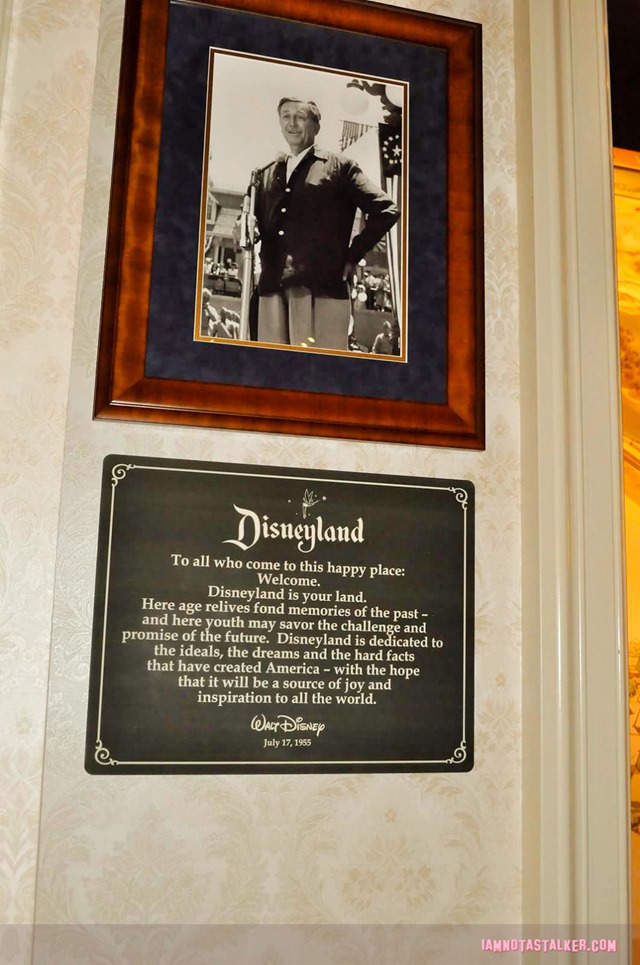 In a bit of unfortunate timing, at that same moment a Disney cast member came out to shut down Great Moments with Mr. Lincoln "due to technical difficulties."  When she posted a sign reading, "This attraction is currently unavailable," we could not suppress our laughter.  Our guide was NOT amused at our hysterics and probably would have kicked us out had the tour not been nearing its end point.  We, of course, had to pose for a photo in front of the sign before heading out of the theatre.  Keep on dreaming, Lavonna!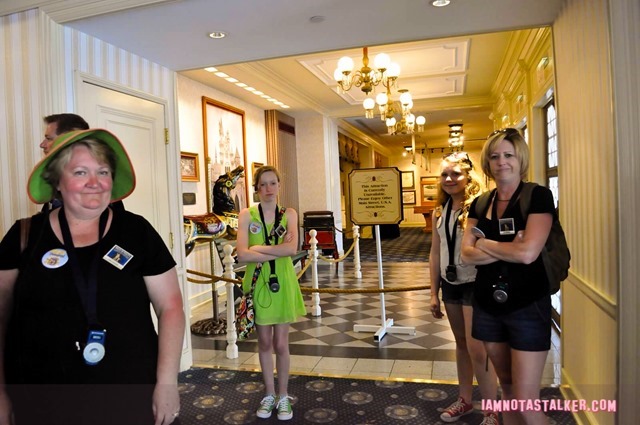 Then came the moment we had all been waiting for – the visit to the Walt Disney apartment.  The dwelling is situated on the second floor of the Disneyland Fire Station.  In its central window, which overlooks Main Street, is the famous Disney lamp.  For those not in the know, whenever Walt visited the park, the lamp in that window would be turned on to alert cast members to his presence.  Upon his death, the lamp was lit permanently in his memory.  Every time I enter Disneyland, I make sure to look up at the lamp, so the thought of seeing it from the other side of the window was almost too much excitement for me to bear.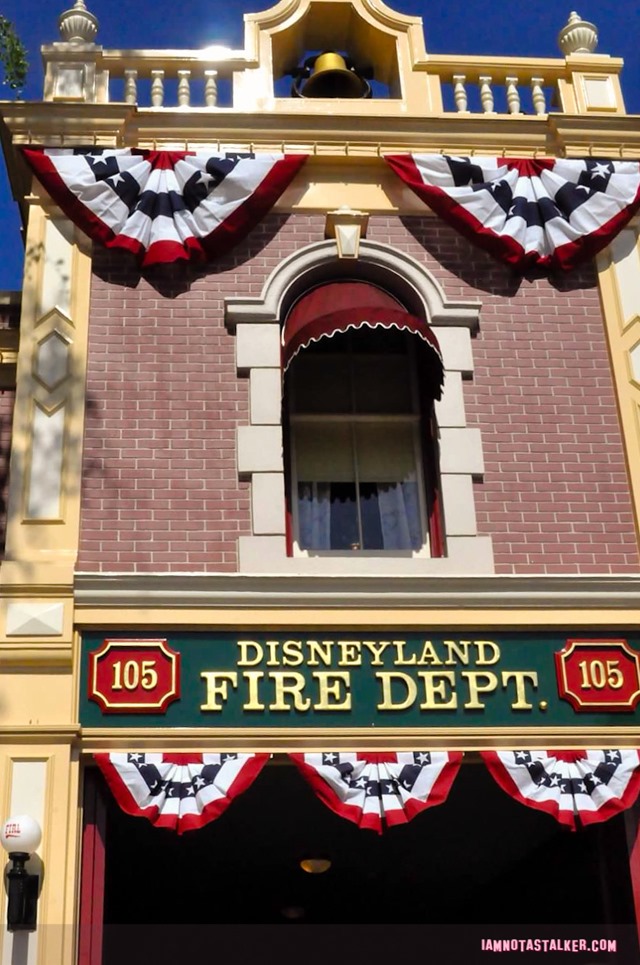 Walt's apartment is reached via a set of outdoor stairs located behind a locked gate to the right of the Fire Department.  The studio is tiny (500 square feet!) and consists of one room and one bathroom.  The main room features a small kitchenette, two large couches that convert into single beds (where Walt and Lillian would sleep when visiting the park) and a few sitting areas.  The bathroom, which boasts pink tiling, is comprised of a toilet, sink and shower.  The apartment also has a fairly large back patio.  The Victorian-themed space was decorated by Academy Award-winning Disney set designer Emile Kuri.  While most of the original furniture has been removed (some of it is housed at The Walt Disney Family Museum in San Francisco), the look has been kept reminiscent of how it was in Disney's day.  You can see a photograph of Walt in the apartment here and you can check out some great pictures of the interior here.  Venturing inside was definitely a magical experience – one that I will never forget.  (Sadly, we were only permitted to take one photograph while there.)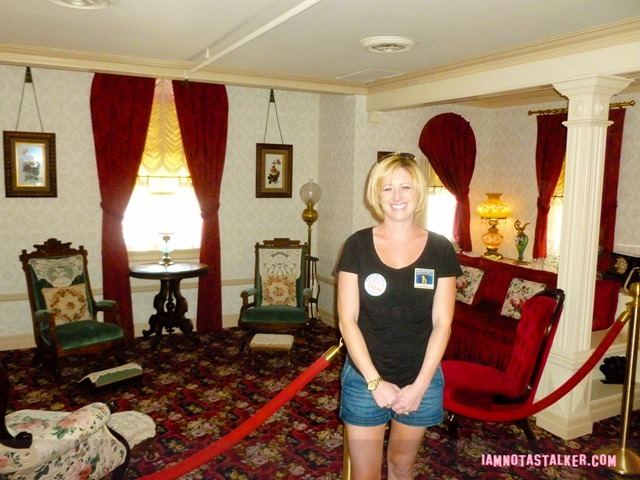 After the tour, we were served lunch at the Jolly Holiday Café.  The Roasted Vegetable & Whole Grain Salad (recipe here) I had ordered was fabulous.  And the much-anticipated Matterhorn Macaroons did not disappoint.  Sadly though, I was not able to partake of them.  Darn diabetes!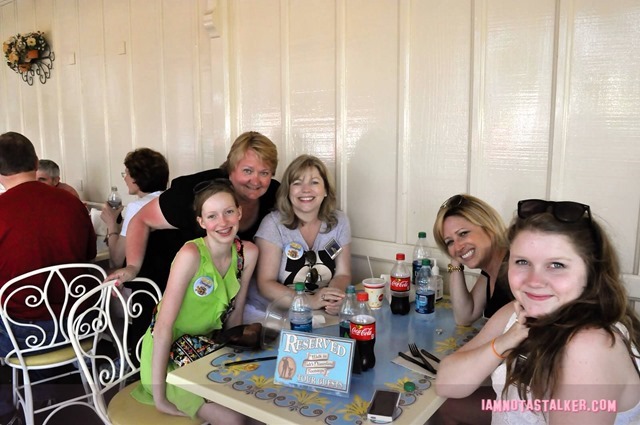 I cannot more highly recommend taking the Walk in Walt's Disneyland Footsteps tour.  Even for a Disneyphile like me who knows everything there is to know about the park, it was an informative and mesmerizing experience.  Well, aside from the Great Moments with Mr. Lincoln debacle, that is.  (Pictured below is the commemorative pin that guests are given following the tour.)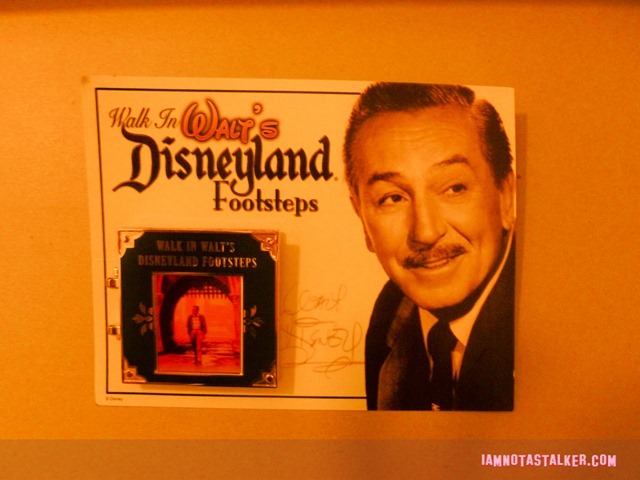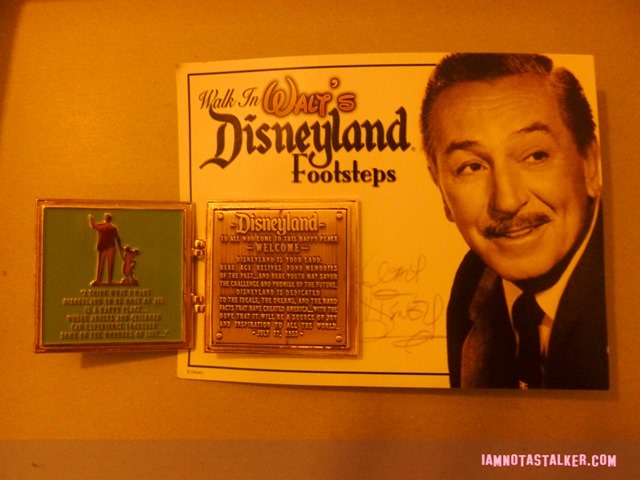 For more stalking fun, be sure to follow me on Facebook, Twitter, Instagram and Los Angeles magazine online.  And you can check out my other blog, The Well-Heeled Diabetic, here.
Big THANK YOU to Kim and Lavonna for not only finding out about the tour, but for booking it for us!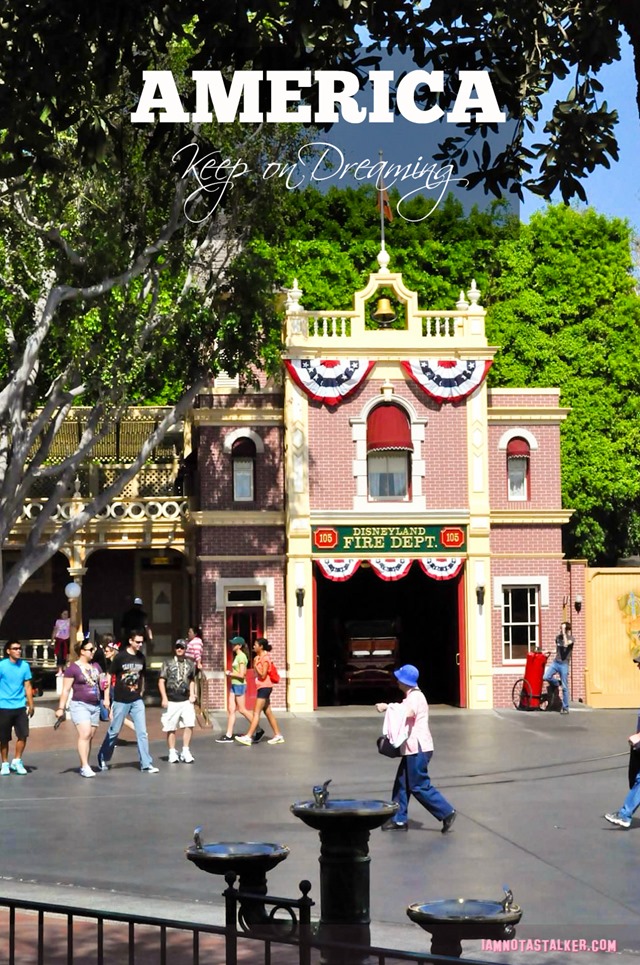 Until next time, Happy Stalking! 

Stalk It: The Walk in Walt's Disneyland Footsteps guided tour is offered everyday at 9:30 a.m.  Tickets are $109 per person, but 20% discounts are available to Disneyland Annual Passholders and AAA members.  Tickets can be purchased 30 days in advance by calling (714)781-TOUR.  You can find out more information about the tour here.
82464