The "Yes, Dear" House
Sep 23rd, 2014 | By
Lindsay
| Category:
TV Locations
One show that I never really understood the appeal of is Yes, Dear.  My dad loved the sitcom, which ran from 2000 to 2006, and watched it regularly, but I always found the characters slightly unlikable and the storylines a bit ridiculous.  Nevertheless, when I received an email from a fellow stalker named Jeremy recently asking for some help in tracking down the main house featured on the series, my interest was immediately piqued.
Jeremy had sent some screen captures along with his query and, maddeningly, while a four-digit address number was visible on the front of the house in one of them, none of the digits were clear enough to read.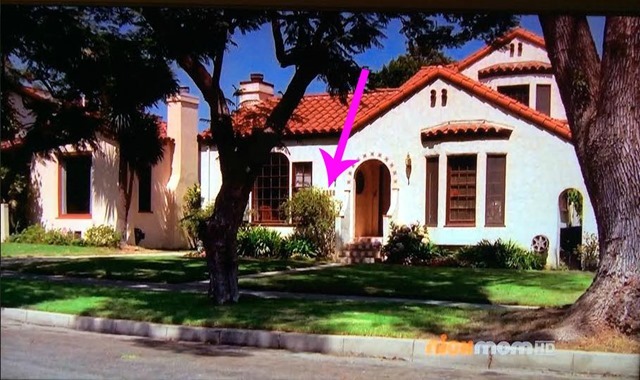 While looking at one of the images more closely, I spotted a trash can on the side of the Yes, Dear house with an address number painted on it, the last three numbers of which were somewhat legible.   My guess was that they read 326.  Due to its Spanish architecture, I figured the home was most likely located in Pasadena and started searching 4-digit address blocks in the 300 range in the area, but came up empty-handed.  At that point, I decided to get fellow stalkers Owen, from the When Write Is Wrong blog, and Geoff, from the 90210Locations website, involved.  Miraculously, Geoff emailed me with an address just a few hours after I initially contacted him.  As it turns out, the Yes, Dear house is not located in Pasadena at all, but at 2316 Greenfield Avenue in West L.A.'s Rancho Park neighborhood.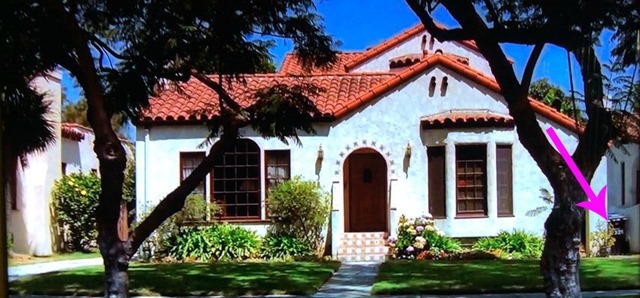 The charming dwelling looks exactly the same in person as it did onscreen.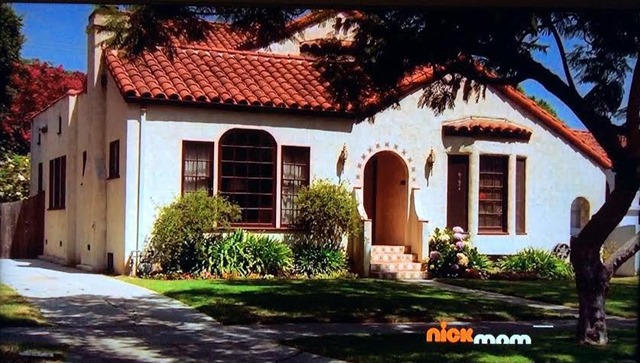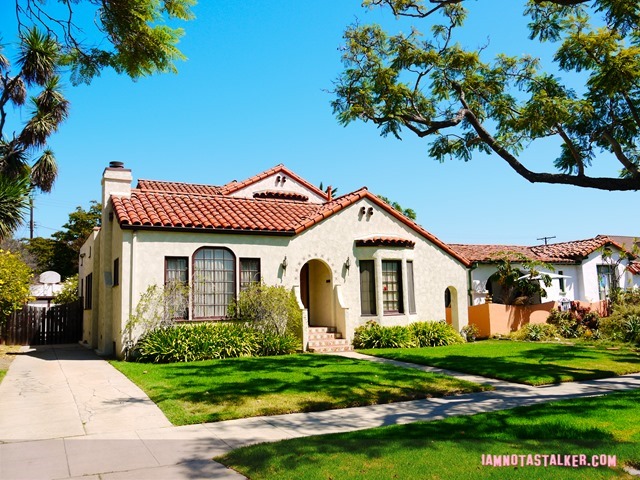 In real life, the residence, which was built in 1925, measures five bedrooms, three baths, and 2,854 square feet.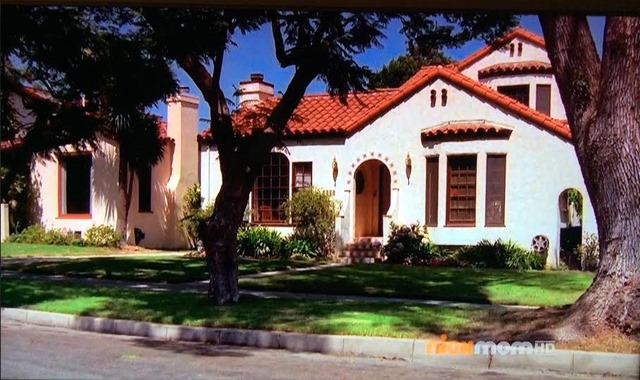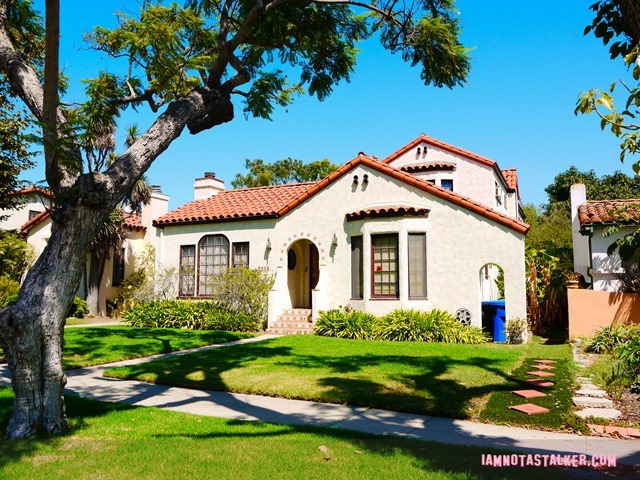 On Yes, Dear, the pad belonged to movie executive Greg Warner (Anthony Clark) and his wife, Kim (Jean Louisa Kelly, who I can't even believe is the same woman who played Tia in Uncle Buck).  Kim's sister, Christine Hughes (Liza Snyder), her husband, Jimmy (Glee's Mike O'Malley), and their two children also lived on the property, in the Warner's guest house.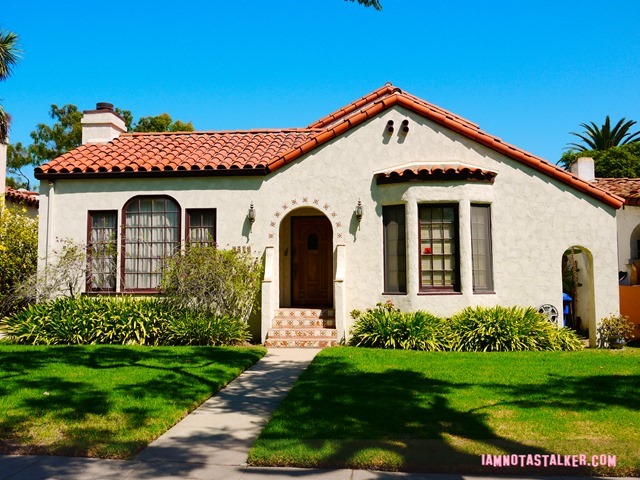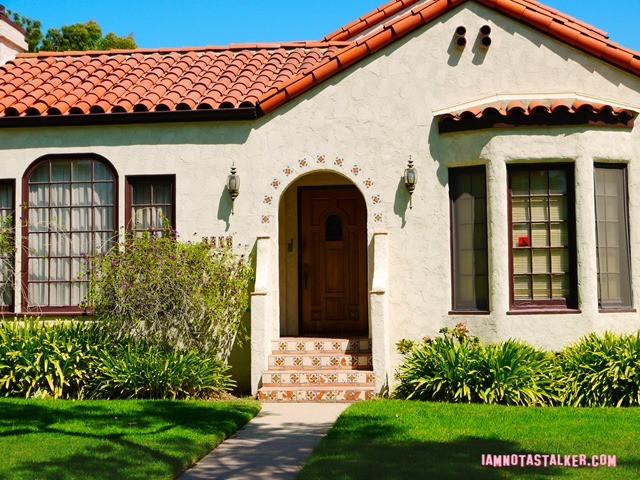 While writing this post, I got to thinking that the residence was an odd choice for use in the series as, while not small by any means, it in no way seems big enough to have on its premises a guest house large enough to accommodate a family of four.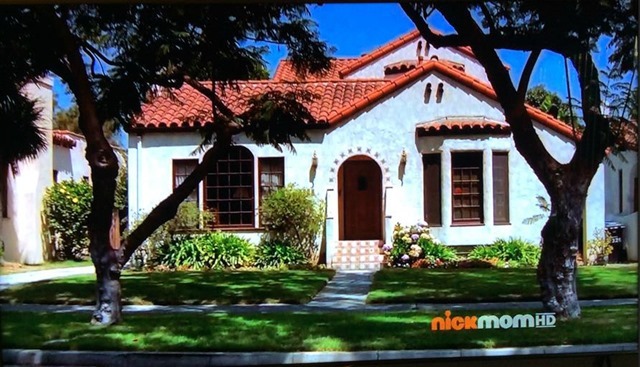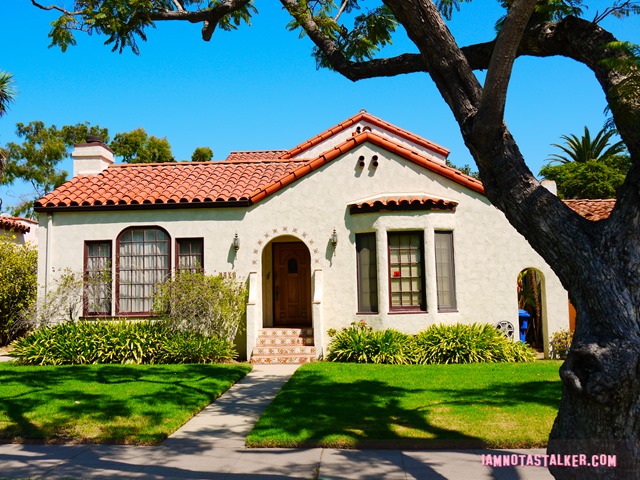 Only the exterior of the Rancho Park property was used in the filming.  The interior of the Warner home was a set built on a soundstage at CBS Studio Center in Studio City, where the series was lensed.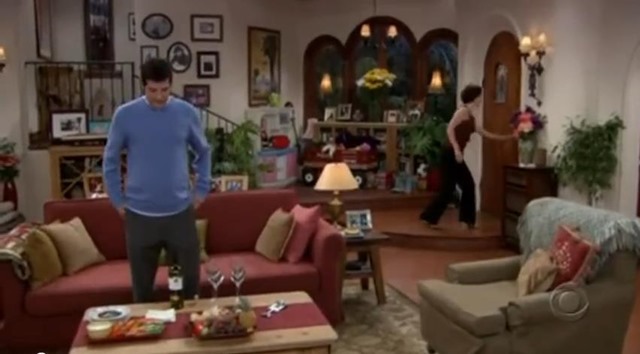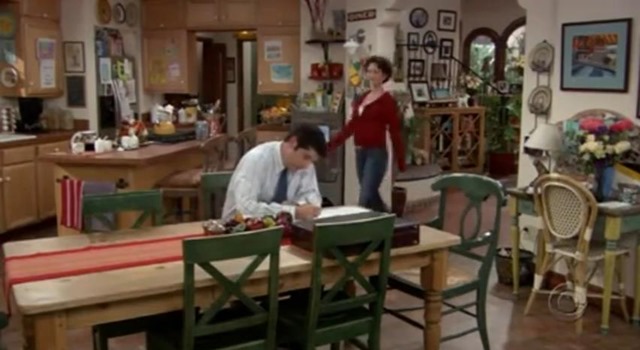 While searching for the residence, I came across countless message boards on which commenters stated that the Yes, Dear house had been featured on several other television shows, namely Dave's World, Happily Divorced, and – this one I don't even understand – Beverly Hills, 90210.  I know my readers do not need any sort of explanation or photograph comparison to illustrate that the Yes, Dear house most definitely is NOT the same place as Casa Walsh, so I'll move on from that one right now.  I did manage to track down an episode of Dave's World, which ran from 1993 to 1997, on YouTube and the house where Dave Barry (Harry Anderson) lived in it is pictured below.  As you can see, it is also most definitely not the same place featured on Yes, Dear.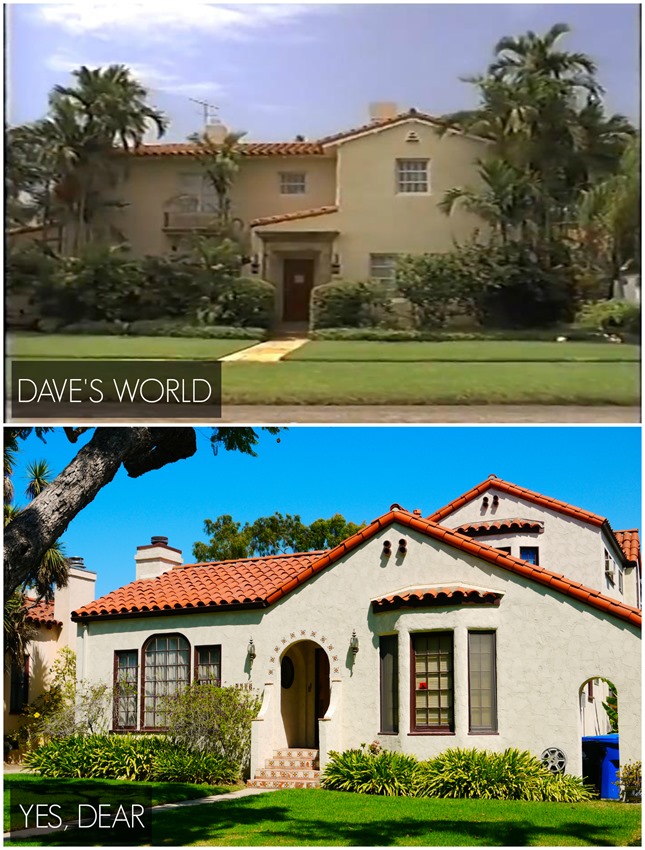 Several commenters also surmised that the Dave's World interior sets had been reused for Yes, Dear.  But as you can see, while the two interiors are similarly laid out, they are not the same.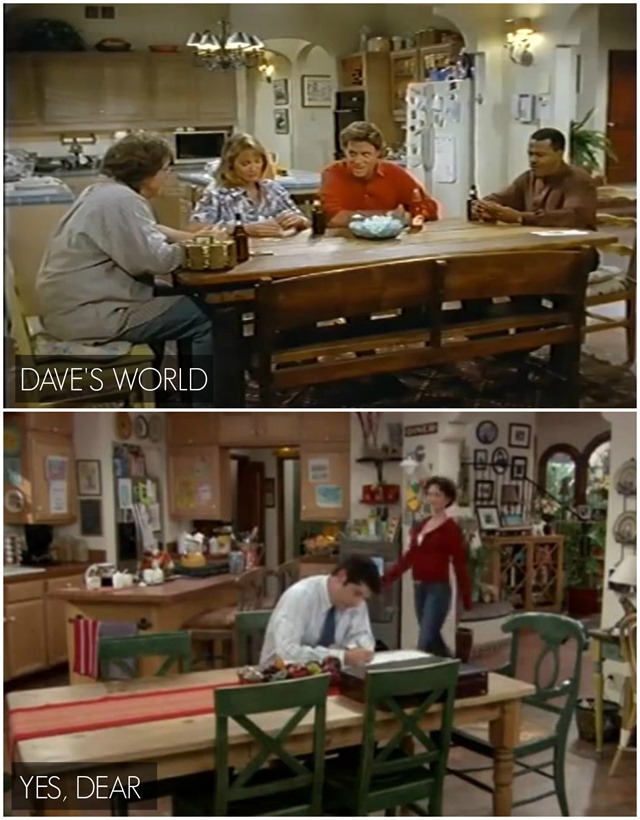 Both interiors did feature centrally located staircases, but the one on Dave's World was curved, while the one on Yes, Dear was split-level.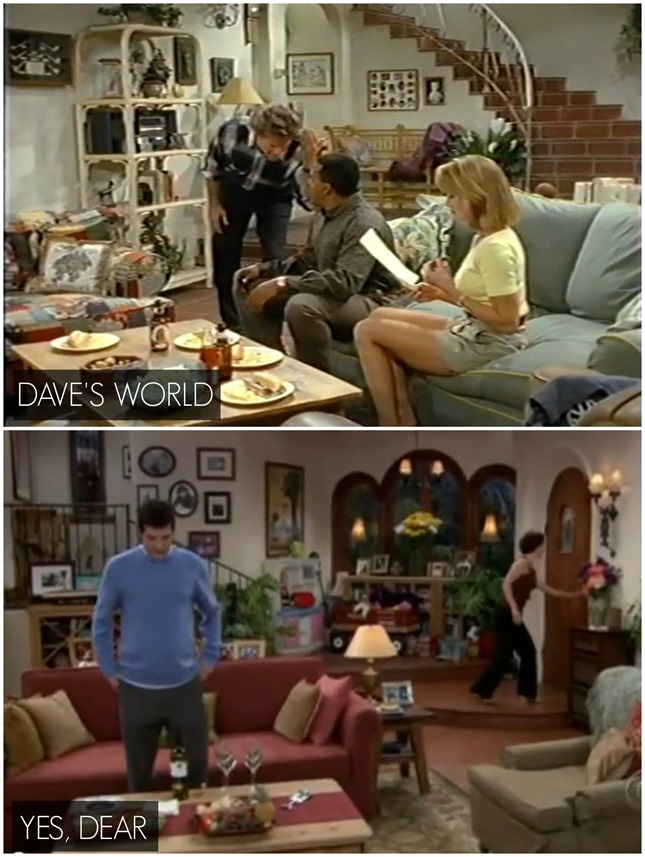 The residence where Fran Lovett (Fran Drescher) and Peter Lovett (John Michael Higgins) lived in Happily Divorced, which ran from 2011 to 2013, does bear a resemblance to the Yes, Dear house, but again, they are definitely not one and the same.  (For those who are interested, Owen managed to track down the Happily Divorced house – it's at 1242 South Masselin Avenue in the Mid-Wilshire area of L.A.)
The interior of the Lovett's house (pictured below) looked nothing like the interior of the Warner home, though.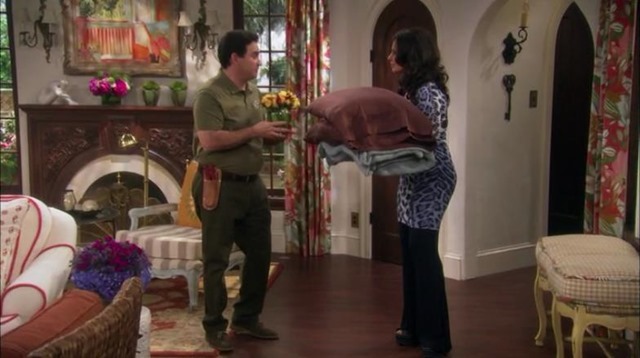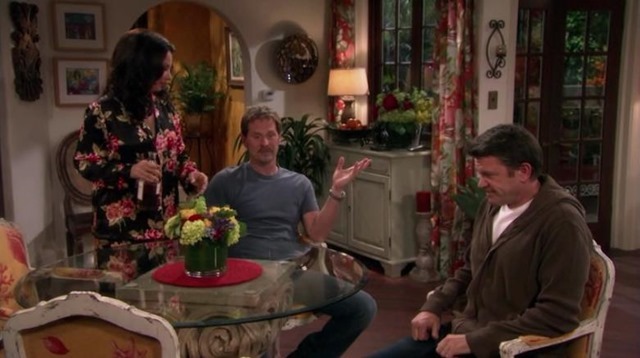 For more stalking fun, be sure to follow me on Facebook, Twitter, Instagram and Los Angeles magazine online.  And you can check out my other blog, The Well-Heeled Diabetic, here.
Big THANK YOU to Geoff, from the 90210Locations website, for finding this location!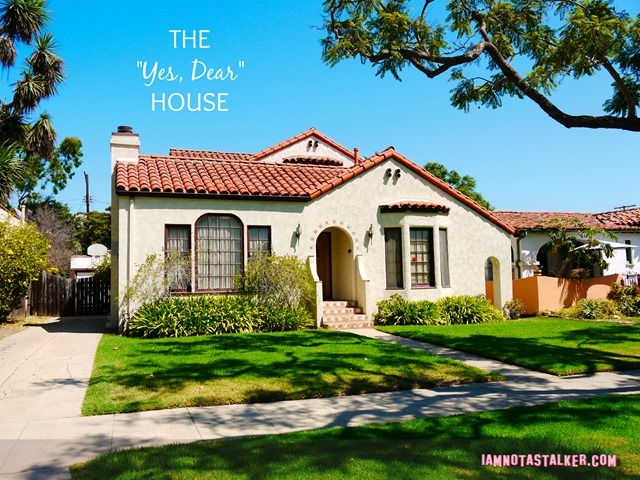 Until next time, Happy Stalking! 

Stalk It: The Yes, Dear house is located at 2316 Greenfield Avenue in the Rancho Park area of West L.A.
83956