Grayson Manor from "Revenge"
Nov 18th, 2014 | By
Lindsay
| Category:
TV Locations
My favorite location from the television series Revenge is Grayson Manor, the massive Hamptons estate that originally belonged to the dysfunctional Grayson family, but is currently home to Emily Thorne (Emily VanCamp).  It seems that pretty much everyone who watches the show is as obsessed with the house as I am and there are countless message boards dedicated to its design. While most commenters stipulate that the dwelling is not a real place, but a CGI-generated property created by Revenge production designers, that information is actually incorrect.  As I have come to discover, Grayson Manor is an amalgamation of several different residences – one of which is located in Malibu.
As I mentioned in my recent post about Porter's Stowaway Tavern, while Revenge is set in the Hamptons, the pilot episode was actually shot at several real locations in North Carolina.  When the series got picked up by ABC, replica sets of the NC locales were built at MBS Media Campus in Manhattan Beach where the show is lensed.  During my obsessive Revenge binge-watching in September, I set out to find the exteriors of the two main residences used in the series – Emily's beachfront cottage and Grayson Manor, which are shown to be located next door to each other.  I wound up tracking down the  address of Emily's home on fave website Hooked on Houses.  In reality, it is located at 6249 Pebble Shore Lane in Southport, North Carolina.  Despite a few alterations, it looks pretty much exactly the same in real life as it does onscreen.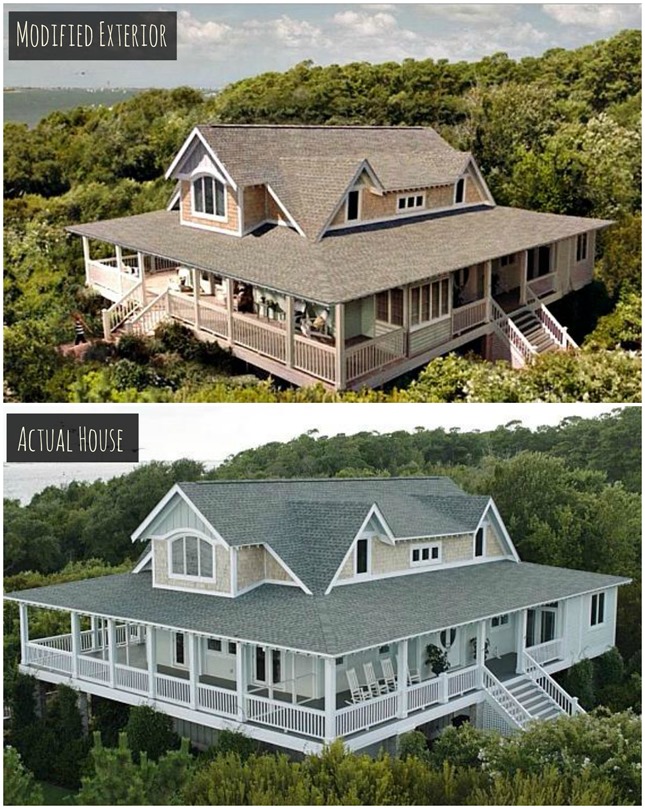 I was absolutely shocked to discover via aerial views and the real estate listing photo pictured below, though, that Grayson Manor was nowhere to be found.  In reality, Emily's house is not situated next to the Grayson's massive estate, but a small community center and pool.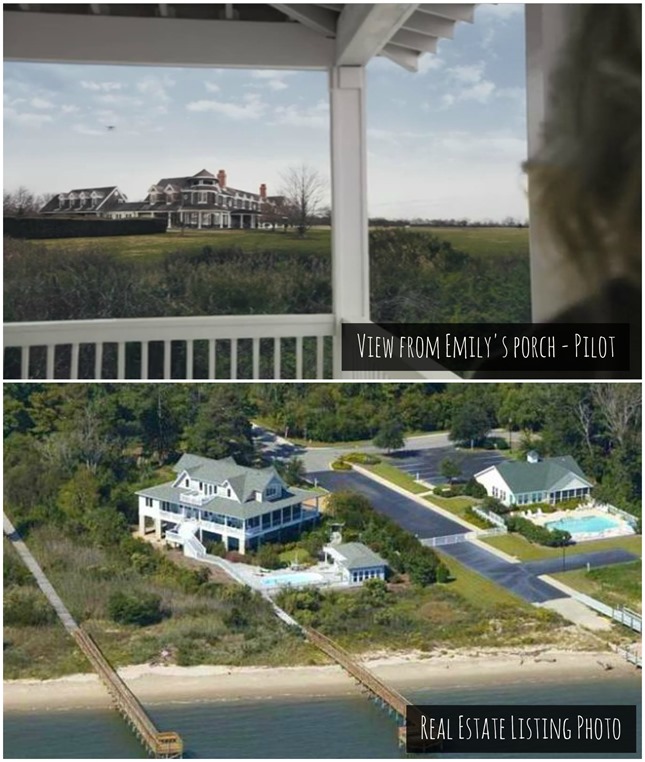 The anomaly led many fans to believe that Grayson Manor was simply a CGI-generated residence that does not actually exist.  Thanks to an intrepid stalker who commented on Hooked on Houses, though, I learned that there is a real Grayson Manor.  It is located at 257 Further Lane in East Hampton, New York.  A few changes were made to the façade for the series, including a lengthening of the house, the addition of Victorian Grayson's (Madeline Stowe) infamous turret, and a relocation of the pool from the side of the property to the back.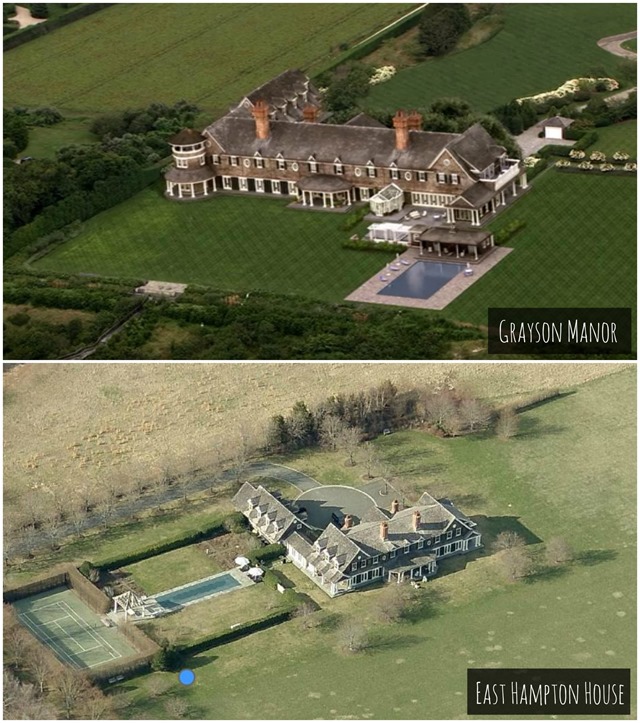 Despite those alterations, the estate is still largely recognizable from the series.  What I wouldn't give to see it in person!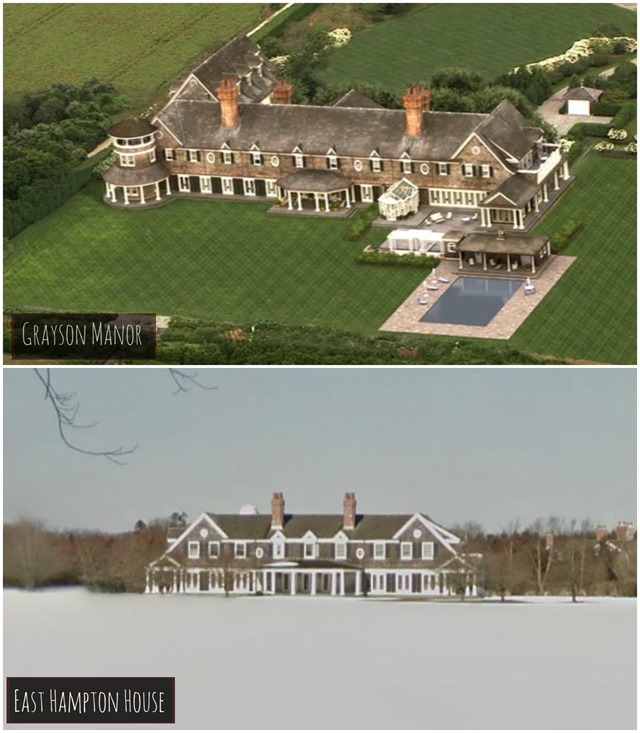 The inside of an estate located at 2340 Ocean Point Drive in Wilmington, North Carolina was used for the interior of Grayson Manor in Revenge's pilot episode (pictured below).  Once the series got picked up, an almost exact replica of that interior was built inside of a soundstage.  You can see comparison photos of the real interior and the set on Hooked on Houses here and you can see some great pictures of the Wilmington residence's actual interior here.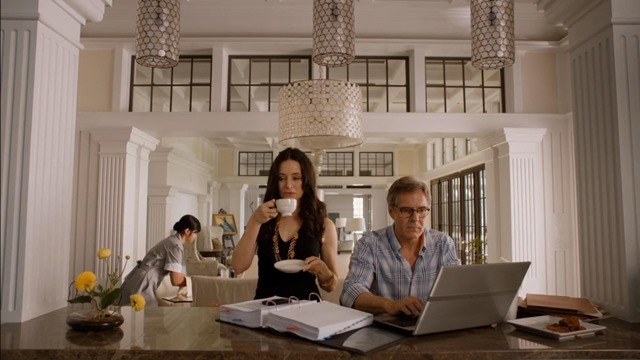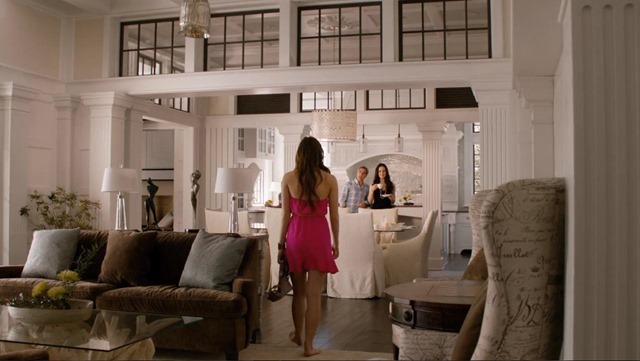 Once filming relocated to Los Angeles, producers needed a dwelling bearing a similar look to the East Hampton house to be utilized for on location exterior shoots.  They found the perfect pad at 27720 Winding Way in Malibu.  While much smaller than the home from the pilot (which is still used in establishing shots of Grayson Manor), it does bear a resemblance to it.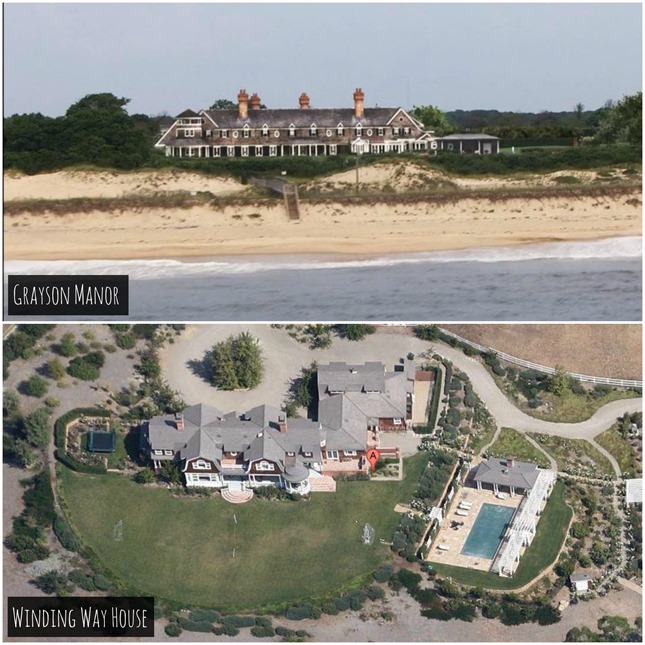 Fellow stalker Owen, of the When Write Is Wrong blog, managed to track down this locale for me, after I had spent countless hours searching with zero luck.  In real life, the Winding Way estate, which was built in 2007, boasts three stories, five bedrooms (three of which are en-suite), nine baths, 10,000 square feet of living space, a formal dining room, a chef's kitchen, a butler's pantry, a media room, a gym, a playroom, a gift-wrapping room (a la Candy Spelling), a 3,000-square-foot basement, 5.8 acres of land, a pool, a spa, a tennis court, an equestrian corral and a playground.  Sadly though, the property is located on a private road and none of it (aside from a small portion of the roof) is visible to the public.  You can check out some close-up photos of the house here, though.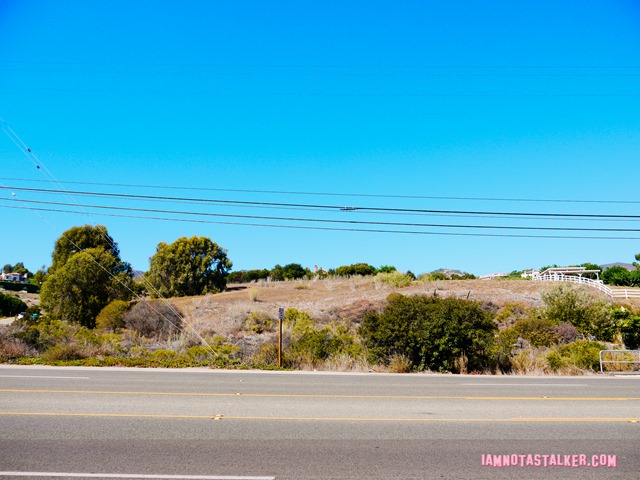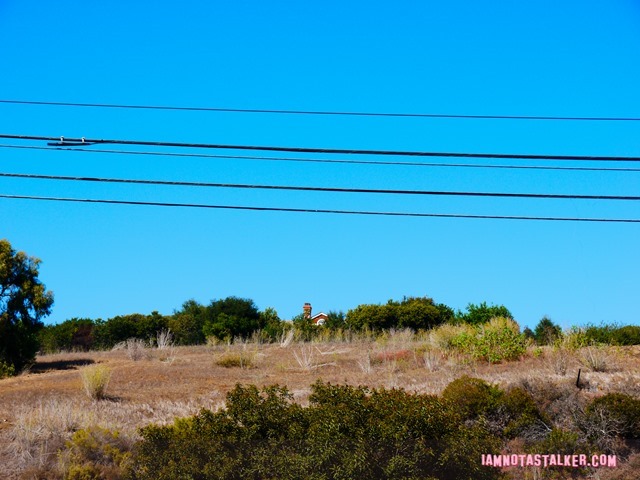 The Winding Way house first showed up in the Season 1 episode of Revenge titled "Charade," in the scene in which Emily and Daniel Grayson (Joshua Bowman) returned to Grayson Manor after a swim in the ocean.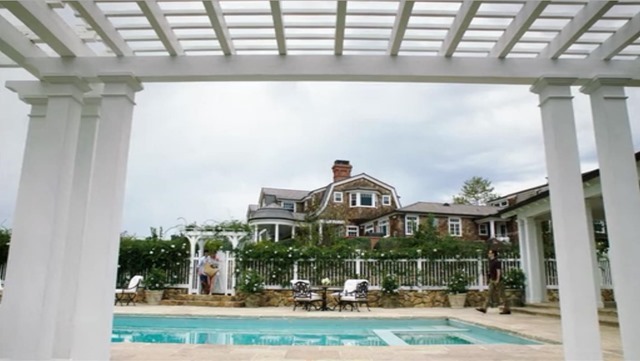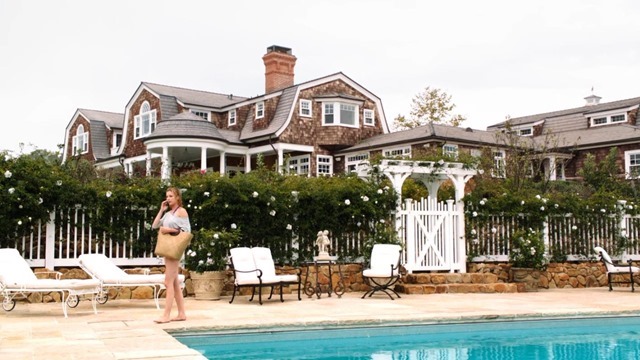 The pad has popped up several times since, including in the Season 3 episode titled "Hatred."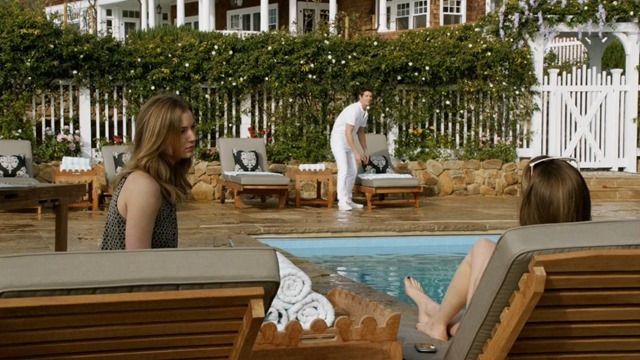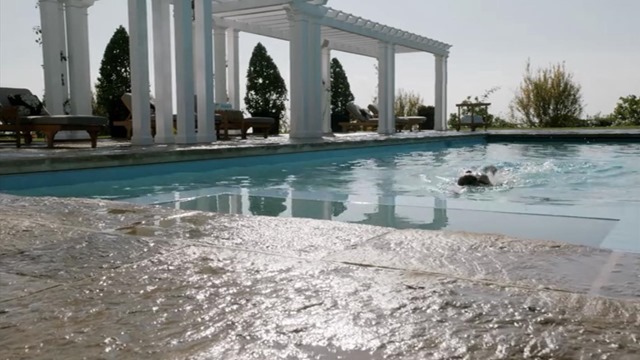 The same residence was also used as the Hamptons home of Richard Castle (Nathan Fillion) in the Season 5 episode of Castle titled "Murder He Wrote."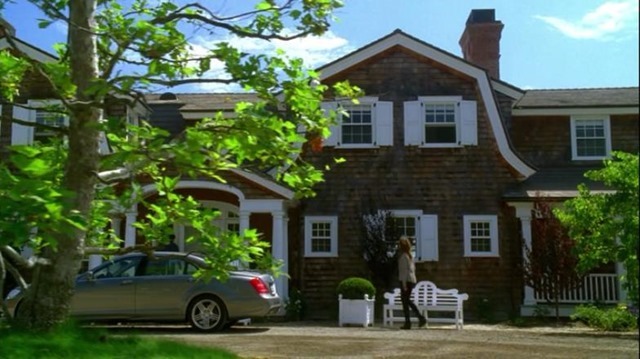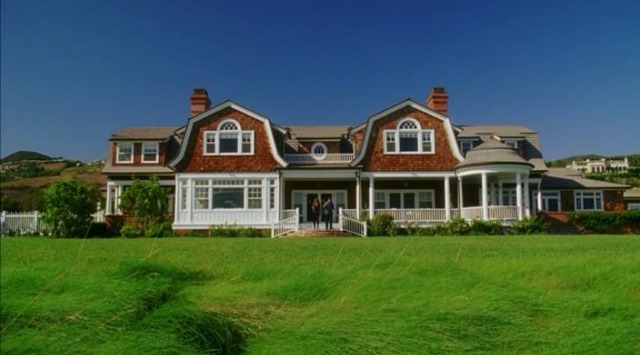 The house where Nolan Ross (Gabriel Mann) – my favorite character – lived during the first season of Revenge is located just up the street at 27326 Winding Way.  That particular location has been featured in dozens of productions, including Brothers and Sisters and 90210.  Unfortunately, none of it is visible from the street.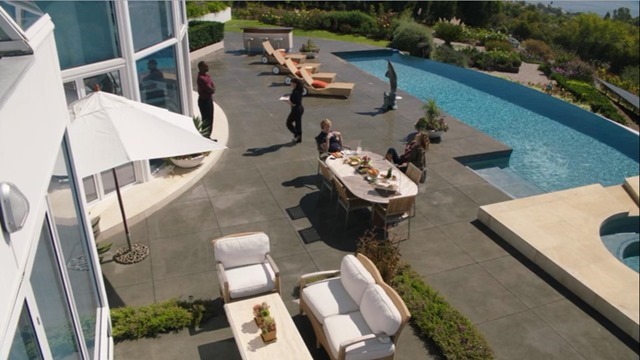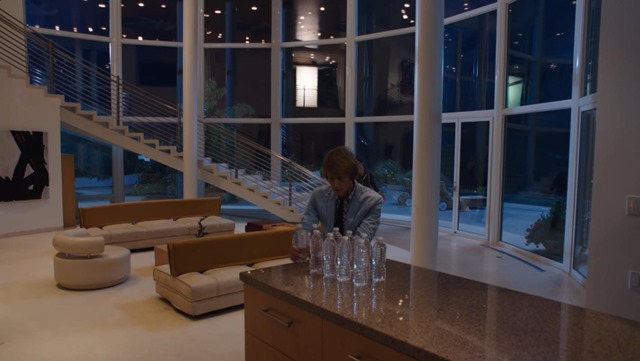 For more stalking fun, follow me on Facebook, Twitter, Instagram and Los Angeles magazine online.
Big THANK YOU to my friend Owen, from the When Write Is Wrong blog, for finding this location!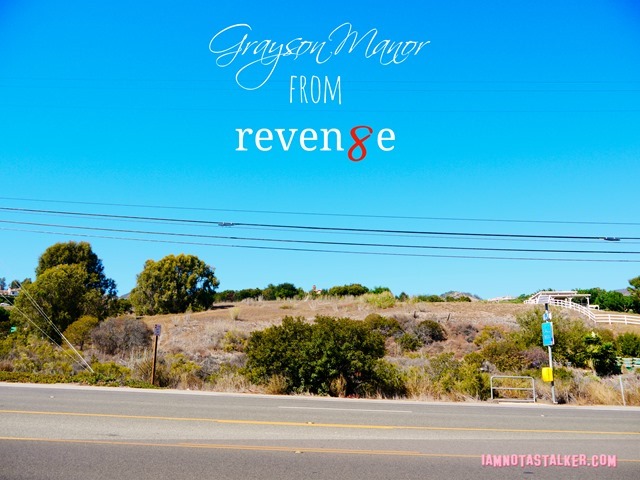 Until next time, Happy Stalking! 

Stalk It: The exterior of Grayson Manor from Revenge is located at 257 Further Lane in East Hampton, New York.  The estate used for the interior filming of the pilot episode can be found at 2340 Ocean Point Drive in Wilmington, North Carolina.  The residence used for on location exterior shoots is located at 27720 Winding Way in Malibu.  Nolan's Season 1 home on the series is located just up the road at 27326 Winding Way.  Unfortunately, both Ocean Point Drive and Winding Way are private roads that are not accessible to the public.
85278