Contempo Casuals from "Clueless"
Jan 5th, 2015 | By
Lindsay
| Category:
Movie Locations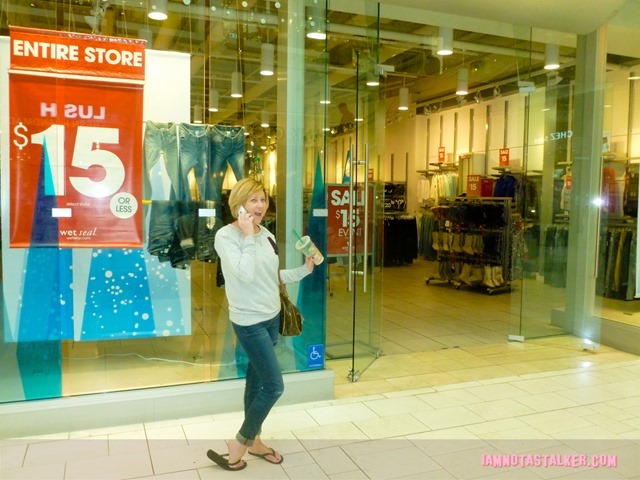 Happy 2015, folks!  Now that the holidays have come to a close, I will (hopefully) be back to my regularly scheduled blogging.  So here goes.  Stalking is obviously my favorite pastime, but shopping comes in at a close second.  So when I get an opportunity to combine the two, I jump at it.  A couple of weeks ago, the Grim Cheaper and I traveled to L.A. for a holiday party and decided to do some Christmas shopping the following morning before driving back to the desert.  Because I wanted to further investigate the Contempo Casuals that appeared in fave movie Clueless, I insisted we head over to Westfield Fashion Square.  For those who missed my August post about the Sherman Oaks mall and its appearance in the 1995 romcom, I'll recap.
For years now, misinformation has been rolling around the internet about which shopping center Cher (Alicia Silverstone) and friends shopped at in Clueless.  As I came to find out during a recognizance shopping mission in August, though, more than one mall actually appeared in the flick.  The establishing shot of the shopping center shown in the movie was of the Westside Pavilion in Rancho Park.  But the interior scene in which some "Barneys" tried to throw Tai (Brittany Murphy) off a balcony was lensed about ten miles north of the Pavilion at Westfield Fashion Square in Sherman Oaks.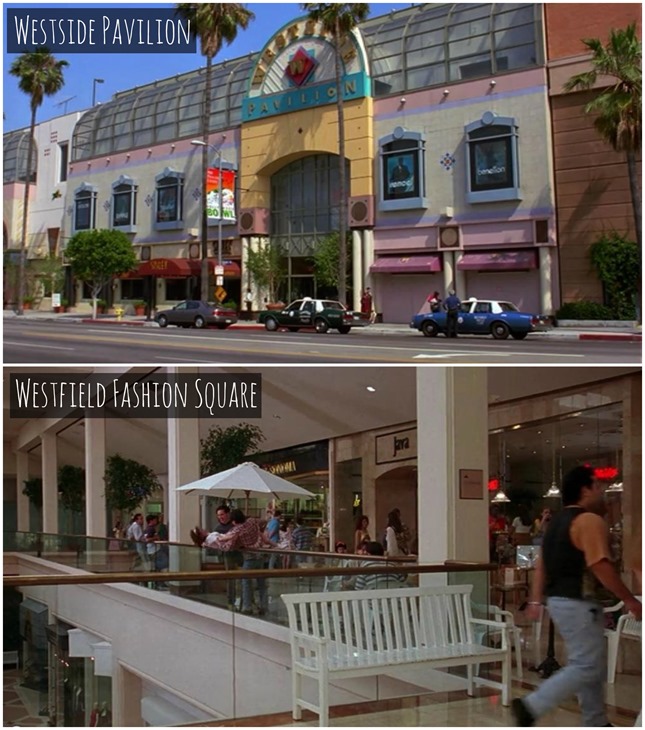 While everyone and their mother has stated online that the Contempo Casuals that appeared in Clueless was the one formerly located at the Beverly Center in Beverly Grove, during the writing of my August post I started to believe that the Fashion Square Contempo Casuals was the outpost that had most likely been featured in the flick.  As I explained in the post, "Once I realized that Tai's near-death experience had been filmed at Fashion Square, I got to thinking that the Contempo Casuals scenes were most likely shot there, as well.   It did not make sense to me that producers would go to the trouble of shooting the C.C. scenes elsewhere, especially considering that they were both extremely brief.  So I did some research and learned that there was indeed a Contempo Casuals located at Fashion Square in the mid-nineties, as you can see here and here.  I scanned through the C.C. scenes again and just about fell off my chair when I spotted the number 22 posted on the store's window.  And while I could find no such numbers in any pictures of the Beverly Center via a Google image search, I did spot a number in the same style and color on the front of Victoria's Secret in one of the photographs I had taken at Fashion Square a few years prior (pictured below).  Then I came across this listing and just about died of excitement upon discovering that the company currently located in storefront 22 of the Westfield Fashion Square is none other than Wet Seal, the very same brand that took over Contempo Casuals in 1995!  Based on all of that, I am 99.9% certain that the only mall interior that appeared in Clueless was Westfield Fashion Square. "  Since that post, I have discovered that the suite numbers of stores at the Beverly Center are three-digit (as you can see here), not two, which is further proof that the C.C. from Clueless was not located there.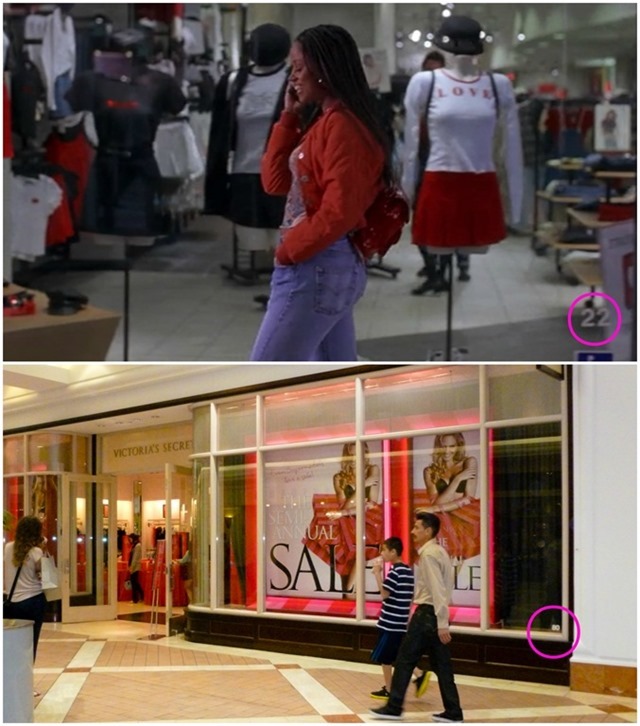 So, while Christmas shopping with the GC, I set out to snap some pics of the Fashion Square Wet Seal and prove once and for all that my theory was correct.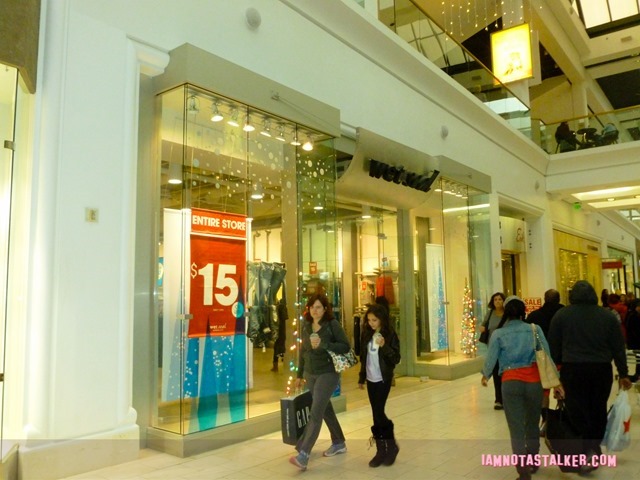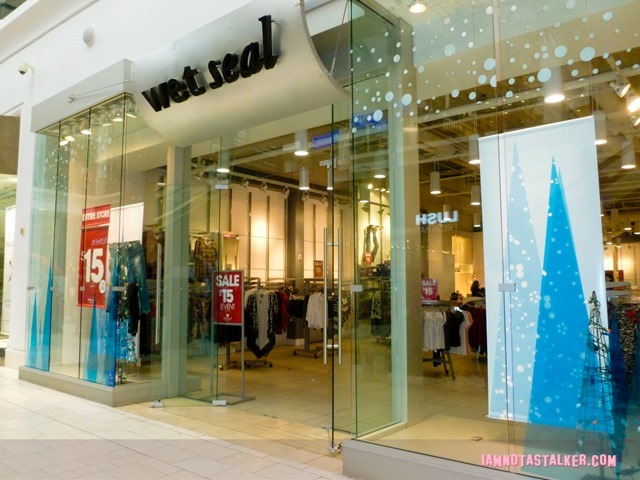 I was a bit dismayed to discover upon my arrival that not only had the font and styling of the store's numbers been changed since both the filming of Clueless in 1994 (the movie premiered in 1995, but was shot in 1994) and since my photograph of Victoria's Secret was taken in 2012, but that Wet Seal's actual suite number had been altered as well.  It is now addressed #21, instead of #22.  At first, I thought that Wet Seal might have moved storefronts at some point, but then I spoke with the incredibly nice people working at BCBG Max Azria (the company that currently occupies #22) and they explained that Fashion Square's suite numbers do change on occasion.  Apparently, sometimes when a store closes, its space will be subdivided into smaller spaces and the neighboring suite numbers need to be shifted accordingly.  BCBG's manager also informed me that Wet Seal had not moved storefronts since she started working at Fashion Square fifteen years ago.  She was also fairly certain that prior to Wet Seal opening, the space had housed a Contempo Casuals.  Eureka!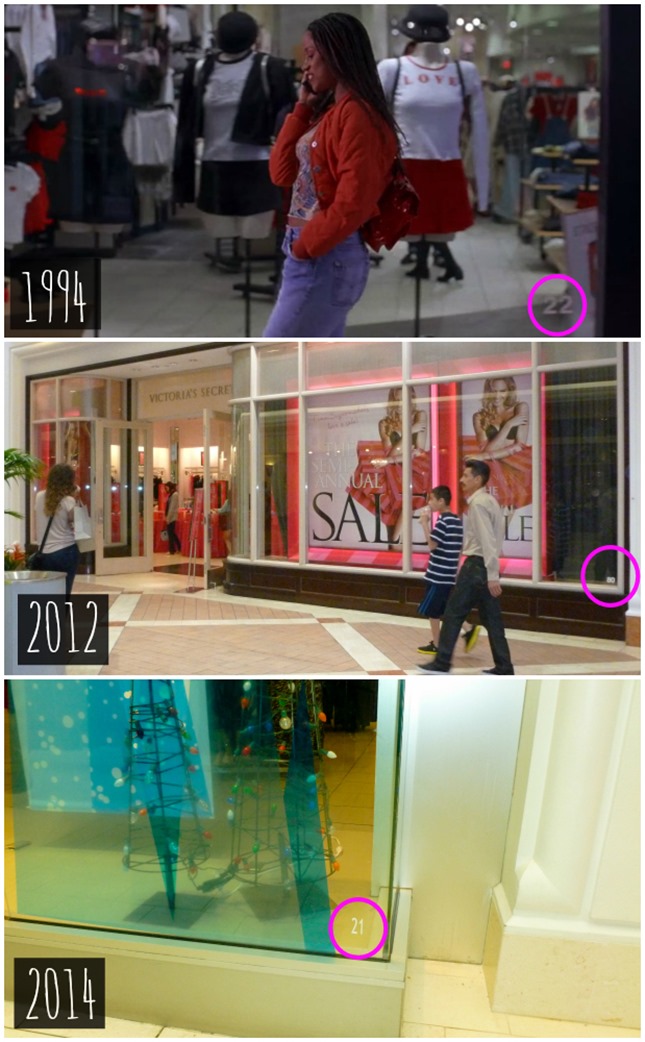 Contempo Casuals popped up twice in Clueless.  It first appeared in the scene in which Cher attempted to gather her thoughts and regain her strength via a shopping trip.  That scene gave us a good glimpse of C.C.'s interior.  Though it has been remodeled since Wet Seal took over, as you can see below the basic set up of the store is the same today as it was in Clueless.  Both Wet Seal and the store from Clueless are large (Wet Seal is one of Fashion Square's larger storefronts, as I came to discover during my stalking mission), extremely long and narrow, and boast very high ceilings (unusually high compared to the other shops located in the mall).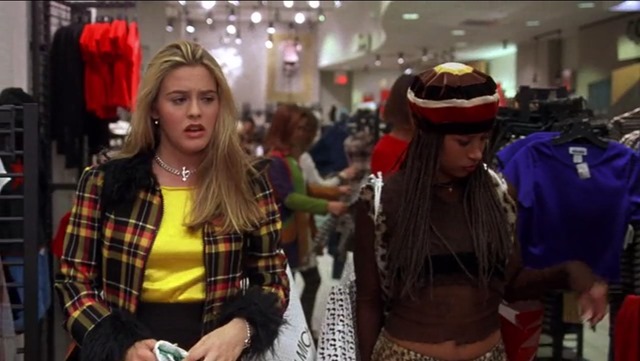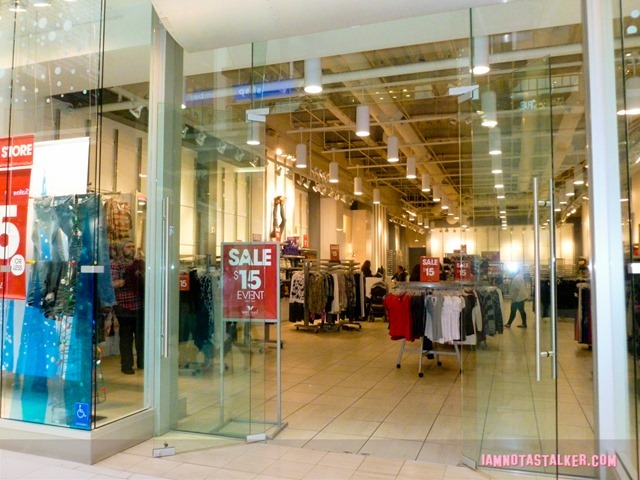 In a later scene, Dionne (Stacey Dash) is shown standing outside of Contempo Casuals while talking to Cher on her cell phone.  As you can see below, the split-glass-paneled frontage shown in the movie matches that of Wet Seal, though the panels seem to be spaced further apart today than they were in 1994.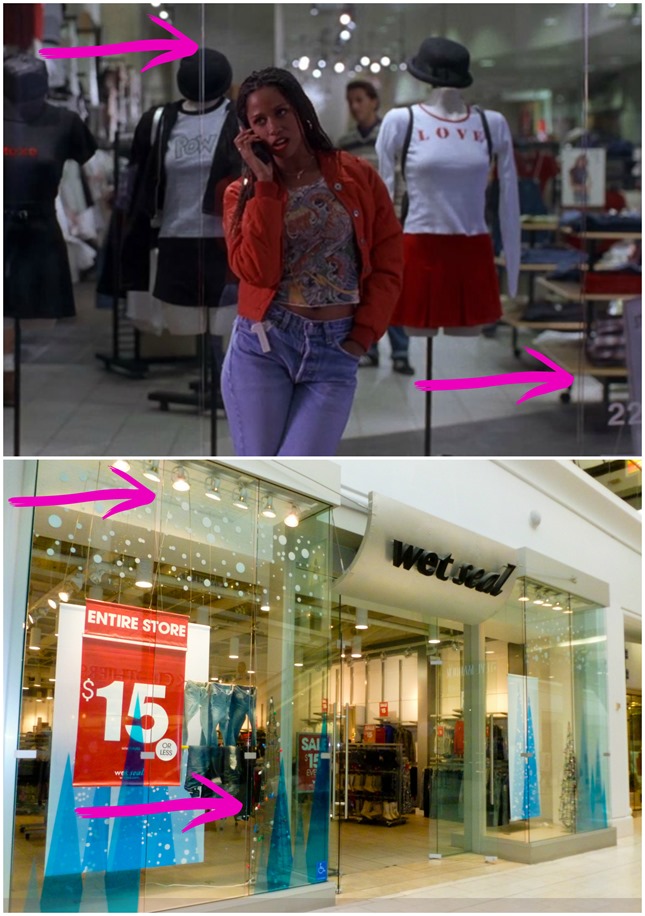 The central positioning of the entrance doors that appeared onscreen match the current positioning of Wet Seal's doors, as well.  Thanks to all of these correlations, I can now say with absolute certainty that the Contempo Casuals scenes from Clueless were shot at Westfield Fashion Square, not at the Beverly Center.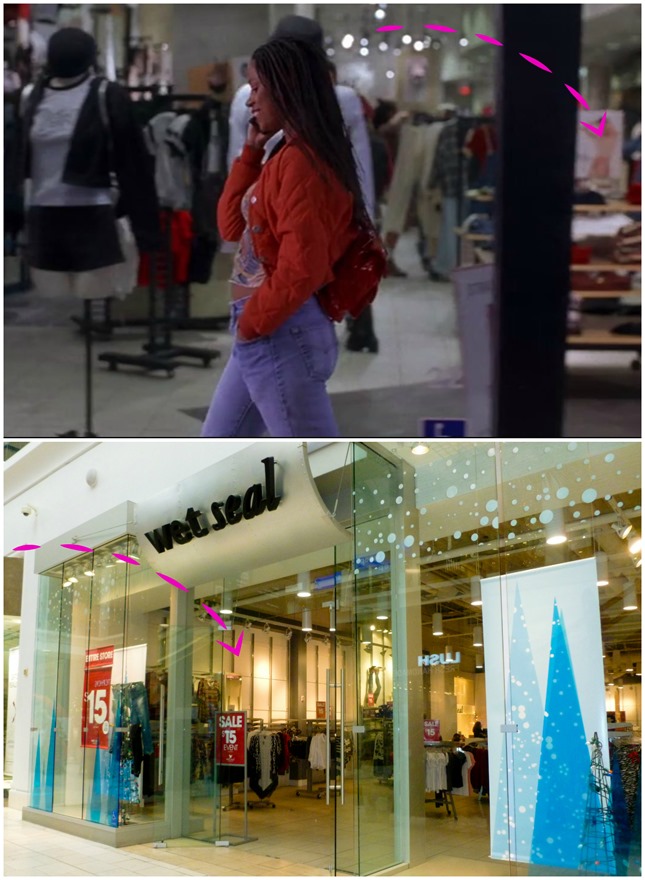 For more stalking fun, follow me on Facebook, Twitter, Instagram and Los Angeles magazine online.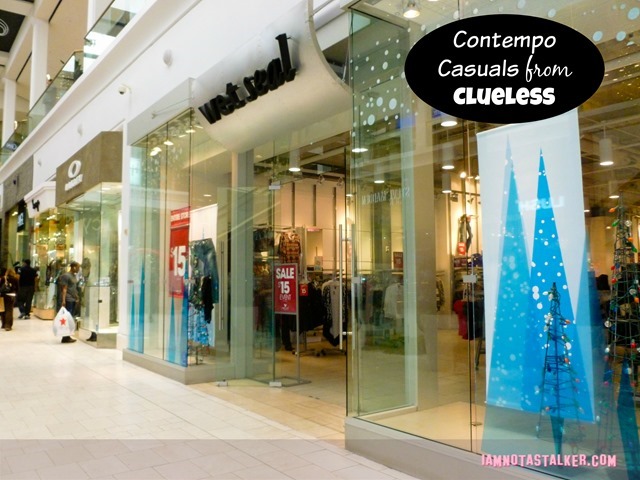 Until next time, Happy Stalking! 

Stalk It: Wet Seal, aka the former Contempo Casuals from Clueless, can be found in Suite 21 of Westfield Fashion Square, which is located at 14006 Riverside Drive in Sherman Oaks.  You can visit the mall's official website here.
85936