The "Ferris Bueller's Day Off" Police Station
Feb 2nd, 2015 | By
Lindsay
| Category:
Movie Locations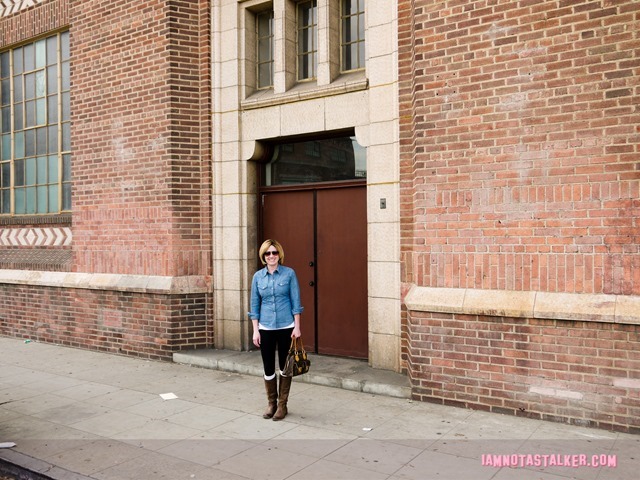 Once in a while a filming location comes along that blows my mind.  Today's post is about one of those locations.  Recently, fellow stalker Chas, of the It's Filmed There site, texted to let me know that he had just tracked down the police station from fave movie Ferris Bueller's Day Off.  I was shocked to learn not only that the place still looks exactly the same today, almost thirty years later, but that it is located in L.A.!  (For those not in the know, Ferris was set in Chicago and, aside from a few SoCal locales, largely filmed in the Windy City.)  So I ran right out to stalk it while visiting L.A. two weeks ago.
In real life, the site is not a police station at all, but the former Los Angeles headquarters of Hills Bros. Coffee.  The structure, which was built in 1929 and designed by architect George H. Kelham, housed both a warehouse and second floor offices for the java company.  It is those second floor offices that masked as the police station in Ferris Bueller's Day Off.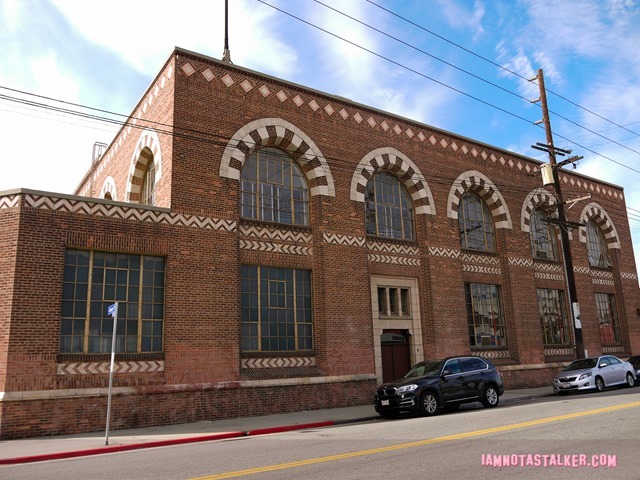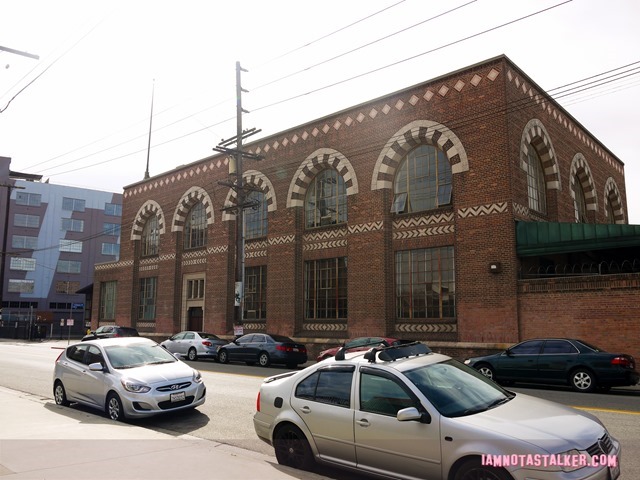 Today, the property belongs to the Southwestern Bag Company.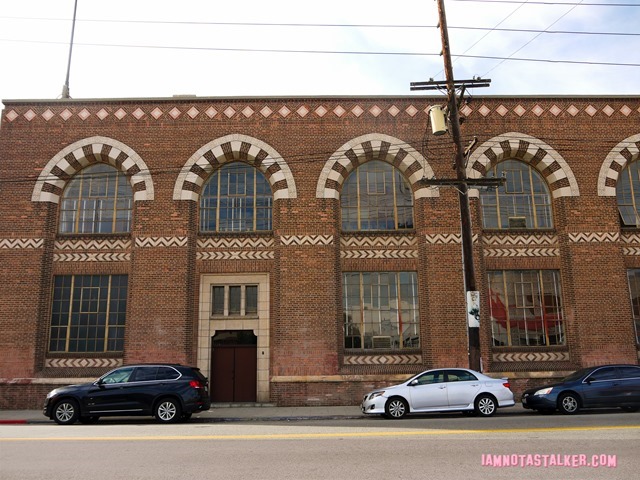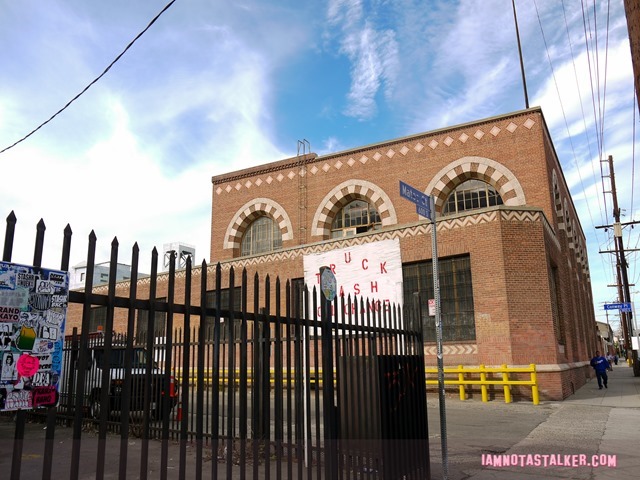 Sadly, I was not able to get inside to see the interior, but while doing research for this post came across these fantastic images online that were taken by location scout Nick Morley.  I contacted Nick to ask if he would allow me to use some of his photographs for this post and he wrote back right away giving me the go-ahead!  Thank you, Nick!  You can also check out another set of pictures that show the building's first floor here.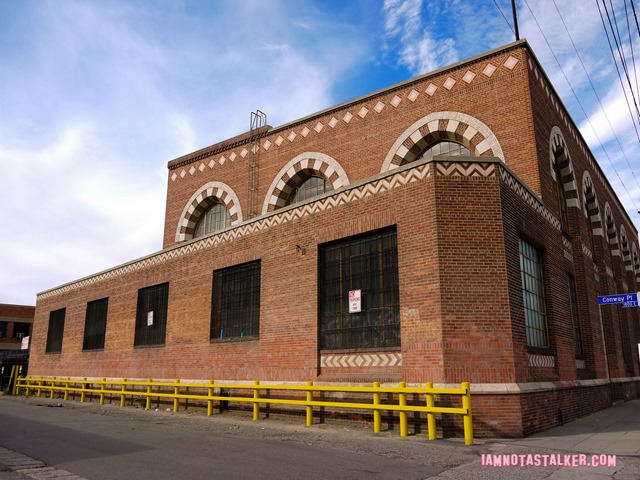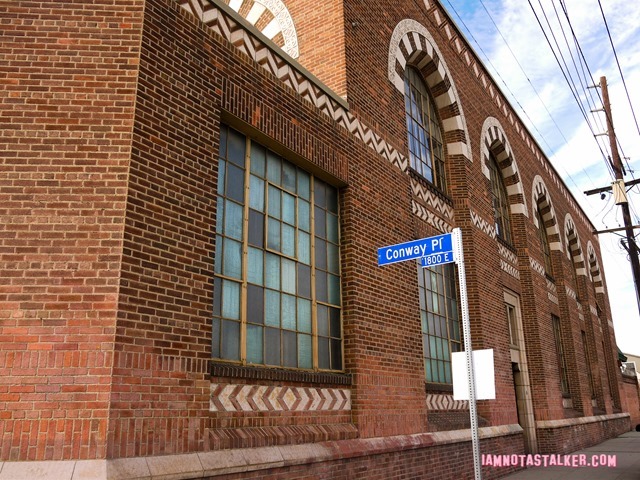 In Ferris Bueller's Day Off, the police station is where Jeanie Bueller (Jennifer Grey) is taken after being picked up by the police for making a phony 911 call.  It is also where she meets "Boy in Police Station" (Charlie Sheen) and says one of my favorite lines in movie history – "Why don't you put your thumb up your butt!"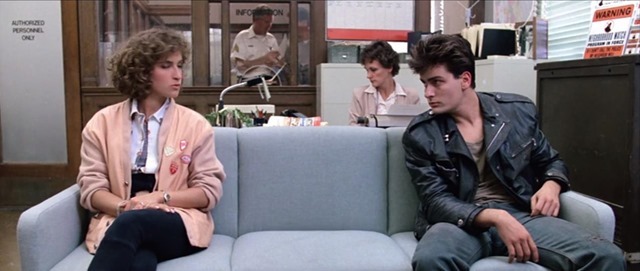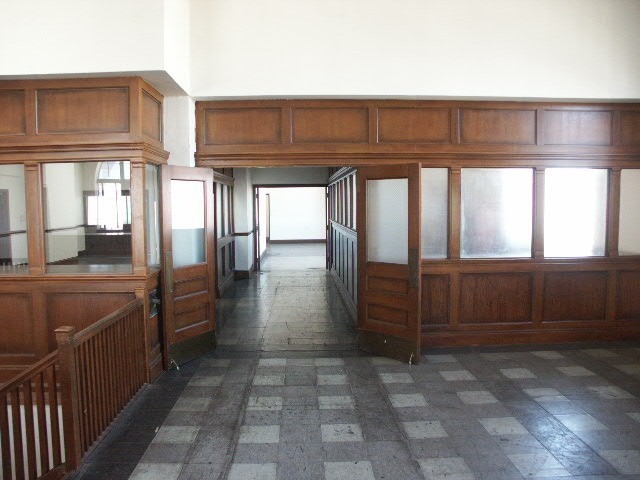 The scene was shot in the lobby area of the building's second floor, right at the top of the staircase.  As you can see in Nick's photograph as compared to the screen capture below, the space looks exactly the same today as it did in 1986 when Ferris Bueller's Day Off was filmed.
The office where Det. Steven Lim (Robert Kim) informs Katie Bueller (Cindy Pickett) about Jeanie's fake 911 call is located adjacent to the second floor lobby area.  In Nick's photograph below it is shown from an opposite angle than the screen capture pictured.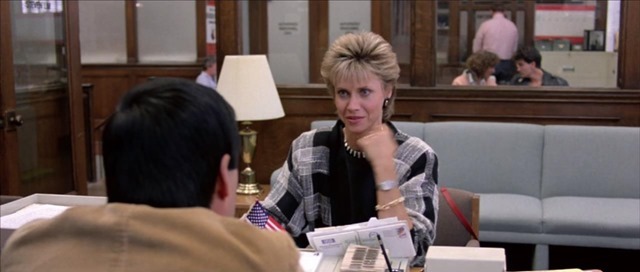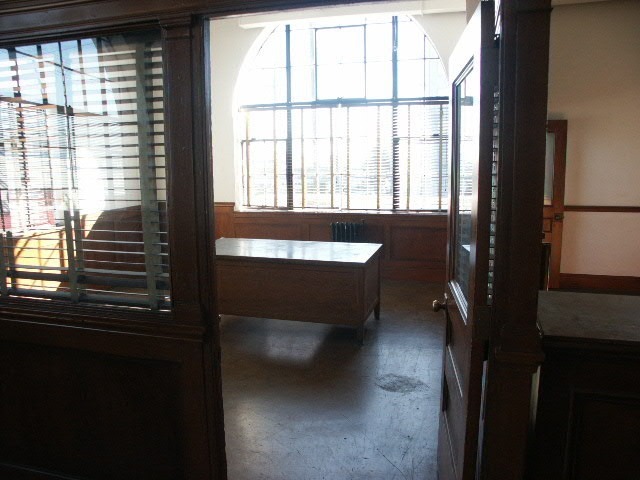 It, too, looks much the same today as it did when the movie was shot.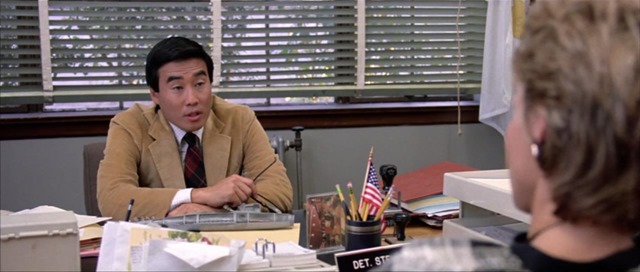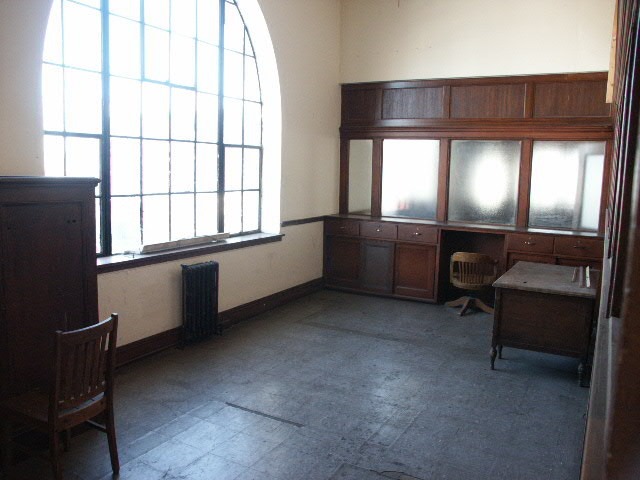 Oh, what I wouldn't give to get into that building!  I would so love to pose for a pic on the stairs where Jeannie stood in the scene!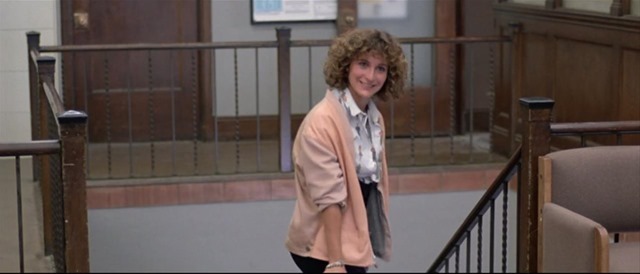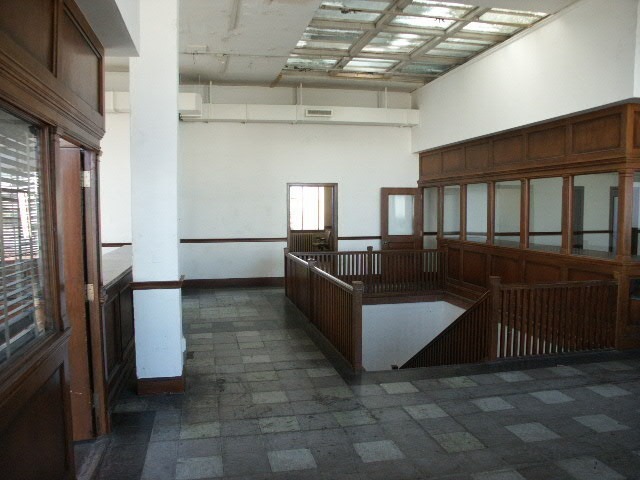 Chas actually found this location thanks to its appearance in a couple of other movies.  While putting together a page about filming locations from Divergent a few months back, Chas tracked down the spot where Tris (Shailene Woodley) came into contact with her mother.  As it turns out, that was the Hills Bros. Coffee building.  Only the exterior of it was shown in Divergent, though.
Then while watching the 1987 action-comedy Beverly Hills Cop II a couple of weeks ago, Chas realized that the shaping, sizing and paning of the windows of the "Detroit" police station where Axel Foley (Eddie Murphy) worked matched those of the windows of the building in Divergent.  So he went searching for interior photographs of the Hills Bros. building and came across Nick's page of images.  Sure enough, what was shown in Nick's pics matched the Beverly Hills Cop II police station.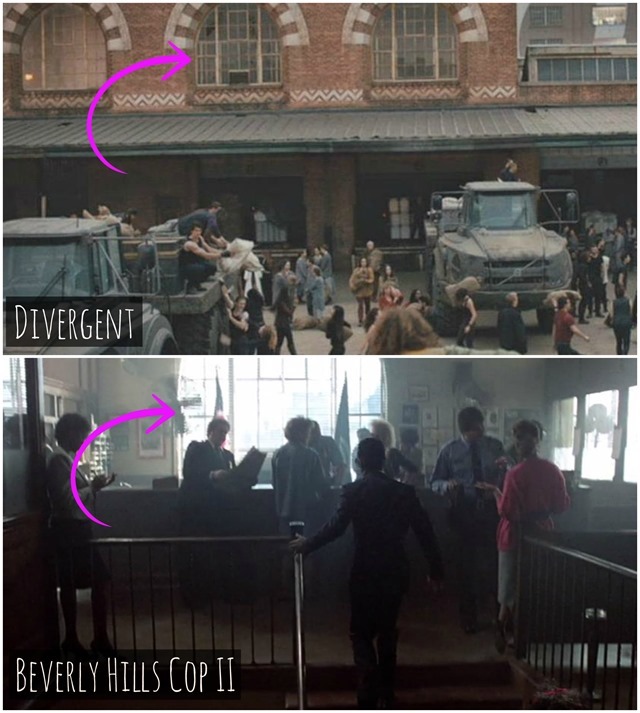 Upon closer inspection, he realized that the staircase and lobby area from the Beverly Hills Cop II police station were an exact match to those from Ferris Bueller's Day Off.   So he then compared screen captures from FBDO to Nick's photographs and confirmed that the two places were one and the same!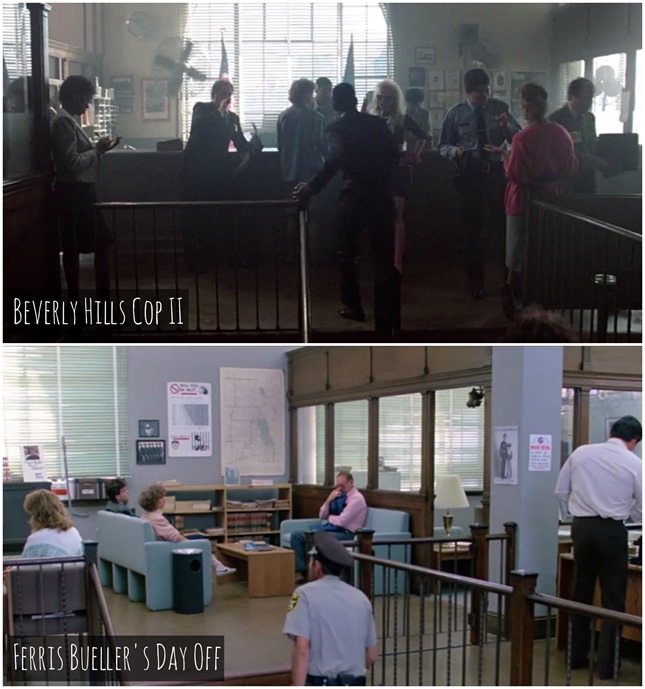 The Hills Bros. Coffee building has actually appeared in countless productions over the years.  The north side of it masked as a – yep, you guessed it! – police station in the 1988 thriller Jack's Back.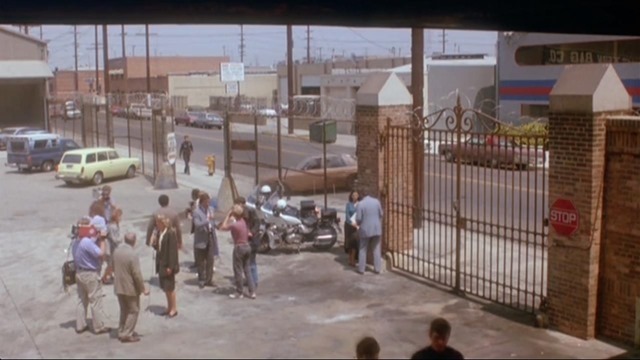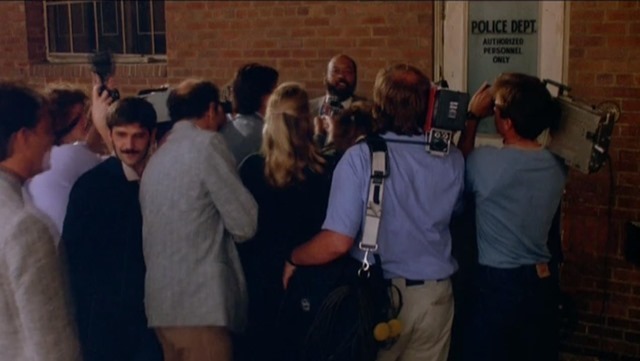 In fave movie License to Drive, which was also released in 1988, Les Anderson (Corey Haim) falls asleep during driver's ed class and dreams about speeding around in a Ferrari with his crush Mercedes Lane (Heather Graham).  At one point, Les lights a cigarette for her, throws the match out the window and starts an explosion.  That bit was shot in the alleyway that runs along the western side of Hills Bros. Coffee.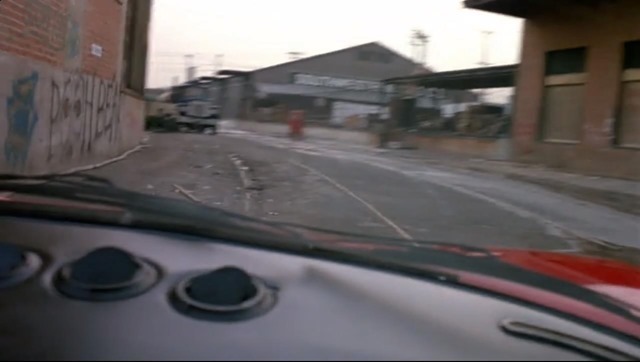 In 1990's Child's Play 2, Hills Bros. Coffee masked as the social services office where Andy Barclay (Alex Vincent) was sent after his foster father was killed.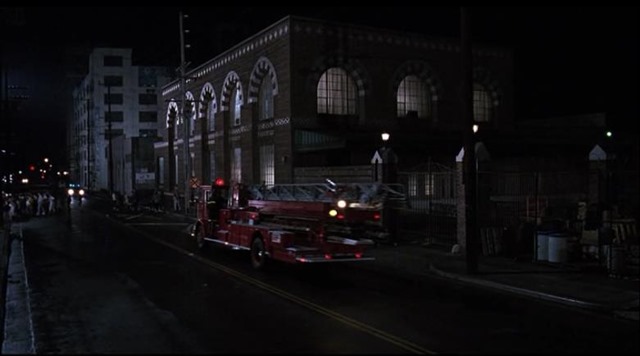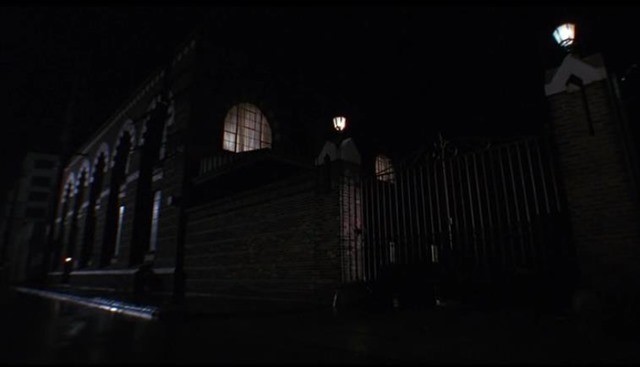 The interior of the building – as well as that famous staircase – was also utilized in the film.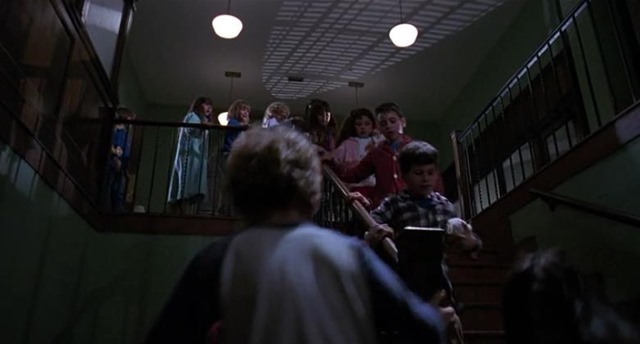 Hills Bros. Coffee served as a police station once again in 1992's Unlawful Entry.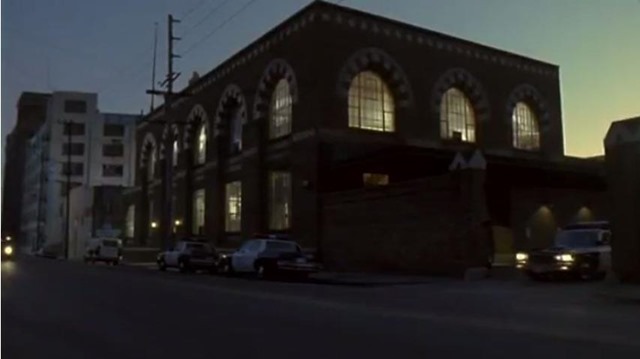 Thanks to The Rockford Files Filming Locations blog, I learned that the building was used as the Bunker Hill Division of the Metropolitan Police Station in the series' 1996 made-for-television movie "If the Frame Fits."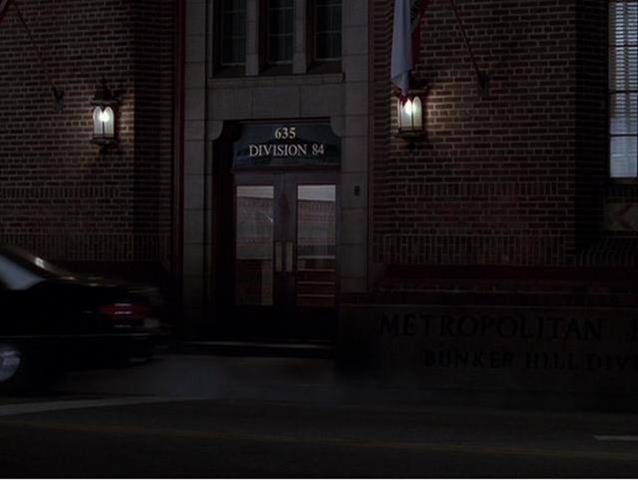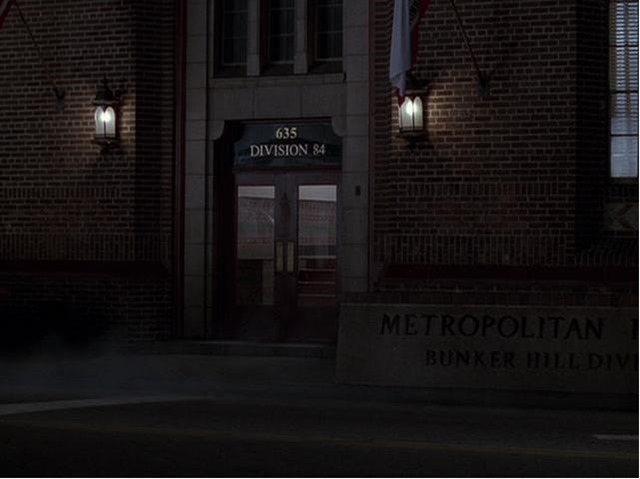 Hills Bros. Coffee masked as a police station yet again in 1998's The Negotiator.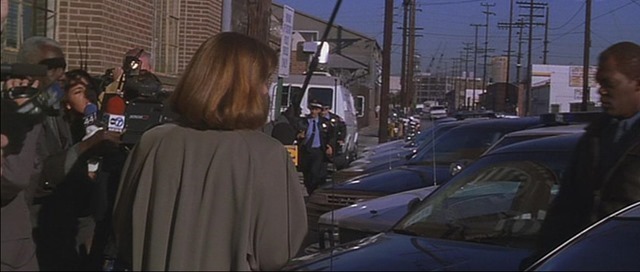 In the Season 1 episode of Angel titled "She," which aired in 2000, the building stood in for both an ice factory and a private security firm office.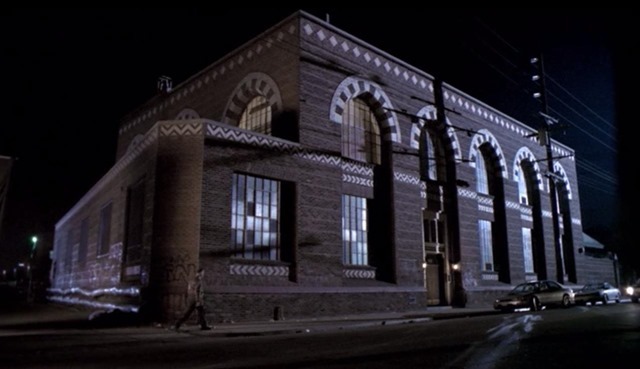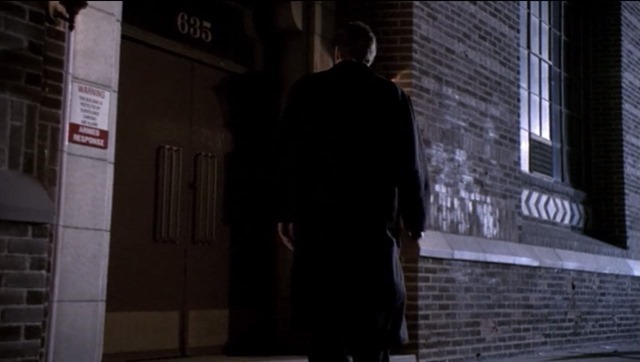 Hills Bros. Coffee regularly masqueraded as Ojai Foods on the television series Brothers and Sisters, which ran from 2006 to 2011.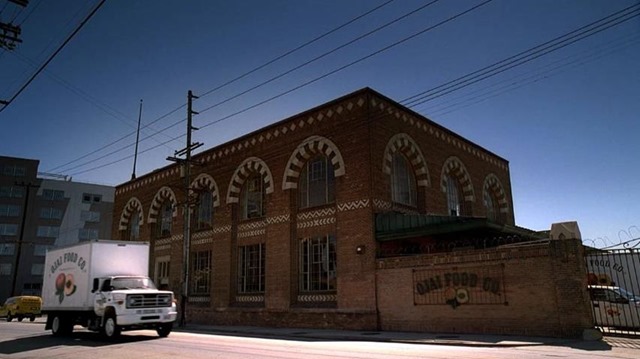 It also popped up in the 2011 movie The Muppets.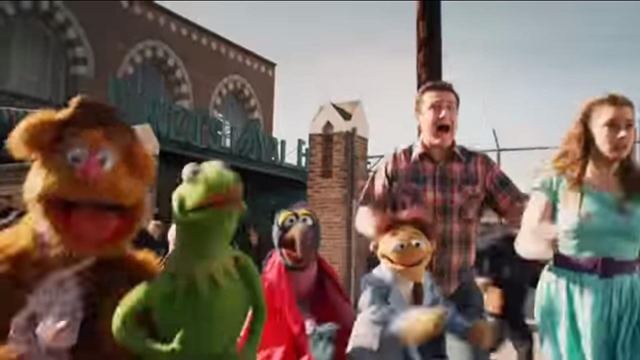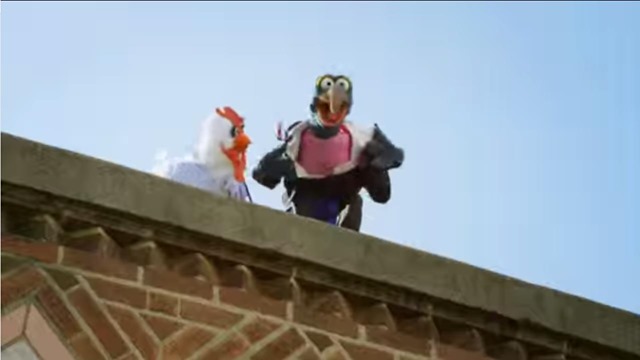 And in the Season 1 episode of How to Get Away with Murder titled "Smile, or Go to Jail," Hills Bros. was used extensively as the police station where both Annalise Keating's (Viola Davis) new client, Paula Murphy (Ana Ortiz), and murder suspect Rebecca Sutter (Katie Findlay) were being held.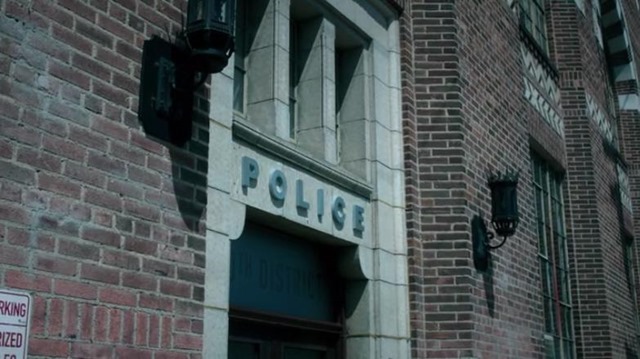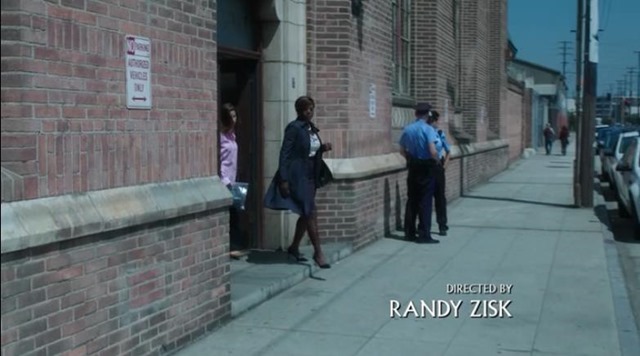 The interior of the building also appeared in the episode.  There's that staircase again!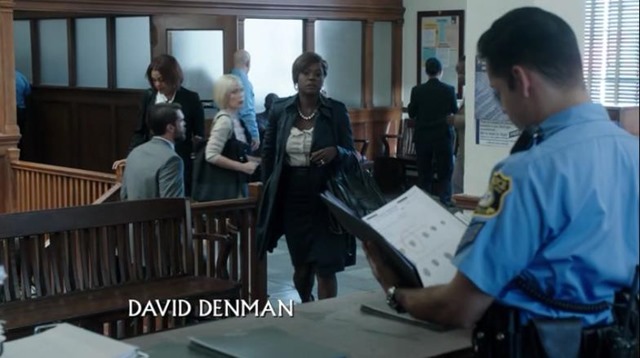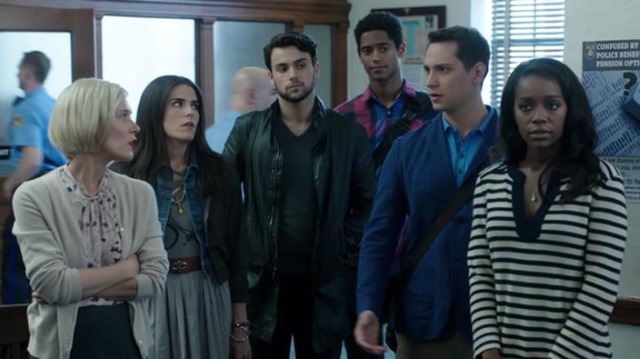 Hills Bros. Coffee also apparently popped up in the Season 1 episode of Castle titled "A Chill Goes Through Her Veins" (though I could not track it down to make screen captures for this post) and in several episodes of CSI: NY (though I am unsure of which episodes specifically).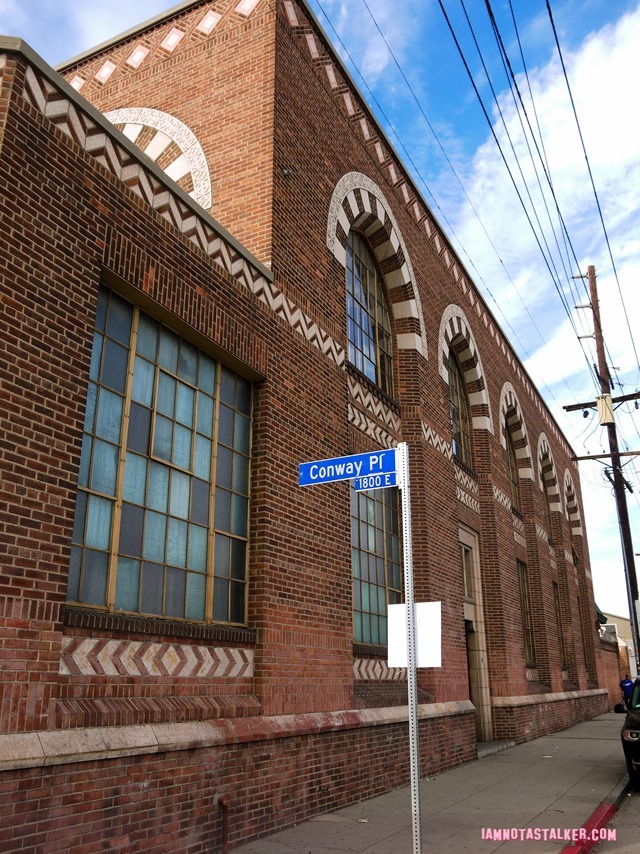 For more stalking fun, follow me on Facebook, Twitter, Instagram and Los Angeles magazine online.
Big THANK YOU to fellow stalker Chas, of the It's Filmed There website, for finding this location!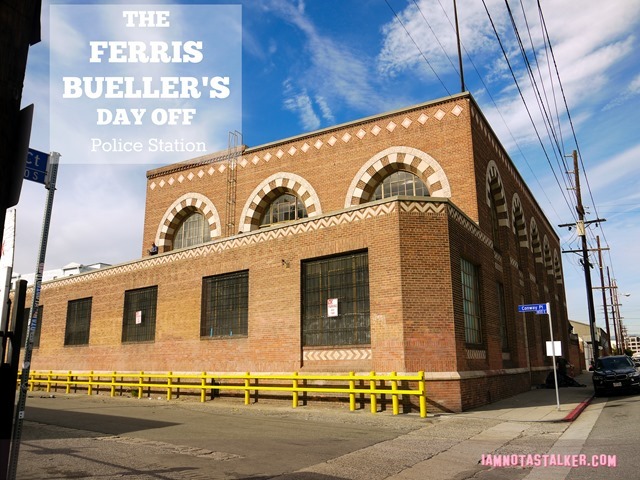 Until next time, Happy Stalking! 
Stalk It: The Ferris Bueller's Day Off police station is located at 635 South Mateo Street in downtown L.A.  The address of the building is also sometimes listed as 642 Mateo Street, but that address is incorrect and would be located across the street from where the building actually stands.
86612