The " . . . Baby One More Time" Costume
Mar 17th, 2015 | By
Lindsay
| Category:
This and That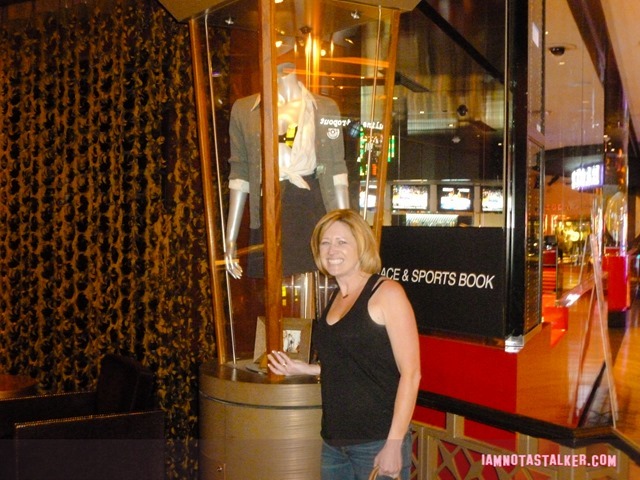 One of the most important items on my Stalking Bucket List was checked off last week while the Grim Cheaper and I were in Las Vegas.  Way back in October 2010 (while doing research for this post), I learned that Britney Spears' schoolgirl costume from her 1998 " . . . Baby One More Time" music video was on display at the Hard Rock Hotel & Casino and I just about died.  As I have mentioned countless times before on this site, to me that outfit is everything.  I've replicated it on Halloween and for various costume parties more times than I can count.  I love absolutely everything about it, especially the pink hair pom poms.  Upon reading on Wikipedia that the costume was at the Hard Rock, I came thisclose to driving out to see it that very night.  I restrained myself (or rather, the GC did) and put the stalk on hold for what seemed like eons.  So when the GC informed me that we had to head out to Vegas last week, I told him that seeing the costume was our very first priority upon arriving in town.
Prior to heading to Vegas, I called the Hard Rock Hotel FOUR times to verify that the " . . . Baby One More Time" costume was still on display.  The HR chain has a tendency of moving memorabilia from site to site and periodically rotating items, placing some in storage, and I wanted to make sure that the schoolgirl outfit was on the premises before I got too excited about seeing it.  All four people whom I talked to informed me that the costume was most definitely still on display and that it was in the lobby of the HRH Tower.  Upon arriving, though, we discovered that it was not in that tower – or anywhere else we looked.  None of the Hark Rock employees on duty at the time had any idea where it was, either, and most said that they hadn't seen it in years.  When the VIP concierge informed me that the outfit was most likely in storage, I literally almost started crying on the spot.  Talk about a disappointment!  Thankfully, the GC suggested that we walk around for a bit on the off chance that we might spot it somewhere.  After about 15 minutes of wandering, I caught an image of a black skirt out of the corner of my eye and immediately took off running.  Sure enough, it was Britney's costume!
For whatever reason, the outfit is currently tucked away in the hotel's Peacock High Limit Gaming Room, which is located just to the right of the casino's main entrance.  You have to actually walk into the room and then around to the extreme right to see the costume, though, as it is situated behind a wall and is not at all readily apparent to passersby.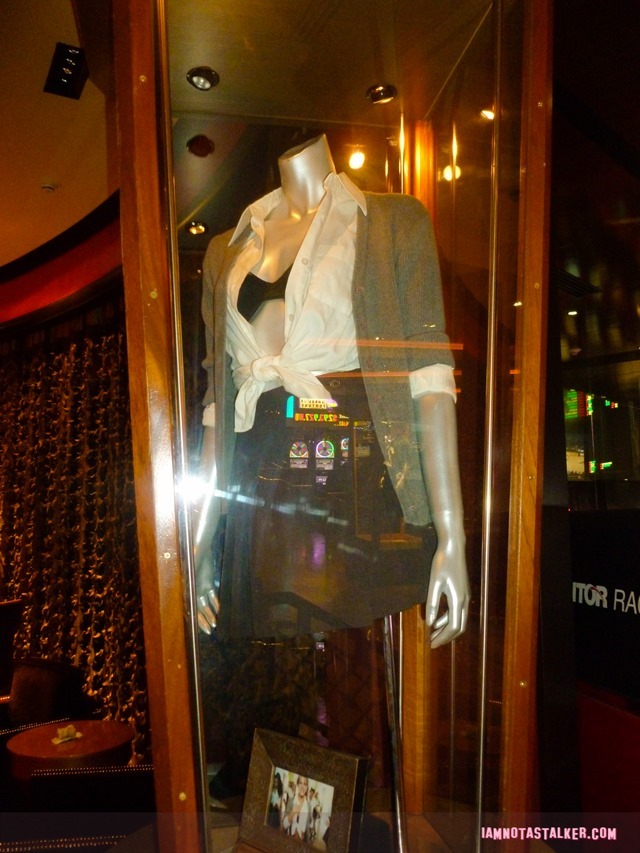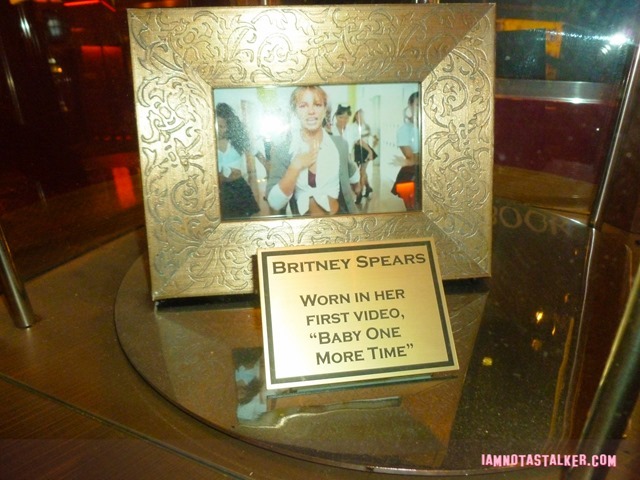 I was dismayed to discover that my favorite portion of the costume (the pink hair pom poms if you haven't been paying attention

) was not included in the display.  As you can see in these photos, Britney's entire schoolgirl outfit, including the hair accessories, thigh-high stockings and shoes, used to be on exhibit.  I wanted so badly to view the complete ensemble, but, sadly, that was not to be.  I was extremely excited over seeing the majority of it in person, though, and am anxiously awaiting the day when the hair ties are brought out of storage and put back on display.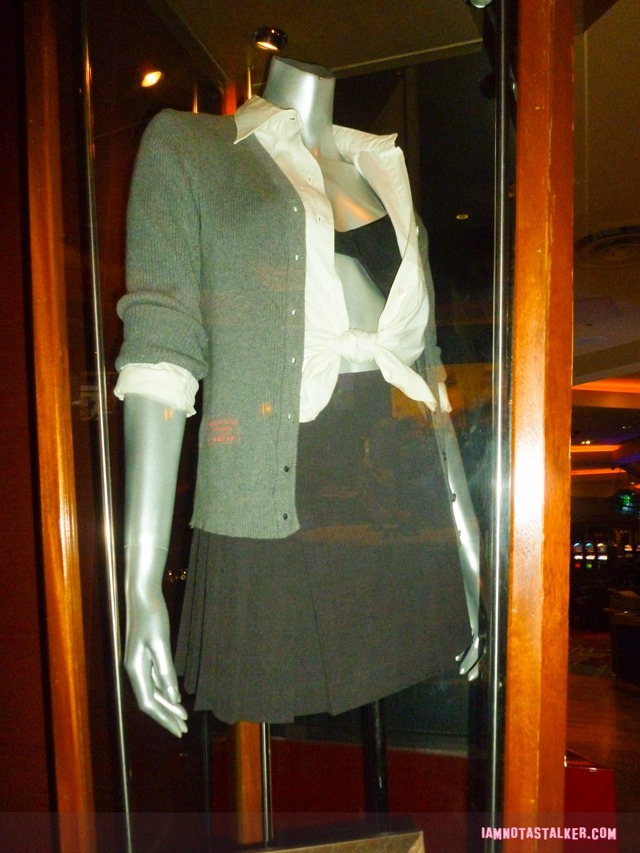 While making screen captures for this post, I noticed something else about the costume that is off.  As you can see below, in " . . . Baby One More Time" Britney donned a maroon crop top, not the black bra that is featured on the hotel mannequin.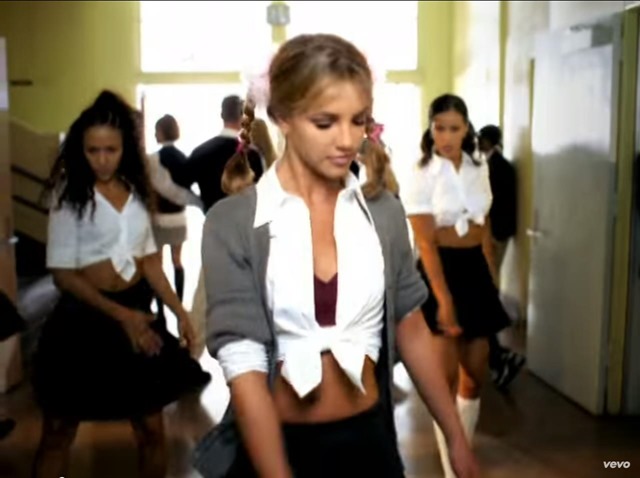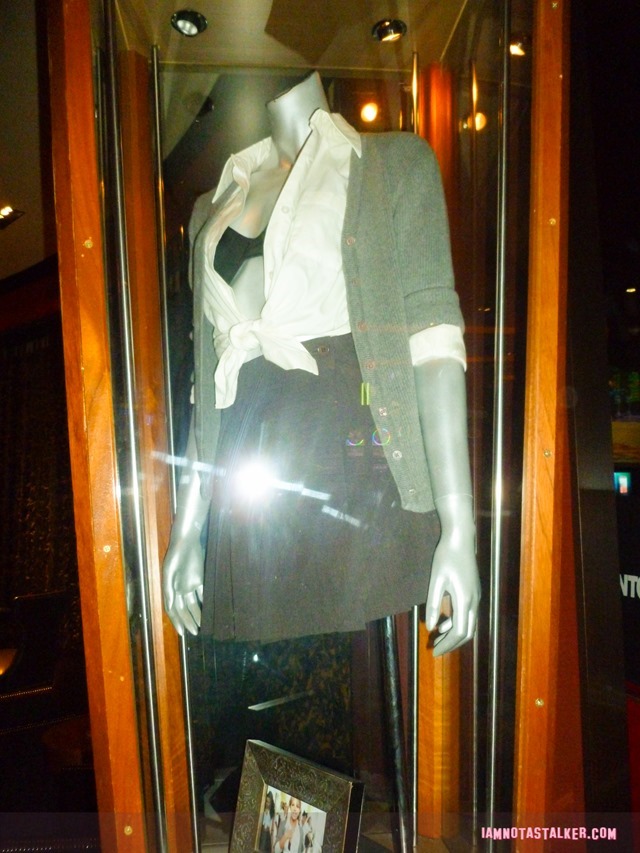 I tracked down a photo on the Britney Universe website that shows a clearer image of the crop top that she wore during the shoot.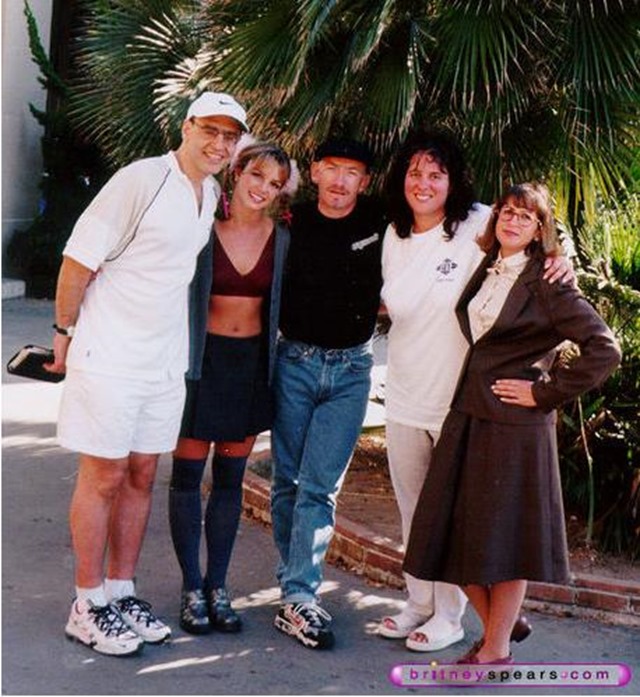 The background dancers wore schoolgirl costumes very similar to Britney's in the video, so I am guessing that the black bra might have been worn by one of them, or that Britney's actual crop top was lost at some point and the black bra put in its place for display purposes.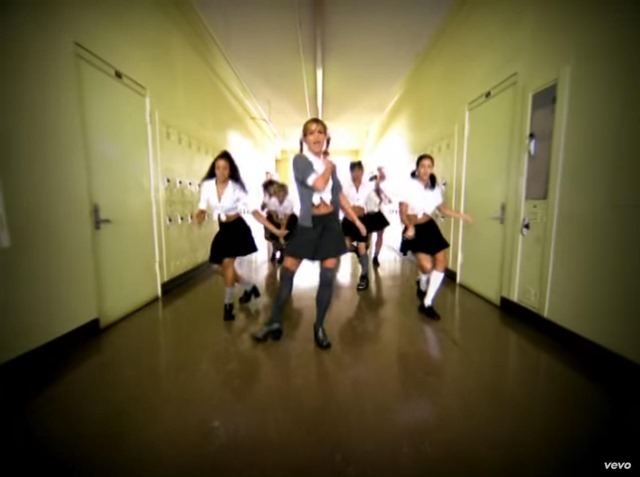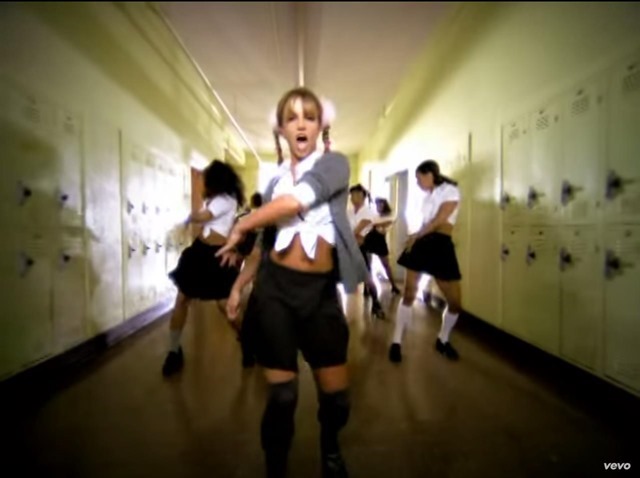 The " . . . Baby One More Time" music video was shot on location at Venice High School on August 7th and 8th, 1998.  The original concept apparently involved cartoons, until Britney ixnayed the idea.  She wanted to shoot something that would be more relatable to her fans and convinced director Nigel Dick to center the storyline around a typical school day.  Spears was also responsible for creating the video's iconic costume.  In a 2009 interview, Dick said, "My idea originally was just jeans and T-shirts, and we were at the wardrobe fitting and Britney holds up the jeans and T-shirts and says, 'Wouldn't I wear a schoolgirl outfit?'  Every piece of wardrobe in the video came from Kmart, and I was told at the time not one piece of clothing in the video cost more than $17.  On that level, it's real.  That probably, in retrospect, is a part of its charm."  Britney also explained to People magazine, "The outfits looked kind of dorky, so I was like, 'Let's tie up our shirts and be cute.'"  And thus, one of the most iconic outfits in music video history was born.  You can check out some behind the scenes photographs of the filming here, here and here.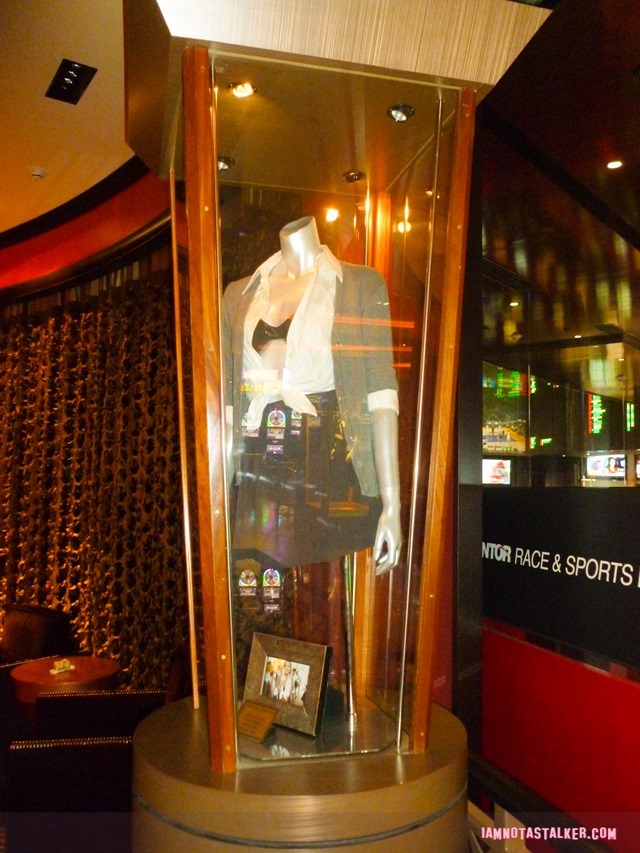 You can watch the " . . . Baby One More Time" video by clicking below.
Several other Britney items are on display at the Hard Rock Hotel & Casino, including a Washington Redskins custom-made dress and glove set that she wore for a 2003 NFL Kickoff photo shoot . . .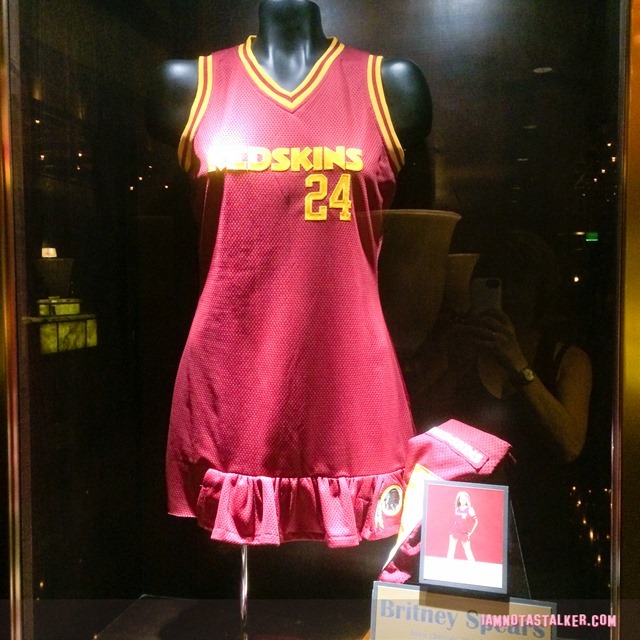 . . . and a "Slave" crop top that Spears donned in a commercial for the 2001 MTV Video Music Awards that she shot with Jamie Foxx.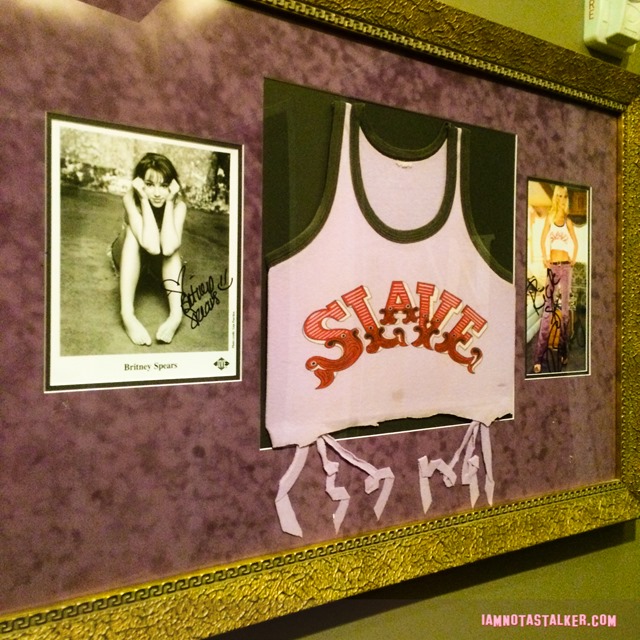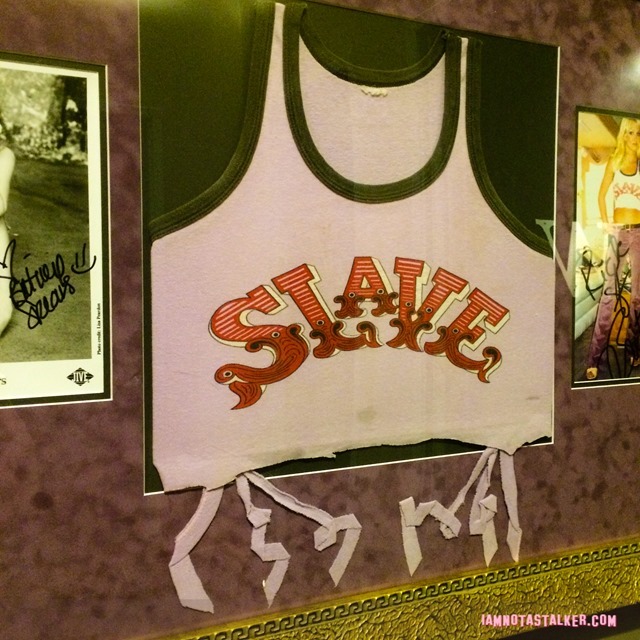 Also on display was the outfit Katy Perry wore on the cover of her "I Kissed a Girl" single;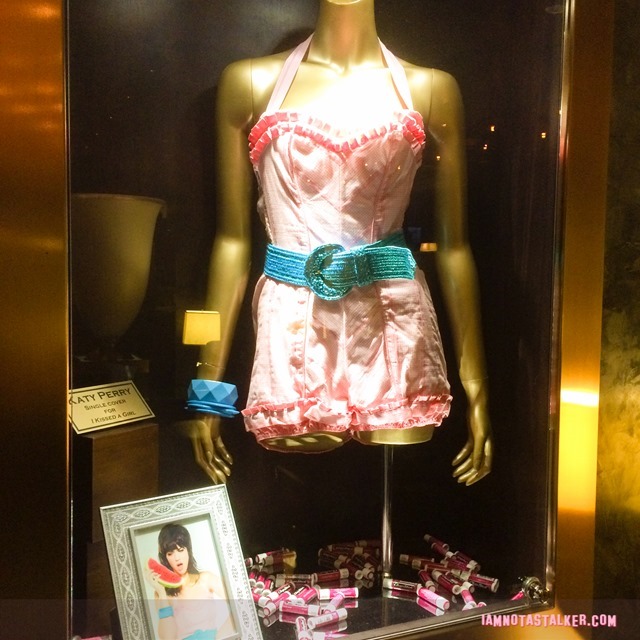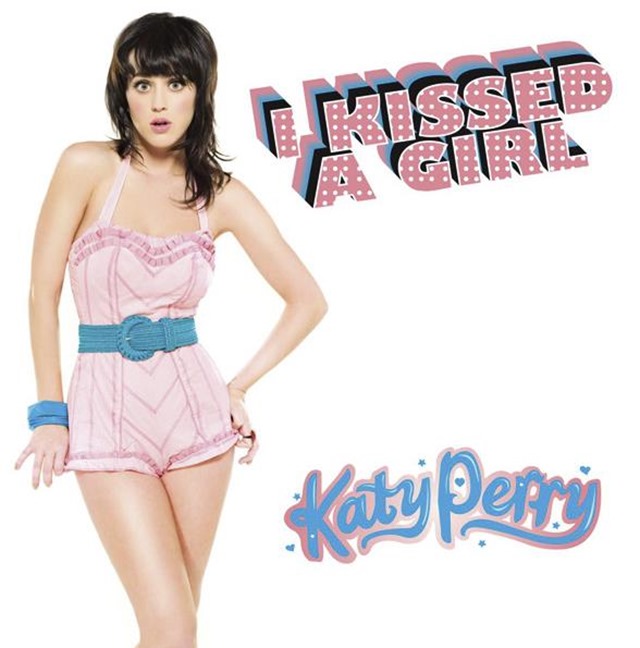 one of Michael Jackson's gloves (which was virtually impossible to get a picture of due to the fact that it is so sparkly);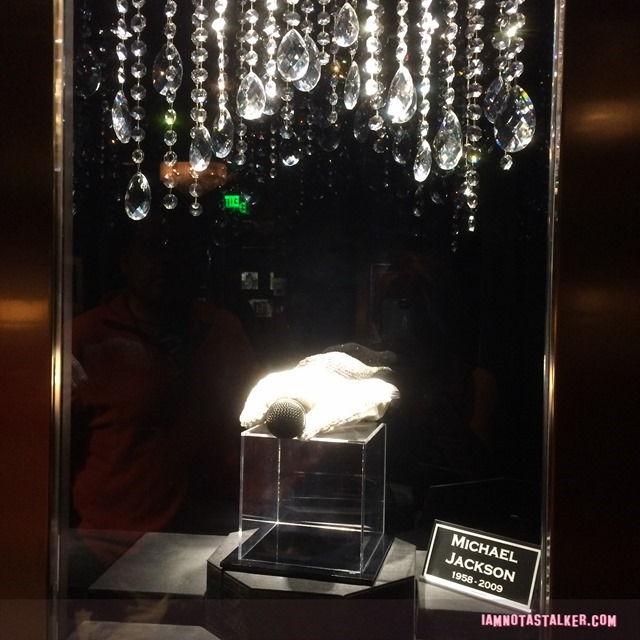 a handwritten letter from MJ to a friend;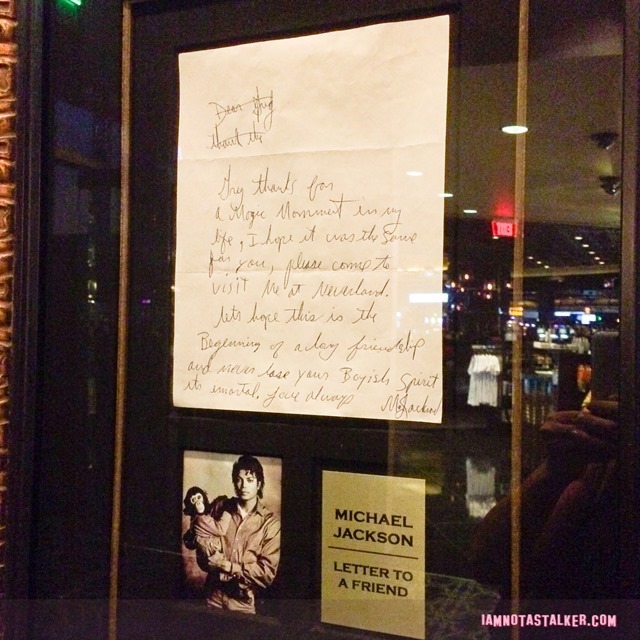 the shoe stand where James Brown worked as a child;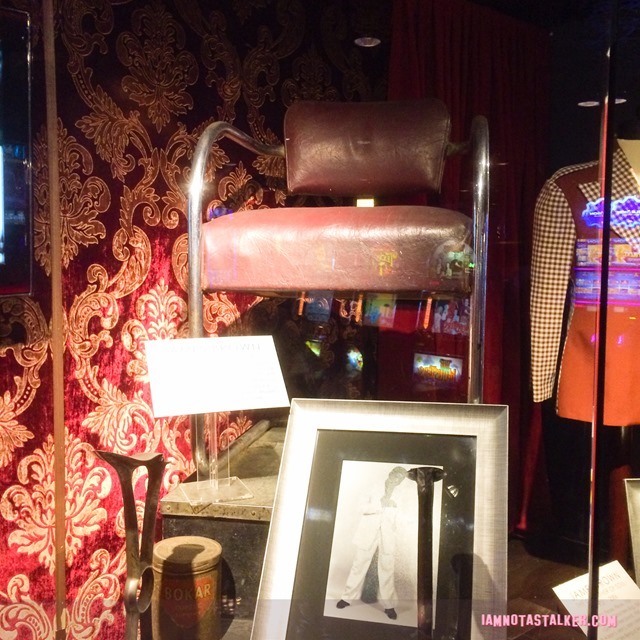 album cover photographs that The Doors shot at the original Hard Rock Café in downtown Los Angeles (the spot where Michael Jackson filmed the video for "Beat It");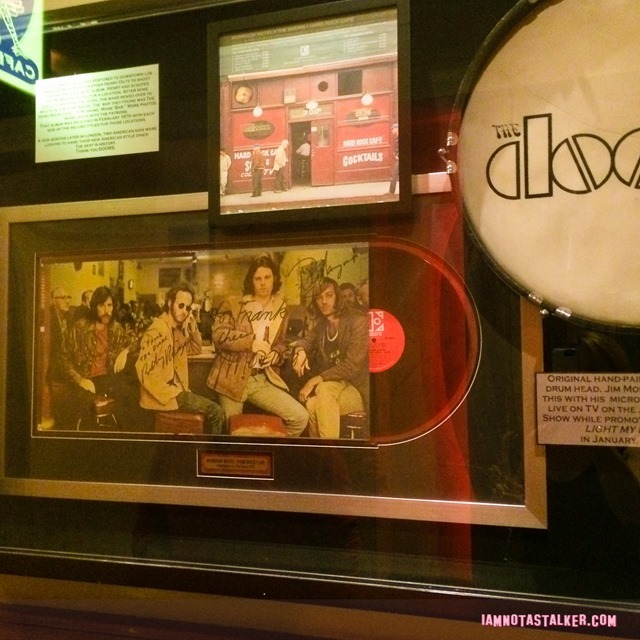 and a jacket of MJ's designed by Michael Bush and Dennis Tomkins.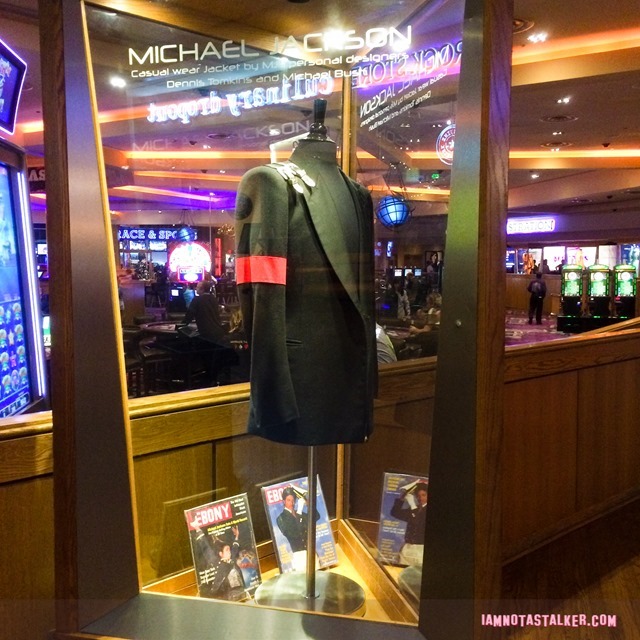 The Hard Rock Hotel & Casino has also appeared onscreen numerous times, including in an episode of fave show The O.C., but I am saving that information for a future post.  Today, it's all about Britney!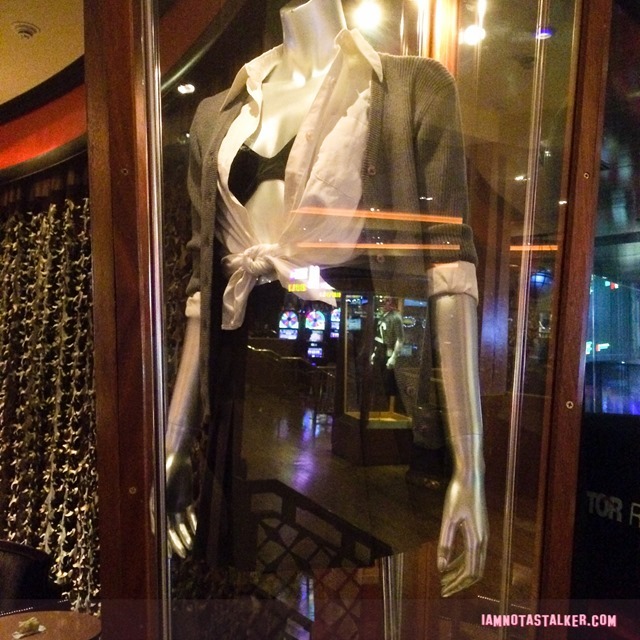 For more stalking fun, follow me on Facebook, Twitter, Instagram and Los Angeles magazine online.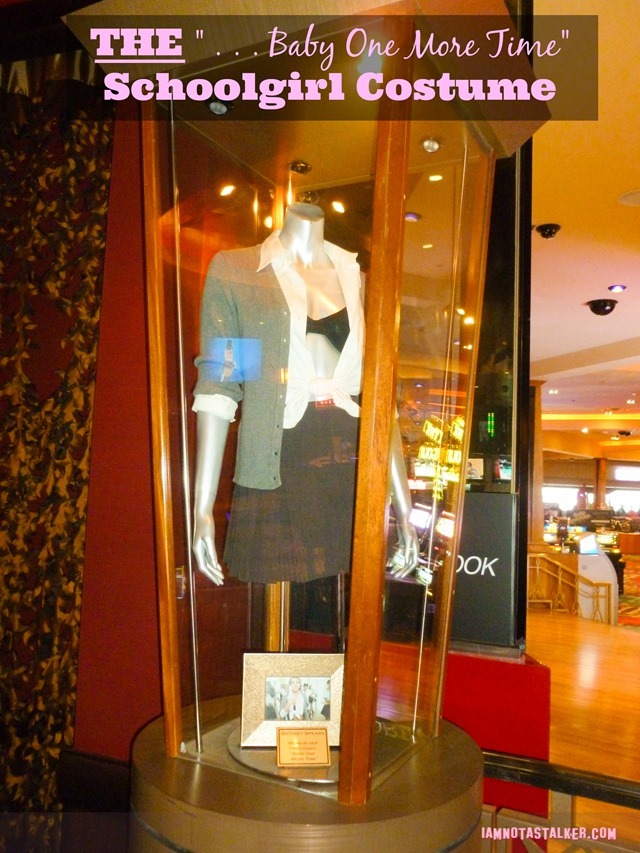 Until next time, Happy Stalking! 

Stalk It: Britney Spears' " . . . Baby One More Time" schoolgirl costume is on display in the Peacock High Limit Gaming Room at the Hard Rock Hotel & Casino, which is located at 4455 Paradise Road in Las Vegas.  You can visit the hotel's official website here.
87858