18th Street Coffee House from "Modern Family"
Apr 10th, 2015 | By
Lindsay
| Category:
TV Locations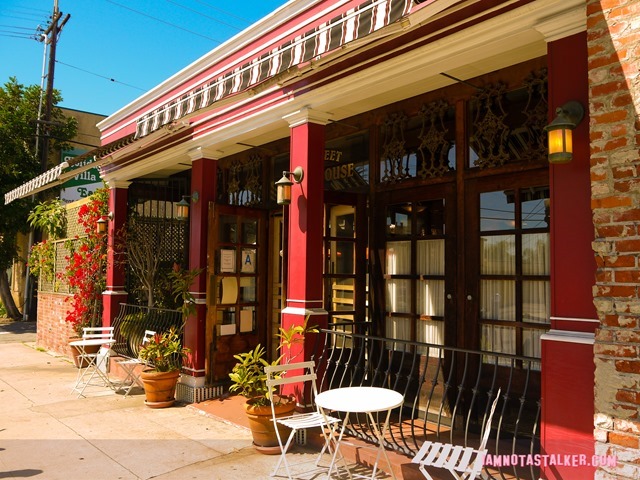 As I have said countless times before on this blog, there's pretty much nothing I love more than a filming location that serves coffee.  So I thought stalking the 18th Street Coffee House in Santa Monica, which was featured in the Season 6 episode of Modern Family titled "Rash Decisions," would be a pleasant experience.  I was wrong.  But more on that in a bit.
In "Rash Decisions," Alex Dunphy (Ariel Winter) attends a college interview for Princeton at a local café.  While there, she realizes that the interviewer, Vanessa (Aya Cash), is bored, so she recounts a story recently told by her sister, Haley Dunphy (Sarah Hyland), involving sneaking into Dodger Stadium.  In doing so, she inadvertently calls Vanessa "slut."  Interview over!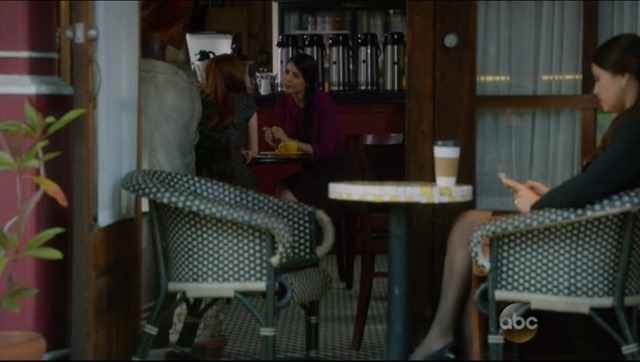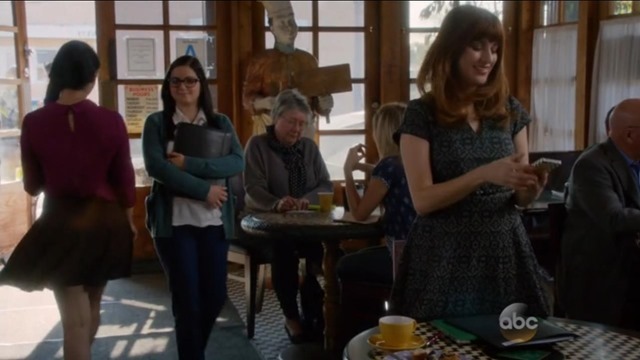 Thankfully, 18th Street Coffee House's real life exterior signage was clearly shown in the scene which made the place easy to track down.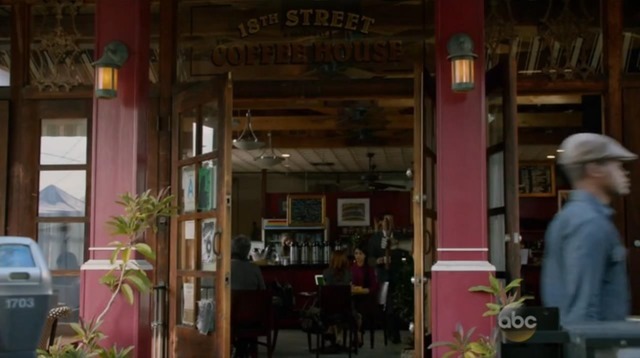 When I showed up to stalk the café, I took several photographs outside before walking in, large camera in hand.  I ordered my drink, camera still in hand (did I mention it was large?), and asked the barista all sorts of questions about the filming of "Rash Decisions," questions she seemed just barely to tolerate.  The attitude there is just a wee bit pretentious (as evidenced by countless reviews on Yelp).  I fangirled out nonetheless, explaining that I had come in solely to see the place because of its appearance on Modern Family.  After I got my latte, I snapped the picture below and all of a sudden the barista got upset with me, not-at-all politely informing me that photographs were most certainly not allowed on the premises.  You'd think she would have mentioned this beforehand, while I was asking about Modern Family, when she undoubtedly had to have seen the big ol' camera in my hand.  Either way, I would have expected her to be polite about the whole thing, which she was not.  I'll never understand places that don't allow photographs, but do allow filming.  Not to mention that there are a myriad of customer pictures of the place featured on the 18th Street Coffee Shop Facebook page.  Go figure.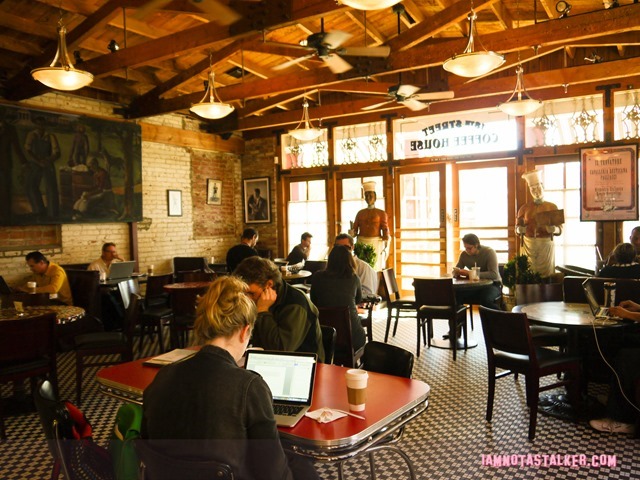 The 18th Street Coffee House actually has quite a few rules.  Cell phone use is prohibited there, which is something I can typically get behind.  Who wants to listen to someone talking loudly on a phone inside of an eatery?  That is one of my biggest pet peeves.  But, according to several Yelpers, at 18th Street you aren't allowed to look at your phone.  So if you want to grab a coffee, sit down and answer a few emails, be forewarned that you will not be allowed to (though the guy in the above photo appears to be doing so).  The rule is apparently in place to encourage interaction and conversation.  While I agree that it is a nice sentiment to want customers to interact with the people they are dining with rather than having their heads buried in cell phones during a visit, when someone is alone I don't see why he or she should not be able to check their email or surf the web via their cell phone.  I'm all about having rules and like the thought of a restaurant wanting to establish a peaceful, quiet environment, but there is also such a thing as overkill.  (This scene from Bridesmaids comes to mind.)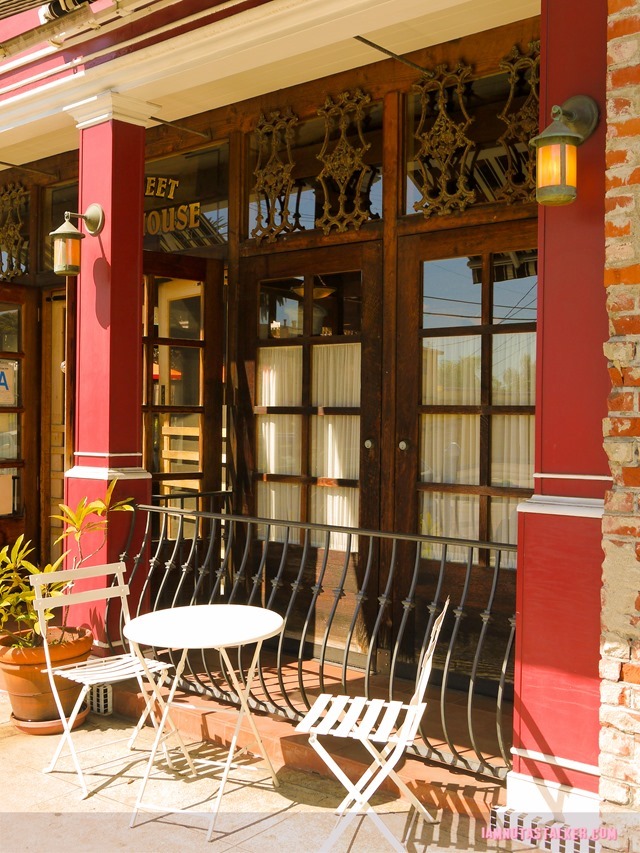 It has long been rumored that the 18th Street Coffee House is owned by Bob Dylan and this 2002 Los Angeles magazine article stated that the place's business permit, as well as that of the boxing club located downstairs from it, are in the name of Dylan's manager, Jeff Rosen.  When asked about the ownership, Jeff said, "I know nothing about that . .. Can't you find something more interesting to write about?"  Yep, that pretty much sums up the attitude of the whole place.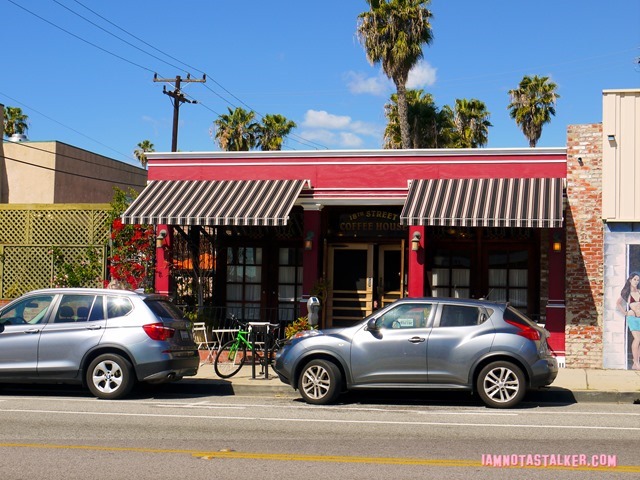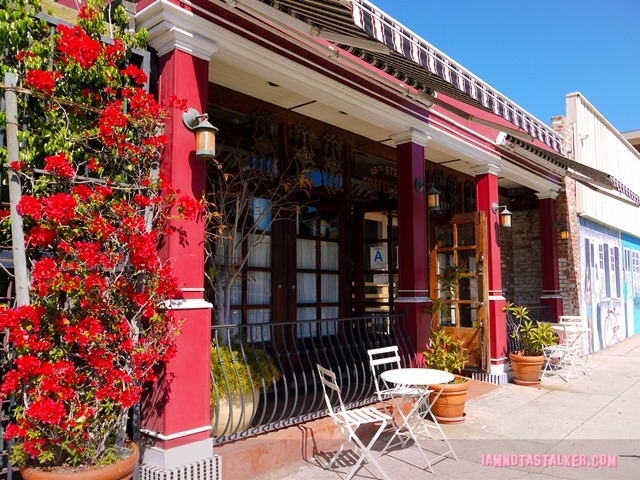 My coffee was excellent, though.  The place was not so pretentious as to not offer whole milk (another of my pet peeves when it comes to coffee shops), so my latte was perfectly creamy and delicious.  And I will say that the café is definitely picturesque, both inside and out, though I will, sadly, most likely not be going back.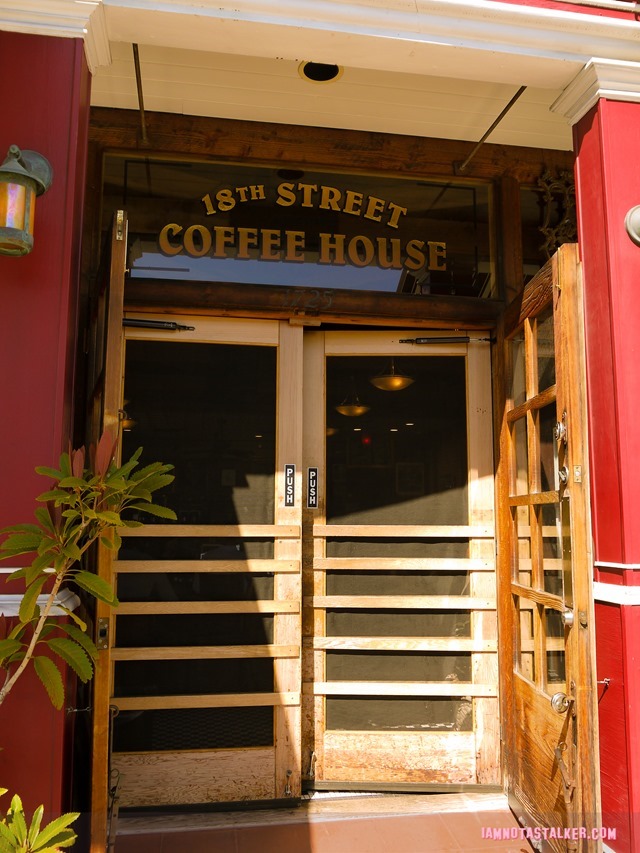 The 18th Street Coffee Shop has appeared onscreen several times.  In the Season 1 episode of Californication titled "The Devil's Threesome," which aired in 2007, Mia Lewis (Madeline Zima) and Dani (Rachel Miner) discussed what Dani thought was Mia's new book [though the tome was actually written by Hank Moody (David Duchovny)] over coffee at 18th Street.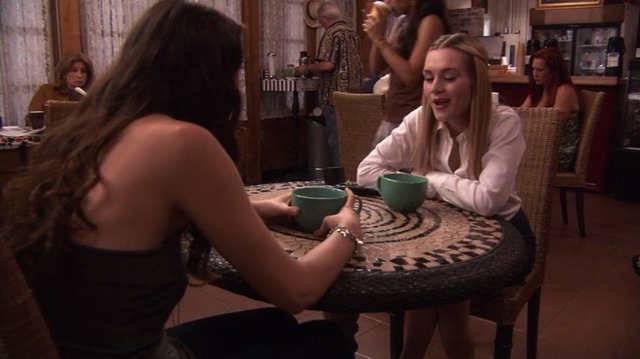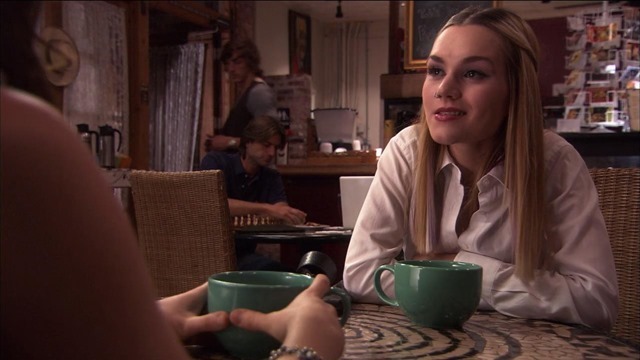 In 2009, the coffee shop popped up in the Season 7 episode of Curb Your Enthusiasm titled "Denise Handicapped," as the spot where Larry David (playing himself) met a handicapped woman named Denise (Anita Barone).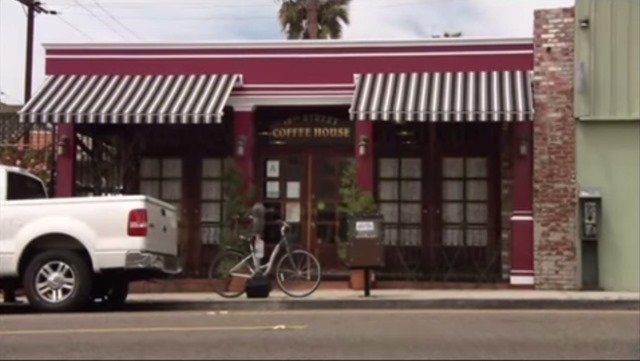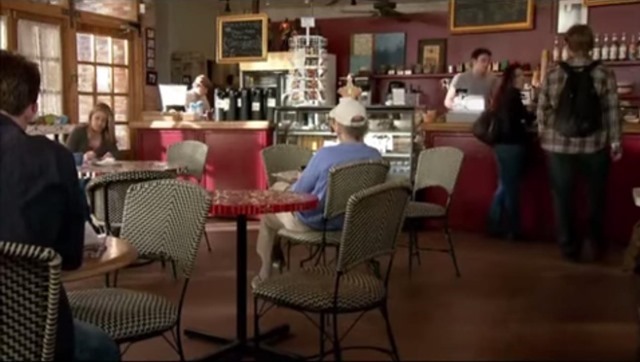 For more stalking fun, follow me on Facebook, Twitter, Instagram, Los Angeles magazine and Discover Los Angeles.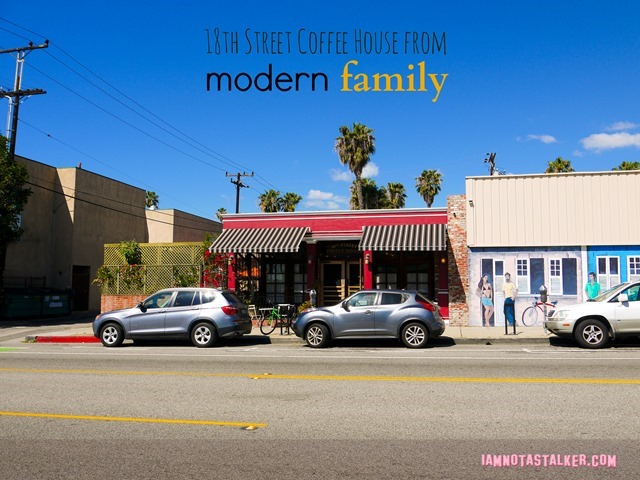 Until next time, Happy Stalking! 

Stalk It: 18th Street Coffee House, from the "Rash Decisions" episode of Modern Family, is located at 1725 Broadway in Santa Monica.
88723