Musso and Frank Grill from "Sex and the City"
Jun 29th, 2015 | By
Lindsay
| Category:
Sex and the City Filming Locations
I deserve a facepalm for today's location!  For ages I had been trying to track down the Los Angeles steakhouse where Miranda Hobbes (Cynthia Nixon) dined with "Letterman Lew" (Sam Seder) in the Season 3 episode of Sex and the City titled "Sex and Another City."  Because the episode had been filmed over 15 years ago, I figured the restaurant was most likely no longer in existence, but still spent quite a lot of time searching for it regardless.  Then in April, I had a brainstorm.  I decided to tweet to Sam Seder to ask if he remembered where filming had taken place.  Not only was he nice enough to respond, but he did indeed remember the restaurant!  As it turns out, it was a place I had stalked before and even blogged about – Musso and Frank Grill, the oldest restaurant in Hollywood!  How I did not recognize it is beyond me!  Not to mention the fact that I should have realized Sex and the City would utilize one of L.A.'s most historic eateries while filming on location in La La Land.  Since my original post on Musso and Frank was written waaaaay back in August 2008, I figured the place was most-definitely worthy of a redux.
Musso and Frank Grill, or Musso's as it is commonly called, was originally established by Frank Toulet in 1919 as Frank's Francois Café in a space located at 6669 Hollywood Boulevard.  In 1923, Frank partnered up with Joseph Musso and renamed the restaurant Musso and Frank Grill.  French chef Jean Rue created the menu with offerings of classic comfort foods, steaks and French-inspired fare.   Amazingly, little of that menu has been changed since.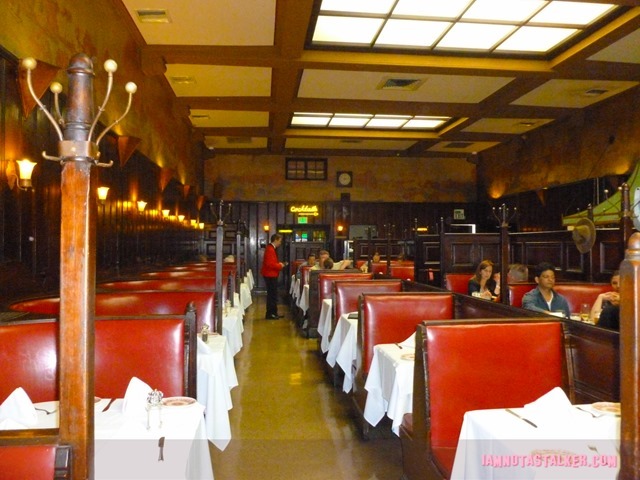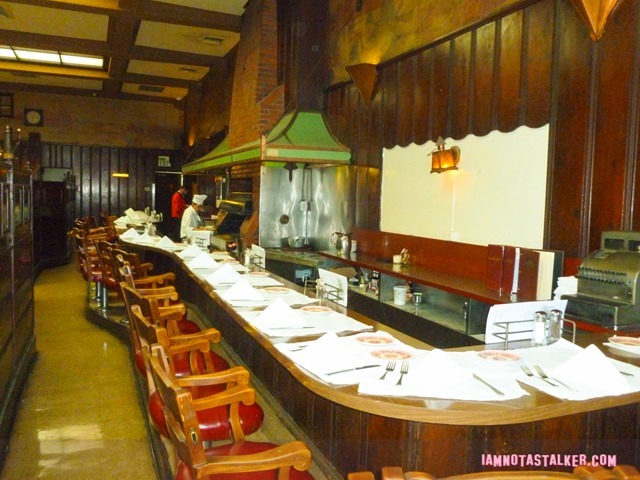 Despite the fact that Musso and Frank Grill was immediately successful, Toulet and Musso sold it to Joseph Carissimi and John Mosso in 1926.  The restaurant continued to be profitable under Carissimi and Mosso's tutelage and eight years later it was moved to a larger space one storefront east at 6667 Hollywood Boulevard.   The following year, the duo opened the Back Room, a private enclave for the movers and shakers of the day to congregate.  The room became especially popular with the literary world and such luminaries as William Faulkner, Dashiell Hammett, John Steinbeck, Thomas Wolfe, Ernest Hemingway, F. Scott Fitzgerald, and T.S. Eliot all spent time there.   Raymond Chandler is even said to have written The Big Sleep largely from the Back Room.  The space was eventually dubbed the "Writers' Room" and a Los Angeles Times article stated that if you spent enough time there you "…would have seen every living writer you had ever heard of, and some you would not know until later."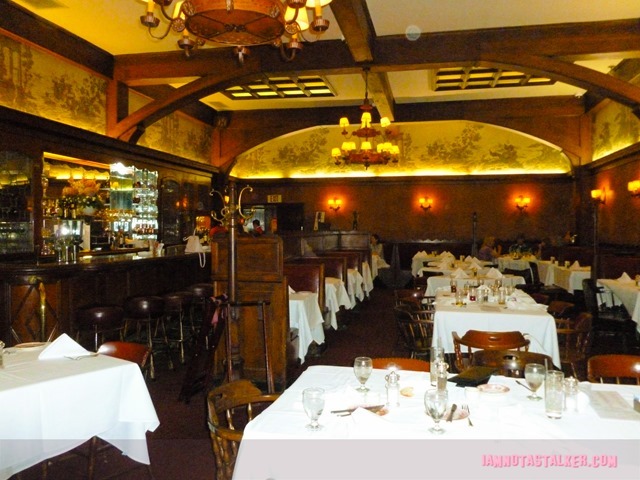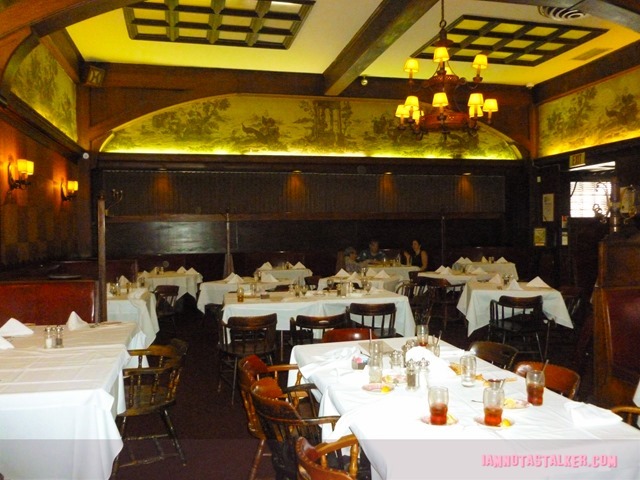 When Carissimi and Mosso's lease on the Back Room expired in 1955, they moved all of its furnishings, including the bar, wood paneling and wall sconces, to the storefront located next door to Musso and Frank.  That space was dubbed the "New Room."   It still bears that name today, despite the fact that it has been in existence for sixty years.  The New Room, pictured below, continued its tradition of popularity with writers of the day and Joseph Heller, Kurt Vonnegut and Charles Bukowski were all said to have hung out there.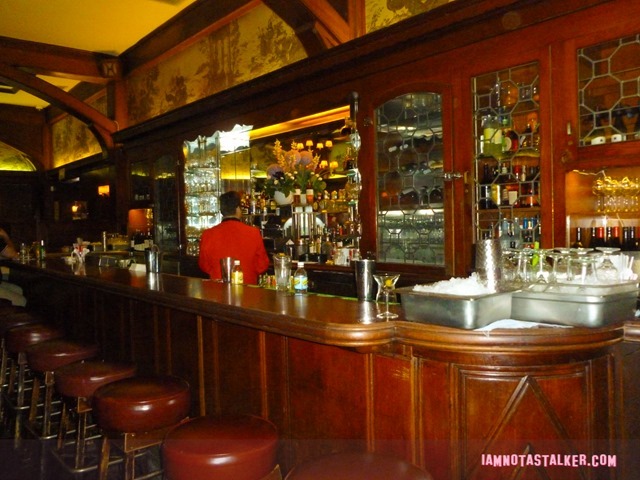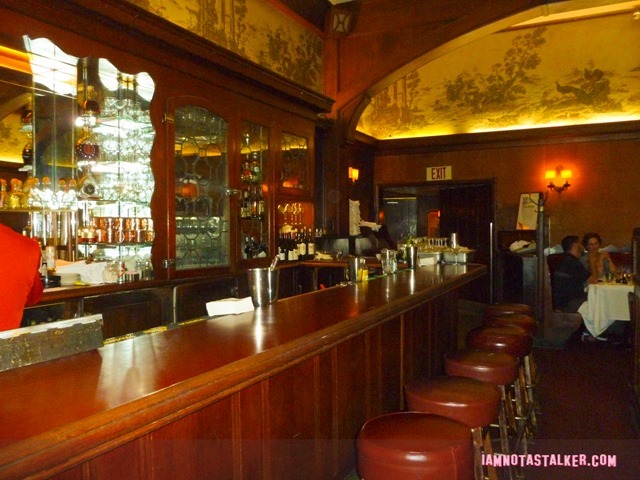 Musso's was immensely popular with the Hollywood set, as well.  Just a few of the stars who dined there during the early years include John Barrymore, Douglas Fairbanks, Mary Pickford, Orson Welles, Jimmy Stewart, Rudolph Valentino, Cecil B. DeMille, Gary Cooper, Humphrey Bogart, Lauren Bacall, Bette Davis, Greta Garbo, Bing Crosby and my girl Marilyn Monroe.  Charlie Chaplin was such a frequent patron that he had his own booth.  Pictured below, it is the booth located at the front, western corner of the restaurant's main room.  In more recent years, Tom Cruise, James Woods, Demi Moore, Tom Hanks, Francis Ford Coppola, Keith Richards, Sean Penn and Drew Barrymore have all been spotted at Musso's.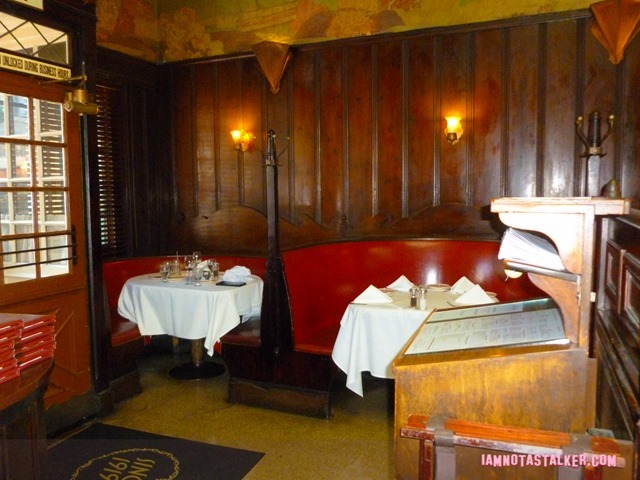 John Mosso's family eventually bought out the Carissimi family and they continue to run Musso and Frank Grill to this day.  Though the eatery closed its doors this past Friday (June 28th) for a ten-day restoration project, patrons should not worry – all of the changes set to be implemented are minor.  The restaurant will reopen on Tuesday, July 7th.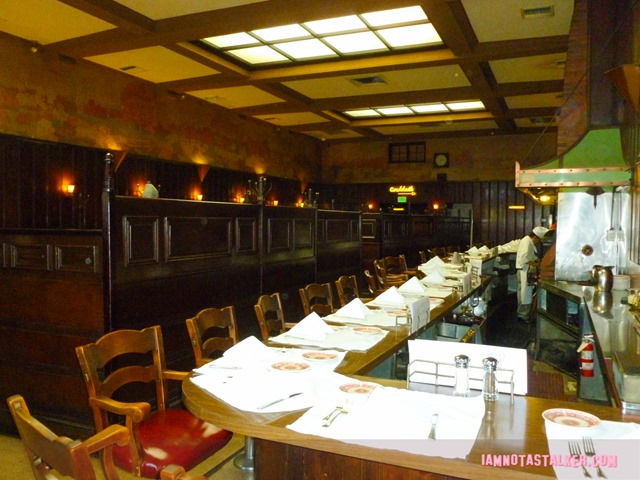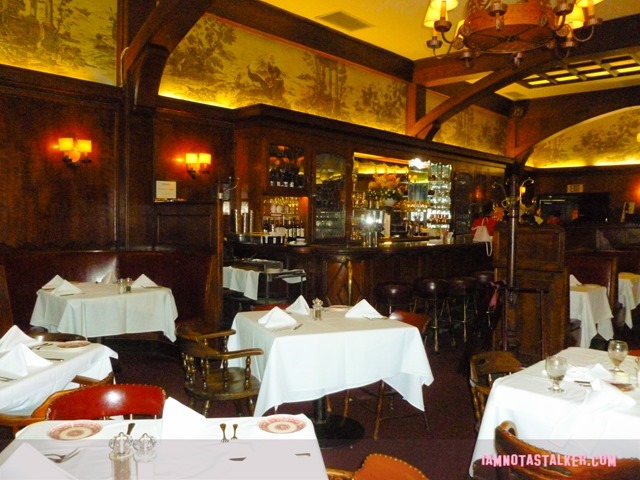 In "Sex and Another City," Miranda and her old friend Lew head to Musso and Frank Grill to enjoy a New York strip steak.  While dining, Miranda learns that Lew is on a special diet in which he chews his food, but doesn't swallow it.  Needless to say, their meal does not end well.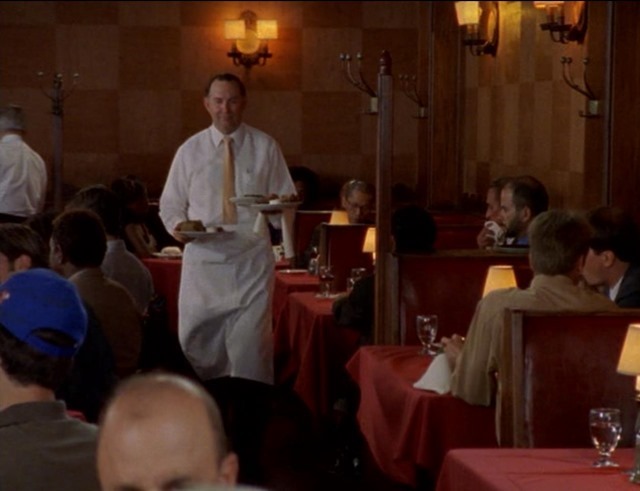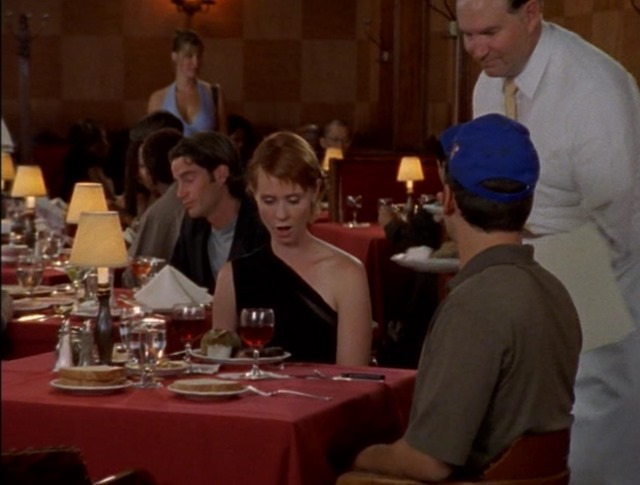 In the episode, Miranda and Lew were seated in the New Room.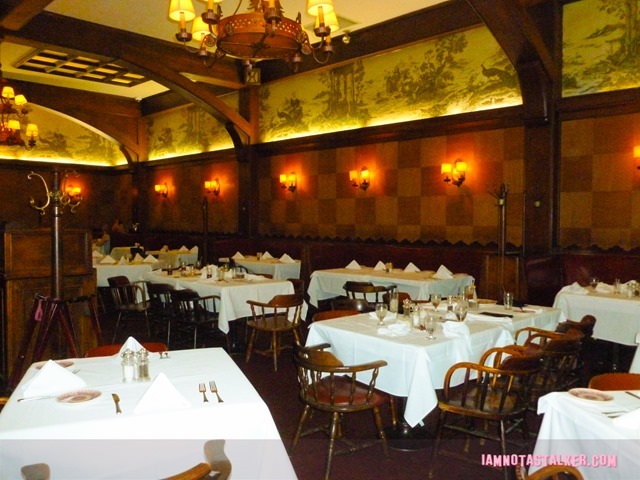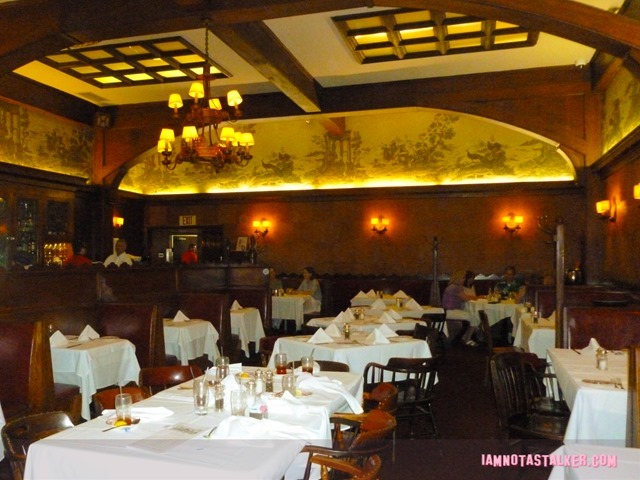 Musso's has popped up in countless movies and television shows over the years.  In 1994's Ed Wood, the restaurant is where Ed Wood (Johnny Depp) has a chance encounter with Orson Welles (Vincent D'Onofrio).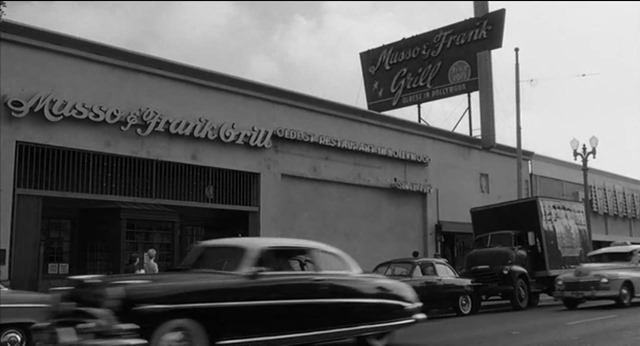 Only the exterior of Musso and Frank was used in the filming, though.  Interiors were shot elsewhere.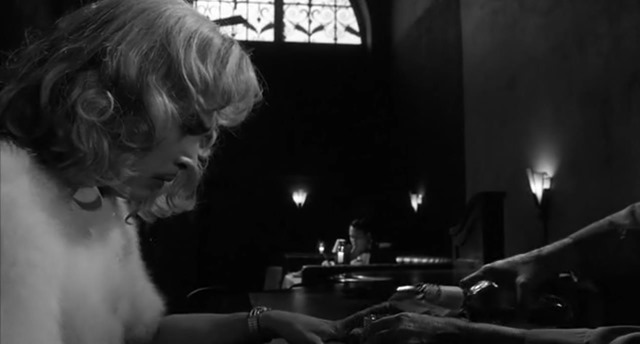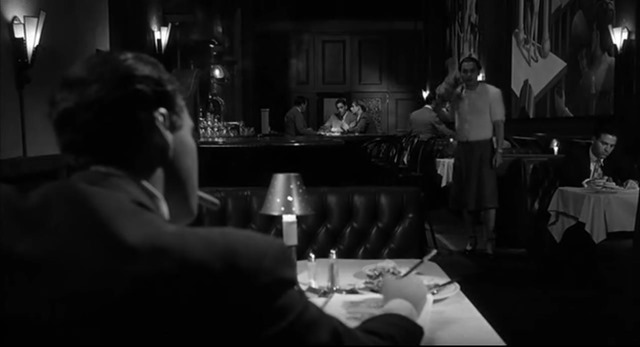 Musso and Frank's parking lot masked as the parking lot of the Dresden, where Sue (Patrick Van Horn) got into a fight with "House of Pain" in the 1996 comedy Swingers.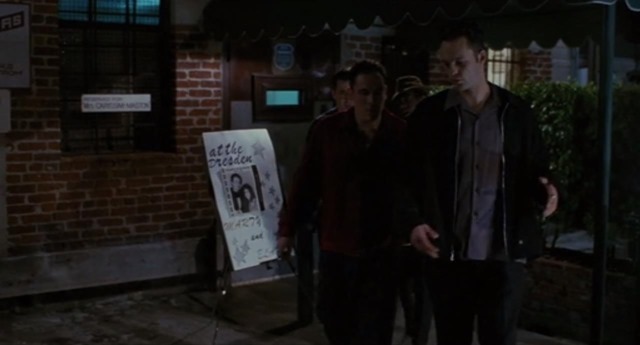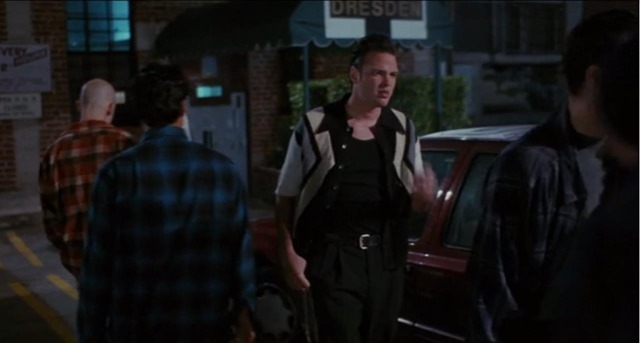 Though the restaurant's rear awning was covered over to read "Dresden" in the scene . . .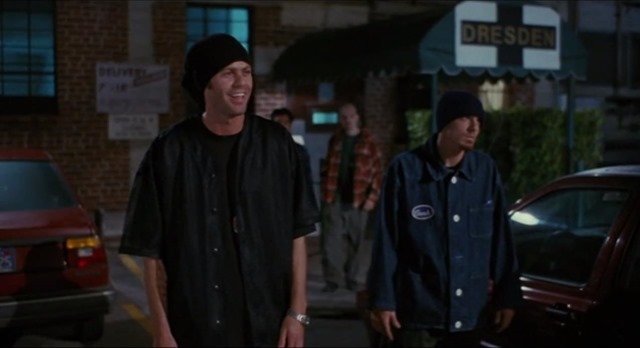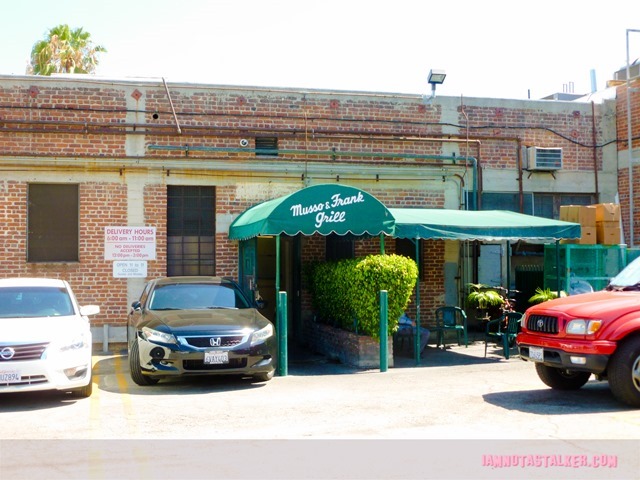 . . . Musso and Frank's parking lot signage was still visible.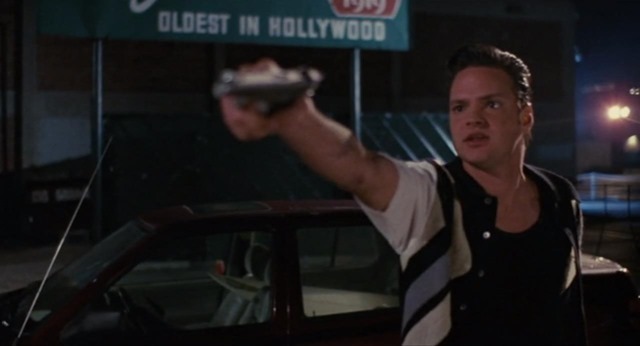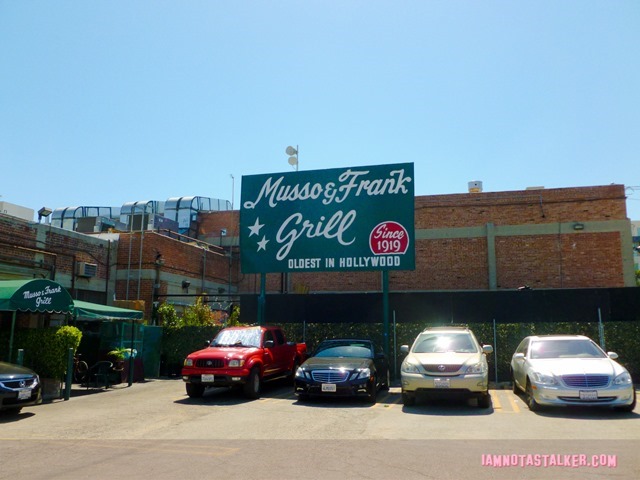 The eatery's parking lot also appeared in the 2003 comedy Hollywood Homicide.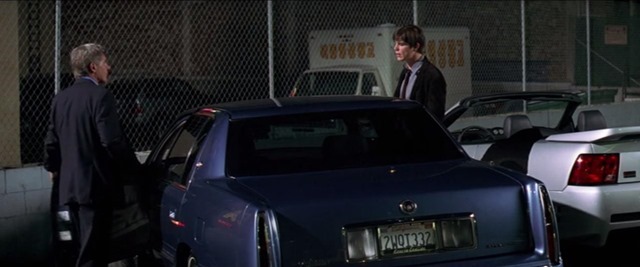 Musso and Frank was featured twice in 2001's Ocean's Eleven.   It is first where Danny Ocean (George Clooney) tells Rusty Ryan (Brad Pitt) about his plan to rob three Las Vegas casinos.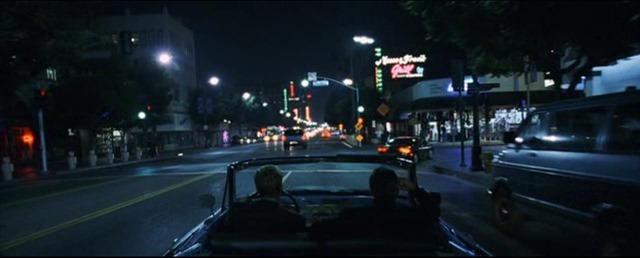 Later in the movie, the two discuss whether or not to bring on an eleventh person while sitting at Musso's bar.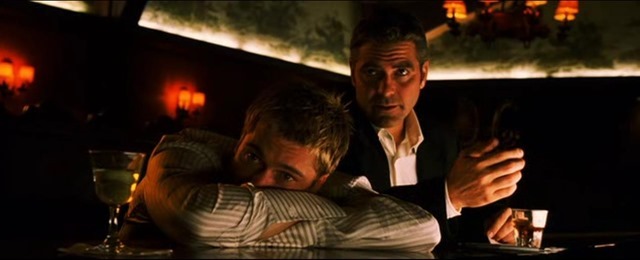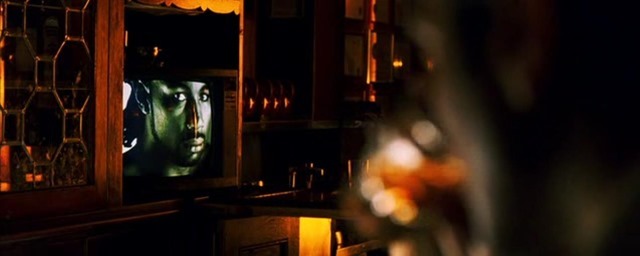 Musso and Frank is where the Diablo Cartel, Tanaka Yakuza, the Antonioni Crime Family and Seamus O'Grady (Justin Theroux) hand over briefcases full of cash in 2003's Charlie's Angels: Full Throttle.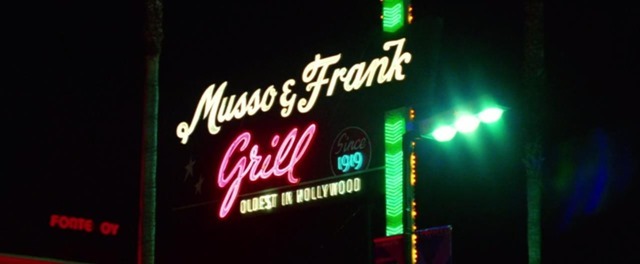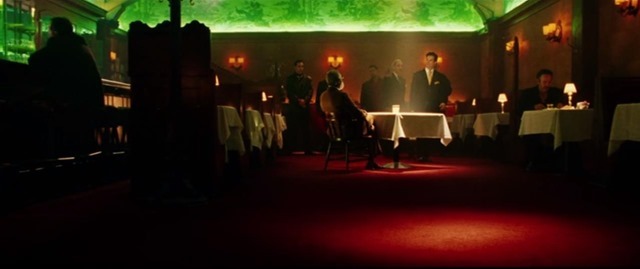 The restaurant popped up several times on the television series Mad Men.  It was featured twice in Season 1's "Red in the Face."  In the beginning of the episode, Don Draper (Jon Hamm) and Roger Sterling (John Slattery) have drinks at Musso's before heading to Don's house for dinner.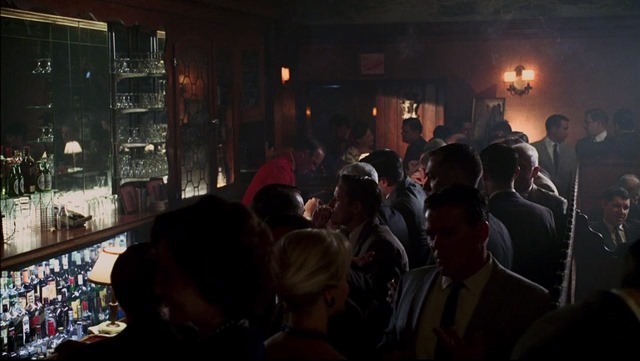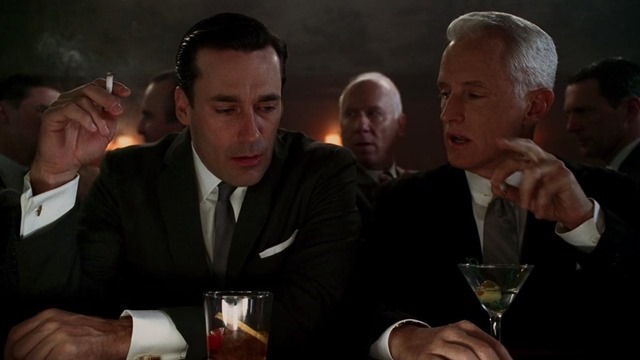 Later in the episode, the two return to eat oysters at Musso's.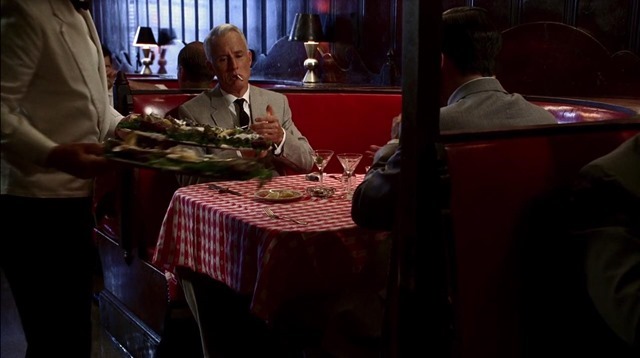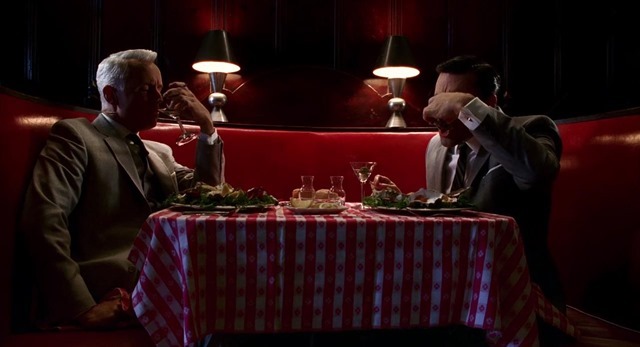 Musso and Frank masked as Sardi's, where Don grabbed a bite with Bobbie Barrett (Melinda McGraw), in Season 2's "The New Girl."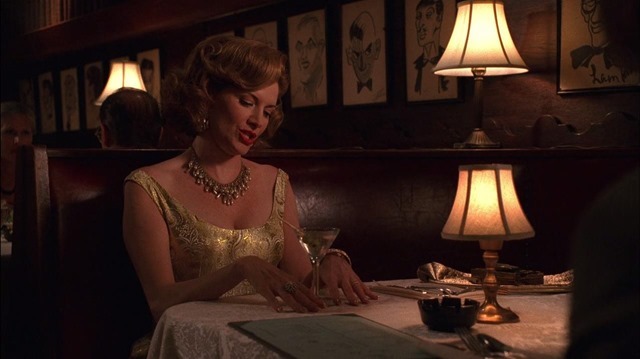 It was also used twice in the Season 4 episode titled "The Rejected."  It first popped up as the spot where Pete Campbell (Vincent Kartheiser) found out from Tom Vogel (Joe O'Connor) that his wife was pregnant.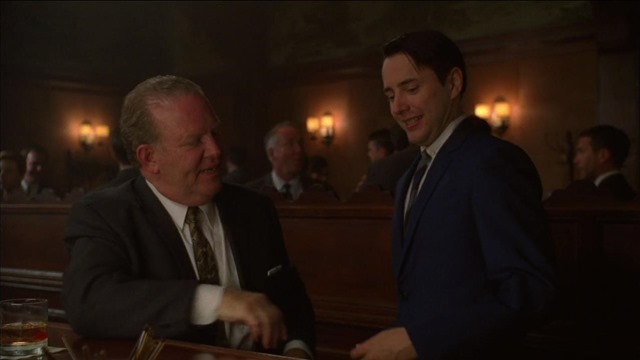 Later in the episode, it masked as Jim Downey's Steak House, where Ken Cosgrove (Aaron Staton) confronted Pete about calling him an "all-American idiot who fell into everything."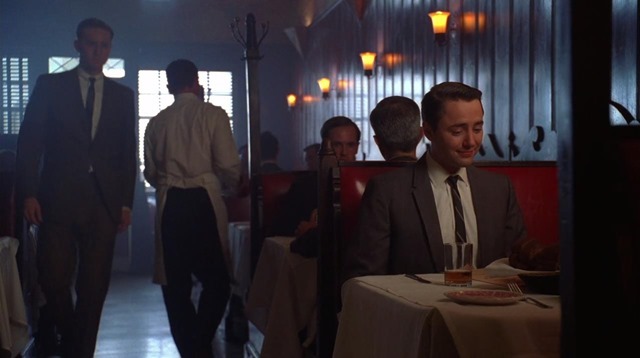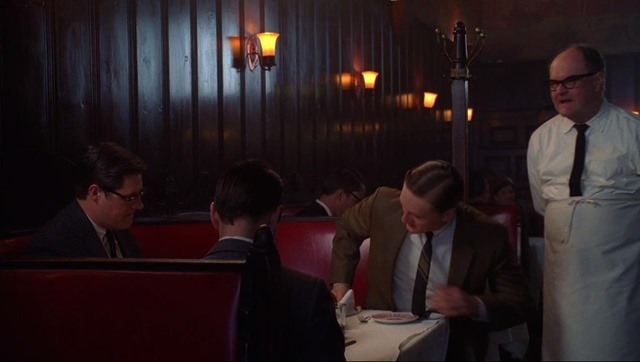 In the Season 3 episode of 90210 titled "Nerdy Little Secrets," Marla Templeton (Sally Kellerman) told Annie Wilson (Shenae Grimes) about her life in Hollywood while dining at Musso and Frank.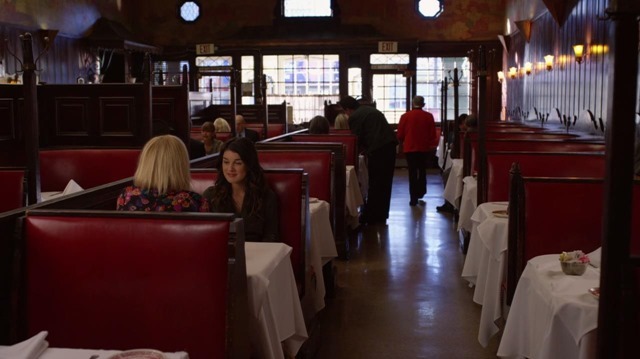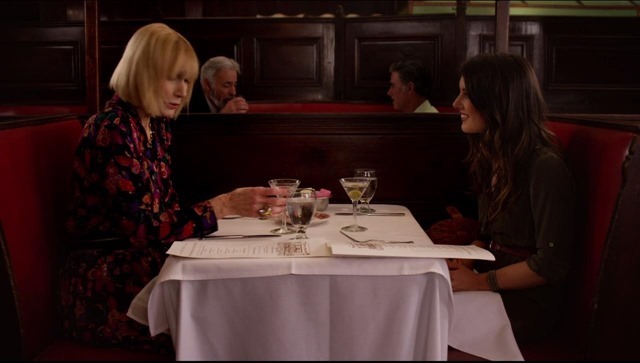 Roger Greenberg (Ben Stiller) celebrated his birthday at Musso and Frank with Ivan Schrank (Rhys Ifans) and Florence Marr (Greta Gerwig) in the 2010 drama Greenberg.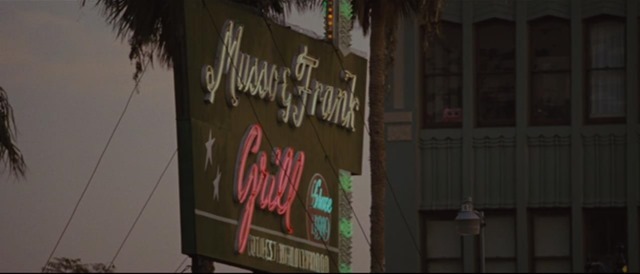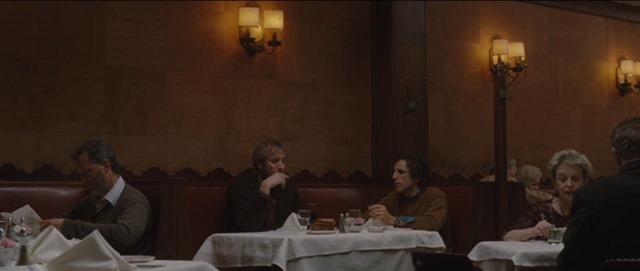 In the scene, Greta is wearing a Henry's Taco's t-shirt.  Henry's is another historic Los Angeles eatery that I blogged about here.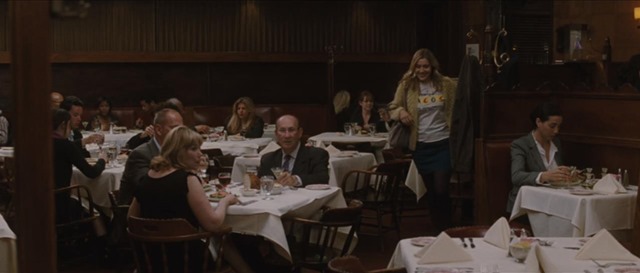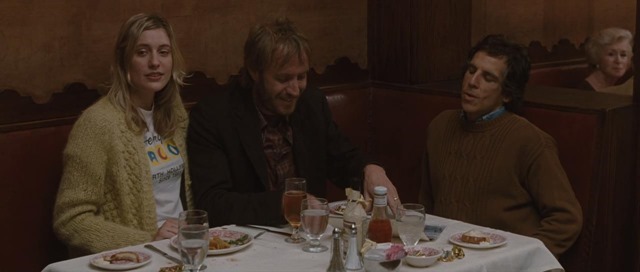 Musso's has appeared on the television series Scandal no less than three times as Olivia Pope (Kerry Washington) and her father Eli Pope's (Joe Morton) go-to restaurant.  In the Season 3 episode titled "The Fluffer," the two get a surprise – and unwelcome – visit from Maya Lewis (Khandi Alexander) while eating dinner at Musso and Frank.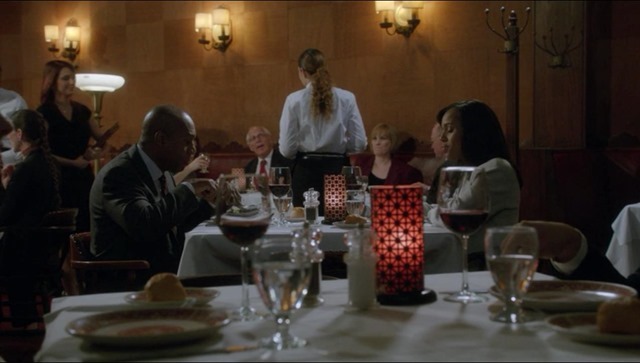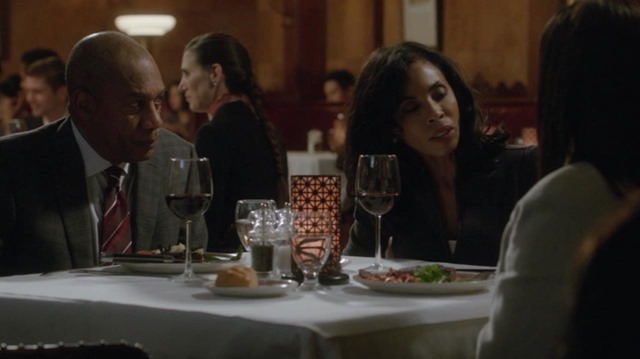 Olivia and her father returned to Musso and Frank in the Season 4 episode titled "Randy, Red, Superfreak and Julia."  It is there that Olivia asks Eli if he had anything to do with Harrison Wright's (Columbus Short) death.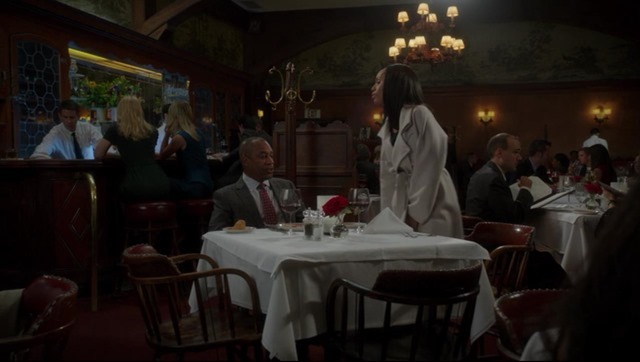 Father and daughter share a meal at the restaurant once again in the Season 5 episode titled "It's Hard Out Here for a General," during which Eli scolds Olivia for breaking up with the president when she "had the Oval."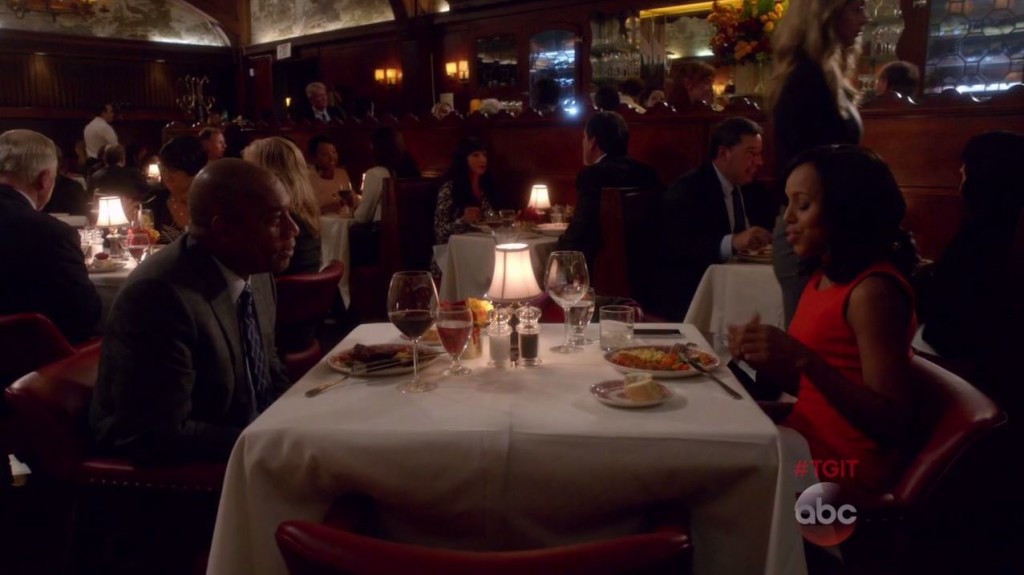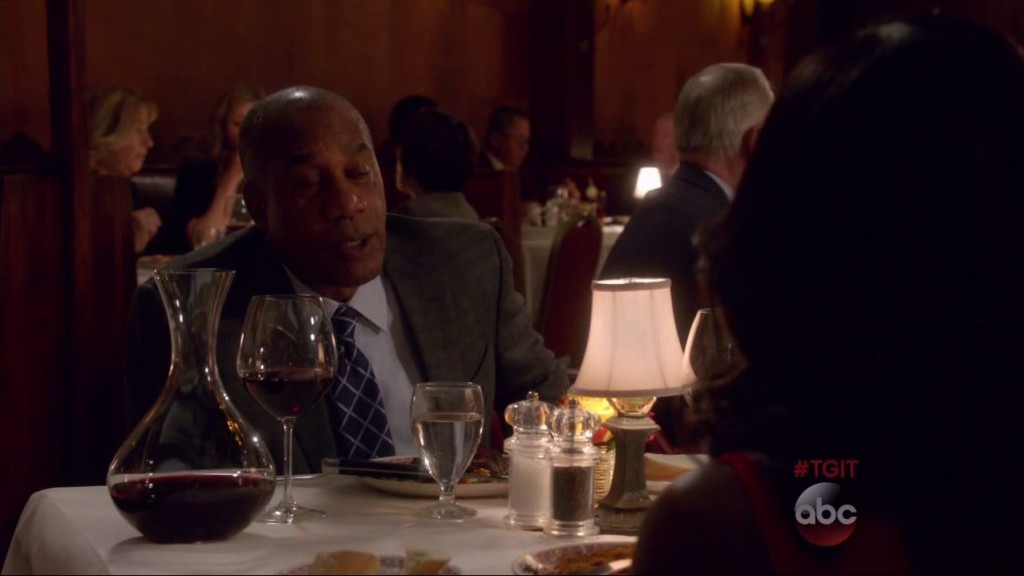 In the Season 1 episode of Bosch titled "Chapter 1 – Tis the Season," Harry Bosch (Titus Welliver) and Julia Brasher (Annie Wersching) get drinks at Musso and Frank.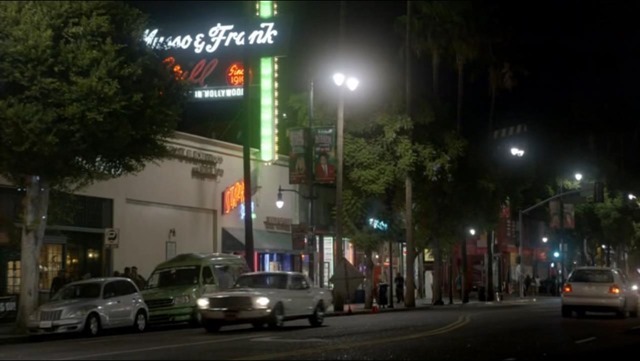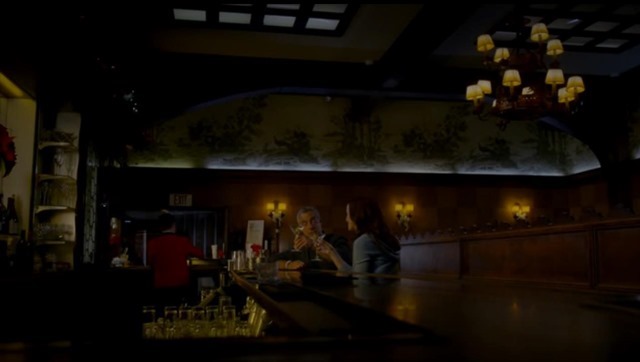 Musso and Frank Grill is honestly one of the coolest restaurants L.A. has to offer and I cannot more highly recommend a visit!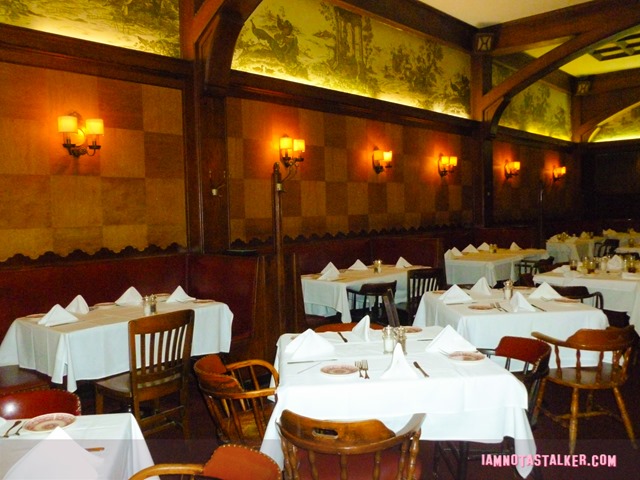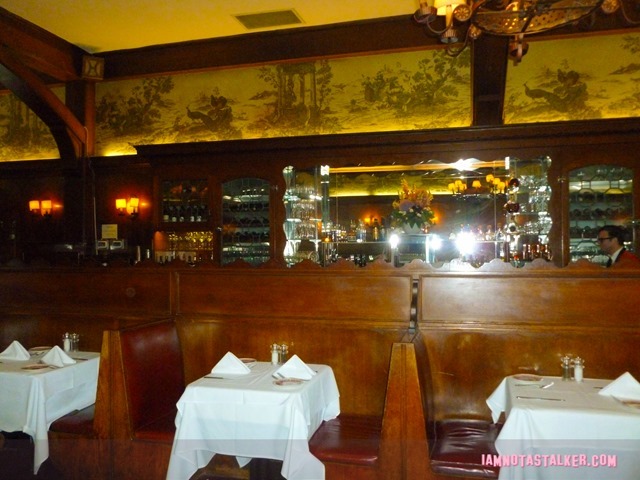 For more stalking fun, follow me on Facebook, Twitter, Instagram, Los Angeles magazine and Discover Los Angeles.
Until next time, Happy Stalking! 

Stalk It: Musso and Frank Grill is located at 6667 Hollywood Boulevard in Hollywood.  You can visit the establishment's official website here.
90320