The Bates Motel
Jul 10th, 2015 | By
Lindsay
| Category:
Haunted Hollywood
,
This and That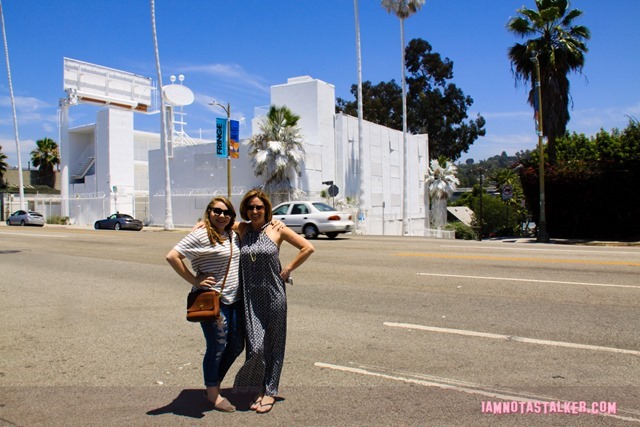 Today's location would be better suited for a Haunted Hollywood post, but because it is set to be torn down by the end of the year, I figured time was of the essence.  While spending the week in L.A. last month with my good buddies Kim and Katie (that's Katie pictured above), a friend named Becky mentioned that I should stalk the abandoned Sunset Pacific Motel in Silver Lake.  The property is more commonly known as the "Bates Motel" thanks to both the fact that it sits at the intersection of Sunset Boulevard and Bates Avenue and that it has been in a decrepit state for decades.  The 3-story, 37-room structure was recently painted white as part of a temporary art exhibit, which only serves to make it all the more eerie.  Becky thought I would enjoy seeing it in person and she was right!  The place did not disappoint!
From what I can gather from the Historic Aerials website, the Sunset Pacific Motel was built sometime between 1954 and 1964.  While the property provided a home away from home for tourists in its early years (it even had a pool that has since been cemented over), by the 1980s it had fallen into a serious state of disrepair and had become a haven for drug use, prostitution and violent crime.  A 2002 Los Angeles Times article described it as "one of the city's most dangerous properties."  Concerned neighbors had been trying to get the facility shuttered for decades, to no avail.  Finally, in December 2000, longtime owner Edward Eng was charged with two dozen housing code violations at the property and was eventually forced to close it in March 2002 when the city revoked his operating license.  The Sunset Pacific Motel has sat boarded up ever since.  You can check out what it looked like during its boarded up phase here and here.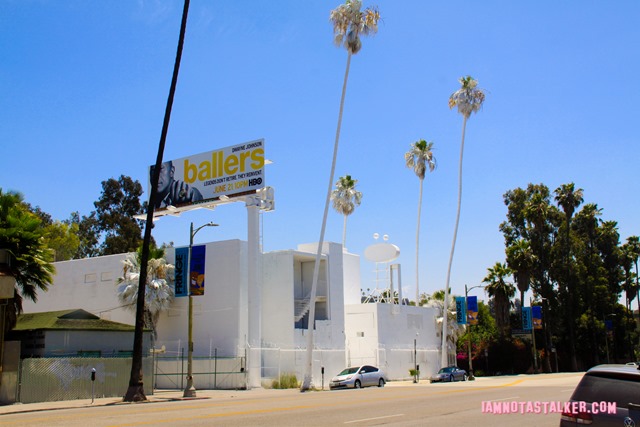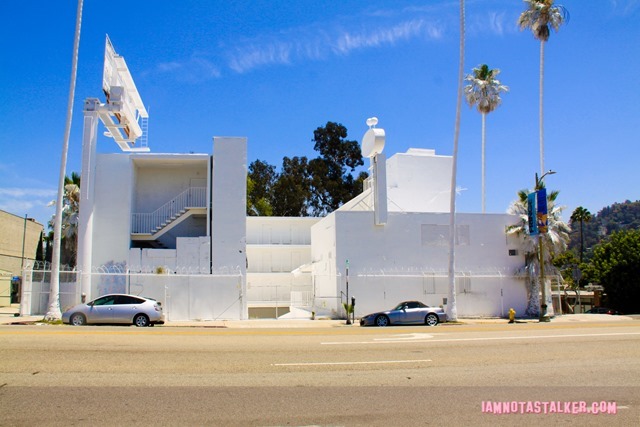 In September 2009, the Board of Commissioners of the Department of Building and Safety voted to raze the motel.  Before the demolition took place, though, the site was purchased by Frost/Chaddock Developers with the intent of building a large mixed-use project on the site.  Those plans have met with some opposition, though, and while on hold, Frost/Chaddock decided to allow French artist Vincent Lamouroux to paint the property as a temporary art instillation.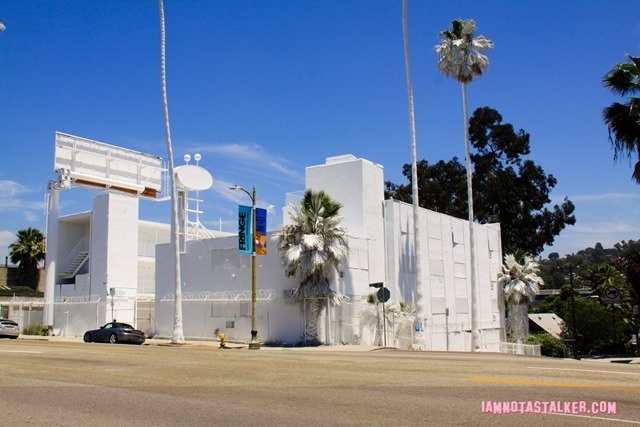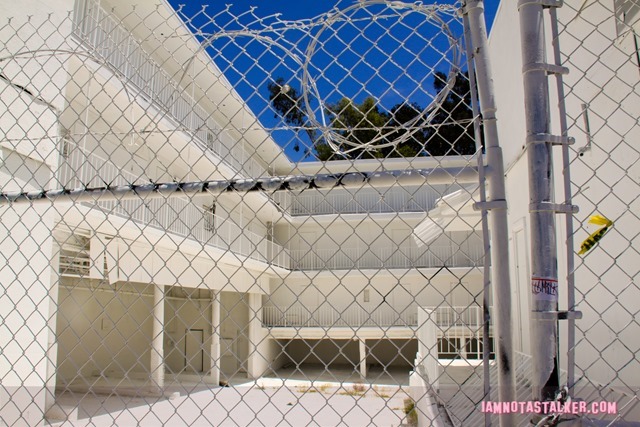 In mid-April, Lamouroux began his instillation which he titled Projection.  He and his crew used sprayers and hoses to coat every square inch of the Sunset Pacific Motel with an eco-friendly lime wash.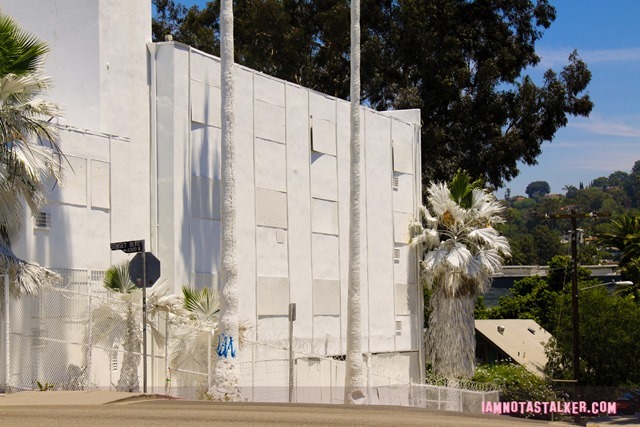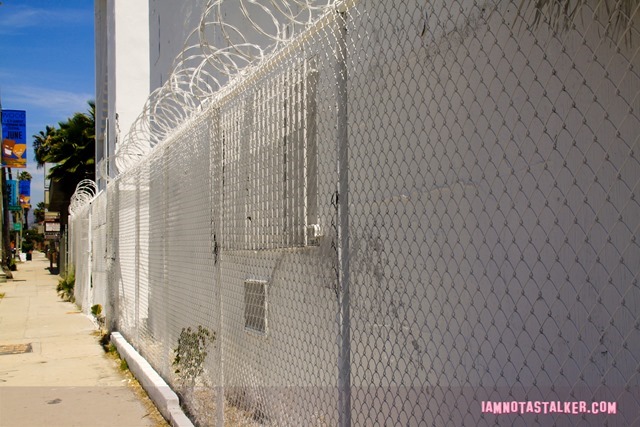 Lamouroux also painted the back of the motel's billboard;
its sign;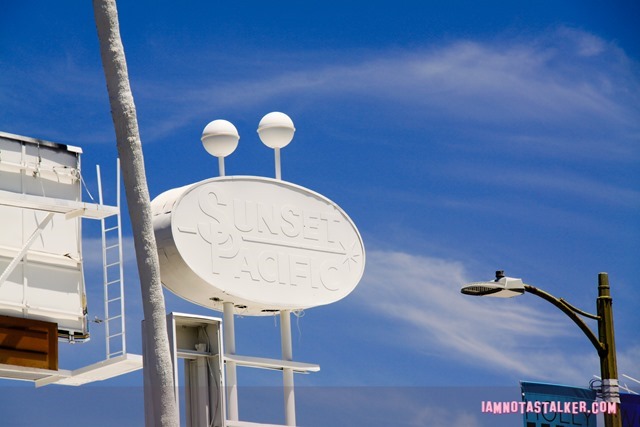 and its palm trees.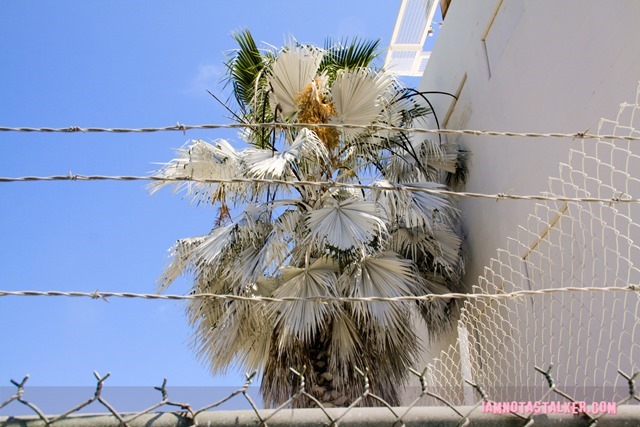 It really is a sight to see!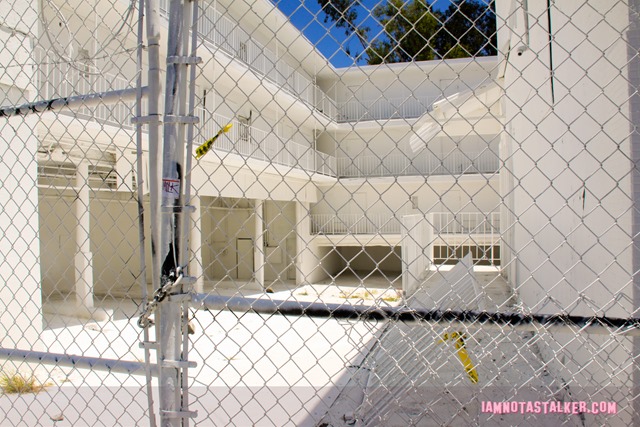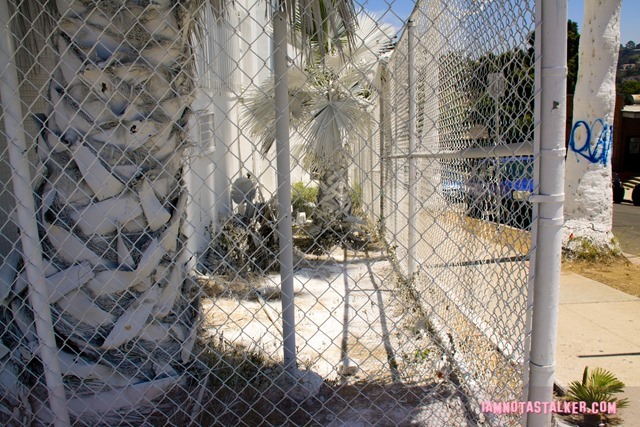 The lime wash will fade over time (it has already begun to disappear from the palm trees) and the motel is slated to be demolished at the end of the year, so if you would like to see it in all of its blindingly white glory, I would get over there as soon as possible.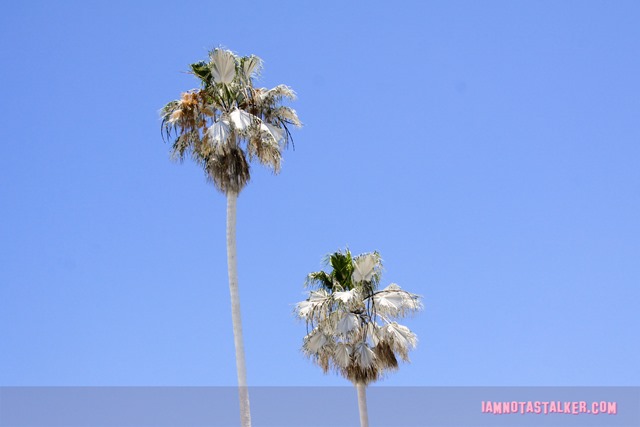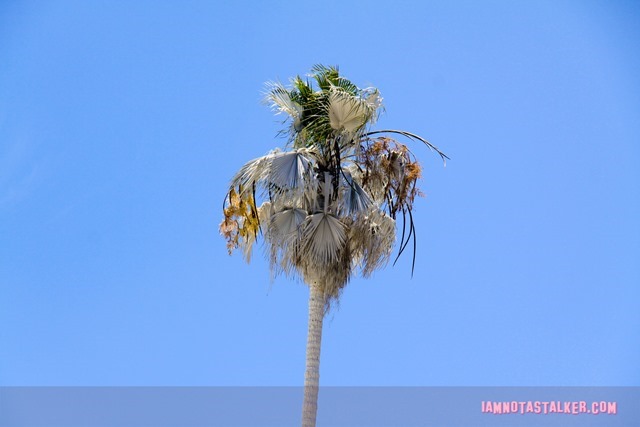 For more stalking fun, follow me on Facebook, Twitter, Instagram, Los Angeles magazine and Discover Los Angeles.
Big THANK YOU to fellow stalker Becky for telling me about this location!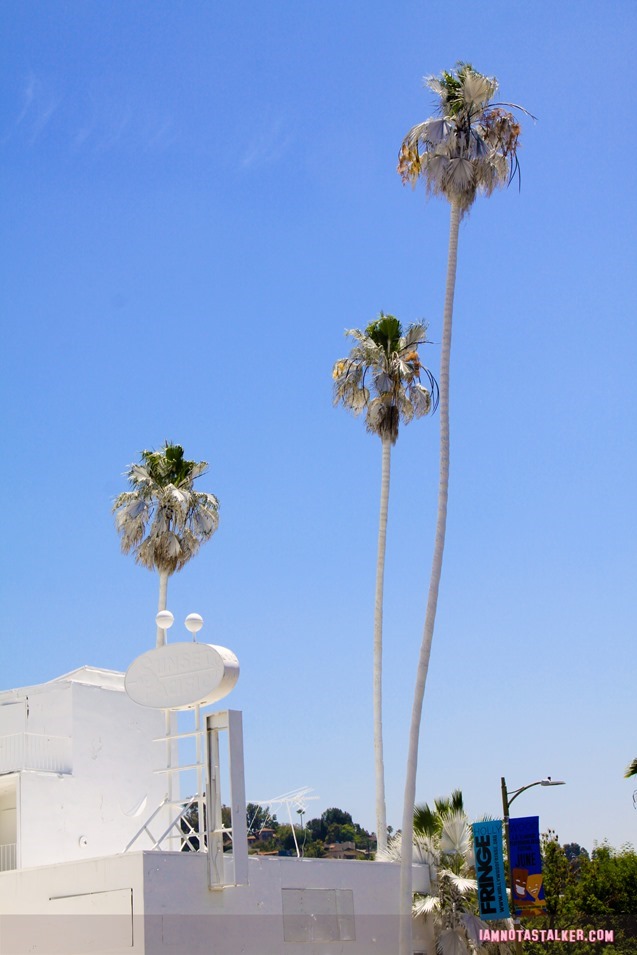 Until next time, Happy Stalking! 

Stalk It: The Sunset Pacific Motel, aka the Bates Motel, is located at 4301 Sunset Boulevard in Silver Lake.
90533