The Den from "Sex and the City"
Jul 13th, 2015 | By
Lindsay
| Category:
Sex and the City Filming Locations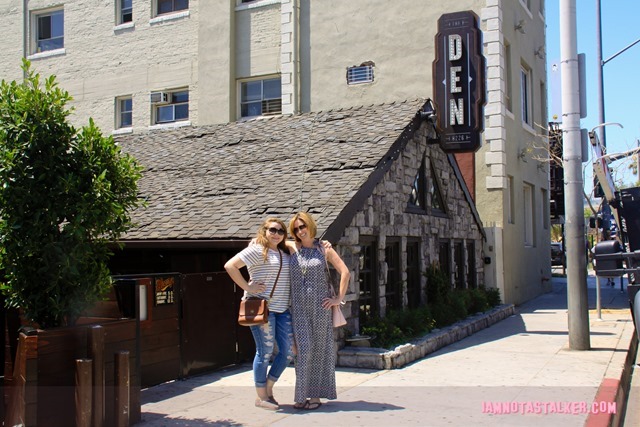 It goes without saying that I have a tendency to obsess on things (that fact should be apparent to even my site's most casual visitors).  Recently, I found myself obsessing over two locations featured in the L.A.-based Season 3 episode of Sex and the City titled "Sex and Another City."  The first locale I was itching to find was the coffee shop where Miranda Hobbes (Cynthia Nixon) met up with her old friend "Letterman Lew" (Sam Seder).  The second was the steakhouse where the two later had dinner.  I wound up finding both thanks to Sam Seder.  In late April, I tweeted the actor to see if he by chance remembered where the scenes had been filmed and he tweeted me back almost immediately with an answer.  He informed me that the steakhouse was Musso and Frank Grill in Hollywood (which I blogged about here) and, while he didn't remember the name of the coffee shop, he did recall that it was located on Sunset Boulevard near The Standard hotel.  So I immediately got to cyber-stalking and fairly quickly found the place.
I managed to track the location down thanks to a set of tall, thin paned windows that was visible behind Lew in the episode.  The windows were unusual and, from the cars speeding by in the background, obviously faced Sunset Boulevard.  So, using Google Street View (which is HORRIBLE in its latest incarnation – don't get me started!), I began perusing the Strip for those windows, starting at The Standard and working my way east.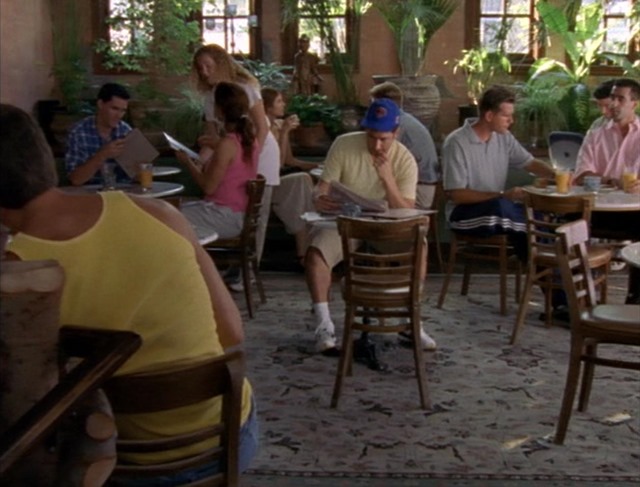 I wound up spotting them at 8226 Sunset Boulevard, just one and a half blocks away from the hotel.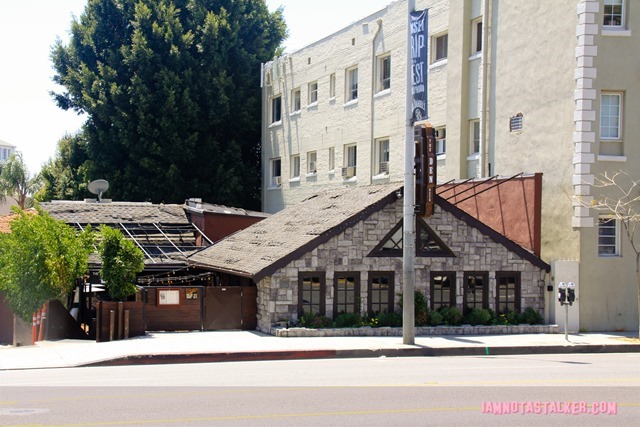 The site currently houses a restaurant named The Den, but one quick Google search of "8226 Sunset Boulevard" and "coffee shop" led me to this June 1999 Los Angeles Times article about Coffee House, which occupied the space from 1999 to 2003.  Eureka!  I tweeted my findings to Sam and he confirmed that I had the right spot.  So I ran right out to stalk it a couple of weeks ago while in L.A. with my friends Kim and Katie (that's Katie in the first image pictured in this post).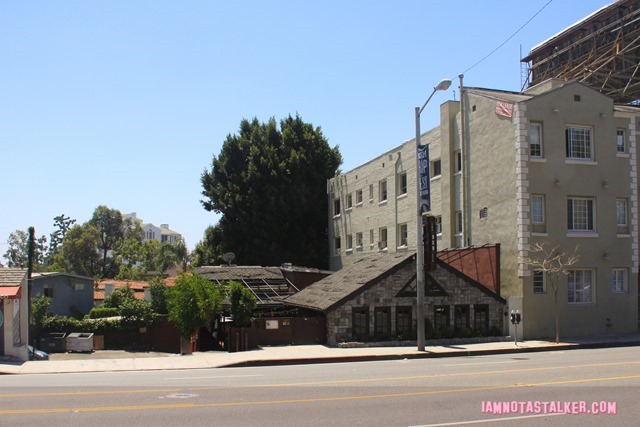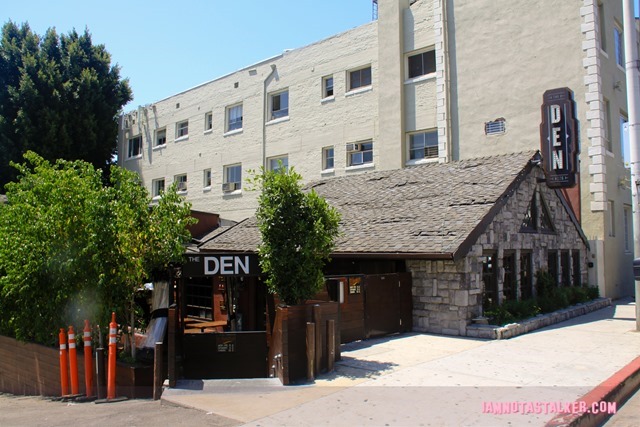 I was floored to discover upon arriving that a sign reading "Coffee House" was still installed on the front of the eatery.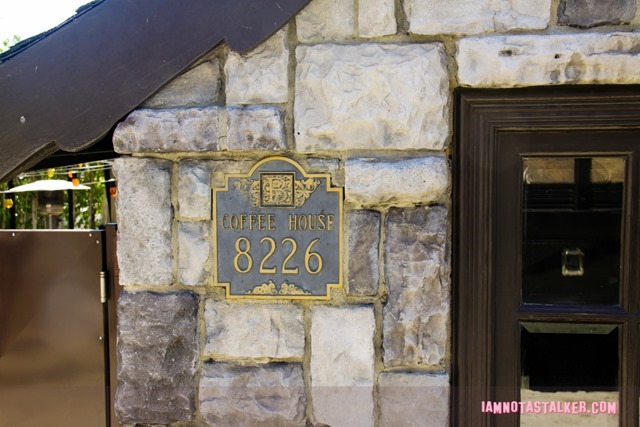 Coffee House originally opened in May 1999, but founder Brent Bolthouse (yes, the same Brent Bolthouse from The Hills) first began the endeavor of establishing a 24-hour coffee shop on the Sunset Strip in 1995.  He secured the location – a two-story cottage-like structure originally built in 1923 that once housed the infamous Fifth Estate coffee shop – easily enough, but converting it into what he had envisioned proved troublesome.  Bolthouse, who also started the popular clubs Opium Den and Babylon, even wound up being sued by his partners at one point during the transition.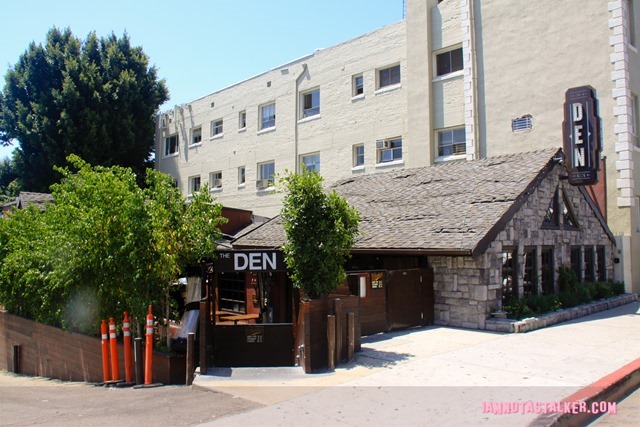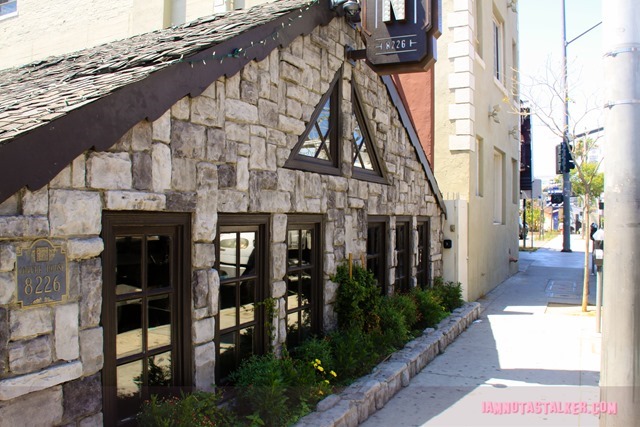 When it did finally open, Coffee House quickly proved popular with the Hollywood set, which makes sense being that Christian Slater, Counting Crows' Adam Duritz, producer Andy Gould and celebrity hairstylist Jonathan Antin all had a stake in the place.  Just a few of the stars who hung out there included Robert Downey Jr., Balthazar Getty, Tobey Maguire, Britney Spears, Anthony Kiedis, Paris Hilton and members of the Backstreet Boys and 'N Sync.  Leonardo DiCaprio was said to have been so fond of the place that he visited daily!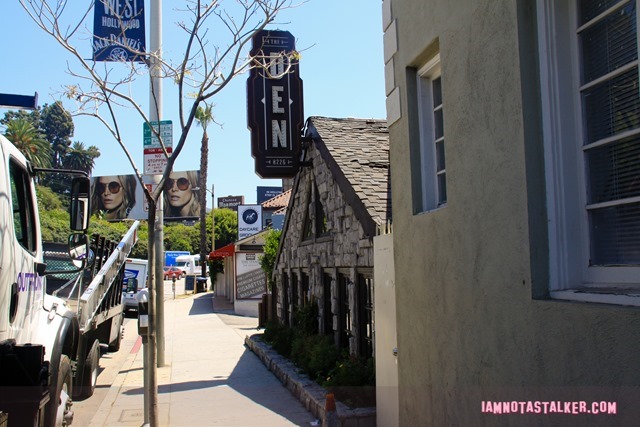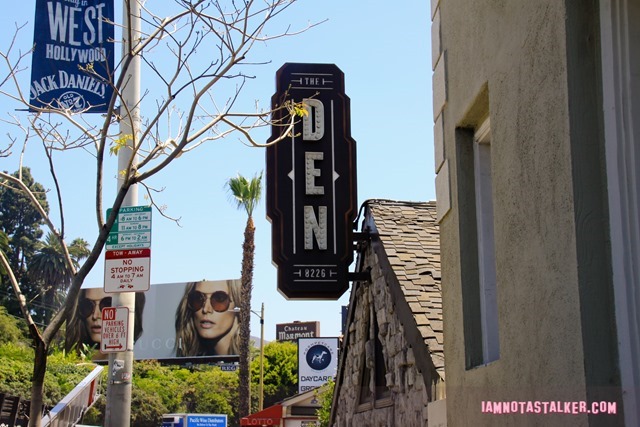 The 1999 Los Angeles Times article described Coffee House as "a cross between a French country restaurant and an English cottage" with a large outdoor patio "fenced off by tree branches."  The place sounds as if it was idyllic, not to mention right up my alley!  Lattes, a tree-lined outdoor patio AND Leonardo DiCaprio?  If only I had known about it before it was shuttered in 2003!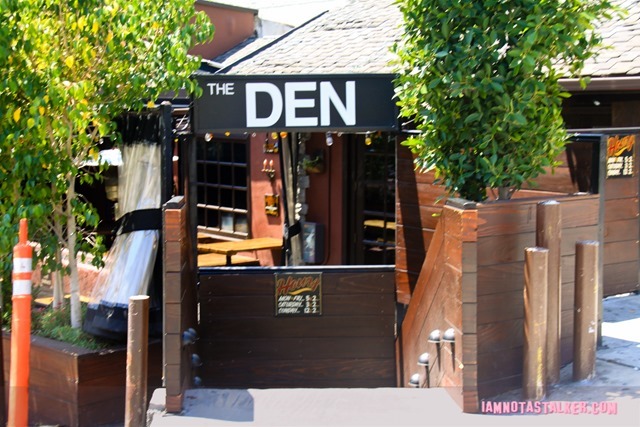 After Coffee House closed its doors, the space operated first as Wacky Waffles and then as Hadaka Sushi.  In 2009, restaurateur Michael Gans opened The Den at the site.  While the restaurant looks adorable and charming, and the menu appears to be quite amazing – mac & cheese, fried chicken sandwiches, German pretzels, deviled eggs, wild mushroom and goat cheese flatbread – um, count me in – unfortunately, it was closed when we arrived so we could not venture inside.  I was able to snap the photos below through the front windows, though.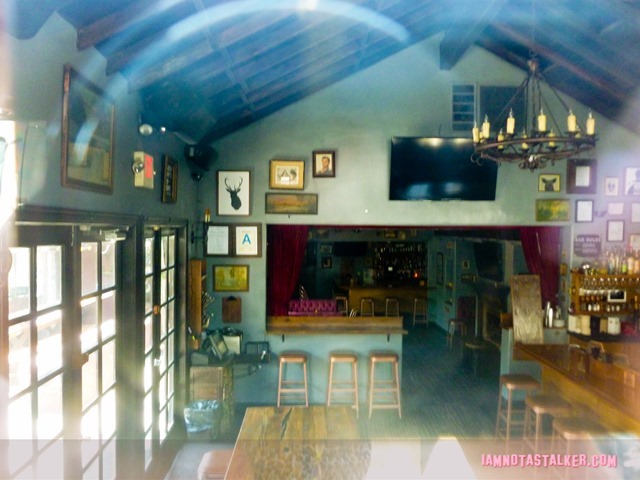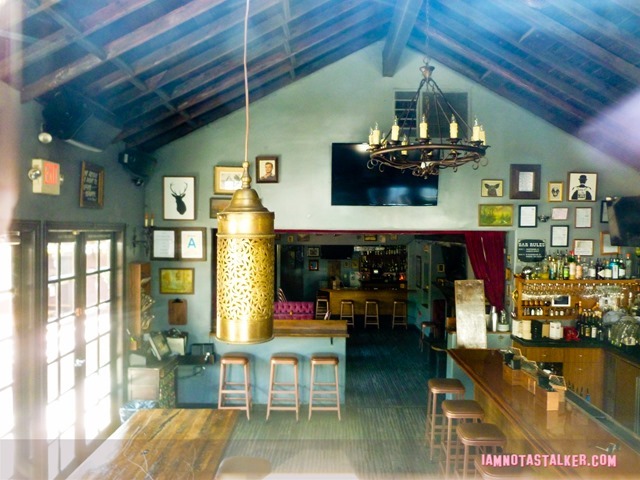 In "Sex and Another City," Coffee House masked as "The Flowing Tree," a New Age café that according to Lew "is known for its green tea infusions."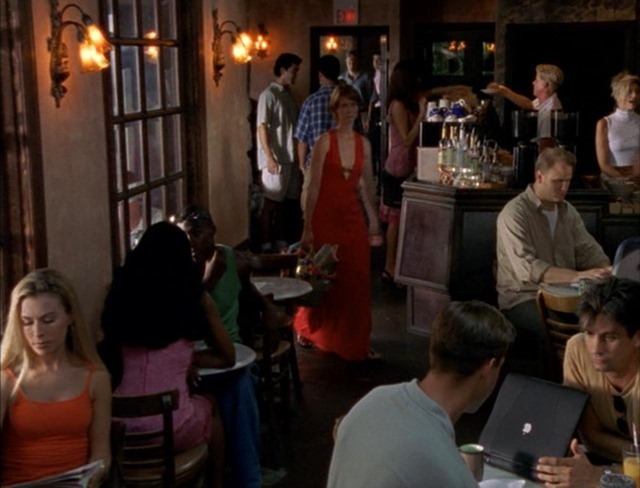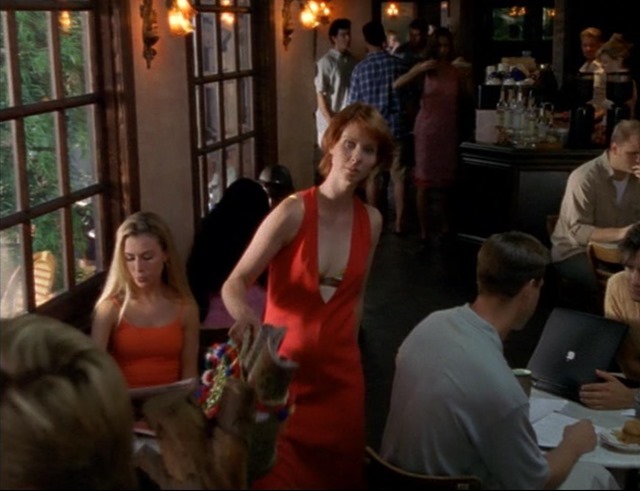 While some minor elements, like the windows, remain the same, sadly the space is virtually unrecognizable from its onscreen appearance.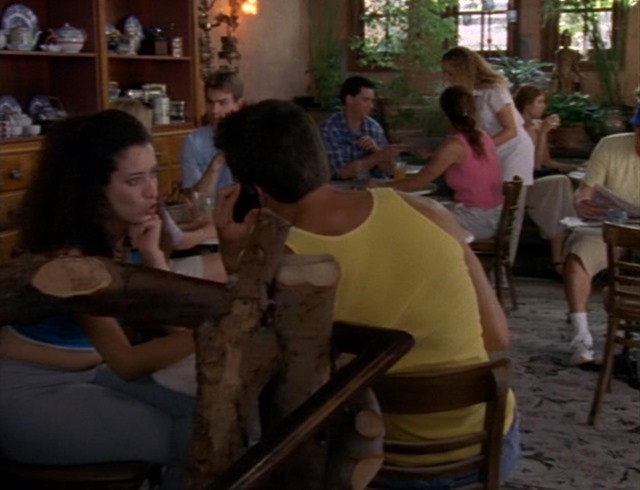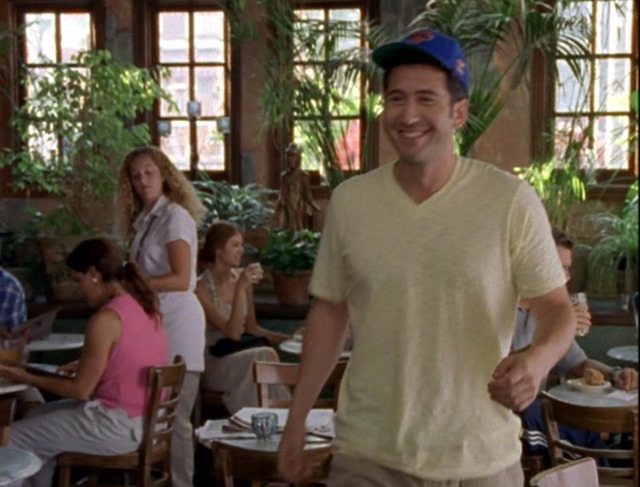 For more stalking fun, follow me on Facebook, Twitter, Instagram, Los Angeles magazine and Discover Los Angeles.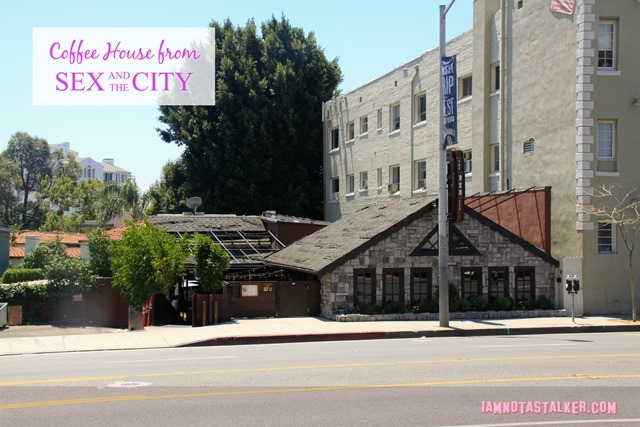 Until next time, Happy Stalking! 

Stalk It: The Den, aka the former Coffee House from Sex and the City, is located at 8226 Sunset Boulevard in West Hollywood.  You can visit The Den's official website here.  The restaurant is open each Monday through Friday from 5 p.m. to 2 a.m., each Saturday from 3 p.m. to 2 a.m., and each Sunday from 12 p.m. to 2 a.m.
90582