That Pink Door
Jul 14th, 2015 | By
Lindsay
| Category:
This and That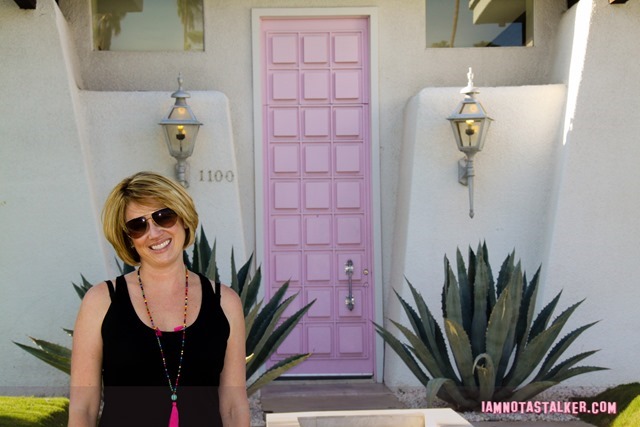 I have yet to really hop aboard the Pinterest bandwagon, but I know I'm in the minority on that one.  Those who are Pinterest-philes are most definitely familiar with what has come to be known as "That Pink Door."  That Pink Door is actually the brightly-hued front door of a residence in the Indian Canyons neighborhood of Palm Springs.  The home also pops up regularly on Instagram (do a search for #thatpinkdoor and you'll be inundated with blush-colored images) as well as on countless fashion blogs, which is how I came to discover it.  I have long been obsessed with fashion blogger Julia Engel, of Gal Meets Glam.  Back in May, Julia, her BFF Jordan Jones and their friend Vero Suh visited Palm Springs for what they dubbed a "Best Bebs Weekend."  While in town, they snapped some photos at That Pink Door.  When I saw the pics pop up on Julia, Jordan and Vero's respective websites, as well as the Style Me Pretty website, a few weeks later, I became enamored of the place – and was shocked that I had never heard of it before.  So I immediately added it to my To-Stalk list and finally made it over there last week.
I would be remiss if I didn't mention that I totally stalked Julia while she was in town.  I follow her on Snapchat (@galmeetsglam) and could tell from one of her videos that she was eating at Norma's at the Parker Palm Springs.  So I dragged the Grim Cheaper right on over there in the hopes of getting a pic with her.  As it turns out, Julia could not have been nicer!  Jordan and Vero were incredibly sweet, as well, and we all wound up chatting for a good ten minutes.  I also ended up later purchasing the romper that Julia had on when we met, much to the GC's chagrin.  As I said, I am obsessed!  I just think she's adorable and has such a fabulous and unique fashion sense.  If you haven't checked out her website before, you definitely should!  But I digress.
The That Pink Door residence is absolutely massive in person, much larger than I expected it to be.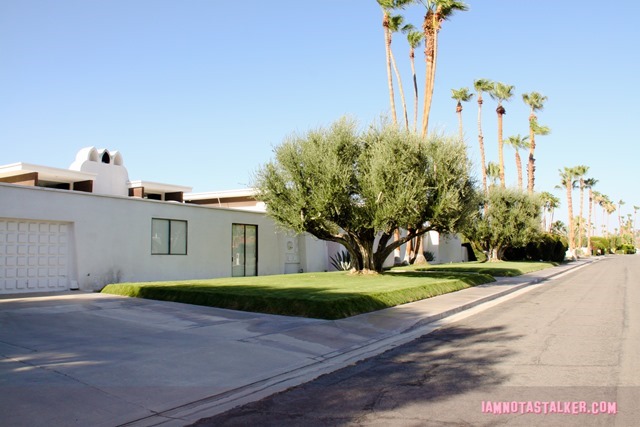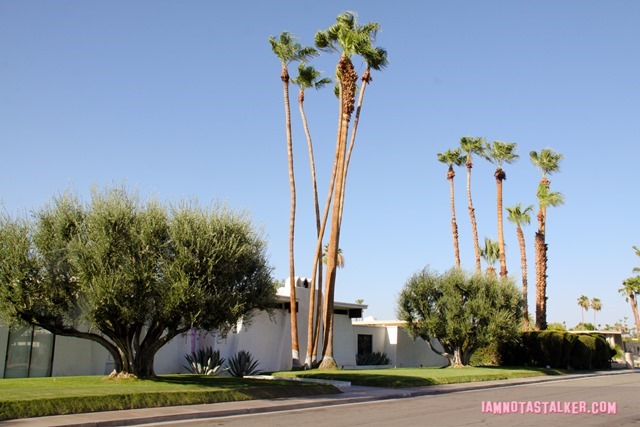 The post and beam-style home was originally built in 1968 and boasts four bedrooms, five baths, 5,310 square feet and a 0.57-acre plot of land.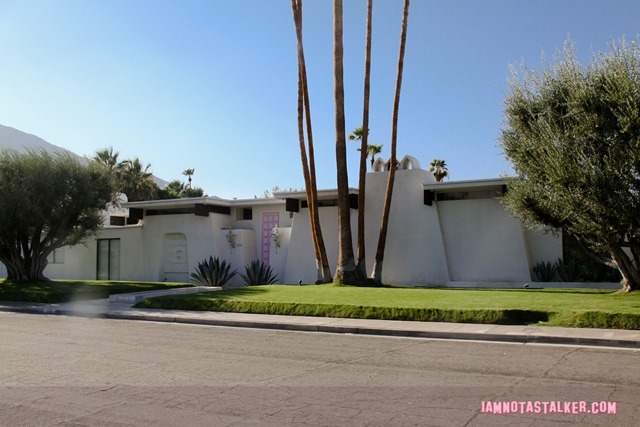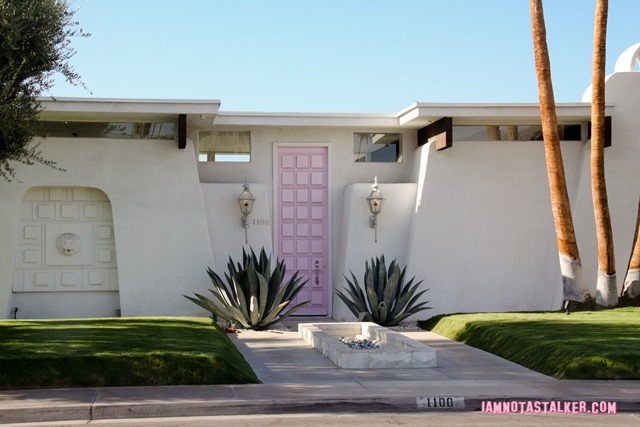 The pad's pink door came courtesy of interior designer Moises Esquenazi, who purchased the residence with his partner, Bryan Graybill, in 2004.  At the time, the property was unkempt, outdated and begging for a remodel.  The two quickly began redesigning the space into a mid-century modern dream home with such features as glass walls, two fireplaces, a billiard room with a sunken bar, a 75-foot pool with an inlaid tanning shelf, a 12-person spa, two outdoor bars, three fire pits, and an outdoor movie theatre.  You can check out what the interior of the home looks like here.  While pretty, I had hoped there would be a lot more pink.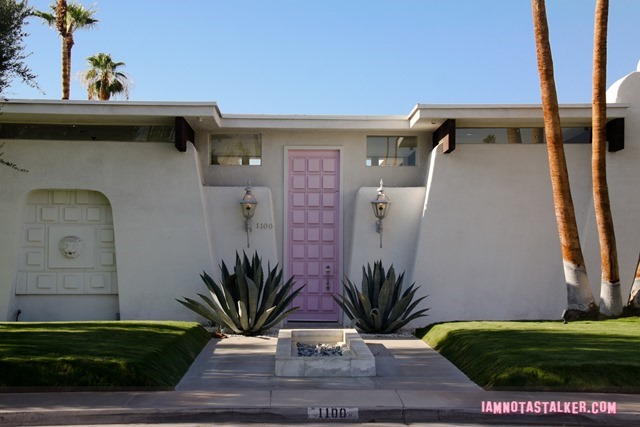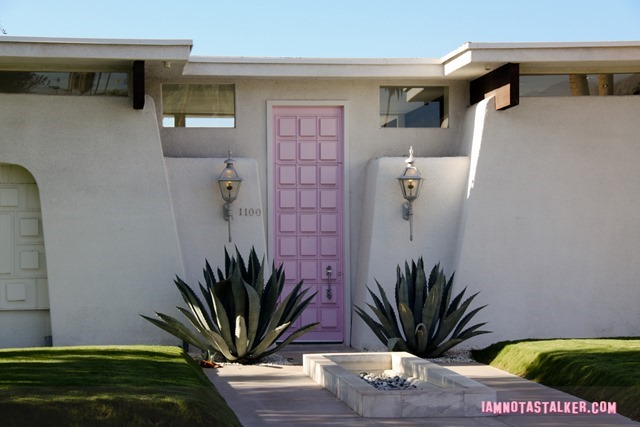 The home's cherry on top, of course, is the pastel pink front door.  While Moises and Bryan sold the pad for a whopping $1,820,000 in 2008, the new owners have, thankfully, not touched the color of the door.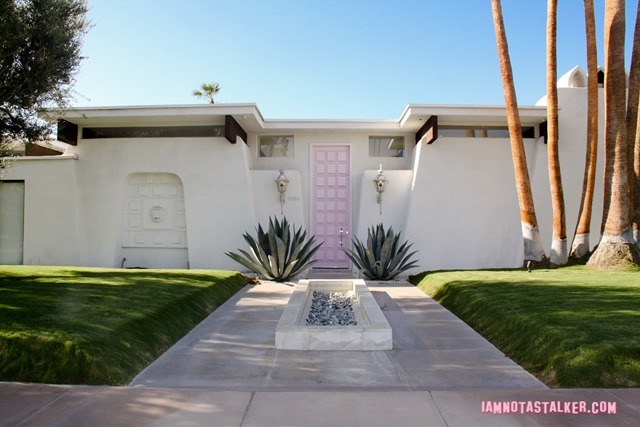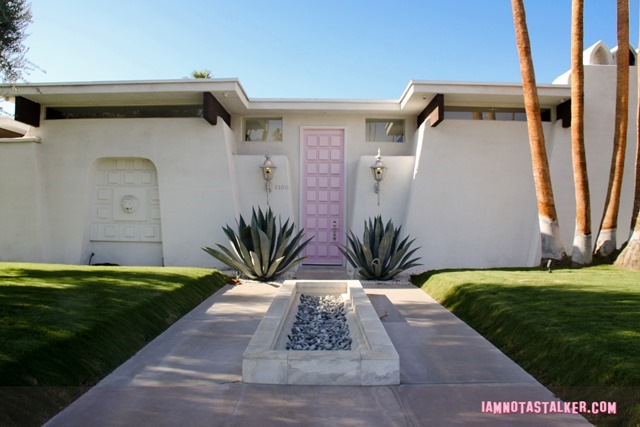 The residence has won many accolades, including being featured as one of the "Best Homes in America" in the 25th Anniversary issue of Metropolitan Home magazine.  Palm Springs Life also published a piece on it in November 2006.  And while the property is said to have been featured on an HGTV program, for the life of me I cannot figure out which program.  If anyone happens to know, please fill me in.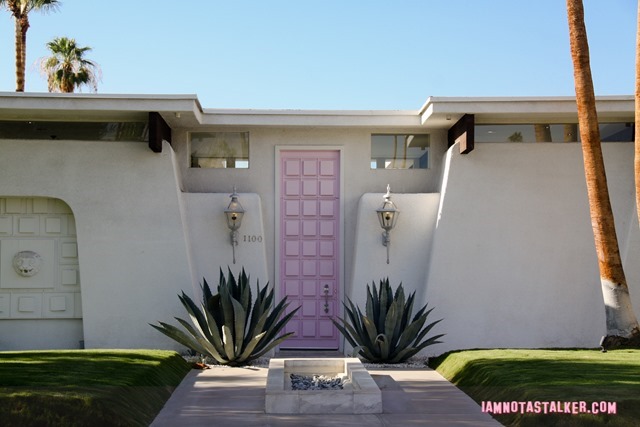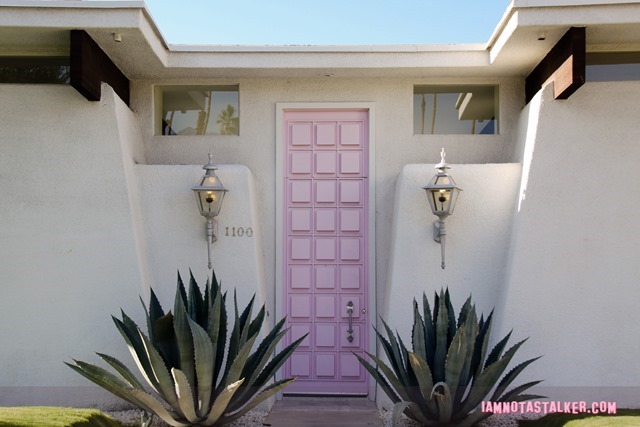 For more stalking fun, follow me on Facebook, Twitter, Instagram, Los Angeles magazine and Discover Los Angeles.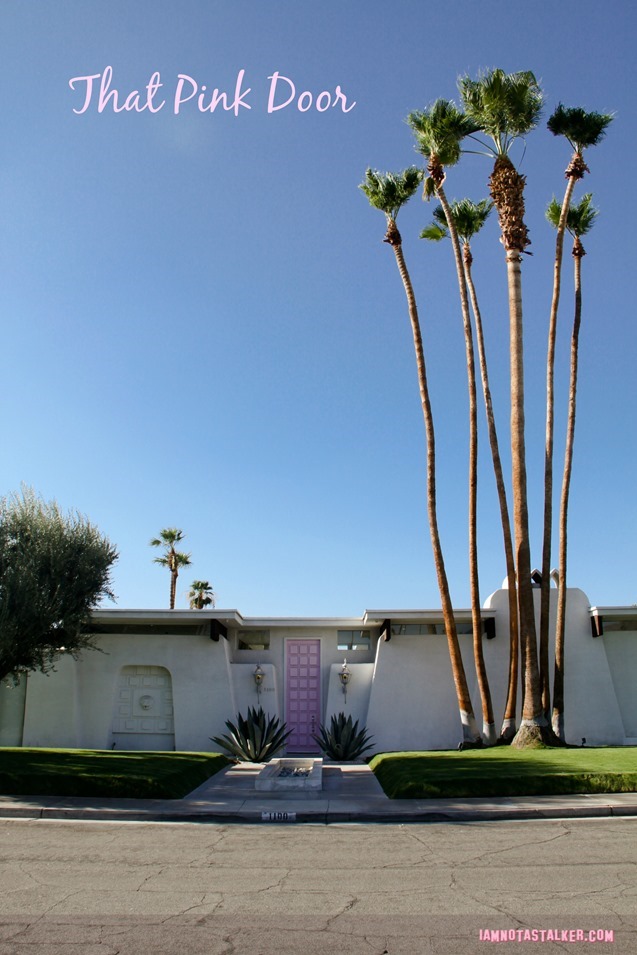 Until next time, Happy Stalking! 

Stalk It: "That Pink Door" is located at 1100 East Sierra Way in the Indian Canyon area of Palm Springs.
90643